About Takhilo Falls (Tak'hilo Falls)
---
Hiking Distance:
about 5.5 miles (8.8km) shuttle hike
Suggested Time:
at least 7 hours
---
Date first visited:
2022-11-19
Date last visited:
2022-11-19
---
Waterfall Latitude:
13.27829
Waterfall Longitude:
144.69613
---
Takhilo Falls (or Tak'hilo Falls) is said to be the tallest waterfall on Guam (at least 200ft according to my topo map).
It's situated near the summit of Mt Sasalaguan, which translates as "hell" in the Chamorro (CHamoru) language, and I can totally appreciate why after having gone on a trek to earn my visit!
There are various options for experiencing the Takhilo Falls, but all of them involve a very high degree of difficulty largely due to sharp elevation changes, "swimming" through swordgrass (neti), and rugged terrain (with unsure footing).
Moreover, there's complications that come with tropical hiking such as heat and humidity, intense sun, and sudden changes in weather (due to passing squalls that produce sudden thunderstorms, slippery surfaces, mud, and flash flooding).
Among the routes to choose from, the book "The Best Tracks on Guam" suggests an out-and-back hike taking in the summit of Mt Sasalaguan as well as a two-hour "side trip" that drops into the head of the valley to the base of Tak'hilo Falls.
However, the route that I went on with a trekking group (see directions below) was one-way, and it started with an ascent to the top of Mt Sasalaguan, then descended the "Heavenly Hill" plus a series of ridges to the main road.
Since the endpoint was not at the same spot at the start of the hike, this option was a "shuttle" hike, and our guide needed to hitch a ride back to the trailhead to recover the van to pick the rest of us up as we waited.
Overall, the logistics of this trek involved a grueling 7 hours of hiking time (over 8 hours if you include the frequent rest breaks we took), but it only went a distance of about 5.5 miles (according to my GPS logs).
That should tell you the level of commitment involved on this hike, and I admit that I might have been overly ambitious doing this hike the very next day after arriving in Guam all jetlagged and fighting a cold.
Indeed, you'll need at least 4L of water, snacks (to keep the energy up), first-aid (in case of cuts and scrapes getting infected as well as possible cramps or sprains), and good gear (i.e. hiking boots, long-sleeves, long pants, hat, and gloves).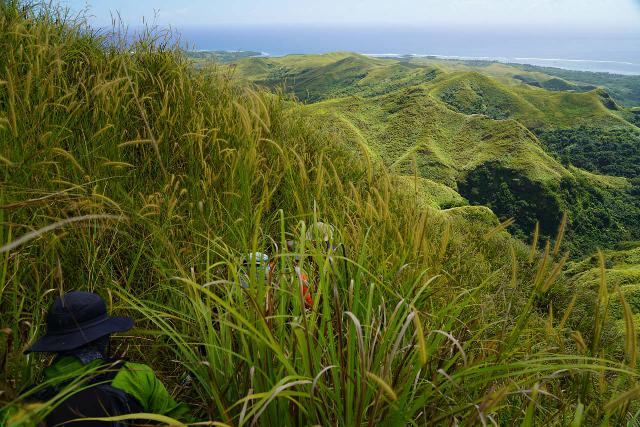 Most importantly, you'll definitely need to do this hike with someone who knows what they're doing, because it's very easy to get lost on this hike (especially where the swordgrass is high and thick).
Timing A Visit For Takhilo Falls
In addition to the difficulty of earning a sighting of Takhilo Falls, there's also the uncertainty of flow because the waterfall doesn't drain a very large area by the summit of Mt Sasalaguan.
Even though I had timed my visit for mid-November (which is still in Guam's so-called "Wet" Season), we were actually uncertain if the waterfall would be flowing at all.
It was only when we got to witness it from the "Heavenly Hill" (opposite the head of the valley responsible for the Alayan River) did we finally confirm that the waterfall was indeed flowing (albeit lightly; as you can see in the photos on this page).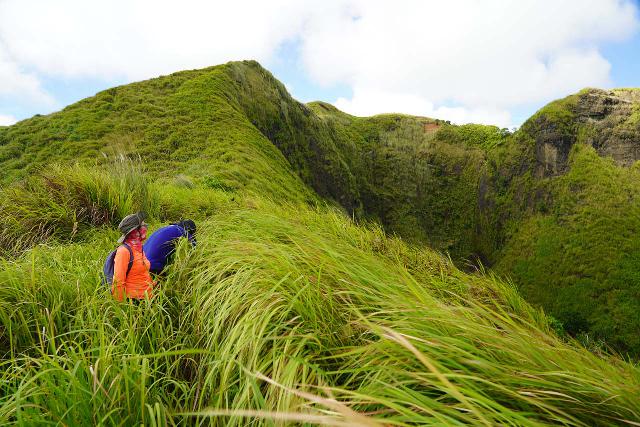 That said, there's a catch-22 regarding this waterfall because if you want to see it in higher flow, you'll have to contend with taller swordgrass blades, muddy (i.e. slippery) terrain, and poor visibility if you're caught in a rain squall or even just clouds.
If you come in the "Dry" Season usually after the calendar flips in January, then the waterfall might not be flowing much though the terrain and weather might be more benign.
So as you can see, not only is it challenging to do the hike, but even finding the right timing to get the best of both worlds of high waterflow and benign trail conditions is not trivial.
Trail Description – Hiking To The Summit Of Mt Sasalaguan
So assuming you're prepared and up for the epic hike to tackle both Mt Sasalaguan and Tak'hilo Falls, we're going to delve into the words eye description of how I was able to do it (with the help of a trekking group).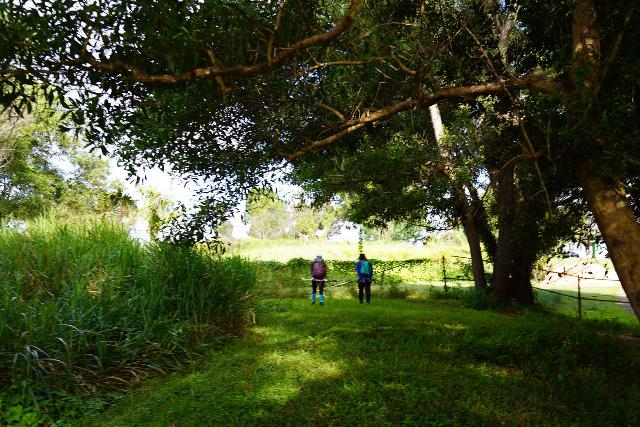 The hike began from a gate entrance for the Ija Research and Education Center though there was no other signage or indication of any hike let alone for Mt Sasalaguan throughout the drive (see
directions
below).
We then avoided going through the property by following a trail-of-use that went to the left side of the fencing into an already pretty thick grove of swordgrass.
It was pretty apparent in this stretch that you'll definitely need to cover up (including wearing gloves) to avoid getting cut up by the vegetation.
This stretch lasted for about the first 3/4-mile until the swordgrass relented and we found ourselves in somewhat of an opening right on the boundary of the vegetation (it may have been cut and maintained by the research center to this point).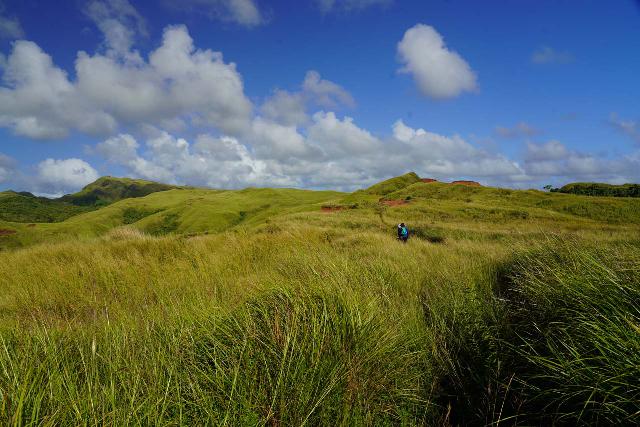 Then, we continued with the hike as we dove right back into the swordgrass on a faint trampled path (our guide and some participants placed some colored tape on some of the grass blades for others in the group as well as for future reference).
As we continued with the somewhat gentle-to-moderate ascent, I noticed that the grass was lower in height, and we even started to follow some red dirt 4wd tracks that hadn't been overgrown (yet).
We then proceeded for about another 0.4-mile as this stretch of the hike was considerably easier to follow.
Eventually, we got up to a small ridge with our first good look at Mt Sasalaguan in the distance as well as back towards the ocean in the opposite direction, and this was where we took a brief break as well as some photo ops.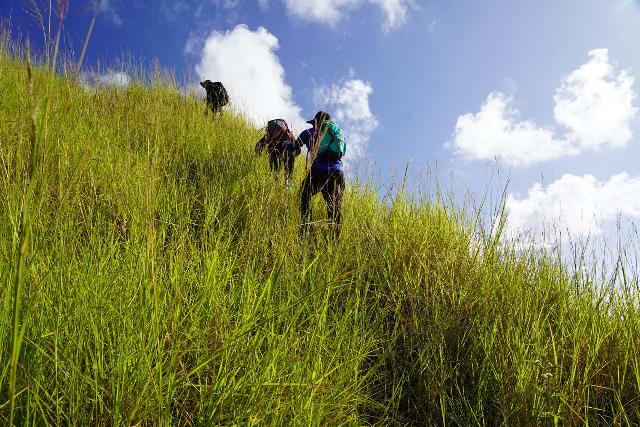 Continuing on, we then followed a combination of more dirt track and trampled swordgrass as well as some pretty steep undulations (some of which had some tricky and slippery footing).
The steepest parts of the climb involved ascending up to more ridgelines because that was where the volcanic soil was poorest (i.e. rockiest), which meant the vegetation was less thick, and that helped to make the hiking terrain more manageable.
This pretty much lasted for the next 3/4-mile before we took our next extended break as we were already in the midst of climbing up the steep and swordgrass-laden incline that might have earned the name "hell" as far as Mt Sasalaguan was concerned.
While on this steep ridge, there were also some nice views to the south past the knife ridge of "Heavenly Hill" opposite the ravine carved out by the stream that Tak'hilo Falls fell into.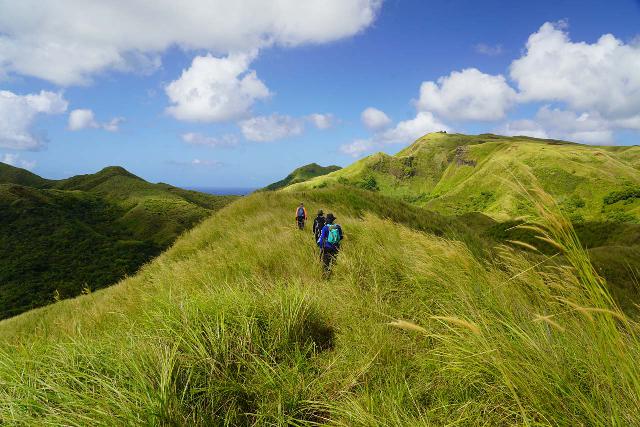 We still couldn't see the waterfall from here, but I was assured that when we would descend onto that ridge, we'd finally get a more direct look at Guam's tallest waterfall.
Anyways, the climbing here was quite slow going, and it took us at least another 30 minutes to go less than 0.2-mile before taking a much-needed break higher up on a steep and narrow ridge.
Eventually after another half-hour of hiking, the ascent ultimately petered out, but then we had to deal with more swordgrass before reaching an abandoned bunker atop Mt Sasalaguan.
On the way, we actually made a somewhat fruitless detour to an abandoned bunker or defunct communication building that was very thickly surrounded by swordgrass, which took a bit more out of some of us that made that extra effort.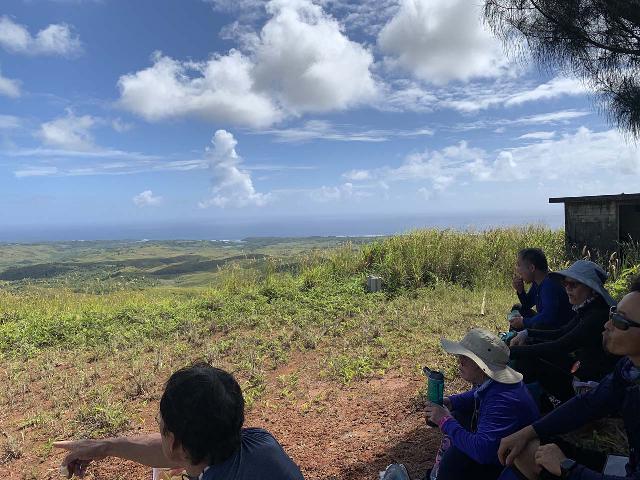 Anyways, it took us around under 3 hours to reach the top of Mt Sasalaguan, where we took a bit of an extended (and much needed) lunch break while also checking out the views from a swordgrass-laden spot even higher up.
From the lunch break spot, we were able to look towards the south and southeast in the direction that we had initially hiked from.
However, at the higher viewpoint spot, we were able to look more to the south and southwest at some impressively colored reefs totally reminded me of the kinds of views you'd get of the lagoons surrounding the main island of Bora Bora.
Trail Description – Hiking The Knife Ridge To View Takhilo Falls
After a bit of a recovery from the summit of Mt Sasalaguan, we then got right back into the boonie stomping as we went around the abandoned bunker (which seemed to still have remnants of some communications equipment) and right into more swordgrass.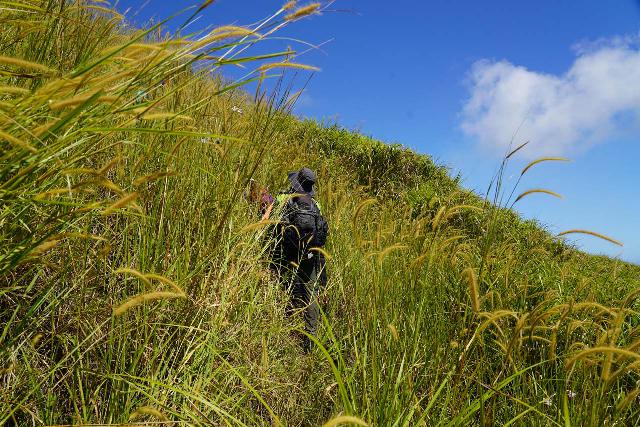 In fact, the path would generally descend steeply as it would persist going through swordgrass (many of which had blades taller than me).
It turned out that this 1/2-mile stretch descending around 240ft was perhaps the most challenging stretch yet because it involved trying to "swim" through tall swordgrass while also trying to maintain unsure footing (since you can't really see the ground).
In more than a few instances, I would have to play a game of "Marco Polo" just to try to hear where the group was at.
In a few occasions, I had lost the trail and had to backtrack to find the correct path (with the aid of some group members who stayed with me).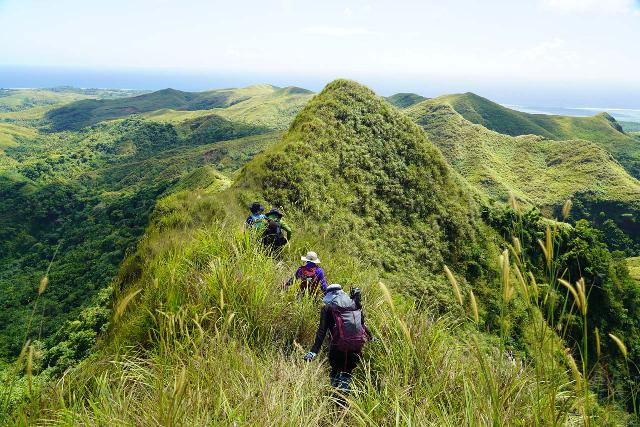 Indeed, this was one section of the hike where I really had to rely on people who had done this hike before and knew where they were going.
It definitely drilled into my mind that attempting to do this hike on my own would not be very wise, especially if I hadn't done this before.
Anyways, as we eventually descended the so-called "Heavenly Hill", we ultimately found ourselves on a narrow ridge with dropoffs on both sides.
However, to our left was the head of the valley that would eventually feed the Alayan River, and that was where we could finally witness Takhilo Falls (Tak'hilo Falls) making its dramatic vertical drop into the cirque-like volcanic bowl.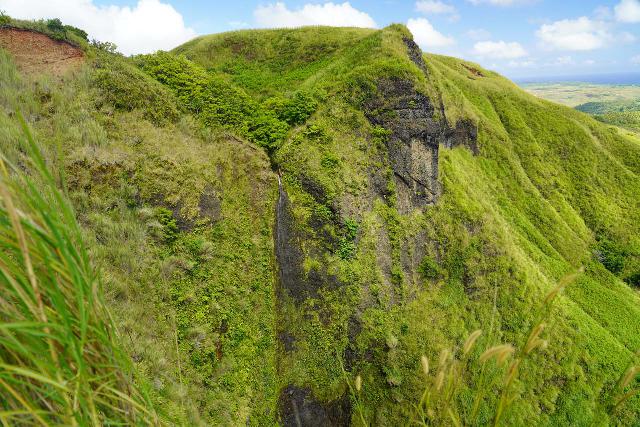 Throughout this part of the ridge, we were able to see the waterfall from different positions (being careful not to get too close to the vertical dropoffs separating our viewing spot and the falls itself).
And we'd ultimately have to climb another peak on the ridge at around 840ft in elevation before continuing another steep descent (for more than 240ft) on its southeast-facing side.
During that descent, we'd probably get our last glimpses of Takhilo Falls, and then we'd continue swimming through more swordgrass while generally descending until we had to make another climb towards a peak called Gugae (at 696ft in elevation).
By this point, we were roughly another 3/4-mile from the summit of Mt Sasalaguan, and we took another much-needed break.
Trail Description – Finishing The Hike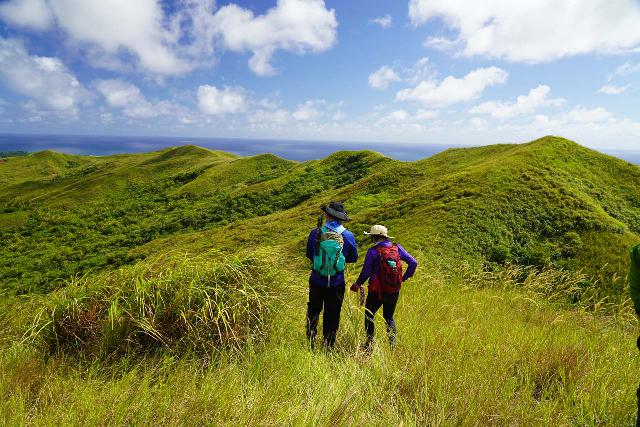 From the summit of Gugae, we could see across the valley to the east the starting point of our hike.
However, I learned that the remainder of the hike wouldn't go back to the starting point, and that it would follow a series of ridges and peaks for the final 2.25 miles to the main road near the southern tip of Guam.
Although I at first thought that perhaps this route was superfluous and was an unnecessary addition to the whole hike, I learned that following this ridge minimized our exposed to more steep and muddy slopes as well as thick groves of swordgrass.
In fact, the 4wd jeep tracks were much easier to follow as long as we stayed along the ridges and peaks, but the drawback was that it did involve more undulating terrain.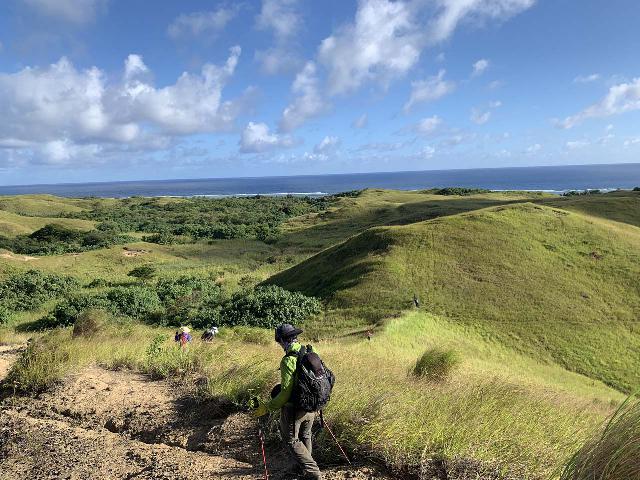 By this time, the uphills really took a toll on me, and it took the guide's brother to remind me to use my trekking poles for pushing off on the uphills and maintaining balance on the downhills.
Heck, as I was struggling with fatigue, dehydration, and muscle cramps (forcing us to make more stops along the way), the group even insisted that I give up my Sony Mirrorless Camera to another member while giving up my day pack to the troop leader.
That helped to ensure that all of us would be successful on this hike, and that I didn't jeopardize the effort with my struggles.
The last mile or so involved more steep descending over gravel and exposed volcanic rock before diving right into another patch of swordgrass and mud near some residences.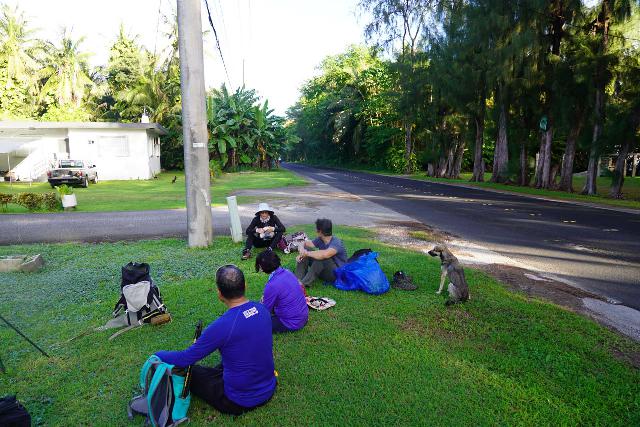 Ultimately after over 4 hours since leaving the summit of Mt Sasalaguan, we finally made it to the Hwy 4 (the main road going around the south of Guam).
As the group tried to take rest and recover from the long day hike, our guide talked with a resident here about giving him a ride back to the trailhead to recover the van and then pick us up to return to our respective residences and accommodations.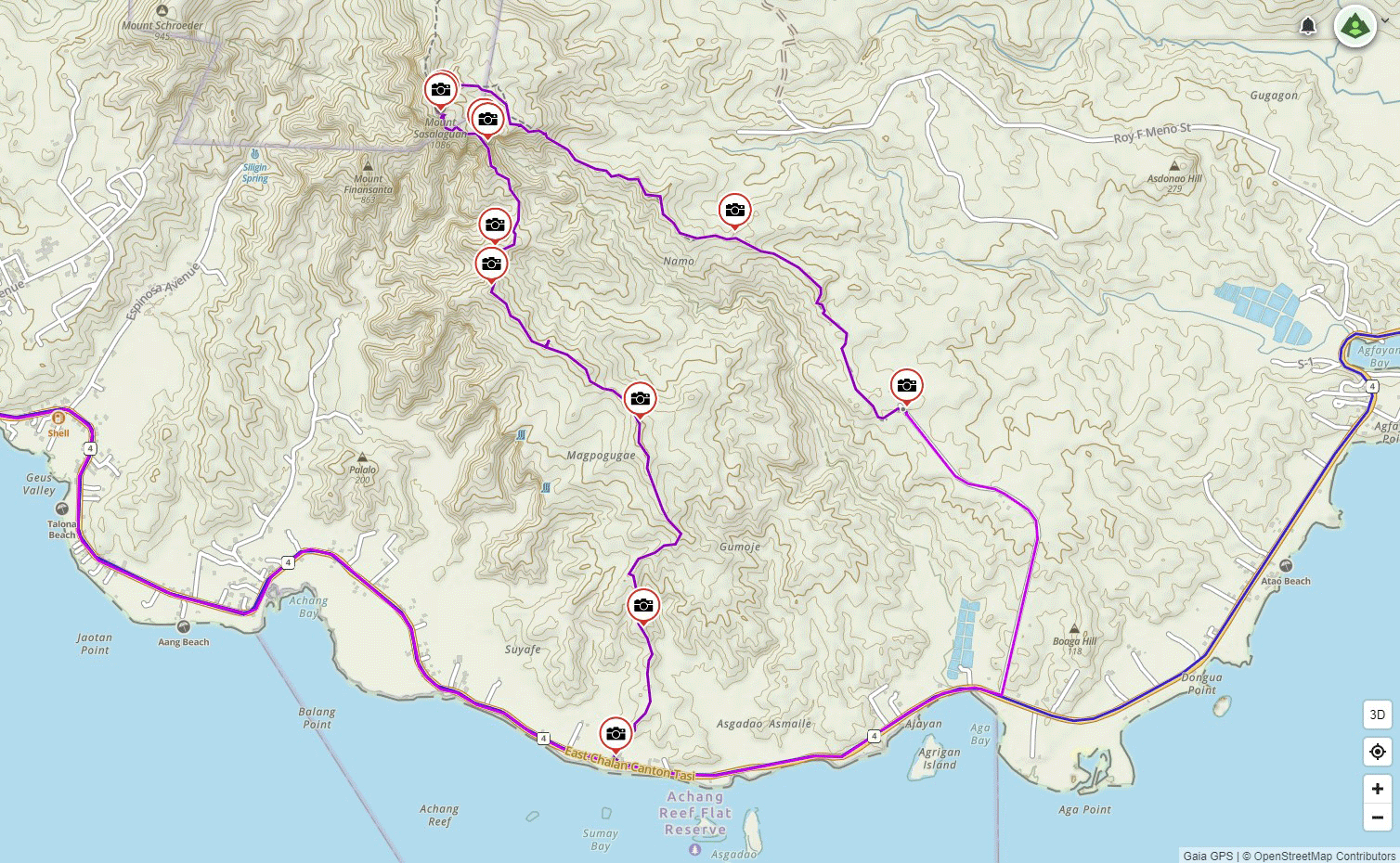 Authorities
Takhilo Falls (or Tak'hilo Falls) resides near Mt Sasalaguan in the village of Merizo in Guam. It may be administered by the Guam Department of Agriculture. For information or inquiries about the area as well as current conditions, you can try visiting this website.
Takhilo Falls (or Tak'hilo Falls) can be witnessed as an add-on to the Mt Sasalaguan hike.
As I mentioned in the write-up above, if you're not already familiar with the routes and the terrain in Guam, it's probably best to join a trekking group, hire a guide, or go with someone who has already done this hike before (and know what they're doing).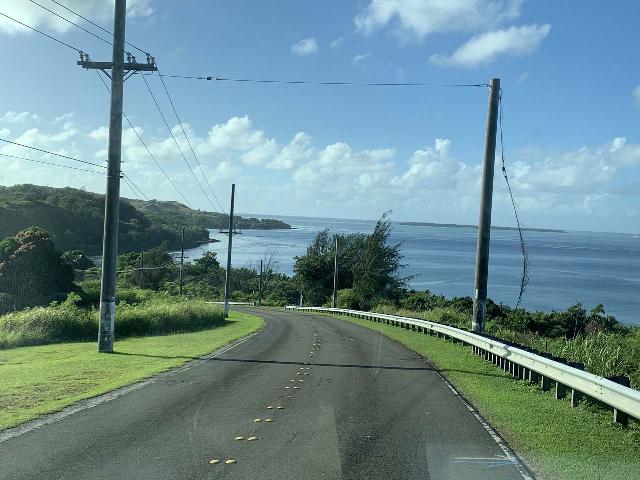 The way we managed to get in touch with our guide was that we contacted the Guam Tourism Board to get a list of candidates that might actually engage in this sort of thing.
If you do any research on hiking in Guam, you'll find that the most obvious choice would be to join a Guam Boonie Stompers excursion, where you look up their Facebook page and learn what hikes are coming up in the schedule.
Then, you'd meet them at some agreed upon meeting spot (usually spelled out on their page) before showing up and paying them a modest fee in cash to participate.
The problem with doing these hikes is that you're slaved to their schedule (i.e. they may not do a hike that you want to do in your limited time visiting Guam).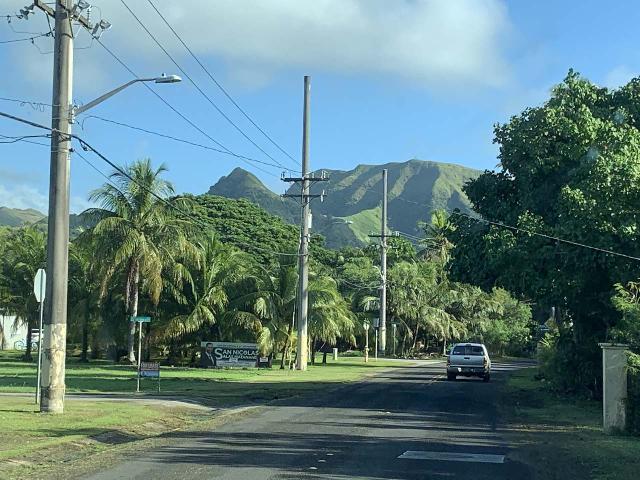 Moreover, I've been told that on their more difficult hikes, they tend to take a more military mentality and approach to their treks, which may leave you little time to rest or even take pictures as you struggle to keep up.
In my particular experience, we hired a guide named Chris Choi from Guam Trekking Tour (basically the only operator that responded to our inquiries when we reached out to the list of candidates gleaned from the Guam Tourism Board).
We then coordinated with Chris through WhatsApp on the logistics (i.e. meeting time, cost, schedule, etc.), and then he picked us up from our accommodation and guided us on our excursions before we paid him in cash at the end of the day.
That said, if you are curious about the driving directions on how to reach the Mt Sasalaguan trailhead, we basically followed the Marine Corps. Drive (Hwy 1) south from Tumon to a traffic light, where we turned left onto Hwy 2A.
Then, we followed Hwy 2A towards another junction with the Hwy 2, and then we followed that road along the southwestern coastline of Guam.
The road eventually became Hwy 4 at the village of Merizo, where we then continued another 4.5 miles past the Merizo Bell Tower to an unsigned turnoff for the Ija Experimental Farm Road on the left.
Finally, we followed this narrow road for the remaining mile to the gated entrance for the Ija Research and Education Center, where our guide parked in a grassy area before the entrance gate.
According to my trip logs, this drive took us around 75 minutes from the resort area of Tumon Bay though we did make a handful of stops to pick up other trekking participants along the way.
For geographical context, Merizo Village was about 8km (under 15 minutes drive) west of Inarajan, 44km (over 45 minutes drive) south of Tamuning, and 46km (1 hour drive) south of Tumon Bay.
Find A Place To Stay
Related Top 10 Lists
No Posts Found
Trip Planning Resources
No Posts Found
Nearby Accommodations
Featured Images and Nearby Attractions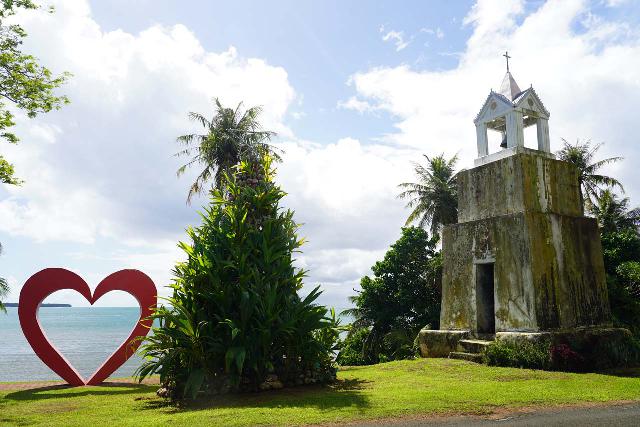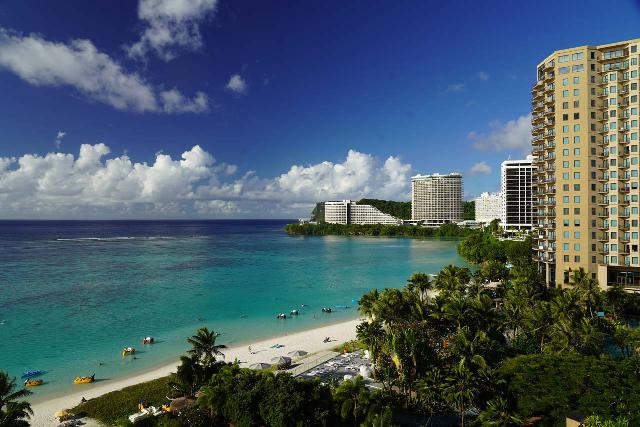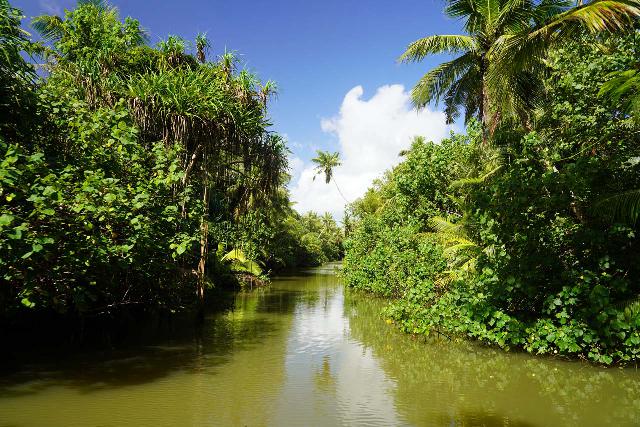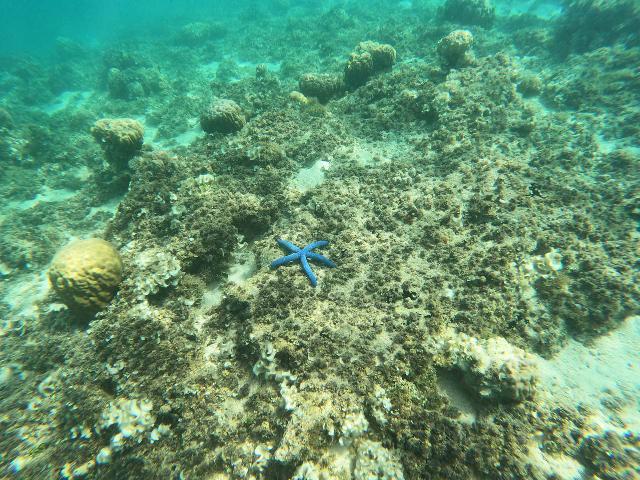 Tagged with:
sasalaguan, merizo, knife ridge, swordgrass, heavenly hill, hell mountain, guam, waterfall, neti
Visitor Comments:
Got something you'd like to share or say to keep the conversation going? Feel free to leave a comment below...
No users have replied to the content on this page
Visitor Reviews of this Waterfall:
If you have a waterfall story or write-up that you'd like to share, feel free to click the button below and fill out the form...
No users have submitted a write-up/review of this waterfall