About Unchalli Falls (Lushington Falls)
---
Hiking Distance:
1km round trip
Suggested Time:
30-45 minutes
---
Date first visited:
2009-11-15
Date last visited:
2009-11-15
---
Waterfall Latitude:
14.41015
Waterfall Longitude:
74.7479
---
Unchalli Falls (also called Lushington Falls) was perhaps one of the most spectacular waterfalls that we've encountered in India's most spectacular waterfalls.
At least that was what Julie and I thought as we were certainly impressed with the waterfall's practically unchecked flow, its rather unusual shape (almost reminiscent of Norway's Vidfoss), and its dramatic scenery amongst the lush and remote forested hills of the Uttara Kannada District near Siddapur.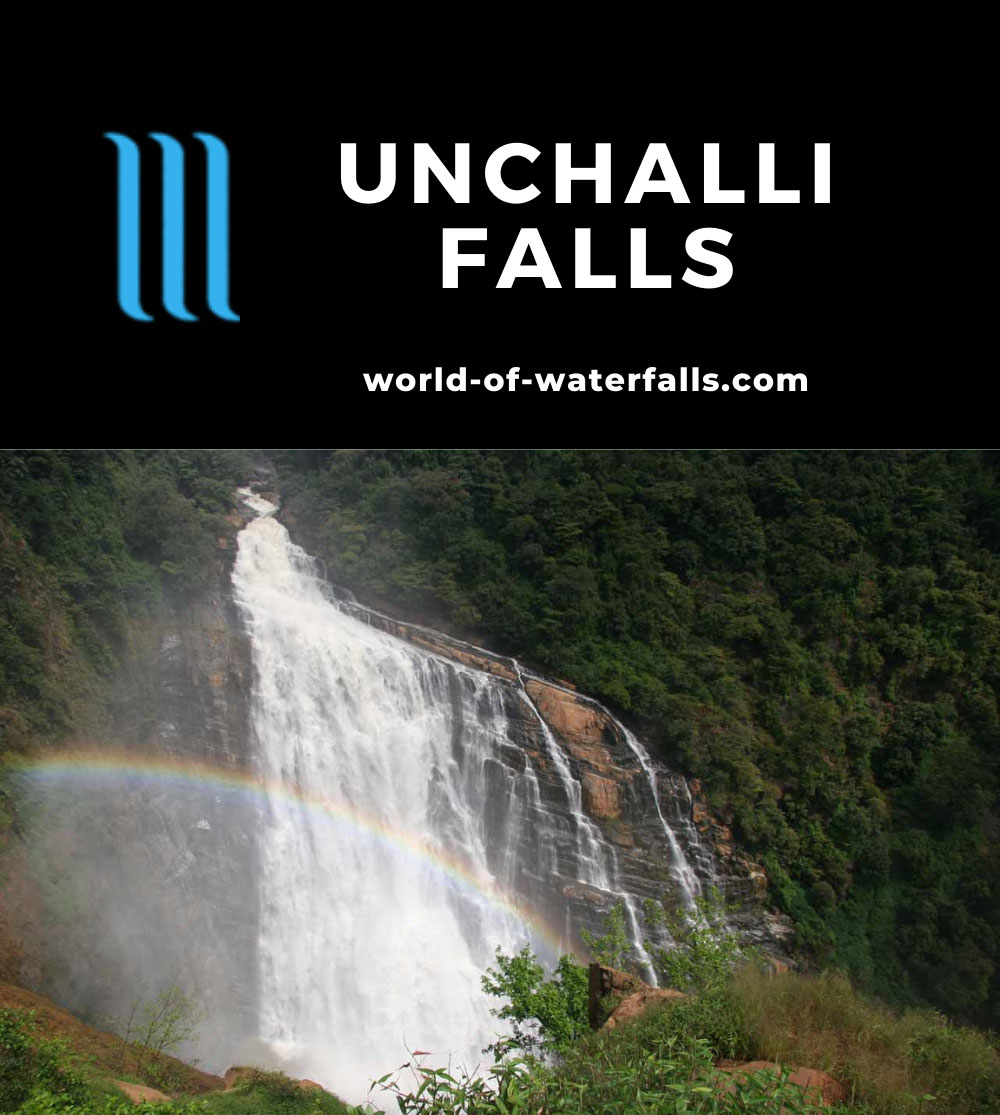 I guess depending on your mood and your experience, we can see how it can be argued that this waterfall might be even more impressive than a compromised Jog Falls.
We've seen in the literature that sometimes this falls was referred to as Keppa Jog (further supporting the notion that Unchalli Falls might be thought of in better terms than Jog Falls).
We also happened to come to this 116m falls at around midday, which seemed to be a perfect time for seeing a rainbow appearing in the waterfall's rising mist (see photo above).
Changes to facilitate accessing Unchalli Falls
We almost nixed the idea of coming to Unchalli Falls because we had originally thought that accessing it required a hot and sweaty 5km or 3.1-mile (each way) trek through mostly thick jungle from the village of Heggarne (some 30km south-southwest of Sirsi).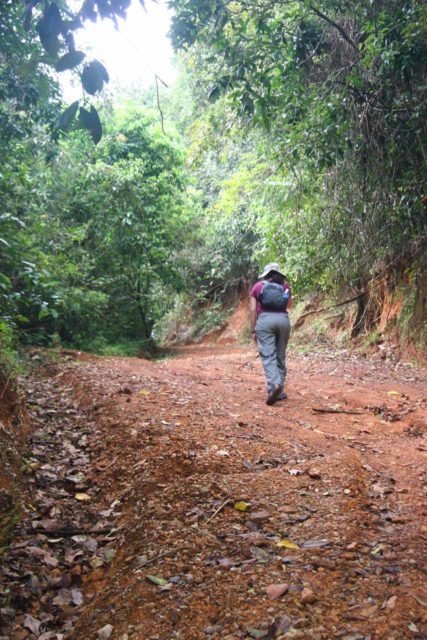 In fact, we still saw some misleading signage at a turnoff just north of the town of Siddapur saying the falls' access was barely 5km from that spot.
However, it turned out that the trek was the old access to the falls.
Indeed, it was fortunate for us that there was a longer more involved road access on what were apparently newly-built roads winding through the Western Ghats past some local villages to a humble car park by a sharp turn.
This car park was probably more like a pulloff with a gazeebo and shack nearby when we made our visit.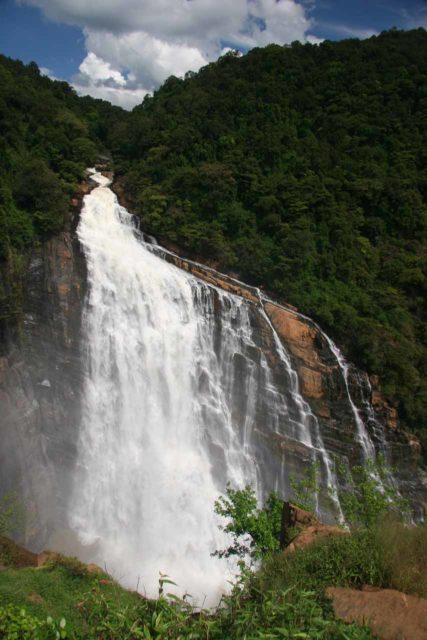 In any case, this reduced the walk to a mere 0.5km each way or 1km round trip on a fairly steep and muddy foot-traffic-only 4wd track.
A lot of the infrastructure here appeared to be either new or in the process of being built so by the time you might end up visiting the falls, perhaps access would be even easier and more convenient than what we encountered!
Near the end of the 0.5km steeply sloping muddy road, there was a flat area with benches and some latrine toilets (which were very disgusting when I was there as the rooms were caked in fecal matter on the floor).
Experiencing Unchalli Falls
From this little rest area, it was just a few paces to an elevated sheltered lookout platform providing awesome views of the falls.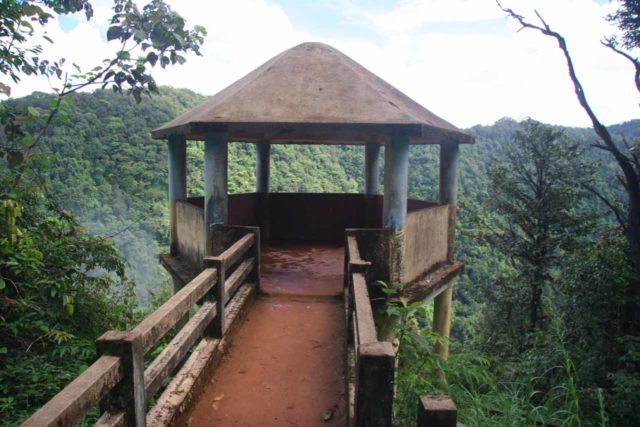 There were stairs leading down to a second sheltered platform.
That platform was under construction during our visit, but the workers were kind enough to let me take photos from within the work zone.
Then, there were more steps leading down to an open-air third viewing spot at its end.
The second platform was my personal favorite of the viewing spots due to the nicely framed foliage below the falls as well as a glimpse of its bottom where the Aghnashini River continued.
However, the last viewpoint got us even closer to eye level with Unchalli Falls.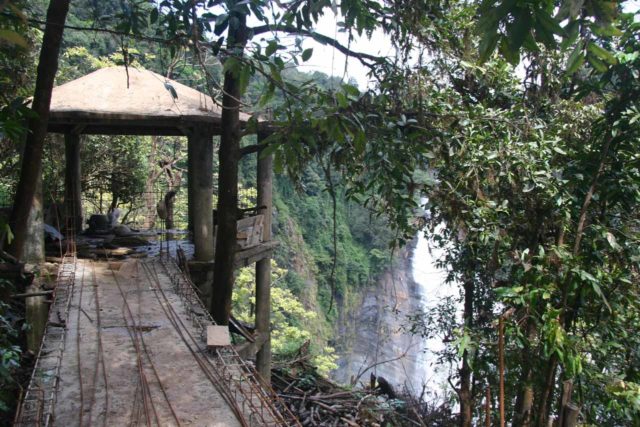 We definitely had to be careful here as there was an open side without a railing, and we were well aware that the ground can be muddy with spray from the falls.
In any case, beyond this viewpoint, it didn't seem possible to safely make it further to the bottom.
Possible Additional Changes in the Future at Unchalli Falls
As of our visit, Julie and I realized that they didn't yet collect any fees (especially camera fees or two-tiered fees for foreigners) as the area was still not quite on the tourist radar.
It seemed that pretty much the only people who knew about Unchalli Falls were locals as well as specific tour groups.
In fact, we happened to meet a Yoga Group from Shimoga town somewhere near Bangalore some 300km or more away from this falls.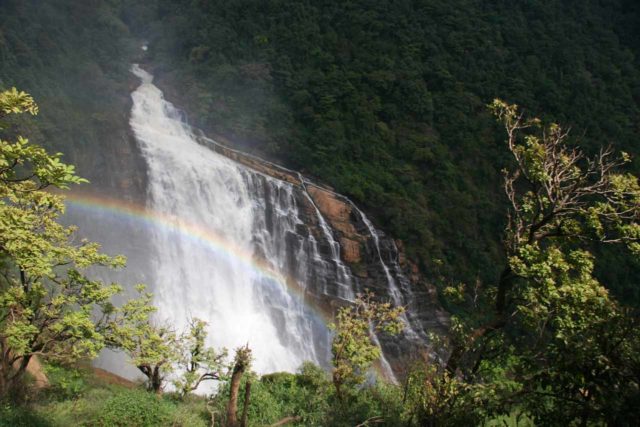 I'm sure this fee situation would eventually change as Unchalli Falls ought to get more attention along with the improving infrastructure (and associated cost for these things).
There was also the potential to help boost the economy for the neighboring rural region, which was why I think it would be only a matter of time before fees would be collected for convenient access to the falls.
Finally, the British name of the falls was in honor of J.D. Lushington who was a District Collector for the British Government during their colonial rule of India.
He just happened to "discover" the falls in 1845.
Authorities
Unchalli Falls resides near Siddapur in the Uttar Kannada District of Karnataka State, India. It is administered by the Uttar Kannada District Government. For information or inquiries about the area as well as current conditions, you can visit their website.
I believe we could've gotten to Unchalli Falls directly after leaving Sirsi as I recalled seeing some signed turnoff on the way.
But to be honest, Julie and I were a little disoriented as we had been driven around this part of the Western Ghats in pursuit other waterfalls before coming here.
So all we could offer up were the driving durations based on the notes we had taken.
We reached this waterfall after visiting Jog Falls.
It took us about 80 minutes to get from there to the trailhead for Unchalli Falls via the new road mentioned in the description above.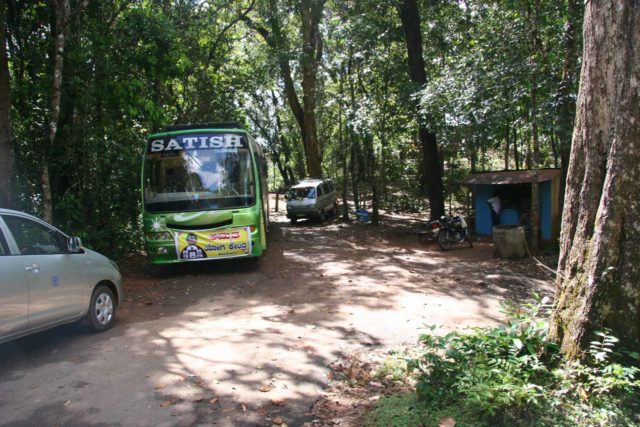 When we left Unchalli Falls, we drove a little over 2.5 hours to the beach town of Murudeshwar to the far south of Karnataka State.
As far as largest neighboring cities were concerned, we met a large yoga group that came from the town of Shimoga some 300km to the east of this waterfall (near Bangalore).
This might be a suitable alternate to the really small and rural towns like Sirsi, Siddapur, and Yellapur.
For some context, we flew to Panaji (the main town of Goa) from Mumbai, which took us about an hour to traverse the 579km or so (10 hours drive). The drive from Panaji to Sirsi would have taken 5 hours to go the 230km. Mumbai was a two-hour flight from Delhi.
Find A Place To Stay
Trip Planning Resources
Nearby Accommodations
Tagged with:
uttara kannada, yellapur, sirsi, siddapur, western ghats, india, karnataka, waterfall, lushington, bangalore
Visitor Comments:
Got something you'd like to share or say to keep the conversation going? Feel free to leave a comment below...
No users have replied to the content on this page
Visitor Reviews of this Waterfall:
If you have a waterfall story or write-up that you'd like to share, feel free to click the button below and fill out the form...
Thank You (Unchalli Falls)
December 7, 2009 7:01 pm
-
I've just gone through your web page and blog. You did a wonderful job! Of course waterfalls are the most charming thing on earth for me also. I have visited Unchalli falls since I was a child. Still whenever possible, I visit Unchalli falls. I have visited about 30 waterfalls of Western Ghats of India.… ...Read More