About Upper Sigua Falls and Alutom Falls
---
Hiking Distance:
at least 2 miles round trip (our-and-back) or 3-mile loop; requires steep rope-aided slopes
Suggested Time:
allow at least 3 hours
---
Date first visited:
2022-11-21
Date last visited:
2022-11-21
---
Waterfall Latitude:
13.42802
Waterfall Longitude:
144.71243
---
Upper Sigua Falls and Alutom Falls are a pair of waterfalls on the Sigua River beneath the steep south-facing slope of Mt Alutom.
Of the two waterfalls, the Upper Sigua Falls was an impressive pair of cascades dropping a cumulative total of a reported 60ft (each drop roughly equivalent in height).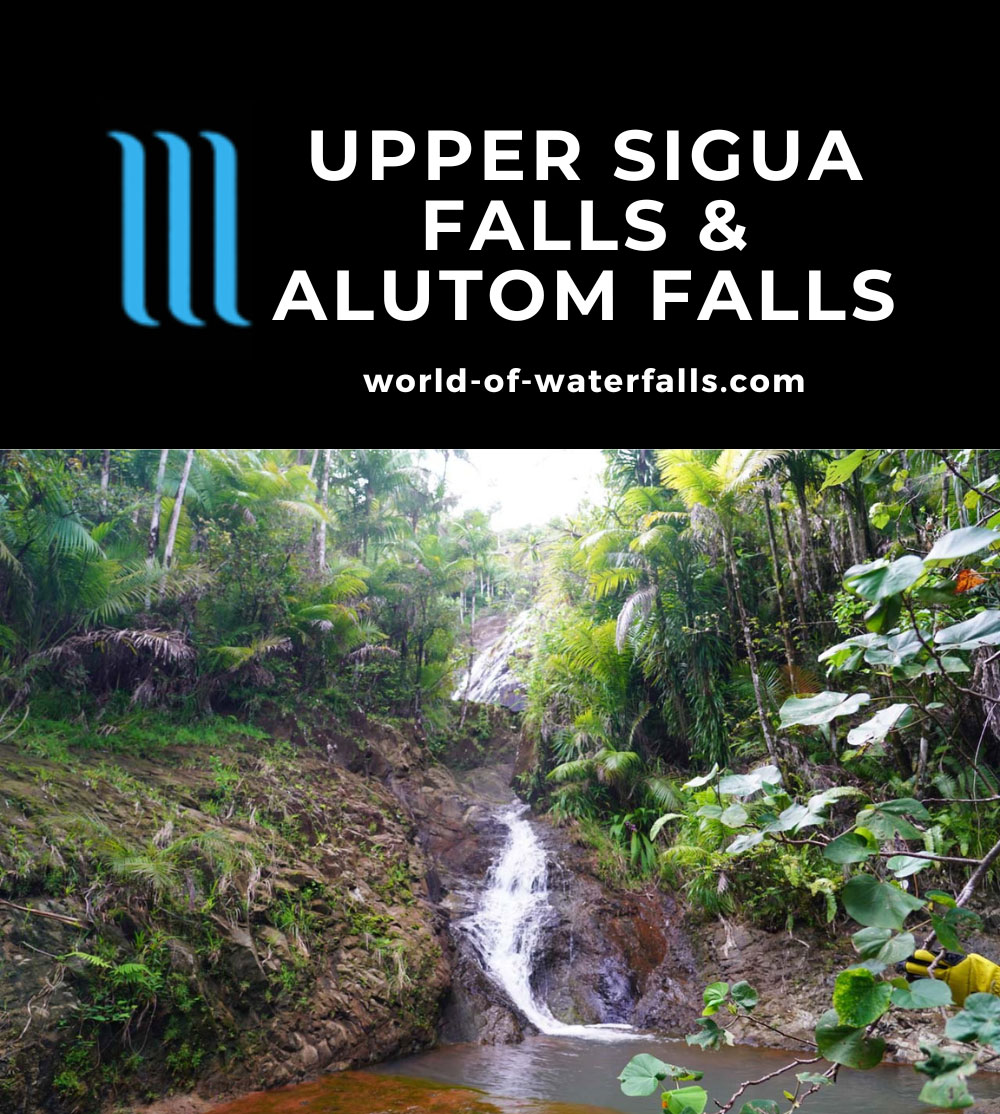 Meanwhile, the Alutom Falls was a quaint waterfall with a plunge pool (it looks deep but it's only good for wading) just a short distance upstream from the Upper Sigua Falls.
As the name suggests, there's actually a Lower Sigua Falls, which had an impressive 75ft plunge, but the rugged terrain made it so that short of a very difficult river scramble, it was not practical to combine these Sigua River Waterfalls in one excursion.
Therefore, for the purposes of this write-up, we'll just focus on the Upper Sigua Falls and Alutom Falls, which can be done on a steep out-and-back half-day excursion.
It's worth noting that if you're ambitious, it is possible to combine this excursion with the Maguagua Falls in a longer loop hike.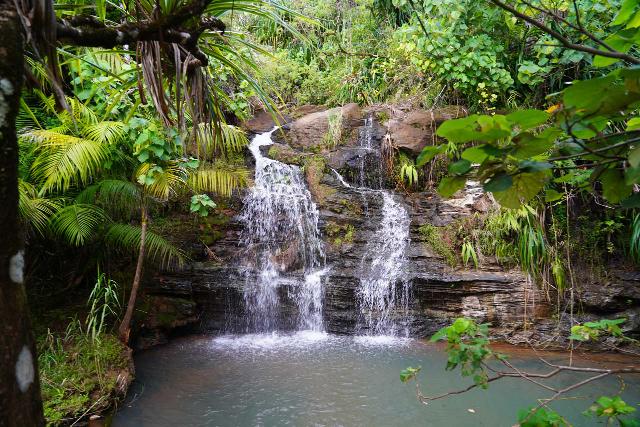 Nevertheless, even though the Upper Sigua and Alutom Falls combo wasn't a long hike (my GPS logs suggested that it was 2.5 miles out-and-back), it wasn't an easy hike either.
The reason for this is that there's a steep and slippery descent beneath Mt Alutom as well as a dicey rope-aided descent alongside the Upper Sigua Falls.
In one instance, I actually took a fairly nasty spill bruising my right elbow and side when my foot slipped out from under me as I was holding tightly onto rope trying to get to the very bottom of the Upper Sigua Falls.
And while descending the steep and slippery slope was difficult, I found going back up even more challenging because in some cases footholds were non-existent, especially where I essentially had to do a pull-up in the absence of using footholds for leverage.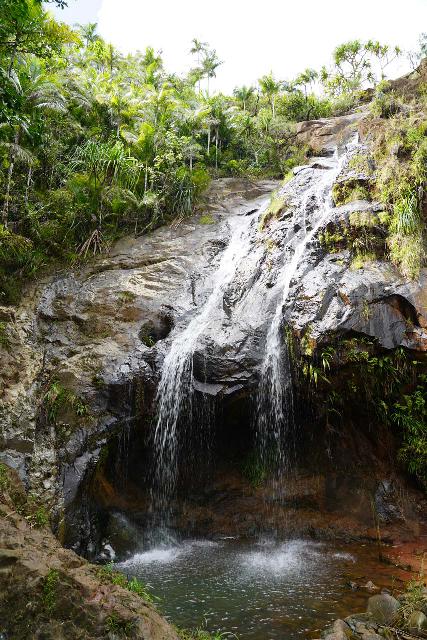 Even higher up the return route, climbing back up Mt Alutom was tiring though it was considerably easier going up the exposed hill as opposed to going down the loose gravel surface.
Overall, it took us around 90 minutes to experience both Alutom Falls and the bottom of Upper Sigua Falls, and thus, it would probably take 3 hours in total to complete this as an out-and-back upside-down excursion.
Trail Description – Hiking To Mt Alutom & The Sigua Valley Overlook
From our starting point near some residences at the end of Turner Road (see directions below), we walked up a rough 4wd track forking off to the left of the road's end.
After about 400ft, we kept to the left at a fork in the road (the path coming in from the right actually was the route for Maguagua Falls), and we continued another 1/2-mile along the muddy 4wd track towards the communications towers atop Mt Alutom.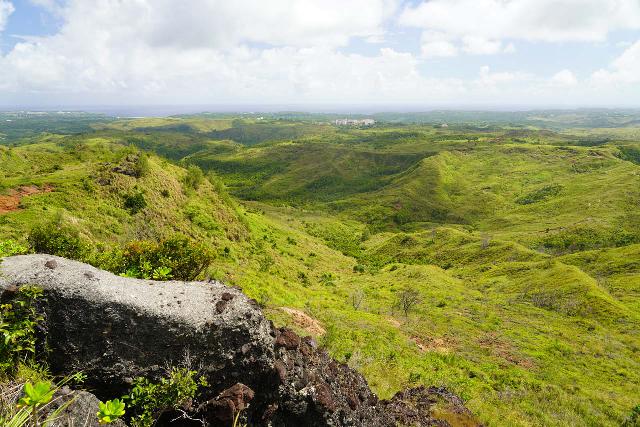 Then, we kept left at an unmarked fork (except for a "Private Property" sign) to avoid going up to the cell towers and following this faint track towards an outcrop that I presume was the Sigua Valley Overlook.
At this vantage point, we could look to our left towards the Leo Palace and its golf courses, straight ahead towards the forested ravine of the Sigua River, to the right at the ocean off Guam's west coast, and behind us at Mt Alutom itself.
While we knew that the waterfalls were in the ravine somewhere, it was hard to tell exactly where since they weren't visible from this spot.
Trail Description – Descending To Alutom Falls
Continuing with the hike, we then descended essentially a gully on some eroded slopes (with loose gravel acting as ball bearings conspiring to make us slip and fall) between grassy terrain (some of which was the ubiquitous swordgrass).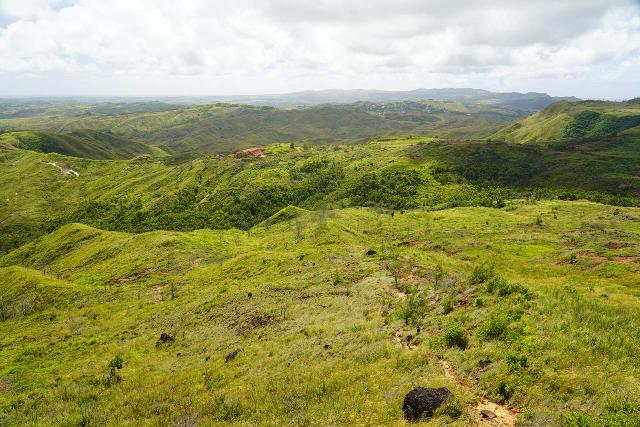 This descent went for about 1/4-mile, which took us nearly 30 minutes to complete as we had to be very careful with our steps.
Like with other rough hikes in Guam, it was a good idea to be wearing gloves as well as leveraging trekking poles on this descent.
The further down we went, the more vegetation was around us, and that's where things could start to get confusing.
Once the descent flattened out nearby the Sigua River, we then followed some faint use-trails upstream to the secluded Alutom Falls.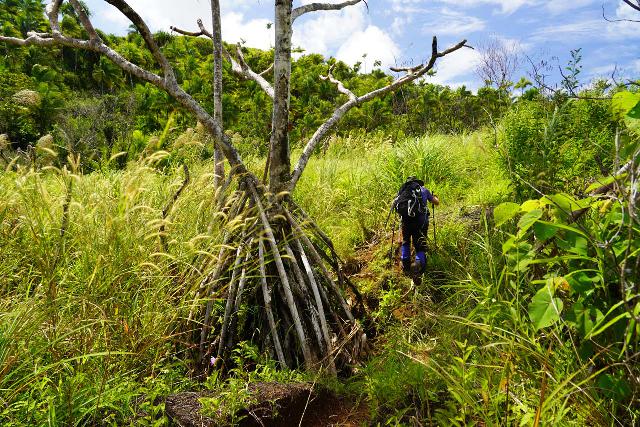 As inviting as this waterfall was for a dip, there were a handful of mosquitoes conspiring to keep things uncomfortable (and unpalatable to become sitting ducks for them).
Trail Description – Descending Alongside Upper Sigua Falls
After having our fill of the Alutom Falls, we then followed some trampled swordgrass and faint use-trails downstream before descending to the very brink of the Upper Alutom Falls.
The water level of the Sigua River was low enough to comfortably get across this precarious spot without getting wet, but it could be very dicey if the river ran high and covered up the bedrock that we had relied upon for this traverse.
Anyways, we then followed a pretty steep and muddy descent alongside the Upper Sigua Falls, where we utilized rope that was tied to trees.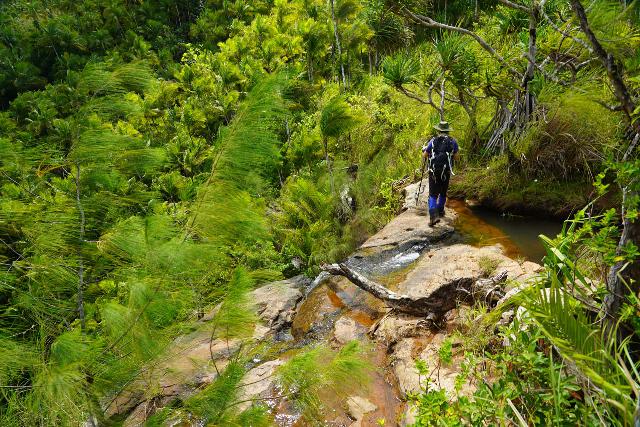 The slope was quite at an angle that I swore was greater than 45 degrees (though in reality it might not be that severe), and we went slowly down this path.
The views of Upper Sigua Falls went from partial profile perspectives near the waterfall's brink to mostly overgrown partial views the lower down the slope we went.
Eventually, we got down to the base of the upper section of the main drop of Upper Sigua Falls, where we then made an awkward scramble to some rocks for some rest.
There was a partial view of the twisting waterfall (because the uppermost sections were out-of-sight from this vantage point), which let a lot to be desired.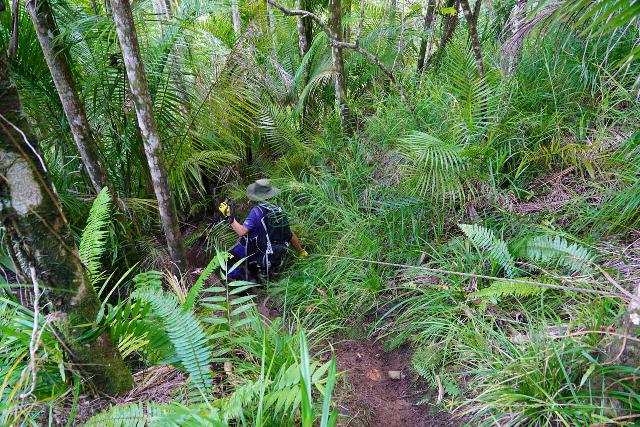 Nevertheless, after having our fill of this "half-way" point of the falls, my guide Chris showed me an even steeper rope-aided descent to the very bottom of the falls.
The very bottom part of this descent was very muddy and slippery (causing me to lose my footing and bruising my right side of my body after slamming onto the rocky surface I was descending).
Once down there, I managed to get an upstream look back at the Upper Sigua Falls, where there was a lower waterfall fronting a partial view of the twisting upper waterfall.
This was the end of the line as far as experiencing the Upper Sigua Falls, and now it was time to make our way out of this ravine.
Trail Description – Options On The Return Hike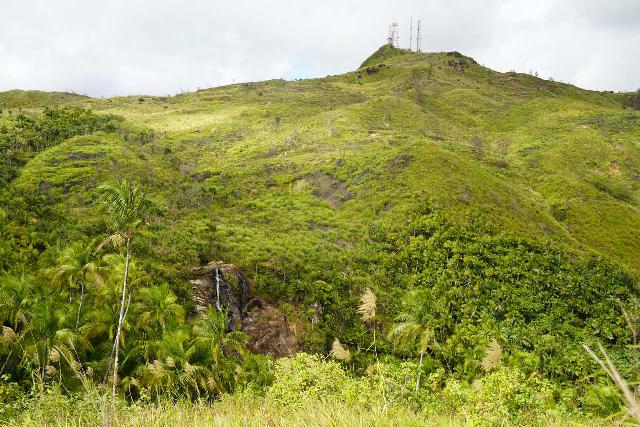 We had options on how we'd want to leave the base of the Upper Sigua Falls.
The shortest and more straightforward option would be to go back up the way we came, but that meant going back up the challenging rope-aided slope, and then going back up the southern slope of Mt Alutom.
Another option was to go up a similarly steep trail through a gully and then through swordgrass to get up to a 4wd road above the ravine opposite Mt Alutom.
From this 4wd track, we could then hike a loop back to our starting point, which would be about 1.6 miles in length (or 0.4-mile longer than the first option).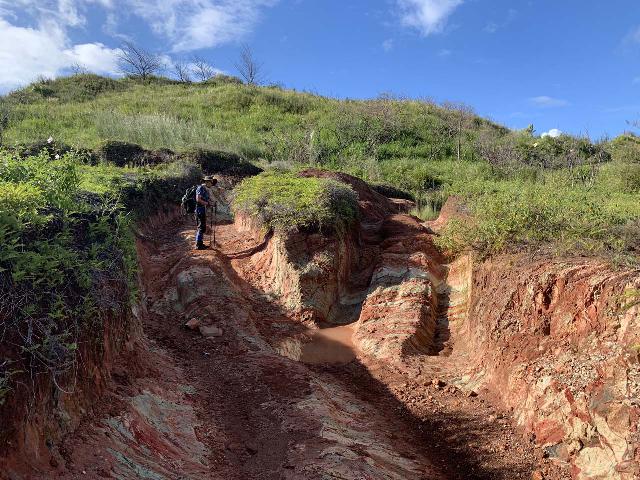 However, given the relatively close proximity of Maguagua Falls to this 4wd track that looped back, it was reasonable to combine that waterfall with the waterfalls in this write-up.
In fact, that was exactly what my guide Chris and I did though it made for a rather long half-day excursion that took us about 4 hours in total (or 60-90 minutes longer than the out-and-back hike described in the first option).
I'll leave the details of the Maguagua Falls part for its own write-up since it could also be done on its own.
Authorities
Upper Sigua Falls and Alutom Falls reside near Mt Alutom in the villages of Yona or Santa Rita in Guam. It may be administered by the Guam Department of Agriculture. For information or inquiries about the area as well as current conditions, you can try visiting this website.
The Upper Sigua Falls and Alutom Falls can be accessed on the same excursion that begins from some residences near the summit of Mt Alutom.
The way we'd make the drive from Tumon Bay would be to head south on Marine Corps. Drive towards the junction with Hwy 6 (about 9km).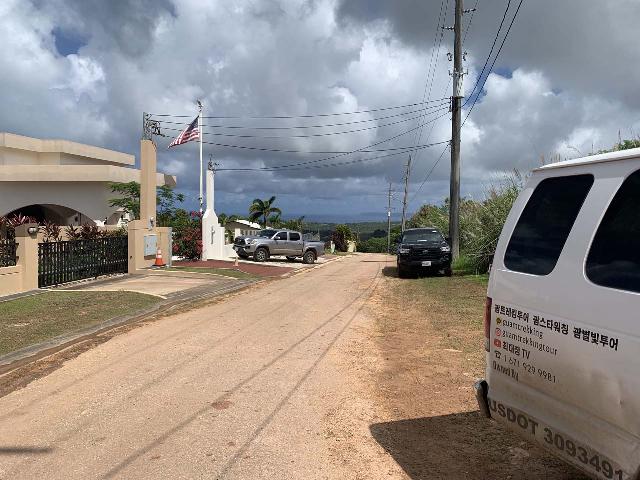 Then, we'd turn left onto Hwy 6 and drive for 5km (going past Nimitz Hill) before turning left onto a connector road towards Turner Road.
Next, we'd turn right onto Turner Road and follow it to the end a little over 2km later, where there was some grassy pullouts opposite the residences.
Overall, this drive would take us about a half-hour.
One thing I want to mention about this hike is that it involved quite a few hazards and easy-to-lose paths so I did feel the need to hire a guide who was familiar with this excursion.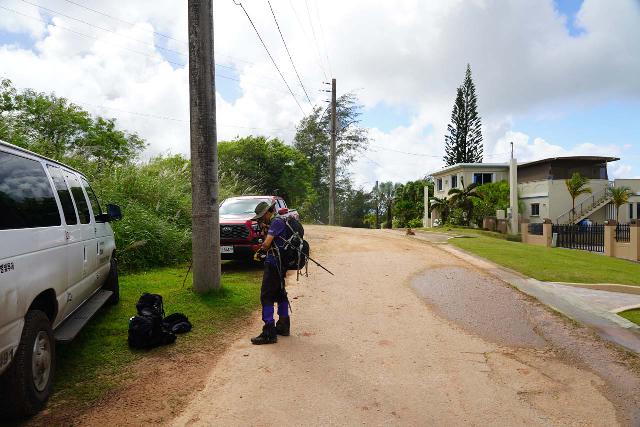 The person I hired was named Chris Choi who runs the Guam Trekking Tour, which also doubles as a Korean trekking group.
Finally, for geographical context, Yona was about 18km (under 30 minutes drive) north of Inarajan, about 19km (under 30 minutes drive) south of Tamuning, and 20km (about 30 minutes drive) south of Tumon Bay.
Find A Place To Stay
Related Top 10 Lists
No Posts Found
Trip Planning Resources
No Posts Found
Nearby Accommodations
Featured Images and Nearby Attractions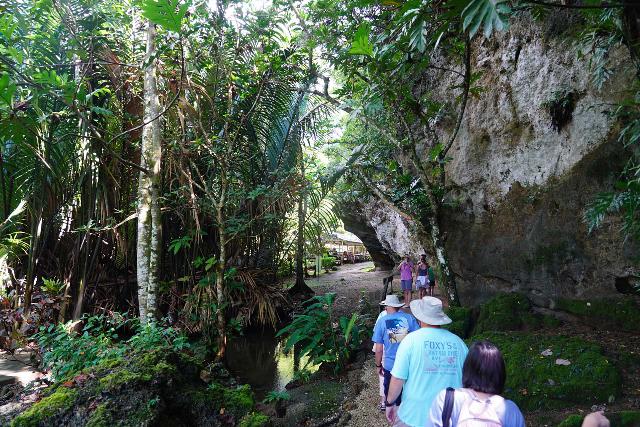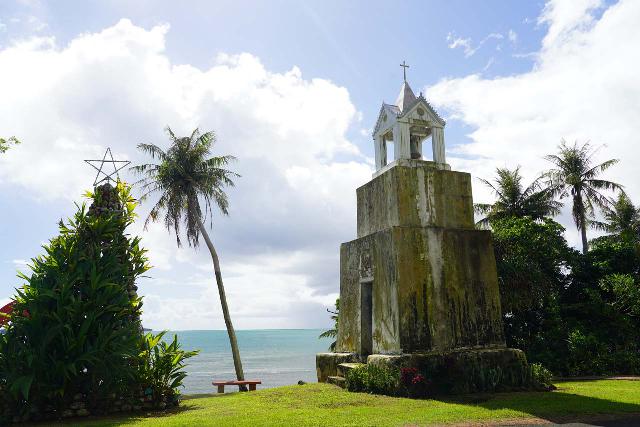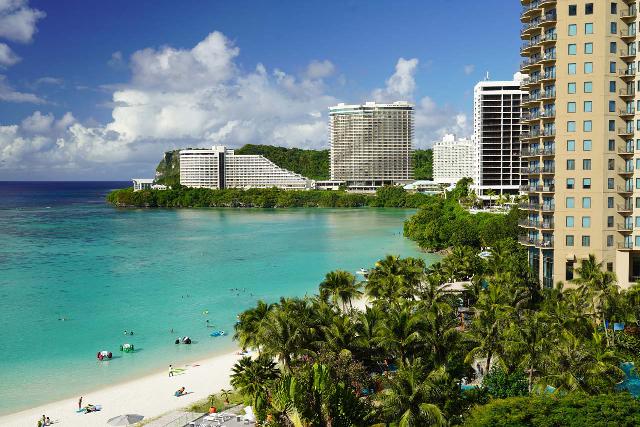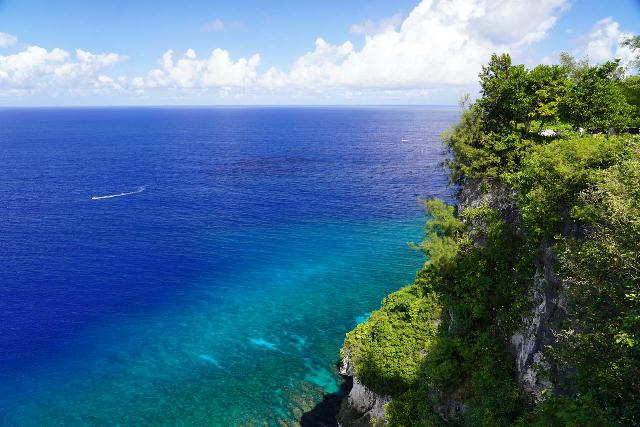 Tagged with:
yona, santa rita, guam, alutom falls, mt alutom, sigua river, swordgrass, neti, rope, muddy, waterfall, hike
Visitor Comments:
Got something you'd like to share or say to keep the conversation going? Feel free to leave a comment below...
No users have replied to the content on this page
Visitor Reviews of this Waterfall:
If you have a waterfall story or write-up that you'd like to share, feel free to click the button below and fill out the form...
No users have submitted a write-up/review of this waterfall