About Wallaman Falls
---
Hiking Distance:
4km round trip (top and base)
Suggested Time:
2-3 hours
---
Date first visited:
2008-05-16
Date last visited:
2022-07-01
---
Waterfall Latitude:
-18.59251
Waterfall Longitude:
145.80187
---
Wallaman Falls is said to be the tallest permanent waterfall in Australia where Stony Creek (a tributary of the Herbert River) made a sheer drop of 268m.
Further adding to its allure, the waterfall sat in Girringun National Park (also called Lumholtz National Park) as part of the Wet Tropics World Heritage Area, which is said to harbor the oldest surviving ecosystem on earth.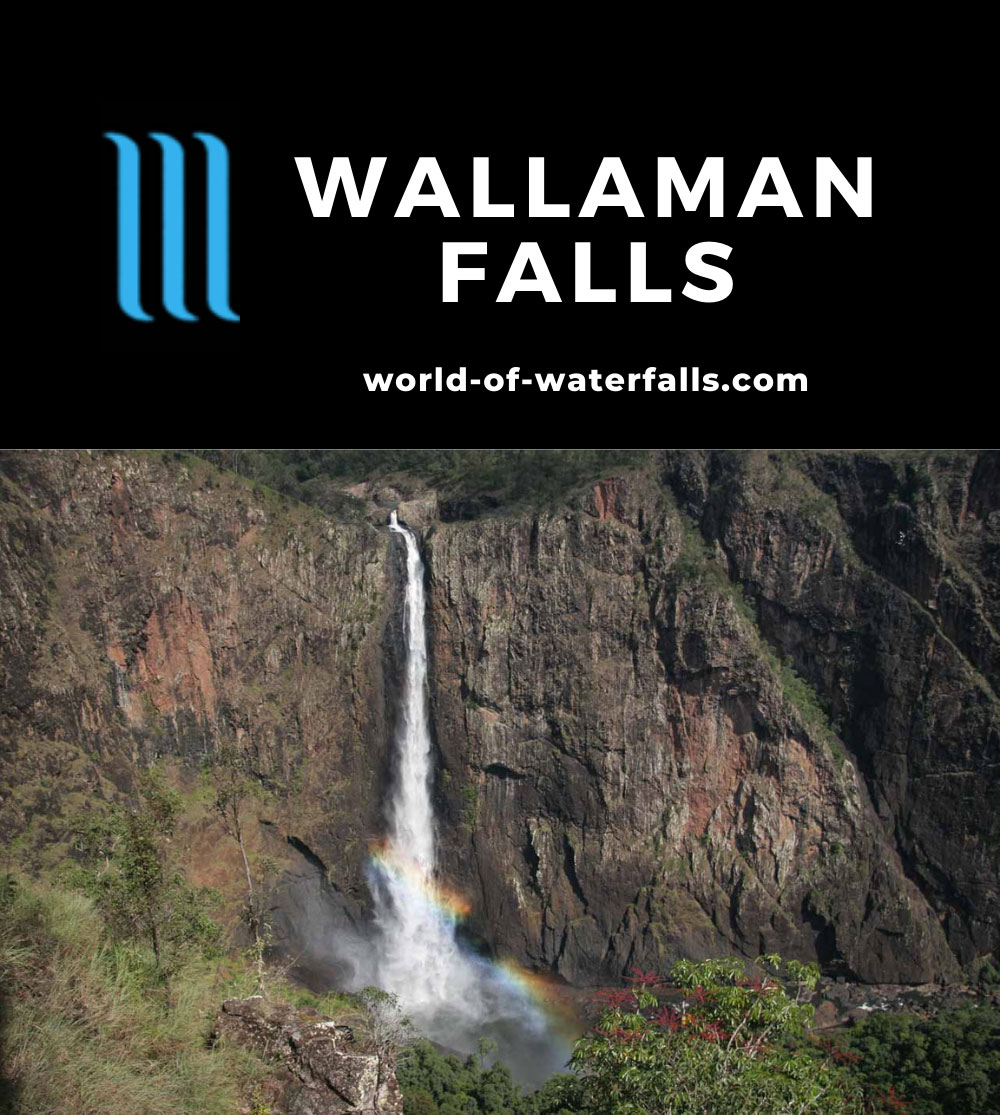 Prior to our first visit to Queensland in May 2008, this was one waterfall that Julie and I eagerly anticipated seeing given its reputation.
And usually when you come in with expectations, it's often a recipe for disappointment.
However, as you can see from the photo above (and on the rest of this page), Wallaman Falls fully delivered on its promise of a good experience.
Heck, we liked it so much that it placed high in our Top 10 Australian Waterfalls page.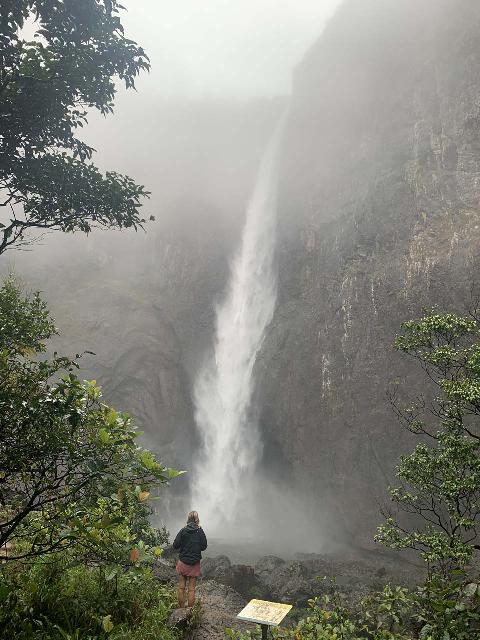 After all, in the good Dry Season weather we had at the time, we managed to get contextual views from the lookout by the car park.
In addition, we also earned our views at the bottom, where we fully appreciated the height figure of this waterfall (something that is often times exaggerated for the purposes increasing tourism income).
Of course, good weather isn't always a guaranteed thing, and we learned that the hard way when we came back in early July 2022 during a persistent La Nina rain storm that shrouded this place in clouds.
Under such conditions, while it may be a bummer to have clouds blocking the views from the upper lookouts, I was glad that I didn't give up on going to the bottom to at least salvage a satisfying experience.
Timing Of The Wallaman Falls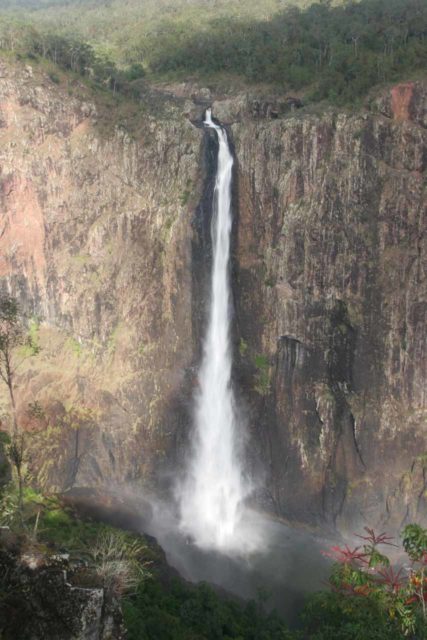 Naturally, our visits began with the overlooks directly across the gorge from the Wallaman Falls, which themselves stood just a few paces from the car park (see directions below).
From these elevated vantage points, we appreciated the full extent and context of the falls, but they're only available when there's good weather.
As for anticipating the good weather (especially if you're making a visit from far away and trying to plan for a visit), you'll likely want to time your visit for the Dry Season (Australian Winter).
Of course, Wallaman Falls may put on a mental display of high flow (which doesn't happen often for tall waterfalls like this), but then you have to contend with clouds possibly blocking the view.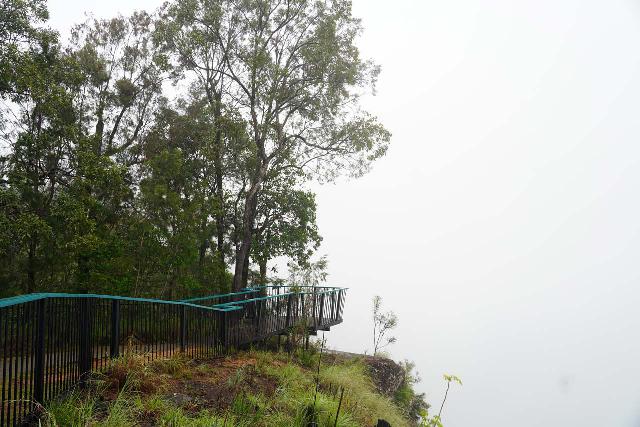 The Wet Season tends to be the Australian Summer, and that's when most of the tropical regions of Australia get most of their monsoonal moisture.
That said, historical Wet versus Dry Season patterns are not guaranteed, especially with Global Warming and Climate Change destabilizing the "norms" we've been accumstomed to relying upon.
In fact, our early July 2022 visit was proof of these norms getting turned upside down when persistent La Nina rains were flooding much of the East Coast of Australia at the time.
Nevertheless, Nature doesn't deal in absolutes, and you still have to come in with the mentality of maximizing your chances of a successful visit by essentially playing the percentages.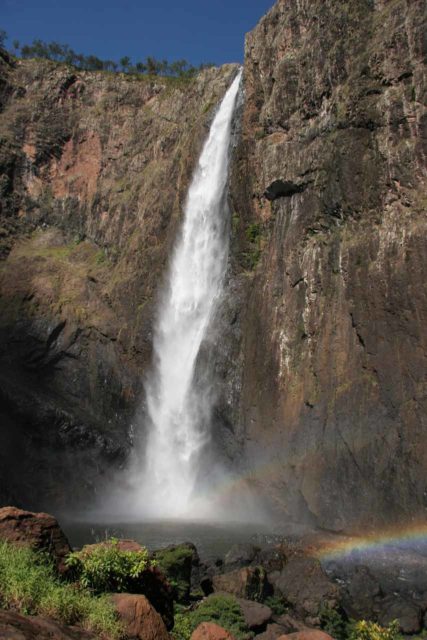 Finally, as far as trying to see Wallaman Falls with a rainbow, based on our first visit (which happened in good weather), the midday sun produced rainbows across the waterfall's base at around 12:15pm.
Hiking to the Base of Wallaman Falls
While the overlooks yielded a satisfying but distant experience of Wallaman Falls, it might be compelling to get more interactive with this waterfall.
However, in order to do that, we had to go on a rather strenuous 4km upside down hike where we had to lose the waterfall's elevation loss and then regaining it on the way back.
This hike is on a track known as the Djyinda Walk (or Jinda or Djinda Walk, pronounced "JIN-da"), which translates to mean "Falls".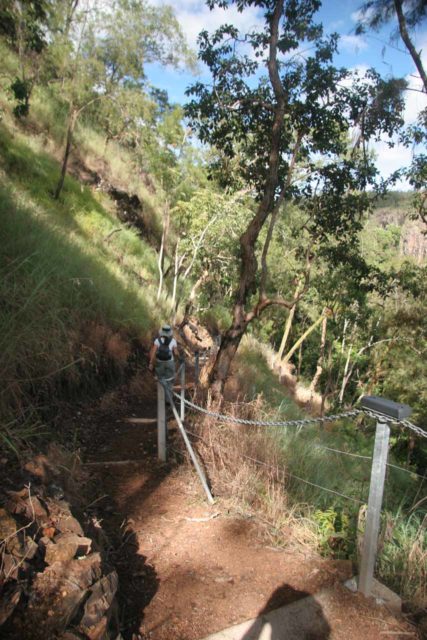 It's not clear to me if that Aboriginal word is related to the Warrgamaygan People, who are the traditional owners of this area.
Anyways, it was a demanding hike that transitioned from the drier subtropical tablelands at the top to the muggier and more lush rainforested gorge at the bottom.
By the way, this rainforest is a major reason why it was gazetted as a world heritage area.
After all, it dated back to a time when Australia was joined with South America, Asia, and Africa in a pre-historic supercontinent known as Gondwanaland.
So given the ancient nature of the monsoonal rainforest ecosystem here, we had to be wary of some of the flora and fauna here like aggressive cassowaries as well as a plant with poisonous heart-shaped serrated leaves that could leave a neurotoxic sting.
That was motivation for us to stay on the trail and not get tempted to do any scrambling shortcuts.
Aside from Herbert River / Stony Creek Lookout on the upper fringes of the ancient rainforest, the rest of the hike then proceeded to go right into the lush ecosystem while steeply losing elevation.
It turned out that we didn't have too much trouble with the hike leading down to the base of Wallaman Falls though it did get a bit slippery and muddy towards the bottom when I showed up on a rainy day.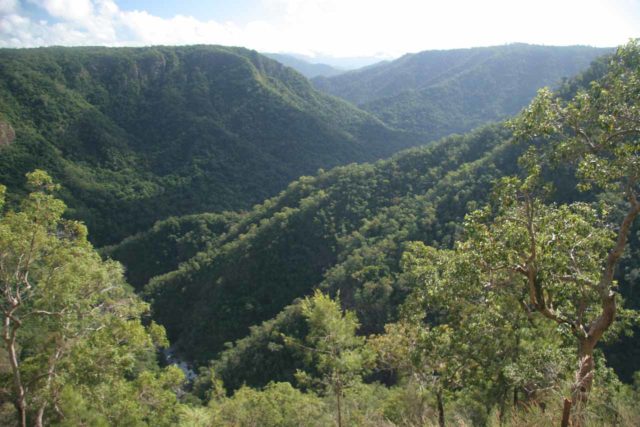 That said, we knew that the hike going back up would make us tired, hot, and quite sweaty given the appreciable elevation loss.
When we got to the gorge floor, the rainforest started opening up and finally revealing the impressive Wallaman Falls once again.
While the falls didn't look quite as tall given the forced perspective of looking up from its bottom, we enjoyed the cool mist providing momentary relief from the tropical heat as well as the double rainbows that it produced.
Overall, Julie and I spent about 3 hours away from the car, but we really took our time on the hike while lingering for a long time at every opportunity to stop to really savor the experience.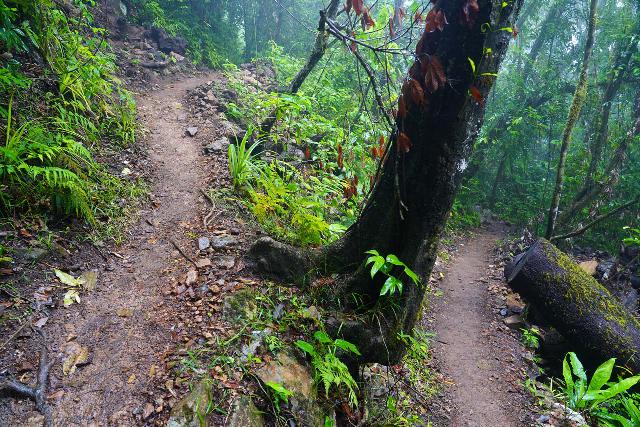 With an early start, we actually had enough time to do the Djyinda Walk and get back to the overlooks just in time for rainbows to appear at midday.
Authorities
Wallaman Falls resides in the Girringun National Park near Ingham, Queensland. It is administered by the State of Queensland Department of Environment and Science. For information or inquiries about the area as well as current conditions, visit their website.
Wallaman Falls sits in Girringun National Park (also called Lumholtz National Park) well inland from Ingham.
We'll describe the driving directions from there.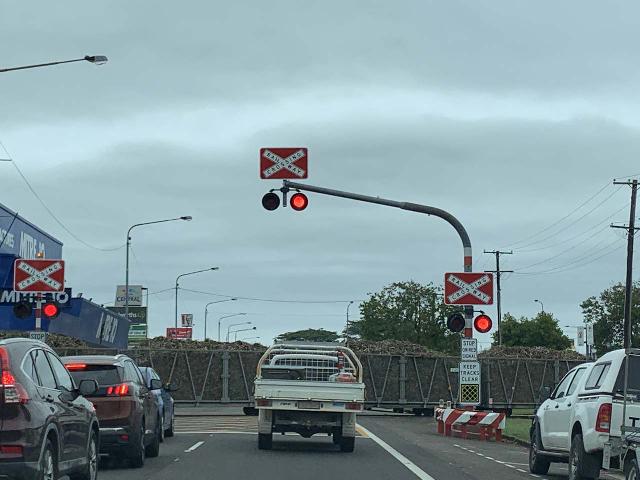 From Ingham, we left the Bruce Hwy (A1) at Lannercost Street near the town centre, and we proceeded to drive west, where the street changed names before eventually becoming Abergowrie Road.
After proceeding for about 8.5km (passing alongside some massive sugarcane fields), we then turned left onto Stone River Rd in the town of Trebonne (there should be a sign pointing the way to Wallaman Falls).
We then followed Stone River Rd for about 5.6km before turning right onto the Venables Crossing Rd then another left onto Lannercost Extension Rd before making another right onto Wallaman Falls Rd.
Again, these turns had signs that pointed the way to keep us on the route to Wallaman Falls.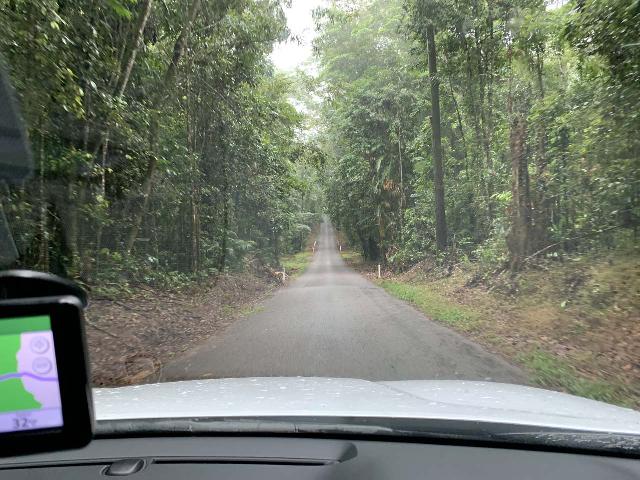 We followed Wallaman Falls Rd for about 34km, which involved driving on a narrow paved road (which was a well-graded gravel road back in May 2008).
There were plenty of blind turns as the road entered forest, and there were also plenty of signs warning of potential crossings of endangered cassowaries (a type of aggressive giant flightless bird with a bracchiosaurus-type head).
We then followed the signpost to take the turnoff on our right (Lookout Rd), which ultimately led to the car park for the overlooks and walking tracks.
Overall, this drive took us about an hour.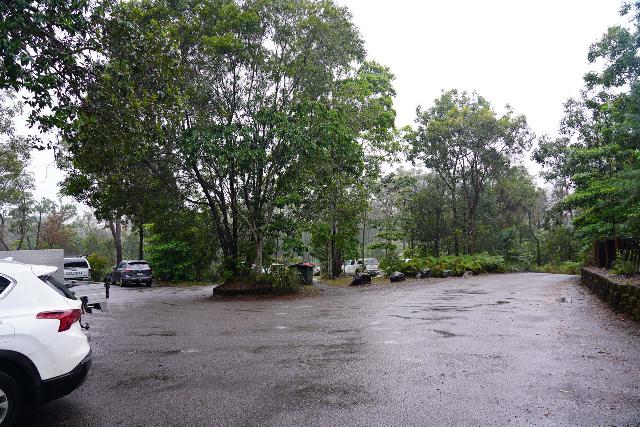 For geographical context, Ingham was about 53km (over 30 minutes drive) south of Cardwell, 113km (90 minutes drive) north of Townsville, 148km (over 90 minutes drive) south of Innisfail, and 235km (3 hours drive) south of Cairns.
Find A Place To Stay
Trip Planning Resources
Nearby Accommodations
Featured Images and Nearby Attractions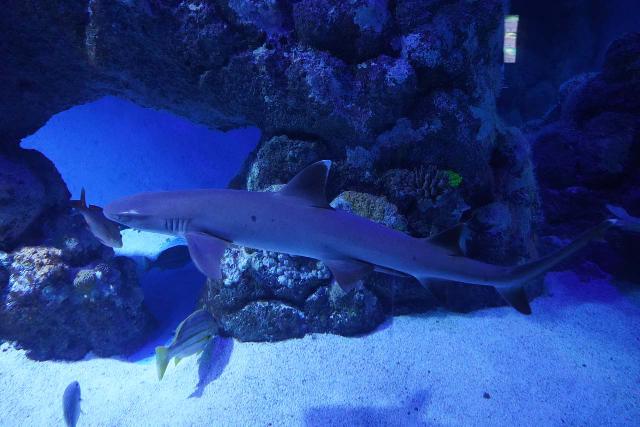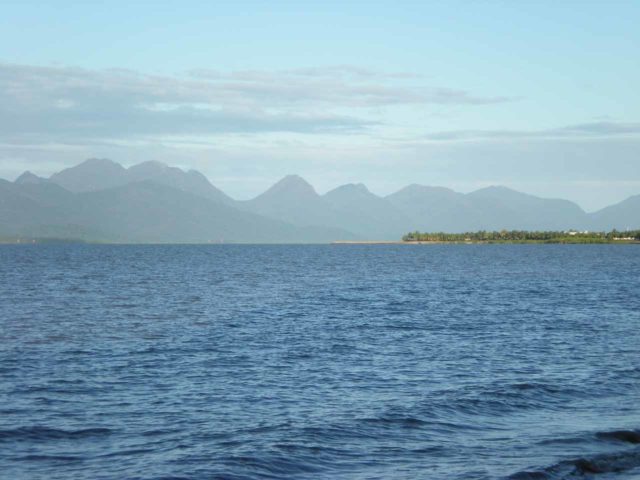 Tagged with:
girringun, lumholtz, national park, hinchinbrook, ingham, townsville, cardwell, queensland, australia, waterfall, stony creek, gondwanaland, herbert river, top 10 australia, wet tropics, world heritage
Visitor Comments:
Got something you'd like to share or say to keep the conversation going? Feel free to leave a comment below...
Aerial Video of Wallaman Falls
June 15, 2015 3:12 pm
-
Here you'll find a short aerial video of the Wallaman Falls. ...Read More
Visitor Reviews of this Waterfall:
If you have a waterfall story or write-up that you'd like to share, feel free to click the button below and fill out the form...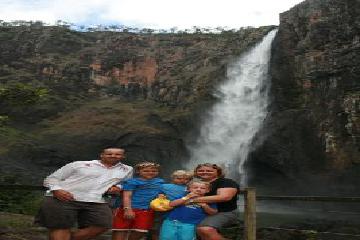 Wallaman Falls, August 2010
July 4, 2011 4:05 am
-
We visited Wallaman Falls as part of our around-Australia trip in 2010. Definitely worth the visit, and it was also a nice place for an overnight camp. My video shows the road in as well as giving you a good idea of what the walk down to the bottom is like. We didn't have any… ...Read More