About Bailey Canyon Falls
---
Hiking Distance:
1.25 miles round trip
---
Date first visited:
2016-02-06
Date last visited:
2022-01-01
---
Waterfall Latitude:
34.1784
Waterfall Longitude:
-118.06216
---
Bailey Canyon Falls was one of the locally obscure waterfalling excursions that we've done in the foothill city of Sierra Madre.
We suspect that a large reason for this apparent obscurity was that it didn't appear in any of our local guidebooks.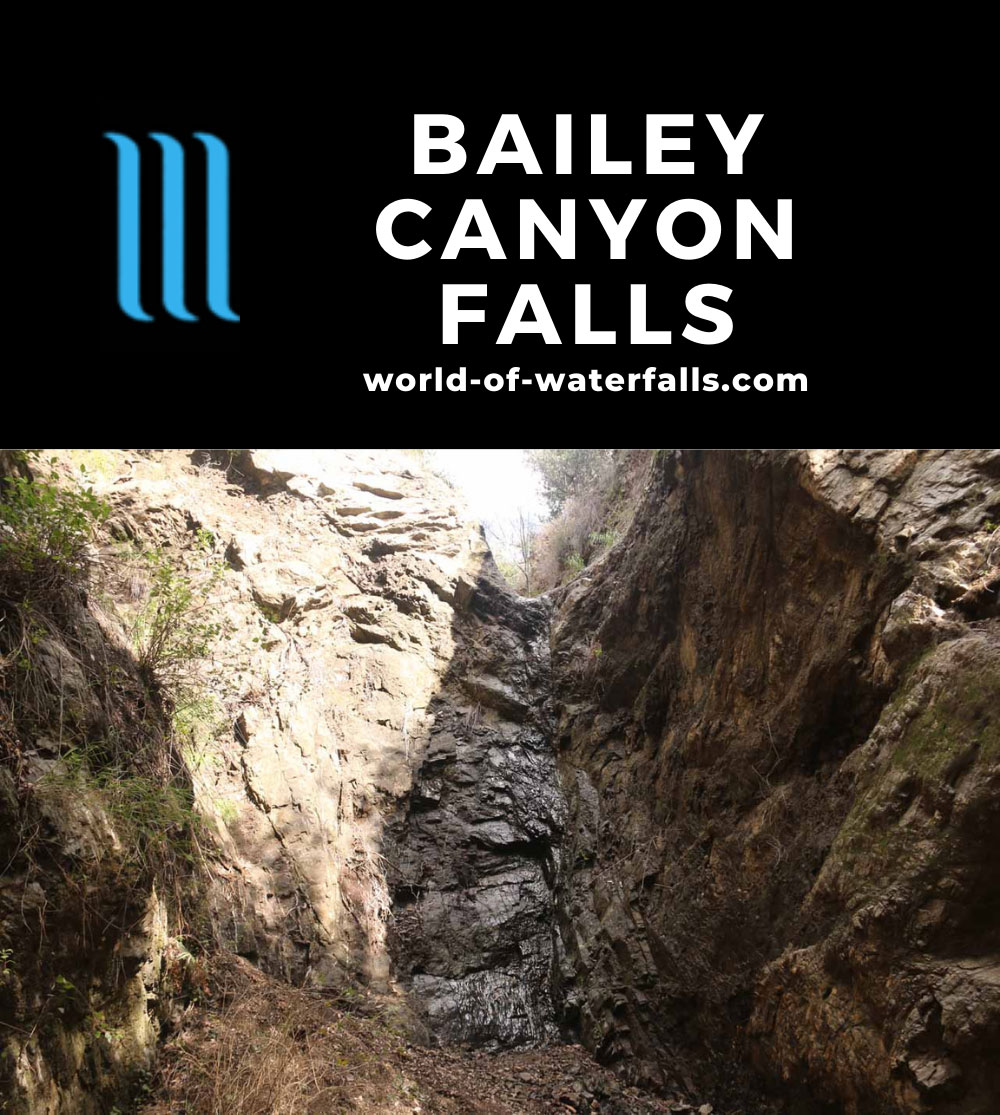 It also appeared that most visitors to the Bailey Canyon Park were more interested in going to Jones Peak as opposed to this 30ft waterfall within the namesake Bailey Canyon.
Perhaps a much greater reason for the waterfall's obscurity was due to its very short season, which the photo above kind of hints at.
In fact, the last photograph that we've seen in the literature showing the falls having any appreciable waterflow was taken in the year 2011, which was a very wet year as far as Southern California was concerned.
That said, in our experiences, timing this waterfall to see such good flow was very difficult (more like next-to-impossible) for reasons we'll get into below.
Timing Bailey Canyon Falls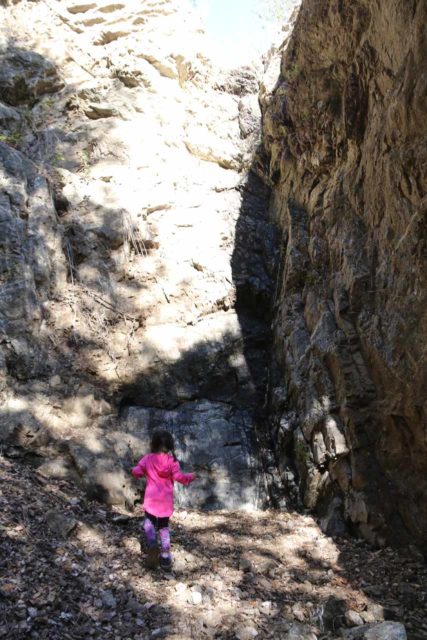 To illustrate the types of conditions to even see this waterfall flow, we made three visits.
The first visit happened on a warm Saturday afternoon in early February 2016 less than a week removed from the last fairly significant storm, which replenished a little bit of snow in both the San Gabriel and San Bernardino mountains.
The second visit happened less than 24 hours after some heavy downpours bombarded much of the Southland in January 2016.
Yet even after the second visit, the falls was nothing more than a trickle.
Then, on a third visit, we came back on New Year's Day barely two days removed from a heavy downpour that capped off a week or two of the heaviest rains in Southern California we've seen in a while.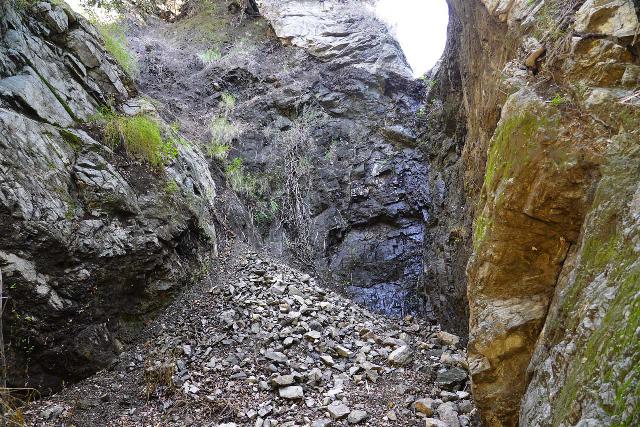 And yet on that third visit, the falls was only trickling, which pretty much caused us to throw in the towel in terms of trying to see this waterfall flow.
I guess you can say three strikes was it for Bailey Canyon Falls, and we're out!
So given the lack of water in the entire lower parts of the Bailey Canyon drainage, we believe that there may be some degree of water siphoning or diversion.
This is likely in order to support the sprawling foothill communities along the base of the mountains at Sierra Madre and the surrounding suburbs.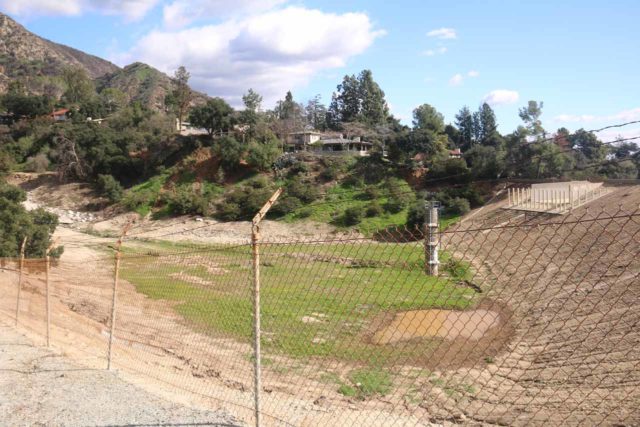 It's either that or the Bailey Canyon watershed must be very small compared to other longer lasting neighboring waterfalls like Monrovia Canyon Falls, Sturtevant Falls, and Eaton Canyon Falls among others.
And while it may be tempting to time a visit to this falls right when there's a storm (just to see this waterfall flow), as you'll see in the trail description below, it may not be a very wise thing to do.
After all, it's full of flash flood hazards and overgrowth along with the change of rock slides into the canyon creating dangerous conditions, especially when exacerbated by heavy rains.
Even on our third visit, we noticed new evidence of landslides that changed the appearance of Bailey Canyon so it's definitely not wise to be here when loose soil higher up the canyon could bury anyone within the canyon.
Hiking to Bailey Canyon Falls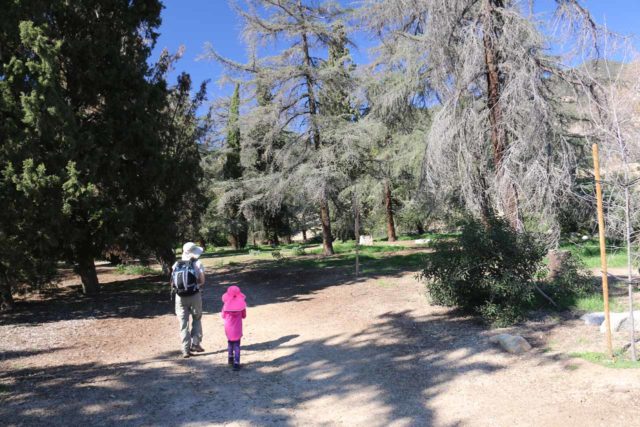 The excursion began at the Bailey Canyon Park, which had a well-established picnic area, parking lot, and restroom.
It sat right at the end of a residential neighborhood in the town of Sierra Madre (see directions below).
From there, we followed a pretty obvious trail that began from the western side of the parking lot (sandwiched between the restrooms and the Henderson picnic area).
We then meandered through even more fairly extensive picnic grounds before encountering a gate that took us onto a paved road, which didn't seem to accept any public vehicular traffic.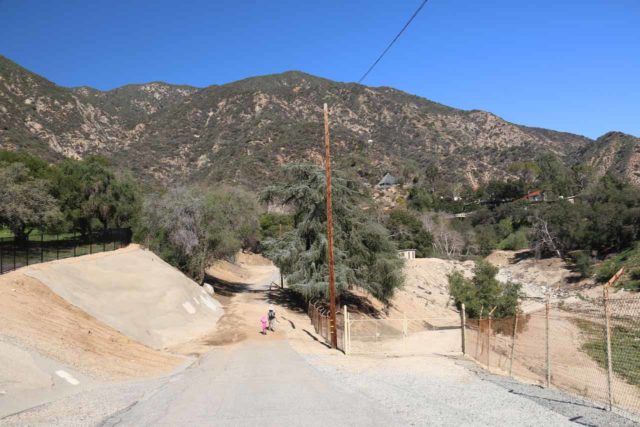 Next, we walked uphill along this road, which peaked adjacent to the Bailey Canyon debris basin, which was dry every time we've done this hike.
The road then briefly descended alongside this basin before the pavement gave way to a conventional dirt trail immediately after a sign warning of the flash flood hazard in the area.
We then kept left on the trail bypassing (not going on) a bridge over the dry creek to our right.
Afterwards, we walked for a few more minutes before the trail continued its ascent at a signposted trail junction.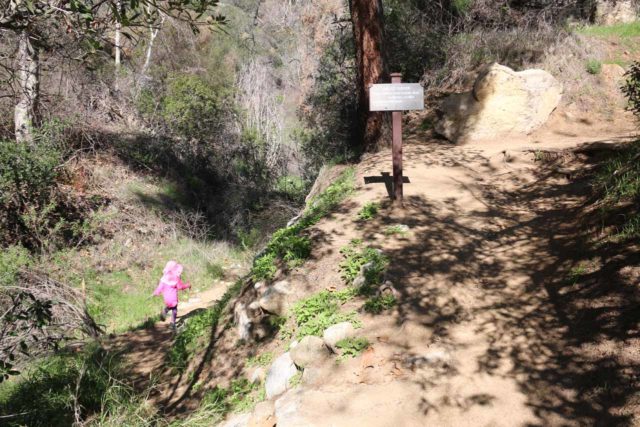 The sign indicated that the waterfall was another 1/4-mile to the left alongside the creekbed.
It was at this point that we deviated from the main trail (which headed towards Jones Peak and joined with other trails further up the mountains) to continue to the Bailey Canyon Falls.
It didn't take long before the trail became somewhat of a stream scramble as we found ourselves climbing over a few smooth rocks.
Meanwhile, we tried to minimize skin exposure to some of the overgrowth (which happens when the winter season ends and things start warming up) within the creek itself (some of which looked like poison oak).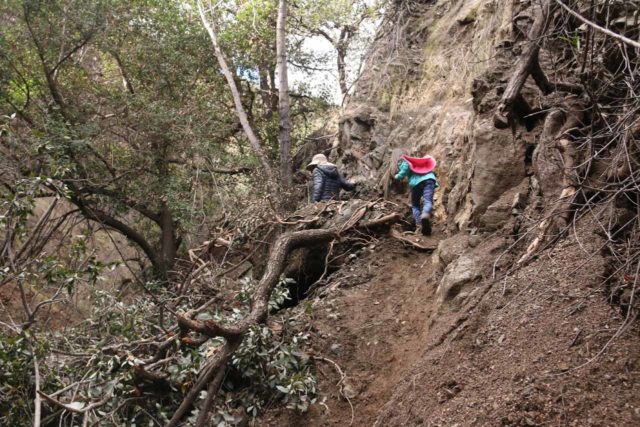 With the canyon walls narrowed in, I could easily see why it wouldn't be wise to be here during a storm as the risk of the flash flood would far outweigh the chance at timing the visit to see Bailey Canyon Falls flowing.
That said, we were still able to follow a fairly obvious trail within this creek.
Even our daughter didn't seem to have too much trouble with this scramble despite the somewhat rough scrambling that had to be done whenever there was a fallen tree or rockslide obstacle.
Generally, these obstacles weren't too much of an issue for all three of our visits, but there always seemed to be a different one, which was indicative of how often Mother Nature changes things around with each passing storm.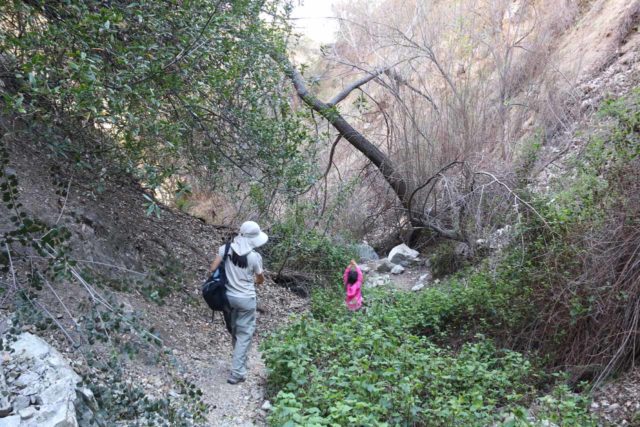 Of course, had the creek contained flowing water, then this hike might not have been as easy as it was during our visits when the creek had little to no water.
Eventually, we'd reach the trail's dead-end, which was right at a rock wall that was probably 20-30ft tall.
On all of our visits, all that was left on that wall was some wet streak that was all the water we'd be seeing on our visits.
This was our turnaround point, and overall, we spent about an hour away from the car (which was pretty consistent across all of our visits).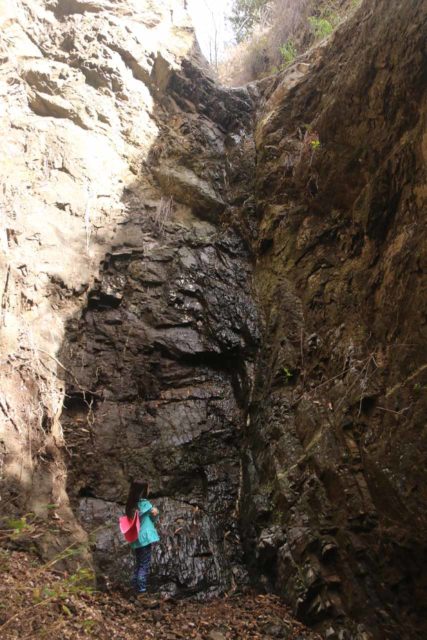 According to our GPS logs, this hike was on the order of about 1.25 miles round trip.
Authorities
Bailey Canyon Falls resides in the Bailey Canyon Wilderness Park in Sierra Madre in Los Angeles County, California. It is administered by the City of Sierra Madre. For information or inquiries about the area as well as current conditions, visit their website.
To reach Bailey Canyon Falls from the 210 Freeway westbound in Arcadia (about 18 miles or over 30 minutes drive northeast of downtown Los Angeles), we took the Baldwin Ave exit.
Then, we kept going straight (north) on Baldwin Ave for about 1.2 miles (passing through a fairly charming downtown part of Sierra Madre).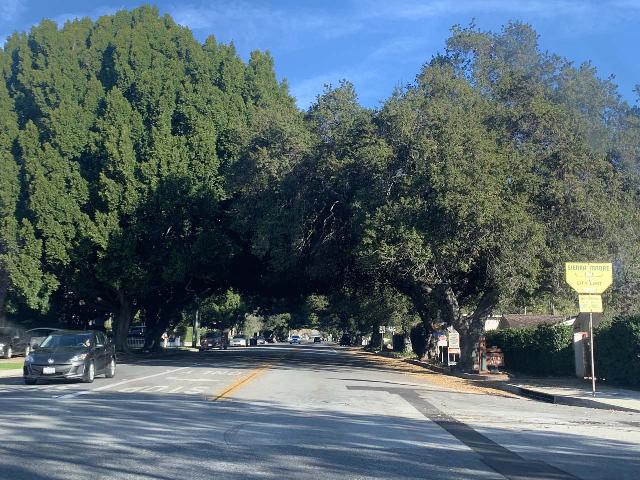 Next, we turned left onto Grandview Ave at a four-way stop.
We then drove for about about a half-mile on Grandview Ave (passing through two four-way stop intersections) while navigating through a residential area before turning right onto Grove St.
This small street was one block just west of the four-way stop at Grandview and Lima.
After about a quarter-mile on Grove St, we got past the houses and into the gated parking lot for the Bailey Canyon Park.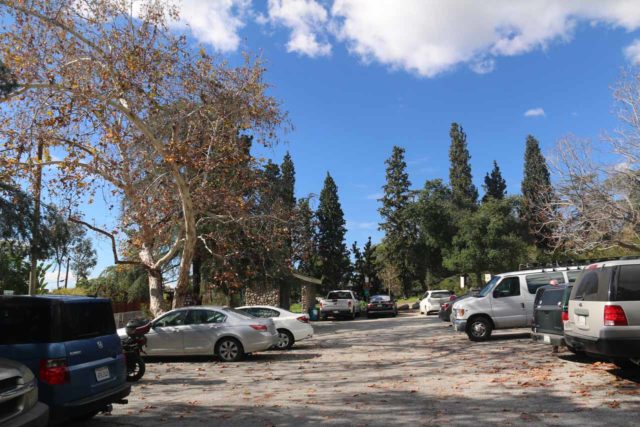 Note that had we gone east on the I-210 from say Pasadena, we'd exit at Michillinda Ave, then head north on Michillinda Ave for roughly 1.2 miles to Grandview Ave.
Then, we'd turn right onto Grandview Ave and follow it for a few blocks before turning left onto Grove St.
If we reached the four-way stop sign at Lima St, then we went too far.
The Bailey Canyon Park gates are said to be open from sunrise to sunset.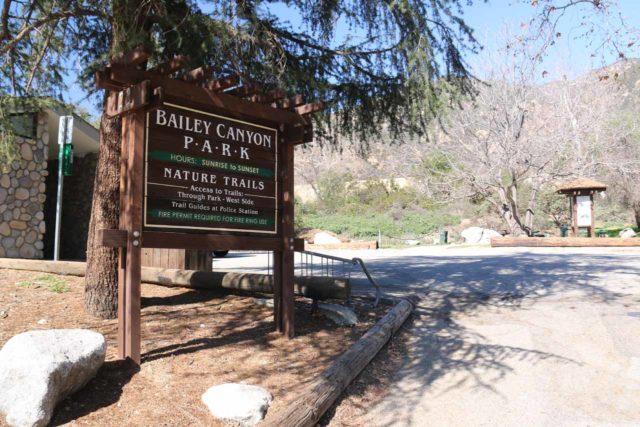 There was no fee required to park during our visits.
For geographical context, Sierra Madre was about 7 miles (less than 30 minutes drive) east of Pasadena, 18 miles (roughly 30 minutes drive) northeast of Downtown Los Angeles, about 51 miles (about an hour drive) north of Irvine, about 101 miles (under 2 hours drive) west of Palm Springs, and about 104 miles (about 2 hours drive) east of Santa Barbara.
Find A Place To Stay
Related Top 10 Lists
No Posts Found
Trip Planning Resources
Nearby Accommodations
Tagged with:
sierra madre, arcadia, los angeles, southern california, california, waterfall, bailey canyon, jones peak
Visitor Comments:
Got something you'd like to share or say to keep the conversation going? Feel free to leave a comment below...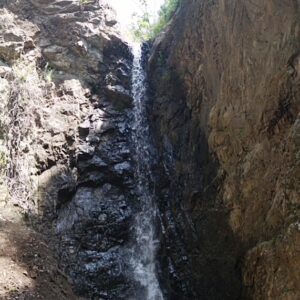 Bailey Canyon is flowing nicely right now (4-30-23)!
April 30, 2023 8:26 pm
-
Decided to invest a little time today on the off chance that BCF was flowing. As soon as we started on trail, we knew we were in luck, as the stream below the fall was flowing well. Sure enough, we got there and Bailey Canyon Falls was in business, despite no rain over the past… ...Read More
Visitor Reviews of this Waterfall:
If you have a waterfall story or write-up that you'd like to share, feel free to click the button below and fill out the form...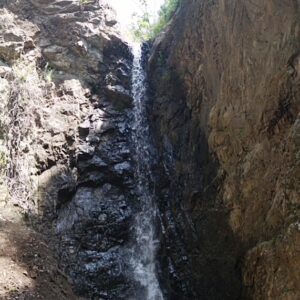 Bailey Canyon is flowing nicely right now (4-30-23)!
April 30, 2023 8:26 pm
-
Decided to invest a little time today on the off chance that BCF was flowing. As soon as we started on trail, we knew we were in luck, as the stream below the fall was flowing well. Sure enough, we got there and Bailey Canyon Falls was in business, despite no rain over the past… ...Read More