About Berry Creek Falls
---
Hiking Distance:
8 miles round trip
Suggested Time:
5-6 hours
---
Date first visited:
2010-04-10
Date last visited:
2019-04-23
---
Waterfall Latitude:
37.16985
Waterfall Longitude:
-122.24661
---
Berry Creek Falls is perhaps the most well-known waterfall this close to Silicon Valley.
While the falls deservedly gets lots of photo clicks and literature devoted to it, we wonder how it still holds up its fame despite requiring most people at least 6 hours of fairly strenuous hiking to see it!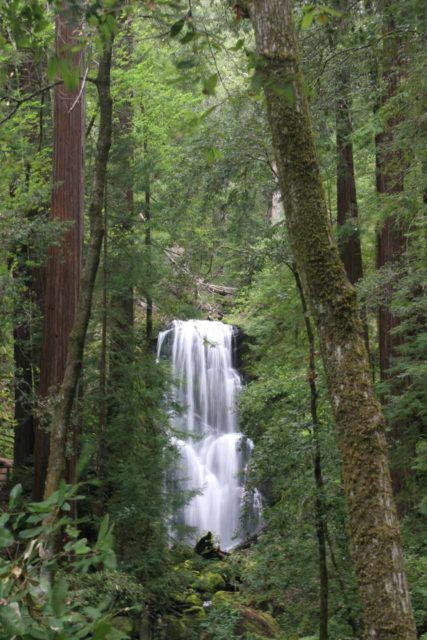 That said, the waterfall's alluring 70ft drop possessing a photogenic character about it while surrounded by coastal redwoods certainly made it tempting enough to endure such physical demands.
Usually, famous waterfalls are easier to access in addition to possessing that beauty that makes people go out of their way to see it. However, in this instance, we definitely had to earn it!
Even with that said, Julie and I not only loved this waterfall, but we also enjoyed the hike to get here.
Sure it was pretty long and tiring, but we were delighted with the hike as the constant presence of coastal redwood trees made us realize that we were in a pretty special place.
So we didn't mind the sore limbs and joints after the hike was done.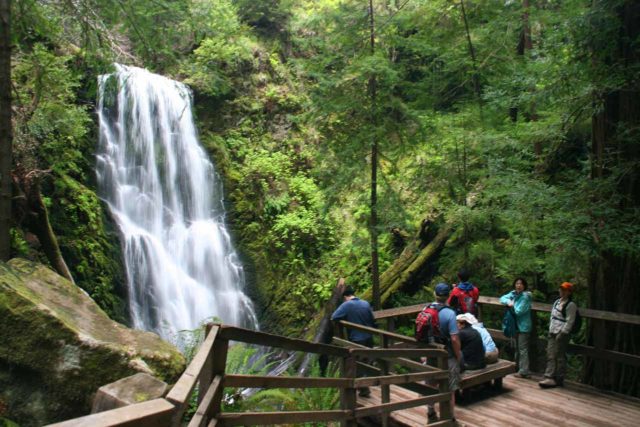 On top of that, we also saw lots banana slugs on the trail (something we were not accustomed to seeing). We also had the option of extending our hike to experience an additional series of waterfalls (i.e. Silver Falls, Golden Falls, and the Cascades) just a short distance beyond Berry Creek Falls.
The Out-and-Back Hike to Berry Creek Falls
The main and shortest option to experience Berry Creek Falls was to do it as an 8-mile out-and-back hike from Park Headquarters.
It's worth noting that this waterfall could be done in a multitude of ways thanks to the network of interconnecting trails as well as a separate trailhead that mountain bikers could use to shorten the hiking from Waddell Beach.
However, we'll only describe the out-and-back hike in this section.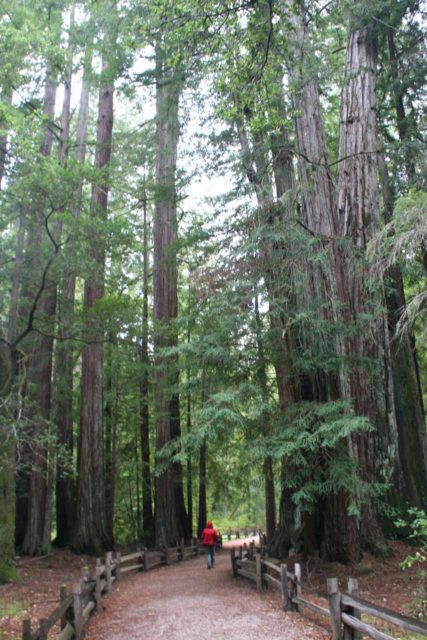 From Park Headquarters, we had the option of taking the Dool Trail to Sunset Trail Connector, or we could also take the Skyline-to-the-Sea Trail directly.
Either way, this potentially confusing network of trails around the Park Headquarters to the Sunset Connector Trail was about 1.3 miles long.
Even though the Skyline-to-the-Sea Trail was the most direct route, it was not an option when I re-visited this waterfall in April 2019.
This was due to flood damage that killed the section of the Skyline-to-the-Sea Trail between the Howard King Trail and the Sunset Connector Trail.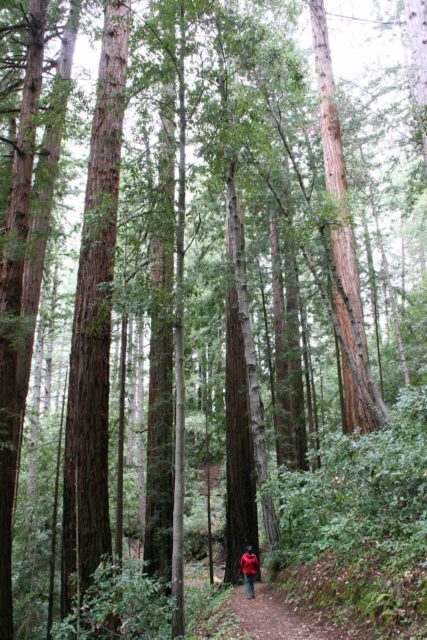 Once on the Skyline-to-the-Sea Trail beyond the Sunset Connector Trail, the hike followed along Kelly Creek in a generally downhill manner.
At about 0.9 miles from the Sunset Connector Trail, I reached a sign that tracked my progress of this hike. There was no trail junction here.
At about 0.7 miles beyond the "progress sign", I reached the southern end of the Timm's Creek Trail. It was closed during my April 2019 visit, but this trail could have allowed another way to connect the Skyline-to-the-Sea Trail with the Sunset Trail.
Continuing along the Skyline-to-the-Sea Trail, it still followed along the southern banks of West Waddell Creek (which Kelly Creek fed into at the Timm's Creek Trail junction).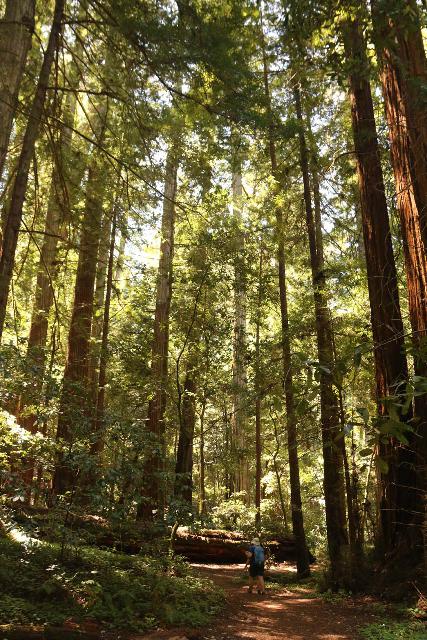 At about a mile from the Timm's Creek Trail junction, the trail started descending towards its junction with Berry Creek Falls Trail just past a footbridge near the confluence of Berry Creek and West Waddell Creek.
During the descent at one of the switchbacks, there was a rest bench with a distant view of Berry Creek Falls.
Beyond the footbridge, we took the path on the right to follow Berry Creek upstream for the final quarter-mile uphill to the lookout platform right in front of Berry Creek Falls.
When Julie and I first visited the falls, the lookout deck was full of people, which attested to the popularity of this trail despite the moderate amount of hiking it took to get here.
Since I didn't bring a tripod, I did my best to utilize the wooden railings to stabilize the camera for those obligatory long exposure photos, which this waterfall was well-suited for.
Options Beyond Berry Creek Falls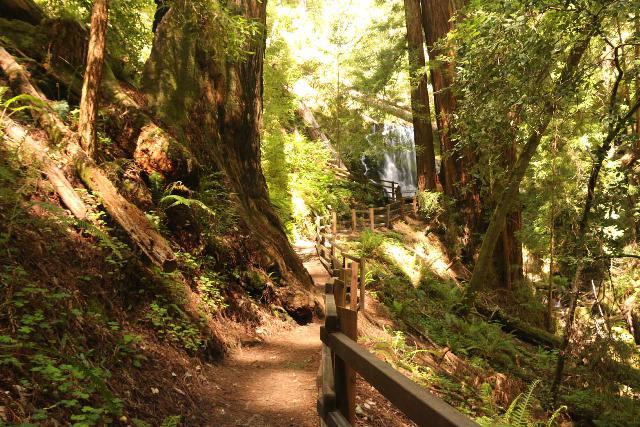 At this point, we could return back the way we came on the Skyline-to-the-Sea Trail to conclude this hike.
Since the general elevation profile of the hike was downhill on the way here, it would be mostly uphill on the way back.
We could also extend this hike to include Silver Falls, Golden Falls, and the Cascades. Silver Falls was about 0.9 miles from the Berry Creek Falls lookout platform.
This was the way Julie and I did this excursion when we first visited back in April 2010.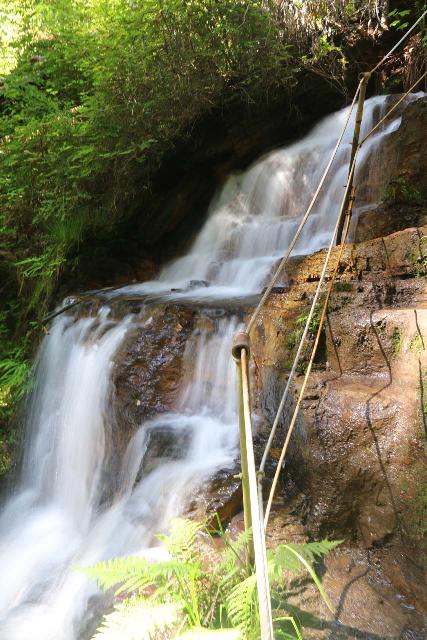 We'll punt the details of the other waterfall waterfalls and the hike to get to them on a separate page.
Authorities
Berry Creek Falls resides in the Big Basin Redwoods State Park. For information or inquiries about the park as well as current conditions, visit their website or Facebook page.

Berry Creek Falls was accessible from the Big Basin Redwoods State Park Headquarters.
We drove to the Park Headquarters from San Jose or Santa Clara so we'll describe the most direct driving directions as such.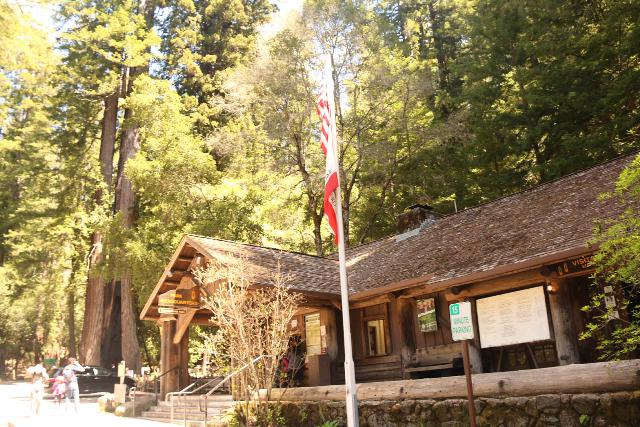 From Santa Clara, we'd take the US101 west to the CA-237, then we'd head west on CA-237 to the CA-85 south.
From there, we'd take the CA-85 south to the Saratoga Ave exit, then turn right onto Saratoga Ave.
In about 1.8 miles on Saratoga Ave, the street continues straight onto Big Basin Way (Hwy 9).
We'd follow Hwy 9 for a little over 13 miles to another junction. At that point, we'd leave Hwy 9 and drive onto Big Basin Way (Hwy 239).
Then, we'd follow Big Basin Way for about 8 miles to the Big Basin Park Headquarters.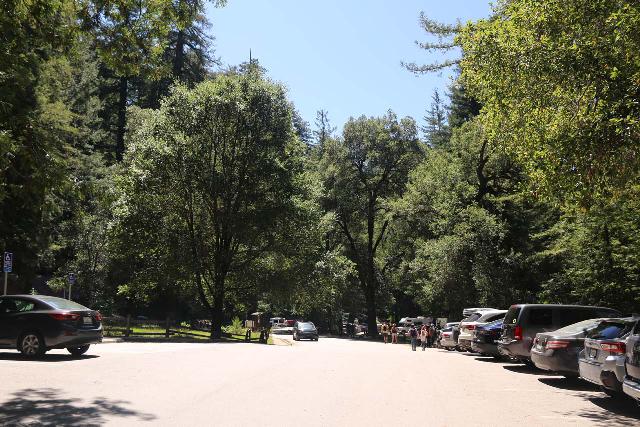 From San Jose, we could make our way to the CA-17 south (via the I-280 or I-880), and then either take the CA-85 west to Saratoga Ave or continue south on CA-17 to the Los Gatos Saratoga exit (exit 20B) for Hwy 9.
If we take the CA-85 route, then we'd follow the directions as given above to take Saratoga Ave to Hwy 9. Otherwise, we'd just follow Hwy 9 and then follow the directions as given above.
Regardless of whether we would drive from Santa Clara or San Jose, the drive would take approximately 75 minutes or so (depending on traffic).
Note that since Big Basin Redwoods is a state park, there was a $10 (as of 2019) vehicle fee, which we had to pay and display.
For geographical context, San Jose is about 6 miles (roughly 15 minutes depending on traffic) east of Santa Clara, 32 miles (about 45 minutes) north of Santa Cruz, 48 miles (about an hour or more depending on traffic) south of San Francisco, 41 miles (about an hour or more depending on traffic) south of Oakland, 86 miles (about 90 minutes drive or longer depending on traffic) south of Napa, 120 miles (about 2 hours drive) south of Sacramento, and 340 miles (5 hours drive) north of Los Angeles.
Related Top 10 Lists
No Posts Found
Trip Planning Resources
Featured Images and Nearby Attractions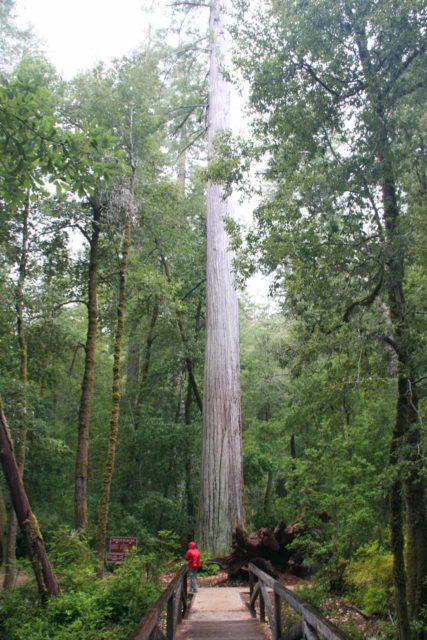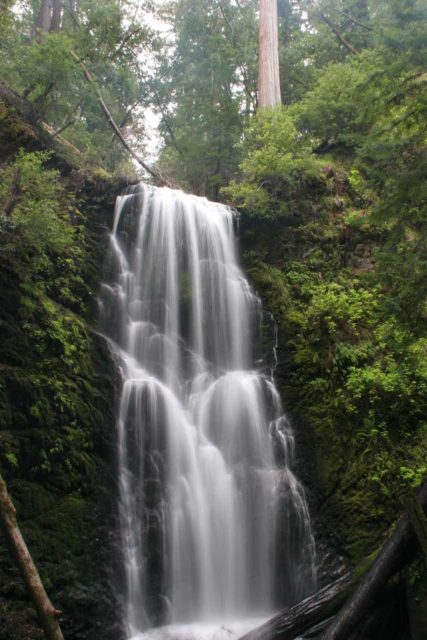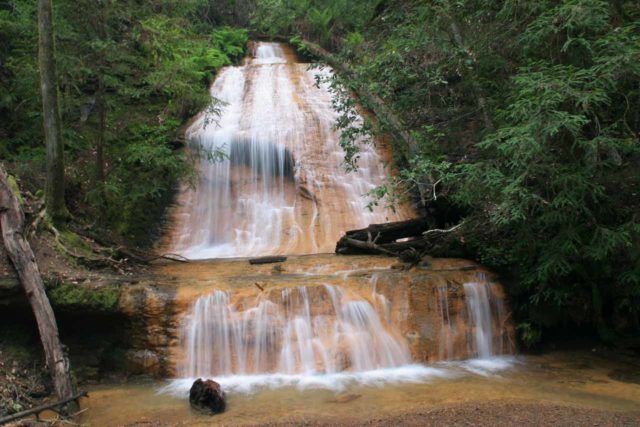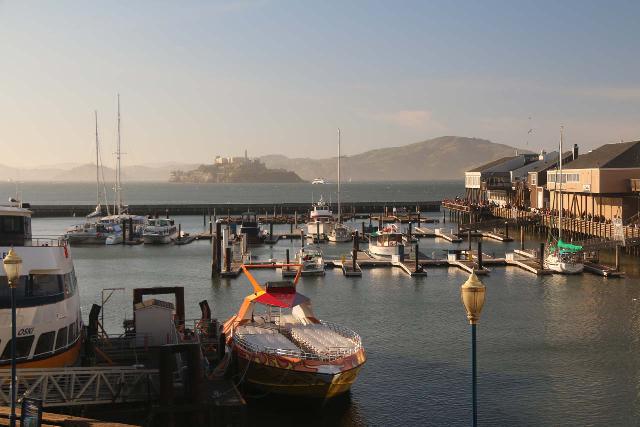 Tagged with:
big basin, redwoods, state park, santa cruz, san jose, santa clara, bay area, central coast, california, waterfall, silicon valley, skyline to the sea, kelly creek, waddell beach
Visitor Reviews of this Waterfall:
No users have submitted a write-up/review of this waterfall