About Dawn Falls
---
Hiking Distance:
1 mile round trip or 2.5 miles round trip
Suggested Time:
1 hour or 90 minutes
---
Date first visited:
2016-05-22
Date last visited:
2019-04-19
---
Waterfall Latitude:
37.93849
Waterfall Longitude:
-122.55855
---
Dawn Falls was kind of an unusual waterfalling experience for us in that it was nestled in a part of Marin County where there were numerous high-priced residences built amongst towering coastal redwood trees.
It seemed like an unlikely place for a pleasant Nature outing (let alone a waterfalling excursion) given the developments, but it just goes to show you how Nature can yield pleasant surprises.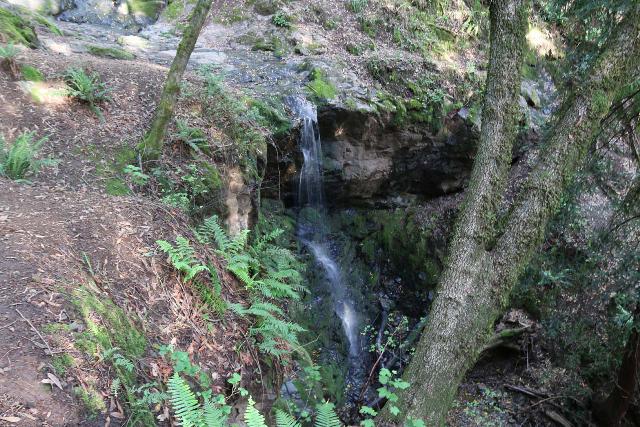 I actually visited this waterfall twice. Once, when it was not flowing in May 2016. And once when it was flowing in April 2019.
Each time I've done this excursion, I took a different trail.
The first trail I did (with my Mom) involved hiking through Baltimore Canyon and its coastal redwood trees for 1.25 miles to reach the Dawn Falls. I'd argue that this was the more atmospheric approach of the two.
The other trail was shorter and higher up the canyon so it yielded panoramas but less tree sightings unless you go past Dawn Falls and into Baltimore Canyon itself. This second approach was about a half-mile in each direction.
Hiking to Dawn Falls from within Baltimore Canyon
This approach involves hiking among tall coastal redwood trees all along Baltimore Creek before eventually reaching the head of the canyon and the Dawn Falls.
Heck, even the road we took to get to this trailhead (see directions below) seemed out of place as we were driving on narrow residential roads flanked immediately by coastal redwoods (where some of their roots seemed to have grown beneath the pavement and made the street itself bumpy).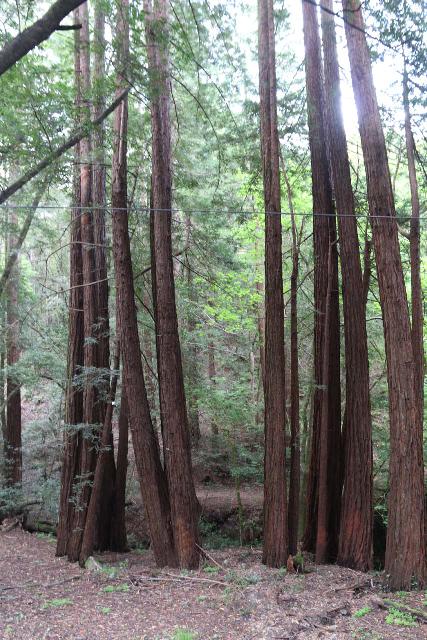 We wondered if we were in the right place when we first showed up to do this hike early Sunday morning, but it didn't take long before we saw signs that indicated we were indeed in the right place.
In fact, it quickly became apparent to us that the main attraction of the Dawn Falls Trail was the coastal redwood trees and the peaceful serenity of Baltimore Canyon.
Anyways, this was the longer 2.5-mile round trip out-and-back hike within the floor of Baltimore Canyon.
It took my Mom and I a little under 90 minutes to complete. But we really took our time as we basked in the peace and quiet that relaxed us throughout this hike.
Our Experience in hiking the Baltimore Canyon Route
From the trailhead at the end of Madrone Ave, we followed the steps that left the pavement and descended towards Larkspur Creek.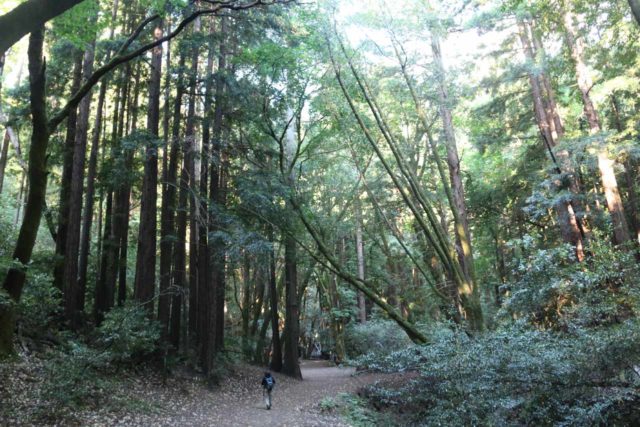 Almost immediately, we were surrounded by coastal redwoods, and when we saw there was water in Larkspur Creek, that gave us hope that Dawn Falls ought to be flowing.
On the other side of the bridge traversing the creek, we then turned right and followed the now-signposted Dawn Falls Trail further upstream deeper into Baltimore Canyon.
Throughout the hike, we were flanked by the majestic coastal redwood trees, and it became readily apparent that many of the Bay Area's place names like Redwood City further to the south were inspired by such trees.
Anyways, we shared the relatively flat trail going slightly uphill with a handful of local joggers who probably use this trail for their morning run.
Roughly a half-mile from the trailhead, we encountered a trail junction with the Ladybug Trail. We kept left to remain on the Dawn Falls Trail, and a few minutes afterwards, we noticed a few feeder creeks coming from our left that would cross the trail and feed Larkspur Creek.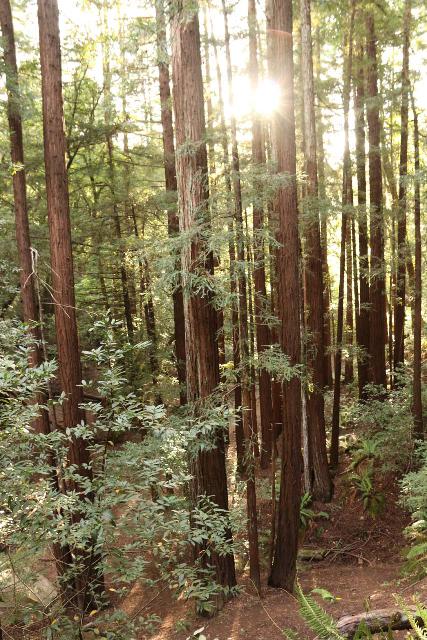 Unfortunately, the further up Baltimore Canyon we went (beyond these feeder creeks), Larkspur Creek grew more and more quiet.
Eventually by the time we reached the head of Baltimore Canyon (and an even denser grove of coastal redwood trees), it was almost as if Larkspur Creek went completely dry during our mid-May 2016 visit.
Anyways, this was confirmed as we climbed steeply up the continuation of the trail as it left the floor of Baltimore Canyon and followed its contours towards the top of Dawn Falls, where it was indeed merely trickling.
It was from this point that we realized that we probably could have gone another half-mile further up the canyon to the other trailhead (for the shorter way of doing this hike).
After having our fill of the Dawn Falls, we went back down the hill and then back the way we came.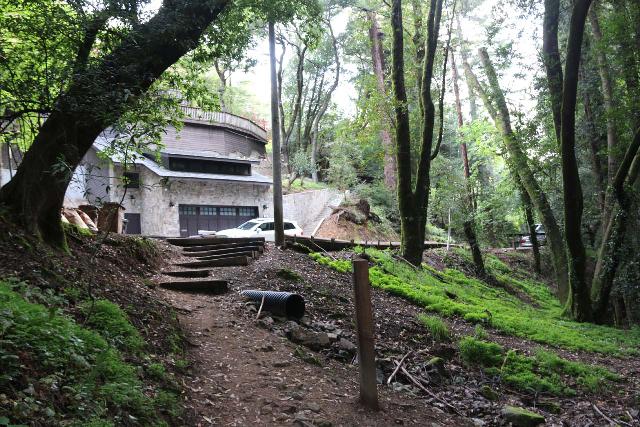 Along the way, we got to soak in the experience of Baltimore Canyon and its redwood forest once again.
Hiking to Dawn Falls from above Baltimore Canyon
This approach involves briefly hiking along the rim of Baltimore Canyon on the Crown Road Fire Road. It eventually reached a trail junction with the Dawn Falls Trail.
At that point, I descended the steep trail and ultimately reached the Dawn Falls barely a half-mile from the trailhead.
Continuing downhill beyond Dawn Falls, I'd enter deeper into Baltimore Canyon, where groves of coastal redwood trees awaited.
Our Experience in hiking to Dawn Falls from the Crown Road Fire Road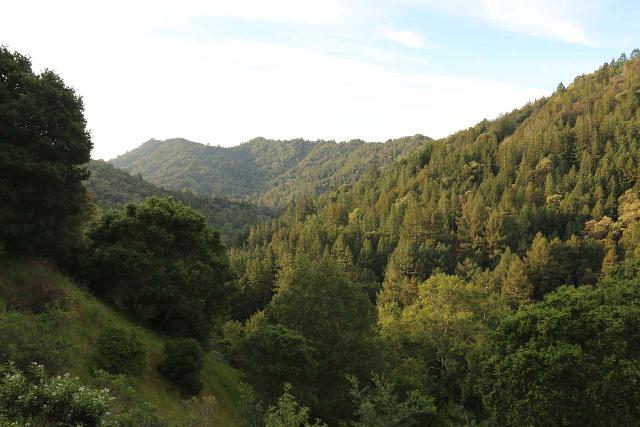 Like with the first trailhead at the end of Madrone Ave, the end of Crown Road was also flanked by homes with limited parking space for non-residents.
In this particular instance, Crown Road appeared to allow for parallel street parking on one side (the side closer to the downhill slope).
Then, the trail resumed behind the gate blocking vehicular access onto the Crown Road Fire Road.
Beyond the gate, the trail veered right then followed the contour of the hillside providing panoramic views (against the morning sun) towards Baltimore Canyon as well as some of the homes perched above it.
I also noticed some attractive wildflowers in bloom along this panoramic stretch of trail.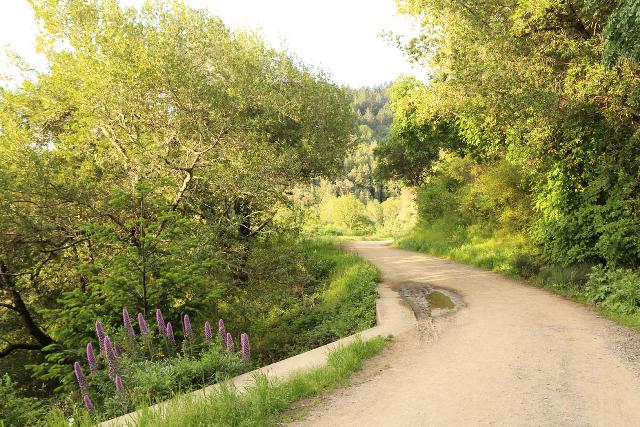 Eventually after about a quarter-mile or so, the trail reached a junction with the Dawn Falls Trail. I proceeded to go left down the narrow and steep trail as it descended a series of steps and switchbacks.
After another quarter-mile of this descent, I finally reached the brink and some angled frontal views of the Dawn Falls.
It didn't appear possible to safely scramble down from the trail to the front of Dawn Falls for an even more satisfying experience.
And when I explored further down Baltimore Canyon to the redwood trees at the bottom of the descent, I found it undesirable to do the stream scramble upstream all the way to Dawn Falls due to the amount of deadfall.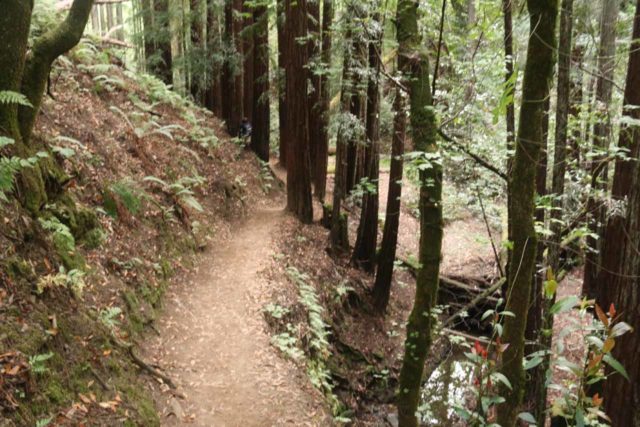 So all in all, this Crown Road approach went for about a mile round trip, and it took me around an hour.
Authorities
Dawn Falls resides in the Baltimore Canyon Open Space Preserve. For information or inquiries about the park as well as current conditions, visit their website.

The nearest town to Dawn Falls and the Baltimore Canyon Open Space Preserve was Larkspur or the neighboring Corte Madera.
But I'll just focus on how we'd do the drive from San Francisco. Since we also did this drive from Napa Valley to the north, we'll also follow up with this approach as well.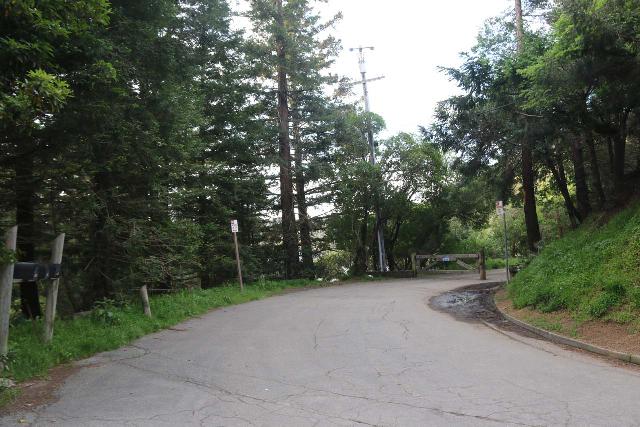 Then, we'll describe how to get to either of the trailheads (i.e. the East Approach or West Approach).
First, the East Approach, which takes you to the trailhead for the Baltimore Canyon Approach…
From San Francisco, we headed north on the Golden Gate Bridge (US101) for about 7.5 miles to the Tamalpais Drive exit (exit 449). Then, we drove west (left at the off-ramp) on Tamalpais Drive for about a mile (Tamalpais Dr becomes Redwood Ave en route) to Corte Madera Ave.
Turn right on Corte Madera Ave and take it north for about a half-mile (Corte Madera Ave becomes Magnolia Ave en route) before turning left onto Madrone Ave.
Follow this tree-lined street into the residential area, and follow Madrone Ave all the way to its end in just under a mile. The Baltimore Canyon Trail begins from the end of Madrone Ave.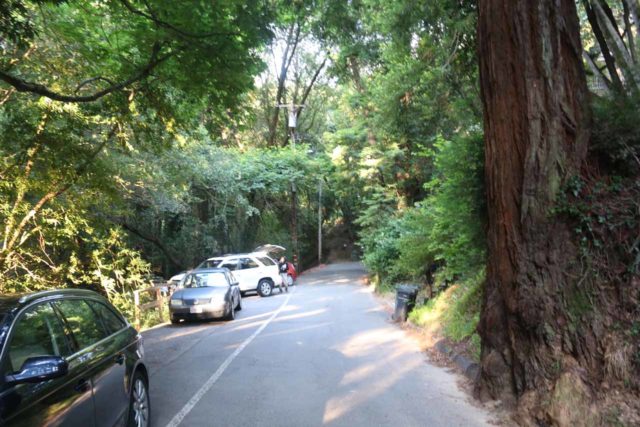 There's very limited parking (maybe room for only about 6 spots or so, including some visitors and residents parked here overnight). So I'd imagine an early start is imperative.
For the West Approach, which takes you to the Crown Road Fire Road…
From San Francisco, the most direct approach would be to head north on the Golden Gate Bridge (US101) for about 9 miles or so to the exit 450B for Sir Francis Drake Blvd. Then, follow Sir Francis Drake Blvd for about 2 miles to College Ave on the left.
Then, follow College Ave for 0.4 miles before turning right onto Woodland Rd. Take Woodland Rd for 0.3 miles before turning left onto Evergreen Dr.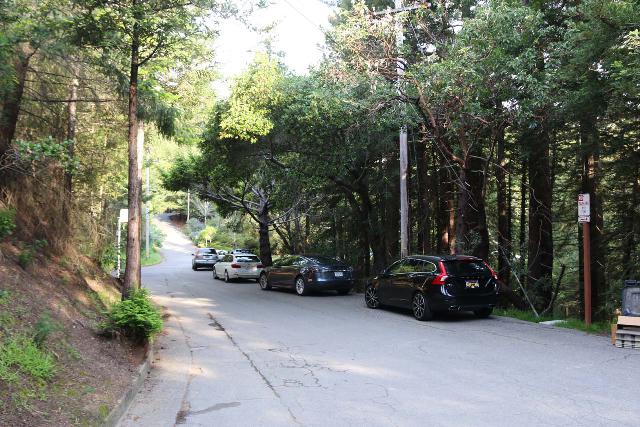 Follow Evergreen Dr for about a mile before turning left onto Crown Rd. Then follow Crown Rd to its end and look for street parking near its end.
If we're coming from Napa Valley, then we'd take the Hwy 12 to Hwy 121, and then we'd follow the 37 to connect with the US101 south. At that point, we'd continue south on US101 until we would get off the Sir Francis Drake Blvd exit for the West Approach or the Tamalpais Dr exit for the East Approach.
For geographical context, San Francisco is 37 miles (over an hour drive) south of Olema, 11 miles (over 30 minutes drive) west of Oakland, 55 miles (over an hour drive) north of San Jose, 52 miles (about 90 minutes drive) south of Napa, 96 miles (over 2 hours drive) south of Sacramento, and 382 miles (6 hours drive) north of Los Angeles.
Related Top 10 Lists
No Posts Found
Trip Planning Resources
Featured Images and Nearby Attractions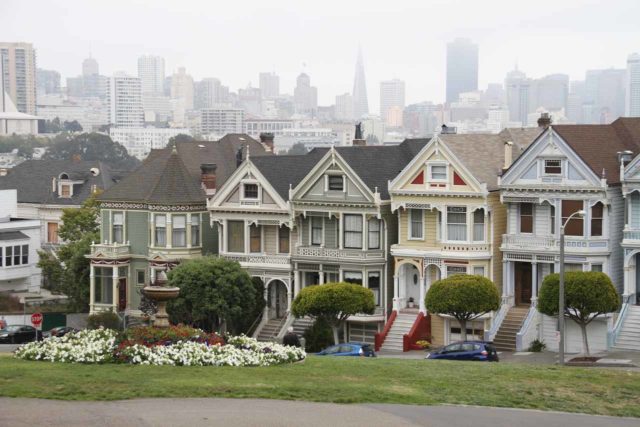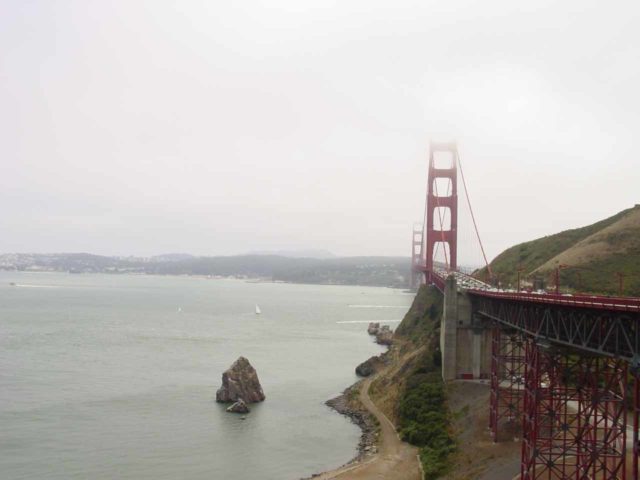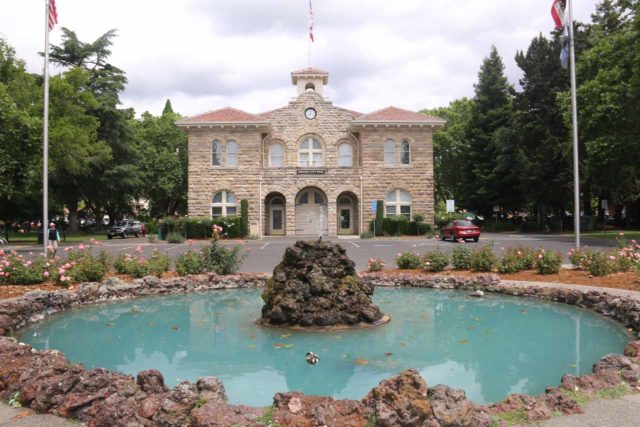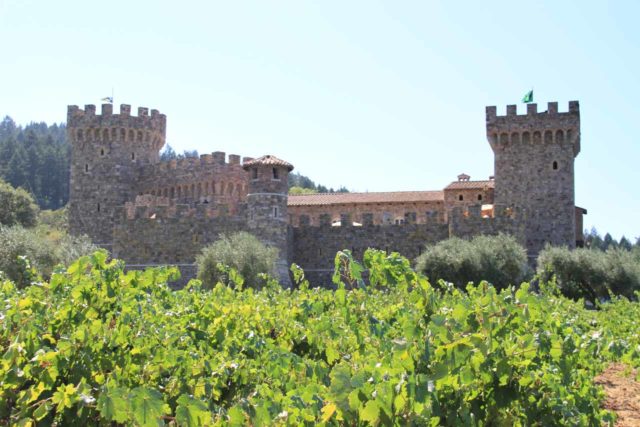 Tagged with:
baltimore canyon, open space preserve, larkspur, marin county, bay area, northern california, waterfall, redwoods
Visitor Reviews of this Waterfall:
No users have submitted a write-up/review of this waterfall