About Eaton Canyon Falls
---
Hiking Distance:
3 miles round trip
Suggested Time:
90 minutes
---
Date first visited:
2002-02-24
Date last visited:
2022-03-19
---
Waterfall Latitude:
34.19657
Waterfall Longitude:
-118.10216
---
Eaton Canyon Falls is a pleasant rare year-round waterfall dropping some 30ft or so with a rock wedged right at its brink.
We can vouch for the year-round characteristic of this waterfall because of two visits that occurred late in the season in dry years.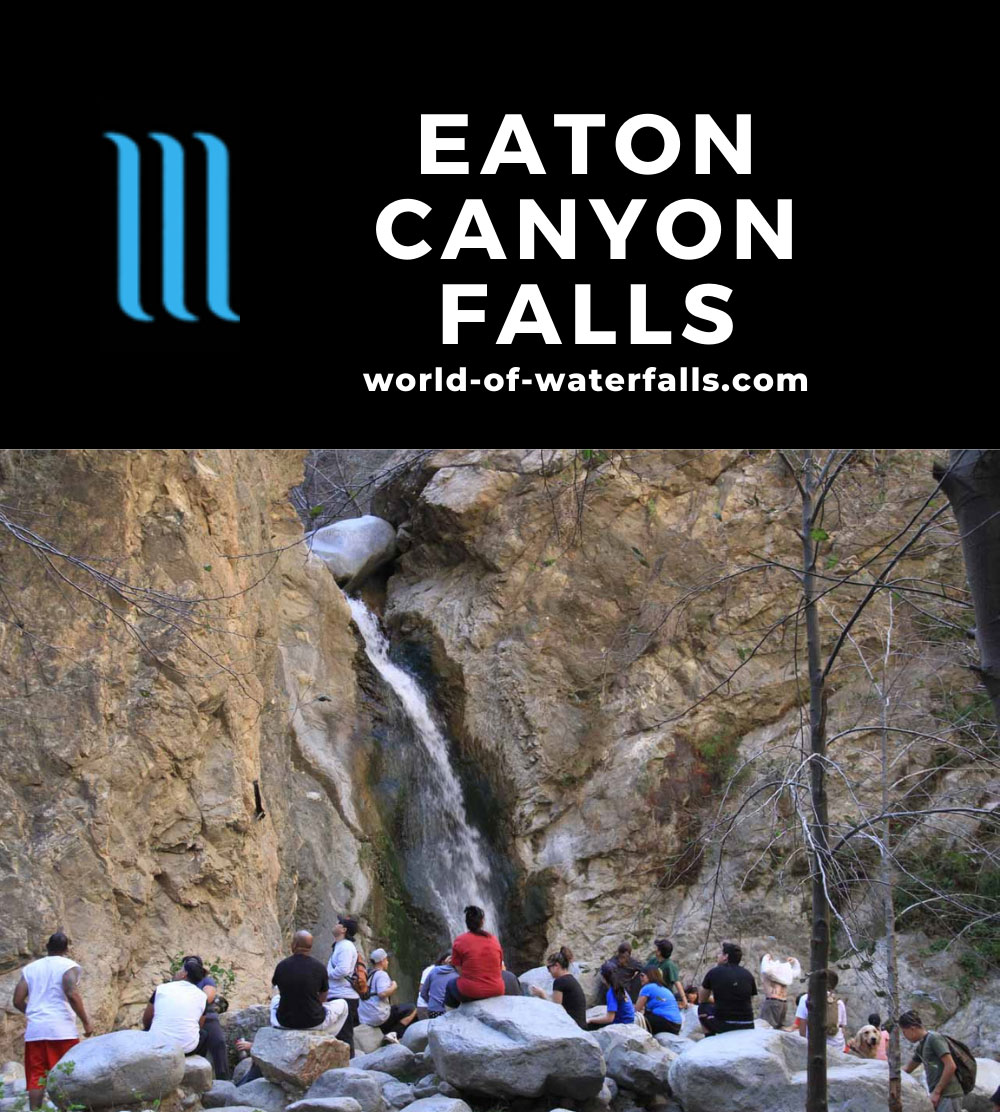 The first such visit occurred in October following what was Los Angeles' worst fire at the time (i.e. the 2009 Station Fire) during another prolonged period of low-rain Winters and very hot Summers.
We also made a visit in December 2016 before the first rains of the season even came, and the waterfall still performed (though it was noticeably in low flow).
In addition to its drought resilience, this waterfall also had a lot of other things going for it.
For example, this excursion featured:
a modest 3- to 4-mile round-trip trail length that is mostly flat
no cost (since it's free; at least in all the times we've been doing visiting this falls since 2002)
sunflower bloom in the Spring
an opportunity to cool off given how hot it can get in the Southland
close proximity to the city of Pasadena (in Los Angeles County)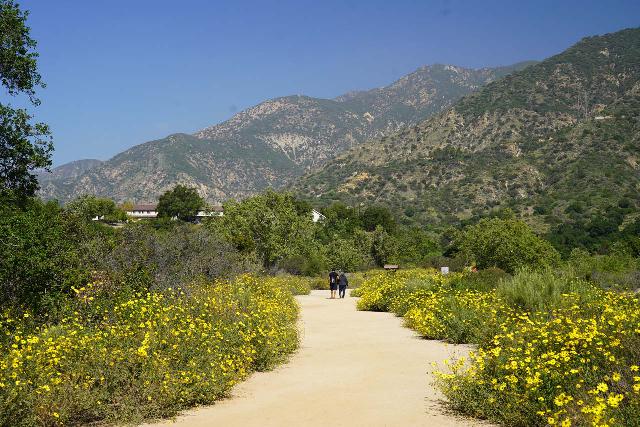 So that's saying something about how special this waterfall is, and in fact, we even included it in our Southern California Top 10 Waterfalls List.
Popularity And Urban Blight
However, being close to Pasadena it is an immensely popular local attraction and thus it also has a history of suffering from urban blight.
Such was the case when Julie and I first visited this waterfall way back in 2001, where there was graffiti on several rocks along the trail to the falls and even one on that rock wedged at the top of the falls.
On a subsequent visit several years later, the caretakers of the area have been sandblasting and painting over the graffiti.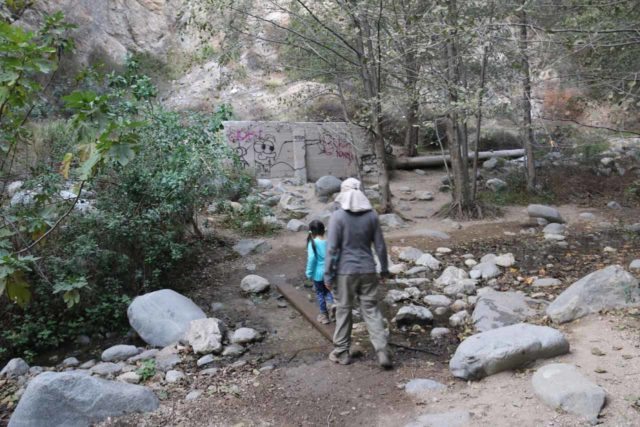 Sometimes I wonder if they should collect park fees to ensure that there's funding to maintain the trails while limiting the urban blight problem.
To further illustrate this urban blight battle, on our third visit in October of 2009, we saw some of the graffiti starting to show up again (though at least it wasn't as bad as it was on our first time though).
In recent years since the COVID-19 pandemic outbreak, this place really blew up in popularity.
So I'm thinking the increased attention in this area might at least make it a bit harder for bad actors to be noticed if they're up to no good.

From the well-signed Eaton Canyon Nature Center parking area (see directions below), the trail follows an open shrub area while passing by some inviting picnic shelters and interpretive native vegetation areas.
If the paved main parking area is too full, there's also a large unpaved overflow parking area.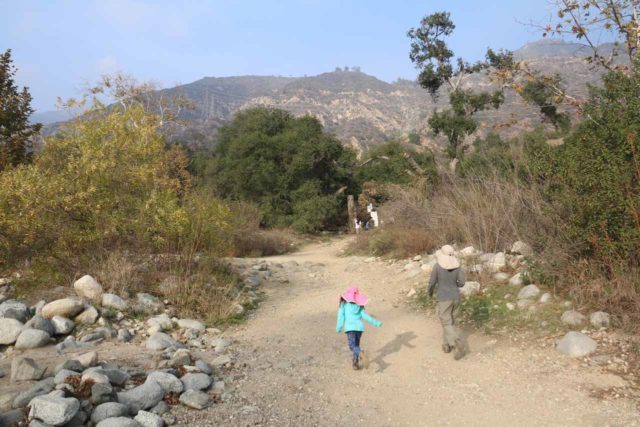 From there, a separate wide trail passes between the main parking lot and the Eaton Canyon Wash, and it's typically lined with black-eyed Susan sunflowers in the Spring.
Both trails converge at the Eaton Canyon Wash, where the path then crosses the typically dry wash (which is only wet when the Eaton Creek is in flood).
Then on the other side of the wash, the trail then follows the east bank up into the mouth of the gorge for the first 3/4-mile or so.
Eventually, the trail and wash narrows and descends underneath a bridge, where the rest of the trail pretty much stayed within the canyon and encountered Eaton Creek, which had largely been underground beneath the wash until now.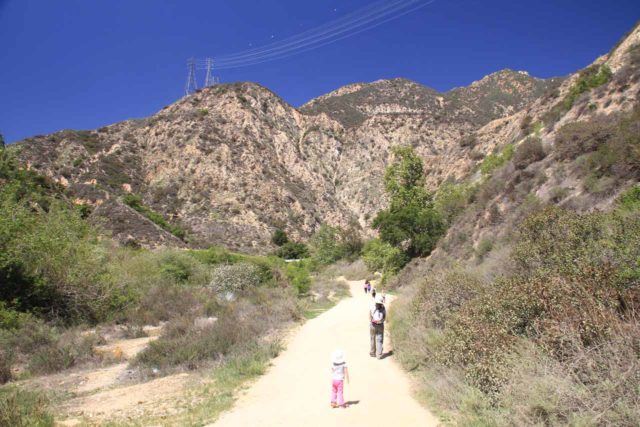 By the way, prior to the bridge, there was also a separate path that forked to the right away from the creek, which led up to the bridge itself (more on this in the next section).
Anyways, once within the shady confines of the narrowing canyon walls, the Eaton Canyon Falls Trail pretty much follows the stream and crosses it a few times.
Throughout this part of the hike, the narrowing of the canyon had a lot to do with the persistence of water since it had largely been invisible for much of the hike alongside the Eaton Canyon Wash prior to the bridge.
Anyways, depending on Eaton Creek's waterflow, this part of the hike might be quite the wet adventure or it could be just a benign hike without too much bother.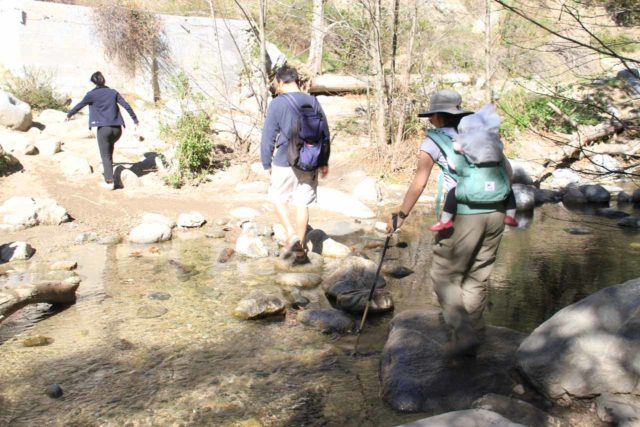 Usually, you can get through them without getting your feet wet by a little bit of nifty rock hopping, but if you're wearing high-top hiking boots with Gore-tex, then you can probably plow through the creek easily and still not get your socks wet.
Nevertheless, if you're unsure about your dexterity and balance, then trekking poles along with Gore-tex hiking boots should get you through these obstacles easily except for those rare times when the creek is flowing really high in wet years.
In addition to the stream crossings, there may be a few more minor obstacles involving a mini-climb here or there along with unforeseen detours (since the canyon might get new fallen tree obstacles or boulders rolling down from above from time to time).
Eventually after about a half-mile or so into the canyon, the trail ends right before the Eaton Canyon Falls.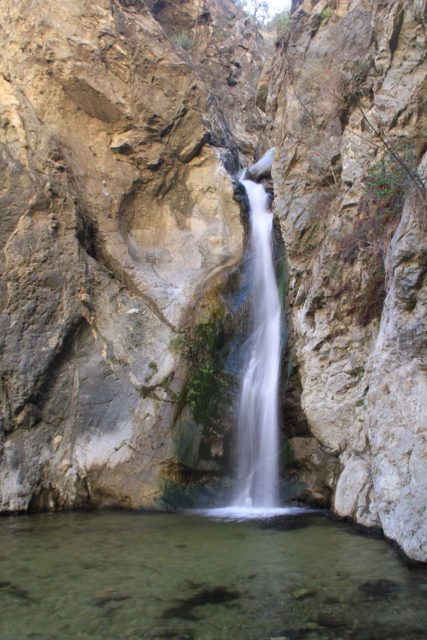 The overall length of the trail is about 1.5 miles each way (or 3 miles round trip; assuming you didn't take the shortcut).
The falls is usually very popular on the weekends so it's not often you have this place to yourself, and in fact, this place takes on more of a party vibe with people playing music as well as numerous others taking selfies and playing in the water.
All in all, this a great introductory hike to one of Los Angeles County's more scenic spots, and I'm sure it'll draw a few pleasantly surprised reactions from those who haven't seen waterfalls in the local area before.
An Alternate Access To Eaton Canyon ("The Cheater's Way")
Now, if you're wondering about where the bridge at the mouth of Eaton Canyon went (which you would have gone under to reach the falls), well, that's part of a different trail that came from a residential neighborhood at Pinecrest Drive.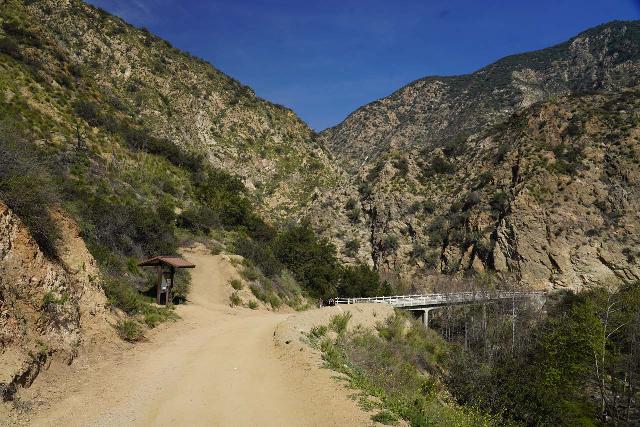 Believe it or not, this trail was actually part of the Mt Wilson Toll Road, which was a road supporting vehicular traffic from Altadena to Mt Wilson between 1891-1936.
I even noticed that there's a paved section of the road though I understand that a 2005 landslide destroyed a section of the original road and had to be rebuilt to allow foot passage once again.
Anyways, this roughly 1/4-mile path starts from a gated entrance right off Pinecrest Drive (not sure when the gate would be typically open), and it's primarily used by residents in this immediate area.
That said, I have noticed some people who don't live there use this trail and walking the neighborhood there, and it turned out that they managed to park at the intersection of Crescent Drive and Pinecrest Drive (or as far away as Altadena Drive).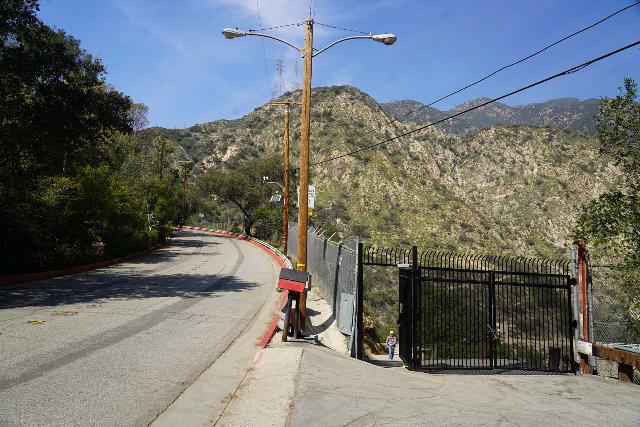 There's definitely no street parking in the immediate area by the gate as pretty much almost all of Pinecrest Drive was lined with red-painted curbs.
Nevertheless, this "shortcut" trail intersects with the Altadena Crest Trail on either side of the bridge, where the west side goes towards Rubio Canyon and Mt Lowe while the east side goes toward Henninger Flats.
I tend to view this "shortcut" as the cheater's way since it seems to cut the overall hiking length by nearly a half, but I suspect the residents here don't appreciate strangers skipping the main Eaton Canyon Trail in favor of this approach.
So I personally wouldn't recommend doing this route for the purposes of hiking to Eaton Canyon Falls, especially since the normal trail is short anyways.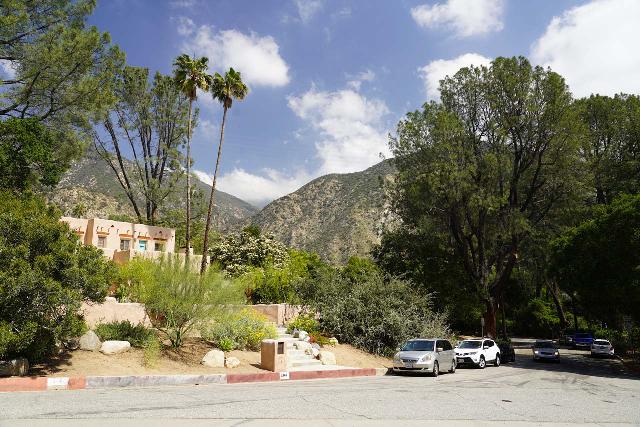 Besides, there's a lot more parking available down in the main trailhead parking areas by the Eaton Canyon Nature Center.
Additional Waterfalls above Eaton Canyon Falls
Finally, we've had website visitors and contributors making us aware that there were more waterfalls further upstream of the main Eaton Canyon Falls.
Unfortunately, the US Forest Service prohibits going up there because of a combination of steep terrain, erosion, and non-sanctioned user-created trails (one of which was the infamous "Razorback Trail").
Almost all of the deaths and rescues that have occurred were as a result of people who have attempted to pursue these upper waterfalls, especially leading up to the 2013-2014 time frame.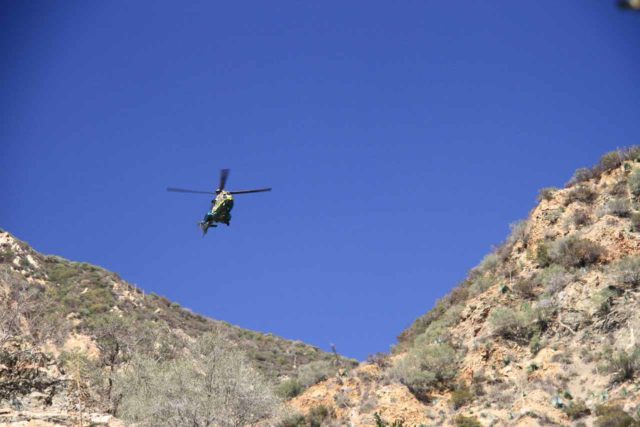 The Angeles National Forest authorities have since closed the relevant parts of the Lower Eaton Canyon approaches to deter unprepared visitors from attempting to access these waterfalls.
Apparently, this measure has worked because over the last several years, I have not seen nor heard a peep about the Upper Eaton Canyon Waterfalls.
For the record, I've never been up to these waterfalls, and we're definitely not going to attempt it either.
Authorities
Eaton Canyon Falls is technically in the Angeles National Forest near Altadena in Los Angeles County, California. It is administered by the USDA Forest Service, but the trailhead resides in the Eaton Canyon Nature County Park. For information or inquiries about this area as well as current conditions, visit the Eaton Canyon Natural Area website or the USDA Forest Service website.
Eaton Canyon Falls was in the suburb of Altadena, which itself was just north of Pasadena (also further north of downtown Los Angeles).
We generally make the approach from the east at the I-605/I-210 interchange near Duarte and Monrovia, and this is how I'll describe the driving directions.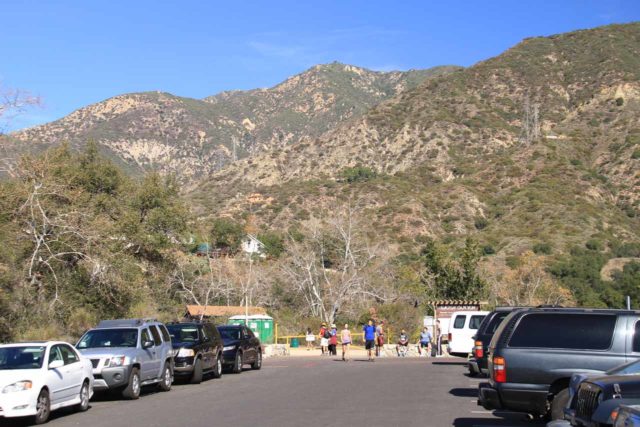 So we'd drive west along the 210 Freeway, and then we looked for the Sierra Madre exit (it would be Altadena Drive exit if you're headed east).
Once on the exit, we continued driving straight on Maple Street past the first traffic light (which is for Sierra Madre Blvd) until we were able to turn right onto Altadena Drive at the following traffic light.
We then drove north on Altadena Drive about 1.6 miles to the Eaton Canyon County Park, which was on the right.
The gated entrance descends towards the main paved parking lot, which fronts both the Eaton Canyon Nature Center as well as the trailhead for Eaton Canyon Falls.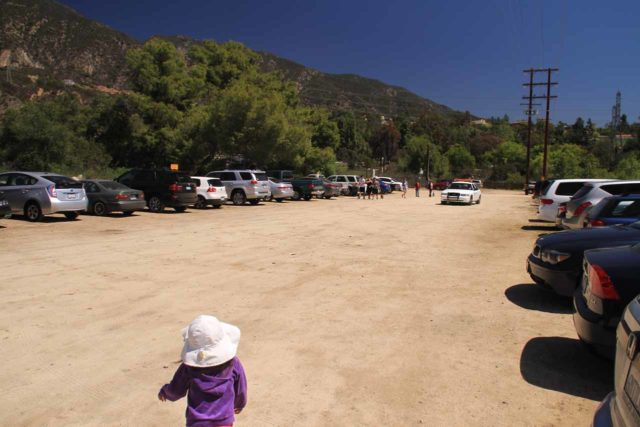 However, they sometimes open up an unpaved overflow parking area near the mouth of the main parking lot (especially on the weekends) to accommodate the surge of visitor traffic.
This overflow lot has historically been sufficient for parking in my experiences though I have experienced some moments where we had to circle around the lot for parking though I've seen some people exit and find street parking outside the park's boundaries.
Speaking of which, the overflow lot has only one-way in and one-way out.
So once you commit to coming this way, you'll have to leave this lot onto New York Drive (where turning right leads you back to Altadena Drive while going left will lead to Sierra Madre Blvd).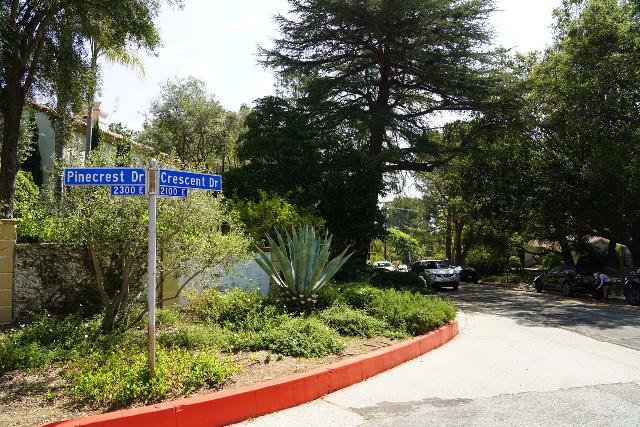 In case you're wondering how people have managed to reach the so-called "shortcut way", which starts at Pinecrest Drive, I've noticed people parking near the street corner of Pinecrest Drive and Crescent Drive.
Almost all of Pinecrest Drive prohibits street parking (as indicated by the red curbs).
Anyways, parking in the residential area is highly discouraged, and the more people keep doing it, I'm sure permit parking on the streets here will likely be in effect and enforced.
I saw this happen at Etiwanda Falls, and I foresee something similar happening here.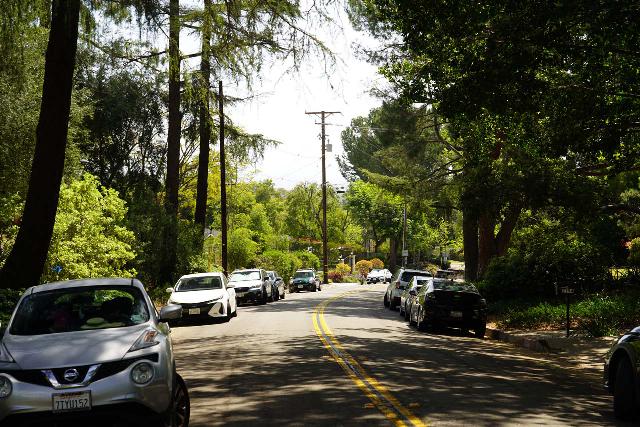 For geographical context, Pasadena is about 11 miles (roughly 30 minutes depending on traffic) northeast of downtown Los Angeles, 43 miles (about an hour drive depending on traffic) east of Thousand Oaks, and 56 miles (about an hour drive depending on traffic) from Irvine.
See the map below for accommodations closest to this waterfall.
Find A Place To Stay
Related Top 10 Lists
Trip Planning Resources
Nearby Accommodations
Featured Images and Nearby Attractions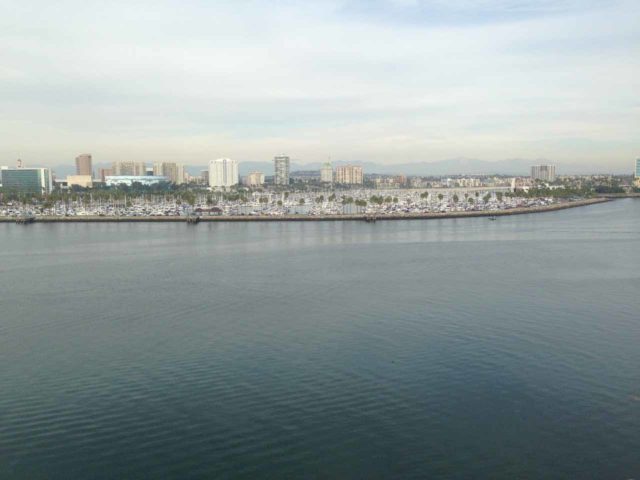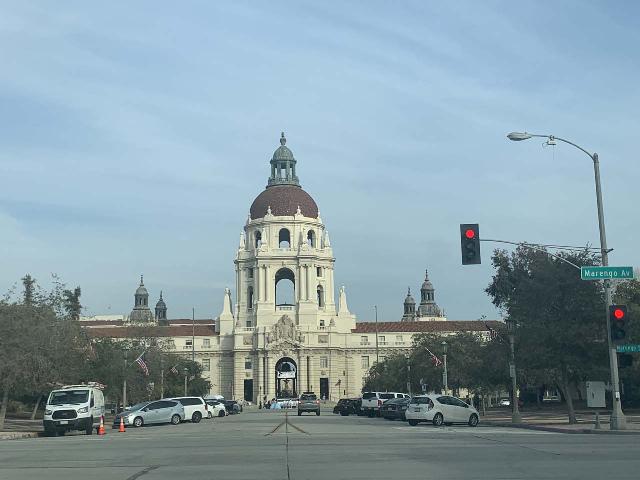 Tagged with:
pasadena, altadena, san gabriel, angeles national forest, los angeles, california, southern california, waterfall
Visitor Comments:
Got something you'd like to share or say to keep the conversation going? Feel free to leave a comment below...
Hot (Eaton Canyon Falls)
April 25, 2013 2:46 pm
-
I went there in October and when you go on there are so many tiny waterfalls but the big one is worth the hike. But go to Santa Monica waterfalls, too. ...Read More
A natural wonder
May 12, 2010 6:34 am
-
Our first trip to an actual waterfall. This was better than we expected. It is a challenging hike for beginners but so worth it. Definitely recommend it to everyone. Unlike other reviews, we did not find any trash nor graffiti. Pictures do not do justice to the beauty. Go and see for yourself!! ...Read More
Visitor Reviews of this Waterfall:
If you have a waterfall story or write-up that you'd like to share, feel free to click the button below and fill out the form...