About Fall Creek Falls
---
Hiking Distance:
about 5 miles round trip (includes stream scramble and bushwhack)
Suggested Time:
about 4 hours
---
Date first visited:
2022-01-08
Date last visited:
2022-01-28
---
Waterfall Latitude:
34.30641
Waterfall Longitude:
-118.16375
---
Fall Creek Falls was one of those waterfalls that started to get some notoriety in recent years, but in the past, it was more of a fun rappel for canyoneers due to its multi-drop characteristic.
That said, we didn't need to do any technical rappeling or abseiling to really experience this seasonal waterfall, but it did require a bit of an adventure.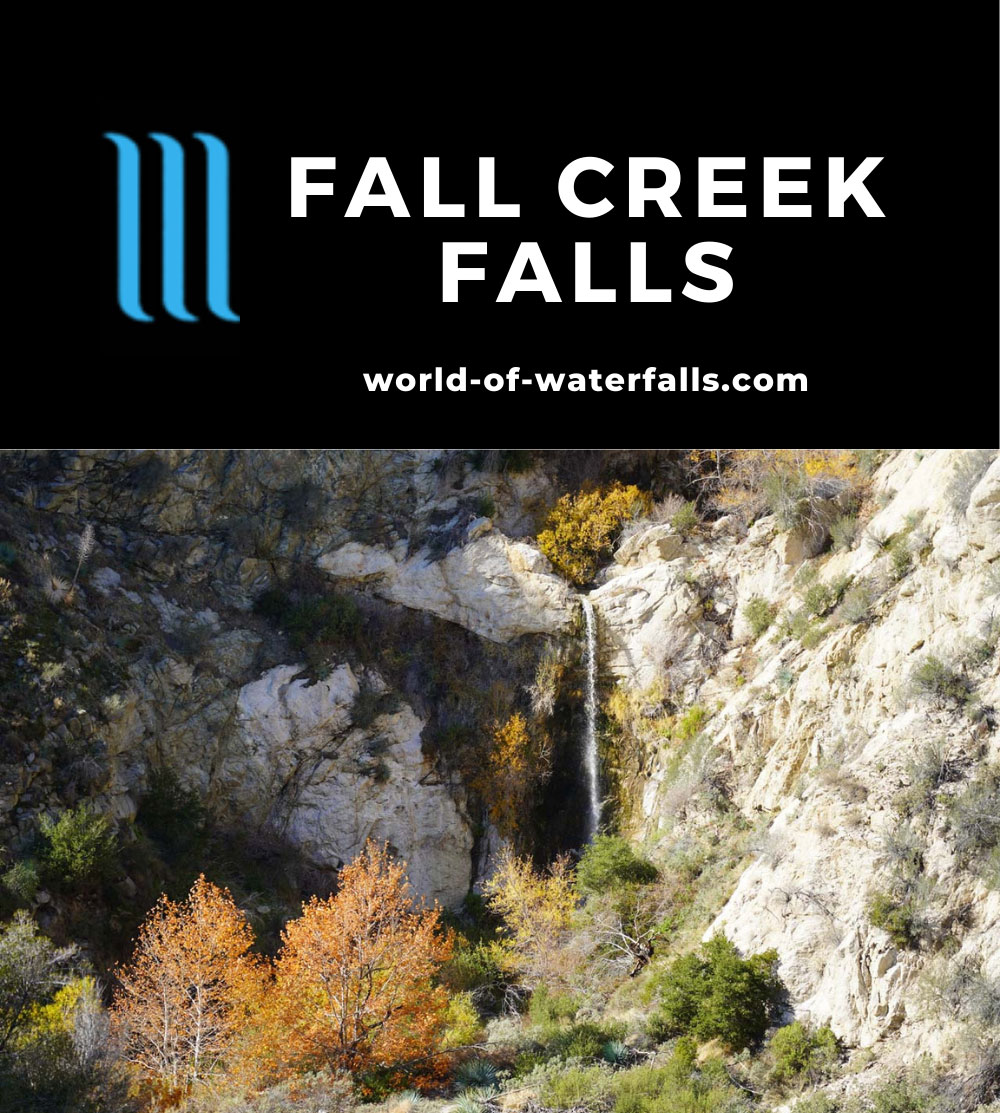 We noticed from our visit that Fall Creek plunged at least three (maybe four) times, which was easily viewable from across the Big Tujunga Canyon (more on this in the trail description below).
According to the USFS 2016 topo layer map on Gaia GPS, it appeared that the overall height over these lower tiers was on the order of about 230ft (though I'm sure there are probably more tiers further upstream).
In any case, this wasn't the first waterfall that had the apparent redundant name of Fall Creek Falls, but upon chatting with a person who explores this area quite a bit, he did offer up a very sensible explanation.
You see, upon witnessing how there was a plethora of autumn colors persisting all over Big Tujunga Canyon during our mid-January 2022 visit, it made sense that the "fall" in the name Fall Creek pertained to the fall colors!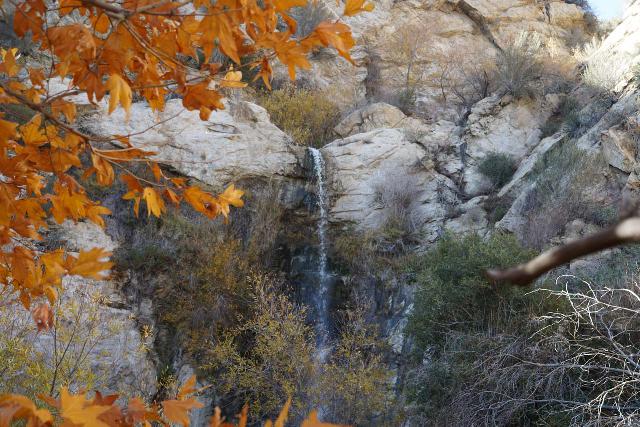 Therefore, it's not "Falls Creek" as I had initially thought, but it could very well be the singular form which pertains to the apparent persistence of the autumn season here.
Timing Fall Creek Falls
Like many waterfalls in the Big Tujunga Canyon area, which happens to be in a somewhat drier part of the San Gabriel Mountains, Fall Creek Falls does not have perennial flow.
In fact, on our visit to this waterfall in early January 2022 was barely a week after the last of some heavy rain storms have passed in late December.
Although the local who I chatted with said that the waterfall was already in low flow (and that it probably only has 3-4 weeks left), I actually came back three weeks later and saw that it still performed decently.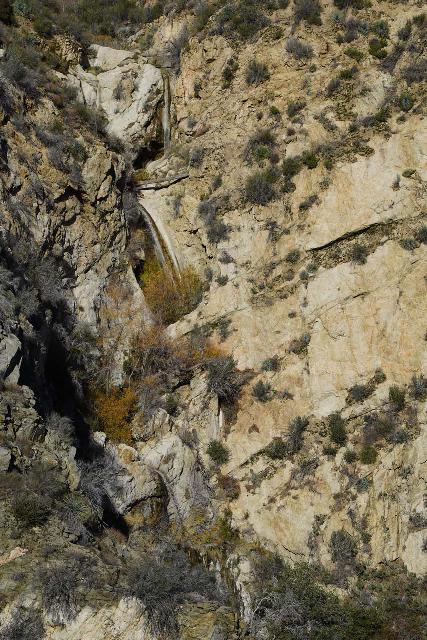 Especially compared to the nearby Josephine Creek Falls, there was definitely a lot more longevity to this one but I highly doubt that it wouldn't last the whole year.
Nevertheless, I'm thinking that it's this two-month season (in my estimation at least) combined with the rougher, hazard-filled scrambling and hiking to reach its base that makes Fall Creek Falls less popular than its counterparts like Trail Canyon Falls.
Further exacerbating its obscurity, perhaps mislabeled crowd-sourced point-of-interest pins on Google Maps (like one that incorrectly this waterfall Josephine Creek Falls) have misled people as well.
Fall Creek Falls Hiking Summary
The hike to Fall Creek Falls consists of two main parts…
Fall Creek Road
The Canyon Floor Scramble
According to my GPS logs the overall hike is on the order of 5 miles round-trip with about 600ft of elevation loss (so it's an upside down hike).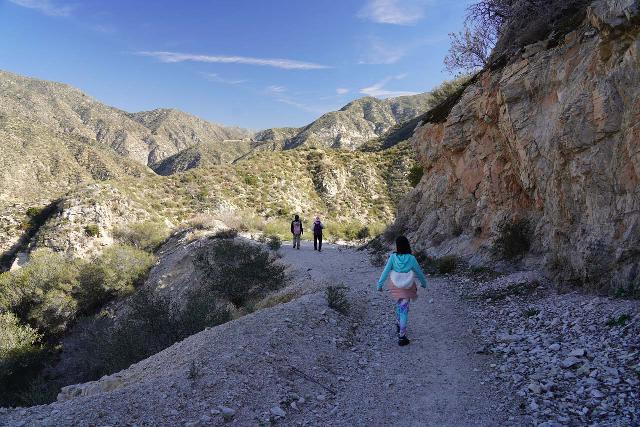 That said, it could be shorter by a few tenths of a mile because there was a bit of pathfinding on this hike.
We wound up spending about 4.5 hours away from the car, but had we been better prepared, it could be less than 4 hours in total.
For the Fall Creek Road part, it's a pretty straightforward hike on a fire road for 2 miles (4 miles round-trip) as it descends into Big Tujunga Canyon.
Towards the latter part of this stretch, we're able to witness most of the drops of Fall Creek Falls across the canyon.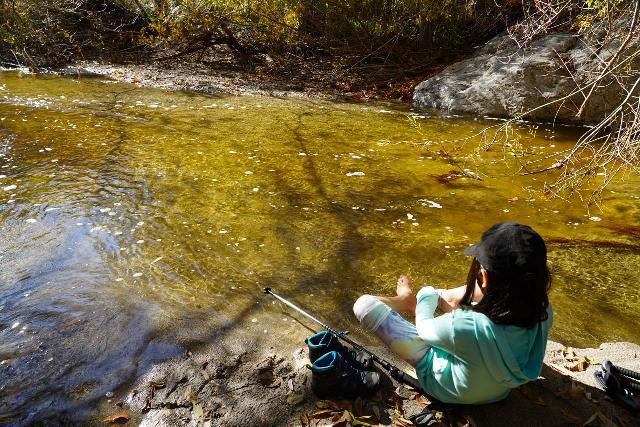 However, in order to reach the bottom of the waterfall (so we could interact with it), we have to go on a bit of a rough scramble within the canyon that involves being exposed to poison oak as well as getting poked by yucca plants.
This also involves crossing the Big Tujunga River (which is what Gaia GPS labels it though GoogleMaps called it Big Tujunga Creek) multiple times so wearing shoes that can get wet would also be wise.
Most of the higher difficult rating along with the increase in time commitment that you see in the sidebar of this page comes from the canyon floor scramble.
If that's a bit too much, you can still witness Fall Creek Falls from a distance and only go as far as the Big Tujunga River (or Big Tujunga Creek) at the end of the Fall Creek Road.
Trail Description – Fall Creek Road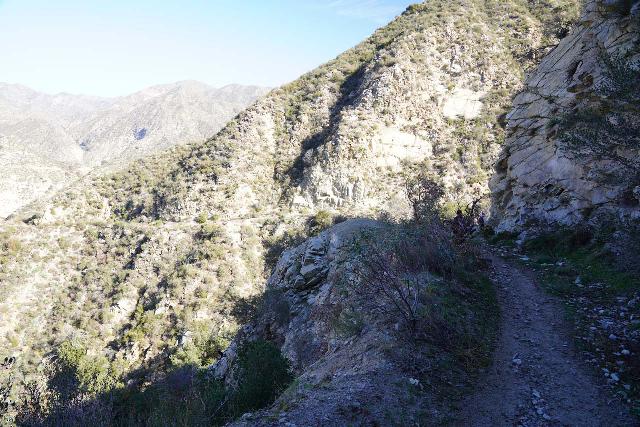 We started the hike from a gate blocking the Fall Creek Road (see directions below).
From there, we followed the rather wide and tame fire road, which had been affected by the Station Fire in 2009.
In addition to remnants of burnt vegetation, we also saw evidence of rockfalls and minor landslides that resulted from the soil destabilization due to the lack of live vegetation in the aftermath of the fires.
It was pretty smooth going on this stretch, and after about 1.1 miles from the gate, we encountered a seasonal side waterfall draining the north face of Josephine Peak.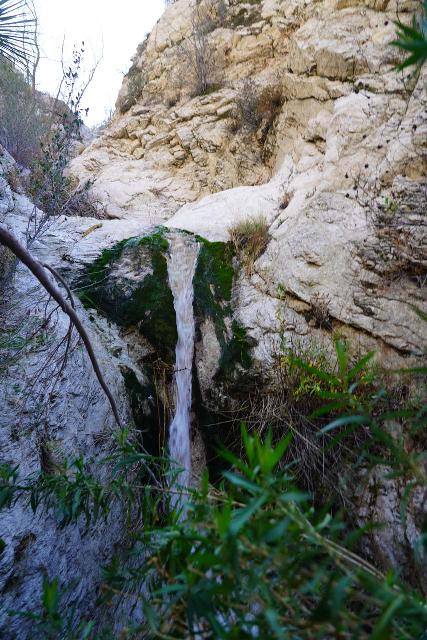 This particular waterfall had two small tiers dropping audibly behind thick overgrowth when it's flowing (so it was hard to properly see and photograph).
There was a barrier with a water tunnel below the road, which forced a rough and overgrown scramble around the left side to reach the plunge pool (though it was by no means a sanctioned access).
This temporary side waterfall also had upper tiers though they were also difficult to see given the gully's steep profile combined with the thick vegetation.
Beyond the waterfall in the next 0.4-mile, the trail skirted away from the gully to the north before rounding a bend and then starting to reveal Fall Creek Falls across the canyon.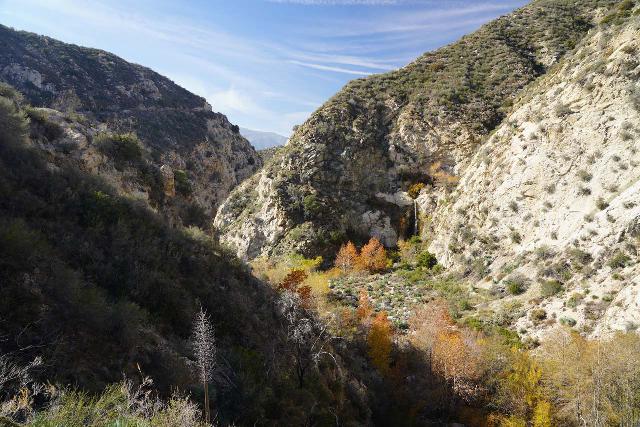 This was where we got the most satisfying views of the multi-tiered waterfall's upper and middle tiers.
And within the next 0.2-mile, we were able to see more of the waterfall's lowermost drops (as the upper waterfall tiers were concealed due to Fall Creek's twisting trajectory).
Finally at 2 miles from the trailhead, the trail dropped into Big Tujunga Canyon, where the fire road disappeared over a combination of fallen trees, overgrowth, some mild rock slides, and the Big Tujunga River itself.
Further progress from here would require an unofficial off-trail scramble.
Trail Description – The Canyon Floor Scramble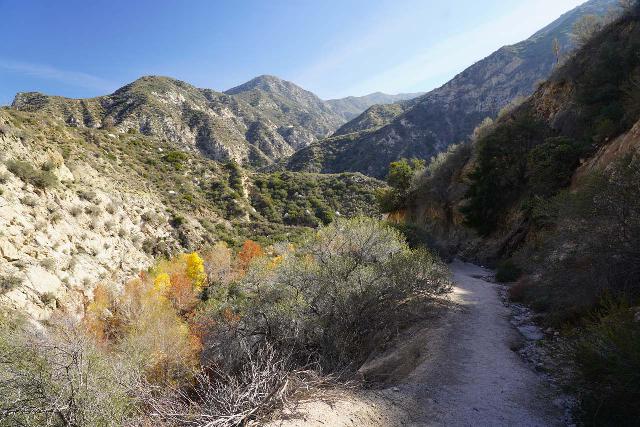 Within the floor of Big Tujunga Canyon, we first had to follow the Big Tujunga Creek (or Big Tujunga River) downstream for about 0.1-mile.
In this stretch, we managed to stay dry as we followed some faint use-trails over boulders and some limited overgrowth all under some impressive trees yielding leaves with the namesake fall colors during our visit.
Then, we got to a point where further progress involved going into the Big Tujunga River, and it's here that I'd recommend changing into water shoes (unless you're wearing one of those aquatic hiking shoes from the start).
While it may be tempting to just cross the river here and then try to find a dry route all the way to the bottom of Fall Creek Falls, we found it easiest to stay in the river for about 200ft.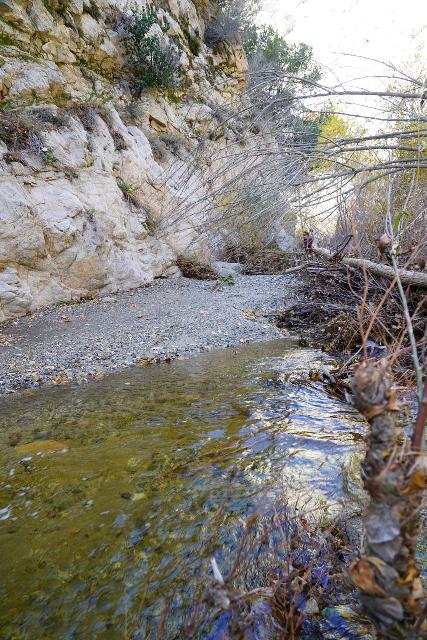 To the left side, there was an open "shore" where we could then follow it to a stagnant "narrow" with the cliff wall on one side and lots of overgrowth on the other.
We had to be real careful in this "narrow" because poison oak was growing against the cliff wall as well as within the thick overgrowth on the opposite side.
Beyond the narrow, we then left the river and scrambled on a dry section that involved going over a fallen tree as well as trying to dodge prickly yucca and other desert vegetation.
The overgrown path eventually reached the Big Tujunga River again, where we then found a fairly shallow crossing towards our right.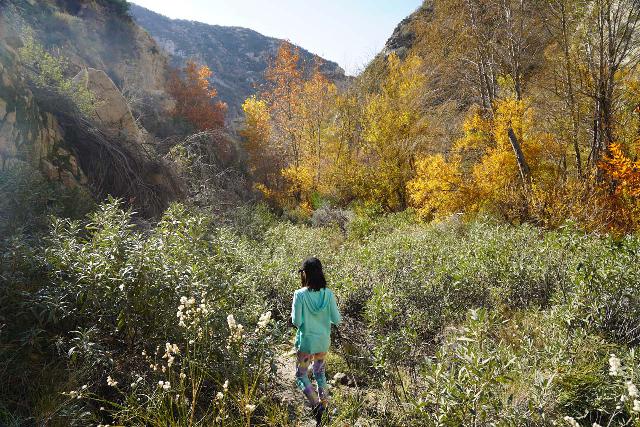 Once we were beyond this crossing, we then went the final 0.2-mile or so through more prickly yucca patches before making the last poison-oak-flanked approach up to the base of Fall Creek Falls.
The area at the plunge pool around Fall Creek Falls didn't have a whole lot of real estate to enjoy the falls as we were pretty much right up against its base (so it was hard to photograph in its entirety).
Thus, we didn't spend too much time in the cool spray beneath the waterfall, but we did spend more time a little further back from the falls where we took pictures of that lower drop of the falls framed by foliage with fall colors.
By the way, only the last drop of Fall Creek Falls could be seen at its base as its upper drops were too far set back to be seen.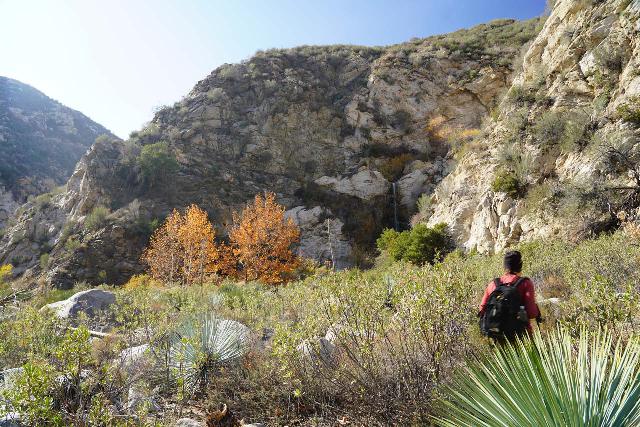 Finally, because our group had people who didn't bring a change of shoes, we ultimately spent about 50 minutes on this scramble on the way in, but only 25 minutes on the way out.
Most of the time spent was largely due to waiting for people to take off shoes, go in the stream barefeet, and then put back on the shoes in the rough drier parts (but less shoe changing happened on the way out).
Authorities
Fall Creek Falls resides in the Angeles National Forest near Pasadena in Los Angeles County, California. It is administered by the USDA Forest Service. For information or inquiries about the area as well as current conditions, visit their website or Facebook page.
Like with other waterfalls in Big Tujunga Canyon, there are actually a couple of ways to drive to the trailhead for Fall Creek Falls – one via Sunland and the other via La Canada-Flintridge.
Either way, we're going to start the driving description from the 210 Freeway at Pasadena (which is north of downtown Los Angeles).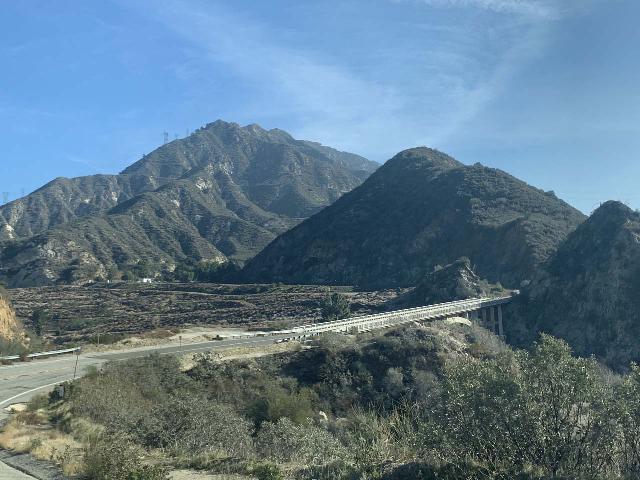 So from the 210 Freeway at Pasadena, we headed west towards Sunland and the Sunland Blvd exit.
Then, we turned right onto Sunland Blvd and followed this busy street for 3/4-mile to Oro Vista Ave. or 1.5 miles to Mt Gleason Rd.
You can turn left at either of those streets, and both streets will eventually deposit you to the Big Tujunga Canyon Road.
From where Oro Vista Ave became Big Tujunga Canyon Rd, we followed Big Tujunga Rd for a little under 11 miles to a small pullout area on the left backed by a locked gate (north side of Big Tujunga Canyon Rd).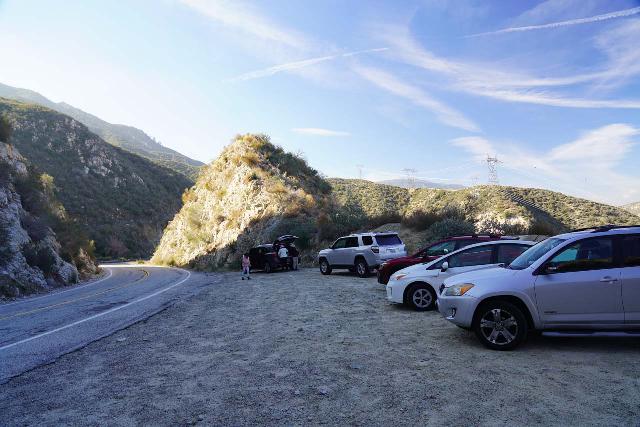 This pullout with the barricade or gate has limited parking (maybe about a half-dozen cars or so provided no one blocks the gate), and it would be a little around 4.3 miles from the Clear Creek Station going in the opposite direction on Big Tujunga Canyon Road.
Note that the 7-11 shop at Oro Vista Ave also sold Angeles Forest passes, which you'd need to display in your vehicle anywhere you park within the boundaries of the Angeles National Forest.
In addition, if the Clear Creek Ranger Station (by the Angeles Crest Highway) is open, then you can also pay cash to get Forest Service Adventure Passes from there as well.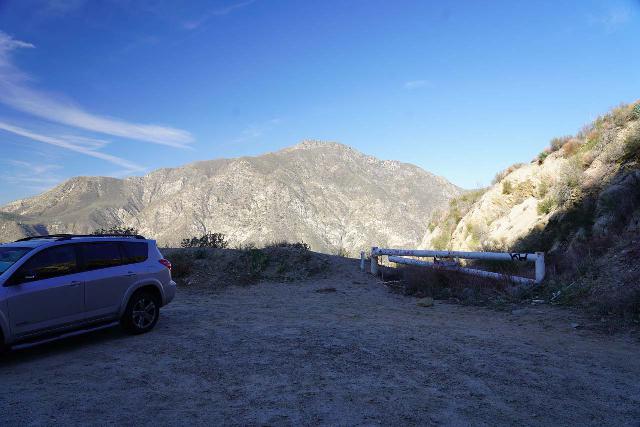 Finally, to give you some idea of the geographical context, Pasadena was about 13 miles (20 minutes drive without traffic) from Sunland, 11 miles (anywhere from 20-60 minutes depending on traffic) from downtown Los Angeles, 34 miles (about 45 minutes without traffic) from Santa Clarita, and 56 miles (over an hour drive without traffic) from Irvine.
Find A Place To Stay
Related Top 10 Lists
No Posts Found
Trip Planning Resources
Nearby Accommodations
Tagged with:
sunland, tujunga, angeles national forest, los angeles, angeles crest, southern california, california, waterfall, tom lucas camp
Visitor Comments:
Got something you'd like to share or say to keep the conversation going? Feel free to leave a comment below...
No users have replied to the content on this page
Visitor Reviews of this Waterfall:
If you have a waterfall story or write-up that you'd like to share, feel free to click the button below and fill out the form...
No users have submitted a write-up/review of this waterfall