About Limekiln Falls
---
Hiking Distance:
1 mile round trip; 1.5 miles round trip (to Lime Kilns)
---
Date first visited:
2003-03-29
Date last visited:
2015-04-02
---
Waterfall Latitude:
36.01429
Waterfall Longitude:
-121.5177
---
Limekiln Falls (I've also seen it spelled Lime Kiln Falls) was a pretty neat diversion along the rugged Big Sur coast.
Sitting in the Limekiln State Park, we thought it was perhaps the most compelling attraction in the reserve, which also featured impressively tall coastal redwoods, a dark-sanded beach, and a set of historic kilns that gave the park its name.
As for the waterfall itself, we thought of it as the Big Sur version of a limestone waterfall since we had seen quite a few of them further south in the state.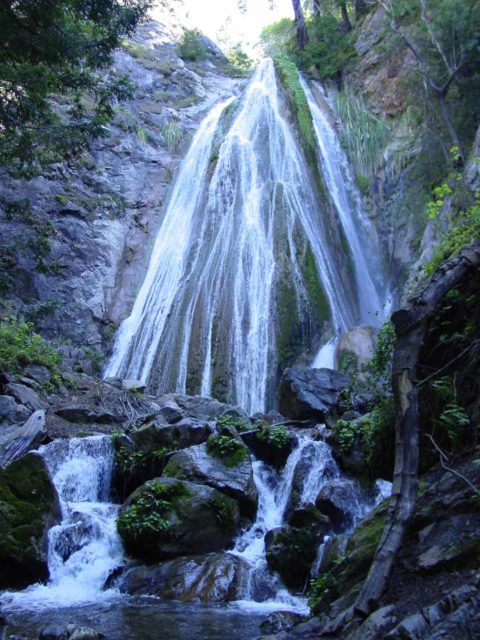 In addition to its limestone characteristic, Julie and I were quite impressed by its size, which was probably on the order of 75-100ft (our Ann Marie Brown
book said it was on the high end of that range).
We had visited this waterfall in both high flow and in the early Spring during the fourth year of a multi-year drought.
When Limekiln Falls had good flow (as pictured above), Julie and I were treated to an impressive display of a large limestone wall draped with water as it nourished the moss growing from it with its moisture.
When it had low flow (like in our most recent visit in 2015), the falls had a split appearance that kind of reminded me of Burgess Falls in Tennessee when we saw it in relatively lower flow.
Hiking to Limekiln Falls
Our excursion began from a well-established car park behind a payment kiosk (see directions below).
From there, we walked towards the end of the short lot then passed through a campground nestled beneath towering coastal redwoods while flanked by Limekiln Creek.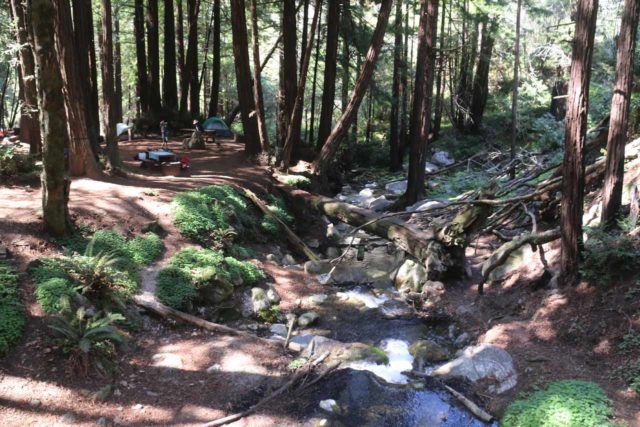 Beyond the campground, we crossed the first sturdy footbridge, where the trail then branched off from the Hare Creek Trail (we took the fork labeled "Kiln Trail" and "Falls Trail"), which then meandered beneath more coastal redwoods (some showing evidence of a fire that had been through here) while flanked by poison oak.
I understand that the trail had been improved (i.e. somewhat widened with bridges across parts of Limekiln Creek) since the fire, while the abundant poison oak was something Julie and I had to be real cognizant of since we had brought our four-year-old daughter along on our most recent trip here.
Continuing on the well-shaded trail, we passed one or two more sturdy footbridges before reaching a signed junction where the Kiln Trail continued straight while the Falls Trail descended to our right.
As we turned right to go onto the Falls Trail, the trail then was narrower and more primitive as we immediately crossed the first of three unbridged creek crossings.
I had recalled in our visit back in 2003 that some of the crossings might have been tricky (in terms of trying to keep our socks dry) due to a higher flowing stream.
However, in our 2015 visit, it seemed like logs and planks were thoughtfully placed to make the crossing easier. That said, we still had to help our daughter across those sections.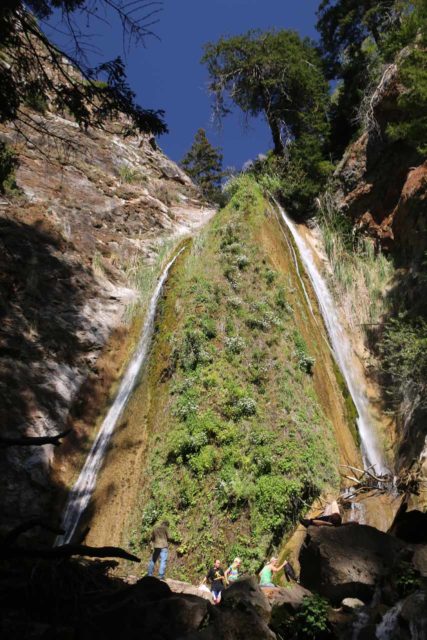 Finally after about 0.5 miles from the car park, we reached the base of the impressive Limekiln Falls. There was a small cascade fronting the base of the main drop.
But in order to access the base of that main drop, we needed to do a little bit of scrambling (care should be taken if this is partaken; back in 2003, I recalled we had to climb a wet and slippery fallen log) on the opposite side of the creek (the north bank).
Nonetheless, the end of the official trail was also a perfectly fine spot to enjoy the falls as well.
On a sunny afternoon, there were a lot of shadows cast on the lower parts of the falls, which may impact photos, so I believe this was one of those falls where it would be better on a cloudy day from a photography standpoint.
Optional Side Excursions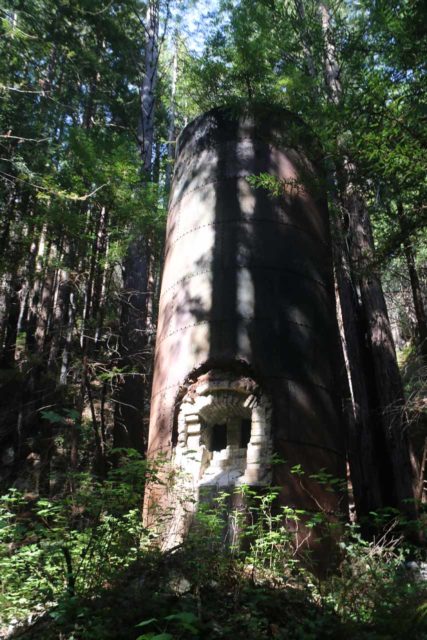 When I had my fill of Limekiln Falls, I then returned to the Falls and Kiln Trail junction, then continued for another 10-15 minutes on the Kiln Trail passing through another grove of coastal redwoods before reaching the namesake lime kilns after which the state park got its name.
The nice thing about this trail was that it was much quieter compared to the Falls Trail. In any case, the path ended at a series of four kilns whose heyday had long since passed.
Apparently, these limekilns were used to "kiln" (smelt) limestone quarried from the canyon (note the Limekiln Falls fell over a limestone wall), which then became cement that ended up being used in many buildings that are standing in Monterey and San Francisco.
Back at the car park (completing an overall hike of about 1.5 miles, of which 1 mile was the Falls Trail), we then walked past the kiosk towards the beach, which sat pretty much directly beneath the Hwy 1.
On the short trail to get there, we passed by more campsites before reaching the somewhat dark-sanded beach with lots of larger smoothed out rocks.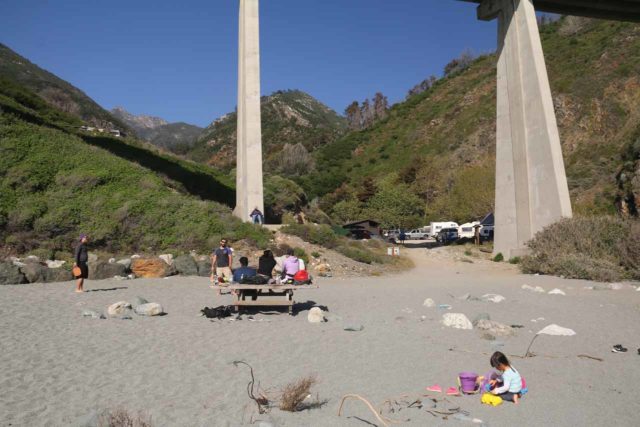 The waves looked a bit rough as apparently the open ocean might have had swells funneling into the Limekiln Cove so it didn't seem like a sensible place to go for a swim.
Nonetheless, our daughter was perfectly happy playing in the sand, and so it was a nice way to spend family time checking out both waterfalls, a little bit of Big Sur heritage, and a beach all in one stop.
Authorities
Limekiln Falls resides in the Limekiln State Park. For information or inquiries about the area as well as current conditions, visit their website.

The falls is located in the Limekiln State Park not too far south of Lucia on Hwy 1. Contextually, Lucia is about 40 miles (1 hours drive) north of San Simeon and 55 miles (90 minutes drive) south of Monterey. Lucia is also about 2 hours drive (80 miles) north of San Luis Obispo and roughly a 5 hour drive (269 miles) north of Los Angeles.
Look for its signposted turnoff to your right just before you cross the bridge roughly 18 miles north of Salmon Creek Falls if you're headed north. Or, look for the same turnoff to your left just after the bridge about 2 miles south of Lucia.
Once you've taken the turnoff, follow the narrow road as it descends to the payment kiosk (we paid $10 on our latest visit in 2015 though I recalled we paid $7 back in 2003), where there was day use parking in addition to some campgrounds. Julie and I did notice that some folks managed to avoid paying the state park fees by parking along Hwy 1 then walking into the state park.
Related Top 10 Lists
No Posts Found
Trip Planning Resources
Featured Images and Nearby Attractions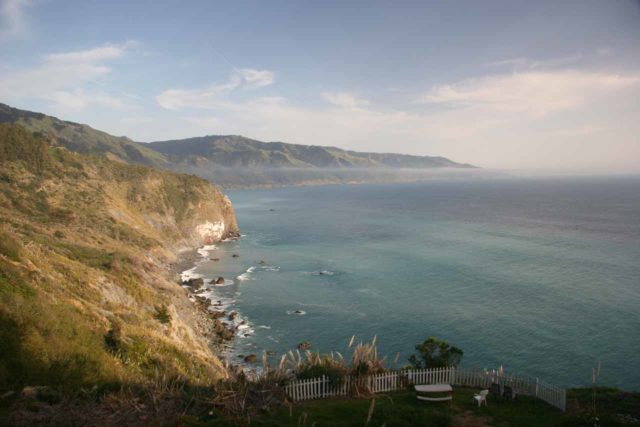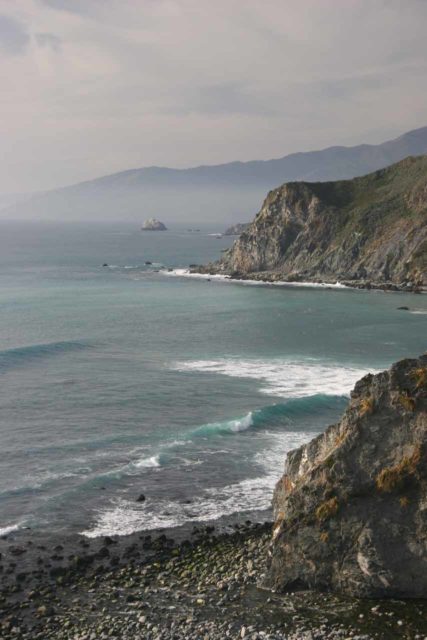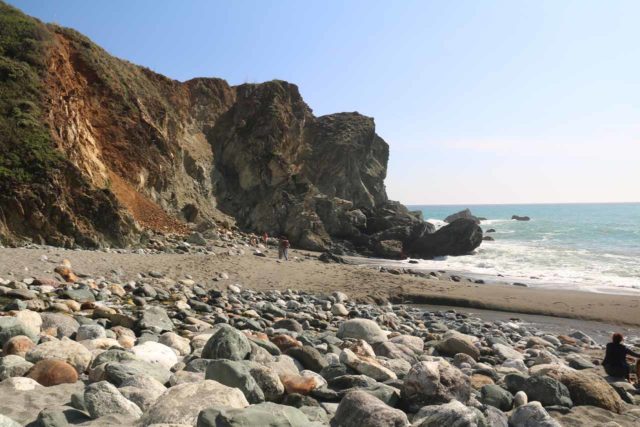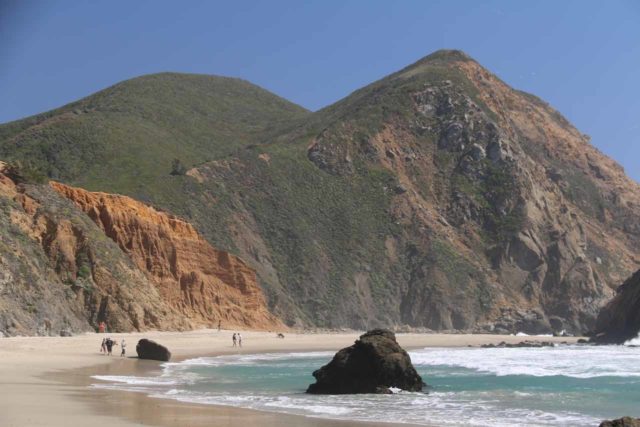 Tagged with:
limekiln, big sur, lucia, monterey, ventana, highway 1, hwy 1, bay area, central coast, california, waterfall
Visitor Reviews of this Waterfall:
Climbing Down Around Lime Kiln Falls
June 28, 2013 1:47 pm
-
Back in 1969, I was hitching north thru the Big Sur. I ended up at a campground in the mountains within sight of the Pacific. On a whim (I was 21 at the time) I decided to hike cross-country down to the ocean and get on the coast highway, and so I set off with… ...Read More