About Paradise Falls (Wildwood Falls)
---
Hiking Distance:
2.4 miles round trip
Suggested Time:
60-90 minutes
---
Waterfall Latitude:
34.21438
Waterfall Longitude:
-118.91069
Paradise Falls (also referred to as Wildwood Falls) was a lovely 40ft waterfall in the canyons of Wildwood Park in the Thousand Oaks area not too far east of the popular shopping outlet at Camarillo. This was the first waterfall that Julie took me to, and we had such a positive experience that we wound up seeing others in the greater Los Angeles area. It was also easy enough for us to bring our daughter when she was only a year old as well as a couple of years later when she was able to walk the whole trail on her own. So given all these factors, I guess it was fitting to put this falls on our list of Top 10 Southern California Waterfalls.
It was said to be a short 2.4-mile return hike from the official car park to the falls and back. There were actually a variety of trails that we were able to take to reach the waterfall. And it seemed like each time we visited this place (whether we knew it or not), we ended up taking a different trail than before. However, over the years, we would eventually figure out the most direct route to get to the falls, and so the most recent hikes we've done here were via the shortest route.
That said, we'll describe the hike the way we did it the second time we came here, which was in a loop manner taking in as many sights as possible (even though this wasn't the shortest route to the falls). We figured that this would at least give you a taste of what's possible here if you don't mind spending a little bit more time than the straightforward route.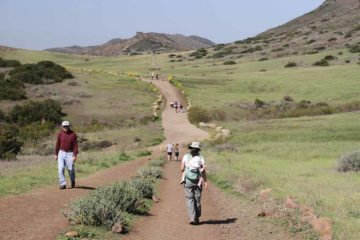 From the parking lot no. 1 and its vicinity, we could've taken a more direct "shortcut" along the Moon Ridge Trail, but we thought it was a bit narrow and too up-and-down for our mood. So we descended further along a fire road that zig-zagged its way down towards Indian Creek passing by a spur trail that led to an attractive Indian Cave. When the trail reached the bottom of this descent, there was a bridge that crossed the creek and led to Los Arboles Nature Center (which we didn't visit so we can't say more about that).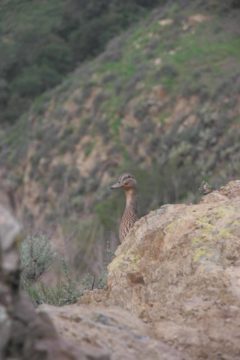 Shortly after this narrow canyon section, the trail descended some steps (that we didn't recall existed back in 2001) right down to the base of the falls. The edge of the plunge pool was the official end of the trail to the waterfall, but there we noticed other trails leading further into the canyon to other attractions like Lizard Rock. Since we didn't venture further downstream of the falls, we can't say more about that either.
The view of the falls from trail's end was a little blocked by a craggy protruding rock. However, we were able to cross the creek without getting our feet wet (though we did wear Gore-tex) to get to the other side where we got a full frontal view of Paradise Falls (as photographed at the top of this page). I'd guess that depending on waterflow, it's quite possible that the stream crossing might be deepr or shallower than what we've described so I'd imagine you'd want to assess your situation before you decide to cross.
On the return, we went back through the narrow canyon skirting above Indian Creek. Then we turned left and ascended a hill that led up to a teepee (note: there were two other trails connecting the teepee and waterfall). We then ascended a trail directly climbing from the teepee. Eventually, this trail led us back to the main trail, which in turn took us back to the Mesa Trail. Once we were on the Mesa Trail, we followed it back to the car park. We should mention that it was a good thing we had gotten an early start because the car park was quite crowded when we returned (attesting to the popularity of the falls).
To give you an idea of how long it took us to do this trail, we did a much shorter and direct out-and-back signposted trail with our baby daughter on a few occasions. That direct route only took us about a half-hour to 40 minutes each way, and I believe this shorter trail could very well be the official trail to Paradise Falls. So given this recent observation, I'm sure Julie and I will be taking this shorter, more official out-and-back trail on any more future visits to Paradise Falls. Otherwise, the slightly longer loop described on this page made the hike more like a 2- to 3-hour leisurely hike.
To get to the trailhead from Los Angeles, take US 101 into Thousand Oaks and exit at Lynn Road. From there, you head north (turning right from the off-ramp assuming you've exited the 101 west), then hang a left at Avenida de Los Arboles. Park at the car park for the Wildwood Park just as the road is about to turn right into a residential area.
Finally, if you're looking to find something about the Paradise Falls that was featured in the heartfelt movie Up
, you'll want to check out Angel Falls. You may notice a pretty uncanny resemblance! 🙂
Related Top 10 Lists
Featured Images and Nearby Attractions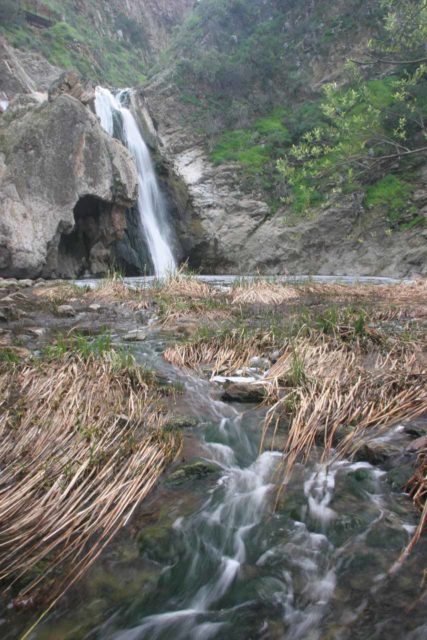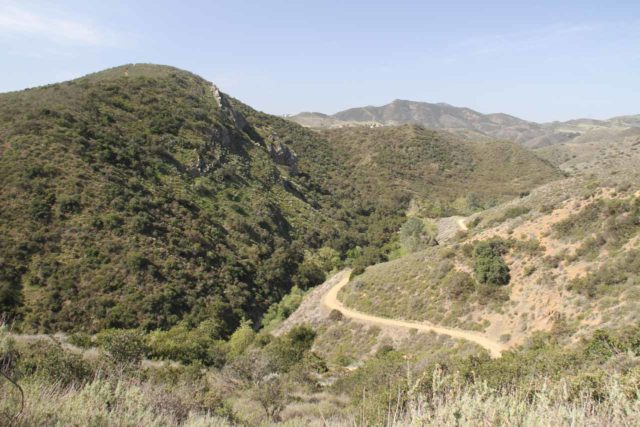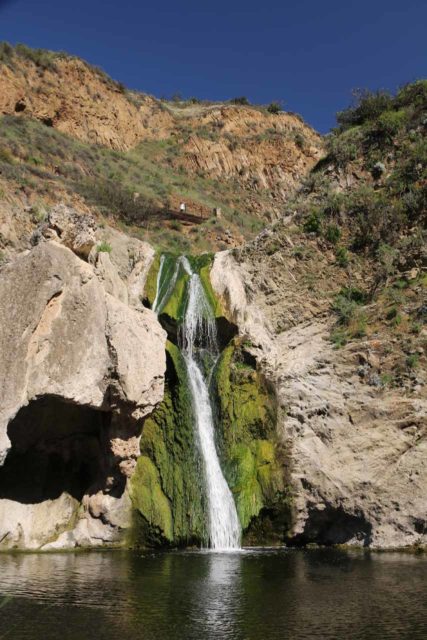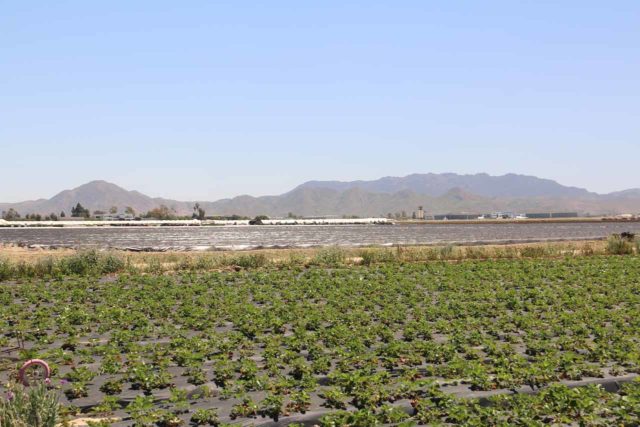 Tagged with:
thousand oaks, wildwood, ventura, southern california, california, waterfall, 101, camarillo, the valley
Visitor Reviews of this Waterfall:
Paradise Falls
November 2, 2018 9:22 am
-
I've been going to Paradise Falls since the mid 80's. It's a great waterfall but you definitely don't want to swim in the pool. Beyond it being illegal, and the Rangers do write tickets occasionally (especially if you are climbing the rocks), much of the water is gutter water. Just not something you want to… ...Read More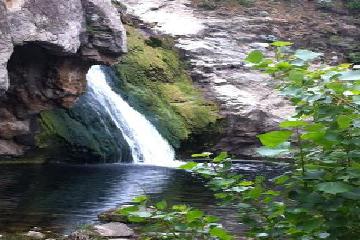 Paradise Falls April 2013
April 15, 2013 5:24 pm
-
Went for a hike this weekend at Paradise Falls. Perfect weather. Great time. Going to Rose Valley in 2 weeks ...Read More
Visitor Comments: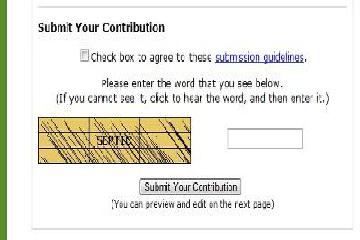 Paradise Falls – Looking forward to heading here for the first time
July 24, 2010 8:52 pm
-
Hey, great review, and great pictures/video! I'm headed there for the first time today and my neighbor mentioned that the water there smells due to runoff water from the local area. You're the only review site that mentioned it. And your before and after pictures of the fall really helped out to verify that and… ...Read More