About San Antonio Falls
---
Hiking Distance:
1.5 miles round trip
Suggested Time:
45-60 minutes
---
Date first visited:
2005-04-03
Date last visited:
2020-05-08
---
Waterfall Latitude:
34.27292
Waterfall Longitude:
-117.6346
---
San Antonio Falls was a waterfall where it pays to time a visit for the peak snowmelt when Mt Baldy (formally known as Mt San Antonio) has accumulated snow during the Winter.
Luckily, Mt Baldy is quite visible from the Los Angeles basin (it's the very prominent south-facing mountain when looking towards Pomona) so Mother Nature already provides clues as to when to time a visit.
And as you can see the photo above, when the timing is right, the waterfall puts on a show, and you can easily see why we included it on our Top 10 So Cal Waterfalls List.
So what is this timing, you may ask?
Timing San Antonio Falls
Our general rule of thumb is to observe whether Mt Baldy has had snow or not.
Usually in the Winters, the storms we get would produce snow in the mountains.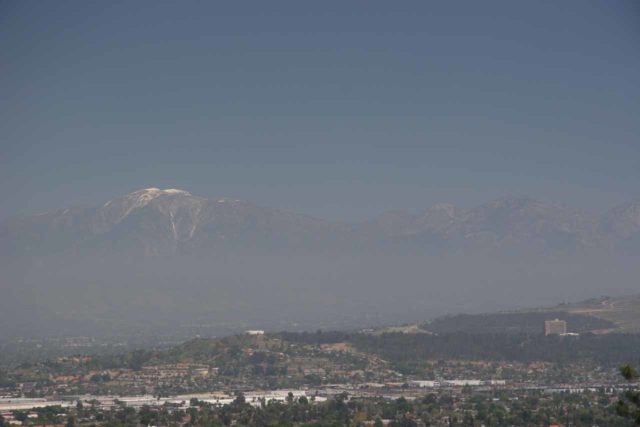 And if there has been an accumulation, it's quite visible on the peak of Mt Baldy.
Of course with Climate Change, we now have to evaluate our Winters in terms of drought years versus wet years.
Therefore, it may be only certain years where it's worth the effort to make it up to the slopes of Mt Baldy to see this waterfall despite the season.
In any case, when the seasons change and the weather warms up (typically in the Spring), that would be when the creek responsible for feeding the waterfall would contain the volume it would need to put on a show.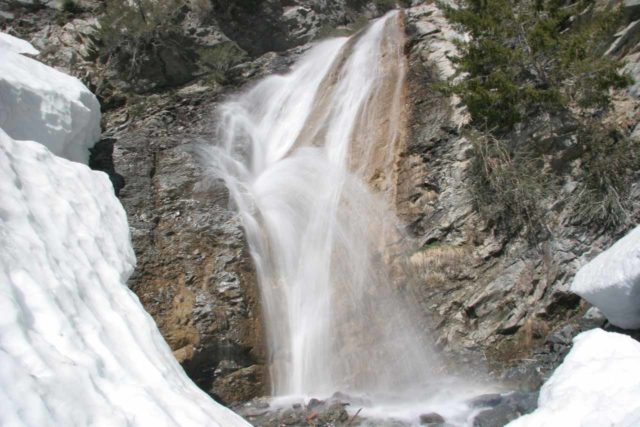 That said, there are other nuances with timing a visit to San Antonio Falls in addition to the waterfall's flow.
For example, we've come to the falls when there was still enough snow clinging to its neighboring slopes.
As a result, San Antonio Falls blended in with the snow and was harder to see (let alone photograph).
In addition, with the presence of snow, the footing was a bit trickier and more slippery so we really had watch our steps.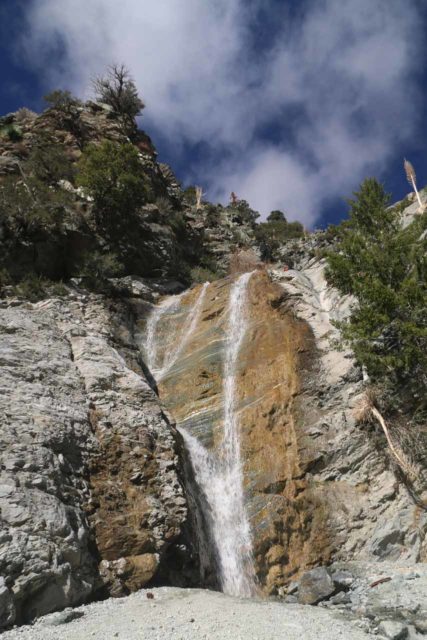 On the other hand, we also came when most of the snow around the waterfall had melted.
This allowed us to see the San Antonio Falls' uppermost tiers, but it also meant that the flow was waning.
When there's good flow, the falls may feature an intriguing waterwheel (where the water was throw up before dropping back down), which further added to its scenic allure.
However, when there's less flow, the waterwheel would be either non-existent or not as pronounced.
Accessing San Antonio Falls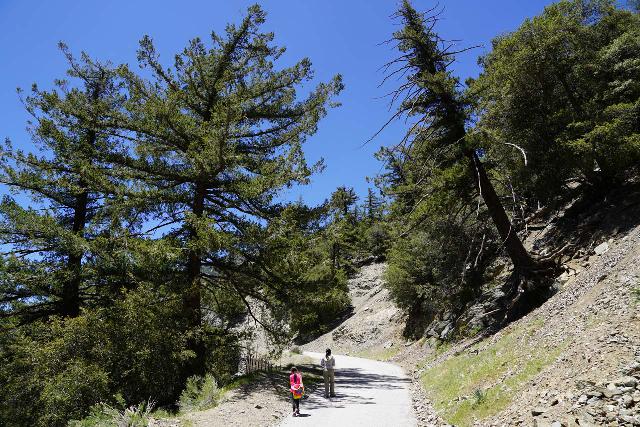 The hike to San Antonio Falls was really more of a short walk on the paved Falls Road (though when Julie and I were first here back in 2005, Falls Road was not paved).
This road deviated from Baldy Road at Manker Flats (see directions below).
The slightly uphill hike was very easy for the family since it was pretty much a walk on the road as long as we weren't walking on snow or ice.
During the walk, we even had a nice glimpse of the LA Basin looking downslope near where the road made a sharp turn.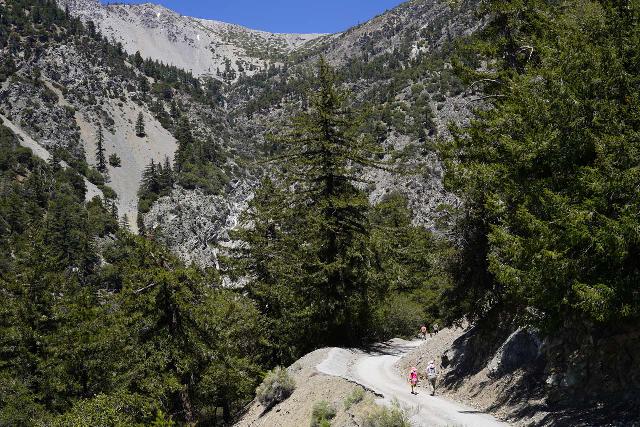 We also noticed some driveways or local residences, which might have been the reason why Falls Road had been improved over the years.
After about 3/4-mile (passing by what looked like someone's driveway and possibly the very reason why Falls Rd became paved), we arrived at the lookout for San Antonio Falls.
It was from this vantage point that we could appreciate its three main drops which might be on the order of 100-150ft tall (even though Ann Marie Brown
had it at 80ft).
We had also noticed there were a few more tiers above and below this main section so it's conceivable that we could've easily underestimated the overall height of the waterfall.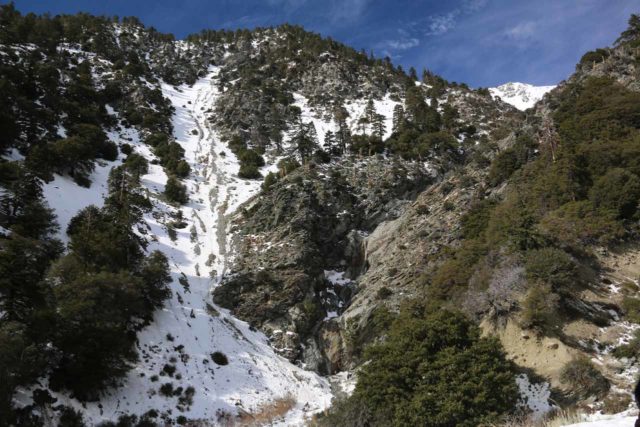 That said, the taller slopes made the falls appear smaller or even more invisible by comparison, especially when there's snow.
Scrambling to the base of San Antonio Falls
Beyond the overlook (right at the end of the hairpin turn), there was a narrow path that led right to the base of San Antonio Falls.
A short distance from the overlook at the Falls Road hairpin, there was a pretty well-worn section of the track that definitely required us to wear shoes with decent grip.
A slip and fall into that ravine that the slope faced would certainly be cause for injury.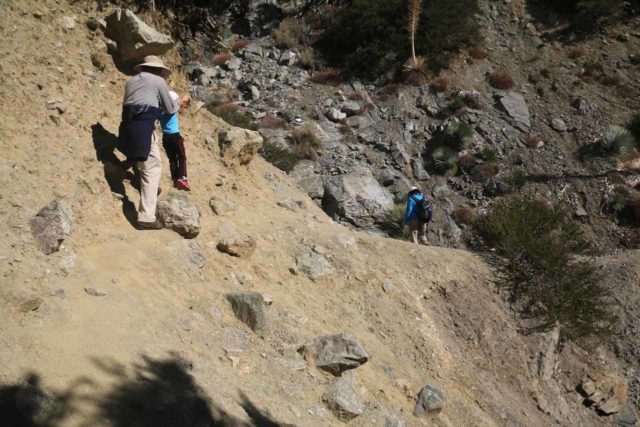 Even if you slid down there uninjured, it looked like it would be a difficult scramble back up.
So I can see why more than a few people don't continue from the overlook to the base of the falls.
If there happened to be snow or ice here or the erosion eventually gets to the point that this might not be passable, then I'd be very uncomfortable proceeding past this point.
Anyways, Falls Road continued going up the slope apparently towards the lifts at the Baldy Summit, but we've never hiked past the waterfall so we can't comment more on it.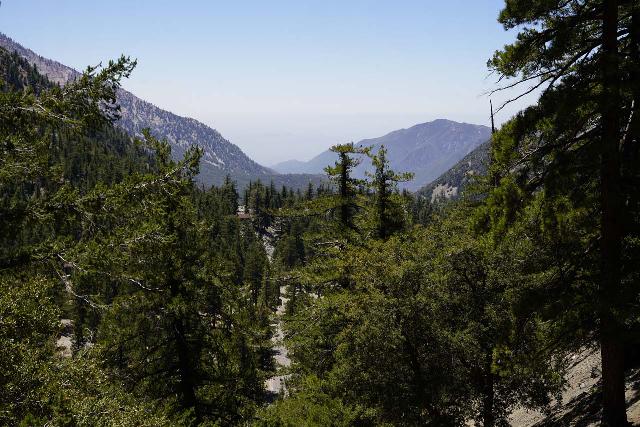 Thus, the round trip distance of this hike was on the order of 1.5 miles and generally 90 minutes to 2 hours was more than enough time for us to enjoy both the hike and the falls.
Authorities
San Antonio Falls resides in the San Bernardino National Forest near Mt Baldy in San Bernardino County, California. It is administered by the USDA Forest Service. For information or inquiries about the area as well as current conditions, visit their website or Facebook page.
To get to San Antonio Falls, we took the I-210 East towards the Claremont area (34 miles east of downtown Los Angeles).
We then took the exit at Base Line Road, turned left at the light, then immediately turned right onto Padua Road.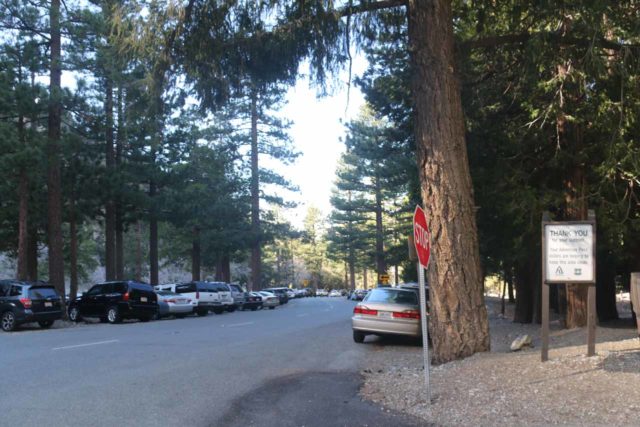 Next, we followed Padua Road through what looked like a pretty new suburban neighborhood until Mt Baldy Road.
Then, we turned right onto Mt Baldy Road and took it roughly 9 miles or so climbing along the winding mountainous roads through Baldy Village.
Eventually, we reached the Falls Road entrance just beyond the Manker Flat Campground (note there was one hairpin turn beyond Baldy Village towards Icebox Canyon where we easily could have mistakenly gone straight and left Mt Baldy Road).
There was usually lots of vehicles parked along the divided Mt Baldy Road on the downslope side around the Falls Road so we couldn't miss it.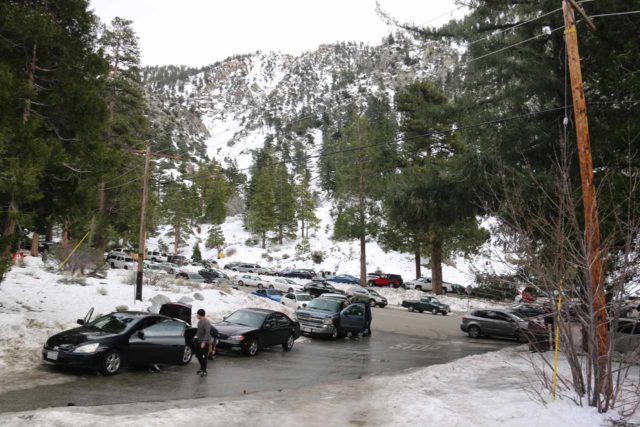 If we didn't have a Forest Service Pass in hand to display in our parked vehicle, we could buy one from one of the handful of outfitters and shops in Baldy Village.
A Slightly Different Driving Route as described in the Ann Marie Brown book
On one of our recent visits, we followed Ann Marie Brown's directions as described in her book
.
She had us exiting the I-210 Freeway at Mountain Ave and taking it north for 4.3 miles.
Shortly after a hairpin turn by Lower San Antonio station, we then had to turn sharply right at a blind turn onto Mt Baldy Road.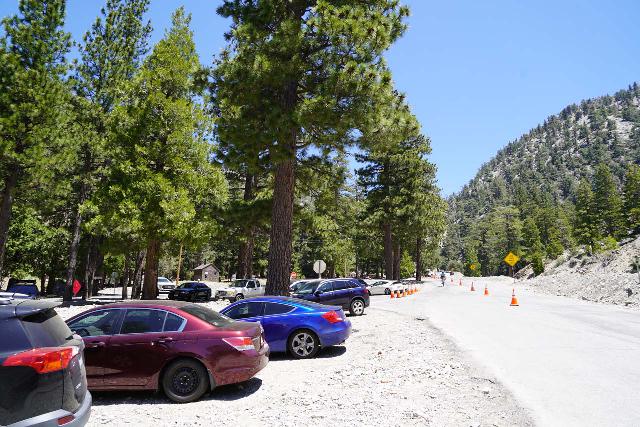 From there, we then continued climbing up the mountain for the next 9 miles to Manker Flat Campground and ultimately the trailhead for San Antonio Falls shortly thereafter.
Car Maintenance and Mountain Roads
Speaking of climbing, I want to mention that for steep mountain roads like this (especially on the hairpins and grades beyond Baldy Village), we had to be honest with ourselves about the condition of our car.
We had one incident with our Corolla with 230k miles on it where we managed to make it, but we did have a bit of a scare.
That was because we noticed some steam or smoke protruding from the hood (despite the fact that the car made no indication of overheating or abnormally high engine temperatures).
On a separate visit, the automatic transmission fluid on my parents' SUV overheated due to negligence of not having that fluid flushed prior to making our visit.
Luckily, the issue solved itself when we parked the car and returned to it some 90 minutes later after doing the hike.
So just keep this in mind if you have an old car, because it's not exactly a nice place to have a break down.
Find A Place To Stay
Related Top 10 Lists
Trip Planning Resources
Nearby Accommodations
Featured Images and Nearby Attractions
Tagged with:
angeles national forest, baldy, rancho cucamonga, fontana, san antonio, claremont, pomona, san bernardino, riverside, southern california, california, waterfall
Visitor Comments:
Got something you'd like to share or say to keep the conversation going? Feel free to leave a comment below...
No users have replied to the content on this page
Visitor Reviews of this Waterfall:
If you have a waterfall story or write-up that you'd like to share, feel free to click the button below and fill out the form...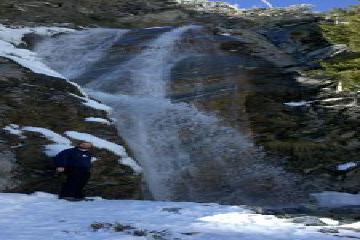 San Antonio Falls With Snow
March 14, 2011 7:02 am
-
My wife and I are fairly new to visiting waterfalls, as we just started at the beginning of the year. We've been to several so far, and we love it! A few weeks ago we decided to check out San Antonio Falls. It had just snowed over the weekend, and for some reason I wasn't… ...Read More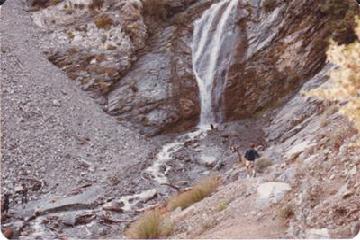 Moon Walking & Rock Slides (San Antonio Falls)
February 1, 2009 4:00 am
-
We would climb up the falls along the crevice to the left of the falls all the way up then over to the chute to the left of the falls and run down the gravel chute. It was so steep it was like running on the moon. One step, then sink into the gravel, then… ...Read More