About Santa Ynez Falls
---
Hiking Distance:
2.4 miles round trip with stream scramble and bouldering obstacles
Suggested Time:
about 2-2.5 hours
---
Date first visited:
2019-01-19
Date last visited:
2023-02-18
---
Waterfall Latitude:
34.09179
Waterfall Longitude:
-118.56878
---
Santa Ynez Falls (or Santa Ynez Canyon Falls) was one of those waterfalls we had put off doing after all the years we had been waterfalling locally in Southern California.
We adopted this mentality because we tended to pursue those that we felt were more worth our time and effort, and this was definitely not a particularly easy one to do.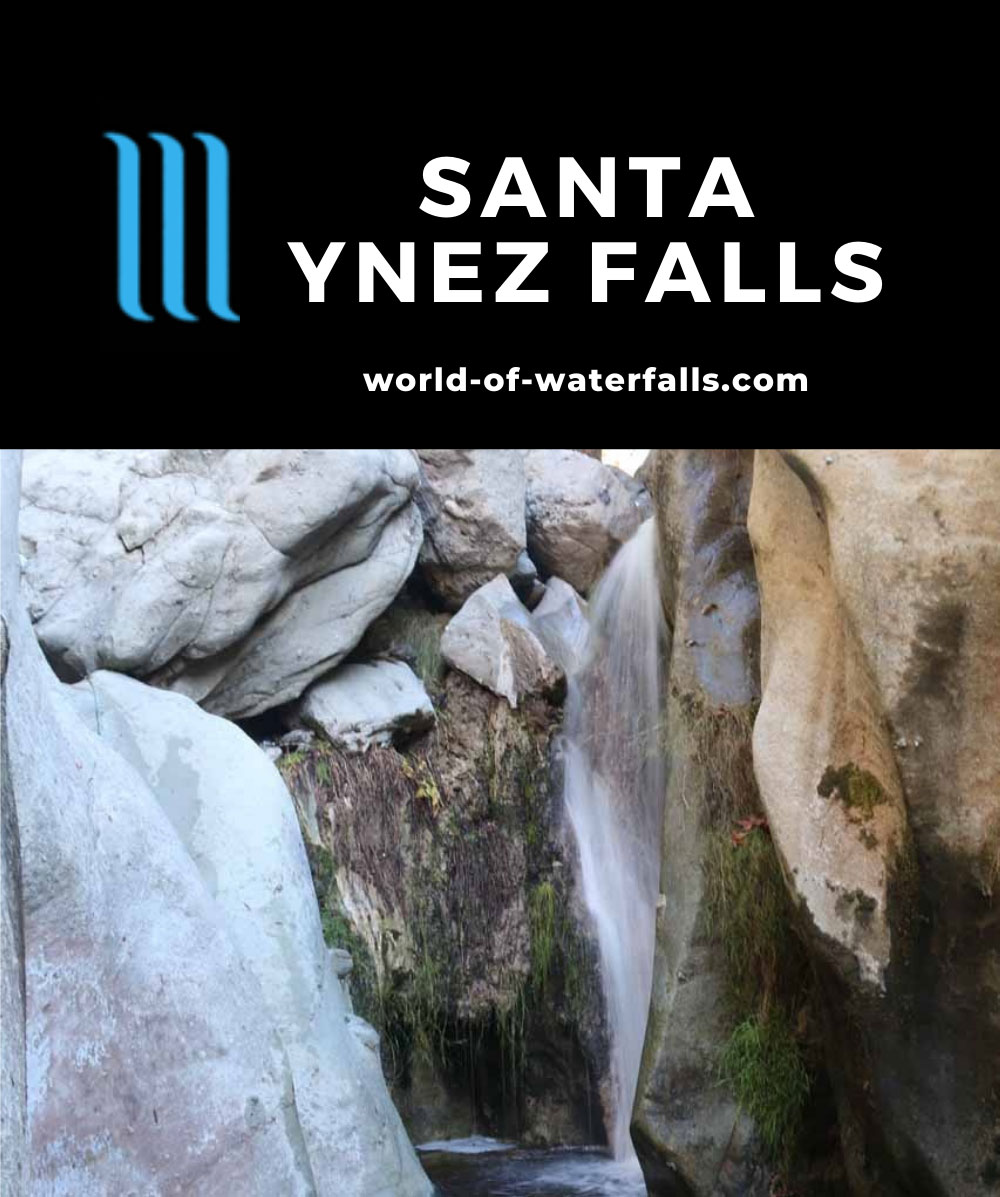 Nonetheless, after timing our visits for the clearing of some rare series of rain storms, we finally had the opportunity to do this hike a few times.
After all, we had already visited most of the other waterfalls in the Southland and with this one, we were looking for something different.
So when it came to this roughly 20ft waterfall (maybe more), I'd argue it was more about the adventure to get here than the actual waterfall itself.
In fact, our daughter really enjoyed the excursion the first time around (probably because there was a bit of water, which made this place more of an adventure).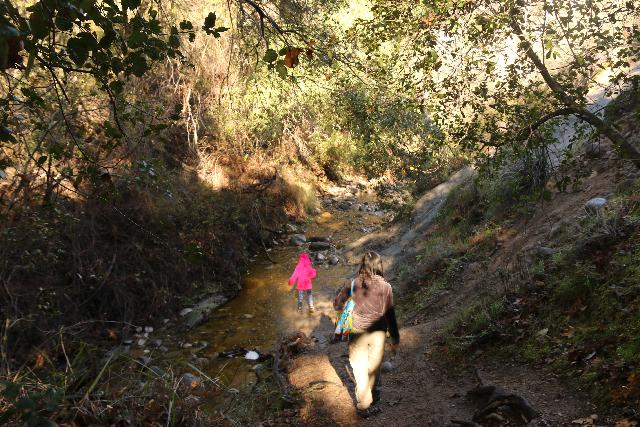 She especially embraced the problem-solving necessary to figure out how to stay dry while stream walking and creek crossing.
The slippery bouldering at the end (particularly getting over a waterfall obstacle) was particularly tricky for her as well as us adults alike.
Speaking of adventure, this excursion really did feel like we were in a pocket of wilderness within the exclusive suburban neighborhoods of the Pacific Palisades area.
Given the somewhat moderate route-finding and scrambling necessary to complete the hike, we spent about 2.5 hours to complete this roughly 2.4-mile round trip hike and scramble.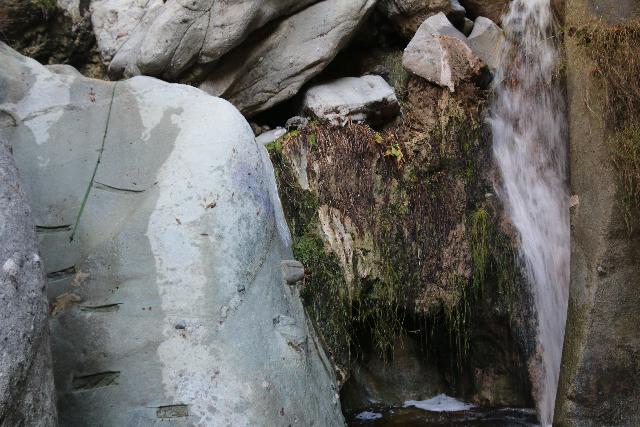 Of course, how much time and how difficult this adventure can become really depends on how much water was in Santa Ynez Creek as well as how much debris and deadfall that would inevitable occur after storms would blow through here.
Finally, it's worth mentioning that we did notice a rope tied above a nearly vertical and smooth rock wall with some footholds etched into it, which supposedly was a route to get up and over the Santa Ynez Falls.
We opted not to incur more risk than we needed to so we didn't go up that dicey route, and this was especially the case since we had read that the scenery doesn't improve further upstream.
Santa Ynez Falls Trail Description – staying on the trail
The hike began from one of the upscale residential areas in the fire-prone mountains and canyons of Pacific Palisades between Malibu and Santa Monica (see directions below).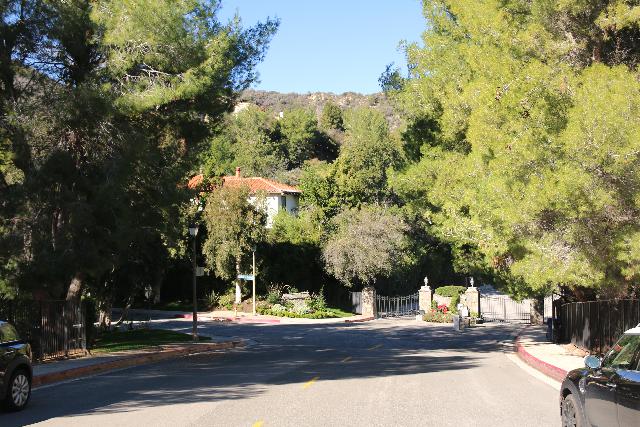 Once we managed to find street parking, we then walked towards the entrance gate, which was one of several entrances to Topanga State Park though this sat in front of two private community gates.
This particular entrance was the southern start of the Santa Ynez Canyon Trail, which was said to go for 2.1 miles to Trippet Ranch.
As for the state park, we clearly saw the need for reserves like this because housing developments were ever encroaching on wild spaces like Topanga State Park.
Without such reserves, the whole area could be drained and terraformed to squeeze in more housing developments.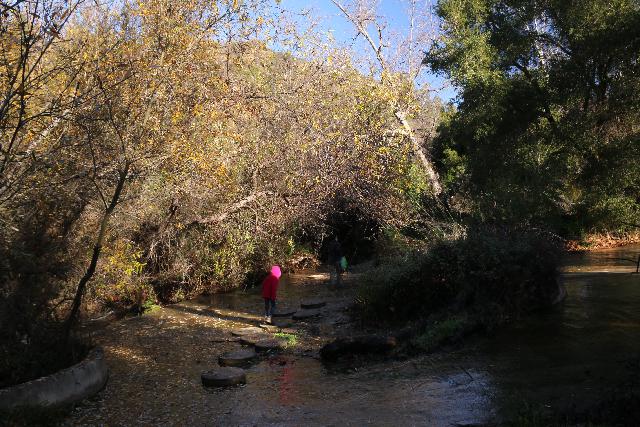 Regardless of whether they should be built or not, someone is always willing to spend or coerce people to spend on real-estate even if it's in an area that's prone to flood and fire.
Within minutes past some signage telling us how far we had to walk as well as warning signs about poison oak and ticks, we then encountered our first of many stream crossings.
The first one was over a concrete ramp with circular steps (on our first visit; they were gone on our second visit 4 years later) to help with the footing as the ramp itself was quite slick when wet.
Shortly after this crossing, we then encountered one of the deeper flooded sections where gunning it straight through in high water would certainly mean water intrusion over the top of any Gore-tex high top or gaiter.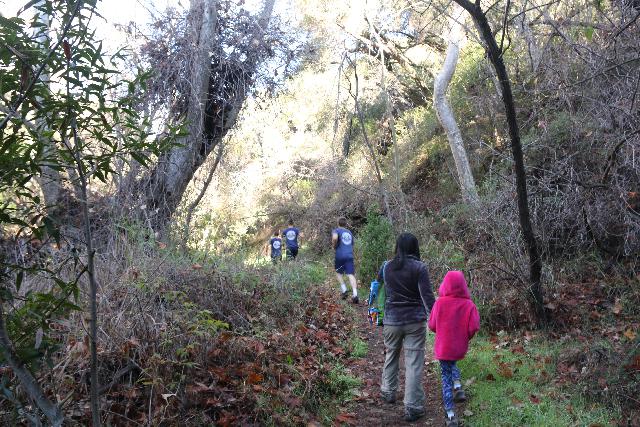 After this obstacle, there would be at least half-dozen more creek crossings or more as there were also other trails veering inland then returning to the stream perhaps to avoid the stream banks in high water.
Nevertheless, for each of the stream crossings, we were able to rock hop our way across without too much difficulty staying dry though I'm sure hiking sticks could help with the balance in high water.
Aside from the stream crossings and minor trail ambiguities, most of the trail was fairly straightforward to follow while staying dry so it was fairly smooth going.
Heck, on our first visit, we had encountered off-duty firefighters doing a morning trail run along this stretch of trail.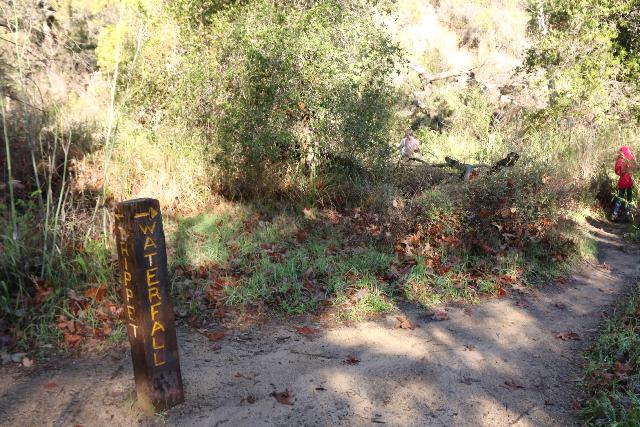 Eventually after around a half-mile, we then encountered a signed trail junction where we kept right to go onto the Waterfall Trail.
The wider left fork was the continuation of the Santa Ynez Canyon Trail, which eventually went to Trippet Ranch (as there was apparently another parking lot and entrance to Topanga State Park up there as well).
By the way, that other trail was where most of the trail-running firefighters went during our visit.
Santa Ynez Falls Trail Description – the stream scrambling adventure
Shortly after the fork, the trail descended to the next stream crossing of Santa Ynez Creek (which was easy to miss on the way back given how narrow the trail was combined with a lot of vegetation).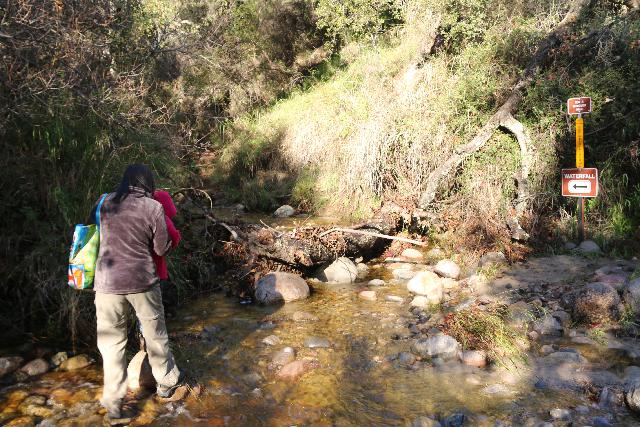 Some signage helped to assure us that we were going the right way (at least as of our first visit), but it also warned that the trail was unmaintained.
As the trail continued to cross the creek several times and alternate between dry and wet terrain, the canyon walls continued to close in more.
After a second sign indicating the waterfall trail (which was all tagged and unreadable on our second visit), that was pretty much when the trail was the stream itself.
That was where trying to stay dry was either a non-trivial problem solving exercise, or you'd just give in and let your feet get wet and pruny.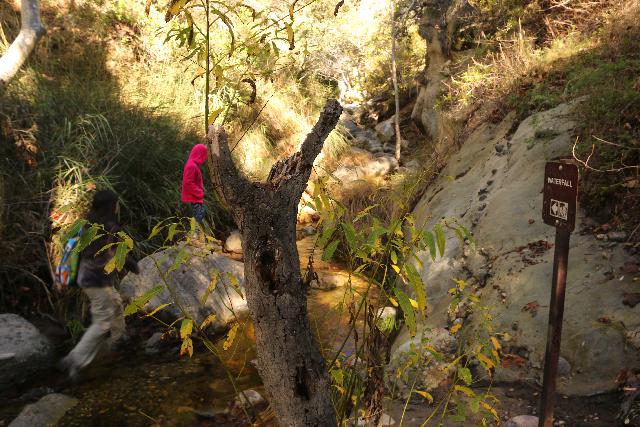 Ultimately a short distance further from that second sign (at around 3/4-mile from where the Waterfall Trail branched off the Santa Ynez Canyon Trail to Trippet Ranch), we encountered a fairly significant 10ft or so waterfall obstacle.
In order to get past it, we saw that there was a dicey scramble up a steep and slippery cliff face adjacent to the waterfall with some not-so-obvious footholds to the left side of this waterfall.
Although it wasn't too bad to climb up the natural footholds to the left of the falls, going back down was another story (as the footholds were harder to see going down).
So that's one thing to keep in mind on the return hike, and it helps to have someone who's already below you to help you place your feet on those "hidden" footholds.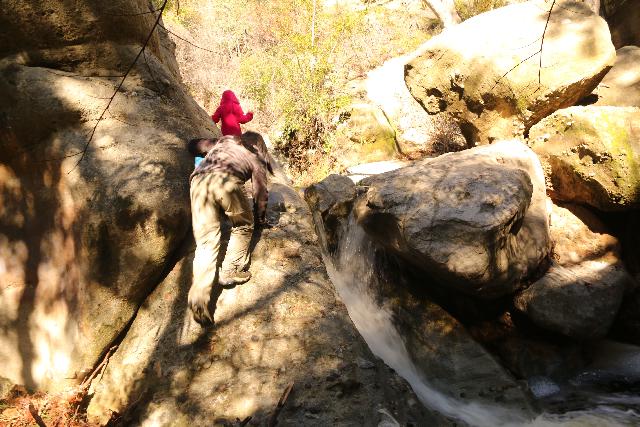 Anyways, once we were above this waterfall obstacle, we then crossed the creek and pretty much did somewhat of a bouldering scramble the rest of the way.
Depending on the amount of water in Santa Ynez Creek, the scrambling here could be pretty easy to stay dry, or getting wet might be inevitable given the presence of potentially deeper pools.
Indeed, on our first visit, this final stretch certainly made all but the most prepared or nimble hikers have to give in and get their feet wet.
There was even one particular obstacle where I had to lift our daughter onto a large boulder while Julie and I tried to figure out how to get through a narrow chute without a misstep into the pool below.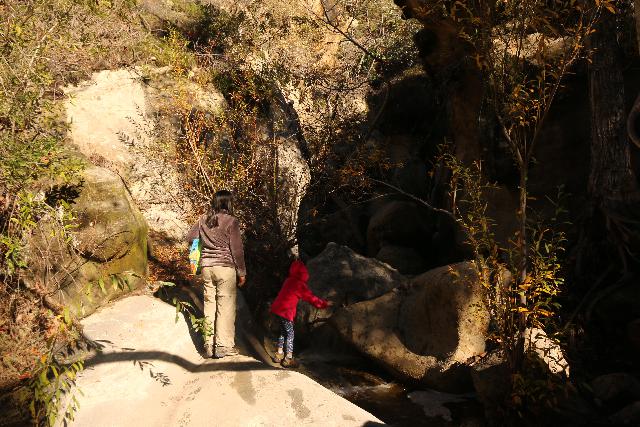 However, on our second visit, there wasn't as much water in the creek, and the obstacles here were pretty trivial by comparison.
Anyways, once we got past that tricky obstacle, then we bouldered a little more before finally arriving at the dead-end before the Santa Ynez Falls.
The space in the narrow area in front of the falls was a little on the tight side so it could get pretty crowded here real quick, but fortunately, on both of our visits, we've had at least 15 minutes of alone time here.
The only bad thing was that there seemed to be more tagging (i.e. graffiti) on the rock walls before the waterfall on our second visit, suggesting that this place is getting more notoriety over the years.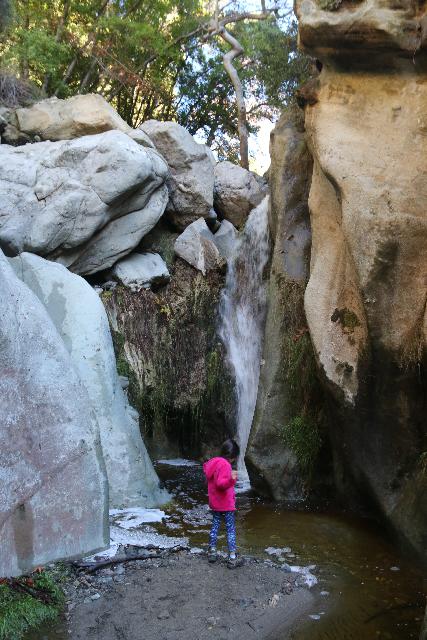 Overall, it took us an average of around 60-75 minutes to do the roughly 1.2 miles to get to this point.
And while we have entertained the thought of extending the hike by going up some rope to the left of the waterfall, it seemed a bit too dicey and beyond our risk tolerances to try.
However I opted against doing that as it didn't look particularly safe nor did the rewards further upstream seem justified in assuming such risk.
Santa Ynez Trail Description – finishing off the adventure
After having our fill of the Santa Ynez Falls, we then had to go back the way we came, which meant we had to negotiate the same obstacles once again.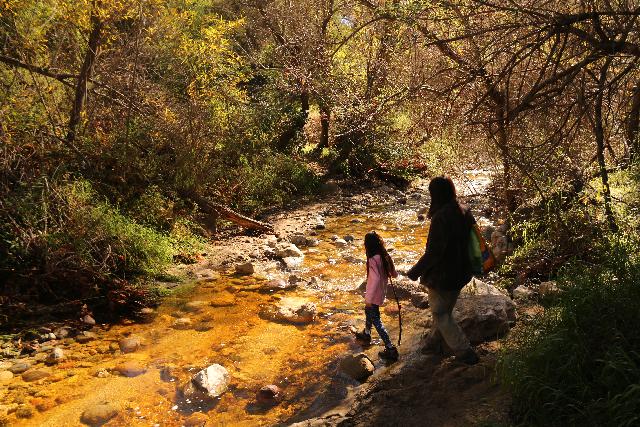 Especially at the first waterfall obstacle, as mentioned earlier, going back down that rock face was trickier and more difficult than going up (due to the "blind" footholds).
So definitely take your time there or at least have someone already down there to help you with foot placement.
However, once you get past that dicey obstacle, then the rest of the hike is pretty much home free as long as you stick close to the stream and pay attention to the trails.
In hindsight, we can definitely look back and say that the main appeal of this adventure was really more about the fun from the problem solving around the obstacles though the falls itself was no slouch either.
Authorities
Santa Ynez Falls resides in the Topanga State Park in Pacific Palisades in Los Angeles County, California. It is administered by the California Department of Parks and Recreation. For information or inquiries about the area as well as current conditions, visit their website.
Santa Ynez Falls pretty much sat within one of the few pockets of undeveloped terrain in Pacific Palisades.
To get here, we had a choice of driving to the Santa Ynez Canyon Trailhead or an alternate trailhead at Trippet Ranch (though I suspect the shortest distance is from the Santa Ynez Canyon Trailhead at the south end of Topanga State Park).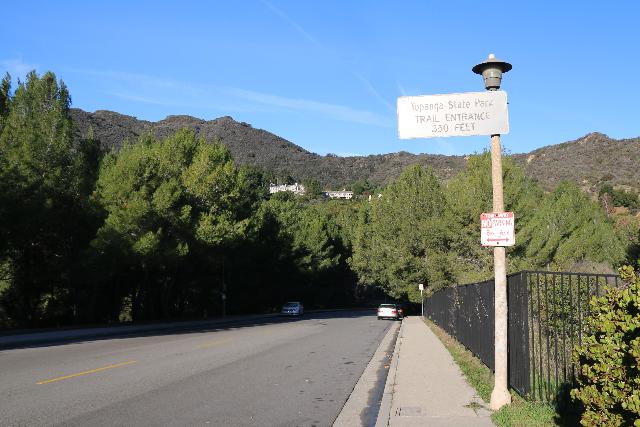 We'll only describe the Santa Ynez Canyon Trailhead route since that was the way we did it.
From the I-10 and I-405 junction in Santa Monica, we headed west on the I-10 towards the freeway's end as it transitioned into Pacific Coast Highway (Hwy 1) just past the Santa Monica Pier.
After about 4 miles along PCH from the tunnel beneath the Santa Monica Pier area, we then turned right onto Sunset Blvd.
We then drove roughly a half-mile on Sunset Blvd before turning left onto Palisade Dr.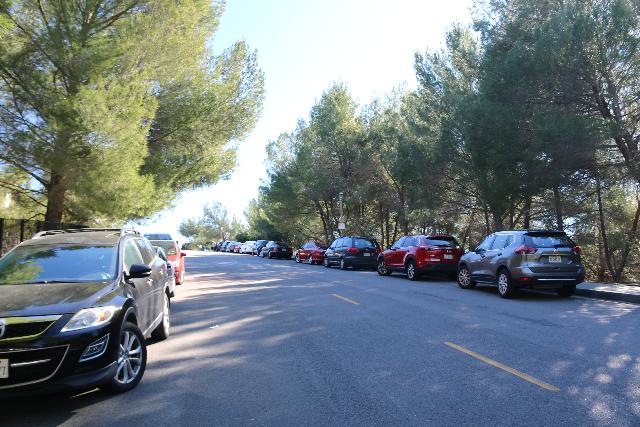 Next, we drove about 2.5 miles on Palisade Drive through a canyon before re-emerging among upscale housing communities.
Then, we turned left onto Vereda de la Montura, which was a residential road leading to a pair of gates at the intersection with Camino de Yasato.
The gated trailhead was right by this intersection on the right, but we had to find street parking along the Vereda de la Montura.
This drive was about 23 miles (or about 30-60+ minutes depending on traffic) from downtown Los Angeles.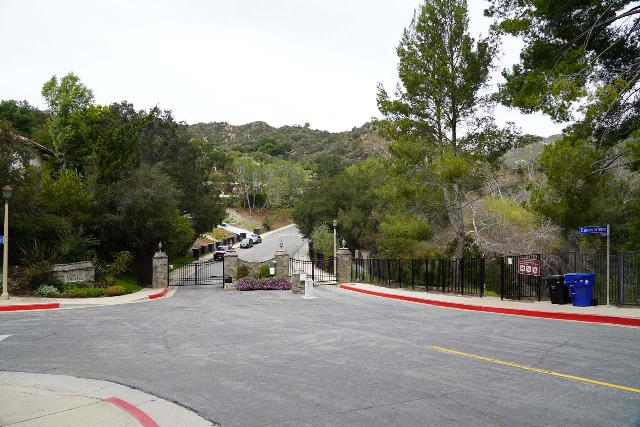 For further context, Santa Monica was about 52 miles (over an hour drive) northwest of Irvine, 92 miles (over 90 minutes drive) southeast of Santa Barbara, and roughly 70 miles (also about 90 minutes drive) west of Riverside.
Find A Place To Stay
Related Top 10 Lists
No Posts Found
Trip Planning Resources
Nearby Accommodations
Tagged with:
pacific palisades, topanga, santa ynez canyon, california, waterfall, trippet ranch, topanga state park
Visitor Comments:
Got something you'd like to share or say to keep the conversation going? Feel free to leave a comment below...
No users have replied to the content on this page
Visitor Reviews of this Waterfall:
If you have a waterfall story or write-up that you'd like to share, feel free to click the button below and fill out the form...
No users have submitted a write-up/review of this waterfall