About Tenaja Falls
---
Hiking Distance:
1.5 miles round trip
---
Date first visited:
2009-02-21
Date last visited:
2023-02-13
---
Waterfall Latitude:
33.55585
Waterfall Longitude:
-117.39824
---
Tenaja Falls is one of those waterfalls that might not seem like much to people outside the Southern California area.
But considering how 150ft waterfalls are quite rare here, and that it's near Lake Elsinore, it really is a pretty big deal!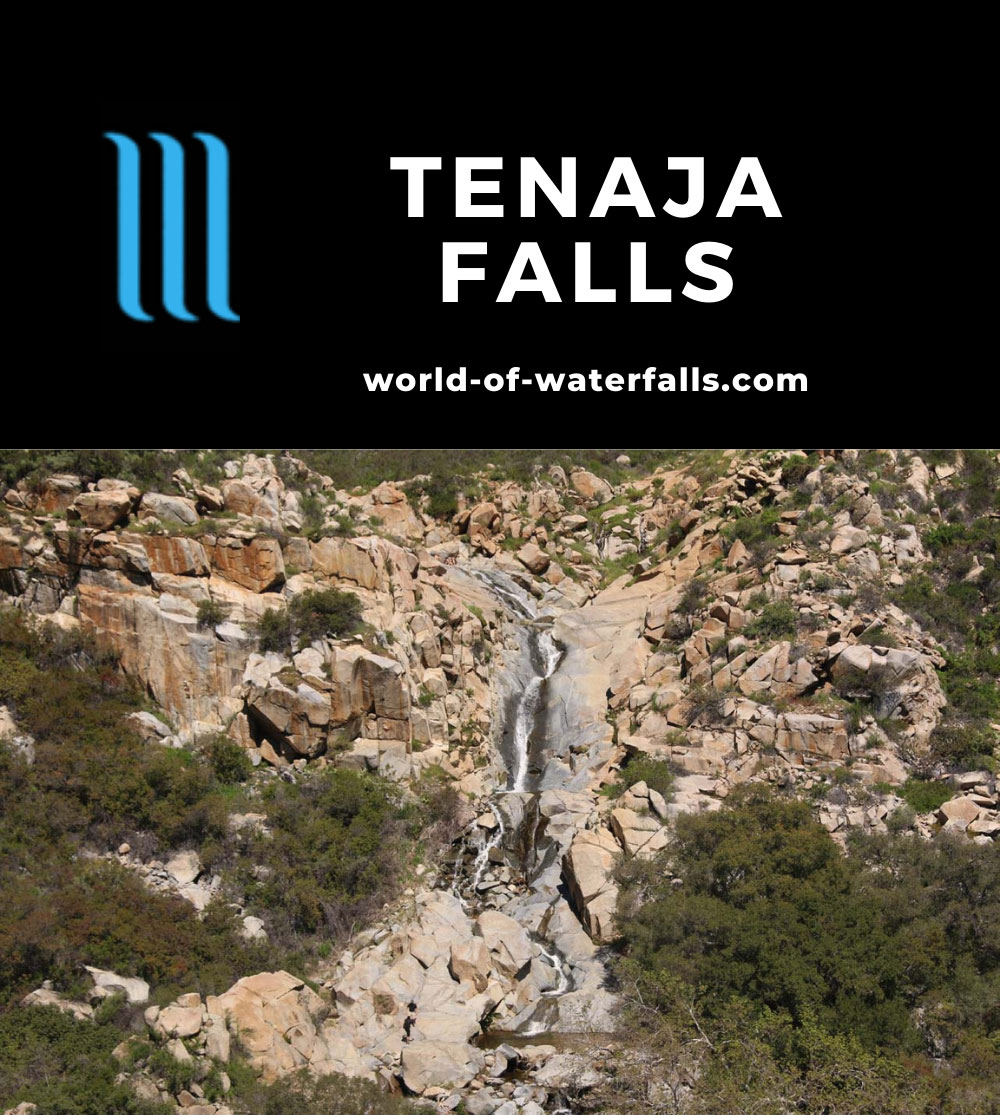 Of course as I qualified the above statement with its existence in Southern California, that also means that seeing this waterfall flowing requires some serious timing.
Optimizing the Tenaja Falls Experience
By this, I mean we had to time our visit for after the Southland has received any significant storms (even better after a series of such storms).
In each of our visits to Tenaja Falls, they have followed immediately after passing storms (in 2009, 2010, and 2023) or on a wet year (2019).
The falls itself cascades over several sliding tiers on exposed slippery-when-wet granite.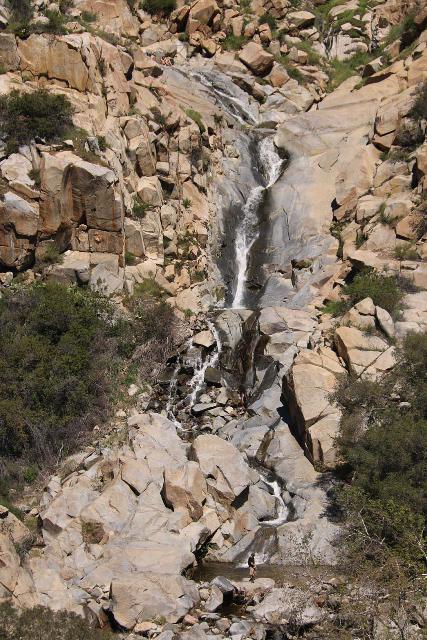 The only way we were able to get a comprehensive view of the waterfall was from across the canyon on the trail leading to the falls itself.
Once we were at the top of the falls, we would need to attempt some somewhat daring scrambling to get a frontal view of any part of the falls let alone any of its pools.
We would especially have to watch out for the slippery granite as it was very easy to slip and fall into the many dropoffs.
Tenaja Falls Trail Description – hiking to the views of the waterfall
As for the hike itself, we took the obvious trail just past a trailhead register, as it left from the modestly-sized parking lot (see directions below).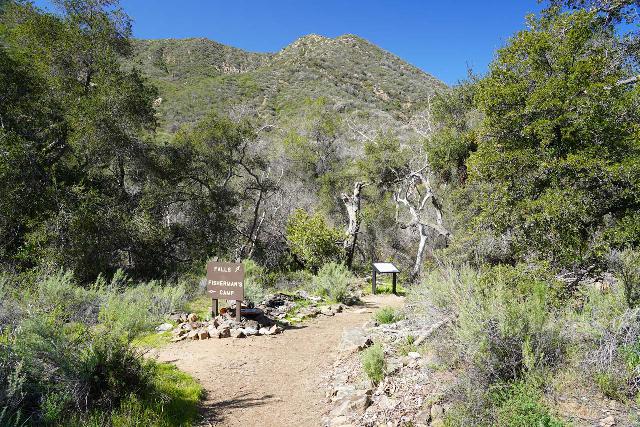 The footpath then reached a fork, where the path on the left went towards Fisherman's Camp.
Meanwhile, the path on the right went past a steelhead fish sign as it directed us towards the Tenaja Falls.
The first time Julie and I were here around 2009, we messed up and actually went left on that fork instead of right.
In recent years, it appeared that enough people made the same mistake that we made so the forest service erected a sign to make it very obvious to keep right at this fork.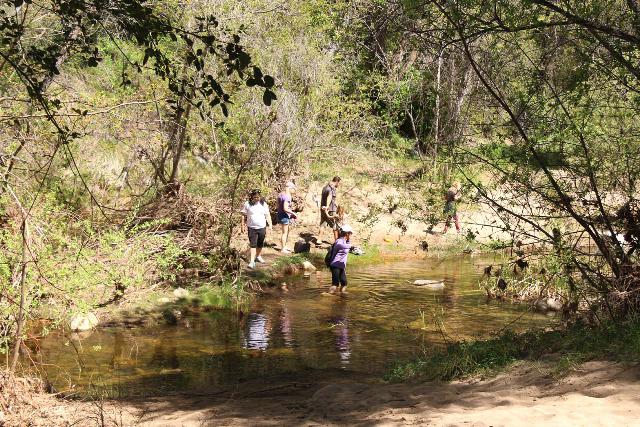 Just past this fork, the trail went past a barricade (since taken away as of one of our more recent visits in 2019) then bent to the right.
That was where we encountered what used to be an "unimproved crossing" of the creek responsible for Tenaja Falls.
The crossing was actually a concrete ford, which would typically be flooded and require wading to cross, and that prompted us to go further upstream in search of an easier way to get across.
However, as of my 2023 visit, I noticed that the forest service set up boulders to divert hikers away from the concrete ford and towards an improved stream crossing.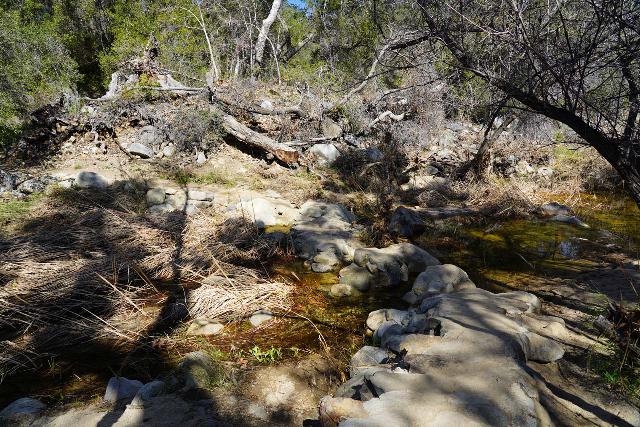 I call it "improved" because instead of rock hopping on somewhat loose rocks, they've apparently partially poured concrete over some of the larger boulders.
This created a sort of rock hopping "bridge" that's much easier to get across without getting wet.
In the past, we used to advocate for bringing hiking poles to help with maintaining balance at this crossing.
Heck, even as of our 2019 visit, someone had tied a rope at this crossing, which we found that to be unnecessary (and even detrimental).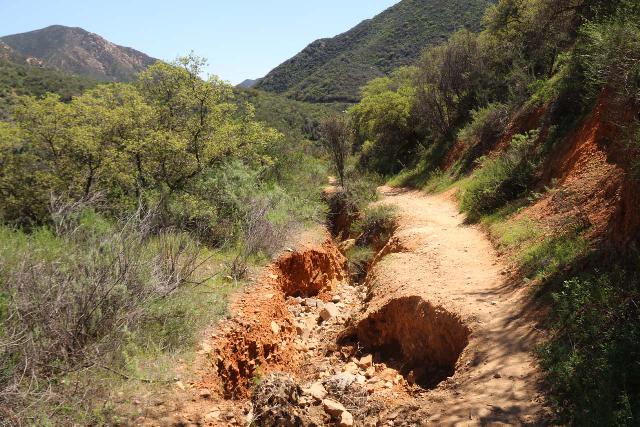 Anyways, once on the other side of the creek, we then regained the main trail at the opposite side of the concrete ford.
From there, we followed the trail past a couple of bends before the hike climbed moderately in its trajectory towards the top of Tenaja Falls.
During this climb, we noticed how prone to erosion the trail was as water from past rains have cut gullies and eroded banks.
These sections of the trail made hiking in proper footwear (not flip flops, Crocs, nor even sneakers) a good idea to prevent the odd slip-and-fall or turned ankle.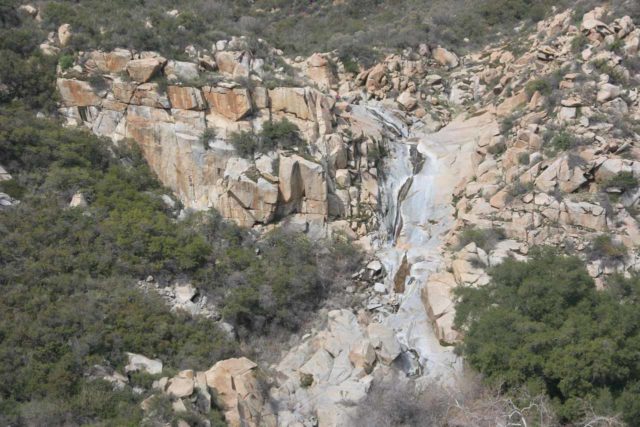 This uphill section of the hike was also quite exposed to the sun, which underscored how hot and dry it could be here.
We definitely were wise to bring plenty of water to ensure we were hydrated in this stretch.
The trail continued its ascent past some blooming wildflowers and eventually providing a cross-canyon view of Tenaja Falls (see photo at the top of this page).
Next to the lowermost of the Tenaja Falls views, we noticed an abandoned vehicle somewhat hidden off the main trail.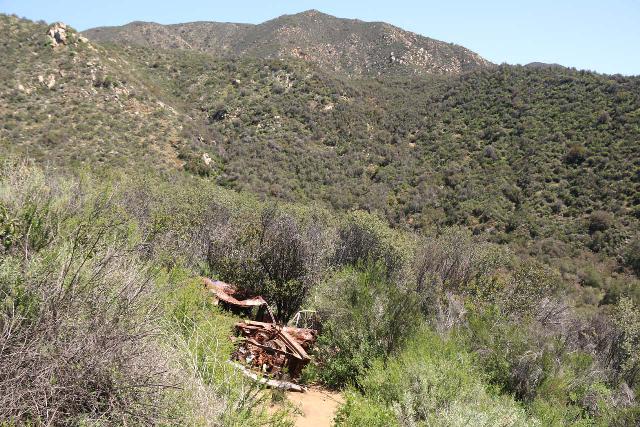 We never remembered seeing that vehicle in any of our prior hikes so we really don't know how or why it got there.
Tenaja Falls Trail Description – hiking to the top of falls
While the fairly well-used trail continued ascending, we continued to get full views of Tenaja Falls.
We also noticed more wildflowers in bloom (especially in the late Winter and early Spring timeframe), which added color to the landscape such as purples, pinks, and yellows.
As for timing these floral blooms, with Climate Change, our Winters and Springs are getting shorter so the wildflowers could show up as early as February (as it did on my February 2023 visit).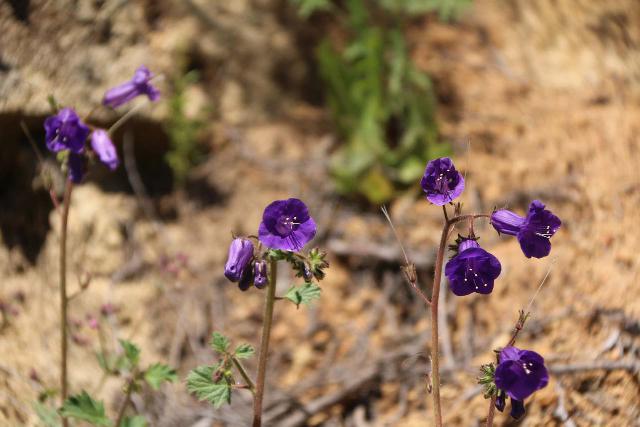 Eventually, the trail topped out and descended to the refreshing wading pools just upstream of the very top of Tenaja Falls.
This was seemingly the right place to relax and let the kids play in the water, when there's enough flow in the creek (but not in flood).
We did see other people make daring scrambles down the steep and slippery-when-wet granite slopes to the bottom of Tenaja Falls.
I personally haven't tried this myself nor would I recommend doing it as it's well beyond my risk tolerance to attempt.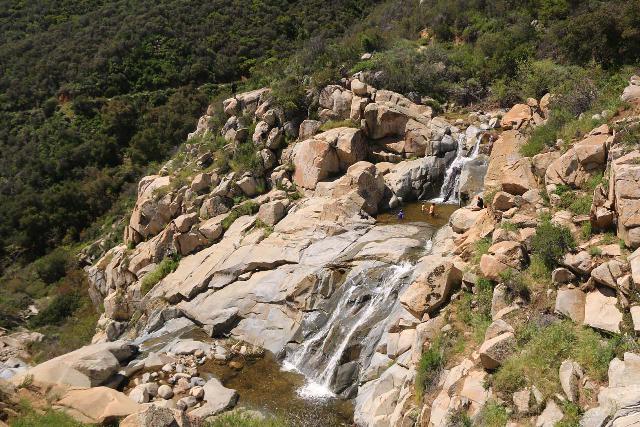 Although this place was great for water play and relaxing, we couldn't help but notice that the graffiti problem seemed to have worsened over the years.
After having our fill of the top of Tenaja Falls, we then returned back the way we came.
In total, the out-and-back hike to the top of Tenaja Falls was about 1.5 miles round-trip.
This distance didn't include any additional scrambling that we did to maneuver around the waterfalls' upper drops themselves.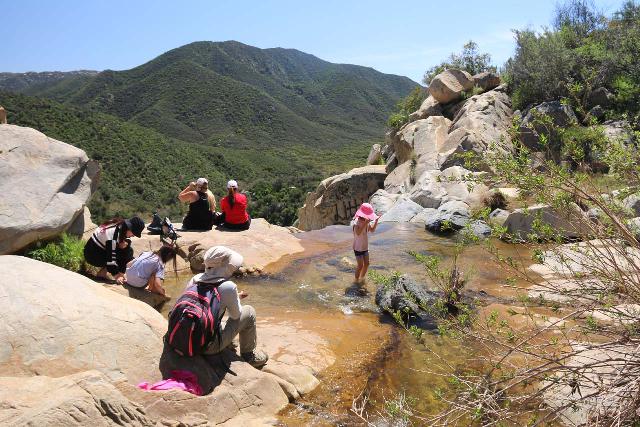 It also doesn't include any additional scrambling necessary to pursue getting to the bottom of the falls, which I'd imagine would be an off-trail upstream creek scramble as opposed to the very risky descent from the top of the falls.
Authorities
Tenaja Falls resides in the Cleveland National Forest near Murrieta in Riverside County, California. It is administered by the USDA Forest Service. For information or inquiries about the area as well as current conditions, visit their website or Facebook page.
Driving to the Tenaja Falls is pretty straightforward and fairly well signposted.
Coming from Los Angeles, we headed east towards the I-15 from any one of the eastbound freeways (the 91, 10, or 60).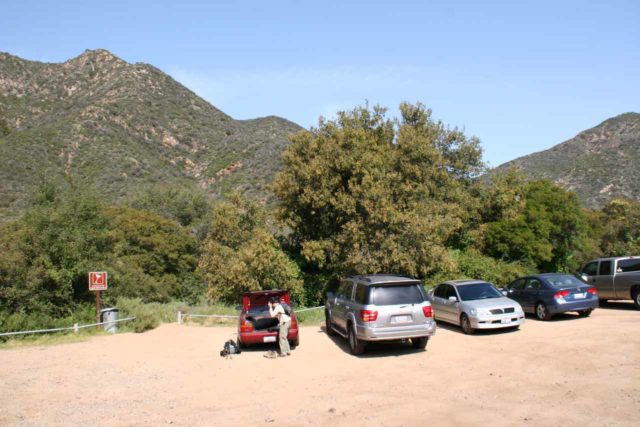 We then took the I-15 south about 16 miles or roughly 14 miles south of the Lake Street exit in Lake Elsinore towards the Clinton-Keith Road exit in Murrieta.
Then, we turned right onto Clinton Keith Road and followed it for about 5 miles as the road eventually hit a 15mph bend followed by another one not long thereafter.
By this point, the road became Tenaja Road, which we followed for the next 1.7 miles to a stop sign junction.
We then turned right to remain on Tenaja Road (going straight would have led to Via Volcano Rd).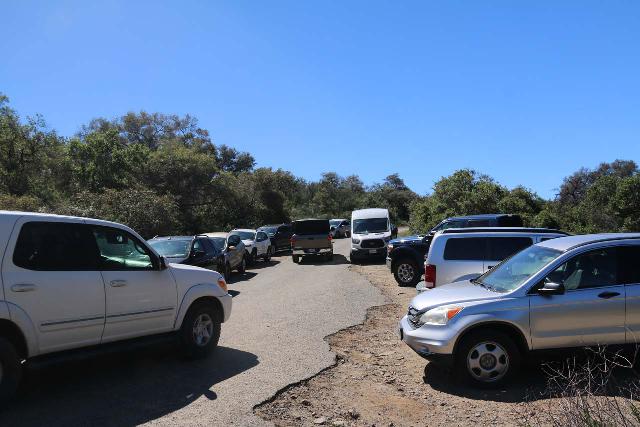 Next, we followed this road for over the next 4 miles before turning right onto Forest Service Road.
There used to be a Forest Service sign at this intersection, but I suspected that they took that sign away as it was missing during our March 2019 visit.
Once on Forest Service Road, we found ourselves driving over mini gullies, undulations, and potholes.
The road itself was pretty much single-lane (especially given how big American cars are).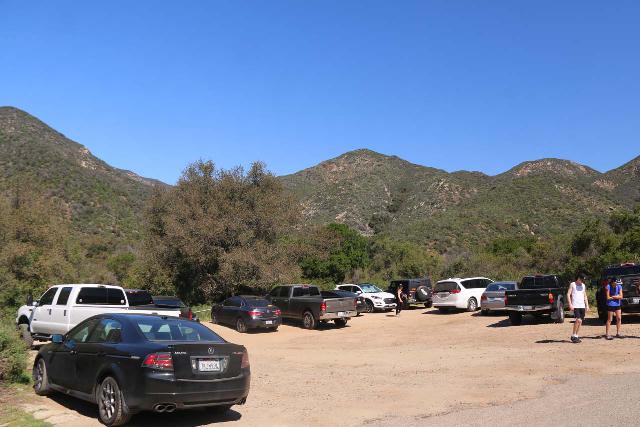 We followed this road for the remaining four miles or so before arriving at the well-used and pretty conspicuous parking space for Tenaja Falls.
Overall, the drive from downtown Los Angeles to Lake Elsinore would be 74 miles (90 minutes) via the I-15. Similarly, the drive south from downtown Los Angeles to San Juan Capistrano would be 54 miles (a little under 90 minutes). Finally, the drive between Lake Elsinore and Murrieta would be on the order of 12 miles or around 15 minutes.
Find A Place To Stay
Related Top 10 Lists
No Posts Found
Trip Planning Resources
Nearby Accommodations
Featured Images and Nearby Attractions
Tagged with:
cleveland national forest, murrieta, riverside, lake elsinore, san mateo canyon, southern california, california, waterfall, orange county
Visitor Comments:
Got something you'd like to share or say to keep the conversation going? Feel free to leave a comment below...
Tenaja Waterfalls
October 8, 2012 3:50 pm
-
Yesterday October 7th 2012 was a huge disappointment for my family and I when we arrived at this location, the waterfall was completely dried out :( we hope that one day it flourishes again. ...Read More
Visitor Reviews of this Waterfall:
If you have a waterfall story or write-up that you'd like to share, feel free to click the button below and fill out the form...
Updated Directions to Tenaja Falls
September 1, 2010 4:30 pm
-
After turning right onto Tenaja road you will go through a few miles of beautiful driving. There is no fork when you get to Cleveland Forest rd (there is a small street sign on your right so you may pass it), simply make a right hand turn. From here the falls are approximately 5.2 miles.… ...Read More