About Three Sisters Falls
---
Hiking Distance:
4 miles round trip; scramble
Suggested Time:
4.5 hours
---
Date first visited:
2016-01-24
Date last visited:
2016-01-24
---
Waterfall Latitude:
32.97138
Waterfall Longitude:
-116.68843
---
Three Sisters Falls was probably the second most popular waterfall in San Diego County behind the neighboring Cedar Creek Falls.
It was for good reason because it was very impressive and every bit worthy of its popularity.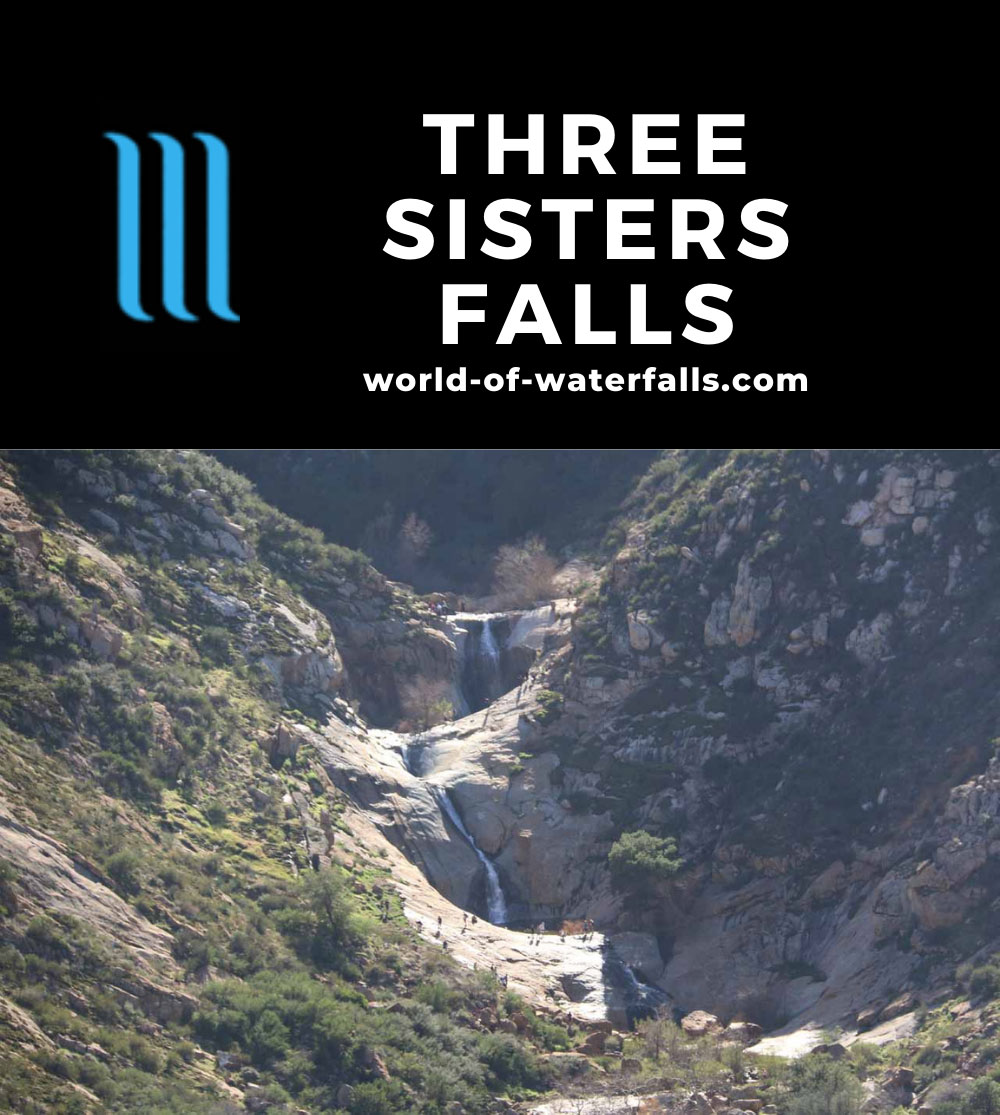 As you can see in the photo above, this waterfall on Boulder Creek consisted of three distinct sections separated by sloping granite cascades.
The lowermost section seemed more like a steep waterslide of about 30ft in height or so.
The two-tiered middle section was probably the most impressive as it was roughly 50ft tall give or take.
The uppermost section contained a single plunge that was probably on the order of 20-30ft.
So I guess when you take all the sections together including the sloping cascades between each waterfall, conceivably the Three Sisters Falls was on the order of 150ft tall or so (admittedly this is just a guess).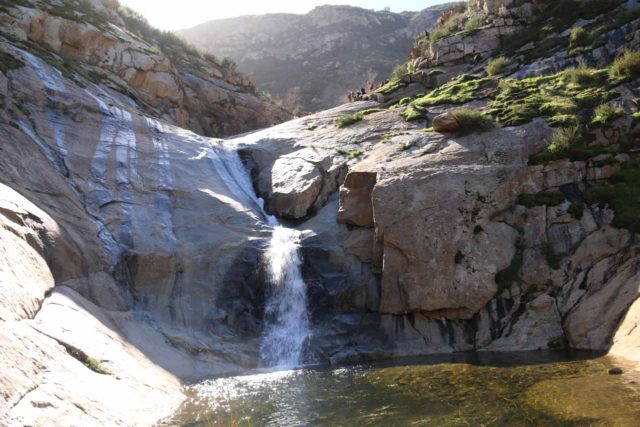 We were able to see all of these sections along a good chunk of the trail, but the experience was more rewarding when we actually got right up to each of its waterfalls.
Three Sisters Falls – A Real Difficult Adventure Despite Its Popularity
Speaking of Three Sisters Falls' popularity, we do have to warn that it also gave the false impression that this was an easier hiking adventure than it really was.
We're not kidding about the difficulty score you see at the top of this page.
In fact, this was one waterfall where you had better know what you're signing up for, because failure to do so could mean injury or even death.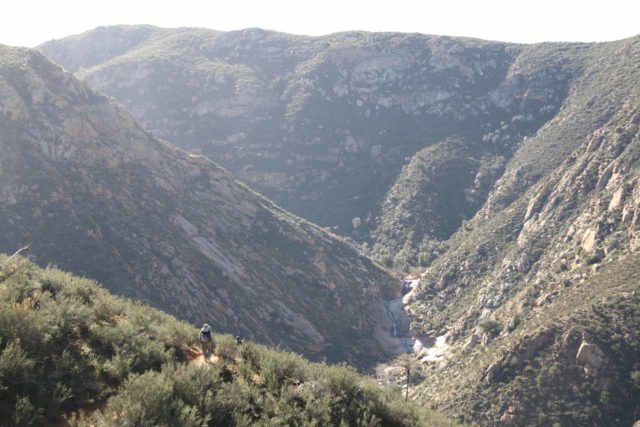 Even during our hike, we had witnessed an expensive search and rescue of one person who needed a rescue due to insufficient water, inappropriate hiking gear, and poor self-awareness about her conditioning.
We also witnessed multiple sheriff helicopters probably looking to land and lift this particular individual out of the canyon.
Ironically, the nearby Cedar Creek Falls hike required permits to visit, but Julie and I really thought that it was Three Sisters Falls that needed the permit system more.
That probably would have helped with the funds to improve the trail conditions as well as limit the amount of foot traffic.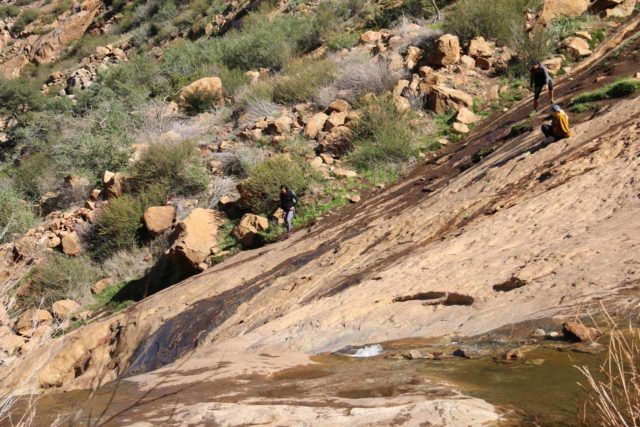 This, in turn, would ultimately reduce erosion on the terrain, reduce the amount of very risky sections, and even fund any search and rescue efforts.
However, until such things happen, we'll give you the conditions that we were faced with at the time of this writing in January 2016.
Hopefully, the details we're providing will give you a more comprehensive picture of what this experience is like and allow you to make preparations accordingly if you're determined to do it.
This was definitely one waterfalling excursion where being prepared was the key to success.
Preparing for the Hike to the Three Sisters Falls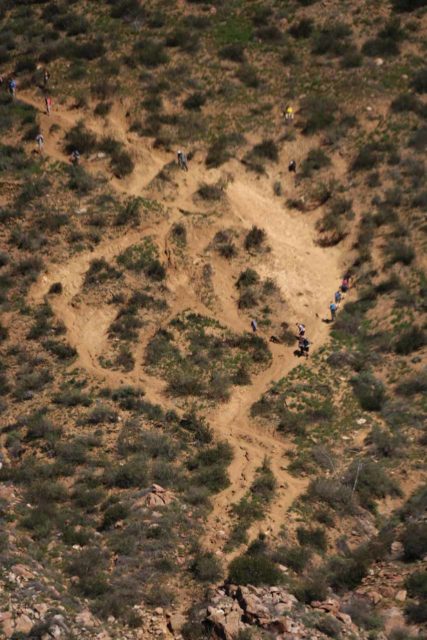 Before getting into the detailed trail description, here's a brief summary of what you need to know.
First of all, this trail was about 4 miles round trip, but it's upside down.
This means that you hike down to the waterfall and hike back up to the trailhead.
It took us about 4.5 hours for the entire hike as well as some time to relax before heading back out.
Therefore, an early start is highly recommended to avoid hiking in the dark as well as to maximize your chances of finding parking reasonably close to the trailhead.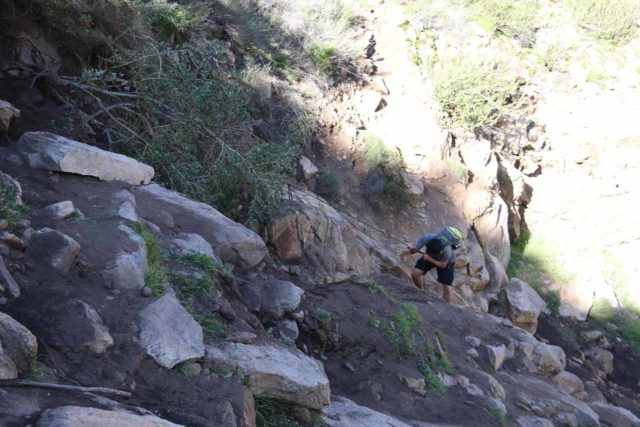 Most of the hike was very exposed to the sun and had minimal shade, which was further exacerbated by the already arid climate of San Diego County.
So Julie and I each needed to bring at least 2 1L bottles of water (I carried a third one in my pack just in case) to minimize the chances of dehydration and heat exhaustion.
We also put on some sun screen while wearing long sleeves and a hat to minimize the risk of overexposure to cancerous UV rays.
Most importantly, there were very steep sections of the trail as well as tricky (and sometimes dangerous) boulder scrambles.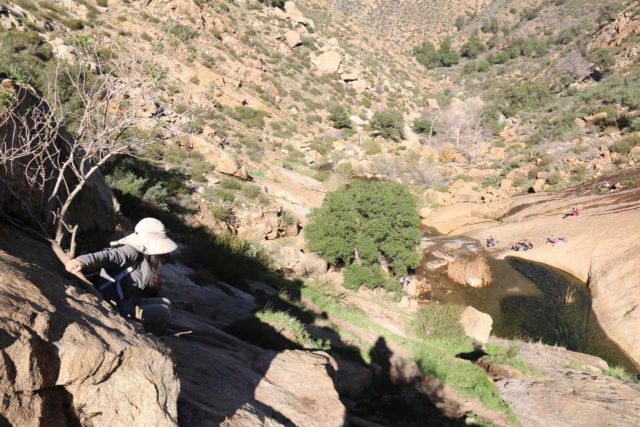 This meant shoes with good grip (as well as physical conditioning and strength to do the scrambles and climbs) made the difference between a nasty slip-and-fall or moving with more confidence.
So we were glad we wore our hiking boots as we saw people in tennis shoes and running shoes slip and fall frequently.
Finally, we would recommend against bringing children and/or dogs on this trail.
We left our daughter at home because of this hike.
Even though we saw some people attempt to do it, the kids didn't seem to be having fun.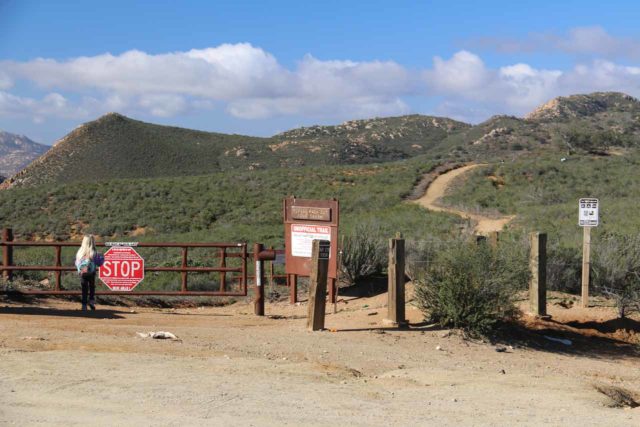 Moreover, some of the dogs looked pretty unsure about where to go in some of the dicier obstacles.
In fact, don't even attempt this hike in wet weather because the steep terrain would become downright dangerous if muddy and slippery!
Now that you have an idea of what to expect, here's the detailed trail description.
Three Sisters Falls Trail Description – The Hike down switchbacks to a clearing
From the trailhead (see directions below), we followed a pretty obvious trail that briefly ascended to a hill with some burnt trees at its top (probably indicating how fire prone this area could be).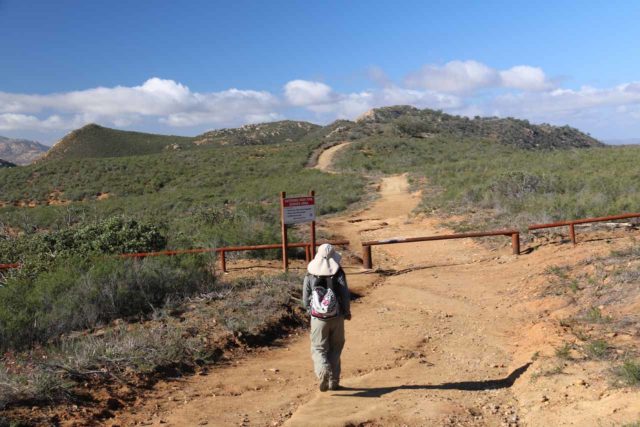 On either side of the trail, we got nice views of the mountains and ravines surrounding this backcountry of San Diego County.
The ravine on the left side seemed steeper, and it would turn out to be where we were headed.
That became immediately apparent when we crossed the apex of the hill then descended it.
At first, the trail descended straight towards a switchback with a wooden pole at its end.
Along the way, we could already start to see the Three Sisters Falls, which was partially in shadow when we started at around 10am.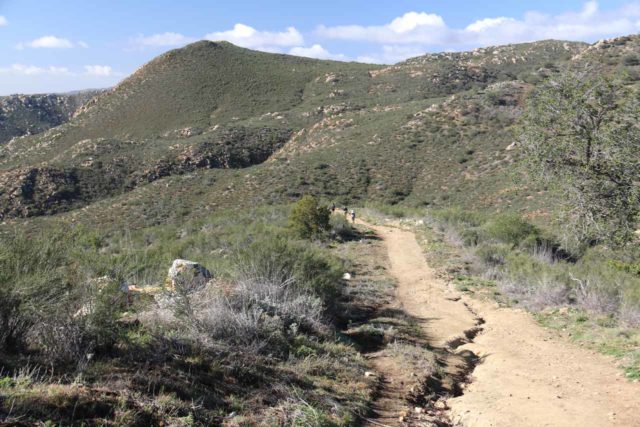 Given that the falls were deep into the ravine we were going into, that already gave us an idea of how far down we had to hike, and how far back up we had to return.
After the switchback, the trail then descended in the opposite direction towards a smaller gully that I believe belonged to Sheep Camp Creek, which was dry at the time of our visit.
Once the trail was side-by-side with the dry creek, it then meandered alongside it through a fairly shady and partially overgrown grove of prickly brush.
Even though we showed up in the Winter, I can easily envision this "forresty" section of trail might be overgrown with poison oak.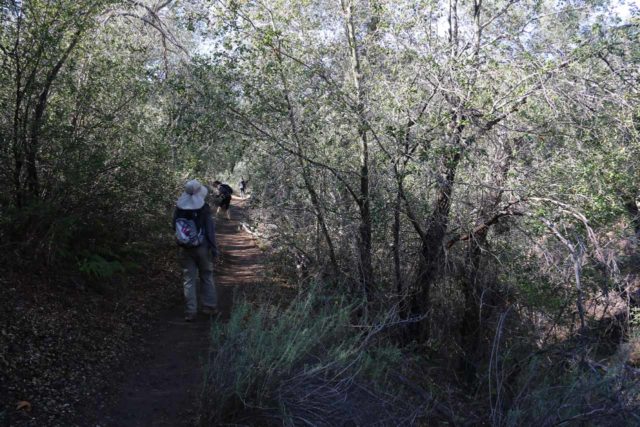 In any case, the cool shade was already a welcome relief, and it was mostly flat until the foliage opened up and gave way to a regal views of the Three Sisters Falls when the trail turned to the left at a clearing.
Three Sisters Falls Trail Description – The Dicey Descent to the Bottom
The trail then continued to descend as the terrain became increasingly steeper the further we went.
So far, the hike had been pretty straightforward on the obvious trail.
However, roughly a third of the way down the remaining descent from the clearing above was when we got to the really steep parts.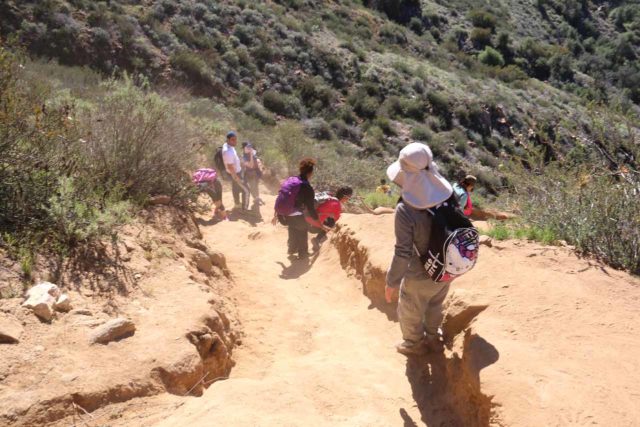 This was where we saw people coming back up were climbing hand over feet (i.e. using all four of their limbs) while people going down were doing so very slowly and even sitting and scooting at times.
We've also seen others bring rope, but I guess it could be arguable whether they were necessary in this stretch or if they merely slowed you down to get it all set up.
Although we had no trouble finding our way down some of the steeper sections here, we definitely took our time and made sure to think about our next steps.
We were definitely glad that we wore hiking boots here, because this was the section where we saw others in running shoes who were really struggling with the footing.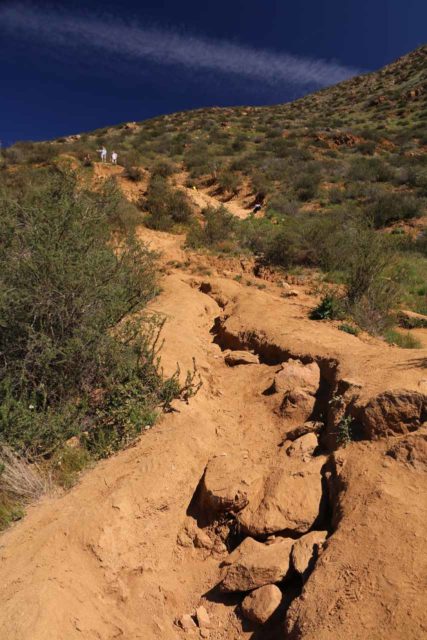 This steep descent would comprise pretty much the remainder of the loss of elevation towards Boulder Creek.
The descent culminated in a pretty hairy rock wall that we had to sit and scoot over to access a rope (which may or may not be there) tied to a tree with exposed roots.
Then, we "rappeled" down roughly 15-20ft to resume the trail.
While this rock wall looked very scary, I did see some pretty sure-footed people scale it in both directions without the rope.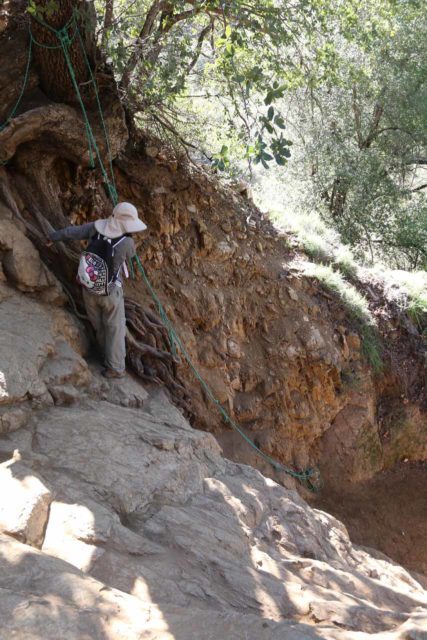 In a way, this rock-wall obstacle was a pre-cursor to some of the boulder scrambling that was still ahead of us along Boulder Creek.
Once we finally made it down to Boulder Creek, this was when we had to climb up towards the waterfalls.
Three Sisters Falls Trail Description – Bouldering and Scrambling on Boulder Creek
Three Sisters Falls could not be seen very well from this far downstream of Boulder Creek due to the presence of large boulders and foliage getting in the way.
Perhaps all these boulders might be one of the main reasons why Boulder Creek got its name.
So to complete the experience, we had to keep going upstream.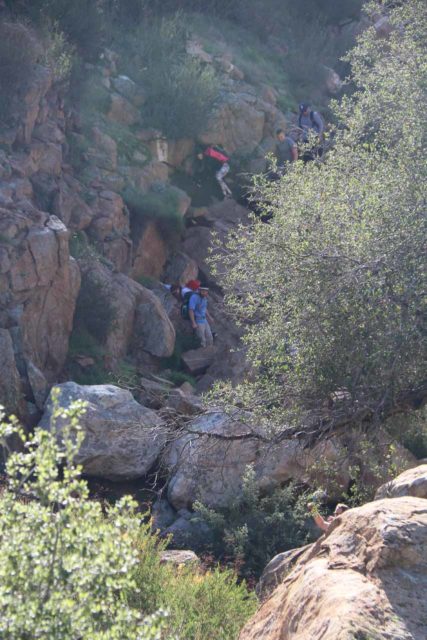 It looked like it was pretty normal to attempt the boulder scramble upstream to the falls on either side of Boulder Creek.
The seemingly more obvious side to scramble was on the left side of the creek (looking upstream), but there was a very dicey boulder scramble early on where people were clinging to slippery rock ledges sloping towards dropoffs.
Seeing that scramble early on, we didn't feel very confident in doing that (despite the presence of some white arrows spray-painted on rocks seemingly suggesting we should do that scramble).
However, we did see some opportunity to get across Boulder Creek where we picked up what seemed to be an easier trail, but shortly thereafter we started losing the trail again.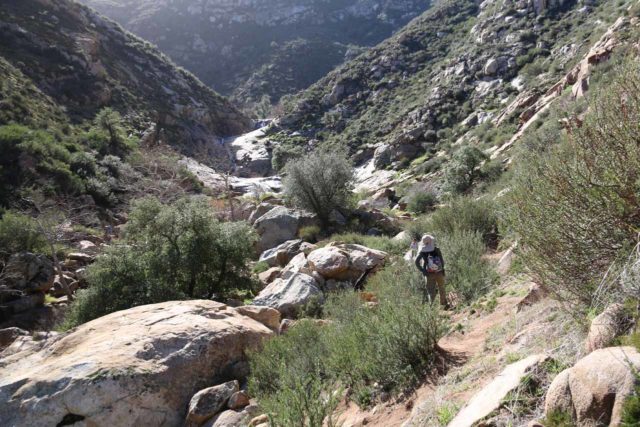 Regardless of which side you choose to scramble up to the waterfalls, I think this extensive boulder scramble was essentially a choose-your-own-adventure.
There were sections where we were faced with giant boulder stacks that didn't seem obvious to get over.
Then, we would find faint trails climbing the hillsides before going around them.
Indeed, we really had to think about where we were going and even be willing to backtrack if we had chosen the wrong paths.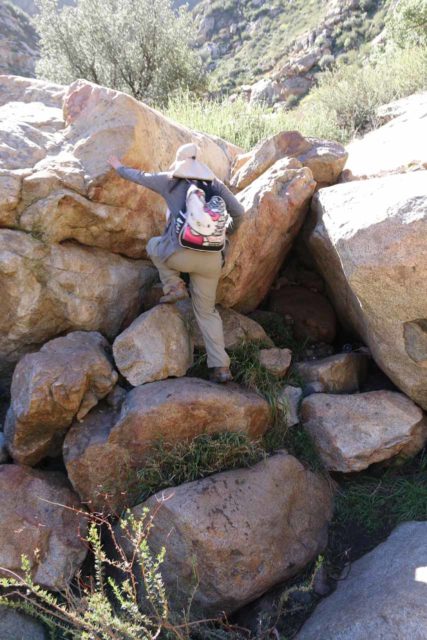 Ironically, I think due to the popularity of the trail, we ran into others who provided us hints on which trail went where as well as how to get around certain obstacles.
If we were going it alone, I could easily envision how much more difficult these scrambles would become without such hints.
So eventually, we'd get to a spot where we were able to cross Boulder Creek once again near the bottom of the lowermost of the Three Sisters Falls.
Three Sisters Falls Trail Description – Experiencing Each Waterfall
While we determined that we were going to cross Boulder Creek in front of the lowermost of the Three Sisters Falls, it looked like some folks on the right side of the creek were able to climb even higher up the mountain.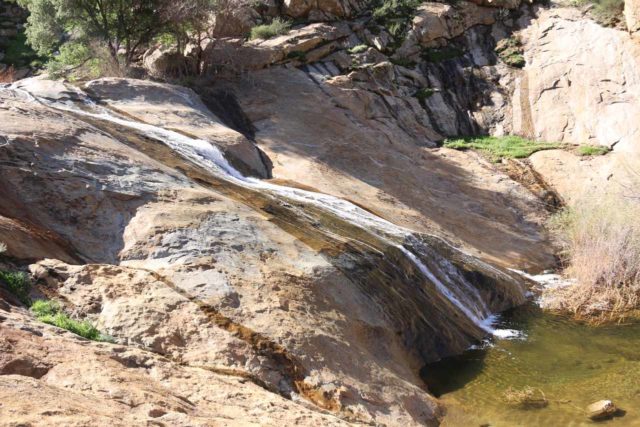 Their approach appeared to go above and across the rock wall drop-offs leading up to the uppermost waterfall.
Since we didn't continue up that specific path from the first waterfall on the right side of Boulder Creek, we can't say much more about it.
So once we were at the left side of the lowermost waterfall (there was a spray-painted happy face on one of the rocks indicating we had made it), we carefully scrambled on the slippery rock slope to its top.
Once we made it up there, we were then in front of the middle tiers of the Three Sisters Falls, which we thought were the most impressive of the lot.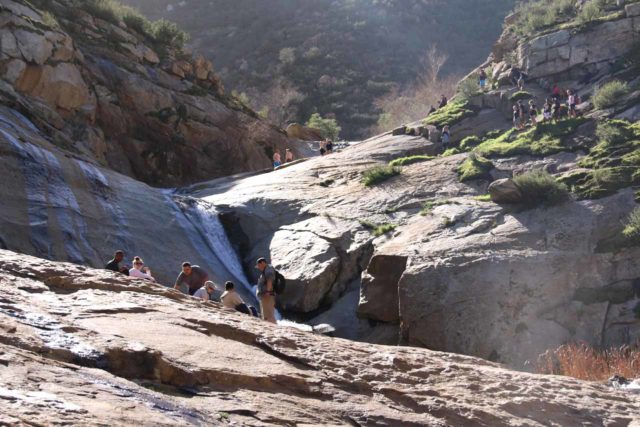 Even with our hiking boots on, we had to be very careful on this slope because a slip-and-fall here could easily have meant we would've plunged off the rock walls flanking the first waterfall.
Nevertheless, it took us nearly 2 hours to get to this point.
For most people, I'd imagine this would be a suitable place to declare victory, enjoy the views of the waterfalls, and the stunning boulder and mountain scenery looking downstream in the other direction.
In fact, we were even able to look at the sloping trail and steep gullies we had descended way in the distance (realizing that we would have to climb back up those very sections of trail on the return).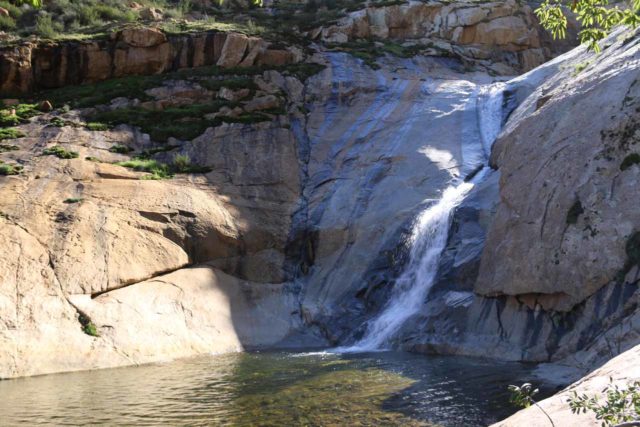 After having our fill of the middle drop of the Three Sisters Falls, we noticed there were many people going in both directions between our viewing spot and the uppermost of the Three Sisters Falls.
So from the area between the first and second waterfalls, we crossed Boulder Creek over the top of the first waterfall.
Then, we went up a very steep trail where a rope was set up to facilitate pulling ourselves up to a narrow ledge trail eventually leading to the base of the third waterfall.
Even though someone had set up a rope there to get over this particular steep section, it appeared that it was also possible to scramble up the boulders and slopes adjacent to the gully with the rope.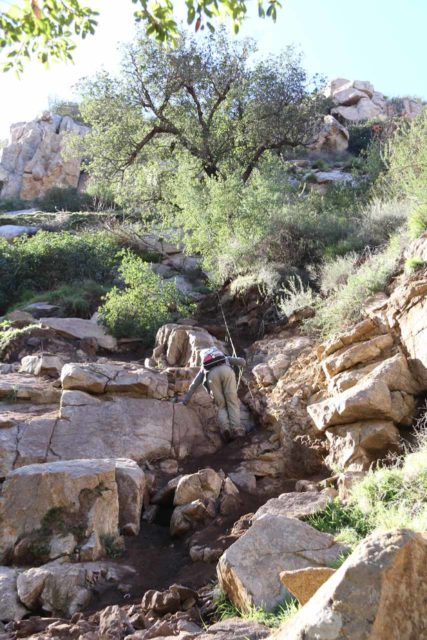 Beyond this climb, we were then faced with a choice.
We could climb up a giant slab to immediately get right up to the base of the third waterfall.
Or, we could climb up a notch before scooting across another boulder with dropoffs before getting to that third falls.
This latter ooption was the way we wound up going thanks to some hints by someone watching us struggle with this section.
By the way, that notch kept going up to another trail even further up the mountain, which eventually would lead to the top of the third waterfall.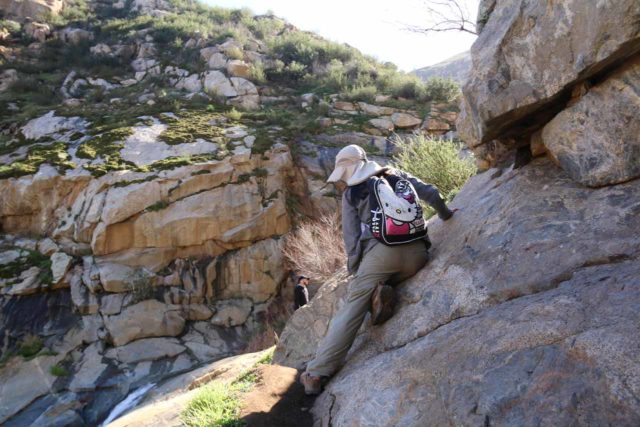 It took us another 30 minutes to get from the base of the second waterfall to the sloping base of the third waterfall.
And this was ultimately our turnaround point as we once again basked in our accomplishment and enjoyed the views both upstream and downstream.
Given the sloping terrain, it was difficult to get into a comfortable sitting posture so we ultimately didn't linger here as long as we would have liked.
Anyhow, we opted not to continue climbing to the top of this third waterfall as it was getting late in the day and we didn't want to push our luck.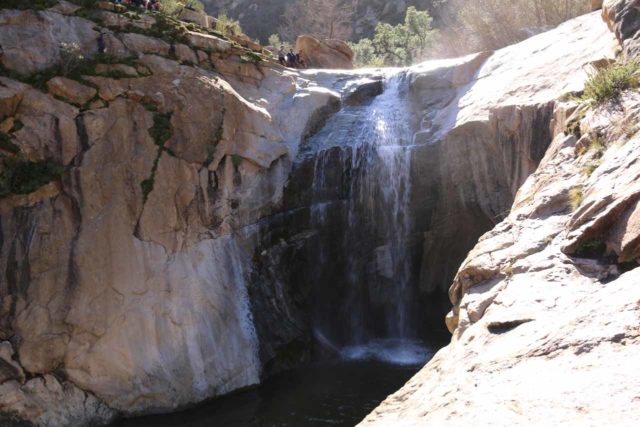 That said, there were plenty of folks who did manage to make it all the way to the top of the uppermost of the Three Sisters Falls.
Three Sisters Falls Trail Description – The Return Boulder Scramble
When we had our fill of the uppermost of the Three Sisters Falls, we then went back the way we came.
Therefore, the dicey boulder scrambles we took on the way up must now be traversed on the way back down.
At the gully with the rope, there was a long line of people waiting to use the rope, so we followed a bunch of folks who opted to boulder scramble their way down without needing the rope.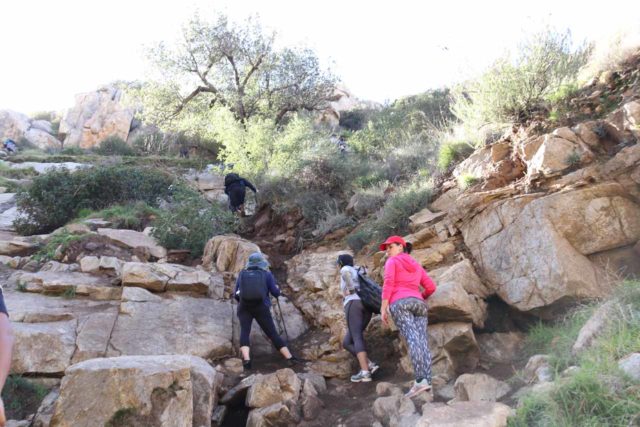 Once we got back to the second waterfall (on the left side of the creek facing upstream or right side of the creek facing downstream), we then carefully made our way down the slope besides the first waterfall.
And at that point, the boulder scramble back between the waterfalls and the main trail began.
Luckily, we could see the white spray-painted arrows on particular boulders up ahead to give us hints on which way to go when the trail was lost.
And for the most part, this side seemed pretty straightforward thanks to a combination of the arrows as well as where it looked like there was an obvious trail between the numerous boulders strewn about here.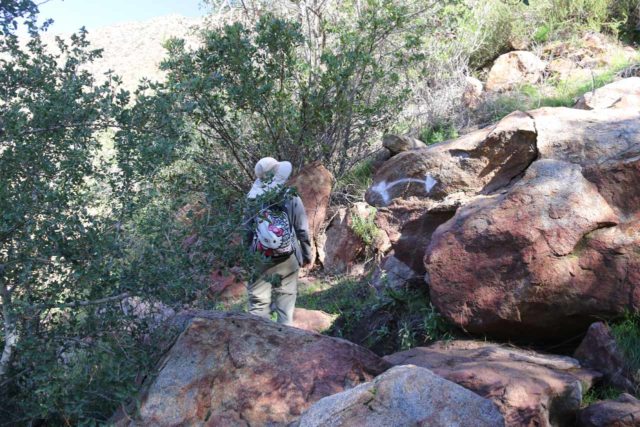 However, there was the last stretch of boulder scrambling where we had to sit and scoot our way past a dicey boulder slope with dropoffs.
This was the original obstacle that made us cross Boulder Creek on the way up to the falls in the first place.
But once we were past that, we then regained the trail, and then we had no trouble navigating the remainder of the hike.
Three Sisters Falls Trail Description – The Return Hike
It didn't take long before we once again had to face the rock wall with the rope tied to a root-exposed tree.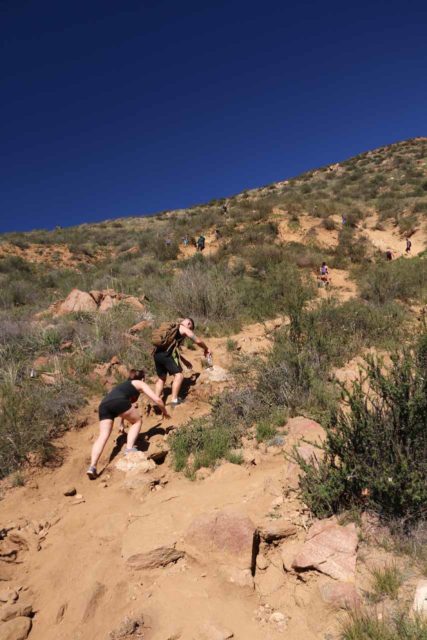 While there was a queue to use this rope, we saw some folks decide not to wait and just climb the rock wall unassisted without the rope.
After this section, we then had to climb hand-over-feet on a very steep and eroded slope like those we had seen earlier when we were going down this section.
This part was pretty relentless as it was totally sun-exposed and it really made our thigh muscles burn (our thighs were definitely sore after we were done with this hike).
Once again, with our hiking boots, we had pretty reasonable grip on the lousy terrain.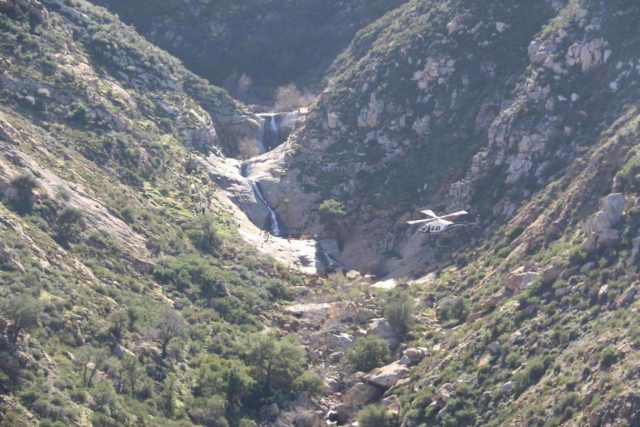 We'd eventually make it back up past the steep scramble some 50 minutes after we had started the return hike.
We should note that on the return hike, this steep section seemed to have been insurmountable to at least one lady (the one I mentioned earlier in this write-up).
So we had witnessed a helicopter circling the area and a uniformed person quickly come down to help airlift her out.
Indeed, given how difficult the climb back out was and how late into the hike it occurred, this was where being in shape and being prepared was extremely important.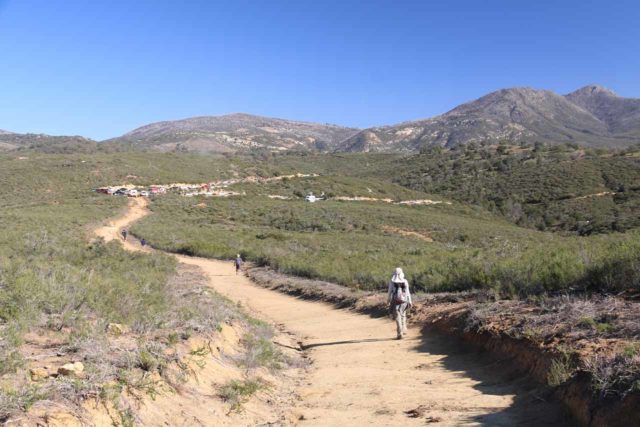 Once we were back on the conventional trail above the steep gullies, the remainder of the hike was pretty much easy going (relatively speaking) even though it was still all uphill and mostly lacked shade.
We'd eventually return to our parked car roughly a 1/4-mile from the trailhead about 4.5 hours after we had gotten started on this adventure.
This was also about an hour and 45 minutes since we had started the return hike from the base of the third waterfall.
Needless to say, the conclusion of this hike felt like a real accomplishment, and we rewarded ourselves by returning to Julian for a late lunch as well as some of their famous apple pies.
Authorities
Three Sisters Falls resides in the Cleveland National Forest near Descanso in San Diego County, California. It is administered by the US Forest Service. For information or inquiries about the area as well as current conditions, visit their website or Facebook page.
Since we stayed in the town of Julian, we'll first describe the driving directions from there.
To get to Julian from Los Angeles, we normally take the I-5 south then head east on Hwy 78 all the way to the town of Julian.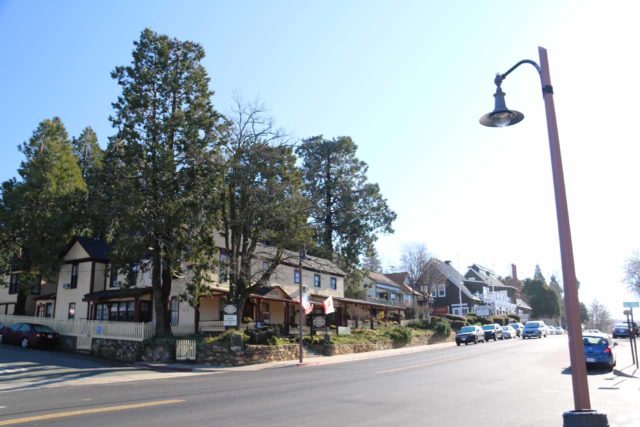 This drive would typically take about 2.5 to 3 hours depending on traffic.
Alternatively, we could take any of the freeways going east (10, 60, 91) to the I-15 south, then take that all the way to Escondido before following the Hwy 78 to Julian.
Once we were in Julian, we then headed west on Hwy 78 for about a mile to Pine Hill Road on the left.
We then took Pine Hill Road for roughly 1.7 miles to the turnoff at Eagle Peak Road on the right.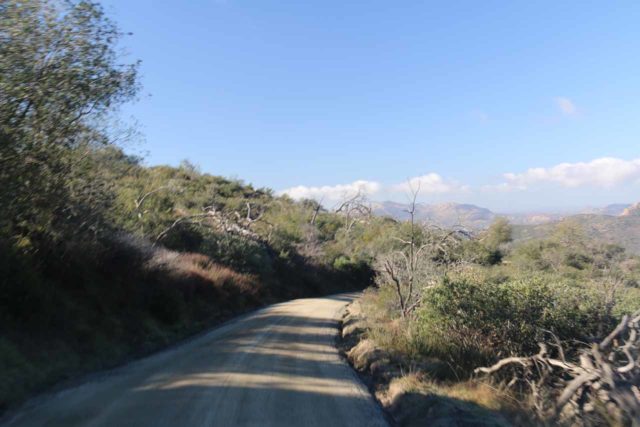 We then followed Eagle Peak Road for the next 1.3 miles before keeping left to leave Eagle Peak Road and go onto Boulder Creek Road.
After the Pine Hills Fire Station, the last 5 miles of Boulder Creek Road becomes unpaved.
Aside from a few ruts and water gullies, the road is fairly straightforward to drive (passenger vehicles can do it despite the bumps).
Besides briefly passing through the Inaja Reservation as well as going past a handful of remote ranches, the road offers some nice scenery as we got closer to the trailhead itself.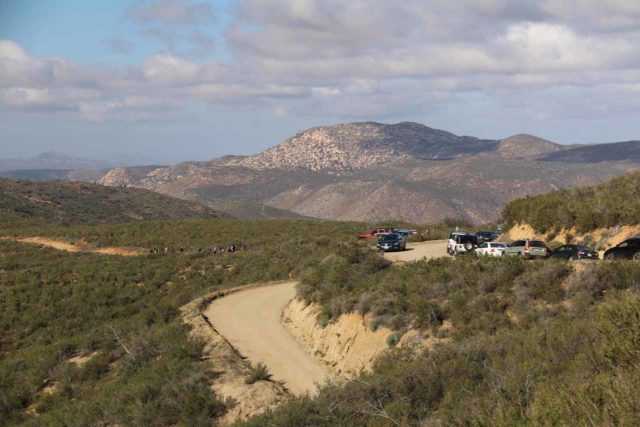 The Three Sisters Falls Trailhead sat at a hairpin turn where Boulder Creek Road junctions with the inaccessible Cedar Creek Road (gated off by the forest service).
The drive from Julian to the Three Sisters Falls trailhead took us about 45 minutes.
Because we showed up at around 9:50am, most of the parking spaces along the pullouts and shoulders of Boulder Creek Road were already taken.
So we actually had to park about 1/4-mile from the trailhead as that was the closest we were able to find parking.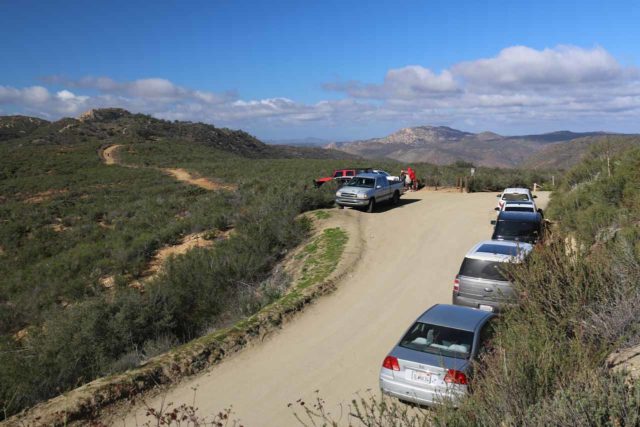 If you're coming from San Diego, the quickest route would be to drive the I-8 east to the Hwy 79 east of the town of Alpine.
Then, go north on the winding Hwy 79 for about 1.2 miles to Riverside Drive, turning left to go onto that road towards the small town of Descanso.
Within Descanso, turn left onto Oak Grove Drive and follow it until it intersects with Boulder Creek Road.
Turn right onto Boulder Creek Road and follow the unpaved road for roughly 13 miles to the Three Sisters Falls trailhead.
This 54-mile drive would take around 90 minutes.
Find A Place To Stay
Related Top 10 Lists
Trip Planning Resources
Nearby Accommodations
Featured Images and Nearby Attractions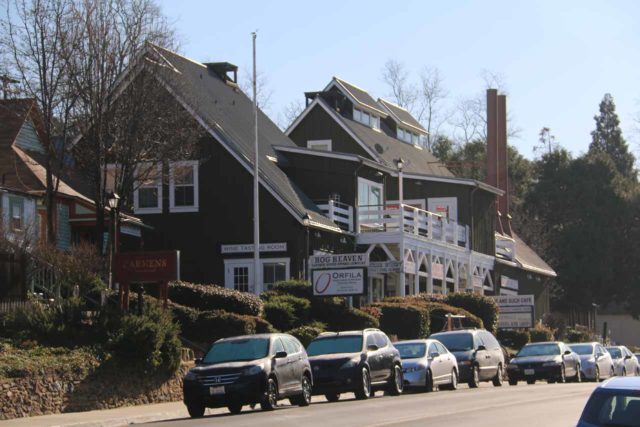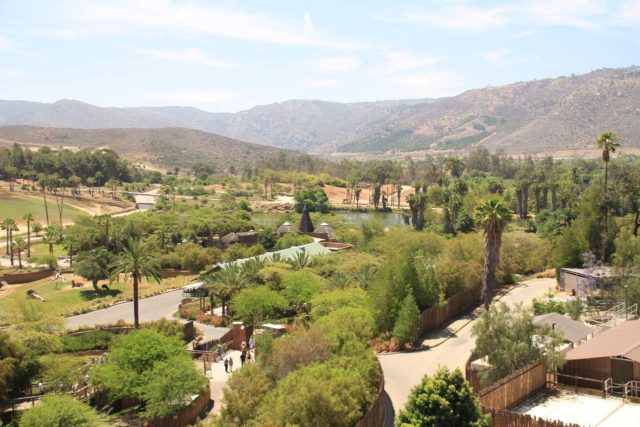 Tagged with:
cleveland national forest, julian, descanso, san diego, california, southern california, waterfall, sheep camp creek, boulder creek, inaja
Visitor Comments:
Got something you'd like to share or say to keep the conversation going? Feel free to leave a comment below...
No users have replied to the content on this page
Visitor Reviews of this Waterfall:
If you have a waterfall story or write-up that you'd like to share, feel free to click the button below and fill out the form...
No users have submitted a write-up/review of this waterfall