About Trail Canyon Falls
---
Hiking Distance:
4.8 miles round trip (from Big Tujunga Road); 4 miles from original trailhead
Suggested Time:
3-4 hours
---
Date first visited:
2002-12-30
Date last visited:
2023-03-03
---
Waterfall Latitude:
34.32040
Waterfall Longitude:
-118.25543
---
Trail Canyon Falls was certainly one of the prettier and more unique waterfalls that we've seen in the mountains of Los Angeles County (let alone the Southern California area).
In fact, it once made an appearance on our Top 10 Best Southern California Waterfalls List, and we often waver when it comes to putting this waterfall back in that exclusive list.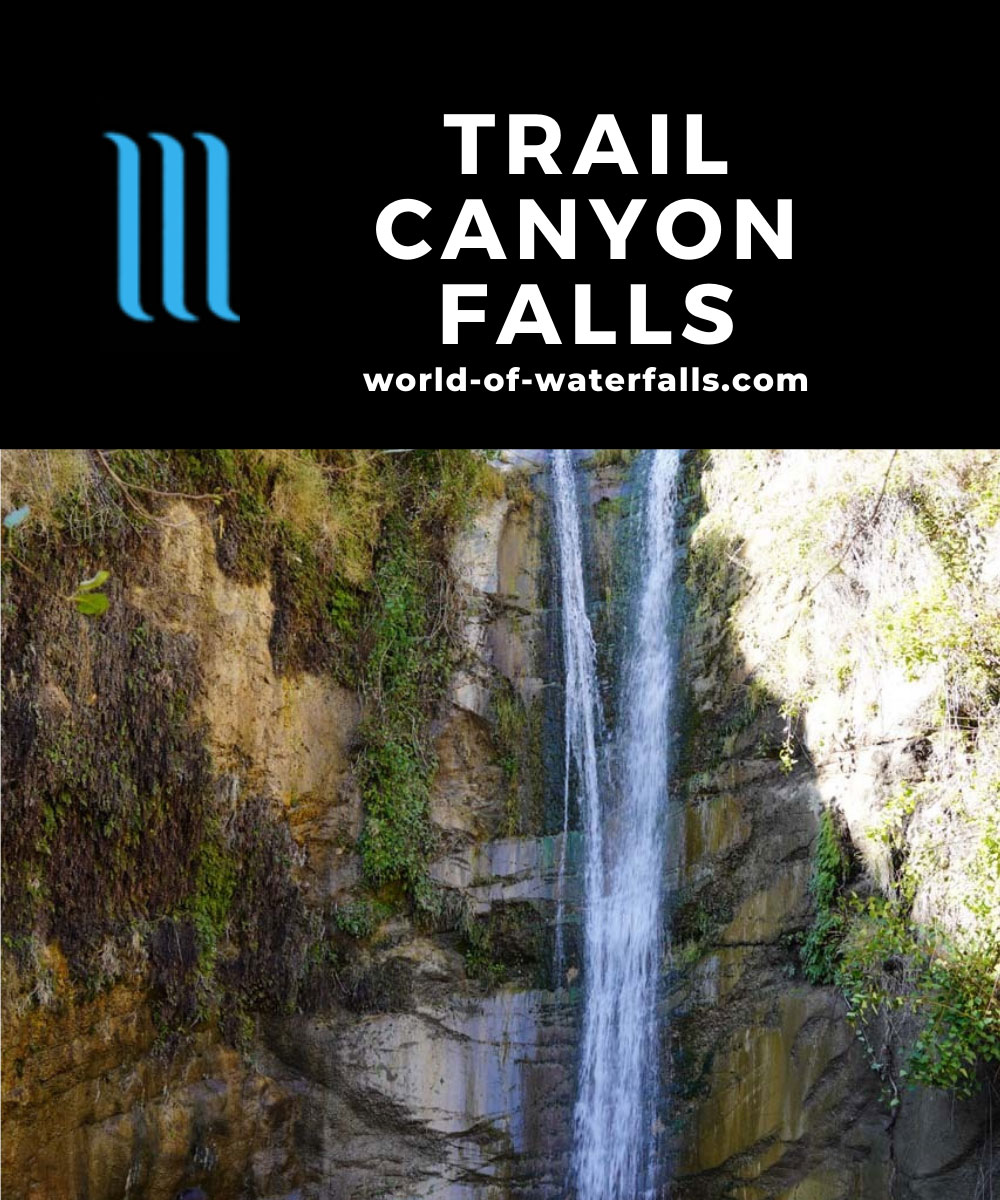 Each time we've seen this 30-40ft waterfall (I've also seen it reported to be 50ft tall), it featured a Y-shaped flow that made it very pretty.
It almost kind of reminded us of how Millard Falls can look when it has a healthy flow.
Nevertheless, sometimes rewards or victories are made sweeter when there's uncertainty in the outcome of an adventure, and it certainly felt that way with this one.
To even get the view you see in the photo above, we had to earn it with a bit of a moderate 4.8-mile round trip hike with lots of sun exposure and capped off with a harrowing scramble.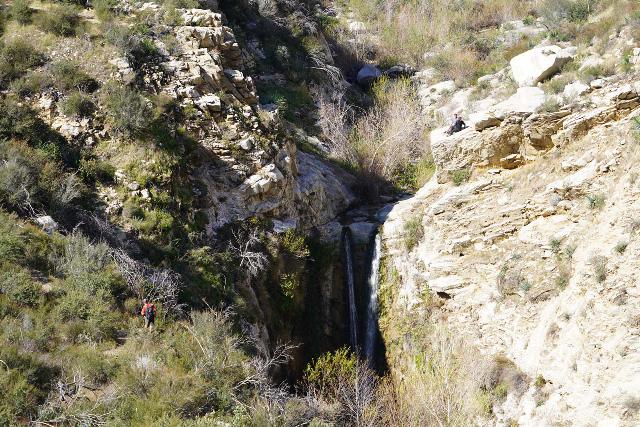 Given that this waterfall resided in a seemingly drier part of the San Gabriel Mountains, it had also seen its share of fires, which had historically prevented us from revisiting Trail Canyon Falls for several years at a time.
Case in point, this happened with us when the 2009 Station Fire closed the Trail Canyon Falls Trail, and we wound up going nearly 11 years between visits (from 2002 and 2013).
Knock on wood, all these things seemed to have made this waterfall a relatively quieter (but still popular, especially after COVID-19) experience compared to the very busy Los Angeles waterfalls further to the east (like Eaton Canyon Falls and Sturtevant Falls among others).
Moreover, as you'll see in the directions below, unlike the other local waterfalls we normally find neighboring the 210 Freeway, this one was a bit further west, which made it seem a little more out-of-the-way for us.
Hiking to Trail Canyon Falls – Longer Hike Than Before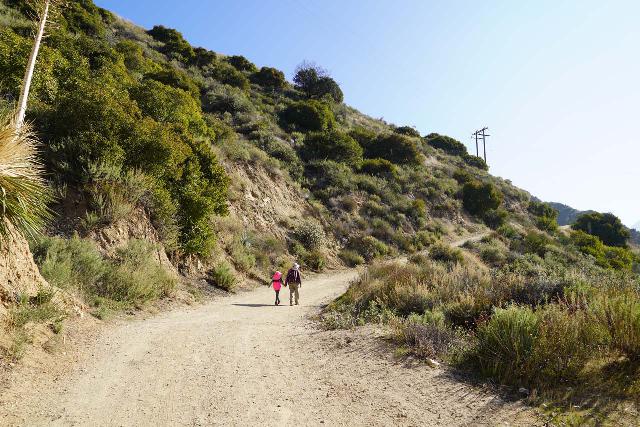 In the past, we used to be able to park the car and start hiking from the day use parking area roughly 0.4 miles off the Big Tujunga Canyon Road.
However, recently, a locked gate prevents access to this day use parking area as only the authorities and residents remaining within the Trail Canyon area have the means of driving there now.
This means that we now had to hike the narrow and unpaved North Trail Canyon Road, which increased the overall hiking distance by 0.8 miles to about 4.8 miles round trip.
We used to report that the Trail Canyon Falls hike was about 4 miles round trip.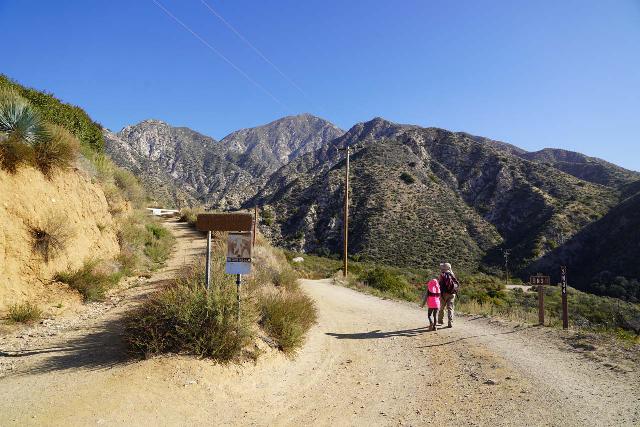 Although we found this extra hiking to be fairly short, it did involve some climbing (both going there as well as coming back) as we had to ascend to the junction with the Gold Canyon Road.
In addition, we also had to deal with the nearly constant sun exposure, which would become a persistent aspect of nearly the entirety of this hike.
Hiking to Trail Canyon Falls – Beyond The Day Use Parking Area
Once we got to the former parking area and trailhead, we followed a sign labeled "trail" that went to another gate next to some National Forest Day Use sign.
After passing the gate, we found ourselves on a fairly wide access road, which forded the typically shallow Trail Canyon Creek as well as passing between a few cabins or homes that appeared to be built after 2002 (something I don't recall seeing during my first hike to Trail Canyon Falls that year).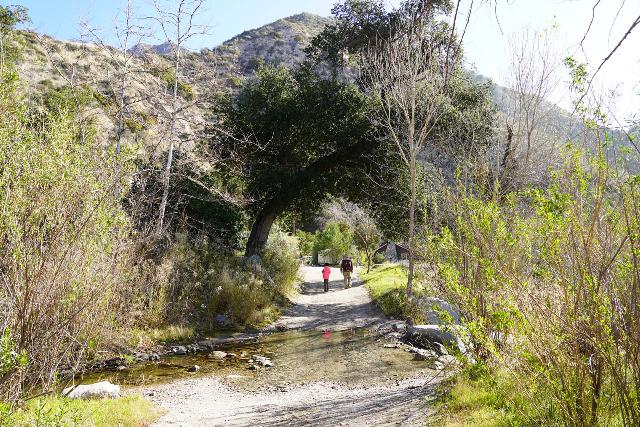 We then passed by one of the homes that appeared to have survived the fires here before following along the Golden Creek towards another trail junction near the foundation of what would have been the last cabin (only chimneys are left of it now).
Keeping right at this junction (there may or may not be a "trail" sign or other waterfall signs directing us), the trail continued to gently climb along the creek on a narrower footpath unsuitable for vehicles.
The trail proceeded to meander alongside a canyon wall before descending towards a small creek crossing just past a giant boulder.
From there, the path climbed briefly before flattening out at a series of a handful of creek crossings over Golden Creek.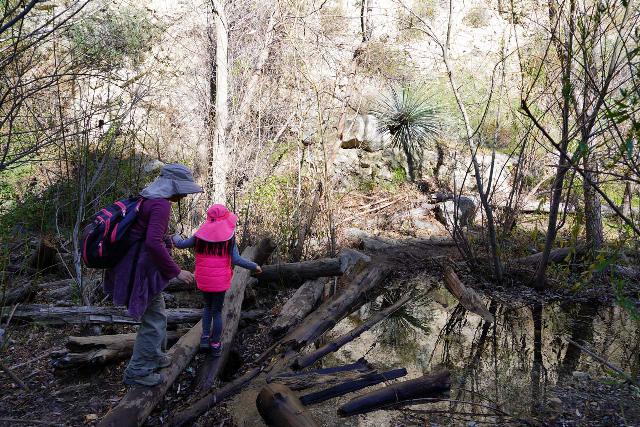 Each time we've done this hike, we didn't have too much difficulty staying dry on these crossings, and it seemed like some people even strategically laid out logs to make it even easier to avoid getting wet.
That said, if the creek happened to have higher flow, then I could easily imagine these crossings to be much more difficult and slower going (a scenario realized when we visited after an unusual snow storm in early 2023).
After the last of the crossings, Trail Canyon seemed to open up again for a brief stretch before the trail started to climb and cling onto the canyon's west wall.
Before the trail curved and clung onto the canyon's west wall contours, there was a small and usually poison-oak overgrown side gully leading to a secluded seasonal waterfall (which only flows immediately after heavy rain) that most people ignore.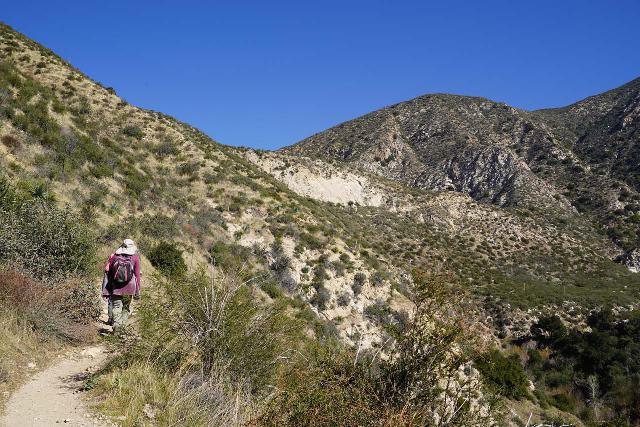 Anyways, there wasn't much shade in this stretch of trail, especially given the ghostly remnants of bare trees juxtaposed with newly growing foliage (thanks to damage from the Station Fire).
Indeed, we found this mile-long part of the Trail Canyon Falls hike to be both the hottest and most strenuous given the combination of sun exposure and elevation gain.
Just to give you an idea of how hot it can get here, we saw people struggling in this stretch even in early February on a sunny day as I suspected they didn't bring adequate water or underestimated the hike or a combination of both.
Over the years, we've seen this trail evolve given its history of fires and soil de-stabilization, because after a fire would burn off the soil-stabilizing vegetation, we'd find badly eroded and washed out sections of this climbing trail.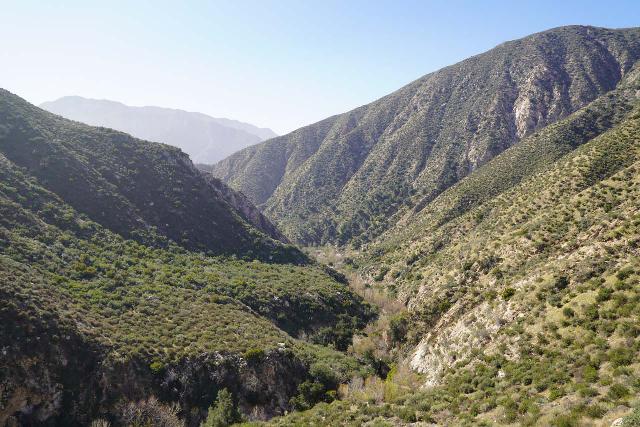 On the other hand, it seemed like this trail got a fair bit of maintenance on it, especially with fencing and railings to try to stabilize the ground holding up the path (which seemed to be in good shape again as of 2020 and 2022).
As we climbed higher, we had plenty of opportunities to look back at Trail Canyon and its wrinkly V-shaped contour, where such photo ops definitely helped us to break up the monotony of the moderately steep uphill hiking.
Eventually, the climb flattened out as the trail rounded a long bend, which coincided with the canyon walls closing in once again.
Beyond this bend, we finally started to see the Trail Canyon Falls in the distance as it sat nestled in its shadowy ravine making for some tricky lighting in our photos.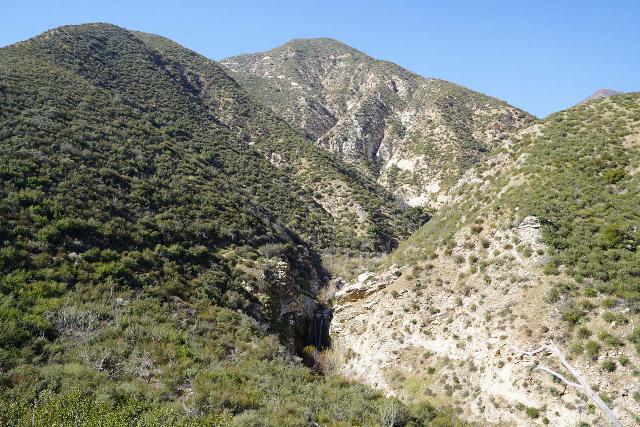 In the past, the falls was surrounded by trees though we would still be able to see most of the falls on the approach.
However, after the Station Fire, we could see that the trees conspiring to block our view were prickly and bare thereby revealing more of the waterfall as seen from the main trail.
Nevertheless, if you are risk averse and have no desire to do any scrambling to improve the experience, then this view of Trail Canyon Falls was perhaps as satisfying as it gets.
The Bottom of Trail Canyon Falls
The main trail continued to skirt above the ravine containing Trail Canyon Falls as it would eventually approach the top of the waterfall and continue further upstream.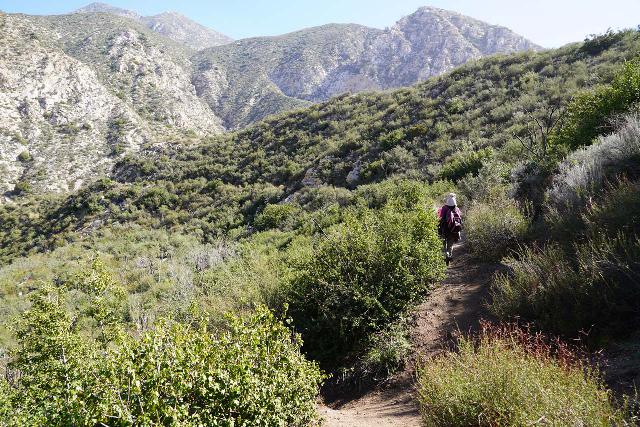 However, before the trail went that far, there was an unmarked detour that descended steeply towards the edge of the gorge and ultimately to the base of Trail Canyon Falls.
This "trail" was both steep and slippery due to loose dirt and persistent erosion from people making this scramble.
As a matter of fact, during this descent, we noticed remnants of old railings lying haphazardly downslope from the main trail.
Since such railings used to act as a sort of marker letting me know where I could start scrambling to the bottom back in 2002 when I first did this hike, this kind of indicated to me how much erosion had taken place over the years.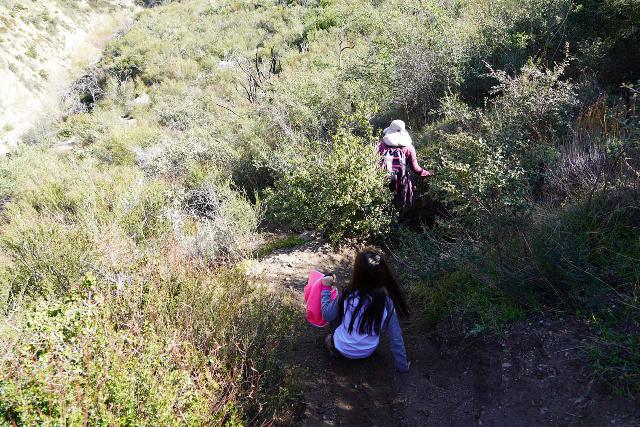 So who knows how much longer this scrambling path may last before someone decides to blaze a different "trail"?
Anyways, this scramble ultimately brought us to the rim of the gorge, where we then continued to hike further downstream until we encountered a dry gully.
This steep gully ultimately led us down to the creek, but we had to exercise a lot of care in order to minimize the chances of a bad fall.
Just to give you an idea of the steepness of this gully, someone had set up some ropes to make this descent a little easier, but I don't think the forest service sanctions the use of the ropes (they could choose to cut them given they could give at any moment).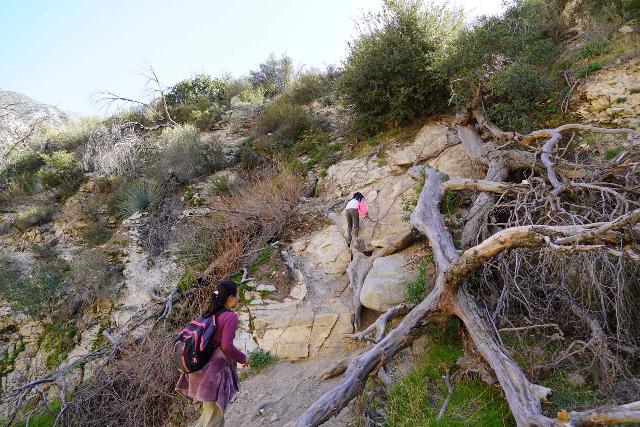 In any case, we didn't think the ropes were necessary as the "sit-and-scoot" maneuver was sufficient for us, but the ropes did provide an additional confidence-booster for those inclined to use them.
Once we made it to the bottom, then we hiked back upstream towards the bottom of the Trail Canyon Falls, which was where we got the photo you see at the top of this page.
By the way, during my first hike to Trail Canyon Falls back in 2002, I never recalled going this way to the bottom of the waterfall.
I'd imagine that the Station Fire had something to do with the route change as certain trees and roots were no longer reliable things to hold onto.
The Brink of Trail Canyon Falls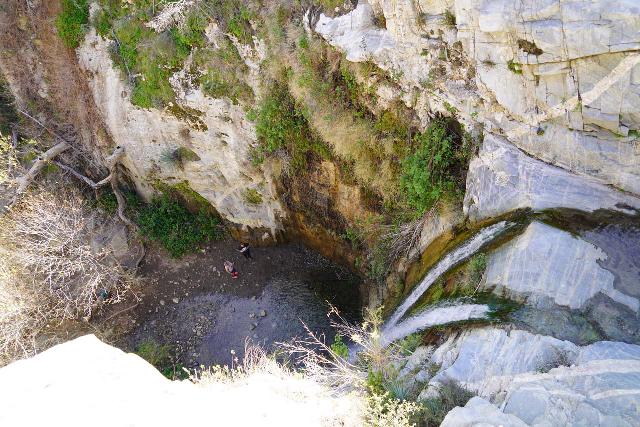 While the descent to the bottom of the Trail Canyon Falls was technically unsanctioned, the main trail did keep going past the waterfall.
The trail remained obvious and easy-to-follow, but I eventually found a somewhat wider area where it was fairly easy to cross Golden Creek (or Trail Canyon Creek) and then backtrack to the brink of the waterfall.
Given the sheer dropoff at the very top of the waterfall, I had to resist the temptation to get too close to the edge of the gorge given how slippery the rocks could be when wet here.
By the way, the trail description in our California Waterfalls book by Ann Marie Brown
was this route that ended at the top of the falls.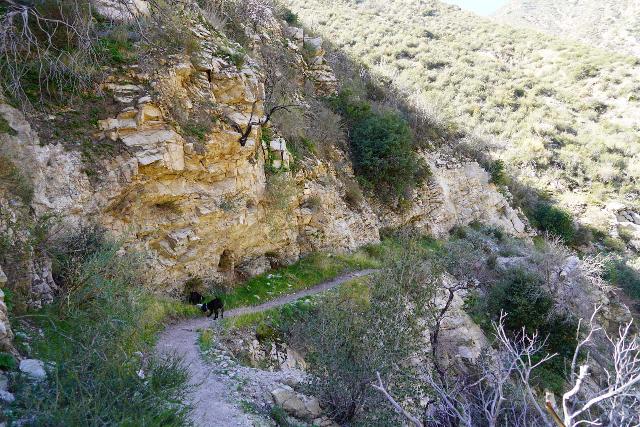 That said, the main trail would ultimately continue onwards to the Tom Lucas Camp, but we had never gone beyond Trail Canyon Falls so we can't say anything more about that trail.
Once we had our fill of both the top and bottom of Trail Canyon Falls, we then looked forward to the mostly downhill hike back to our parked car.
All things considered, on our most recent hikes, we had spent a total of between 3-4 hours away from the car, which encompassed the hiking, the photographing, and the picnicking at the base of the Trail Canyon Falls.
Back in 2002, I had spent about 2.5 hours for both the hiking and the photo taking, but that was when I was younger and I didn't have to start my hike from as far as the Big Tujunga Road.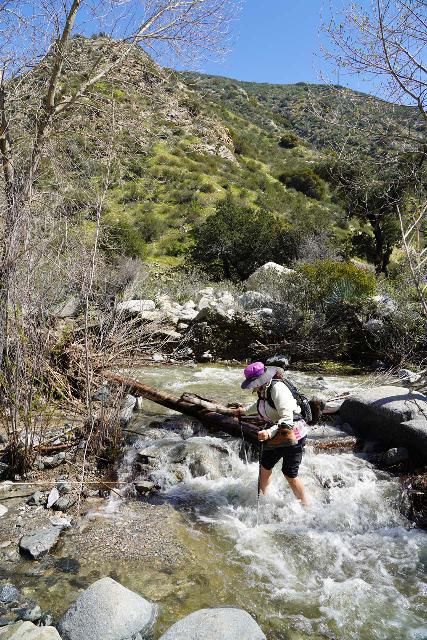 Conversely, after a freak snow storm hit the San Gabriel and San Bernardino Mountains, it took Mom and I nearly 5 hours to complete this hike given the high water conditions (from all that snowmelt) at the 6 creek crossings along the way.
The depth of these crossings went from about shin-deep to knee-deep with strong current conspiring to sweep us away, which was why we were glad we brought sandals along with trekking poles (though I did wish I had brought Trail Runners).
Authorities
Trail Canyon Falls resides in the Angeles National Forest near Pasadena in Los Angeles County, California. It is administered by the USDA Forest Service. For information or inquiries about the area as well as current conditions, visit their website or Facebook page.
We're going to start the driving description from the 210 Freeway at Pasadena (which is north of downtown Los Angeles).
So from the 210 Freeway at Pasadena, we headed west towards Sunland and the Sunland Blvd exit.
Then, we turned right onto Sunland Blvd and followed this busy street for 3/4-mile to Oro Vista Ave. or 1.5 miles to Mt Gleason Rd.
You can turn left at either of those streets, and both streets will eventually deposit you to the Big Tujunga Canyon Road.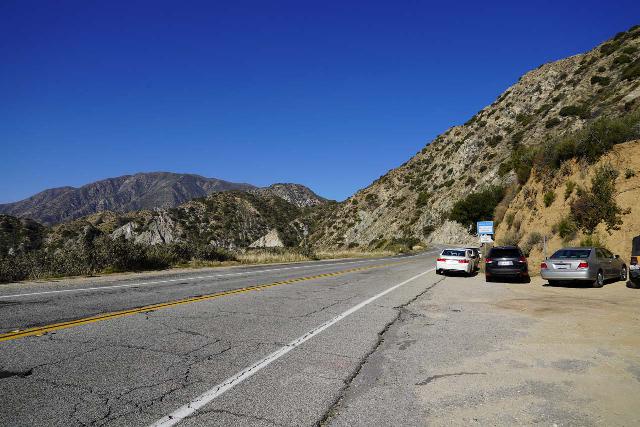 From where Oro Vista Ave became Big Tujunga Canyon Rd, we followed Big Tujunga Rd for about 4.5 miles to the turnoff for the N Trail Canyon Rd on the left. This turnoff would be about 3.5 miles from the Mt Gleason Rd / Big Tujunga Canyon Rd intersection.
Note that the 7-11 shop at Oro Vista Ave also sold Angeles Forest passes, which you'd need to display in your vehicle anywhere you park within the boundaries of the Angeles National Forest.
North Trail Canyon Road
In the past, we used to be able to drive onto N Trail Canyon Rd, which was narrow, unpaved, and scary in spots given the presence of a few deep ruts.
Back then, we could make this drive in our 2wd passenger vehicles.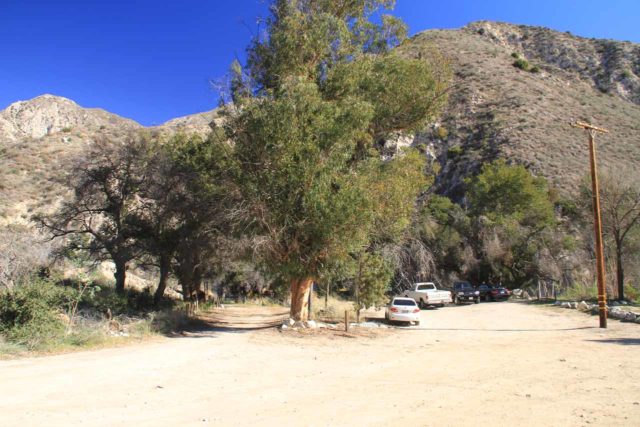 Anyways, this road would continue for about 0.4 miles to the Day Use Parking Area for Trail Canyon.
However, recently, it seemed like they closed the gate at the start of this unpaved road, and that this appeared to be a permanent closure unless you happen to have the keys to unlock the gate.
So that means that you must now park in the pullouts or open spaces along Big Tujunga Canyon Road, and then you'll have to walk the 0.4 miles to the old day use parking area and trailhead for Trail Canyon Falls.
It's not clear if the Forest Service enforces the display of Angeles Forest passes for parked vehicles here since we didn't see signage stating this.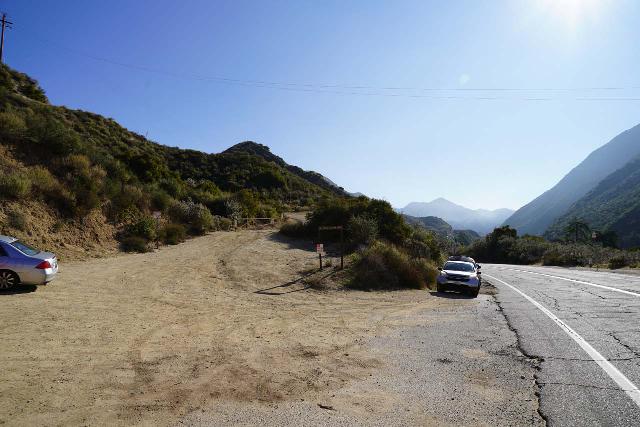 That said, I'd imagine it would be easy to enforce given this new trailhead parking scheme.
Finally, to give you some idea of the geographical context, Pasadena was about 13 miles (20 minutes drive without traffic) from Sunland, 11 miles (anywhere from 20-60 minutes depending on traffic) from downtown Los Angeles, 34 miles (about 45 minutes without traffic) from Santa Clarita, and 56 miles (over an hour drive without traffic) from Irvine.
Find A Place To Stay
Related Top 10 Lists
No Posts Found
Trip Planning Resources
Nearby Accommodations
Tagged with:
sunland, tujunga, angeles national forest, los angeles, angeles crest, southern california, california, waterfall
Visitor Comments:
Got something you'd like to share or say to keep the conversation going? Feel free to leave a comment below...
Visitor Reviews of this Waterfall:
If you have a waterfall story or write-up that you'd like to share, feel free to click the button below and fill out the form...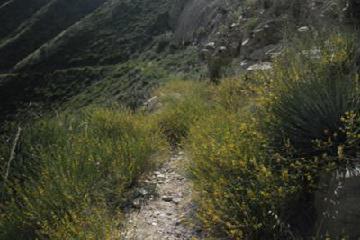 Trail Canyon May 17, 2012
May 18, 2012 6:48 am
-
Just went to trail canyon falls today. The trail is closed due to fires that happened years ago but I think it is because they don't have the money to fix and maintain the trail to be honest. You must trespass at your own risk. I parked on Ollie Rd. just yards from the dirt… ...Read More