About Uvas Canyon Waterfalls (Granuja Falls, Black Rock Falls, Upper Falls, Basin Falls, Little Falls, and Lower Falls)
---
Hiking Distance:
2.8 miles loop
---
Date first visited:
2016-05-19
Date last visited:
2016-05-19
---
Waterfall Latitude:
37.08561
Waterfall Longitude:
-121.79282
---
The Uvas Canyon Waterfalls page is where I'm describing at least six waterfalls all within close proximity to each other as part of the Waterfalls Loop Trail in Uvas Canyon County Park.
While none of these waterfalls were particularly big nor impressive, this was really a case of being in the moment and letting the cumulative effects of Nature take hold.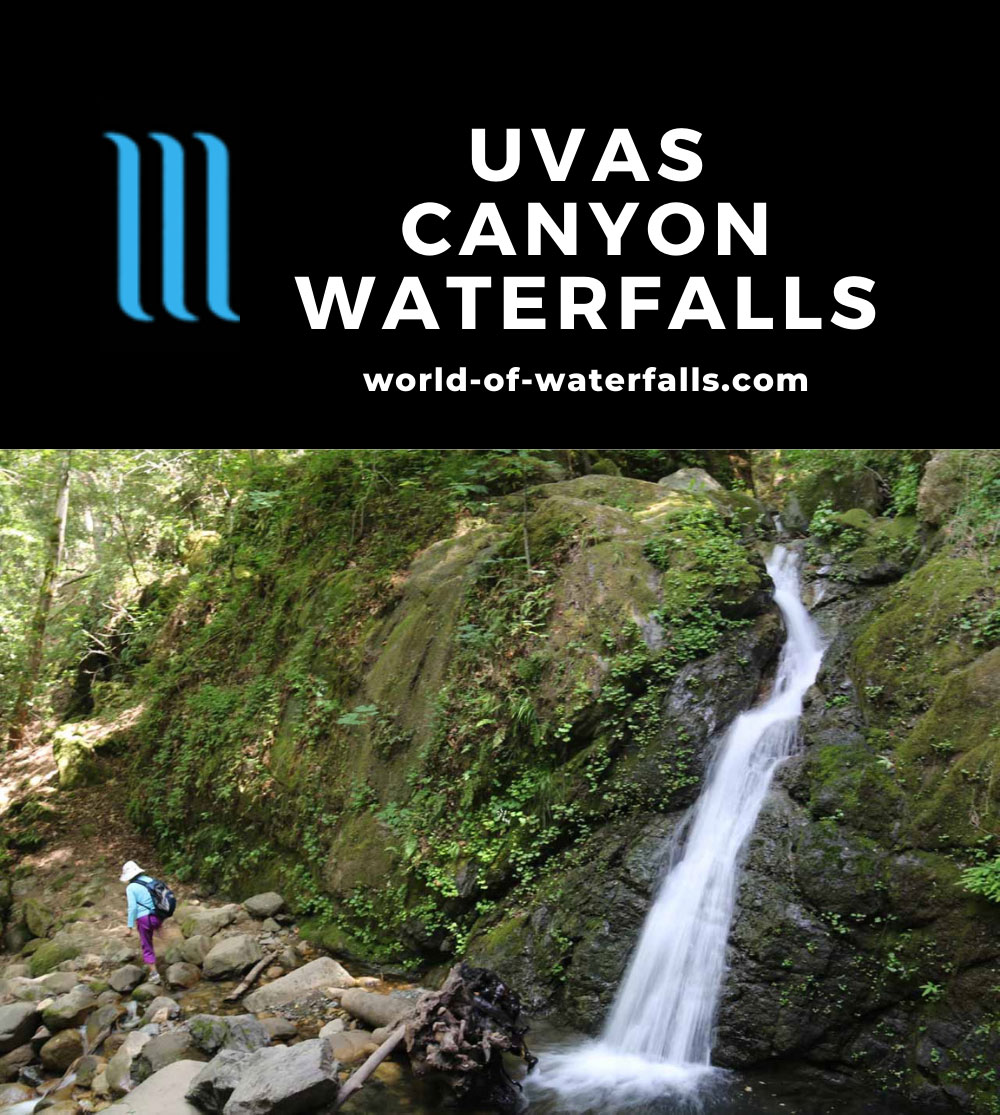 By this, I mean witnessing these waterfalls while also being amongst impressively tall trees including coastal redwood trees all while being relaxed by the sounds of Swanson Creek.
We witnessed at least six waterfalls either in or near Swanson Creek, and they were named.
In the order that we saw them (but not the order I'd recommend), these waterfalls were called Granuja Falls, Black Rock Falls, Upper Falls, Basin Falls, Little Falls, and Lower Falls (also known as Uvas Falls).
The last waterfall (pictured above) was technically not in the Waterfalls Loop, but it was close enough to the parking lot that I decided to include it in this writeup.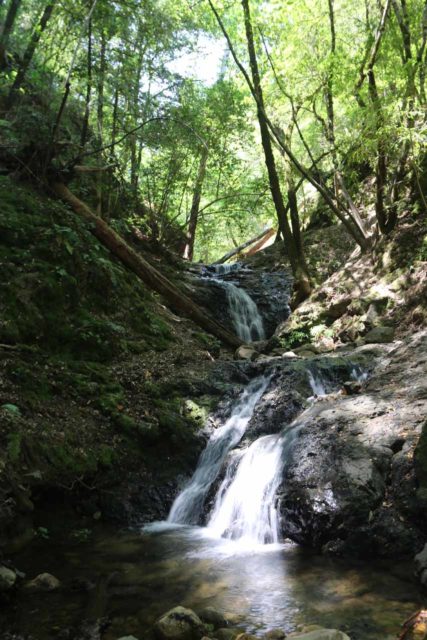 There was also a seventh waterfall we saw within the boundaries of Uvas Canyon County Park called Triple Falls, but it was a bit out-of-the-way compared to the waterfalls described here.
So I gave that one its own separate writeup.
Hiking to and Experiencing the Uvas Canyon Waterfalls
There were many ways to hike to and experience the Uvas Canyon Waterfalls described on this page.
However, I'll describe it in the manner that we'd recommend for maximum enjoyment.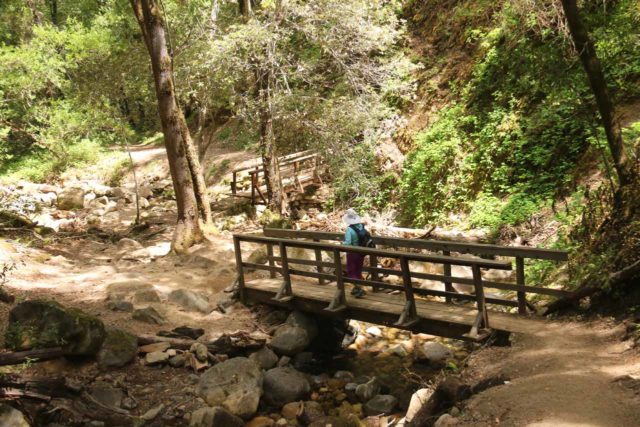 We can strongly make this recommendation because we wound up doing it in the opposite direction and realized just how much more enjoyable it would have been had we done the reverse.
Overall, this hike was about 2.25 miles or so round trip.
In this hike, we managed to experience all six of the Uvas Canyon Waterfalls in a span of 2.5 hours.
This included all the times that we stopped to enjoy each waterfall.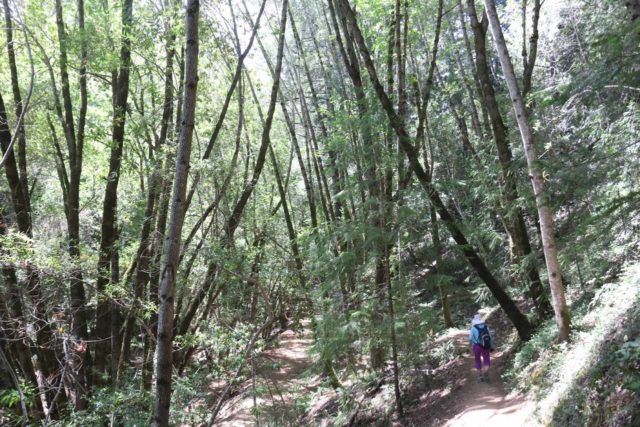 Indeed, we could only imagine how Bay Area residents could benefit from a weekend half-day trip here to experience what we're about to detail in this write-up, especially after a healthy rain storm had passed.
Uvas Canyon Waterfalls Trail Description – from Trailhead to Granuja Falls
So starting from the Uvas Canyon County Park's main parking lot (see directions below), we walked past the restrooms and some signs into a picnic area.
We then followed Swanson Creek generally in the upstream direction to proceed onto the trail to the waterfalls.
There were a multitude of criss-crossing trails, and this included a spur trail leading up to into Alec Canyon to the left which was for a different excursion that I won't get into here.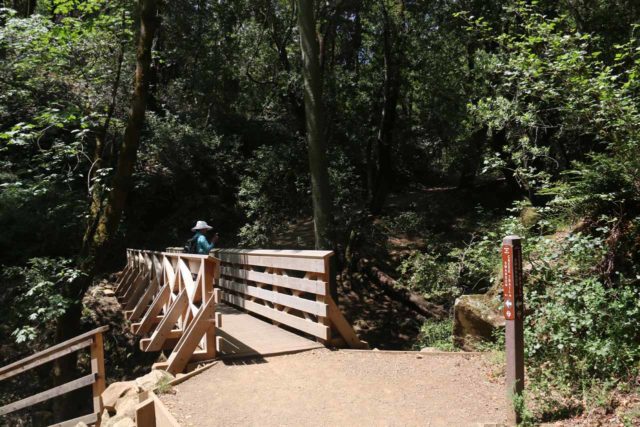 That said, as long as we stayed near Swanson Creek, then we'd ultimately reach the looping part of the Waterfalls Loop Trail.
That was the main hiking trail encompassing almost all of the waterfalls described on this page.
Roughly a few minutes (or a quarter-mile) into our hike, we encountered a series of small waterfalls (maybe 5-10ft each) behind a footbridge fronting it.
A sign here called it Granuja Falls, and it turned out to be the first named waterfall we encountered.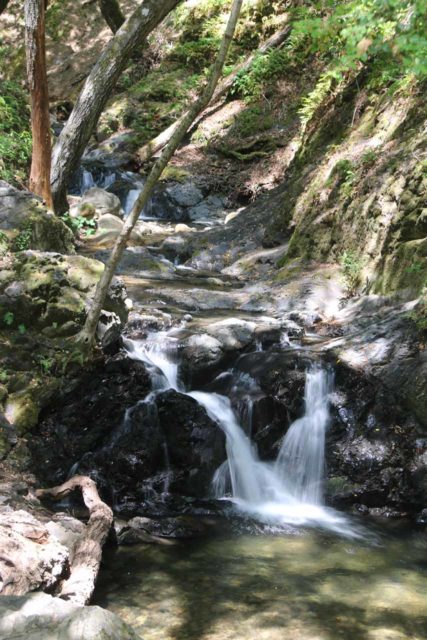 Granuja Falls was nestled in a shaded stream, and it was just downstream from an intriguing tall tree across Swanson Creek where a sign indicated that it was a live oak tree.
Uvas Canyon Waterfalls Trail Description – from Granuja Falls to the Waterfall Loop and Little Falls
After Granuja Falls, we followed the main trail slightly uphill as it bent towards another footbridge over Swanson Creek.
Just on the other side of this bridge, there was a trail junction that turned out to be the bottom end of the Waterfall Loop Trail.
Going left (clockwise) at this junction would meander alongside Swanson Creek while keeping right (counterclockwise) on the wider trail would continue going uphill.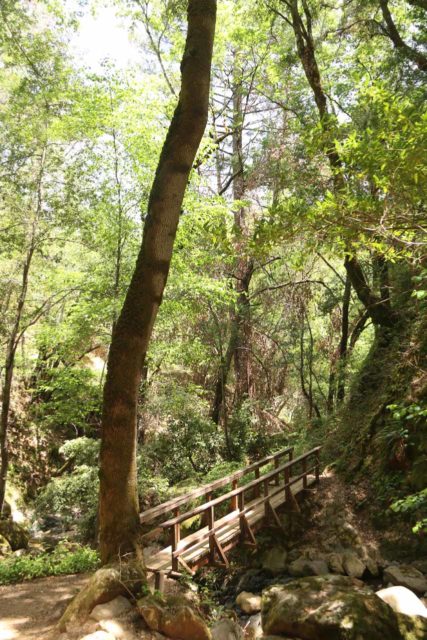 We recommend going left at this junction first since the right side was a bit more featureless and uphill, and it was probably better suited for the return hike.
Therefore, we'll continue the trail description in the recommended manner.
So dropping down towards Swanson Creek, the trail then crossed a few footbridges before it remained to the left of Swanson Creek.
Roughly 5-10 minutes later, the next waterfall that would be encountered was the signposted Little Falls.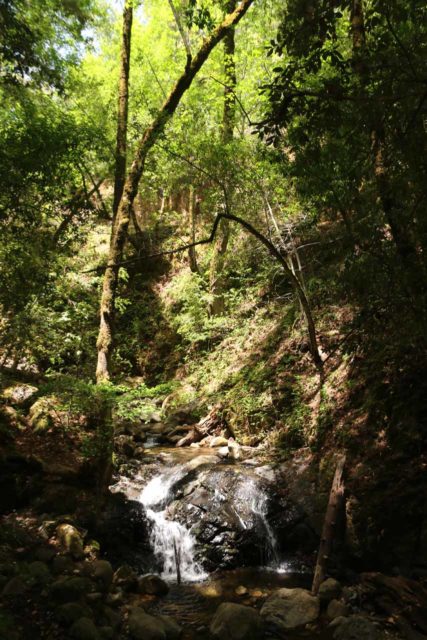 It was another small waterfall like Granuja Falls except this one tumbled some 10ft or so over a rounded rock.
Uvas Canyon Waterfalls Trail Description – from Little Falls to Upper Falls and Basin Falls
Beyond Little Falls, the trail narrowed and hugged a ledge alongside the left side of Swanson Creek.
Along the way, we noticed quite a few impressively tall trees including the odd coastal redwood tree that seemed to be very ubiquitous to the San Francisco Bay Area.
After some 10-15 minutes of hiking alongside the relaxing sounds of Swanson Creek, we would then encounter a few more footbridges and small cascades.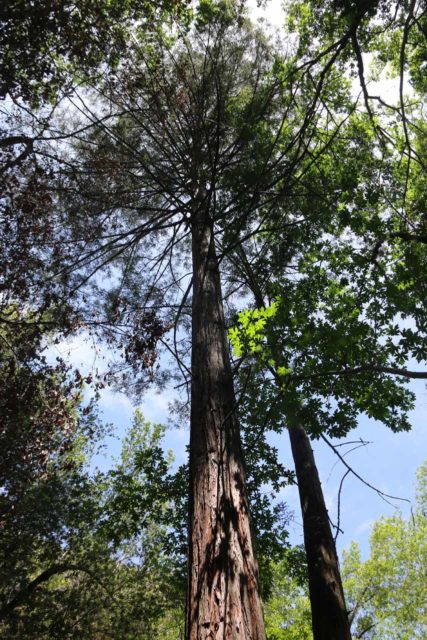 Beyond these bridges, we noticed some trails criss crossing to our right, which would reach the other side of the Waterfall Loop.
So we continued further up the trail until we started to see the next waterfall shortly after a bridge crossing Swanson Creek.
This particular waterfall was signposted as Upper Falls, and it was actually an attractive two-tiered waterfall with a cumulative height of probably 30ft or so.
In our minds, this was probably the most attractive waterfall on the Waterfall Loop portion of the hike.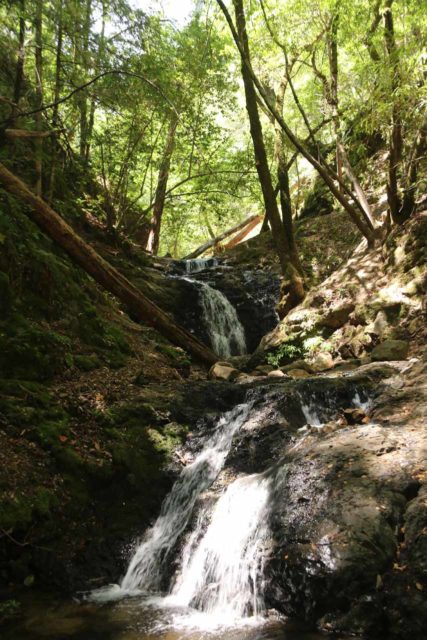 In addition to experiencing the Upper Falls from its very bottom, we were also able to scramble above the lower tier to get closer to the bottom of the upper tier.
Once we had our fill of Upper Falls, we then continued walking further upstream along the main trail.
We bypassed the junction for the Contour Trail to the left, and we eventually reached a dead-end right in front of Basin Falls.
This particular waterfall was also a tiny one (maybe between 10-15ft tall), and I recalled there being a handful of mosquitoes during our mid-May 2016 visit here.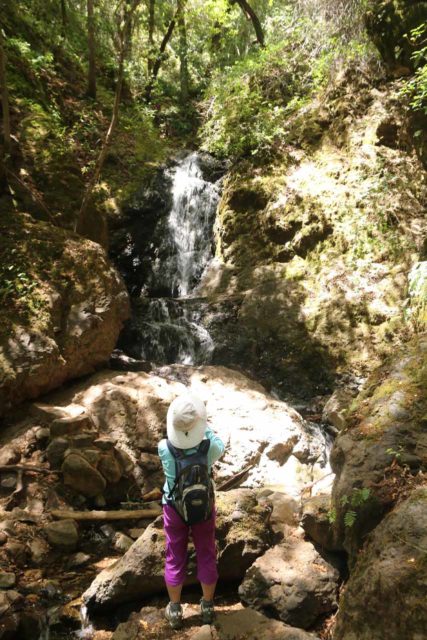 So we didn't linger here for long, then we turned back and headed back the way we came until we accessed the continuation of the Waterfalls Loop Trail to our left.
Uvas Canyon Waterfalls Trail Description – from Basin Falls to Black Rock Falls and the end of the Waterfall Loop
And not long after doing that, we then took another spur trail to our left (not the one for Knobcone Point).
This trail then hugged a ledge as it then went into a side gully where it went past a few smaller waterfall tiers.
It eventually reached a little lookout of the Black Rock Falls.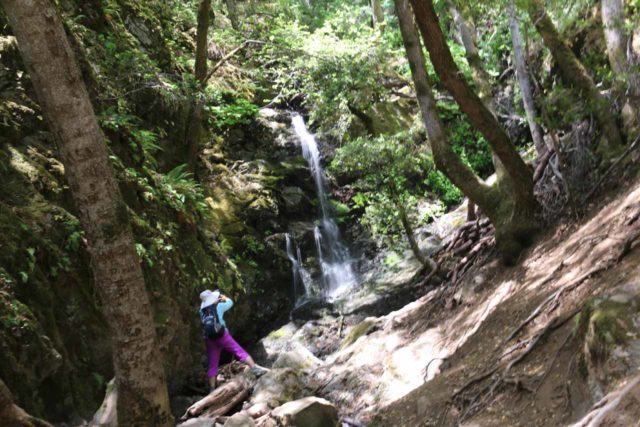 This particular 15-20ft falls or so seemed to be a little thinner than the other waterfalls we had seen to this point.
And given the distance of the falls from the official trail, Mom even scrambled a closer for a bit of a closer look at it.
After this waterfall, we then scrambled back to the main Waterfall Loop.
It would be here that we would continue to the left and follow the wider trail all the way back to the start of the Waterfall Loop junction, and then ultimately back towards the parking lot by the trailhead.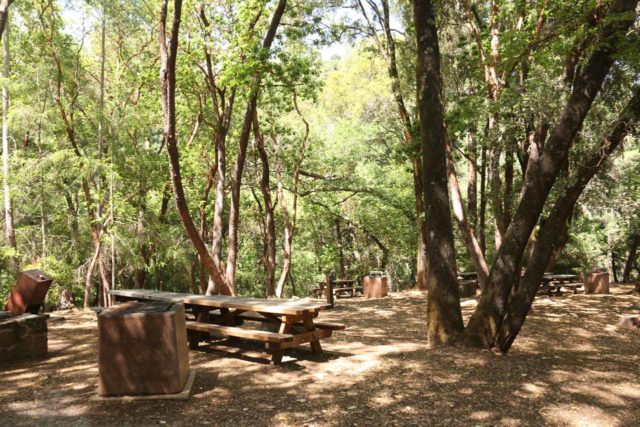 Just doing these five waterfalls would have taken us under 2 hours to do the roughly two-mile lollipop loop hike.
Uvas Canyon Waterfalls Trail Description – Lower Falls (Uvas Falls)
There was still one more waterfall to go, and that involved hiking along a more primitive trail skirting the south side of Swanson Creek.
So back at the parking lot, we then went through the adjacent picnic area towards Swanson Creek.
Once we were on the other side of the picnic area, we then encountered a signposted trail that quickly descended along a narrow path towards Swanson Creek itself.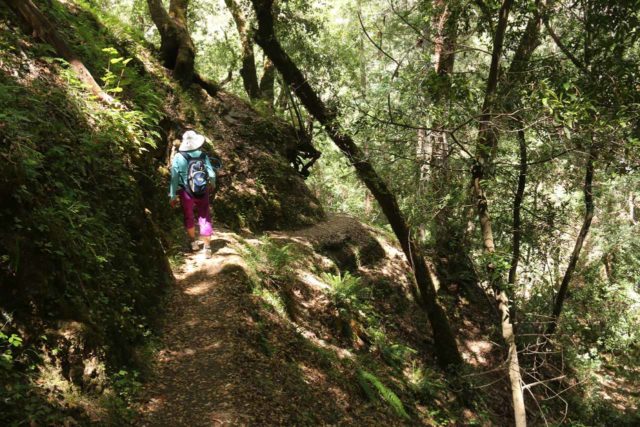 We then turned right to follow Swanson Creek downstream, and then we continued to follow the trail towards a small clearing with the Lower Falls' top within hearing distance.
There were felled trees arranged to prevent people from trying to scramble to the top of the falls and get down to its base from there.
However, the main trail would continue on the other side of the clearing as it then curved left and hugged a narrow ledge.
The trail then curved left again and descended some steps down to the level of Swanson Creek.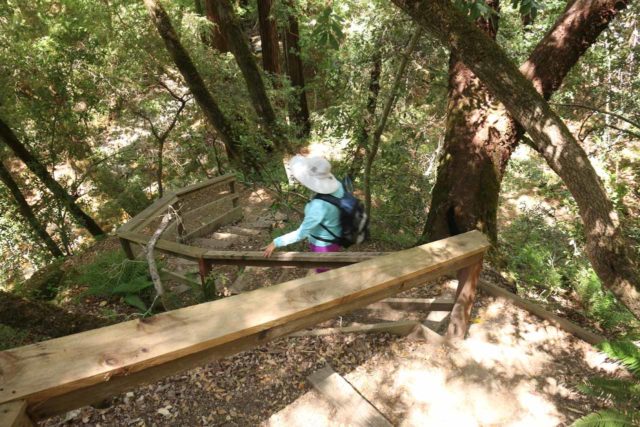 At that point, we crossed Swanson Creek where the trail essentially ended, and were right in front of the Lower Falls (sometimes also referred to as Uvas Falls) and its pretty 25-30ft falls.
Like we said earlier, this quarter-mile round trip detour from the main Waterfalls Loop was well worth it because we thought this was the prettiest of the falls on this excursion.
An added bonus to this side excursion was that we had this place to ourselves since it didn't seem like that many people tended to go down here.
When we returned to the parking lot, we happened to surprise a couple of deer who were grazing in the picnic grounds.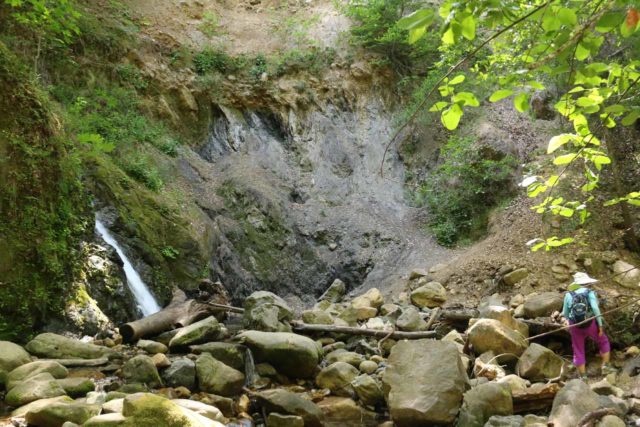 That kind of demonstrated to us that the ecosystems in this part of the Santa Cruz Mountains were more or less intact.
Moreover, that also allowed this hike to serve its purpose in terms of relaxing and rejuvenating us in natural settings.
Authorities
The Uvas Canyon Waterfalls reside in the Uvas Canyon County Park in Morgan Hill in Santa Clara County, California. It is administered by Santa Clara County Parks. For information or inquiries about the area as well as current conditions, visit their website.
The Uvas Canyon Waterfalls were all found within the Uvas Canyon County Park.
Since we were staying in Morgan Hill, we'll describe the driving directions from there.
Although there were several routes we could have taken to get from Morgan Hill to the Uvas Canyon Waterfalls, we'll describe the route that we've found to be the easiest and fastest.
From the US101 Freeway in Morgan Hill, we drove south on that freeway until the Tennant Ave exit.
Turning right onto Tennant Ave, we then quickly turned left onto Butterfield Blvd, which eventually became Watsonville Road.
At about 4.5 miles from Tennant Ave, we then turned right onto Uvas Road.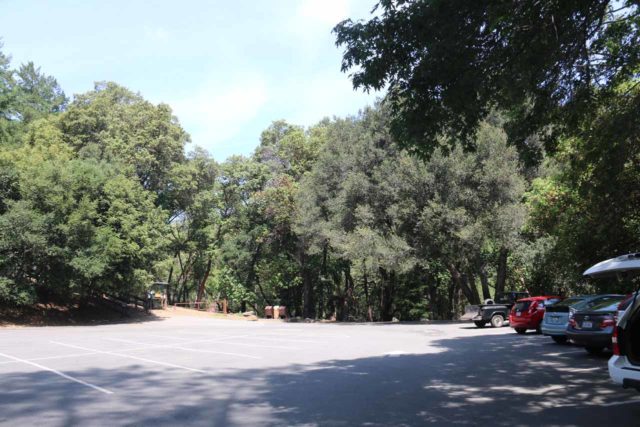 Next, we followed Uvas Road for nearly 6 miles before turning left onto Croy Rd (we were also starting to see the Uvas Canyon County Park signs).
Then, we followed Croy Road for the next 4.5 miles passing through the private community of Sveadal before reaching the entrance for Uvas Canyon County Park.
Near the entrance, there was a self-help ticket dispenser, where we were able to pay the $6 vehicle fee by credit card.
After getting back a printed receipt, we'd then leave that receipt on the dashboard as proof of purchase.
Just a minute further up the road was the fairly roomy parking lot for the Waterfalls Loop Trail.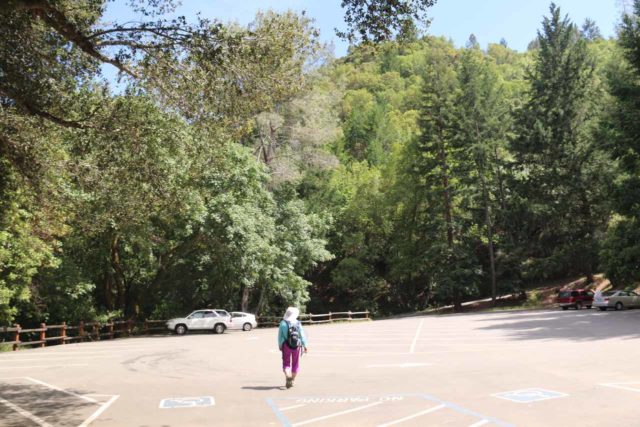 Apparently, there was also a second parking area further up the road, but I believe that was more for residents and the handicapped.
Overall, this drive took us about 30 minutes between Morgan Hill and the Uvas Canyon County Park parking lot.
For context, Morgan Hill was about 10 miles northwest of Gilroy (the so-called Garlic Capital of the World), and it was roughly 30 minutes drive to the southeast of downtown San Jose via the US101 Freeway.
It was about a 5-hour drive from Los Angeles to Morgan Hill via the I-5 freeway then the Hwy 152 through Los Banos and Gilroy.
Find A Place To Stay
Related Top 10 Lists
No Posts Found
Trip Planning Resources
Nearby Accommodations
Featured Images and Nearby Attractions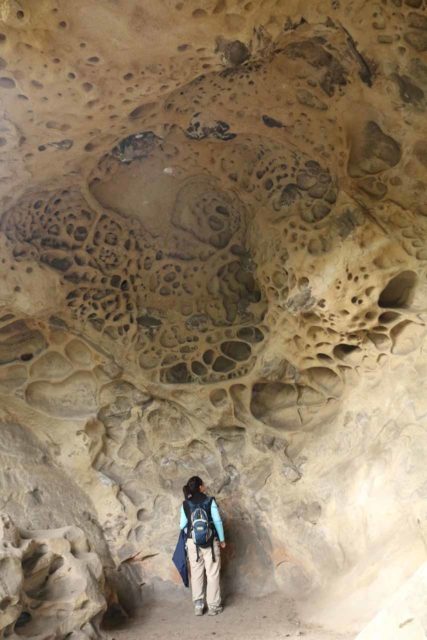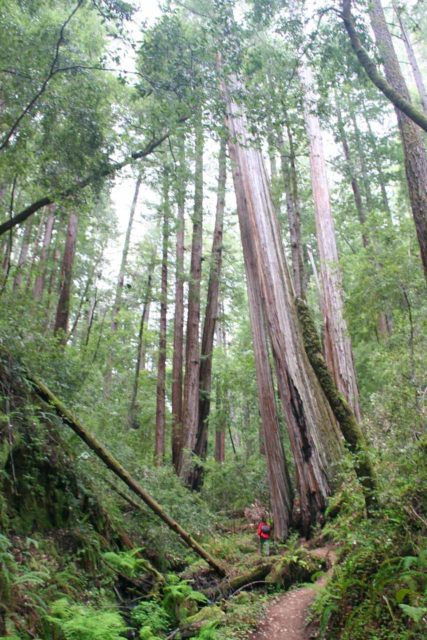 Tagged with:
uvas canyon, county park, morgan hill, san jose, california, bay area, northern california, waterfall, gilroy, basin falls, black rock falls, santa clara, swanson creek
Visitor Comments:
Got something you'd like to share or say to keep the conversation going? Feel free to leave a comment below...
No users have replied to the content on this page
Visitor Reviews of this Waterfall:
If you have a waterfall story or write-up that you'd like to share, feel free to click the button below and fill out the form...
No users have submitted a write-up/review of this waterfall