About Arethusa Falls
---
Hiking Distance:
3 miles round trip
Suggested Time:
2.5 hours
---
Date first visited:
2013-10-02
Date last visited:
2013-10-02
---
Waterfall Latitude:
44.1466
Waterfall Longitude:
-71.39255
---
Arethusa Falls was perhaps our favorite waterfall in the White Mountain area (though we also liked Crystal Cascade almost as much).
It might quite possibly be our favorite waterfall in the New England area though Moxie Falls just beat it out on our Top 10 Best New England Waterfalls List.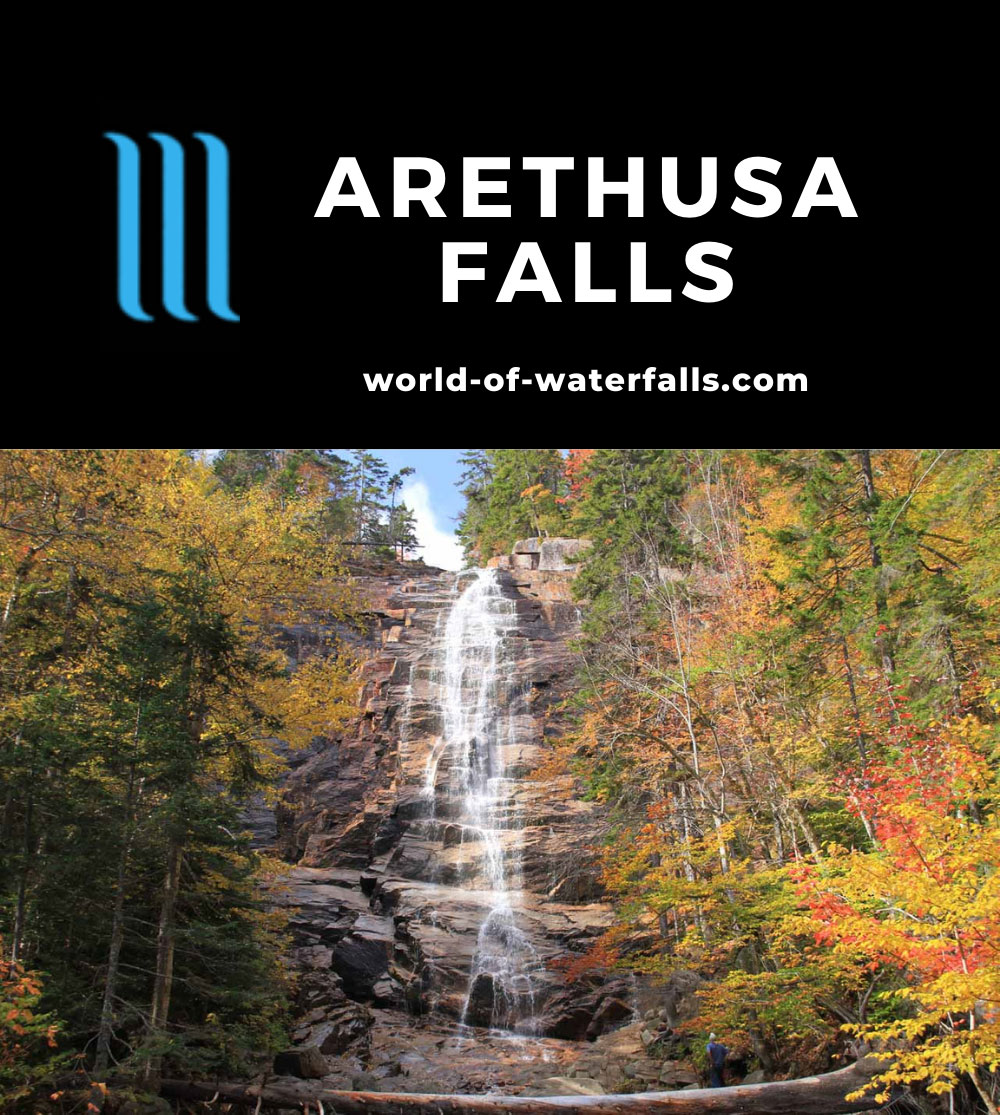 Arethusa Falls had a height of a reported 160ft tall though it was conceivable that it could be as tall as 200ft or as short as 125ft depending on who you talk to.
But whatever the case with academic statistics, what really made this waterfall stand out to Julie and I (and even our daughter) was the juxtaposition of beautiful and vibrant Fall colors flanking the tall strandy column of water.
Moreover, we did have to work a bit to reach this gem so perhaps that also made the reward of seeing it that much sweeter.
Additional Arethusa Falls Hiking Options
In addition to Arethusa Falls, we also took a detour along the Bemis Brook that allowed us to see two more waterfalls – Bemis Falls and Coliseum Falls.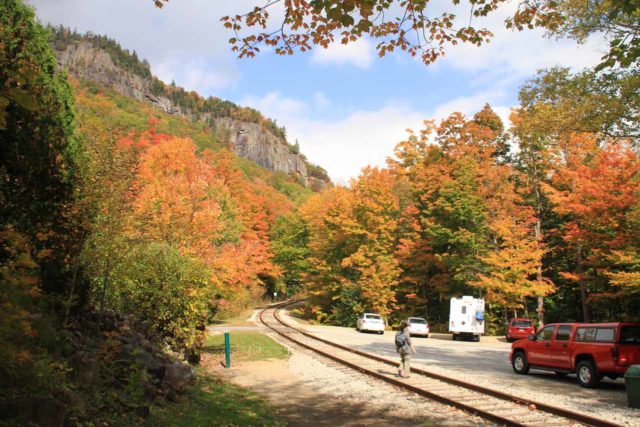 These smaller but attractive waterfalls on the same brook were merely warm up acts to Arethusa Falls.
However, the detour to experience these bonus waterfalls had also made an already moderately difficult hike even more difficult for reasons that we'll get into later in this page.
In any case, the difficulty rating that we've given this hike was bumped up to reflect our experience of including the Bemis Brook Trail detour.
There were also options to extend the hike to visit Ripley Falls as well as the big bald Frankenstein Cliffs.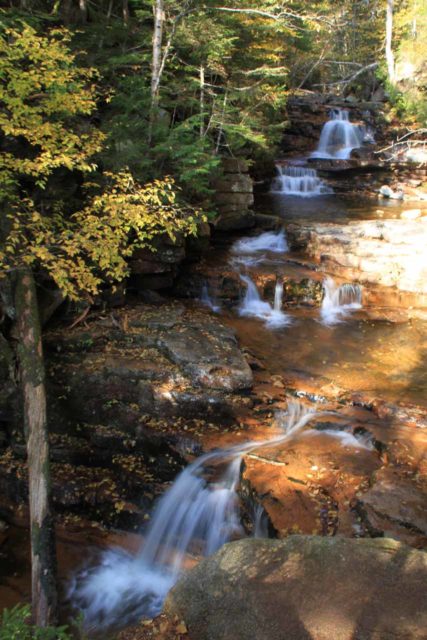 Those cliffs towered high above the scene and was visible from the trailhead.
However, we didn't have the time to hike up to the Frankenstein Cliffs (especially with a two-year-old daughter riding the child carrier).
Moreover, there was a shorter trail from a different trailhead to experience Ripley Falls, which we cover in a different write-up.
Hiking to Arethusa Falls – From Trailhead to Bemis Brook Junction
The Arethusa Falls Trail began in a large paved clearing area right next to a railroad track as well as what looked like someone's property on the other side of the track.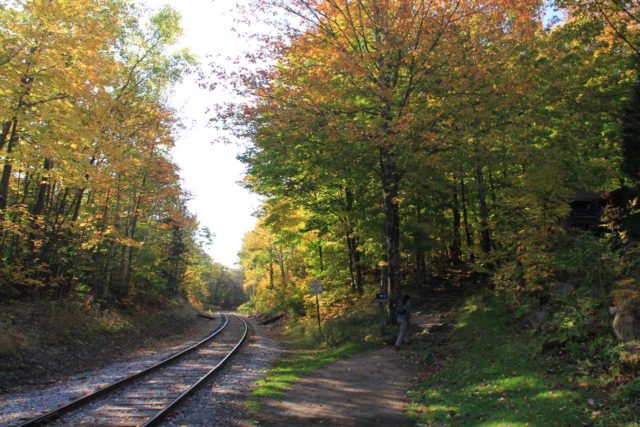 Since we were one of the first ones at the parking area on the morning of our hike, we had no problems finding a spot.
Then, after getting our water and snacks packed up while loading our daugher in the child carrier, we proceeded to walk along the railroad track to the left before crossing it.
Beyond the railroad tracks, we noticed a signpost indicating that we had now embarked on the trail to the Arethusa Falls.
Barely a few minutes into the hike, we were immediately faced with a decision as we encountered a trail junction.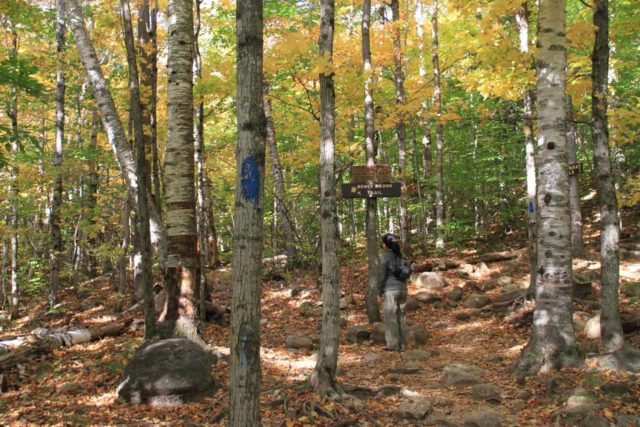 The left path was labeled Bemis Brook while the right path was labeled Arethusa Falls.
If we didn't know any better, we probably would've followed the right side directly towards the Arethusa Falls.
However, we had read in the literature that it was worth doing the detour to go to Bemis Brook and its pair of waterfalls before rejoining the Arethusa Falls Trail further up the mountain.
So we wound up doing the optional Bemis Brook detour, which we'll describe in the next section.
Hiking to Arethusa Falls – The Bemis Brook Detour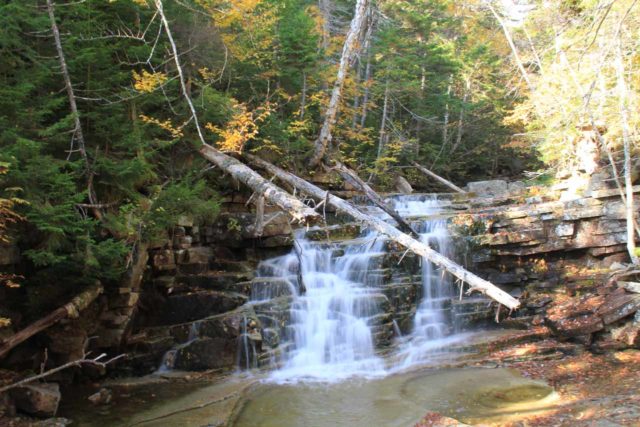 The Bemis Brook detour immediately became a much narrower trail with some parts seemingly a bit eroded while other parts were a little overgrown.
With Tahia being carried on my back, I definitely had to be careful not to make a misstep or even accidentally let her get scratched or knocked by the overgrowth.
That said, there were yellow blazes or hashes painted on trees that helped us stay the course.
After about 20 minutes on the narrower and rougher trail, we encountered a signpost pointing us to Bemis Falls.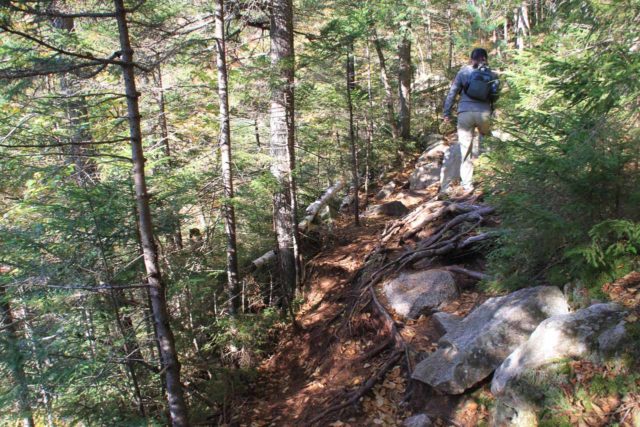 This waterfall was diminutive though it did possess some character as the brook fell over small layers in succession giving it a little bit of a rippling appearance.
The trail continued beyond the Bemis Falls over more erosion-prone sections as well as the odd overgrowth getting onto the trail.
After another 10 more minutes on the Bemis Brook Trail, we saw the attractive Coliseum Falls, which featured multiple small steps giving it a bit more character than Bemis Falls.
After having our fill of Coliseum Falls, we then realized that we had to climb up a very steep hill.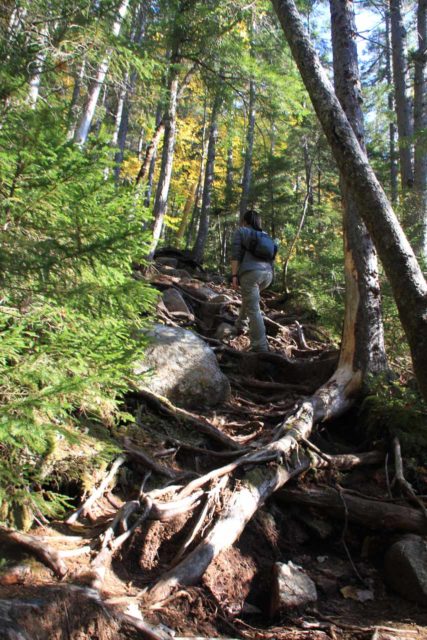 The trail was so steep that we had to hold onto roots and even make use of all four of our limbs in spots where the "trail" was the steepest.
It essentially felt like an unsanctioned off-trail scramble, and Julie and I were very concerned about inadvertently hurting our daughter who was riding my back the whole time we were engaged in this ascent.
If it weren't for the yellow blazes strategically placed on some of the trees during the ascent, we probably would've declared defeat and backtrack to the junction by the start of the whole hike.
It was also for this very reason that the Bemis Brook Detour was better off done on the way up (as we were doing it) instead of on the way down.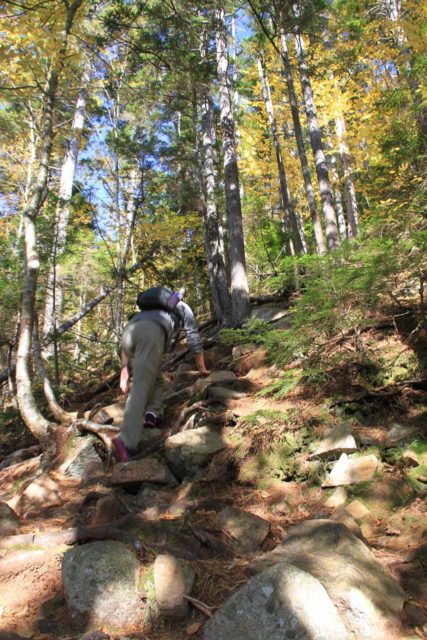 After all, it would be much harder to descend trails that were this steep, especially given how easy it would be to slip and potentially fatally fall down the mountain.
Even though conventional wisdom would say that going downhill on trails would be far easier than going uphill on trails, I think this part of the Bemis Brook Detour exceeded the steepness threshold where this rule no longer holds.
So after a hot and sweaty (as well as nervous) 15 minutes, we finally saw a reassuring sign by another trail junction marking our return to the Arethusa Falls Trail.
At this point, we were back to blue hashes instead of yellow ones.
Hiking to Arethusa Falls – The Remainder of the Main Trail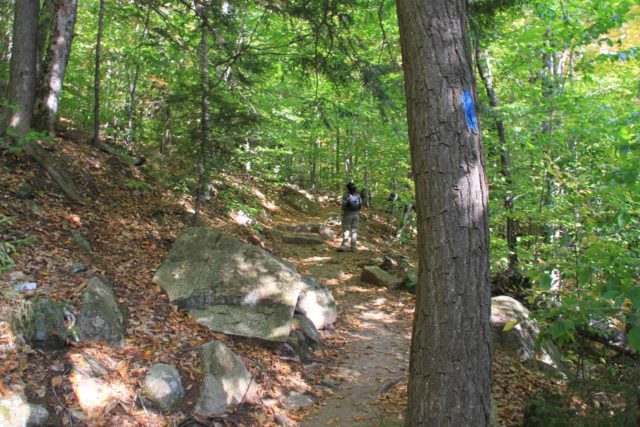 The Arethusa Falls Trail still continued to climb uphill but it was a far gentler grade than the Bemis Brook detour we had taken earlier.
The hiking was a lot more straightforward though there were a few muddy spots along the way.
We also saw other hikers as apparently the Bemis Brook Trail was not a popular trail (perhaps that explained why it seemed like we were the only ones who did it).
At the apex of the climb, we reached yet another trail junction.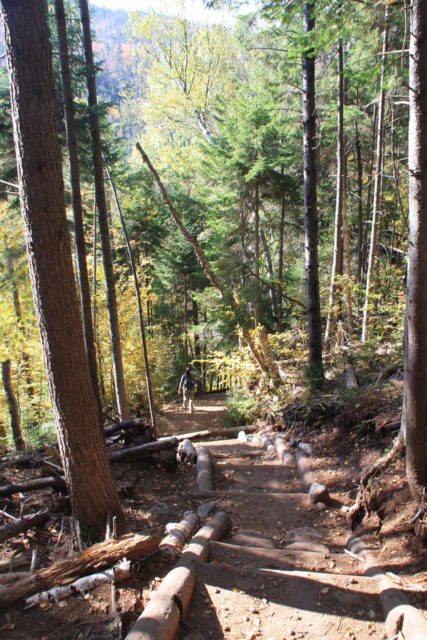 This time, the path on the right led towards Ripley Falls while the path on the left descended towards Arethusa Falls.
This descent wasn't trivial so we knew it would be a factor on the way back out.
Nevertheless, it was still somewhat easy to follow until we reached the rocky creek bed of the Bemis Brook once again.
At this point, we had to scramble on those rocks and boulders in order to get down to the level of the brook and finally get a clean look at Arethusa Falls.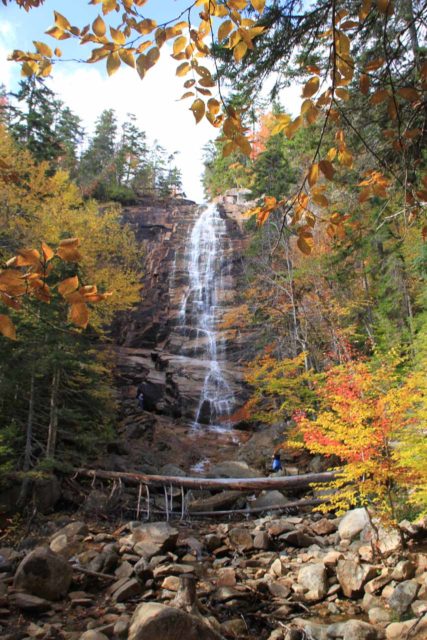 We saw numerous other people continue scrambling past the fallen logs and right up to the base of the impressive waterfall.
However, given the awkward scrambling on those boulders and rocks as well as the burden of Tahia riding my back (the terrain here was too rough to let her walk on her own), we were content to have our somewhat distant but comprehensive views.
Overall, it took us about 45 minutes from the end of the Bemis Brook Detour to the falls (or roughly 90 minutes from the trailhead).
However, on the return hike, it was all downhill after the initial climb back out, and it took us just about an hour to return to the trailhead parking lot.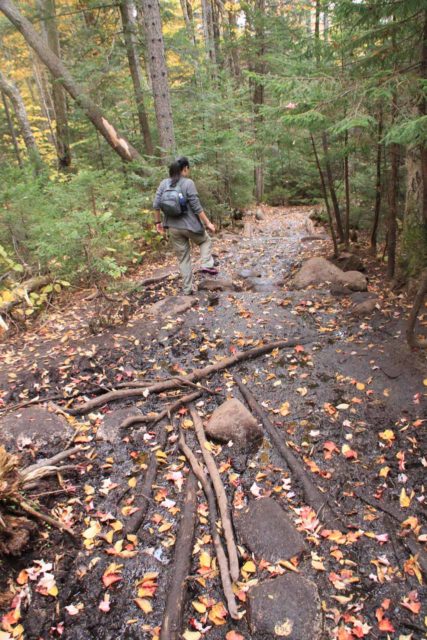 As a result, we spent about 3 hours on this excursion with about 2.5 hours of it spent hiking on the trail.
The rest of the time was spent taking photos and having a snack.
Authorities
Arethusa Falls resides in the White Mountain National Forest near North Conway in Carroll County, New Hampshire. It is administered by the US Forest Service. For information or inquiries about the area as well as current conditions, visit their website or Facebook page.
To reach the Arethusa Falls Trailhead from where the Hwy 16 and Hwy 302 meet at the southern end of North Conway, follow the White Mountain Hwy (Hwy 302) north for about 8 miles.
At the traffic light where Hwy 302 and Hwy 16 split up once again, turn left to stay continue on Hwy 302.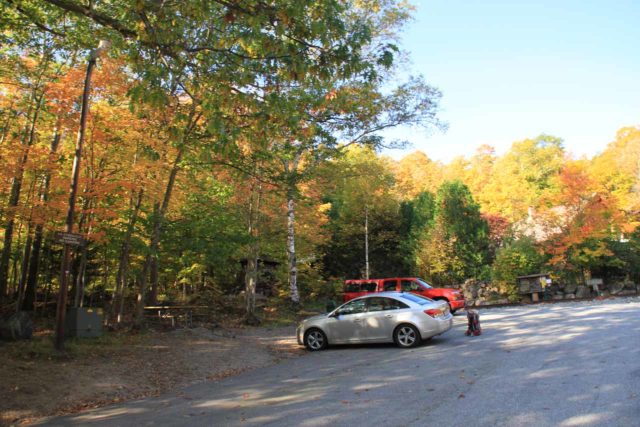 Then, follow Hwy 302 due west then north for about 14.5 miles until there's a signposted turnoff on the left for Arethusa Falls Road.
We followed the Arethusa Falls Road straight to its end by the railroad tracks.
However, we noticed that there was also spillover parking on the right side of the turnoff, which we'd imagine would come in handy if the closer parking spaces were unavailable.
I can totally see that happening as the closer parking spaces were definitely packed when we finished our hike just before high noon.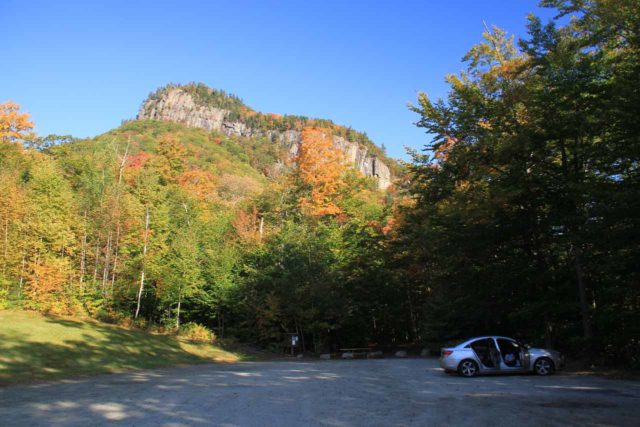 Overall, this drive was roughly 19 miles total and would require at least 30 minutes of driving.
For geographical context, North Conway was 11 miles west of Fryeburg, Maine, 42 miles (over an hour drive) east of Lincoln, 63 miles (90 minutes drive) northwest of Portland, Maine, 136 miles (over 2.5 hours drive) north of Boston, Massachusetts, and 214 miles (over 3.5 hours drive) southeast of Montreal, QC, Canada.
Find A Place To Stay
Related Top 10 Lists
Trip Planning Resources
Nearby Accommodations
Tagged with:
white mountain, white mtn, national forest, crawford notch, carroll county, north conway, new hampshire, waterfall, new england, harts location, bemis brook, bemis falls, coliseum falls, frankenstein cliffs
Visitor Comments:
Got something you'd like to share or say to keep the conversation going? Feel free to leave a comment below...
No users have replied to the content on this page
Visitor Reviews of this Waterfall:
If you have a waterfall story or write-up that you'd like to share, feel free to click the button below and fill out the form...
No users have submitted a write-up/review of this waterfall