About Bash Bish Falls
---
Hiking Distance:
0.8-1.5 miles round trip
Suggested Time:
60-90 minutes
---
Date first visited:
2013-09-29
Date last visited:
2013-09-29
---
Waterfall Latitude:
42.11529
Waterfall Longitude:
-73.49361
---
Bash Bish Falls (sometimes written out as a single word like Bashbish Falls) was one of the prettier waterfalls that we've encountered in the New England area.
It was said to have a modest 80ft height in an attractive rocky cove where a large rock split the gushing falls into two segments.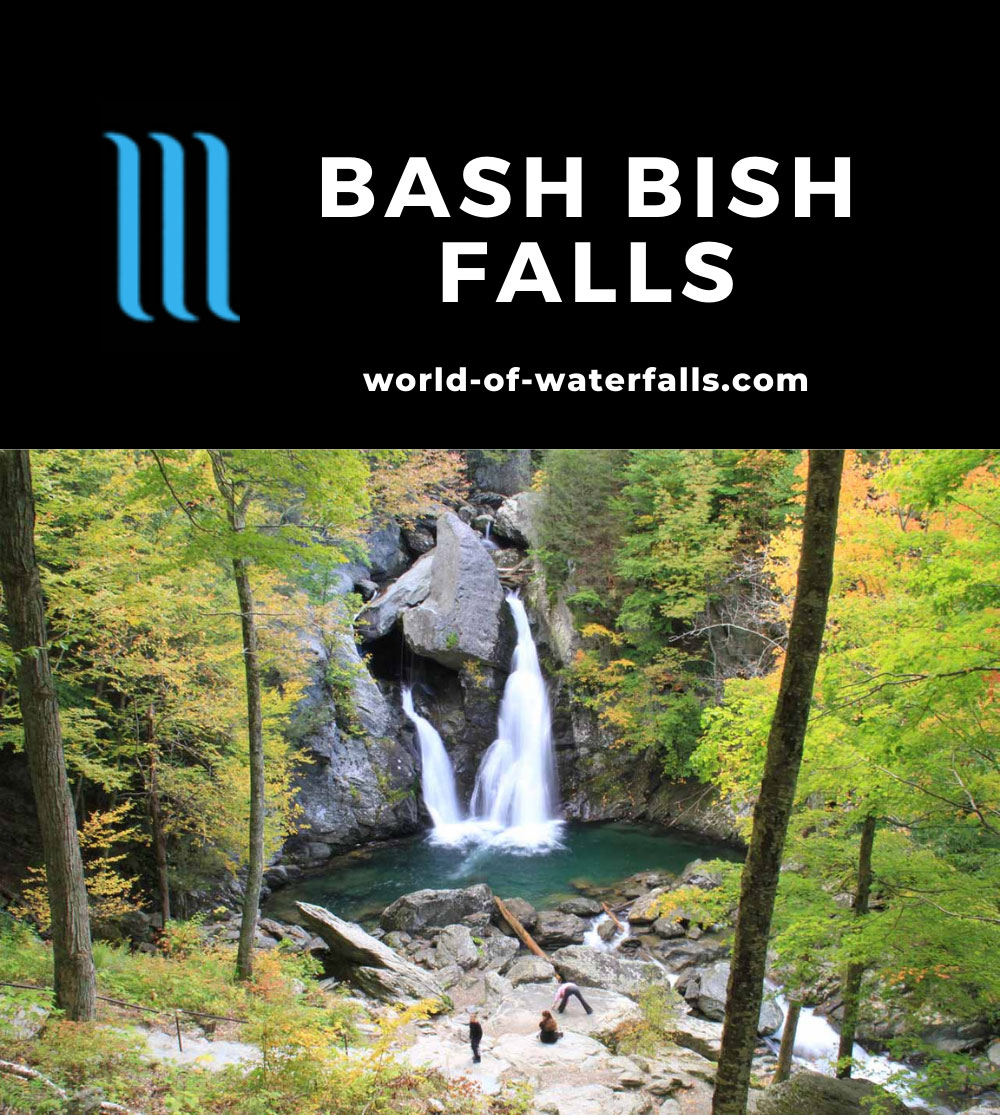 Fronting the waterfall was a deep emerald plunge pool contrasting (maybe even complementing) the plethora of Autumn colors that accented our visit.
We were instantly attracted by the surprising beauty and character of the Bash Bish Falls, and hence we could understand why it was as popular and well-publicized as it was.
In fact, we've even read that it was the tallest permanent waterfall in the state of Massachusetts, which was reason enough for its publicity.
Further enhancing its popularity was the waterfall's close proximity to the state of New York, as evidenced by the numerous New Yorkers we've encountered on the trail.
The Timing of our visit to Bash Bish Falls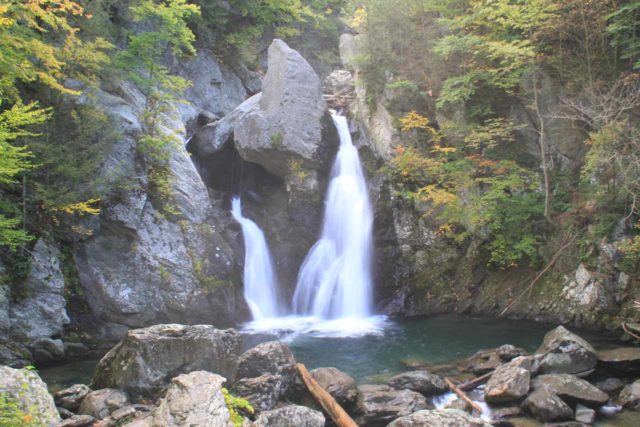 We happened to show up to the Bash Bish Falls around the late morning just when the sun was starting to show itself.
That was when we realized that the lighting was somewhat against us at that time of the day.
So we had to be patient in waiting for some clouds to block the sun to let it be a little more photographable.
Thus, I'd imagine that on a sunny day, perhaps the Bash Bish Falls would best be experienced during the afternoon.
Nevertheless, as far as waterflow was concerned, it definitely had a healthy flow even during our end-of-September visit so I have reason to believe that it would flow year-round.
Hiking to Bash Bish Falls from the Massachusetts Side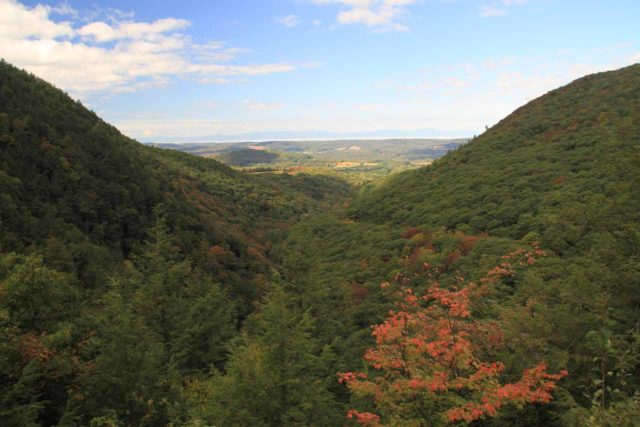 We learned during our visit that there were actually two ways to hike to Bash Bish Falls – the Massachusetts way and the New York way.
We found the Massachusetts approach to be the harder trail of the two, but it also happened to be the way we did it so we'll start with this trail description first.
This approach may have had a shorter length of about a mile round trip, but it was harder due to the 300ft elevation loss, which was fairly steep, muddy in spots, and full of roots and rocks.
Each of these obstacles was especially tricky considering we also brought our two-year-old in a child carrier, and I knew that the climb back up to the trailhead wouldn't be easy as a result.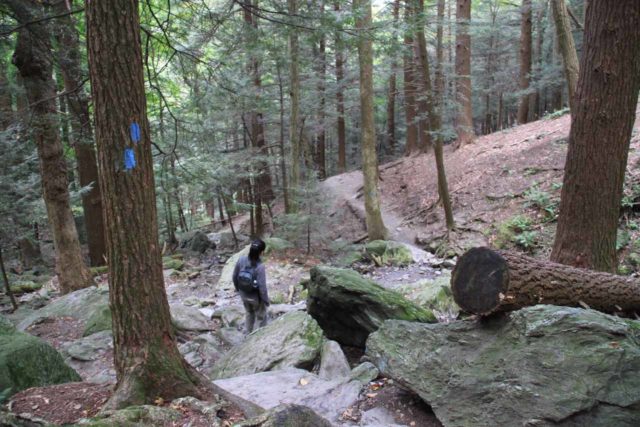 Of course the added advantage of going the MA route was that there was a nice valley view after a short and steep scramble from the parking lot.
By the way, that short steep scramble to the valley view was not suitable for youngsters (so I did it solo just to check it out).
I would especially hesitate to do it if the rocks were wet from rain or mist given the steepness of that climb.
Nevertheless, we found the trail to be pretty straightforward as we followed blue hashes strategically placed on trees and rocks so we wouldn't lose the way.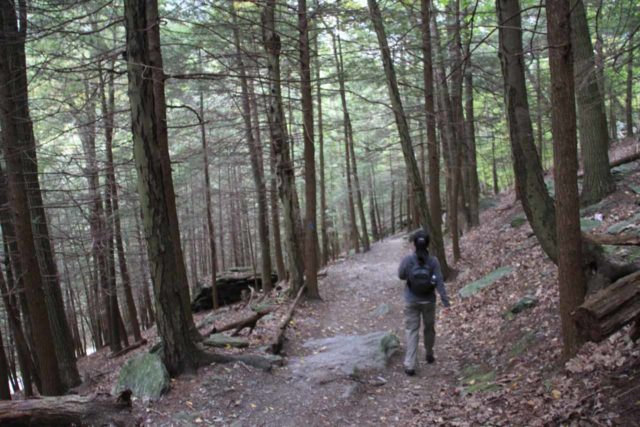 We just had to watch our footing given its rough nature and steep trajectory.
We even saw a fairly large family with three kids start on the hike only to turn back upon realizing that it wasn't the best trail for kids.
For that group, the alternate trail from the New York side was flatter and much easier.
Towards the bottom of the descent, there were steps that ultimately joined up with a much wider trail that turned out to be the alternate New York trail.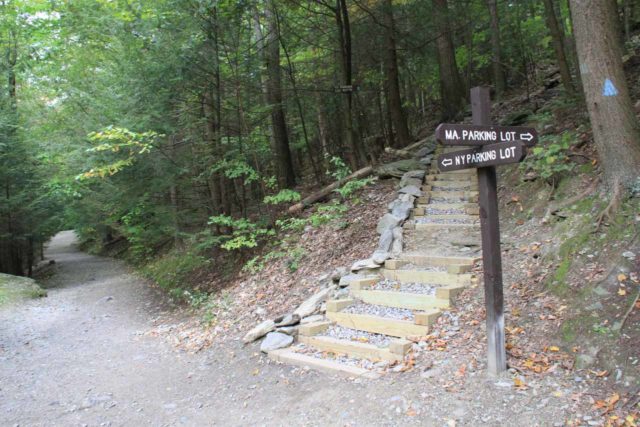 From this trail junction, we followed the trail to the left (upstream) where we then encountered a wide area with a nice overlook of the Bash Bish Falls and the rocky alcove it was situated in.
The people who were already here enjuoying the falls provided a nice sense of perspective of how big this waterfall really was.
This clearing area also had an interpretive sign discussing the immediate vicinity as well as the Mohican legend concerning this falls in more detail (more on that later on this page).
Anyways, we spent about 90 minutes on the whole excursion, including the hiking, the resting, and all the photo taking – all at a pretty relaxed pace.
Hiking to Bash Bish Falls from the New York Side
The Bash Bish Falls Trail from the New York side was much flatter than the Massachusetts side, but it was a little longer at 1.5 miles round trip.
Yet despite the longer distance, I'd imagine that this would still be the easier trail.
With hindsight being 20/20, if I had to do this waterfall all over again, I would have taken this trail, especially since we were bringing our daughter along.
In any case, the New York Trail pretty much followed the Bash Bish Brook the entire way.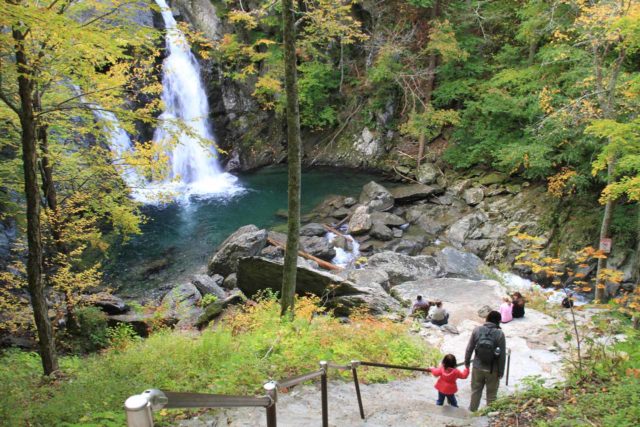 Thus, it made for a more pleasant riverside stroll as the trail crossed over the state border into Massachusetts before eventually ending at the familiar clearing and view of the Bash Bish Falls.
We were content to enjoy the views from here and did not tempt fate by getting closer to the falls nor the rushing brook.
In addition, we kept a real close watch on our daughter since the large rocks created many mini-drop offs that were significant to her given her diminutive size.
Funny Name but not so Funny Past
We found Bash Bish Falls to be one of the more memorably-named waterfalls that we could remember.
For some reason, I was always tempted to incorrectly call it Bish Bash Falls (like it would rhyme with "splish splash").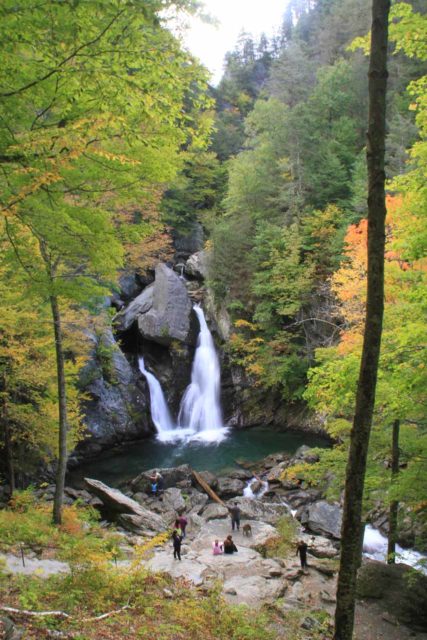 All kidding aside, the name was said to be of Mohican origin about a woman by the name of Bash Bish who was accused by her tribe of committing adultery.
This was punishable by death over the waterfall while tied up in a canoe.
Thus, it had also been said that the shape of the falls would resemble a woman falling to her death.
Meanwhile, others contended that the segmented characteristic of the falls resembled the reuniting of Bash Bish and her daughter White Swan.
White Swan had also disappeared over the falls according to the Mohican legend.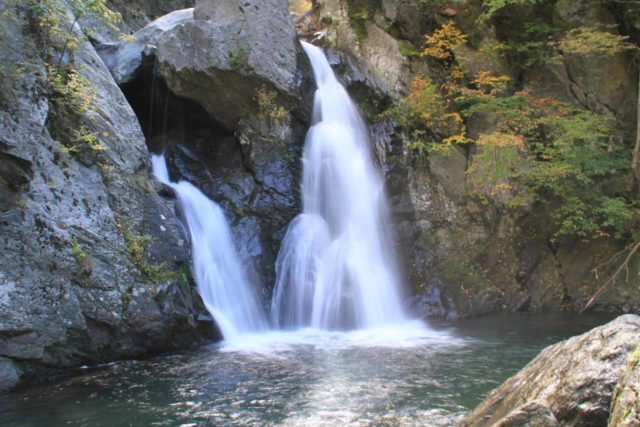 Speaking of tragedies, we had read in the literature that Bash Bish Falls was claimed to be one of the most dangerous tourist attractions in the United States.
We're not sure why they would single out this waterfall when we could easily envision any other waterfall to be just as dangerous.
However, the combination of the temptation to rock climb here as well as the inviting plunge pool concealing strong undercurrents might be the deadly combination that would give this place its notoriety.
So the moral of the story here would be to respect the dangers and just be content to bask in its beauty without pushing your luck.
Authorities
Bash Bish Falls resides in Bash Bish Falls State Park near Copake (NY) in Berkshire County, Massachusetts. It is administered by the Commonwealth of Massachusetts. For information or inquiries about the area as well as current conditions, visit their website.
I'm sure there are many ways of reaching Bash Bish Falls.
However, we'll describe the routes from the town of North Canaan, CT since that was the nearest town of any significance to where we had spent the night and started the drive out here the following morning.
Driving from North Canaan, CT to both parking lots
The most direct way would be to drive north on Hwy 7 from North Canaan for about 6 miles to the town of Sheffield.
Then turn left onto School Street and follow this street for about 2.7 miles to the three-way intersection with Hwy 41.
Turn right at this intersection and take Hwy 41 for 3.6 miles north to its junction with Route 23.
Then, turn left at this junction and head west on Route 23 for about 6 miles to Route 22 (crossing into the state of New York).
Turning left to go south on Route 22, follow it for about 4 miles to the Route 344 junction by the town of Copake.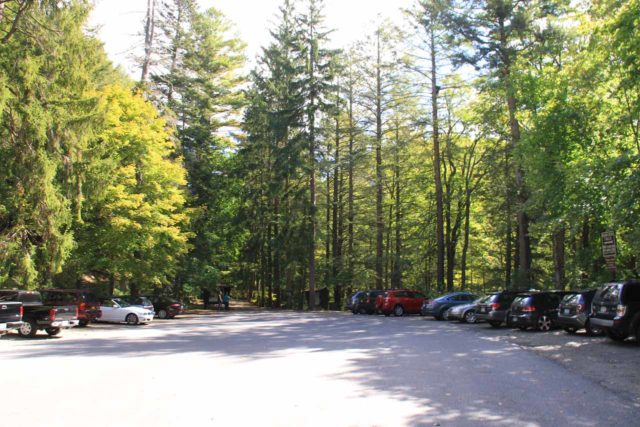 Turning left onto Route 344, then follow this road for a little over a mile to the large parking lot for Bash Bish Falls on the right.
This parking area is the trailhead for the easier New York Trail, which was near Copake, NY.
To continue onto the Massachusetts Trail, continue on Route 344 for another mile to the parking on the right.
Driving from North Canaan, CT to the Massachusetts Parking Lot
It turned out that there were signs (perhaps misleading in hindsight) on the Route 23 so we didn't follow the route described above to get to the Massachusetts Trail.
Instead, the deviation started about 2 miles west of the Route 41/23 junction.
We turned left onto Jug End Road at this point because there was a brown sign indicating that Bash Bish Falls was on this road.
At a little over a mile on Jug End Road, there was a four-way intersection.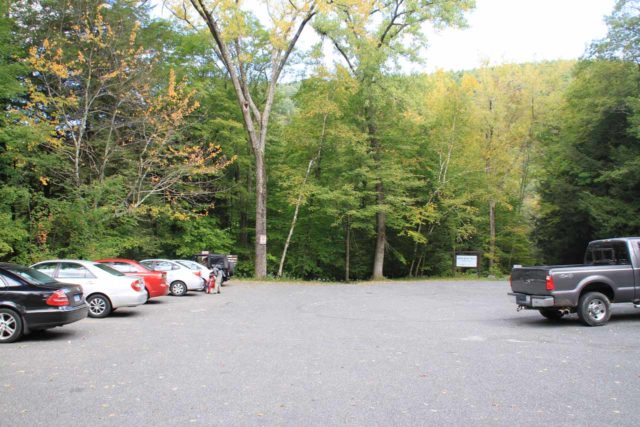 It wasn't terribly obvious which way to continue at this point, but we eventually figured out that we had to turn right to go west on Mt Washington Road.
There was also a sign indicating something about Mt Washington so perhaps that was the hint to go this way.
Anyways, we followed Mt Washington Road (which eventually became East St) for just under 6 miles to its junction with Cross Rd.
Turning right onto Cross Rd, we then followed it to West St where we turned right, then followed West St for about a mile to Falls Rd on the left (I recalled there was finally a sign indicating Bash Bish Falls was in this direction).
Finally, we took Falls Rd for about 1.4 miles to the Massachusetts Trailhead parking on the left.
The New York Trailhead parking was another mile further on the left.
Finally, to give you some context, Copake, New York was 17 miles west of Sheffield, 28 miles (about 45 minutes drive) west of New Marlborough, 35 miles (about 60 minutes drive) southwest of Pittsfield, 115 miles (2.5 hours drive) north of New York City, and 159 miles (over 3 hours drive) west of Boston, Massachusetts.
Find A Place To Stay
Related Top 10 Lists
Trip Planning Resources
Nearby Accommodations
Tagged with:
mount washington, mt washington, berkshire, massachusetts, new york, waterfall, border, pittsfield, north canaan, new marlborough, copake, mohican
Visitor Comments:
Got something you'd like to share or say to keep the conversation going? Feel free to leave a comment below...
No users have replied to the content on this page
Visitor Reviews of this Waterfall:
If you have a waterfall story or write-up that you'd like to share, feel free to click the button below and fill out the form...
No users have submitted a write-up/review of this waterfall