About Cumberland Falls
---
Hiking Distance:
almost roadside
Suggested Time:
---
Date first visited:
2012-10-21
Date last visited:
2012-10-21
---
Waterfall Latitude:
36.83885
Waterfall Longitude:
-84.34495
---
Cumberland Falls definitely has to be up there when it comes to our favorite waterfalls of the South.
In fact, it even cracked our Top 10 list of the Best Waterfalls in the USA!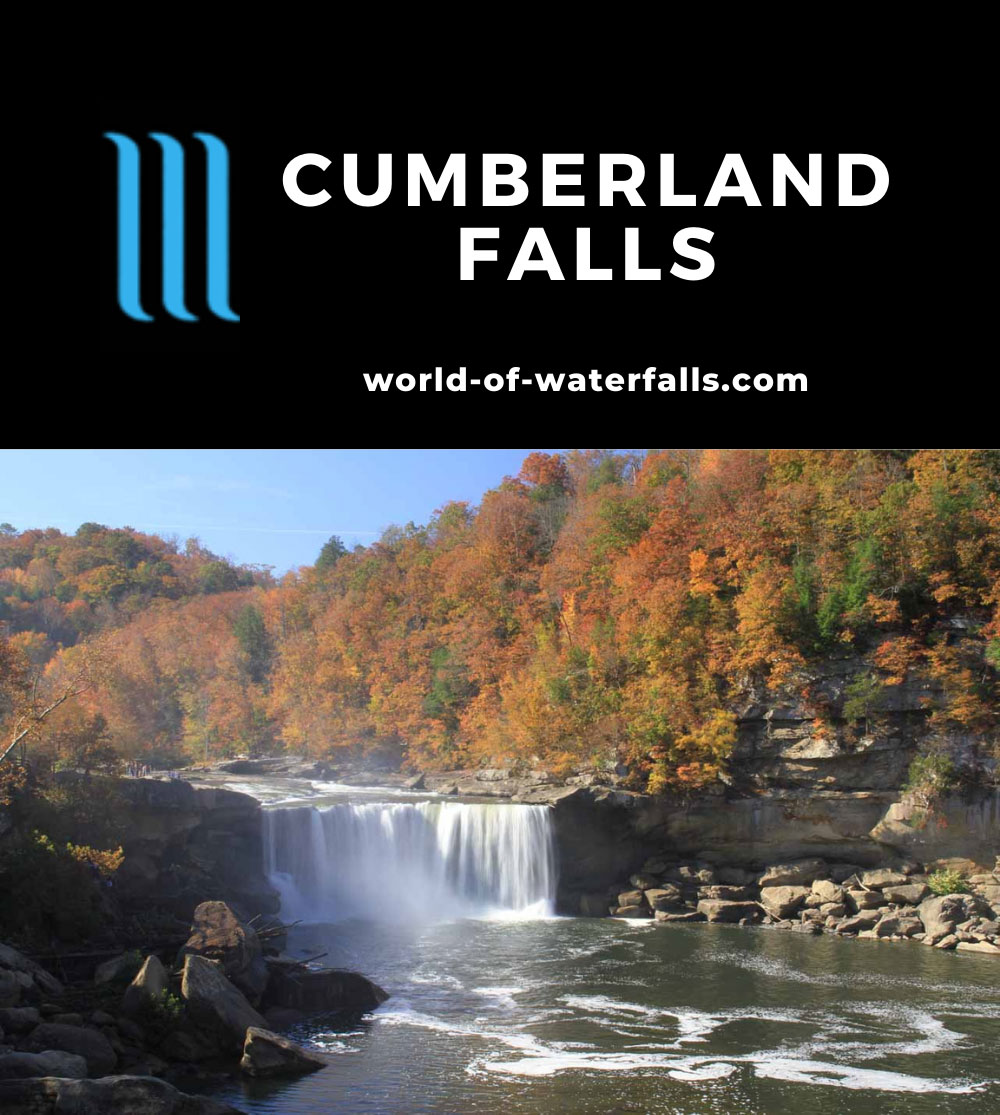 With a classical rectangular shape that bears a strong resemblance to the Horseshoe Falls section of Niagara Falls, it's not at all surprising that this waterfall has also been referred to as the Niagara of the South, Little Niagara, or even the Great Falls.
Sure it's a much smaller version of Niagara Falls given that it's said to be 68ft tall and typically 125ft wide.
"Niagara of the South"
However, after having come to Cumberland Falls and seeing for ourselves what this place was all about, we think this waterfall has got other things going for it as well.
For starters, as you can see in the photo above, we happened to show up at the apparent peak of Autumn colors this side of the Cumberland Plateau and the Daniel Boone National Forest.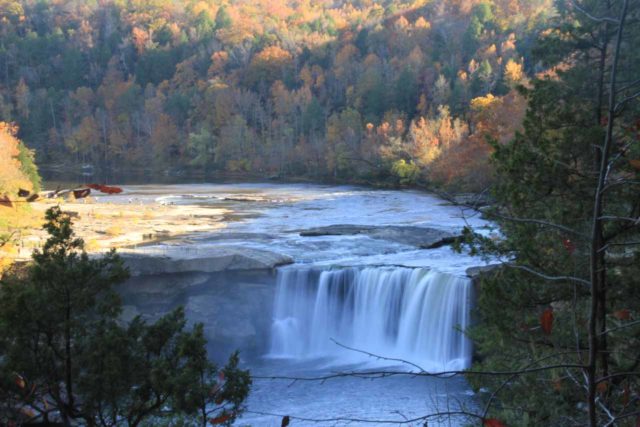 We could argue that it was because of the explosion of color that surrounded the falls that it could even be more photogenic than the famous Niagara itself, especially when you consider Cumberland Falls' naturesque surroundings (as opposed to Niagara Falls' high rises).
I'm pretty confident that the Cumberland River also flows year-round so this waterfall puts on a show all year long.
While we came here in Autumn for the colors (though the volume of the falls might be on the average to low side), it's conceivable that the waterfall can expand when it's in high volume (I'm guessing in the Spring).
Another thing going for Cumberland Falls was the consistent display of rainbows.
Rainbows and Moonbows at Cumberland Falls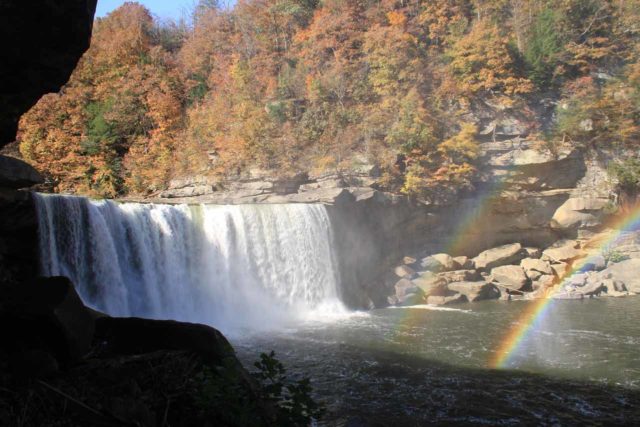 We came at around mid-morning and we were treated to a full arcing rainbow appearing right in front of the base of the falls.
Of course, the north-facing waterfall was prone to having the sun's rays projecting over its top and right into our eyes and camera lenses.
However, coming here as early as we did in the day or much later in the afternoon seemed to be the optimal times for decent photos as the sun would be off to the side and not against us.
Julie and I were here a week too early for the famed lunar rainbows (or moonbows), but we were quite aware that this place seemed to be world famous for that as well.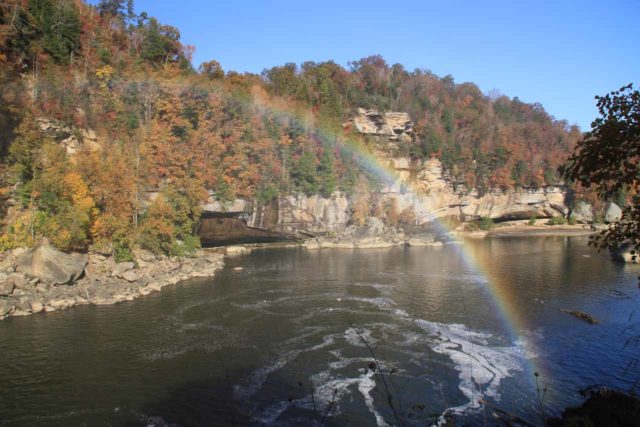 Of course for that to happen, we needed a combination of a full moon, cooperative weather (i.e. clear skies), and good mist production from the falls along with a decent tripod and a camera capable of taking very long exposure photos to pull it off.
Don't believe the literature or the signs saying this is one of the only places around the world you can see moonbows, though.
You can see them anywhere there's enough moonlight to refract water vapors or droplets.
However, I'd argue that Cumberland Falls is certainly one of the better places to see it given its wide open spaces to let the moonlight hit the waterfall's mist.
Experiencing Cumberland Falls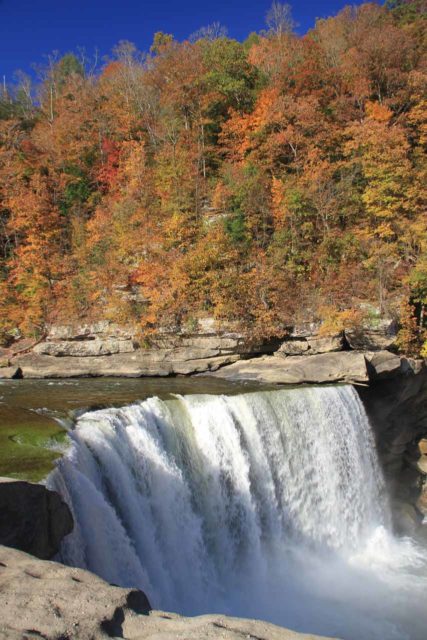 We were also able to enjoy this waterfall from a variety of vantage points.
Most of them were on the east bank of the Cumberland River where there were overlooks at the brink of Cumberland Falls, at river level, and further down the river for contextual views (like at the top of this page).
As for different views of the Cumberland Falls on the other side of the river (the west bank), we were able to get those from the Eagle Falls trail.
All of the overlooks on the east bank were on very easy walks (more like strolls) so the whole family can enjoy the scenery.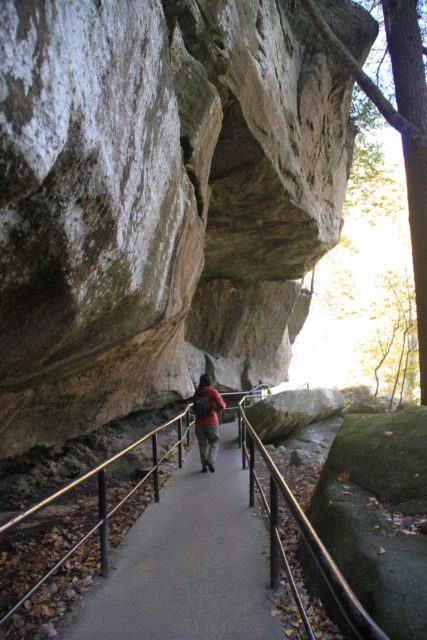 However, the Eagle Falls trail required a bit more fitness given the elevation changes, but it too could be experienced by anyone with a reasonable amount of fitness.
On our way out, we did see a group of kayakers about to row their way up to the base of Cumberland Falls.
I'm sure they would've made for great photo subjects to convey the size of the falls.
I'm not sure whether you do the kayaking on your own or if there are services that make this easier, but I'm sure it's another fun way to enjoy the place even more.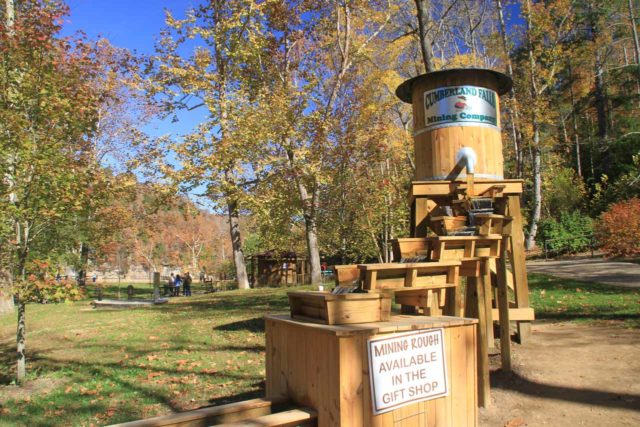 There was one more thing that surprised both Julie and I about this place as of our 2012 visit… It was free!
We couldn't believe that a place with as much infrastructure as this that it didn't require an admission fee nor even a fee for parking.
This was amazing considering that there was even a miniature flume with flowing water displaying some of the mining heritage of this region.
We had been to numerous other places that required payment yet had less to see or weren't as scenic.
So it kind of made us wonder how this place remained as clean and as visitor-friendly as it was and who was responsible for its upkeep.
Coleman DuPont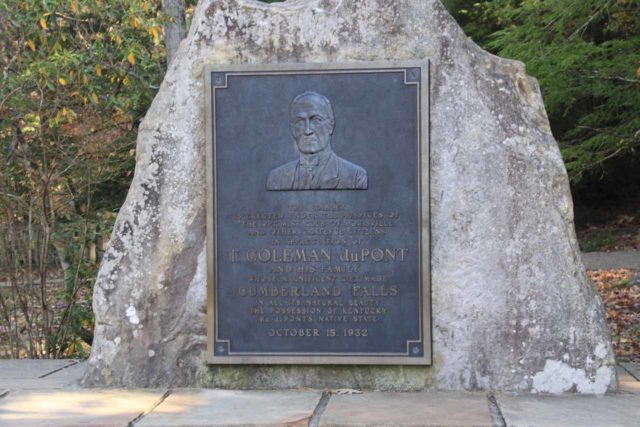 Apparently, we owe this preservation of Cumberland Falls and its open access to Kentucky native Coleman DuPont and his wife.
They managed to purchase it to prevent a hydroelectric power plant from being developed further upstream.
And as a result, this place was eventually dedicated as a state park in 1931.
Anyways, there's only so much we can try to convey to you through words regarding the great Cumberland Falls.
So we'll just shut up and let our visuals do the rest of the talking. Enjoy!
Authorities
Cumberland Falls resides in the Cumberland Falls State Resort Park near Williamsburg and Corbin in McCreary County and Whitley County, Kentucky. It is administered by the Kentucky Department of Parks. For information or inquiries about the area as well as current conditions, visit their website.
Cumberland Falls is west of Williamsburg and Corbin (both are probably the nearest towns of any size next to an interstate (I-75 to be exact).
We drove there from Williamsburg (where we were staying at the nice Cumberland Inn) so that's how we'll describe the driving route.
From Williamsburg, continue north on the I-75 for about 5 miles, where there will signposted exit for Cumberland Falls.
Turning left at this off-ramp we got onto the US25W.
Then, we took this road for about 5.6 miles before turning left onto Hwy 90 (I recalled there were also signposts pointing the way at this junction).
From this junction, we continued on Hwy 90 for another 8 miles before we turned left onto the elongated parking lot for the falls.
This was the parking area to the falls.
Other turnoffs and signs prior to this one (and there seemed to be several) were probably for hotels, restaurants, and campgrounds.
It took us about 30 minutes to drive from Williamsburg to the Cumberland Falls.
If you're coming from Corbin, you have a choice of routes.
You can hop on the I-75, then go south until you exit at the US25W.
Or, you can take the local streets and get onto the US25W directly (note that the US25W leaves and rejoins the I-75 in different spots – one just north of Williamsburg and the other at the southwestern end of Corbin).
From there the I-75/US25W offramp, go west on US25W for about 7.5 miles to the Hwy 90 junction.
Turn right to go west on Hwy 90 to the aforementioned parking lot.
Finally, for a bit of context, Williamsburg was 70 miles (over an hour drive) north of Knoxville, Tennessee, 183 miles (3 hours drive) northwest of Asheville, North Carolina, and 103 miles (over 90 minutes drive) south of Lexington.
Find A Place To Stay
Trip Planning Resources
Nearby Accommodations
Featured Images and Nearby Attractions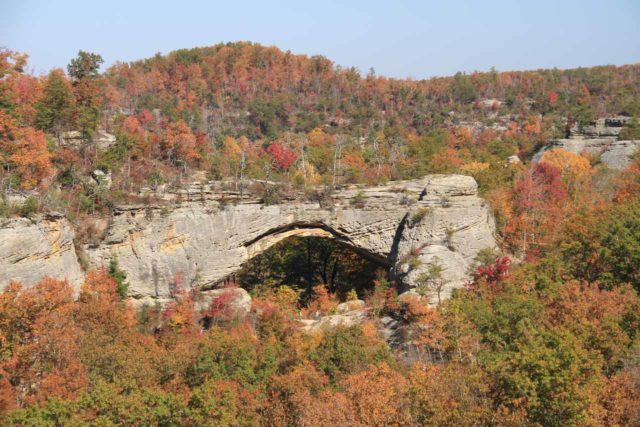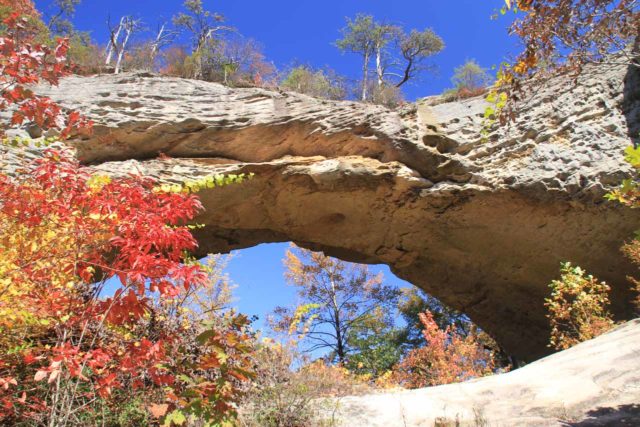 Tagged with:
daniel boone, national forest, mcreary county, whitley county, kentucky, waterfall, moonbow, moonbows, autumn colors, fall colors, eagle falls, niagara of the south, little niagara, cumberland plateau, corbin, coleman du pont
Visitor Comments:
Got something you'd like to share or say to keep the conversation going? Feel free to leave a comment below...
History
March 9, 2022 7:55 pm
-
I am deeply interested in the history, rather the pre-history, of Cumberland Falls, particularly the story of the falls and surrounding area before, during, and after its purchase by Coleman DuPont. His purchase of the land, we are told, precluded the building of an upriver dam. You see, there exists a documented history and a… ...Read More
Visitor Reviews of this Waterfall:
If you have a waterfall story or write-up that you'd like to share, feel free to click the button below and fill out the form...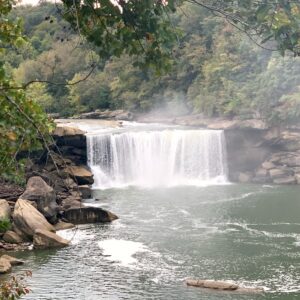 Cumberland Falls (Kentucky)
October 11, 2021 5:24 am
-
Best waterfall in the state of Kentucky. The gorge that the Cumberland River cuts through is so "Gorgeous" LOL. While there, don't forget Eagle Falls nearby. ...Read More