About Glory Hole Falls
---
Hiking Distance:
2 miles round trip
---
Date first visited:
2016-03-17
Date last visited:
2016-03-17
---
Waterfall Latitude:
35.82195
Waterfall Longitude:
-93.39357
---
The Glory Hole Falls (also just called "Glory Hole") was definitely was one of the more unique waterfalling experiences that we've ever had.
It involved a rare waterfall that actually fell 30ft through a hole into a deep grotto so it's essentially a natural bridge waterfall.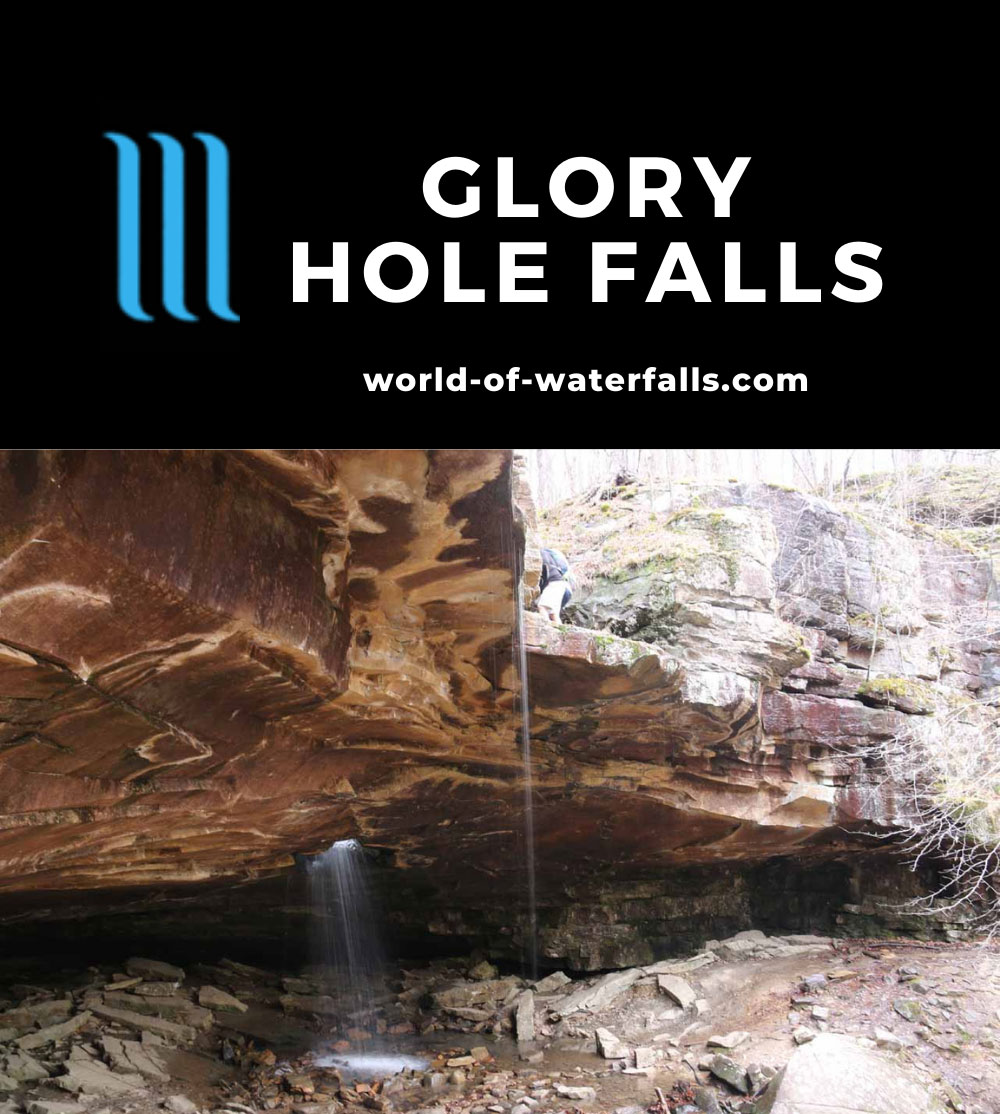 As you can see from the photo above, there was definitely a lot more than meets the eye with this experience though I won't get into any connotations or insinuations with its name.
It had always been on our bucket list ever since we were first made aware of it a few years ago when we chanced upon it in the internet literature.
That said, the photos on there tended to be Photoshopped or under ideal conditions to make it appear far more ideal than the reality would be.
Nevertheless, we got to experience the Glory Hole Falls from not only its bottom, but we also got to experience the top of the hole where the stream disappeared into.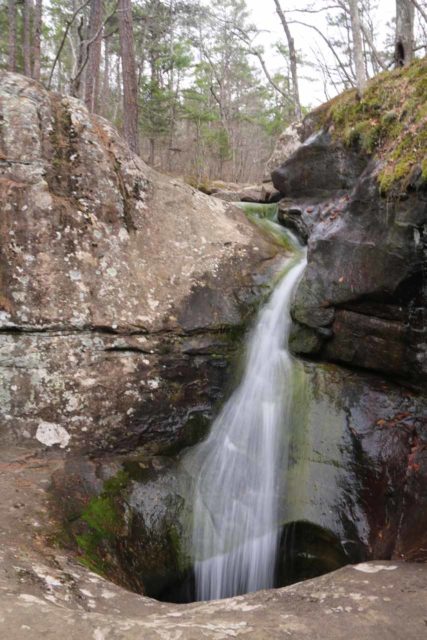 Indeed, because of the uniqueness of this waterfall, we gave it a pretty high scenic rating score despite its modest size of around 30ft.
The Glory Hole Falls may be unique in its own right, but it wasn't the only pothole-turned-natural-bridge waterfall we've encountered.
For example, we've also seen an example of this at Running Eagle Falls (where a waterfall fell onto another waterfall) in Glacier National Park and Natural Bridge in Springbrook National Park in Australia among others.
Glory Hole Falls Trail Description – from the Trailhead to the Creek
We started our hike to the Glory Hole Falls from its relatively obscure trailhead right off the Hwy 21/16 (see directions below).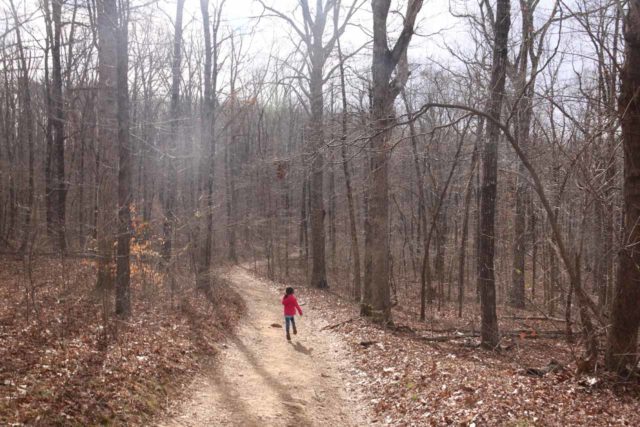 There happened to be a sign at the start of the trail that said "Glory Hole" with an arrow pointing left, which gave us the confidence that we were in the right place.
From the highway, we followed what appeared to be a wide jeep trail or 4wd road flanked by tall thin trees.
Since our visit had followed around a week of rain, there were still some deep puddles flooding sections of the trail.
Fortunately for us, we were able to go around these wet and muddy spots as there were established trails of use to dodge them.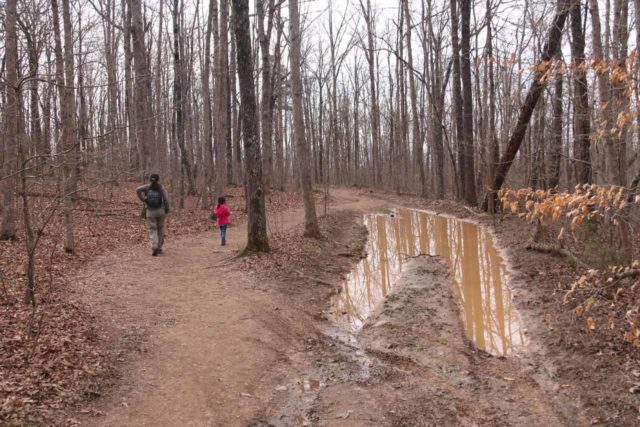 After a few minutes of gradual downhill walking, we reached a fork where the trail veered to the right and considerably narrowed a bit more.
The trail on the left was a continuation of the jeep trail though we knew not where it went.
In fact, we noticed one person who drove his high-clearance truck all the way to this "false path" to perhaps shorten the hike or something.
Anyways, as the trail narrowed and curved to our right, it then got to a steeper descent.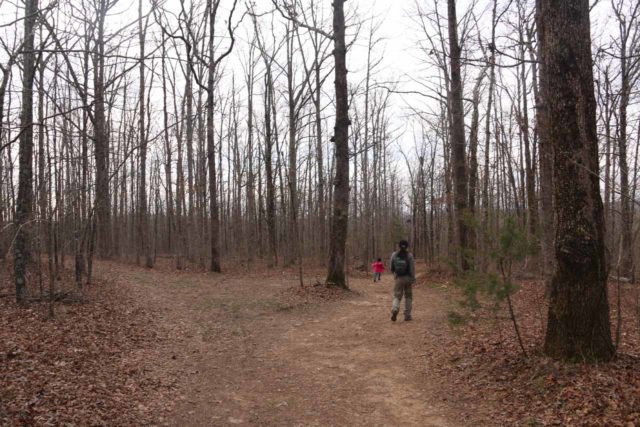 We knew that on the return hike, this would probably cause us to sweat a bit.
Anyhow, we encountered many people going in the other direction along this section of the trail, which attested to its popularity.
I guess these folks were already leaving well before we showed up pretty early in the morning so they were probably early risers.
As the descending part of the trail veered to the left, it crossed a creek, which turned out to be the very creek that would ultimately feed the Glory Hole Falls further downstream.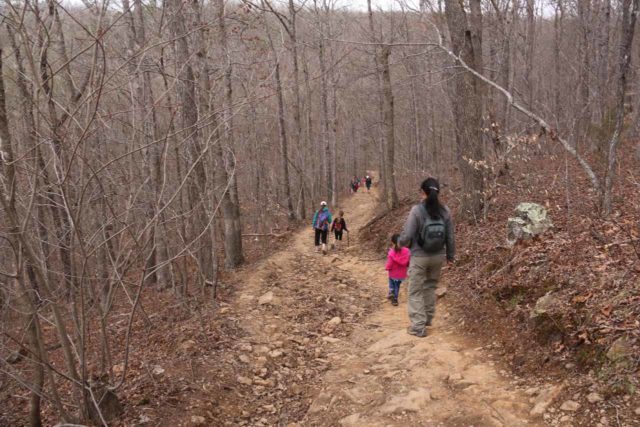 However, we heard the sounds of falling water, and it turned out that we started to notice some trails of use branching to our left away from the main trail to get closer to the creek.
Glory Hole Falls Trail Description – exploring cascades and the top of the Glory Hole
The first of these branches led to an attractive cascade and smaller grotto that was kind of a precursor to the Glory Hole Falls that we'd see later.
It was easy to linger around here for a bit (especially since we were alone here), but we knew there was more to see later on so we quickly backtracked to the main trail and kept going.
Moments later heading back downstream, there was another spur trail to our left, and this went to yet another small cascade on the same stream.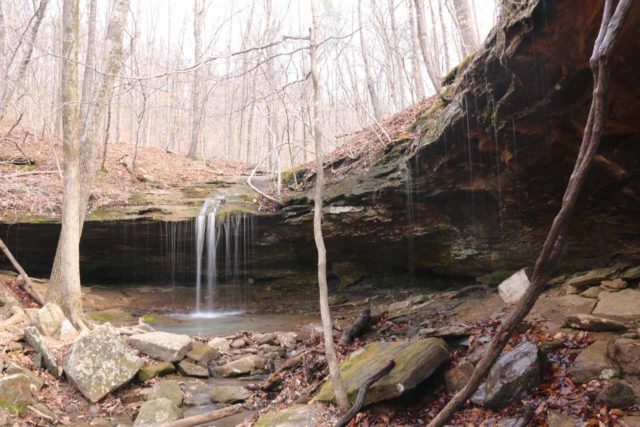 The second cascade was not as pretty as the first so we didn't linger there.
There was a use-trail that kept going downstream alongside the creek as well as the main trail itself, and they eventually converged at the top of the Glory Hole.
When we looked upstream from the creek, we saw there were a few more attractive cascades in succession.
However, it was really the Glory Hole that got all the attention as hikers just arriving or just leaving would check this spot out.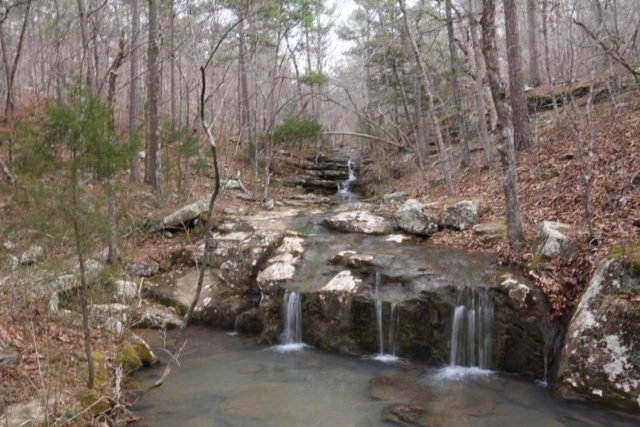 It took us around 45 minutes to get to this point as the trail was about a mile in length.
In order to get right up to the brink of the hole, I had to scramble onto a ledge with a couple of large boulders.
This was not a trivial scramble as some agility was necessary due to the huge step to take down to and up from the ledge.
That said, once I was on the ledge, I was then able to carefully walk closer to the brink.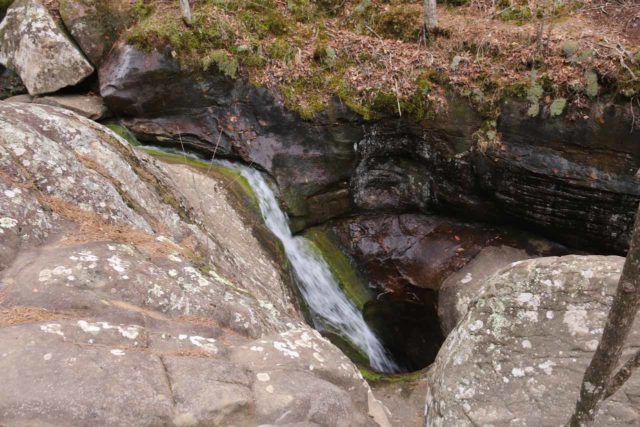 I had to be very careful not to get too close because the surface around the hole was worn smooth by the water so it was very slippery.
I was very cognizant that people have fallen through the hole before so I made sure to stay away from the wet spots and not tempt fate.
As a result of this risk averse stance, it was difficult to look all the way through the hole to its bottom.
Glory Hole Falls Trail Description – the Bottom of the Glory Hole
After having our fill of the top of the Glory Hole, we then continued along the main trail.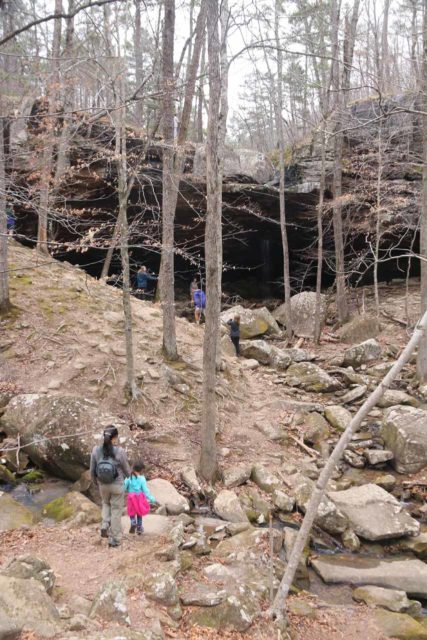 It went away from the Glory Hole Falls towards another small creek crossing before descending back towards the main creek.
At the creek level, we then followed the trail briefly upstream towards the large grotto through which the Glory Hole Falls fell.
This was where the majority of the hikers spent most of their time so it was difficult to take photos without other people in them despite the amount of space beneath the ledge causing the grotto.
While around the waterfall and hole, we were able to walk completely around the falls.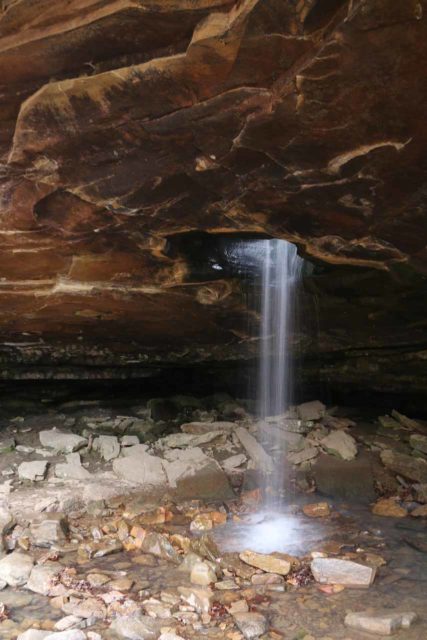 When we had our fill of the Glory Hole Falls, we returned back the way we came.
According to my GPS logs, we had hiked for a grand total of 2 miles round trip, and we spent about 2.5 hours away from the car.
Indeed, most of our time here was spent around the falls and not as much time on the hike itself.
Photographing the Glory Hole Falls
Even though the Glory Hole Falls was clearly very popular, we did have a few moments of having the waterfall to ourselves before the next wave of visitors showed up.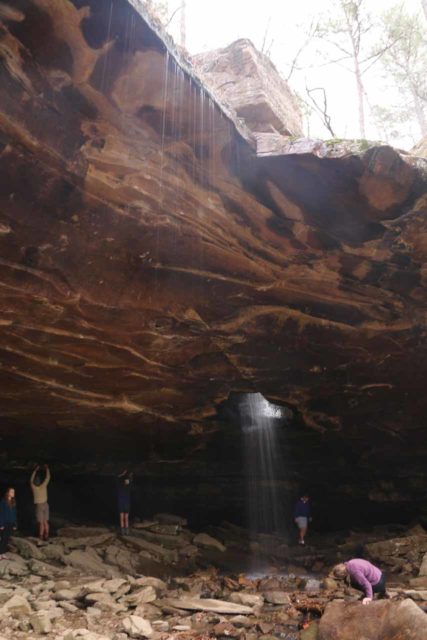 So we just had to be patient or opportunistic (whichever came first) to get our Nature shots.
As for techniques to photograph the falls, we've heard conflicting advise about it.
On the one hand, it would be nice to show up in the late afternoon where the rays of the sun should more or less reflect and light up the grotto.
That would create that warm effect in those internet photos that drew us to the Glory Hole Falls in the first place.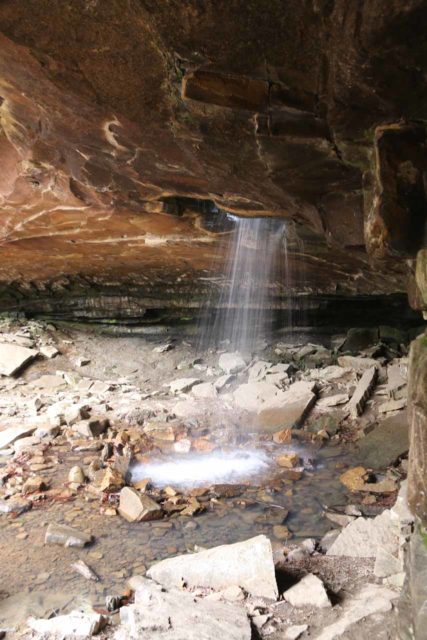 On the other hand, if it was cloudy (like it was during our visit), we were able to get even lighting so the contrast between the shady grotto and the area outside the grotto wasn't so great that it would result in photos that were overly dark or blown out.
Regarding the waterflow, it gave the appearance that there was a ray of light shining piercing through the darkness of the grotto (perhaps having something to do with its monicker "Glory Hole").
That said, we were also well aware of a more devious meaning or connotation behind the name of the falls.
We'll leave it up to you to figure out what we're talking about.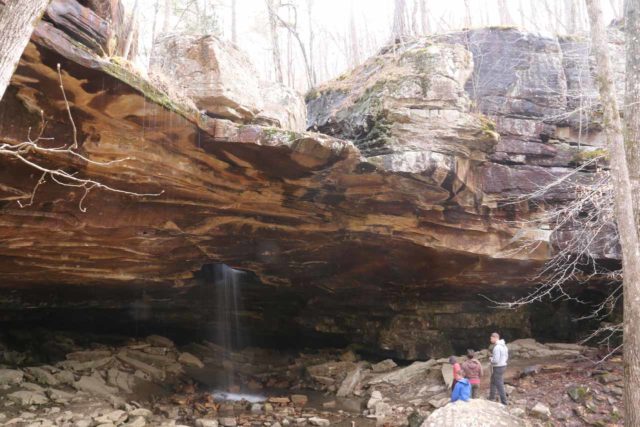 In any case, it was probably wise to bring a tripod to get creative with taking photos of this waterfall, but I regrettably didn't bother to do it and I'm kicking myself for it.
Authorities
Glory Hole Falls resides in the Ozark National Forest near Clarksville in Newton County, Arkansas. It is administered by the US Forest Service. For information or inquiries about the area as well as current conditions, visit their website.
Since we visited the Glory Hole Falls from Clarksville, we'll describe how we managed to make our drive from there.
I'm sure there are other ways to get there, including from the north near Kingston and the east near Deer, but we're most familiar with the approach we took from Clarksville so that will be our focus.
So we drove on the Hwy 64 (Main St) in the western end of Clarksville and followed it eastwards until we turned left onto Hwy 164 at the eastern end of town.
Not long thereafter, we kept left where it became Hwy 21 (leaving Hwy 164), and we followed this road for about 28 miles to its junction with Hwy 16.
We turned right at this junction where Hwy 16 and Hwy 21 merged, and we continued down this merged road for another 6 miles or so.
That was when we saw a bunch of parked cars off the embankment of the highway to our right.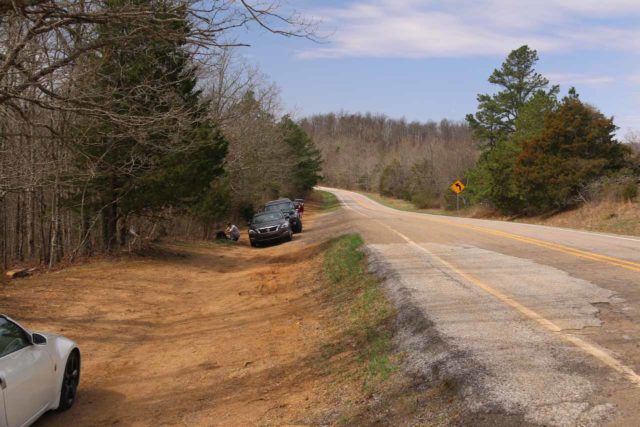 Even though there were a bunch of cars here, the trailhead wasn't obviously signed until we noticed on the jeep trail (that we were supposed to walk on) that there was a white sign for "Glory Hole."
There was also a seemingly abandoned ranch with a "No Parking" sign at its gate right across the road, which kind of served as a landmark letting us know that we were indeed in the right place.
Overall, this drive took us 45 minutes or so.
Note that the Hwy 21 kept going past this trailhead for another 25 miles to the north before reaching the charming little village of Kingston.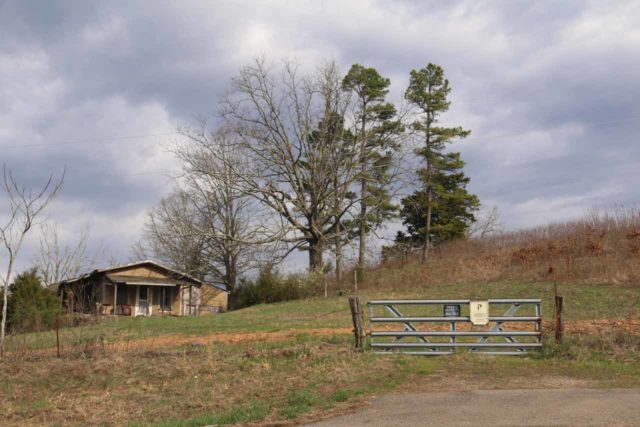 To give you some context, Clarksville, Arkansas was 103 miles (90 minutes drive) northwest of Little Rock, Arkansas, 239 miles (3.5 hours drive) east of Oklahoma City, Oklahoma, and 335 miles (5 hours drive) northeast of Dallas, Texas.
Find A Place To Stay
Related Top 10 Lists
No Posts Found
Trip Planning Resources
Nearby Accommodations
Featured Images and Nearby Attractions
Tagged with:
ozark national forest, ozarks, deer, clarksville, fayetteville, arkansas, waterfall, newton county, natural arch,
Visitor Comments:
Got something you'd like to share or say to keep the conversation going? Feel free to leave a comment below...
No users have replied to the content on this page
Visitor Reviews of this Waterfall:
If you have a waterfall story or write-up that you'd like to share, feel free to click the button below and fill out the form...
No users have submitted a write-up/review of this waterfall