About Waterfalls of the Cares Gorge
---
Hiking Distance:
12km shuttle; 20-24km round trip
Suggested Time:
5-6 hours
---
Date first visited:
2015-06-11
Date last visited:
2015-06-11
---
Waterfall Latitude:
43.22703
Waterfall Longitude:
-4.89524
---
The Waterfalls of the Cares Gorge page was basically my excuse to talk about the famous hike that quite possibly was the quintessential Picos de Europa experience.
But prior to our visit in June 2015, there was quite a bit of misleading information in the literature concerning whether there really were waterfalls worth talking about on this excursion.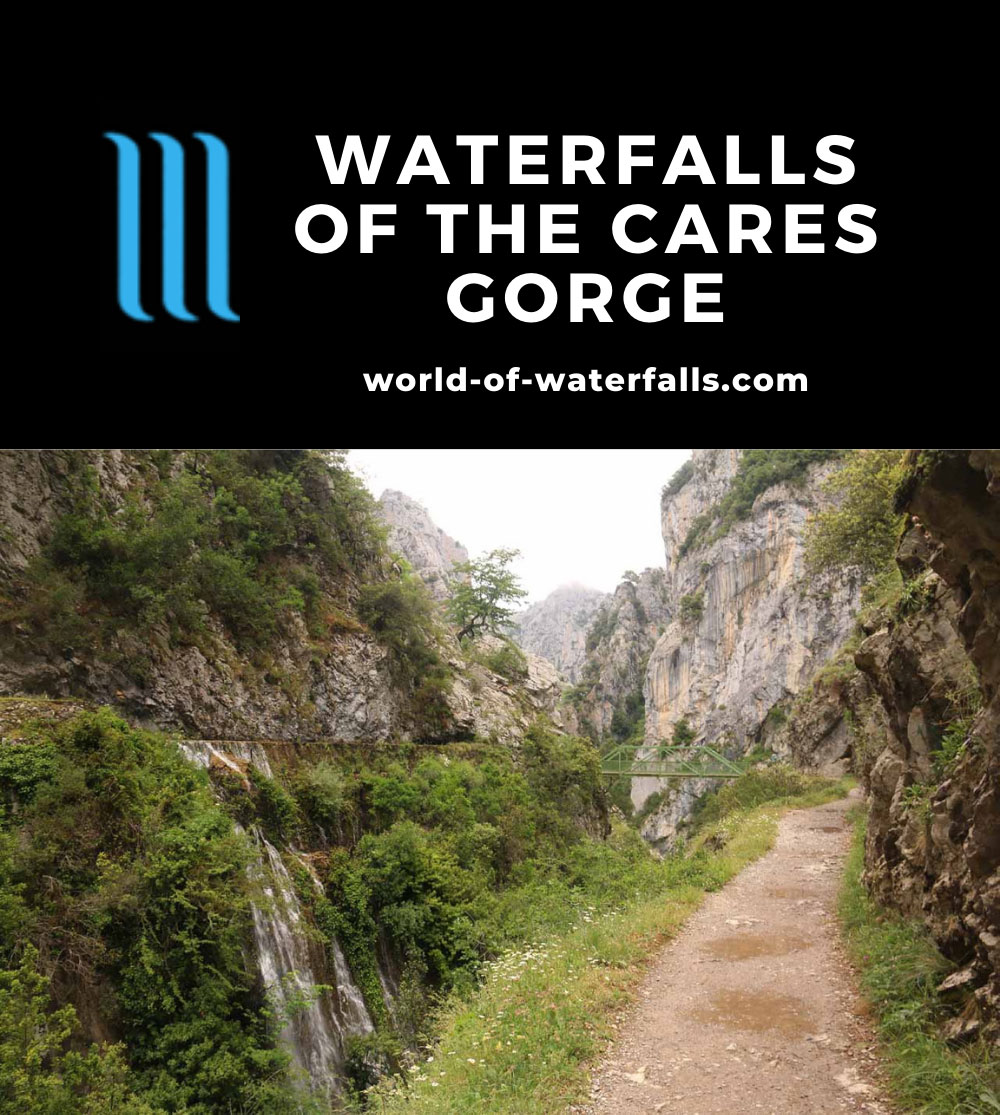 So I eagerly anticipated doing this hike not only for the experience and the well-known scenery, but I wanted to see for myself what the waterfalls were like.
Thus, in one way or another, I guess this page had to happen as far as waterfalling was concerned.
About the Cares Gorge
If you're not yet familiar with what the Cares Gorge is about, let me summarize it here.
It's basically a 12km route between the towns of Poncebos and Caín de Valdeón.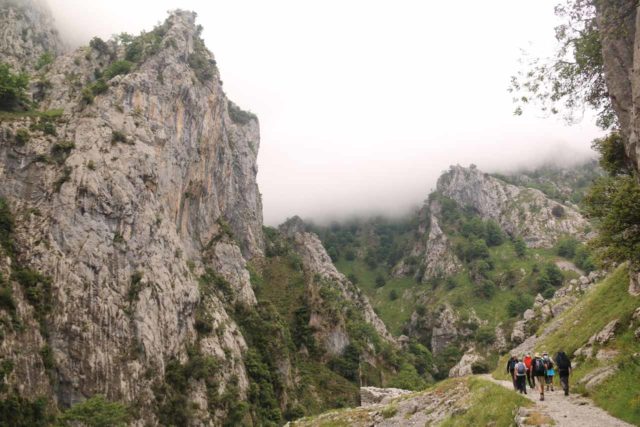 The route followed along a narrow gorge topped off by tall mountains while bottomed out by a rushing Cares River (Río Cares) far below the sheer cliffs.
The footpath was an old hydroelectric maintenance track, which pretty much meant that the trail would feature tunnels, canals, bridges, and some houses or shelters along the way.
This was something that most natural trails typically don't feature.
All throughout the hike, there's scenery as well as butterflies-in-the-stomach moments given the constant exposure to the gorge dropoffs.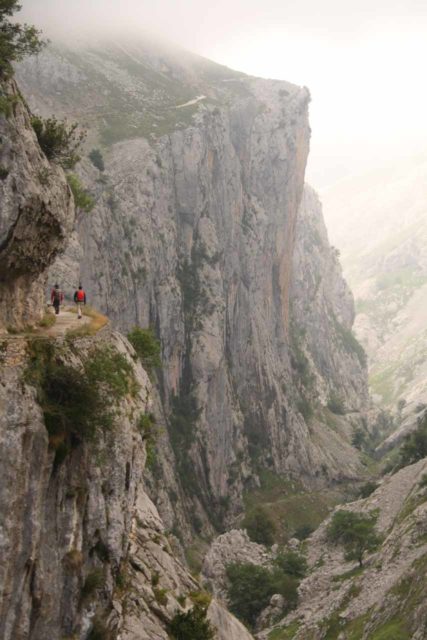 There was also that claustrophobic feeling you can get from being dwarfed by neck-cranking peaks practically leaning over the trail.
Indeed, it's hard to convey in words the powerful experience that this trail could provide, but that's what the pictures on this page are for.
The Waterfalls on la Ruta de Cares
As far as waterfalls in the Cares Gorge were concerned, the thing I realized about most of the ones that I encountered were that they were pretty much man-made.
The reason why was because throughout the hike, there were canals essentially paralleling the trail itself.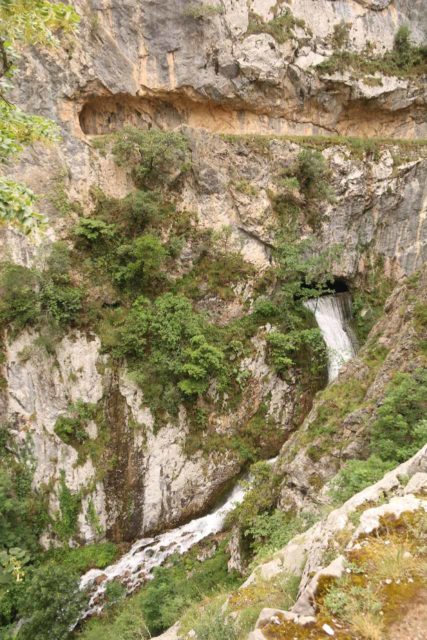 These canals carried water through both open spaces (often times almost next to the trail) as well as tunnels.
In many instances, the canals would overflow their banks (or have some kind of a breach) and actually spill over its sides as waterfalls.
To a casual observer, they may seem like springs or natural waterfalls, but upon closer inspection, you could quite literally see the canals that gave rise to them.
On this page, I tried to identify the waterfalls that I believed were natural as well as point out those that were artificial.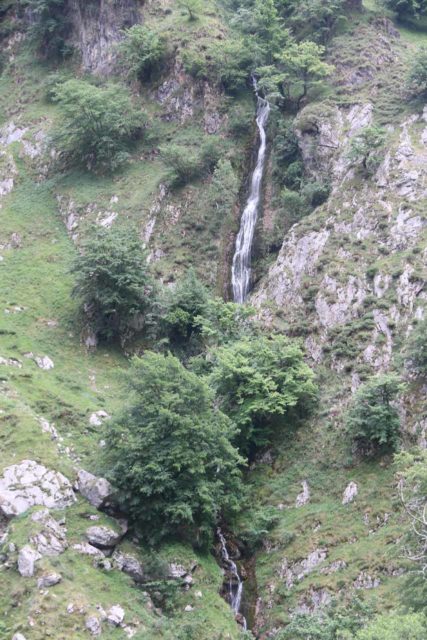 However, by and large, the natural waterfalls were pretty much on the Río Cares deep into the gorge.
There really weren't any major waterfalls worth noting.
So the bottom line is that I don't think you should come here seeking waterfalls exclusively.
Instead, you get a better experience by just appreciating the scenery and take the waterfalls (real or fake) as part of the backdrop to the otherwise surreal landscape before you.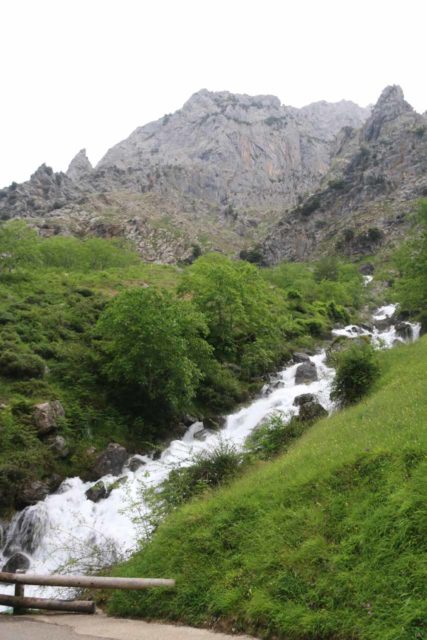 In addition to the waterfalls within the Cares Gorge, we also spotted a couple more around the village of Caín de Valdeón.
These were natural waterfalls, and we happened to find them both along the trail leading to the Ruta de Cares as well as another one further south of the village.
Options for Hiking la Ruta de Cares
In any case, there are many ways to experience this trail.
Perhaps the most talked about option (at least as far as the literature out there is concerned) was the north-to-south one-way shuttle hike option.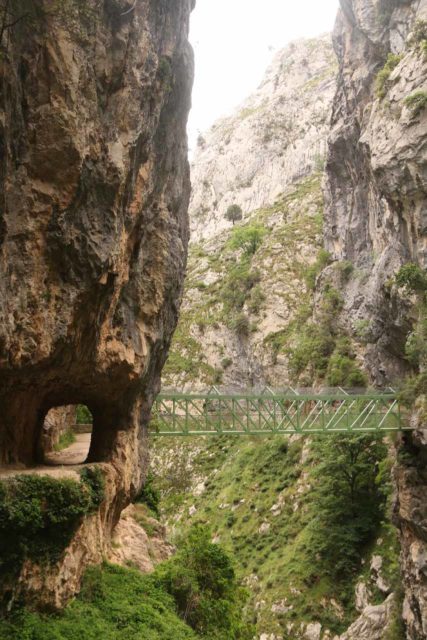 This particular route started in Poncebos and ended in Caín de Valdeón, where a pre-arranged shuttle would take the finished hikers on the long drive back up to Poncebos.
However, I exercised the logistically easier (though physically more taxing) option, which was a long out-and-back hike that started and ended in Caín de Valdeón (where we were staying).
In order to not miss out on the best of the Ruta de Cares, I pretty much hiked as far north as I could before turning back the way I came.
While I didn't go all the way to Poncebos and back (which would be a whopping 24km round trip), but I did manage to hike roughly 20km round trip.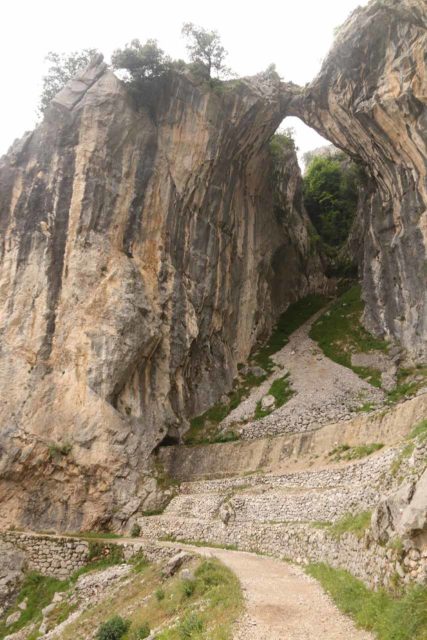 In addition to the incidental waterfalls along the way, my main goal was to reach an impressive natural arch before turning back.
That said, in doing this second option, it's really up to you how far you want to go before heading back based on time, conditions, and ability.
Just to give you an idea of the time commitment for my hiking excursion, it took me just under six hours to do the out-and-back excursion covering about 20km in total.
The following list tells you the landmarks and timetables just to give you an idea of how much time to allocate for your own trip planning.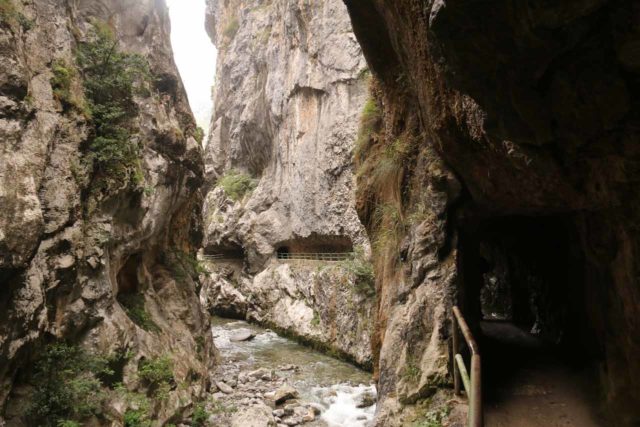 Consult the photo journal (where the photos are in chronological order) to help paint the picture of what you're seeing with this rough time table of what I saw and when I saw them.
1:45pm – Started hike from Caín de Valdeón
2:00pm – Arrived at dam at the head of the Cares Gorge
2:30pm – Arrived at Puente de Los Rebecos (commonly mistaken for Puente Bolín)
2:35pm – Arrived at Puente Bolín; a fake and real waterfall were on either side of this bridge
3:10pm – Saw a gushing waterfall coming out of a hole fed by man-made canal
3:45pm – At a house and rock shelter near Covadonga Trail junction
4:30pm – At another house
4:45pm – Arrived at natural arch; this was my turnaround point
5:50pm – Back at Covadonga Trail junction
6:40pm – Back at Puente Bolín
7:05pm – Back at dam at the head of the Cares Gorge
7:20pm – Back in Caín de Valdeón
Authorities
The Waterfalls of the Cares Gorge reside between the towns of Poncebos and Caín de Valdeón in the provinces of León and Asturias, Spain. It is administered by the Parque Nacional de Picos de Europa. For information or inquiries about the area as well as current conditions, you may get leads from this website.
There are many ways to access the Cares Gorge, and I'm sure they're all described in the literature.
What I'll describe here is the route that I ended up taking (though I wouldn't necessarily recommend) starting from Ribadeo.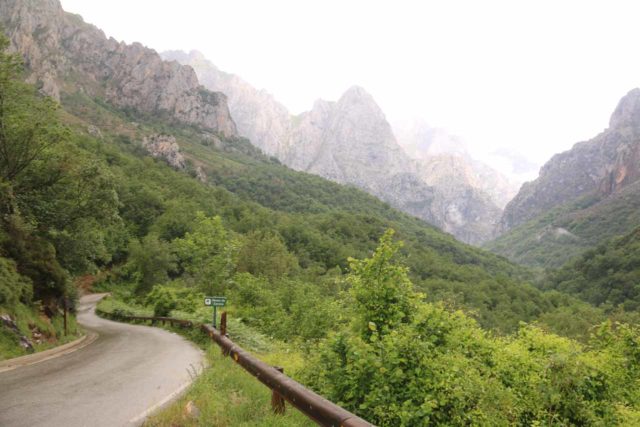 I'll also describe the route from León since this was where we ultimately ended up after leaving the Cares Gorge.
Driving from Ribadeo to Caín de Valdeón
From Ribadeo, I took the A-8 autovía for about 170km east until I turned off onto the As-260 road (roughly 18km east of the town of Villaviciosa).
I then followed the narrow and twisty As-260 for 17km going over a pass before descending to the town of Arriondas.
Once at the town, I then picked up the more reliable N-625 road towards the busy town of Canga de Onís (after about 6km).
I'd continue following the N-625 road, which would once again become narrow and twisty (and supporting trucks going in both directions!), until I'd reach the signposted turnoff for the Le-244 road leading to Posada de Valdeón.
This turnoff was about 45km from Arriondas or 39km from Canga de Onís.
Once on the Le-244 road, I followed it for about 15km to the Posada de Valdeón.
Then, I continued on the narrow, bumpy, and steep road (but still paved) that went the final 8km to the hamlet of Caín de Valdeón.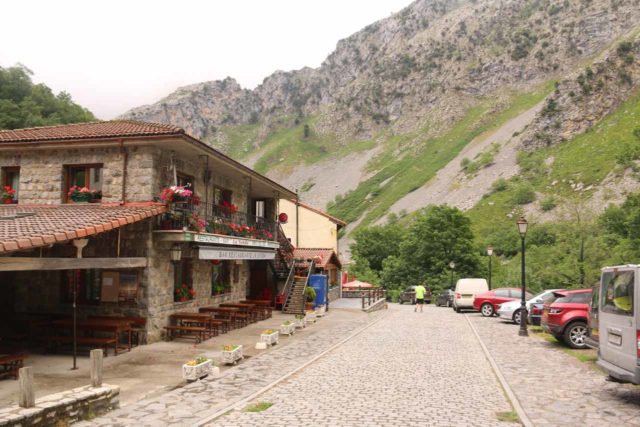 Overall, this leg of the drive took us a little over four hours with breaks.
Driving from Caín de Valdeón to León
As for getting from Caín de Valdeón to León, we returned the way we came on the Le-244 (23km).
Then, we continued south on the N-625 road for 18km to the town of Riaño where the N-625 and N-621 roads became one.
From Riaño, we then took the N-621 road for the next 29km before turning right onto the CI-626 road, which we followed for the next 48km.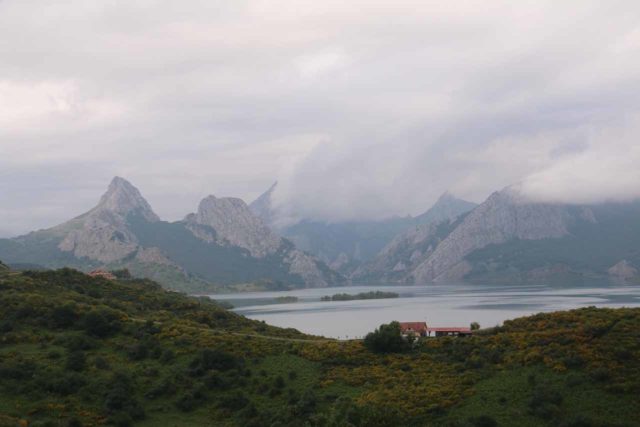 Finally, we turned onto the N-630 road south for another 26km as it led us right into the city of León.
Overall, this drive took us about 2 hours 30 minutes.
Finally, for some context, León was 185km (under 2 hours drive) west of Burgos, 263km (about 3 hours drive) southeast of Ribadeo, 206km (2 hours drive) north of Salamanca, 337km (over 3 hours drive) southwest of Bilbao, 332km (3.5 hours drive) east of Santiago de Compostela, and 337km (3.5 hours drive) northwest of Madrid.
Find A Place To Stay
Related Top 10 Lists
No Posts Found
Trip Planning Resources
Nearby Accommodations
Featured Images and Nearby Attractions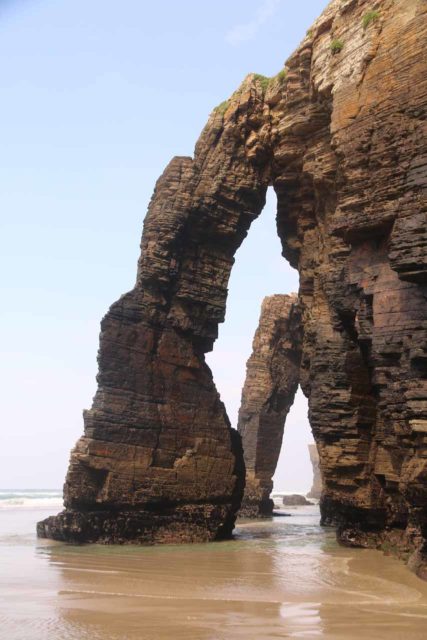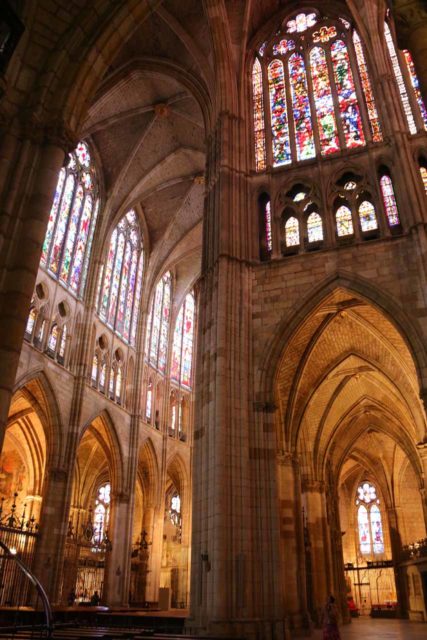 Tagged with:
cain de valdeon, poncebos, picos de europa, national park, parco nacional, leon, asturias, spain, waterfall, cares gorge, ruta de cares, los rebecos, puente bolin, covadonga, natural arch, posada de valdeon, rio cares
Visitor Comments:
Got something you'd like to share or say to keep the conversation going? Feel free to leave a comment below...
No users have replied to the content on this page
Visitor Reviews of this Waterfall:
If you have a waterfall story or write-up that you'd like to share, feel free to click the button below and fill out the form...
No users have submitted a write-up/review of this waterfall