About Hanakapiai Falls
---
Hiking Distance:
8 miles round trip
Suggested Time:
4-5 hours
---
Date first visited:
2006-12-24
Date last visited:
2006-12-24
---
Waterfall Latitude:
22.18597
Waterfall Longitude:
-159.59487
---
Hanakapiai Falls (or Hanakapi'ai Falls) is a very tall (maybe 300ft) waterfall nestled deep in the back of Hanakapi'ai Valley.
I'd say a visit to this waterfall would require a half-day trip at a minimum.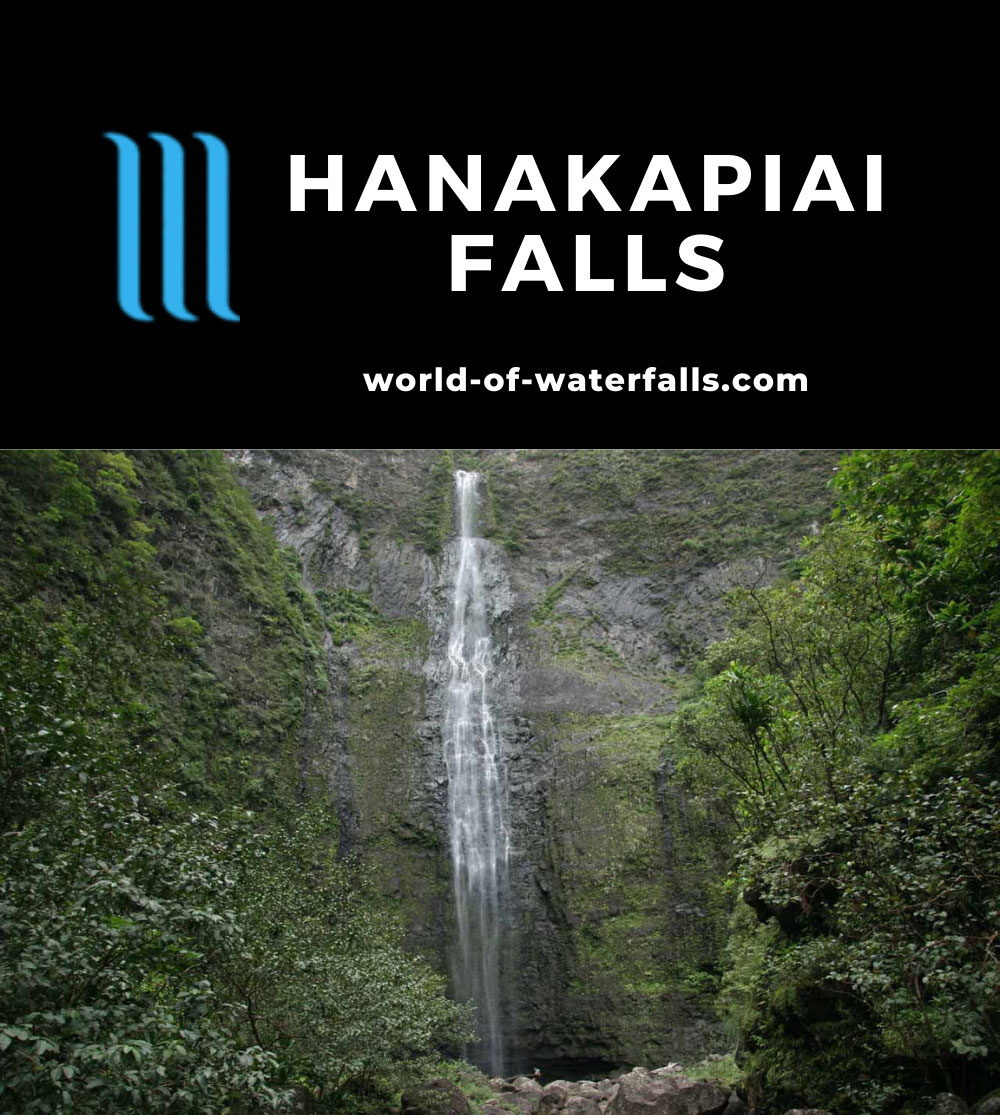 This would account for hiking the first two miles along the Na Pali Coast before hiking another two miles into Hanakapi'ai Valley.
Thus, the total round-trip distance would be 8 miles.
It was the only major waterfall on the Na Pali Coast (that I'm aware of) that I was able to access with neither a permit nor a paid tour.
And that was probably why I saw quite a few people doing this hike as well as chilling out around its plunge pool.
Of course, given the number of giant rocks and boulders around the plunge pool, that gave me pause to linger there for too long due to the rockfall danger.
So did this waterfall justify the effort to reach it?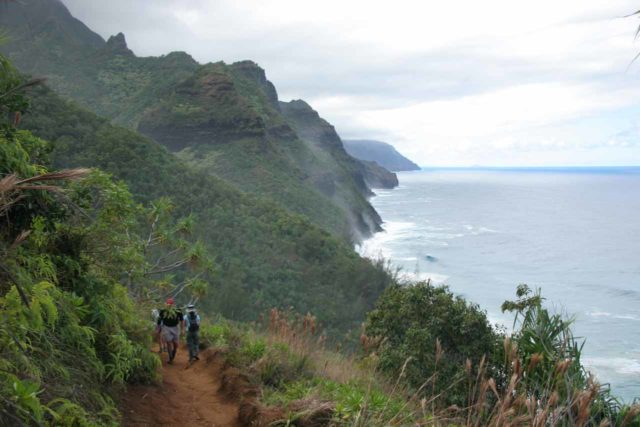 Well, we liked this waterfall enough to put it into our Top 10 List of Hawaiian Waterfalls.
So that ought to say something…
I've read in the literature that Hanakapiai Falls was named after a Menehune princess.
The Menehune were said to be dwarvish people who were the first humans to have settled the Hawaiian Islands from the Marquesas Islands.
Others followed from Tahiti (both part of modern day French Polynesia).
Hiking the Kalalau Trail en route to Hanakapi'ai Falls
The hike started off at the Kalalau Trailhead (see directions below).
From there, the trail coincided with the Kalalau Trail for the first two miles.
The Kalalau Trail is the famous trail that follows the Na Pali Coast all the way to Kalalau Beach after about 13 miles.
Anyways, in this stretch, the trail undulated through a couple of gulches.
So despite the modest distance, the physical exertion required due to the elevation changes made this section of trail deceptively taxing.
I found that it me between 60 to 90 minutes to cover this distance, which was a pretty slow pace for just two miles.
Hanakapi'ai Beach and the Hanakapi'ai Valley Trail to Hanakapi'ai Falls
Perhaps the most memorable thing about the first couple of miles of this hike was Hanakapi'ai Beach at the two-mile point.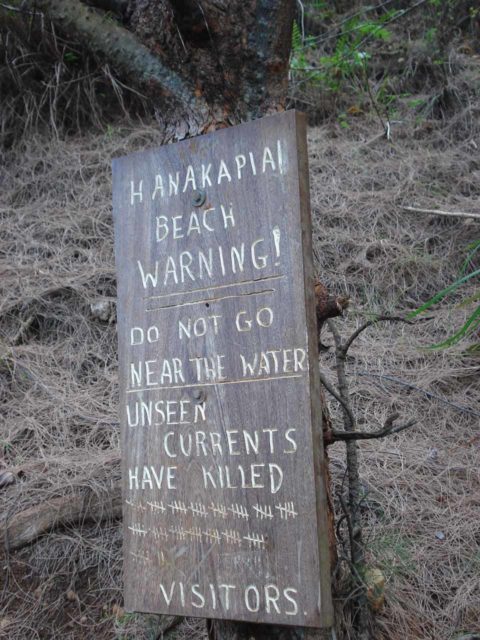 Yes it was pretty, but boy was it a sinister place.
That was because of how violent the waves were.
Heck I was able to feel the thud of the waves when they crashed, and there was even a sign tallying up the number of people who have died at this beach (underscoring the obvious danger of swimming at this beach).
Continuing on from Hanakapi'ai Beach, I had to cross the Hanakapi'ai Stream (high probability of getting wet so water shoes would be a good idea) before heading inland into Hanakapi'ai Valley.
After passing by a small open area (where emergency helicopters would land if needed), the trail then crossed the stream a few more times as the trail itself narrowed and became more overgrown.
Towards the end of the trail, there were some really worn sections that were both slippery (thanks to wet rocks and mud) as well as exposed to modest dropoffs.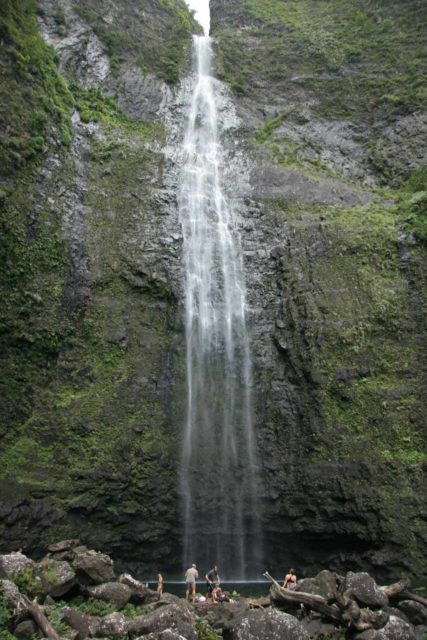 Some parts of the trail were a little tricky to follow because of the numerous stream crossings.
But in general, I was able to persist in the general upstream direction to regain the trail.
After roughly another hour or so from Hanakapi'ai Beach (or perhaps 2-3 hours from the trailhead), I was finally at the base of Hanakapiai Falls.
I had some old maps that claimed this part of the hike was a loop hike.
However, from what I was able to tell, that loop no longer existed.
So I pretty much had to hike back out the way I came for a grand total of roughly 4-5 hours round trip on the trail.
Authorities
Hanakapiai Falls resides in Napali Coast State Wilderness Park in the island of Kauai, Hawaii. For information or inquiries about the general area as well as current conditions, you may want to try visiting the Department of Land and Natural Resources (DLNR) website.
From Princeville (30 miles or an hour drive north of Lihu'e), follow Route 560 west for 10 miles to its end near Ke'e Beach and the Kalalau Trail trailhead. Note that the 56 (Kaumuali'i Hwy) becomes Route 560 (Kuhio Hwy) just west of Princeville. The primitive parking lot has very limited space, especially considering the number of large trucks, SUVs, and RVs parking here.
I had difficulty finding parking at around 11:15am, and eventually found some spot in an unsealed muddy road turning towards the beach from the main car park. But in general, I'm betting that early birds get the worm (i.e. a parking spot) in this case.
Find A Place To Stay
Related Top 10 Lists
Trip Planning Resources
Nearby Accommodations
Tagged with:
na pali coast, princeville, kauai, hawaii, waterfall, kalalau, hanakapiai, beach, stream, no permit
Visitor Comments:
Hanakaipiai Falls Advice from a Kamaaina
August 11, 2014 10:08 pm
-
I've made that hike four or five times, over the past 40 years, at various times of year. At times, there's a rope to help you cross the stream, as the water will be up to your thighs or higher. Also, there are often nudists here. I recall a fairly awkward moment in a very… ...Read More
Hiking to the falls
September 19, 2009 11:58 pm
-
Breathtaking. Indescribable. If you can handle an 8 mile hike over mud, rocks, and steep terrain, this is a must-do while in Kauai. The pool below feels really cold, but jump in. It is incredibly invigorating. This was the best thing I did in my two weeks in both Kauai and Oahu. I loved it. ...Read More
Visitor Reviews of this Waterfall:
No users have submitted a write-up/review of this waterfall