About Likeke Falls
---
Hiking Distance:
about a mile round-trip; 3.5-4 miles round trip (old way)
Suggested Time:
from 1 hour (easy way) to 2.5 hours (old way)
---
Date first visited:
2007-01-21
Date last visited:
2021-11-24
---
Waterfall Latitude:
21.36902
Waterfall Longitude:
-157.79214
---
Likeke Falls (not Likelike Falls as I had previously thought) is a pretty 30-40ft waterfall that is a well-hidden gem was previously known mostly to locals though it seemed to have gotten some notoriety over the years.
I was first made aware of this waterfall from our 2000 edition of the Hikers Guide to O'ahu by Stuart M Ball, Jr.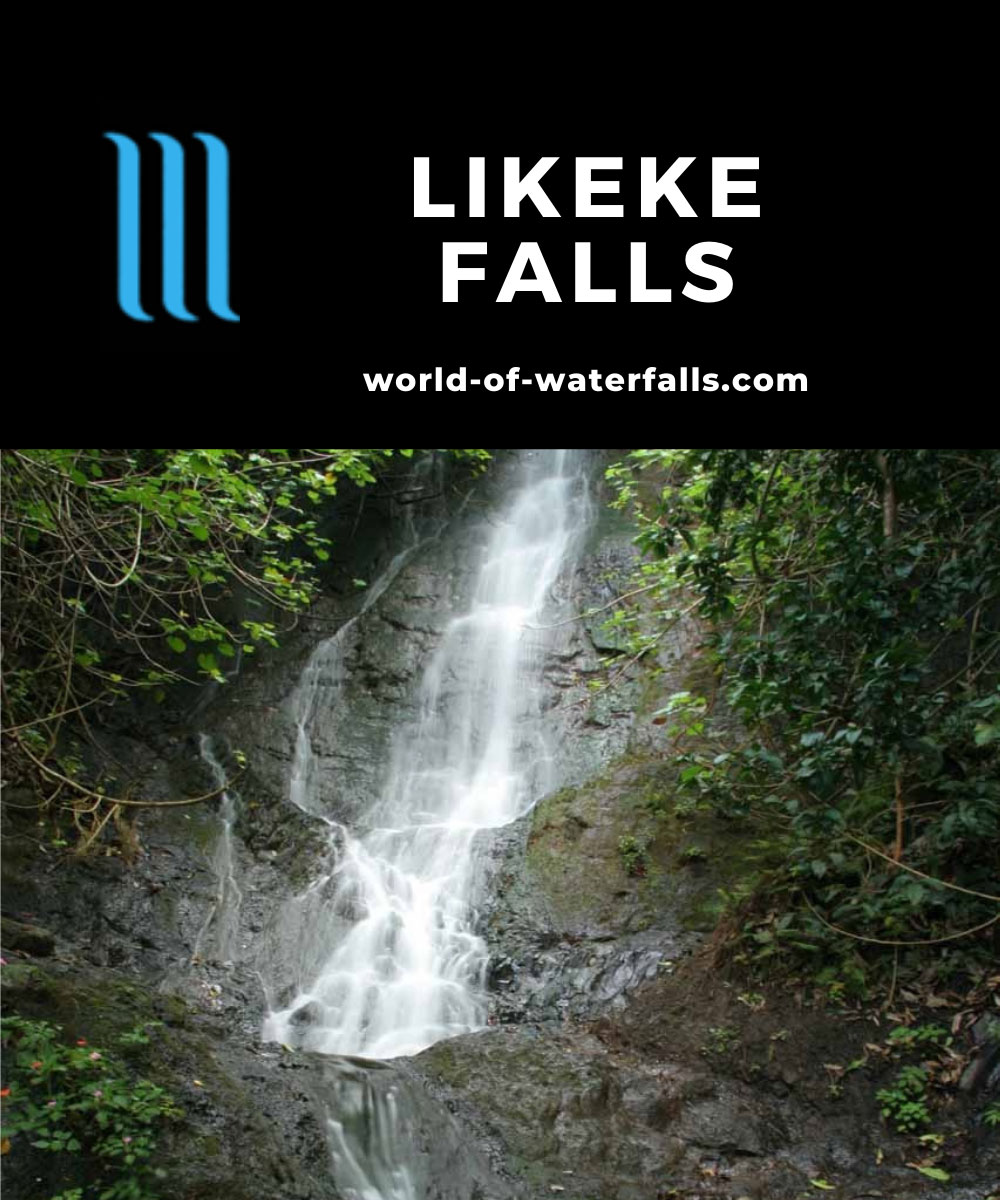 When we first went to this waterfall in January 2007, we followed the route described in the book as it had us go down an old road from the Pali Lookout, then under the Pali Highway, before going through a jungle path leading to the falls.
When we came back in November 2021, we were made aware that there was an easier path from the Ko'olau Golf Club along with some increasing notoriety.
The Stuart Ball book made me aware that of how the approach he described happened, which was largely the effort of one man – Richard H. Davis.
Richard H. Davis and Likeke Falls
During my research, I learned that the Likeke Trail was created in the 1960s by the late Richard H. Davis.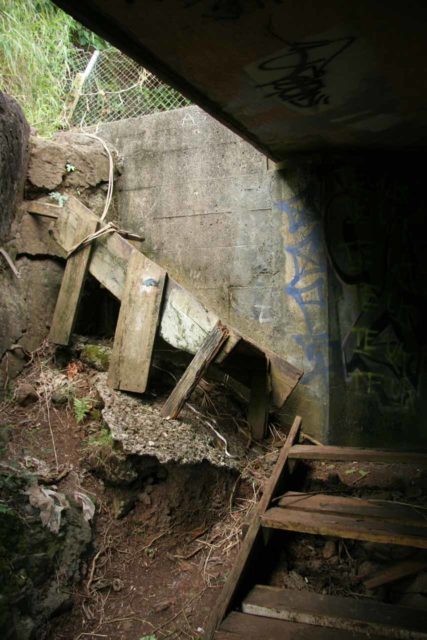 Even the Hawaiian word "Likeke" meant Richard, and this was how the waterfall got its name (not to be confused with the word "Likelike" which corresponds to the nearby highway going across the Ko'olau range).
He was a longtime O'ahu hiker and member of the Hawaiian Trail and Mountain Club.
Although Davis scouted numerous other trails on this island, maintaining this particular trail was his personal project until his final years.
However, given the somewhat sketchy nature of this hike, it didn't seem to be officially endorsed by Na Ala Hele nor the Department of Land and Natural Resources (DLNR) so its status about future access is not guaranteed.
Hiking to Likeke Falls via the Richard H. Davis Way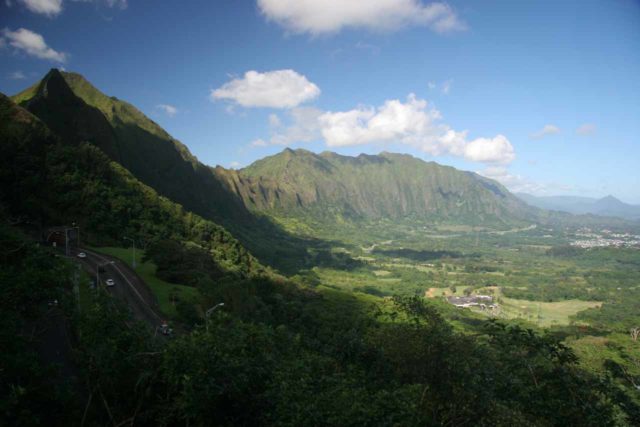 When we did this particular trail in January 2007, we found our efforts were well rewarded.
From what we could tell at the time, the locals seemed to agree given the handful of them (and even tourists) that we saw during our hike on the Likeke Trail.
This was surprising since there were no signs indicating the presence of this waterfall.
In fact, I thought we were fortunate to have a local who happened to be hiking this trail show us the route as we had plenty of head-scratching moments on our own.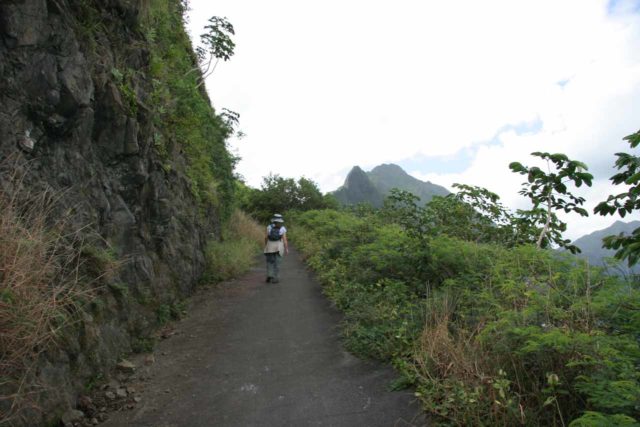 Anyhow, here's how we did the nearly 3.5-mile roundtrip hike to Likeke Falls, which was one of the more unusual hikes that we've done.
From the Pali Lookout car park, we walked towards Pali Lookout, then we followed the paved road (Old Pali Road) downhill to the right past the gate for about 3/4-mile.
It wasn't long before the paved road was overwhelmed by dense vegetative overgrowth as it covered most of the road.
It kind of illustrated to us how quickly vegetation grows here or how long it has been since vehicles were allowed on this road.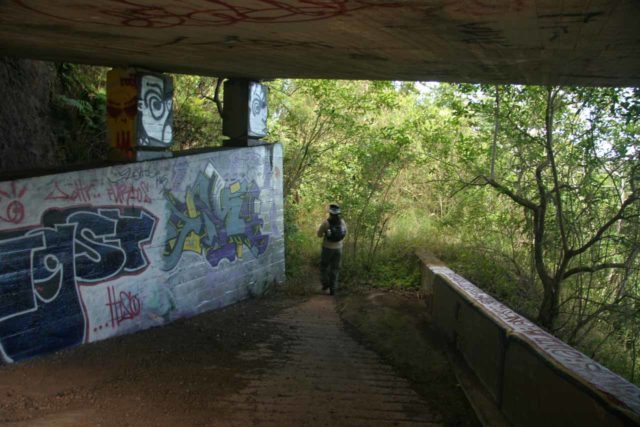 From this point, we left the road and started to follow an apparent fork alongside the noisy and "new" Pali Highway (Hwy 61).
The trail then disappeared beneath the graffiti-laden concrete walls of Hwy 61, requiring a descent on a set of rickety wooden steps, which I understand Richard H. Davis himself had built.
Once we were at the bottom of the wooden steps, we then had to squeeze between the concrete walls supporting the Kailua-bound lanes of Hwy 61 above us.
Once we emerged from the highway's structural underbelly, the weedy trail widened as it went underneath the Honolulu-bound lanes of Hwy 61.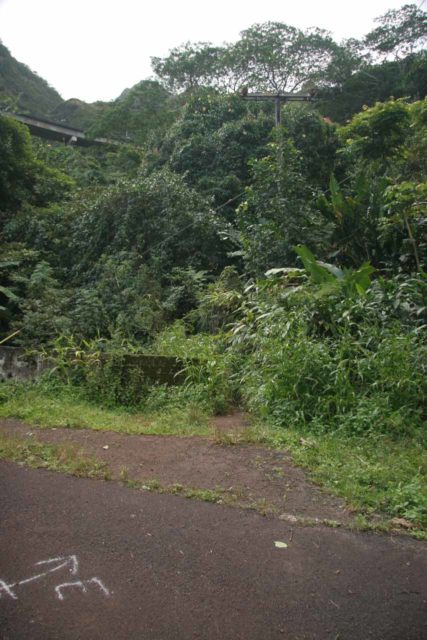 Eventually, we regained the normal hiking trail on the other side of the freeway and started to walk beneath the tall columns supporting it.
Then, the trail veered away from the noisy highway, and rejoined the weedy pavement of Old Pali Road.
The trail continued downhill on Old Pali Road to the junction with A'uloa Road, which was closed to vehicular traffic in this area.
That was when we saw a trail leaving the pavement at a hairpin turn between the end of a concrete railing and a power pole.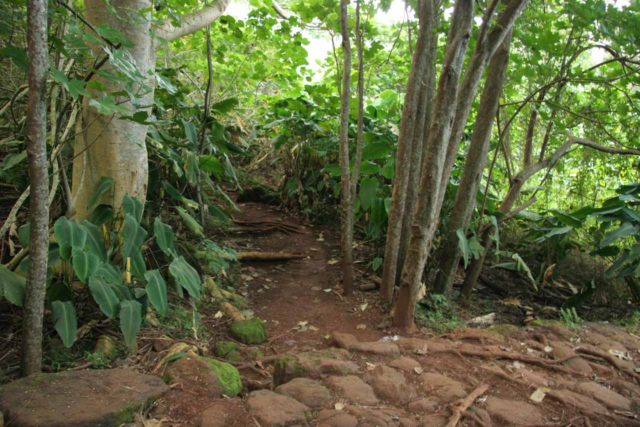 I believe this was supposed to be the official start of the Likeke Trail (as everything up til now was just to be able to access this entry point).
At first the trail ascended several switchbacks before undulating through a humid, jungle-like canopy.
We went straight at a four-way intersection and then the trail entered into a stone road with grass growing between the stones.
Not far along this road, we took a left turn to leave this road and eventually (probably about 10 minutes) cross right in front of Likeke Falls.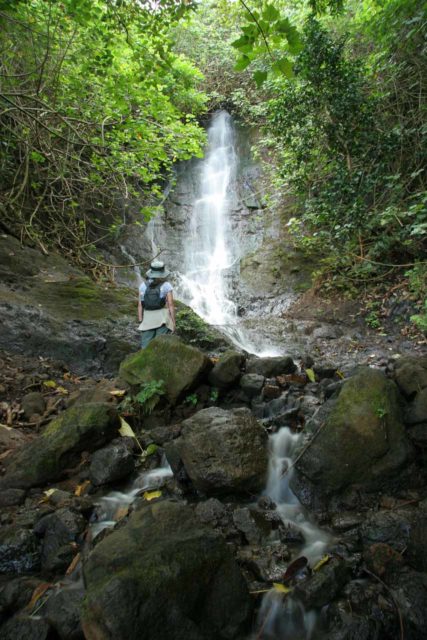 This was the turnaround point for us though we did wonder where the rest of this trail went.
All things considered, this bit of adventure took us roughly 2 hours 15 minutes round trip.
Hiking to Likeke Falls the Easy Way from Ko'olau Golf Club
Over the years, we were made aware that there was an easier way to Likeke Falls (thanks to a website contributor), but it wasn't until November 2021 when we finally got a chance to do it ourselves.
Indeed, it turned out that doing the trail this way was definitely more straightforward and shorter (about 1 mile round trip) though it involved starting from the Ko'olau Golf Club's parking lot (see directions below).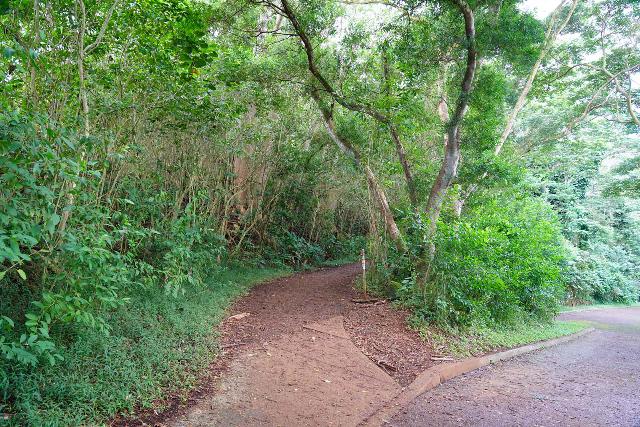 That meant that we paid $10 to start from their trailhead, which might seem a bit steep for just an hour or two of doing this excursion.
That's why I noticed that a handful of people tried to avoid paying that fee by parking further down the road in some pretty deep pullouts likely to scrape the underside of a passenger car.
Nevertheless, once I geared up and started, I promptly walked to the far southern end of the parking lot, where I noticed some pink tape with the words "Likeke Falls Trail" written on it.
Then, I followed a fairly wide trail flaked by lush vegetation and the odd tall tree with vines on them (not sure if they were banyan trees or not), which veered right then went left towards a water tank with graffiti plastered all over it.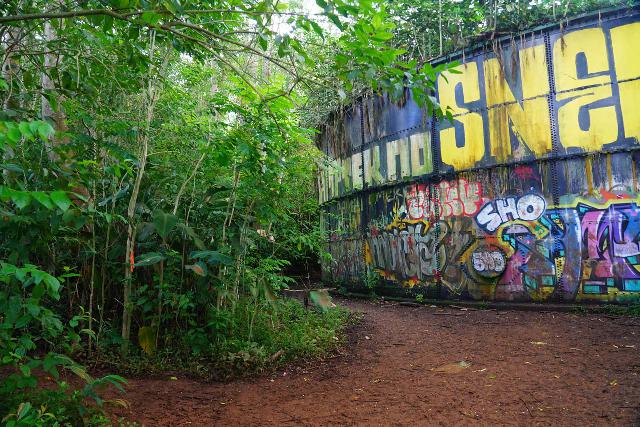 As I approached that water tank, some more pink ribbons made me aware that there was a narrow and muddy dirt path going uphill then around the water tank as the trail continued south.
This muddy ascent was quite messy and slippery, and it made me appreciate the fact that I wore Keens (since they can get trashed) and I brought trekking poles for balance (especially when coming back downhill).
Shortly after getting by the muddy ascent, the trail then went around a semi-open area with a power pylon and a direct view towards a distant natural arch just to the west of the Pali Lookout.
Beyond that, the trail continued to veer in a southerly direction as I found myself carefully placing my steps among roots and fallen trees as well as avoiding mud patches.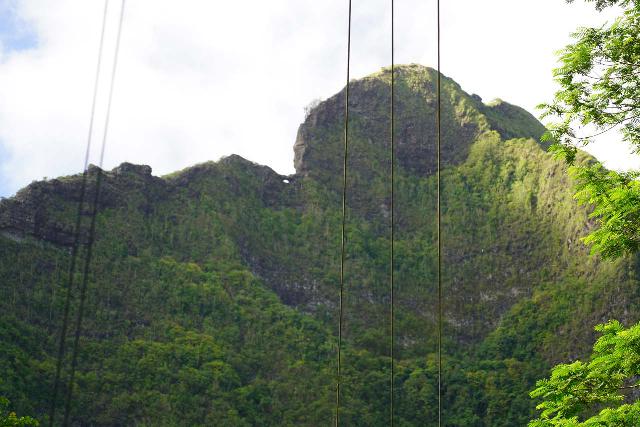 By about 0.3-mile from the Ko'olau Golf Club Parking Lot, the path's surface started to become that familiar rock-arranged path with packed dirt filling the gaps between them.
Not long after encountering this, I then came across a pair of fallen trees that I had to climb over before reaching the familiar trail junction with the spur path leading the rest of the way to Likeke Falls.
During my November 2021 visit, there were now more pink ribbons as well as blue spray-painted arrows pointing towards that spur path (where it wasn't marked back on my January 2007 visit).
Such trail aids made me wonder if the $10 I paid for the Ko'olau Golf Club parking contributed to these improvements.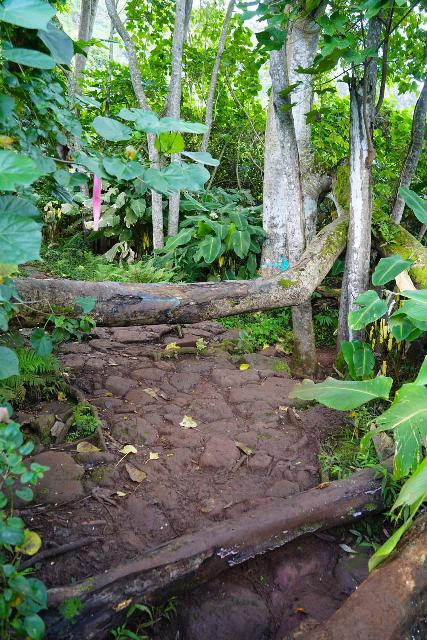 In any case, the remaining 0.1-mile was on a narrower and very muddy path before it eventually skirted the rock-lined Likeke Stream and ended right before the familiar waterfall.
For some reason, I used to think that Likeke Falls was only 15ft, but upon my second visit, I saw that there were more hidden, overgrown sections at its top.
Therefore, I'm now more inclined to think that the falls is now more like 30-40ft tall when you count both its upper and lower drops.
After having my fill of this falls (and getting some mosquito bites along the way despite the bug repellent I had put on), I went back the way I came.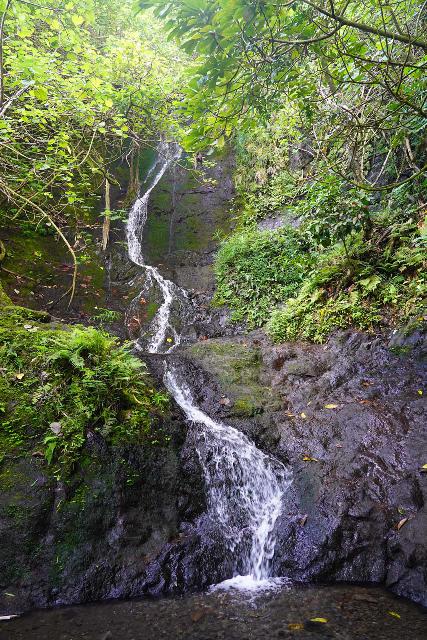 It was worth noting that despite there being quite a few cars parked at the trail side of the Ko'olau Golf Club, I only encountered a handful of people throughout the trail (and I even had the falls all alone during my second visit).
All told, I spent barely over an hour away from the car, and this was at a pretty leisurely pace.
Authorities
Likeke Falls resides on the island of Oahu, Hawaii. As far as I know, it is not administered by any official authority. For information or inquiries about the general area as well as current conditions, you may want to try visiting the Department of Land and Natural Resources (DLNR) website.
Since there were two ways we went about visiting Likeke Falls, I'll describe the directions to both assuming you're coming from Honolulu / Waikiki area.
For the first approach via the Pali Lookout, we pretty much drove to and parked at the Pali Lookout parking lot, whose off-ramp was a little over 5 miles from where the Pali Highway (Hwy 61) branched off from the H1 Freeway.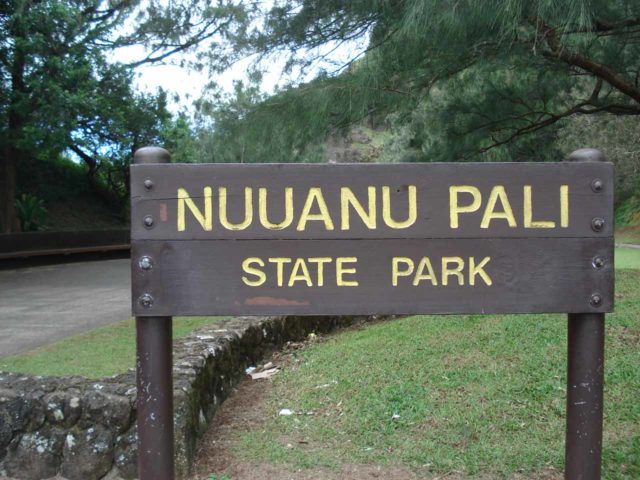 Taking the well-signed off-ramp, it leads to the sanctioned parking lot (there's now a state park fee to park here as of my last visit in 2021).
Note that if you're real observant, you might be able to spot the Upside Down Falls (Waipuhia Falls) along this stretch of the Pali Highway if the trades are blowing and this waterfall's flowing (which it wasn't for all the times we've been to O'ahu).
For the second approach via the Ko'olau Golf Club, I took the Pali Highway for about 7.5 miles to the traffic lighted intersection with the Kamehameha Highway (Hwy 83).
Turning left onto Hwy 83, I then drove roughly 8.5 miles to a small street on the left towards Kahiko Street / Kionaole Road.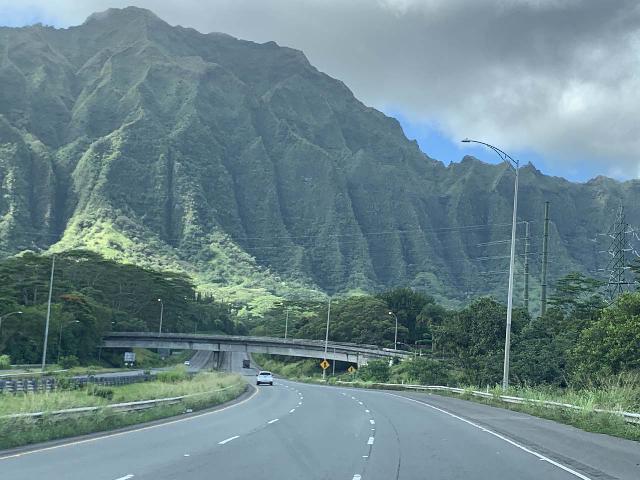 Given the speed of drivers on the Hwy 83 and the lack of traffic signals, this can be a tricky left turn to make.
In any case, after getting onto the small street and the stop sign at a three-way intersection, I then turned left onto Kionaole Road and followed it for nearly a mile.
That was when I encountered a fork on the right leading up the ramp and to the Ko'olau Golf Club property, where we were led to the lobby area.
A person in a golf cart was there collecting $10, and then he directed us to park back towards the southeastern sign of the parking lot (almost back in the area where we entered the lot from), which was nearest to the Likeke Falls Trailhead.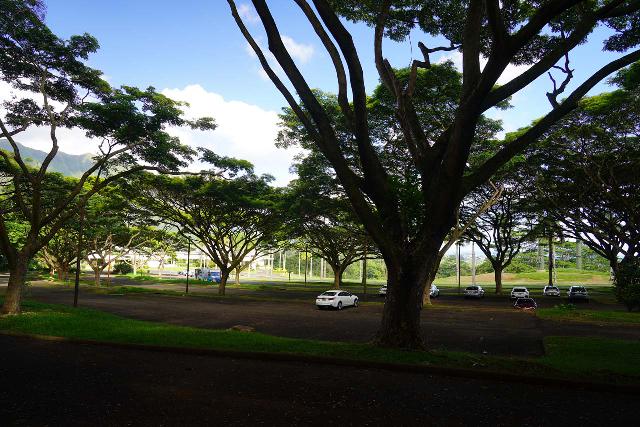 For geographical context, Likeke Falls was near Kane'ohe, which was 6 miles (about 15 minutes drive) west of Kailua, 14 miles (over 30 minutes drive) northeast of Honolulu / Waikiki, 16 miles (under 30 minutes drive) east of Pearl City, 24 miles (about 45 minutes drive) south of La'ie, and 34 miles (about 45 minutes drive) southeast of Hale'iwa.
Find A Place To Stay
Related Top 10 Lists
No Posts Found
Trip Planning Resources
Nearby Accommodations
Featured Images and Nearby Attractions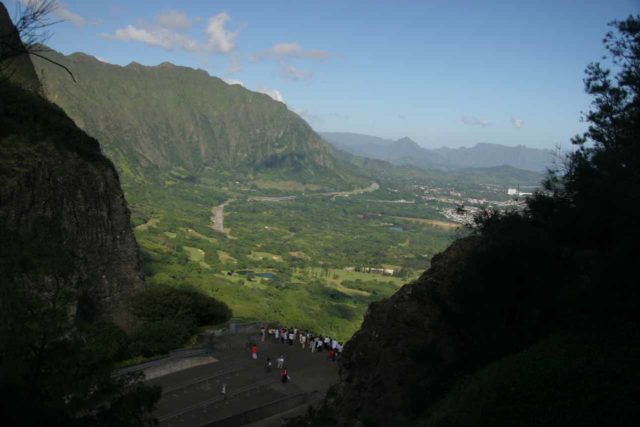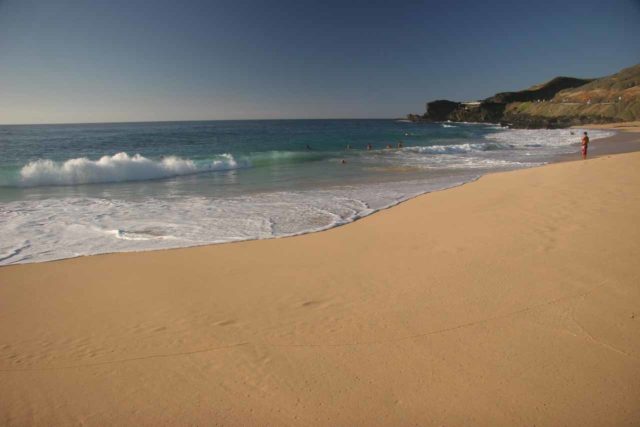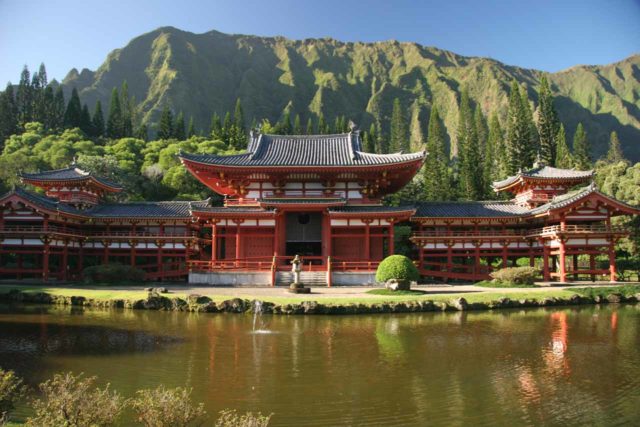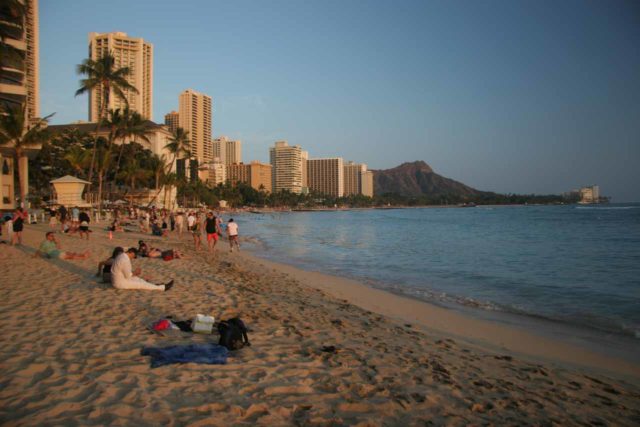 Tagged with:
likeke, richard, pali lookout, nuuanu, stuart ball, pali highway, pali hwy, bridge, oahu, hawaii, waterfall
Visitor Comments:
Got something you'd like to share or say to keep the conversation going? Feel free to leave a comment below...
No users have replied to the content on this page
Visitor Reviews of this Waterfall:
If you have a waterfall story or write-up that you'd like to share, feel free to click the button below and fill out the form...