About Likeke Falls
---
Hiking Distance:
3.5-4 miles round trip
Suggested Time:
2.5 hours
---
Date first visited:
2007-01-21
Date last visited:
2007-01-21
---
Waterfall Latitude:
21.36902
Waterfall Longitude:
-157.79214
---
Likeke Falls (not Likelike Falls as I had previously thought) is a pretty 15ft waterfall that is a well-hidden gem known mostly to locals as far as I was concerned.
But it was well worth the effort to get to this waterfall and the locals seemed to agree given the handful of them (and even tourists) we saw doing this hike.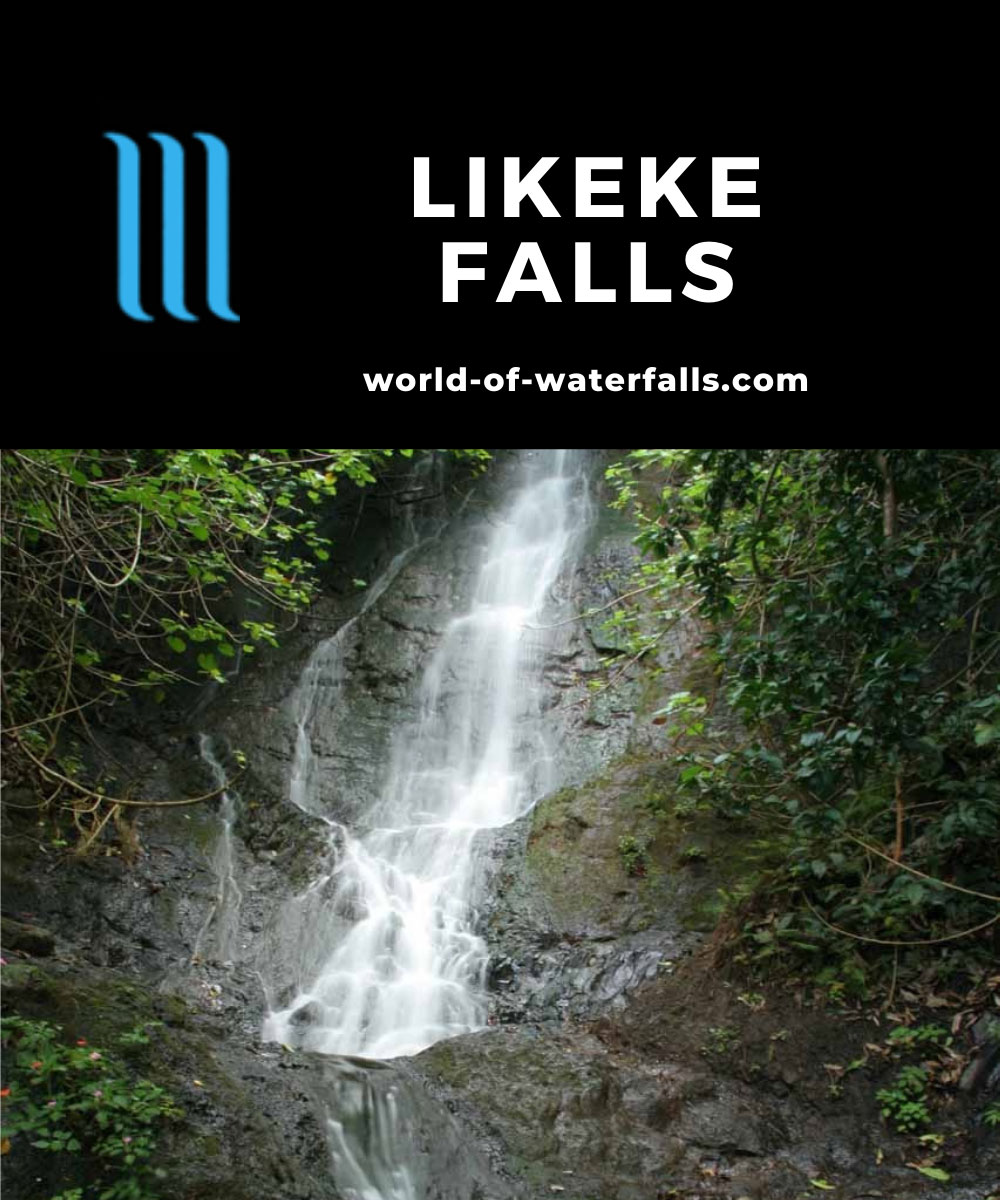 This was surprising since there were no signs indicating the presence of this waterfall.
In fact, I thought we were fortunate to have a local who happened to be hiking this trail show us the route as we had plenty of head-scratching moments on our own.
We only knew of the existence of this falls thanks to a book by Stuart Ball who discussed the approach that we ended up taking (and we'll summarize shortly).
Richard H. Davis
During my research, I learned that the Likeke Trail was created in the 1960s by the late Richard H. Davis.
Even the Hawaiian word "Likeke" meant Richard.
He was a longtime O'ahu hiker and member of the Hawaiian Trail and Mountain Club.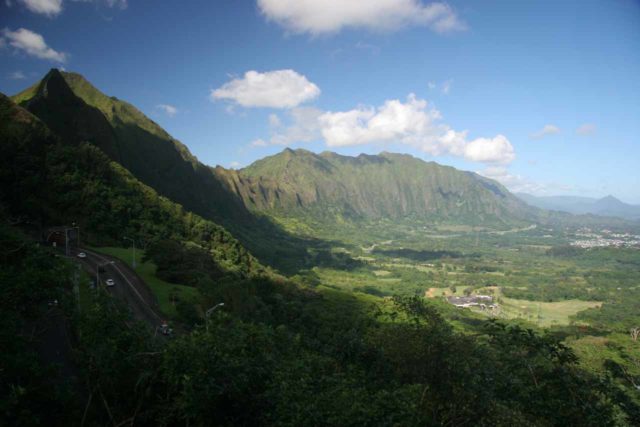 He scouted numerous other trails on this island.
However, maintaining this particular trail was his personal project until his final years.
Hiking to Likeke Falls
Anyhow, here's how we did the nearly 3.5-mile roundtrip hike to Likeke Falls, which was one of the more unusual hikes that we've done.
From the Pali Lookout car park, we walked towards Pali Lookout.
Then, we followed the paved road (Old Pali Road) downhill to the right past the gate for about 3/4-mile.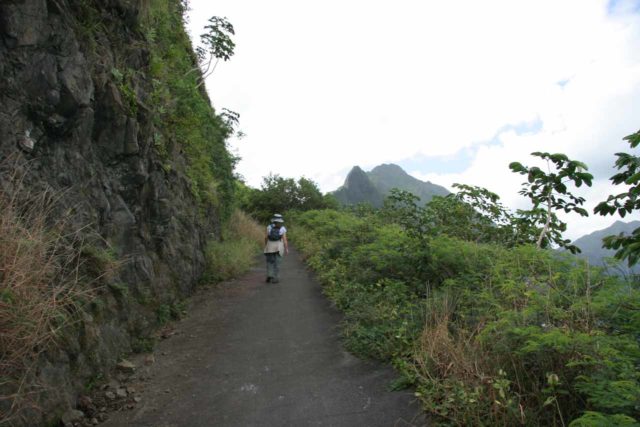 It wasn't long before the paved road was overwhelmed by dense vegetative overgrowth as it covered most of the road.
It kind of illustrated to us how quickly vegetation grows here or how long it has been since vehicles were allowed on this road.
From this point, we left the road and started to follow an apparent fork alongside the noisy and "new" Pali Highway (Hwy 61).
The trail then disappeared beneath the graffiti-laden concrete walls of Hwy 61, requiring a descent on a set of rickety wooden steps, which I understand Richard H. Davis himself had built.
Once we were at the bottom of the wooden steps, we then had to squeeze between the concrete walls supporting the Kailua-bound lanes of Hwy 61 above us.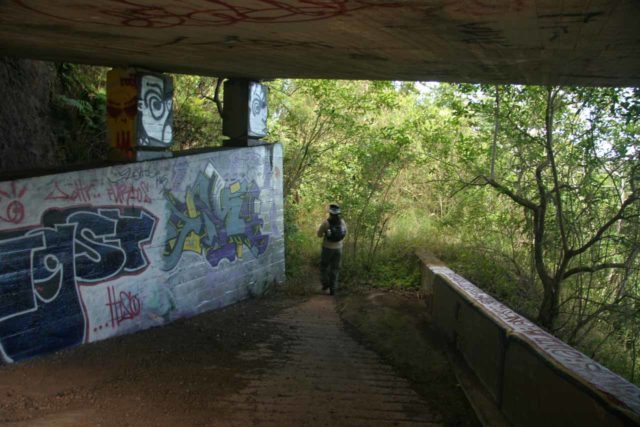 Once we emerged from the highway's structural underbelly, the weedy trail widened as it went underneath the Honolulu-bound lanes of Hwy 61.
Eventually, we regained the normal hiking trail on the other side of the freeway and started to walk beneath the tall columns supporting it.
Then, the trail veered away from the noisy highway, and rejoined the weedy pavement of Old Pali Road.
The trail continued downhill on Old Pali Road to the junction with A'uloa Road, which was closed to vehicular traffic in this area.
That was when we saw a trail leaving the pavement at a hairpin turn between the end of a concrete railing and a power pole.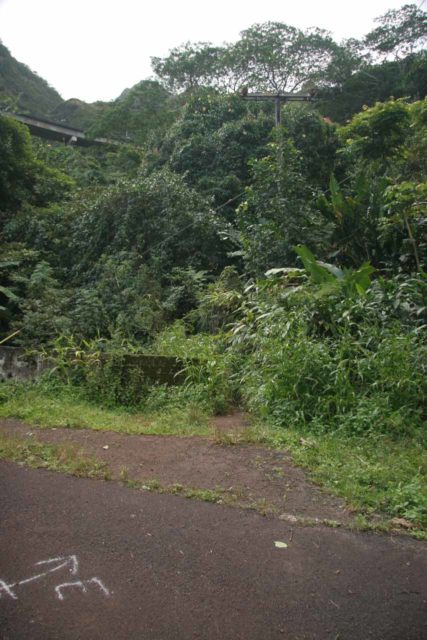 I believe this was supposed to be the official start of the Likeke Trail (as everything up til now was just to be able to access this entry point).
At first the trail ascended several switchbacks before undulating through a humid, jungle-like canopy.
We went straight at a four-way intersection and then the trail entered into a stone road with grass growing between the stones.
Not far along this road, we took a left turn to leave this road and eventually (probably about 10 minutes) cross right in front of Likeke Falls.
This was the turnaround point for us though we did wonder where the rest of this trail went.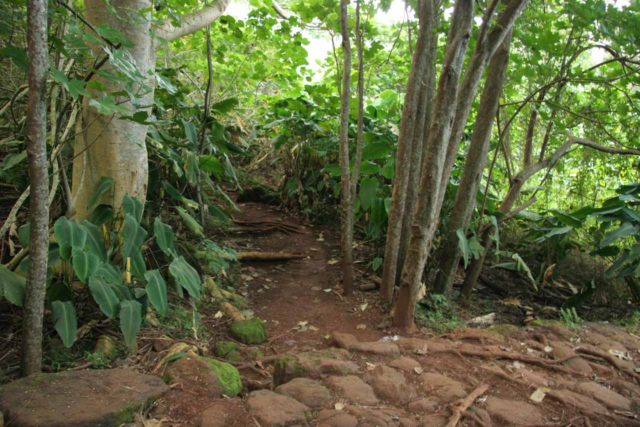 All things considered, this bit of adventure took us roughly 2 hours 15 minutes round trip.
Authorities
Likeke Falls resides on the island of Oahu, Hawaii. As far as I know, it is not administered by any official authority. For information or inquiries about the general area as well as current conditions, you may want to try visiting the Department of Land and Natural Resources (DLNR) website.
We parked at the Pali Lookout car park, which was about 11 miles (30 minutes drive) from Waikiki Beach. The Pali Lookout is very straightforward to get to as you can take the H-1 towards its junction with Hwy 61 and then head east towards the lookout (there's a well-signed off ramp for this).
Note that if you're real observant, you might be able to spot the Upside Down Falls along this stretch of the Pali Highway if the trades are blowing and this waterfall's flowing (which it wasn't for all the times we've been to O'ahu).
Find A Place To Stay
Related Top 10 Lists
No Posts Found
Trip Planning Resources
Nearby Accommodations
Featured Images and Nearby Attractions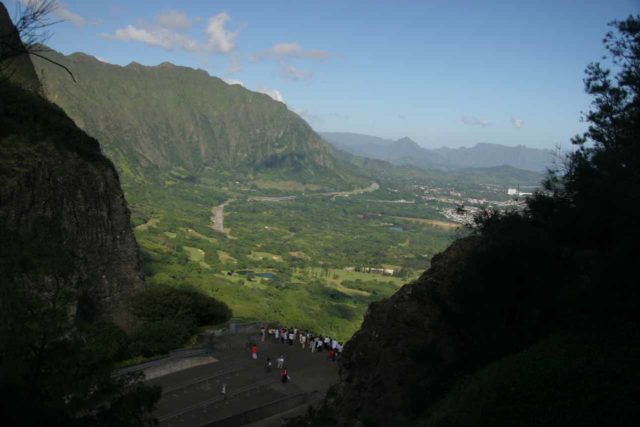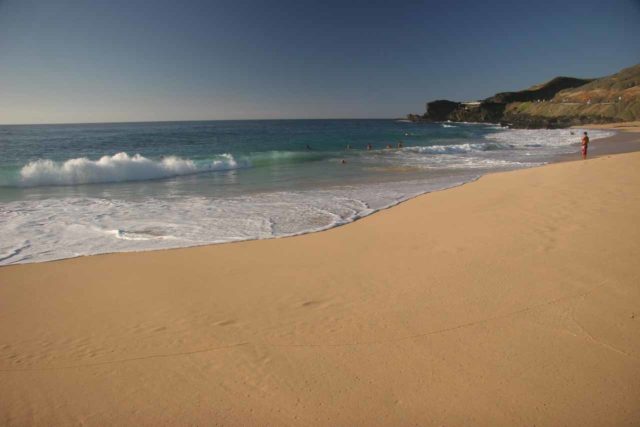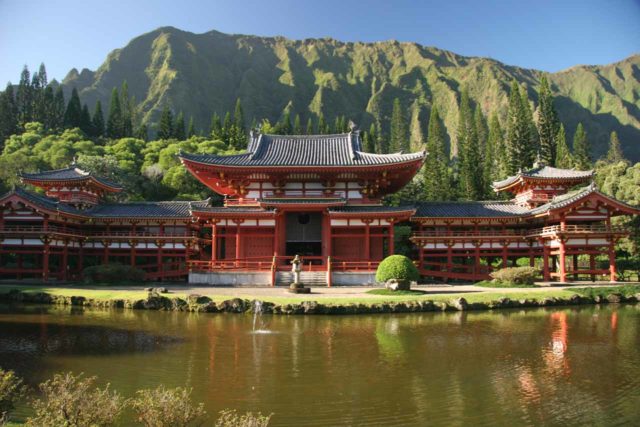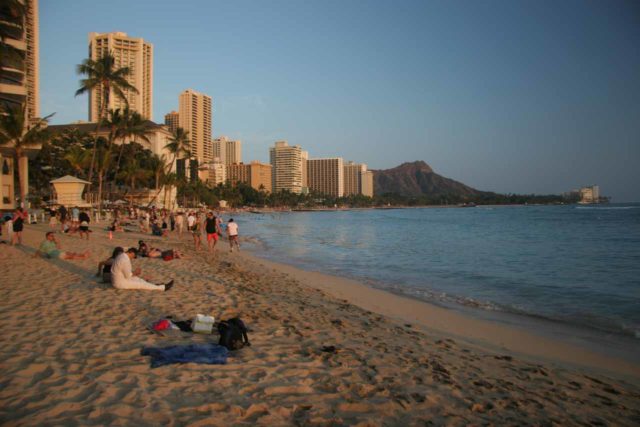 Tagged with:
likeke, richard, pali lookout, nuuanu, stuart ball, pali highway, pali hwy, bridge, oahu, hawaii, waterfall
Visitor Reviews of this Waterfall: