About Lulumahu Falls
---
Hiking Distance:
2.4 miles round trip (on sanctioned hike and scramble)
Suggested Time:
about 2 hours
---
Date first visited:
2021-11-23
Date last visited:
2021-11-23
---
Waterfall Latitude:
21.34813
Waterfall Longitude:
-157.80184
---
Lulumahu Falls was an attractive 70ft waterfall (though I'd imagine there are hidden tiers only visible from the air) hidden near the headwaters of the Nuuanu (or Nu'uanu) Stream in the Ko'olau Range near the Pali Lookout.
Having seen a handful of other waterfalls on O'ahu, I'd have to say that this is probably one of the better ones on the island.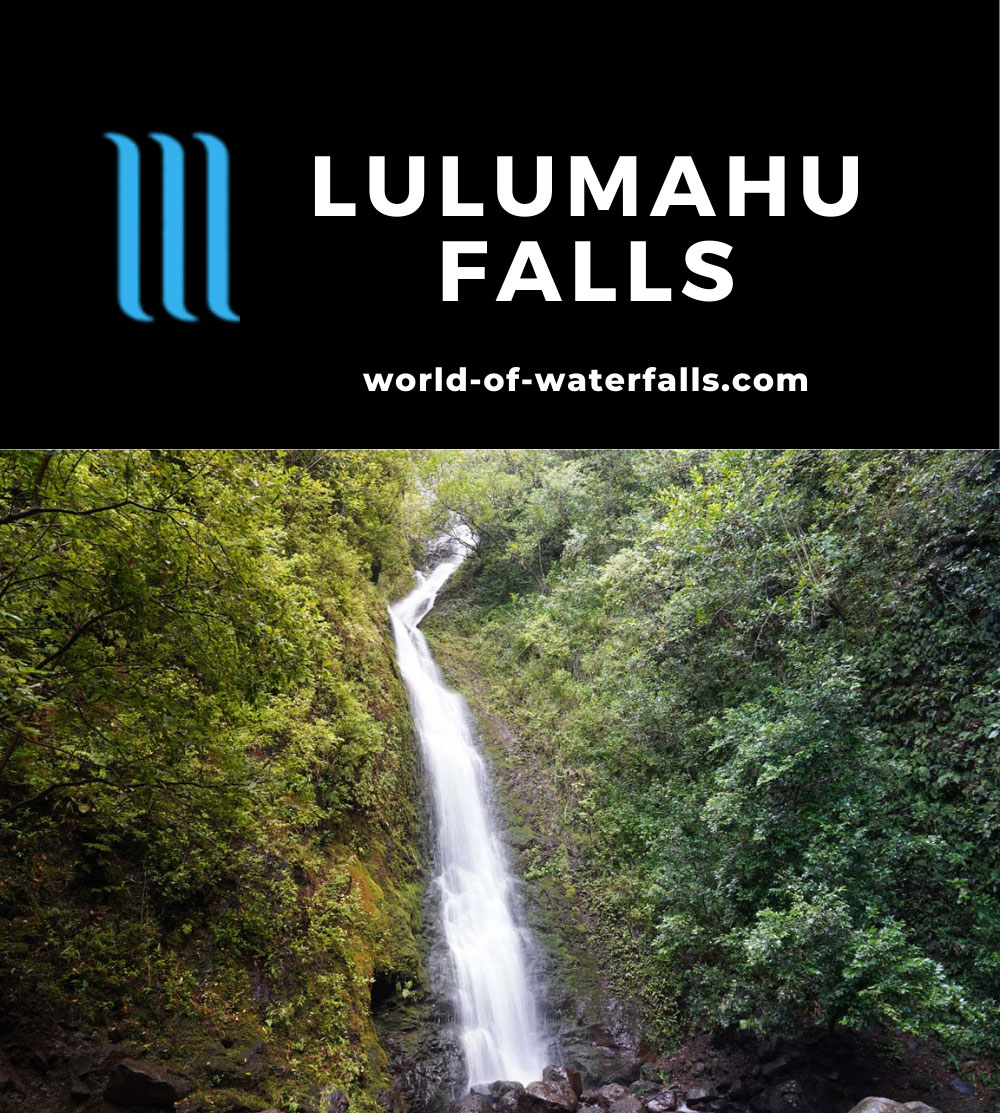 Some compare it to the nearby Manoa Falls since they're similar in size and location, but I'd have to say Lulumahu Falls is a little better in my mind.
So why did we wait until 2021 to visit this waterfall?
What Is The Access Situation For Lulumahu Falls?
We actually wanted to visit this place when we first visited O'ahu in January 2007.
However, that was when we learned of seven hikers who were cited for trespassing and ordered to show up in court so we considered it kapu (forbidden) ever since that time.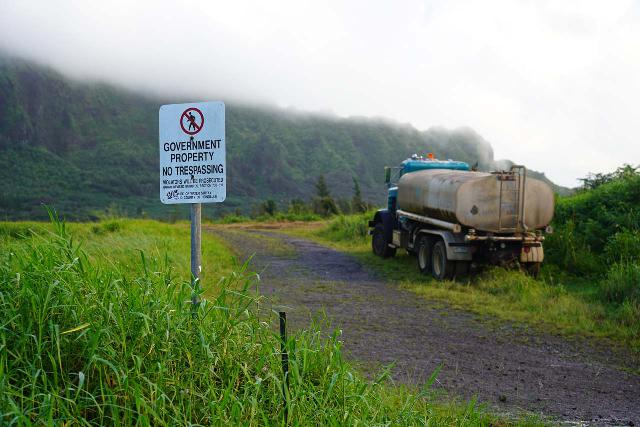 Back then, it was a trail used primarily by locals and hunters who knew the area and have managed to figure out how to get to where they needed to go without breaking the law (or getting caught), so to speak.
The issue is that this part of the Nu'uanu Stream is managed by the Honolulu Board of Water Supply (BWS), which actually "owns" or at least manages the watershed that Lulumahu Falls is a part of.
In order to access the waterfall, you have to go through this private land, and therefore unauthorized passage is considered trespassing.
However, in a bit of a rare instance of a kapu Hawaiian waterfall actually becoming more publicly accessible (usually it's the other way around), the authorities apparently have instituted a permit system.
I was able to secure such a permit by going online to the Hawaii Trails Day Use Permits site, picking the date, and paying $2.50 for the permit to print out.
In any case, this is welcome news for those of us who seek more authentic waterfall experiences and adventures besides the usual suspects.
That said, I know I definitely had to come in with expectations of this being a bit of a rugged and messy hike, especially since the "trail" is not formally maintained.
Therefore, if you don't have help or you haven't been here before, you're likely going to have headscratching moments and the potential to get lost.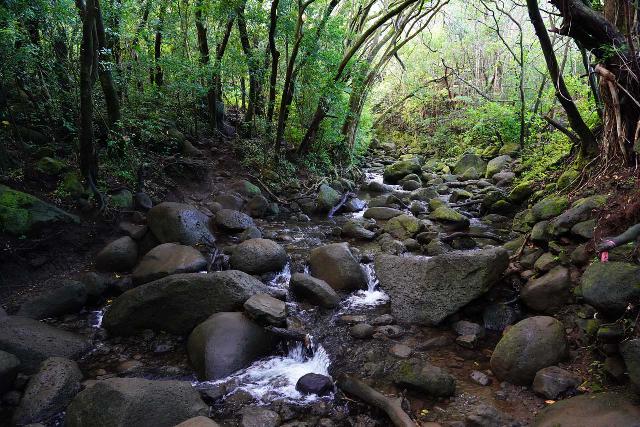 This is on top of other hazards like slip-and-fall surfaces from muddy slopes, wet rocks, and even wet roots, as well as flash flooding (definitely don't do this if it's raining or threatening to rain).
Finally, for the record, when I made my visit with my printouts in hand, there didn't seem to be any authority checking for permits.
That said, it's better to secure the permits for that piece of mind, but there are still places that the Honolulu BWS want you to steer clear of, which I'll get to in the trail description below.
To supplement the trail description, I've made a video of the Lulumahu Falls experience, which gives you a sense of what to look forward to in addition to the more detailed trail description in this post.
Lulumahu Falls Trail Description – The Sanctioned Way
For the record, I only figured out how to properly hike to Lulumahu Falls upon doing a little exploring after coming back from the falls and finding alternate trails on the way back.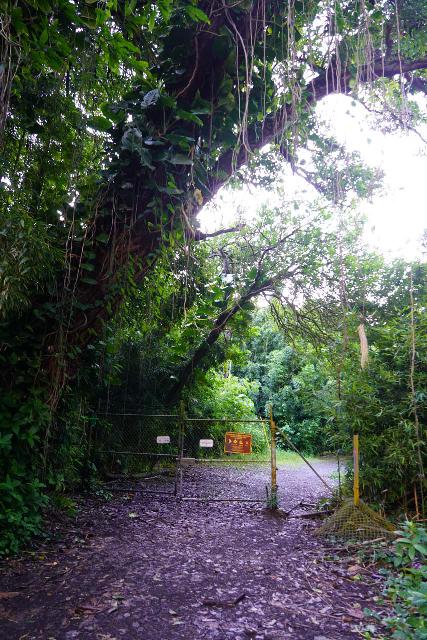 So I'm going to use this section to describe how you're supposed to do this hike to better keep you out of trouble.
From the Honolulu Watershed Forest Reserve Nuuanu Section parking area (see directions below), I had a choice of taking the hunter's path or the gated path.
There were also holes in the fencing accessed from this parking area, but they're not sanctioned and probably shouldn't be pursued unless you know what you're doing.
The hunter's path had a signed narrow entrance right next to parking area as it dove right into the thick bamboo grove.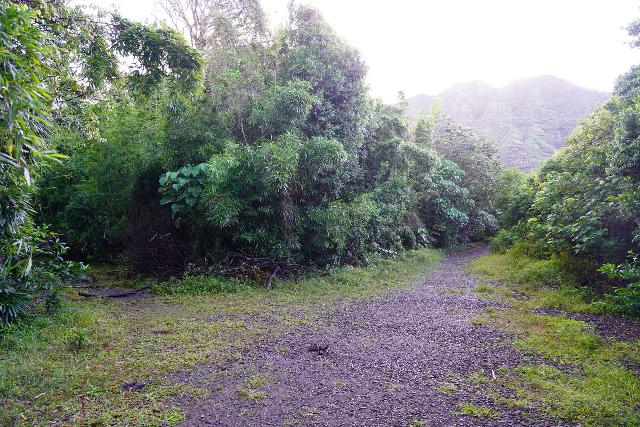 The gated path was just around the corner (to the right) from the parking area facing the Nuuanu Pali Drive.
Both paths lead to a wide unpaved road that is formally the Lulumahu Trail (though I didn't notice any signs indicating as such).
By the way, if you took the hunter's path, you might notice a couple of faint trails branching off to the left, but those paths ultimately led to more fencing as I suspected that they used to be the "old ways" of getting to Lulumahu Falls.
Anyways, continuing in a southernly direction on the wider unpaved road, there was an unsigned junction about 500ft from the gate.
Keep to the right at this unsigned junction because the path on the left ultimately led to water hoses, more fencing, and the so-called stone steps (despite what older trail descriptions in the literature might lead you to believe).
Continuing another 500ft or so downhill on the wider path, it eventually reached a muddy patch fronting a concrete water channel (that I suspected was part of the outflow of the Nu'uanu Reservoir further upstream).
After crossing over this channel, the path then narrowed considerably as it went into another thick grove of bamboo, where it might be pretty easy to get lost if not carefully observing the use-trails caused by people who have gone this way before.
Over the next 1/4-mile, the path climbed out of the bamboo grove and up a gully as the jungle started to open up a little more, culinating in a clearing where there was another fence marking the Honolulu BWS property boundary.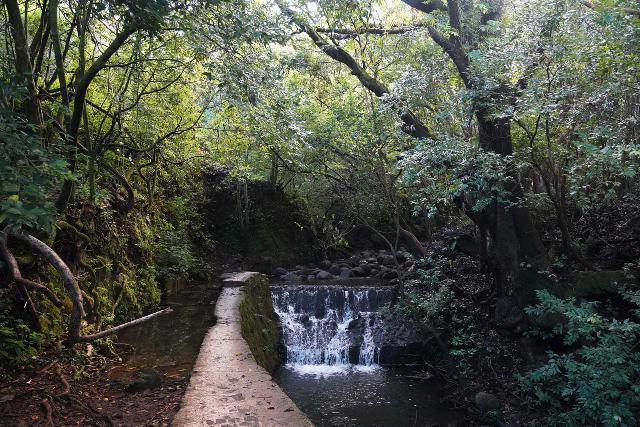 In about another 500ft of following the faint trail through some mud while following strategically-placed pink ribbons, I'd eventually reach a part of the trail where the "old way" would meet up with the one I was on (more on the "old way" below).
Finally, in another 250ft, I then reached a dam and man-made waterfall, and from this point forward, it was more or less your conventional Hawaiian jungle hike.
By that I mean more stream crossings, ducking fallen trees, clinging to slippery ledges, and following pink ribbons in the more questionable spots.
Lulumahu Falls Trail Description – Following Nu'uanu Stream
The remaining 1/2-mile or so of the Lulumahu Falls hike and scramble pretty much followed alongside (and sometimes inside) the Nu'uanu Stream.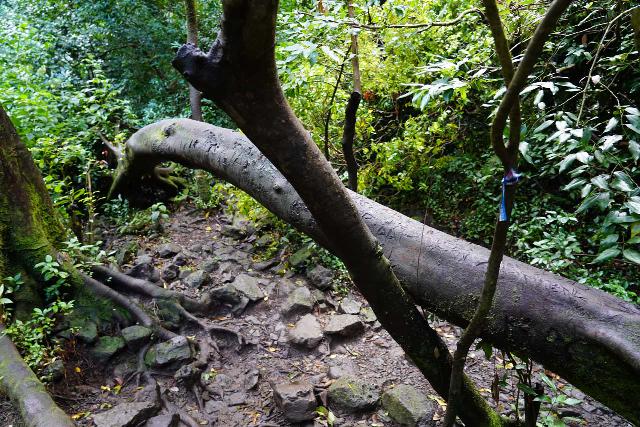 Immediately after the dam, I found it easiest to cross the stream to the right towards more concrete infrastructure first, but then cross the stream to the left towards a pink-ribboned path.
From there, I found it to be fairly straightforward to continue following the trail over roots, muddy rocks, and ducking fallen trees, while making at least one or two more stream crossings.
Some of the landmarks to watch out for include a fallen tree that I had to duck under with a lot of etchings on it (so you know people have been here before) as well as some intermediate cascade obstacles well upstream.
Regarding that cascade obstacle, I managed to do a bit of a dicey scramble to the left of those cascades, but in hindsight, I was better off taking a stream crossing to get to the right side of the cascades and then crossing somewhere above the falls.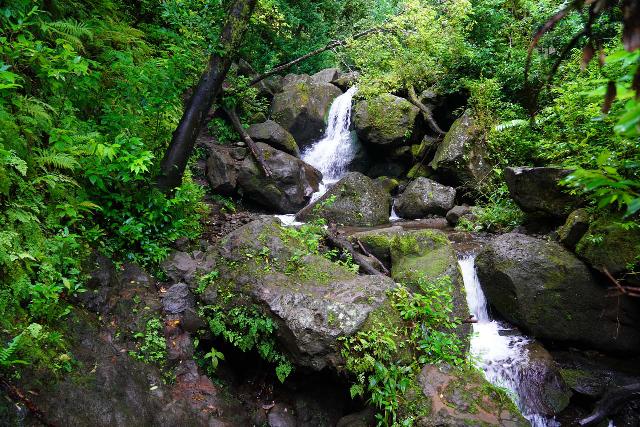 After that cascade obstacle, it was only a few more feet before I ultimately made it to the enclosed canyon containing the Lulumahu Falls.
Given the tight and claustrophic nature of the canyon, it should be noted that should a flash flood rip through here, you have very few options of finding higher ground to avoid the sudden inrush of water.
That underscores the danger of being here when there's the threat of moderate- to heavy rain in the Ko'olau Range.
After having my fill of Lulumahu Falls, I would then come back the way I came.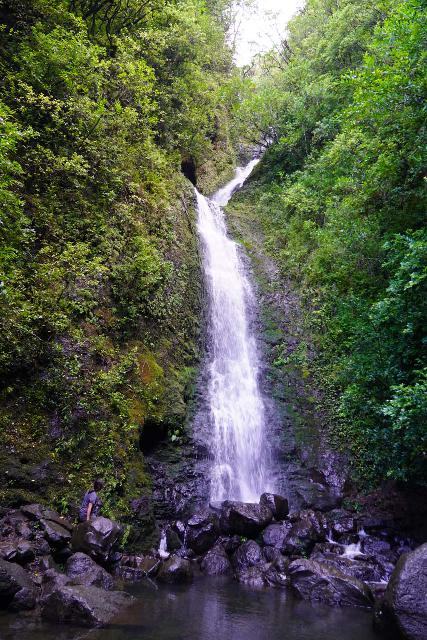 By using the sanctioned route, my GPS logs indicated that it would be about 1.2 miles in each direction (or 2.4 miles round trip).
It would probably take me a little about 2 hours to do the whole hike had I known to stick with the sanctioned route the whole way.
However, I was following some sketchy trail descriptions in the literature so it actually took me more like 2.5 hours or more to complete the excursion (more like 3 hours to fully explore and truly understand the whole trail access situation).
Lulumahu Falls Trail Description – The Unsanctioned Way
Finally, given the amount of confusing and conflicting information found in the literature, I thought I'd complete this write-up by describing what I'm calling the "unsanctioned way" or the "trespassing way".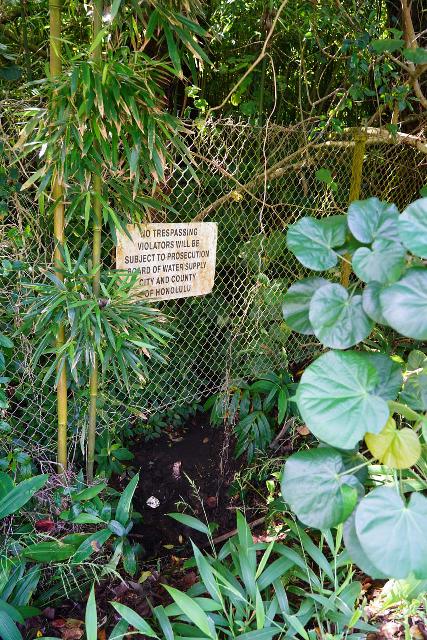 I named it as such because it involves going behind the fencing that the Honolulu BWS have erected to keep people out of the live construction zone.
That way, you can better understand what to look for (and more importantly what to avoid) to stay out of trouble.
With hindsight being 20/20, I believe that this unsanctioned way was the old way of reaching Lulumahu Falls, mostly because there were landmarks you could look for when you didn't know any better on where to go.
So starting from the familiar parking area described above, I could follow the fencing to the left until I find holes that people have created, or I could take the hunter's path into the bamboo grove and then follow one of the false trails to the left.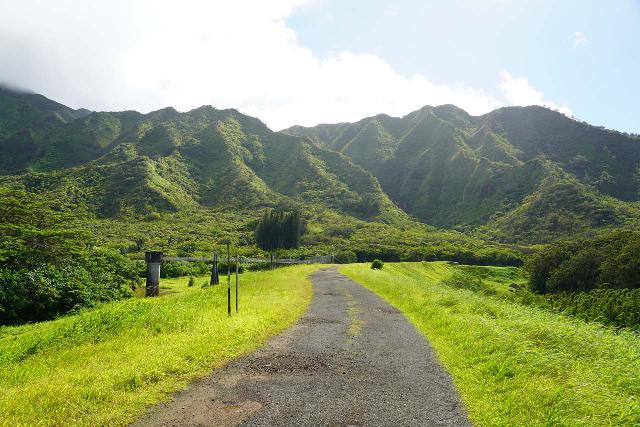 Or, I could also follow the wider Lulumahu Trail to the first major fork (roughly 500ft from the first gate), and then veer left onto the smaller fork towards the water hoses and fencing.
All of these routes ultimately led to an embankment (overgrown with lots of tall invasive grass) supporting an access road that was adjacent to the the mouth of the Nu'uanu Reservoir.
Apparently, there used to be "mysterious stone steps" leading up one part of this overgrown embankment leading up to the road, but I never saw them during my visit.
Once on the access road, I then followed it past the water tower towards a bend in the road veering towards a dead-end where there were construction vehicles, a graffiti-pastered wall, and lots of fencing fronting a shed and some water pipe.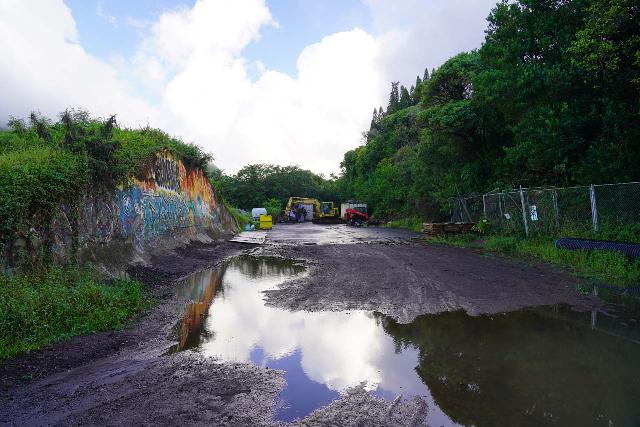 Between the shed and water pipe, there were steps leading to another faint trail that then went across two more fence openings.
This unsanctioned path eventually joined up with the sanctioned Lulumanu Trail about 300ft before the man-made waterfall and dam on the Nu'uanu Stream.
The rest of the hike to Lulumanu Falls would proceed as described in the preceding section.
Authorities
Lulumahu Falls resides in the Honolulu Watershed Forest Reserve near Kane'ohe on the island of Oahu, Hawaii. Although it resides in a forest reserve, access involves getting permission from the Honolulu Board of Water Supply (BWS). I managed to secure an online permit from their website. For further information or inquiries about the general area as well as current conditions, you may want to try visiting the Department of Land and Natural Resources (DLNR) website.
Since I went to Lulumahu Falls from the Honolulu / Waikiki area, that's how I'll describe the driving directions.
It can get tricky leaving Waikiki to get onto the H1 (and traffic patterns change), but my preferred way to get there from the Sheraton Waikiki say was to take any of the small streets north to Ala Wai Blvd.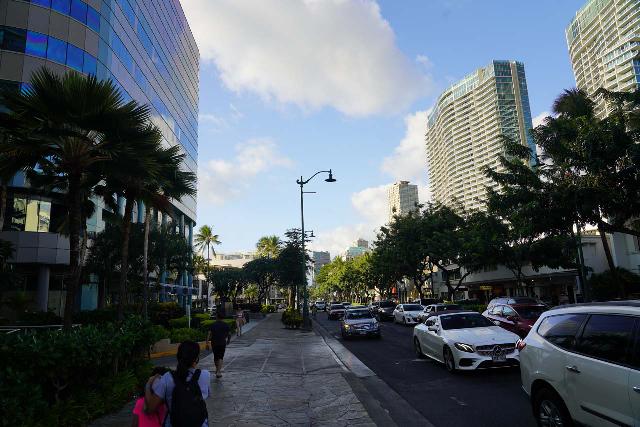 Then, turn left onto the one-way Ala Wai Blvd heading west but keeping right to make a right turn onto McCully Street.
Then, follow McCully Street north to Dole Street, where I'd turn left and then follow this low-key residential street to Alexander Street at a four-way stop.
Turning left onto Alexander Street, then I'd be going straight to the onramp for the westbound H1 Freeway.
Once on the H1 going west, I then followed it to the Pali Highway (connecting ramp on the right).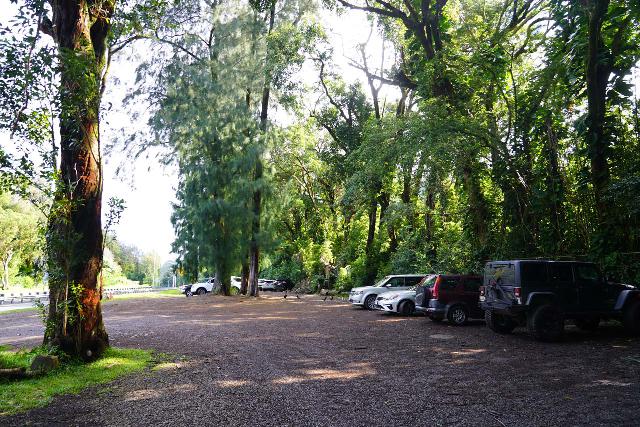 Then, I followed the Pali Highway north for about 4 miles before entering the parking area (more like a clearing with some trees), which was on the right side just where the Nuuanu Pali Drive (the Old Pali Highway) rejoins the Pali Highway.
Overall, this drive took me around 30 minutes (with some limited traffic), but if it was on a typical weekday with rush hour traffic, this can easily blow up to around 45 minutes or longer!
For geographical context, Lulumahu Falls was near Kane'ohe, which was 6 miles (about 15 minutes drive) west of Kailua, 14 miles (over 30 minutes drive) northeast of Honolulu / Waikiki, 16 miles (under 30 minutes drive) east of Pearl City, 24 miles (about 45 minutes drive) south of La'ie, and 34 miles (about 45 minutes drive) southeast of Hale'iwa.
Find A Place To Stay
Related Top 10 Lists
No Posts Found
Trip Planning Resources
Nearby Accommodations
Featured Images and Nearby Attractions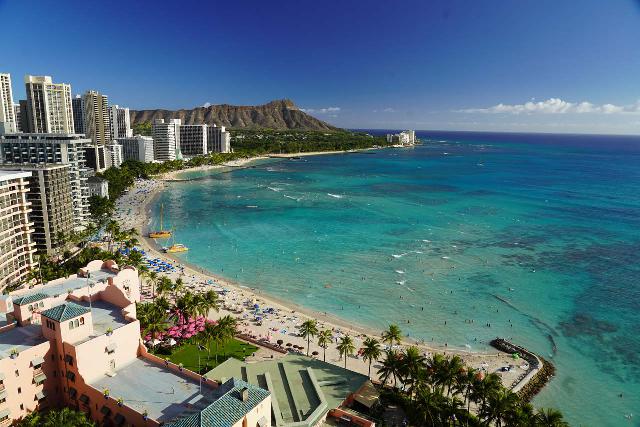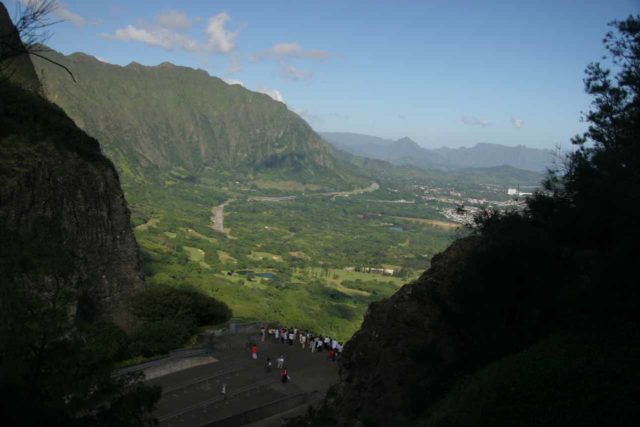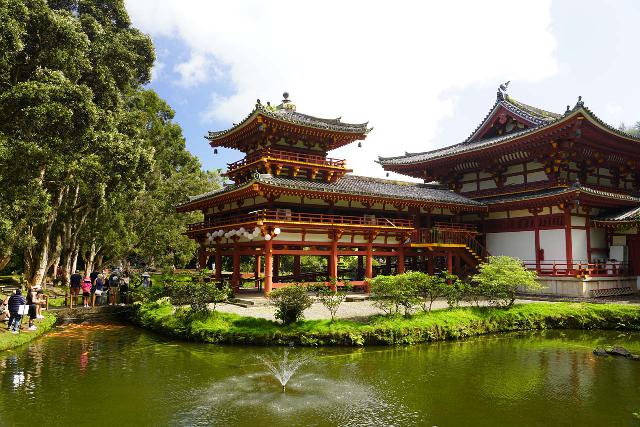 Tagged with:
honolulu board of water supply, nuuanu pali, lulumahu stream, permit
Visitor Comments:
Got something you'd like to share or say to keep the conversation going? Feel free to leave a comment below...
No users have replied to the content on this page
Visitor Reviews of this Waterfall:
If you have a waterfall story or write-up that you'd like to share, feel free to click the button below and fill out the form...
No users have submitted a write-up/review of this waterfall