About Glymur
---
Hiking Distance:
5km round trip; some scrambling
---
Date first visited:
2007-06-21
Date last visited:
2007-06-21
---
Waterfall Latitude:
64.39083
Waterfall Longitude:
-21.25209
---
Glymur (sounds like "glimmer"; my Icelandic dictionary says it means "clash or ringing") was once said to be the tallest waterfall in Iceland at 196m.
I had read that it was once a very popular attraction as the Ring Road used to go around Hvalfjörður (the Whale Fjord; I think is pronounced "KHVAHL-feeur-thur") where this waterfall can be found.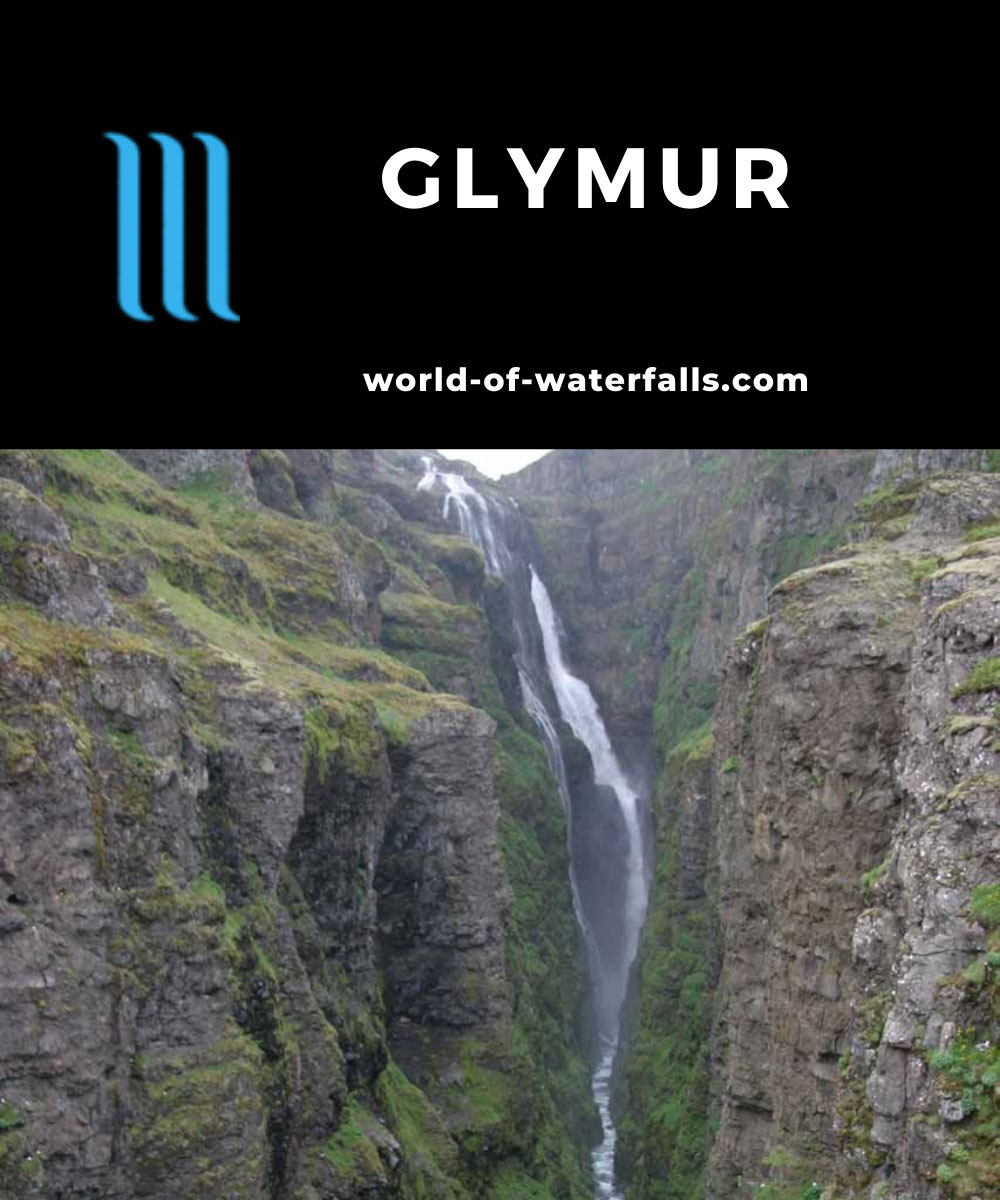 Then, the toll tunnel that went under the fjord bypassed the old route and became the new route for the Ring Road.
As a result, we ended up with a bit of an adventure as well as a quieter (albeit rugged) experience given the lighter use.
Another cool thing about this hike to Glymur was that we got to see a natural arch as a bonus!
The hike also featured views back towards the Whale Fjord showcasing the rugged landscape that would come to typify the Iceland landscape that we'd encounter for the rest of our trip.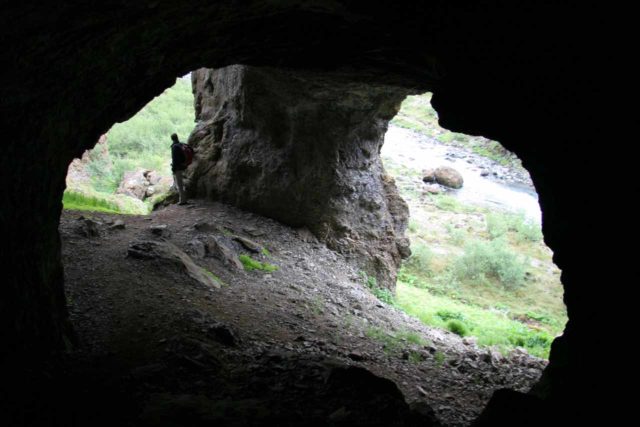 Regarding Glymur's changed status as Iceland's tallest, we have witnessed new glacier-melt waterfalls in Norway as a result of Global Warming.
Consequently, this may have been an example of what happened with the revealing of a new and taller waterfall in Iceland.
Moreover, the Eyjafjallajökull eruption in 2010 may have further receded the ice to finally allow it to be noticed and surveyed.
However, details on the other waterfall called Morsarfoss (Morsárfoss) were sketchy as its accessibility was said to be difficult.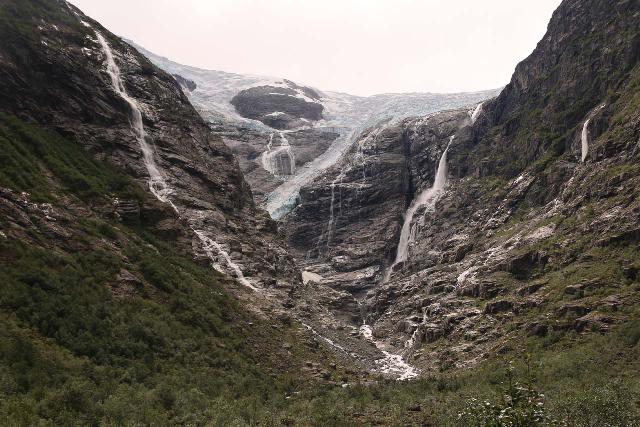 In any case, Glymur was said to be the tallest when we visited it in June 2007, and as you can see from this page, we have lots to say about it.
The Hike to Glymur
The way we wound up experiencing Glymur was an out-and-back hike that followed a steep trail on the east side of its river to satisfying views before turning back.
We ended up logging about 5km of hiking while it took us about four hours to complete the excursion.
There may have been other ways to experience this hiking trail as we had noticed a handful of other hikers on the opposite side of the river.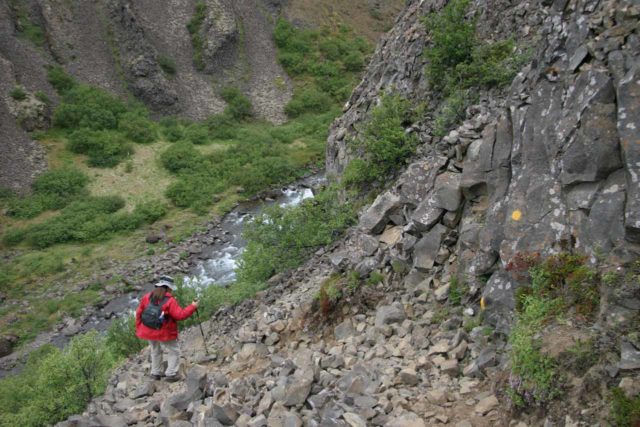 It may have led up to the top of the waterfall though we can't really say more about what the rest of this trail is like until we actually do it.
Nevertheless, this route is definitely something I'm keen on doing next time.
In any case, our hike included some time spent losing the trail at the start.
It also included some additional time spent scrambling to seek out better views of Glymur.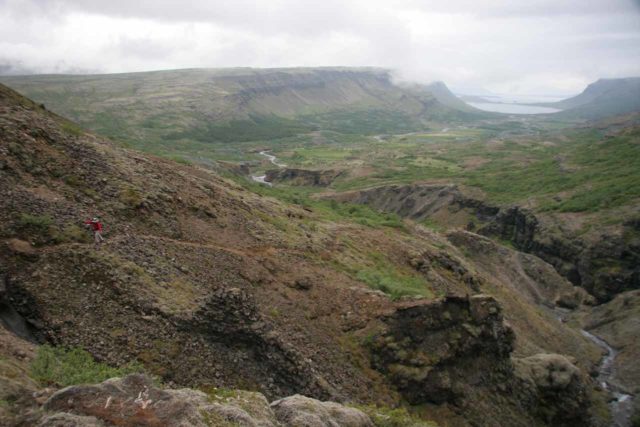 We definitely tested our fear of heights and butterflies in our stomachs as each viewpoint of Glymur involved getting close to the sheer dropoffs of the gorge cliffs.
We were careful not to get too close to the edge since we couldn't be sure of the stability of the ground we were on.
Indeed, this was a hike with a fair bit of fitness and good judgement is needed to fully enjoy it.
Moreover, I'd definitely recommend a good pair of hiking boots to better handle some of the trail's sketchier spots.
Glymur Trail Description – from the trailhead to a junction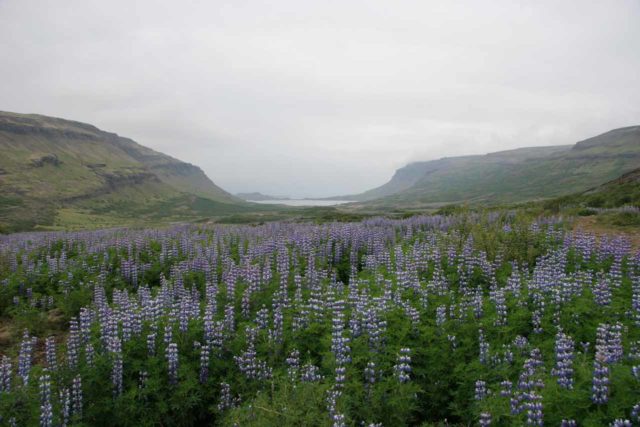 From the trailhead (see directions below), we followed what appeared to be a fairly obvious dirt trail.
It was leading us away from the Hvalfjord and then past a field of blooming purple flowers.
Somewhere along the way, we apparently took a false trail because it took us a little while to figure out where the correct trail continued.
Eventually, we managed to pick up the correct trail after we had retraced our steps to find the trail markers again (basically yellow dots spray-painted on rocks).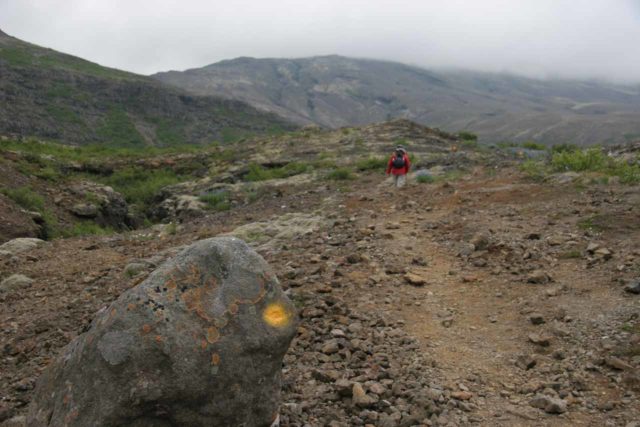 Then, we made sure to ignore false trails while continuing to follow trail clues like those spray-painted rocks as well as a dilapidated barbed wire fence.
From that point, the trail became a bit more obvious (though we still had to maintain focus as it was easy to go astray).
We eventually got to a point where the trail curved towards a junction roughly a kilometer away from the trailhead.
At this junction, we had a choice of continuing to go straight or taking the path on our right.
Glymur Trail Description – hiking along the south side of the canyon
We ultimately chose to take the path on the right, which then led us to what appeared to be a cave.
However, once we descended inside the cave, we saw that there was some brightness on the other end.
That was when we realized that this was really a natural arch. How cool is that?!?!
At the other opening of the "cave," we saw that there was actually an arch splitting this opening creating a double-arch.
The size of this arch would probably rival some of the more modest-sized arches in Arches National Park in Utah.
So this landmark made an already scenic and tranquil hike even more alluring!
The trail then descended immediately from the arch towards the level of the river that was responsible for Glymur.
There was a reinforced log spanning the river with a metal wire to hold onto for balance.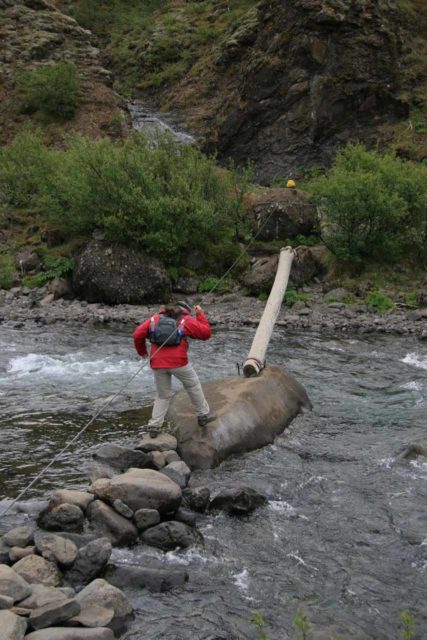 Once we were on the other side of the river, we then went up a steep slope with a lot of loose talus.
The climb was steep enough to require us to use our hands a little bit.
We had to be very careful for a slip and fall here could've led to some serious injury.
Once we got over the pretty steep climb, the trail became more straightforward to follow.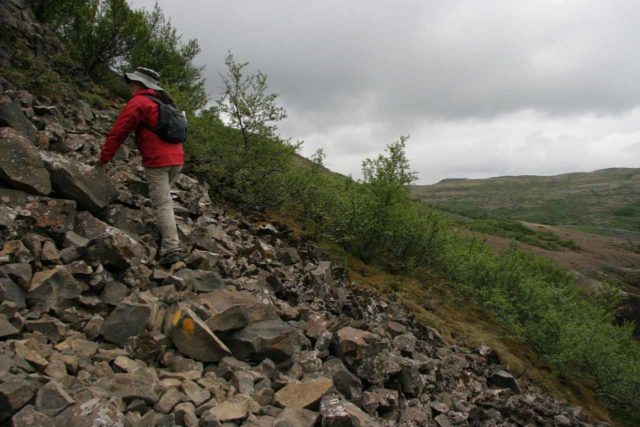 However, the trail was also narrower (hugging cliffs and dropoffs in some sections) and it was generally uphill for the next kilometer.
Along this stretch, there were some smaller cascades we went around as well as some rockier sections that felt more like scrambles than trail hikes.
In any case, parts of Glymur could be seen in the distance, which further strengthened our resolve to keep going.
Glymur Trail Description – precarious views of the waterfall
Eventually, we started reaching some viewpoints by the cliff's edge of Glymur.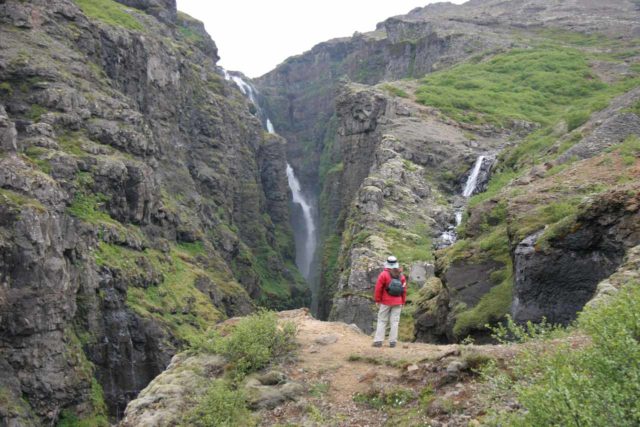 The first few viewpoints only provided partial views of the well-concealed waterfall accompanied by smaller waterfalls in a different part of the gorge.
As we continued going up the trail, we eventually came upon an even better view of the falls (shown at the top of this page).
From that vantage point, we could better appreciate the rough terrain of the narrow gorge that the waterfall was hidden within.
Meanwhile, we could see birds flying back and forth between cliffs before the falls.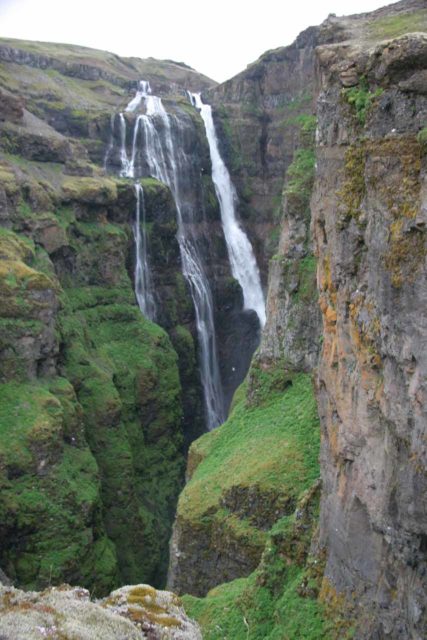 As we went higher up the trail, we'd eventually get to a more direct view of Glymur, but the drawback was that we weren't able to see its bottom.
We ultimately turned around at this point thinking there might not be anything more to see.
However, in hindsight, we probably should've gone all the way to the top of the waterfall just to complete the whole experience on this side of the river.
Authorities
Glymur resides in the Southern Region of Iceland near Akranes, Iceland. It is administered by the municipality of Hvalfjarðarsveit. For information or inquiries about the general area as well as current conditions, you may want to try visiting their website.
To reach the Glymur Trailhead from Reykjavik, we drove about 9km east to the Ring Road (Route 1).
Then, we went north on it for about 24km to a fork right before the tunnel going beneath the Hvalfjörður.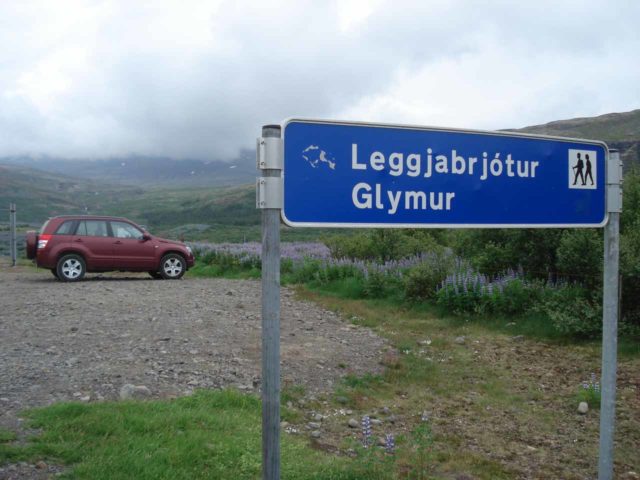 We turned right (to avoid the tunnel) and went onto Route 47, which continued alongside the fjord for about another 35km.
Just past a bridge at the head of the fjord, there was a signposted turnoff leading 3km further inland to the Glymur car park and trailhead.
This drive took us a little over an hour in each direction.
Find A Place To Stay
Related Top 10 Lists
Trip Planning Resources
Nearby Accommodations
Tagged with:
hvalfjordur, west region, vesturland, iceland, waterfall, reykjavik, hike, arch, hvalvatn
Visitor Comments:
Glymur
December 20, 2008 2:32 am
-
We visited Glymur last summer, with our two teenage daughters. After a beautiful but challenging hike, we got tired of listening to older daughter's complaining. We saw the falls, but didn't make it to the top of the falls. We're going back this summer, without kids, and WILL make it to the top. Amazing beauty. ...Read More
Visitor Reviews of this Waterfall:
No users have submitted a write-up/review of this waterfall