About Seljalandsfoss
---
Hiking Distance:
roadside; or 1.5km loop; or 3km total with Gljufrabui
Suggested Time:
allow at least 30 minutes; or up to 2 hours encompassing this waterfall and Gljufrabui
---
Date first visited:
2007-07-05
Date last visited:
2021-08-07
---
Waterfall Latitude:
63.61557
Waterfall Longitude:
-19.98873
---
Seljalandsfoss was a conspicuous waterfall that we immediately noticed while driving along the Ring Road, and it was for this reason that it was a very popular attraction.
Indeed, it was inundated with tour bus crowds and self-drivers even back when we first came here in July 2007.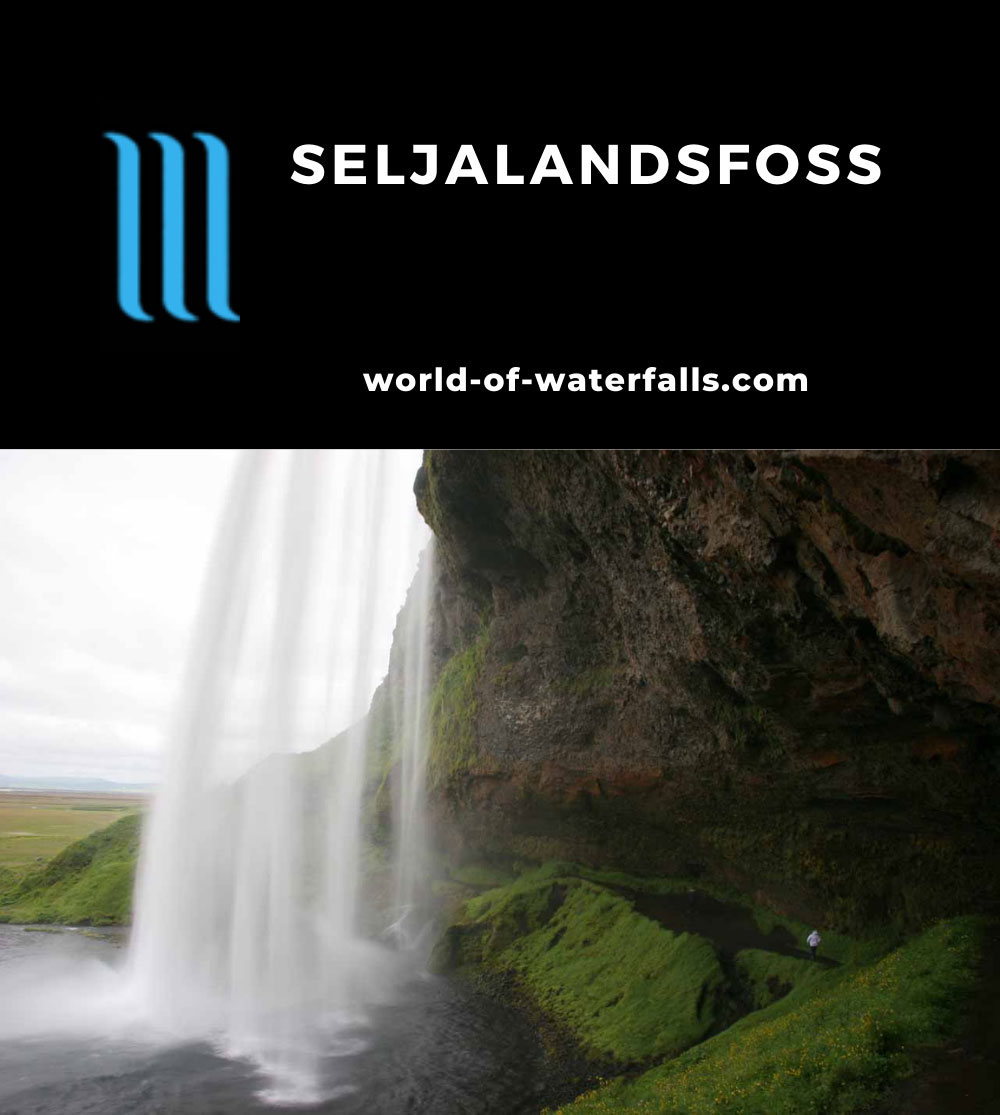 And the crush didn't seem to have stopped even after the amount of travel worldwide had drastically decreased due to COVID-19 when we came back in August 2021.
While tall waterfalls like this weren't anything that remarkable, especially in a country like Iceland, I think it's that combination of convenience as well as the ability to go behind it that really propelled it as a bucket list item for every visitor.
Characteristics of Seljalandsfoss
As for Seljalandsfoss' characteristics, it had a 60m plunge off a cliff that was said to be once part of the coastline of Southern Iceland.
This suggested that the waterfall was old and in the advanced stages of its evolution, which was evident with how deep its alcove was that enabled the loop trail to include the ability to go behind the falls.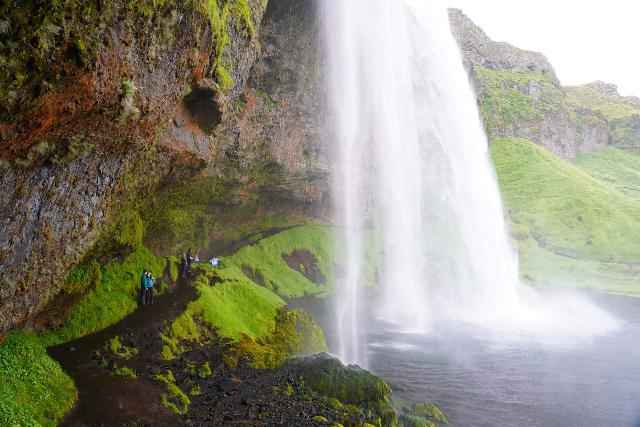 Draining directly from the Eyjafjallajökull Glacier, the feeding Seljalandsá Stream pretty much guarantees a healthy flow over Seljalandsfoss (at least for as long as the glacier still exists).
By the way, that ice cap sits on top of the infamous volcano that erupted in 2010 that interruped flights throughout Europe (it cancelled one of our flights that connected through the UK to Greece).
Anyways, we were able to appreciate this waterfall along a short loop trail that included going behind its plunge along its deep alcove, where the backsplash from the plunge falls is still eating away at.
Thus, we were literally able to photograph and experience this falls from just about every angle imaginable (including those spots that got sprayed by the waterfall's mist).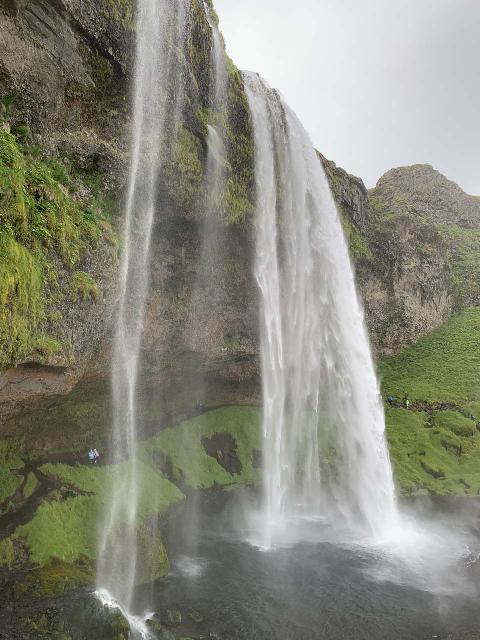 One thing we noticed in addition to the overhanging cliffs and the crowds was that there were many wildflowers in bloom when we first made our visit here in early July 2007.
And as of our latest visit in August 2021, there were still wildflowers though probably not nearly to the extent of that first visit.
Experiencing Seljalandsfoss
Experiencing Seljalandsfoss could take as little as a few minutes to an hour or two, but it really depends on how many different ways you want to take in this waterfall (as well as others).
If we were to do just the loop walk, it would probably take us roughly a half-hour without stops to walk roughly 1.5km.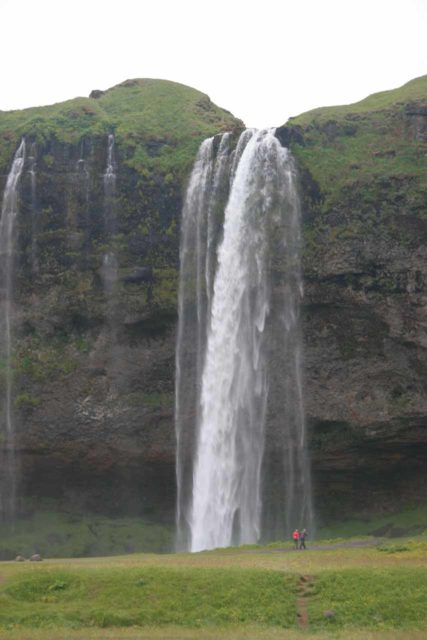 We did precisely that when we made our first visit here, and I'd imagine the majority of tourists might be content to just do this.
However, we found it fruitful to also do the 560m walk from the far end of the Seljalandsfoss loop to the neighboring Gljúfrabúi Waterfall (also called Gljúfrafoss).
Even though we did a short drive to a pullout near a campsite right in front of this other waterfall on our first visit, on our second visit, we took our time and did the newly-established trail instead (especially since car parks nowadays were getting crowded).
During this walk, we experienced at least two or three other companion waterfalls (there may be more) between both Seljalandsfoss and Gljúfrabúi.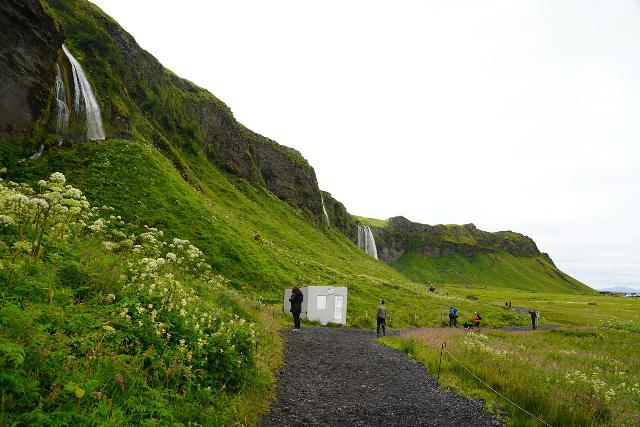 But more importantly, it helped to alleviate the pressure of the tourist crush that can inundate Seljalandsfoss (though Gljúfrabúi was also a far cry from its obscure status when we first came here in 2007).
Given the option to combine Seljalandsfoss and Gljúfrabúi into a single excursion, it took us about 2 hours to fully appreciate both waterfalls as well as the waterfalls in between.
Random Stuff About Seljalandsfoss
According to my Icelandic dictionary, "seljandi" means seller, and I suspect that combining the word with "land" suggests this area had something to do with a land of sellers.
Perhaps the area around Seljalandsfoss might have been some kind of trading grounds or had many residents who made a living trading.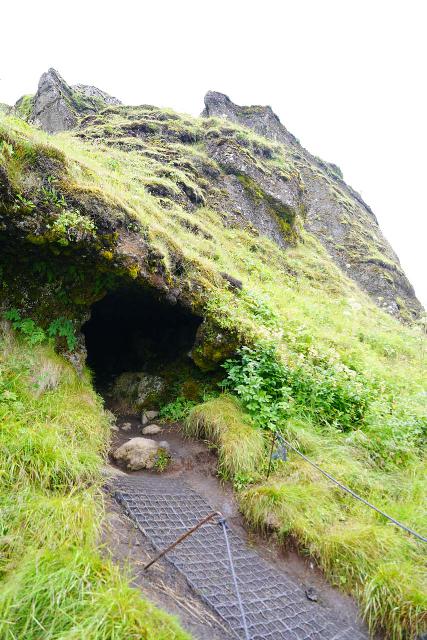 One book that I chanced upon suggested that the nearby Seljaland Caves predated the settlement of Iceland at around 800AD, and that the area was once forested with birch trees.
So quite possibly, the utilization of wood might have had something to do with sellers or tradesmen.
Without additional archaeological evidence to shed light into how the history of this area and its place name came to be associated with sellers (if at all), it still remains a mystery.
As for more recent history, it seemed that Seljalandsfoss was always popular due to its convenience (something we have personally witnessed over 14 years).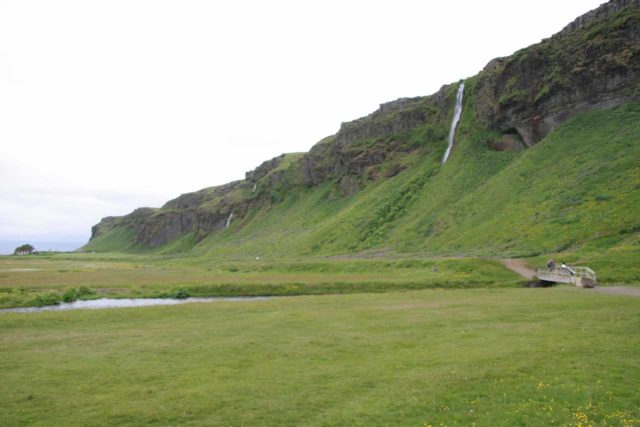 However, the tourist crush (which was certainly on display here) grew exponentially since 2010 when the Eyjafjallajökull eruption brought international notoriety to Iceland.
Then, social media (e.g. Justin Bieber's music video shot at Seljalandsfoss in 2015) and traditional media (e.g. Game of Thrones filming locations) exacerbated the crush of foreign visitors.
Therefore, getting an early start or sticking around for late in the evening might yield a more peaceful experience though there will undoubtedly be many tourists still there even at the unusual hours.
Authorities
Seljalandsfoss resides in the South Region near Vik, Iceland. It is administered by the municipality of Rangárþing eystra. For information or inquiries about the general area as well as current conditions, you may want to try visiting their website.
The turnoff leading to Seljalandsfoss is on Road 249 immediately north of its junction with the Ring Road (Route 1).
This turnoff leaves the Ring Road about 28km west of Skogafoss or 76km east of the town of Selfoss.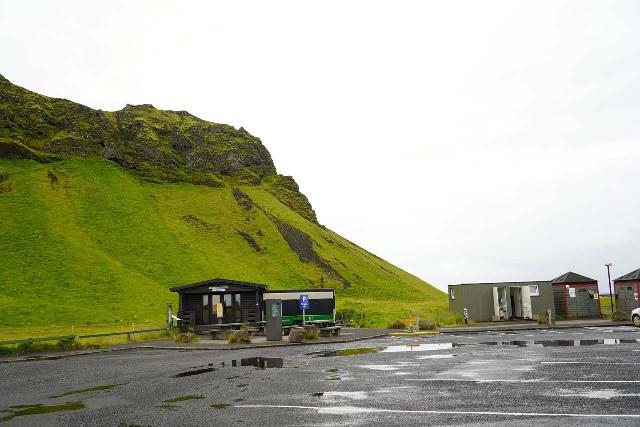 Selfoss is another 58km east of Reykjavík.
Note that had we kept going on Route 249, it would eventually become the 4wd F249 road leading to Þórsmörk.
Find A Place To Stay
Related Top 10 Lists
Trip Planning Resources
Nearby Accommodations
Featured Images and Nearby Attractions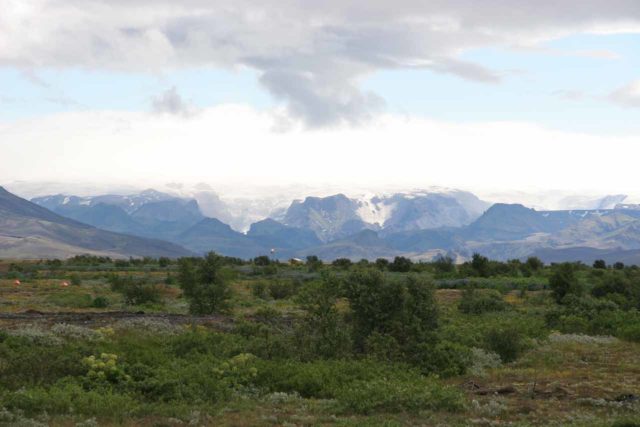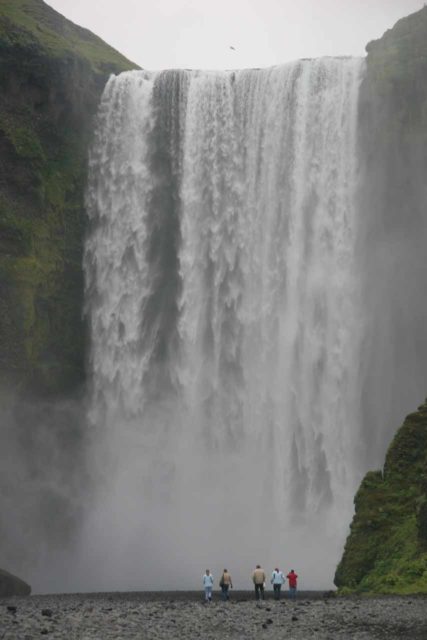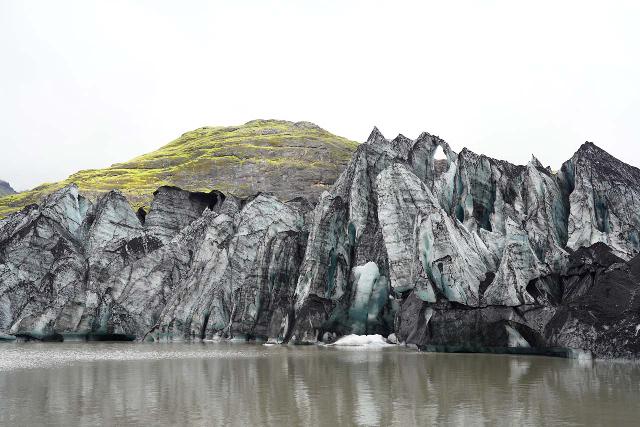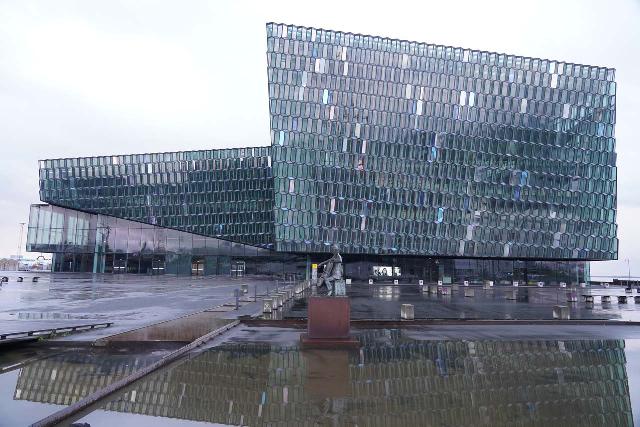 Tagged with:
ring road, south region, southern iceland, iceland, waterfall, behind, popular, sudurland, gljufurarfoss, selfoss
Visitor Comments:
Got something you'd like to share or say to keep the conversation going? Feel free to leave a comment below...
No users have replied to the content on this page
Visitor Reviews of this Waterfall:
If you have a waterfall story or write-up that you'd like to share, feel free to click the button below and fill out the form...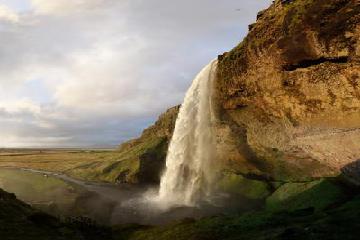 Amazingly beautiful, best in evening sun (Seljalandsfoss)
April 26, 2014 12:41 pm
-
Seljalandfoss is amazingly beautiful and best in evening sun, a little before sunset: The day tours already left for the drive back home, so you're more or less alone. The setting sun dips the falling water spray, the cliffs and the grass into golden light. Not to mention the rainbow effects when you're going behind… ...Read More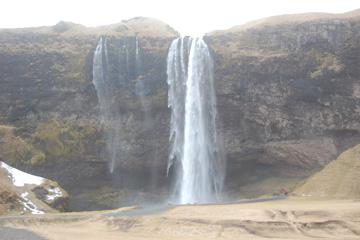 Seljalandsfoss in Winter
December 16, 2012 4:35 pm
-
We took the trip to Iceland in December mostly to see the Northern Lights but were delighted to see so much more including the Seljalandsfoss. It's a bit of a drive from Reykjavik but worth the trip. My daughter braved the spray and walked behind the water fall, an experience to remember. ...Read More