About Stekkjarfoss and Dalsfoss
---
Hiking Distance:
2km round trip (Stekkjarfoss); 6km round trip with scrambling (Dalsfoss)
Suggested Time:
1 hour (Stekkjarfoss); 3 hours (Dalsfoss)
---
Date first visited:
2007-06-26
Date last visited:
2021-08-16
---
Waterfall Latitude:
65.28884
Waterfall Longitude:
-20.07552
---
Stekkjarfoss and Dalsfoss were the most accessible waterfalls on the Vatnsdalsá River within the Forsædalur Valley, which is one of the upstream precursors to the wider Vatnsdalur Valley.
Accessing these waterfalls made for an off-the-beaten-path adventure that made it quite unlike most of the other "bucket list" attractions in Iceland that have drawn crowds after being boosted by Instagram or other social media outlets.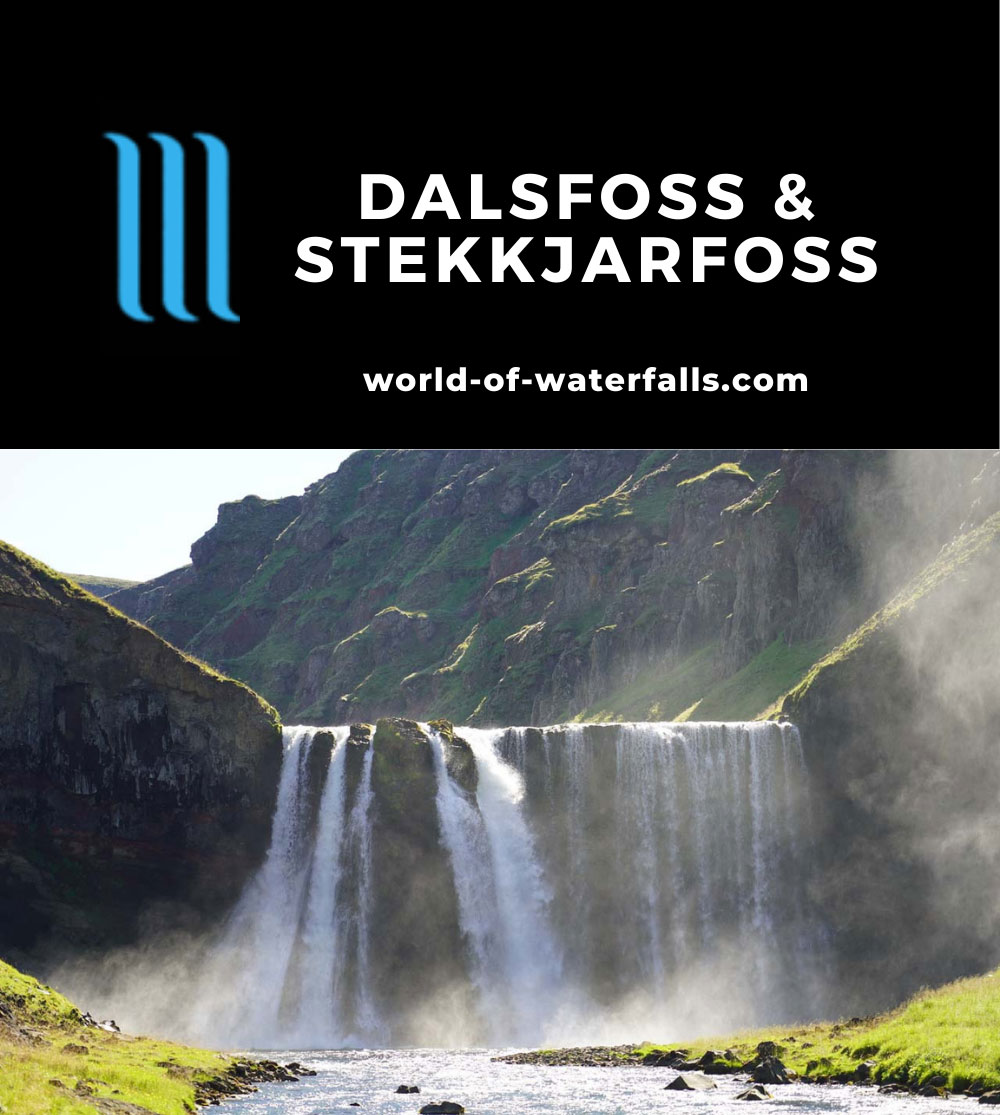 Indeed, both times we've come here (once in June 2007 and again in August 2021), we were pretty much the only people on this self-guided excursion.
Armed with verbal and written "chicken scratch" directions from Jón at the Hof í Vatnsdal Guesthouse, it then became a test of how well we could follow his hints while figuring things out as we went.
The end result of this adventure was a lot of tranquility as well as that sense that we were really experiencing a place that only locals would go to let alone know about.
After all, it didn't seem like there was a formal trailhead, and we even questioned ourselves about whether we were trespassing or not though Jón assurred me that we wouldn't be.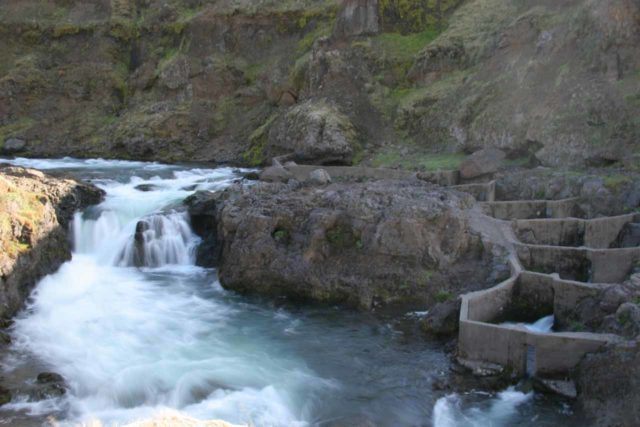 Regarding the waterfalls themselves, Stekkjarfoss (I've also seen it called Stekkarfoss) was the first of the waterfalls in Forsædalur Valley with a height of perhaps 5m or so.
Its distinguishing feature was that there was a fish ladder besides its drop so I'd imagine anglers in the know would come here to fish the river.
Dalsfoss was the next waterfall in Forsædalur, and it was a much wider rectangular (or trapezoidal) waterfall that I'm guessing was 15-20m tall and perhaps 30m wide.
This imposing waterfall sat at the head of the lower reaches of the valley so it formed an obstacle that prevented further progress for both fish and people alike.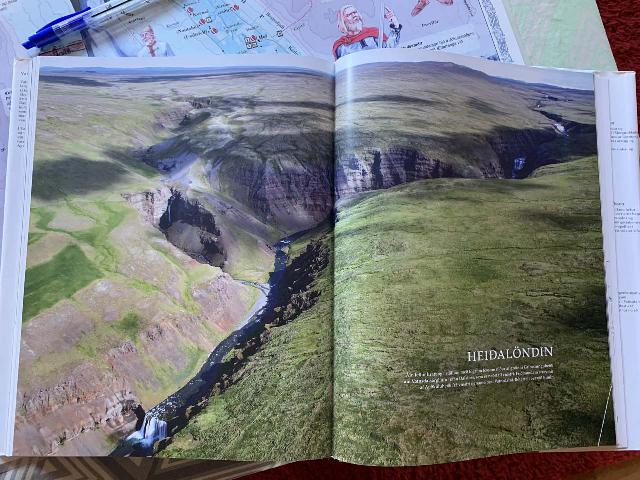 Forsædalur actually featured many more waterfalls beyond Dalsfoss such as Skessufoss, Rjukandi, Kerafoss, and eventually Skinandi, among others.
However, reaching those waterfalls involved hiking a different "trail" along the northern canyon rim, and they're beyond the scope of this write-up.
What Does It Take To Access Stekkjarfoss and Dalsfoss?
According to my GPS logs, we wound up hiking a total of 6km round trip, which took us about 3 hours.
This did not count the 40 minutes or so of just chilling out at Dalsfoss, which was the final waterfall of this particular hike and scramble.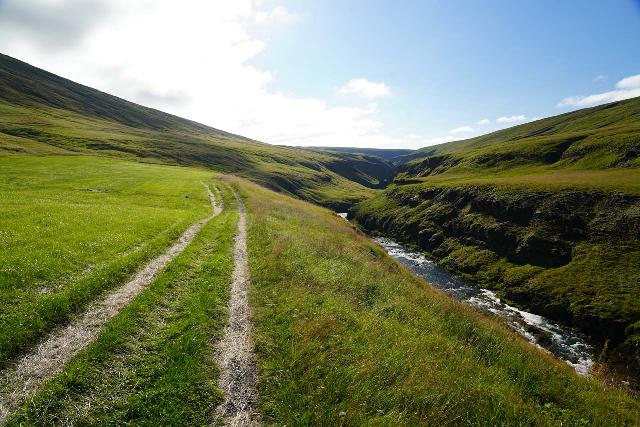 The first kilometer involved a relatively calm hike along a tractor path between the field of the Forsædalur Farm and the canyon carved out by the Vatnsdalsá River.
Towards the end of the farm's pasture was a gate that we had to get through before the tractor path made a crescent as it descended and backtracked downstream towards the signed Stekkjarfoss Waterfall.
We could only view this waterfall from across the river since we couldn't cross the river to get close to it so we didn't linger here for long.
Next, we followed the northern banks of the Vatnsdalsá River upstream as we started to pursue the Dalsfoss Waterfall.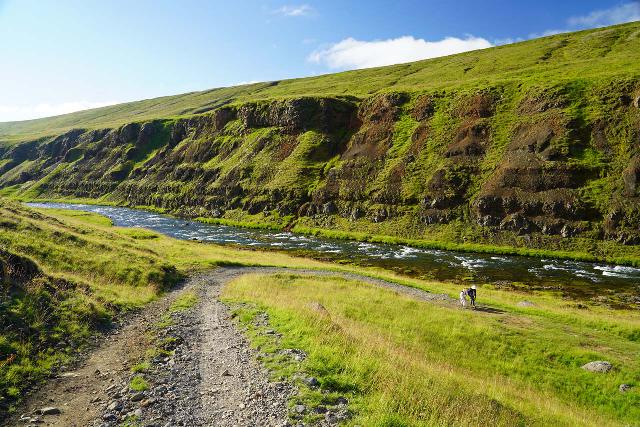 It didn't take long before the tractor trail disappeared as the terrain became muddier and more of a scramble though there were hints of a thin footpath left behind by people who have been here before.
Roughly 500m from Stekkjarfoss, we reached a cliff obstacle with a sign labeled Bríkarhylur, which I'm guessing was some kind of pool in the river of some significance.
However, we spotted a use-trail that climbed over the fairly tame cliff protrusion before hugging the narrow path all along the river.
There were at least three more obstacles where it was tricky to stay dry, and this was where remembering Jón's advice about not needing to get our feet wet on this hike encouraged us to not give up.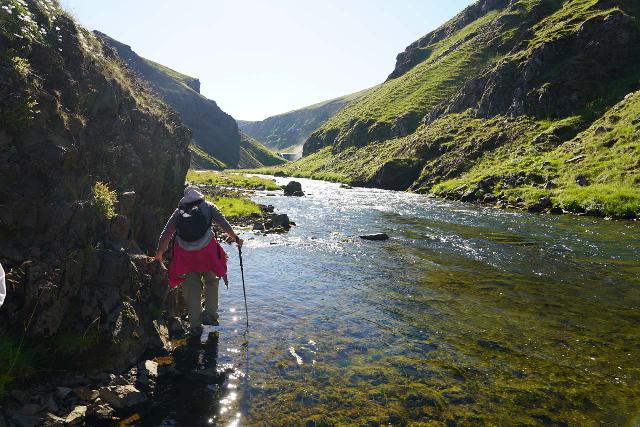 That said, we were quite glad that we wore legitimate Gore-tex hiking boots while also maintaining our balance with trekking poles, especially at those tricky obstacles.
I even wondered if the river was too swollen earlier in the season or if there was too much rain, whether it would be possible to keep the feet dry throughout this hike and scramble given the close calls that we dealt with on our August 2021 visit.
Eventually after another 1.6km or so of scrambling beyond Bríkarhylur, we reached an intermediate cascade obstacle.
At first, it seemed like this cliff and pool couldn't be passed without swimming, but then we noticed a faint use-trail that climbed up a steep grassy slope to the left side of the waterfall to bypass it.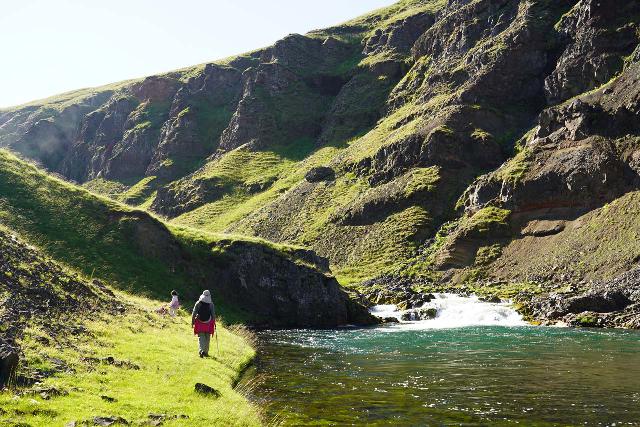 Once we got on the other side and beyond the intermediate waterfall, then we were pretty much home free to go the remaining 300m or so to the base of Dalsfoss.
Isolated by steep cliffs on three sides (including the escarpment that it fell over), we took advantage of its seclusion by enjoying the solitude for a pretty solid 40 minutes or so before heading back.
Authorities
Stekkjarfoss and Dalsfoss resides in the Northwest Region near Blönduós, Iceland. It is administered by the municipality of Húnavatnshreppur. For information or inquiries about the general area as well as current conditions, you may want to try visiting their website.
Although it's not a pre-requisite to stay in Vatnsdalur to do this hike to both Stekkjarfoss and Dalsfoss, I'd recommend doing it so you have time to explore this tranquil and often-overlooked part of Iceland.
We stayed in the Hof í Vatnsdalur farmstay so I'll describe the driving directions to get there from Blönduós before continuing the route to the Forsædalur Farm, where we began our hike and scramble.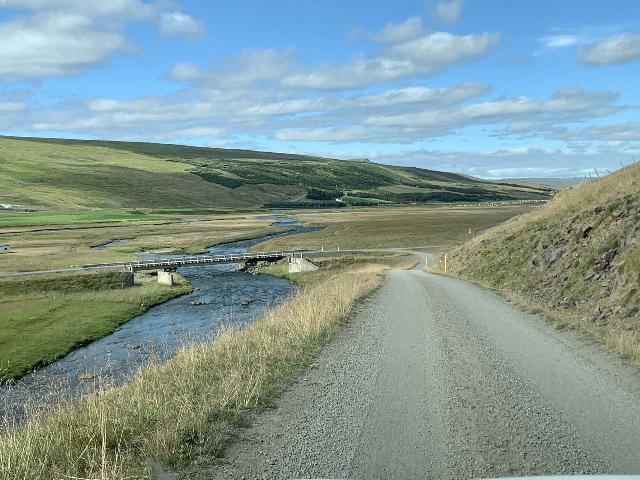 So starting from the town of Blönduós, we took the Ring Road South for about 17km to the Road 722 turnoff on the left (this was before the bridge over the Vatnsdalsá River).
Once on the 722 Road, which started off paved, we then followed the gravel road as it followed the east side of the Vatnsdalsá River eventually going some 15km south of the Ring Road to the turnoff for the Hof í Vatnsdal Guesthouse or Farmstay.
Continuing beyond Hof í Vatnsdalur, we proceeded to drive further up the Vatnsdalur Valley for another 5.7km.
We then turned left onto an access road signed for "Forsædalur" (this was before the next bridge over the Vatnsdalsá River), and then we drove a little over 6km to the Forsædalur Farm, which itself was about 1.4km beyond the Sunnuhlið Farm.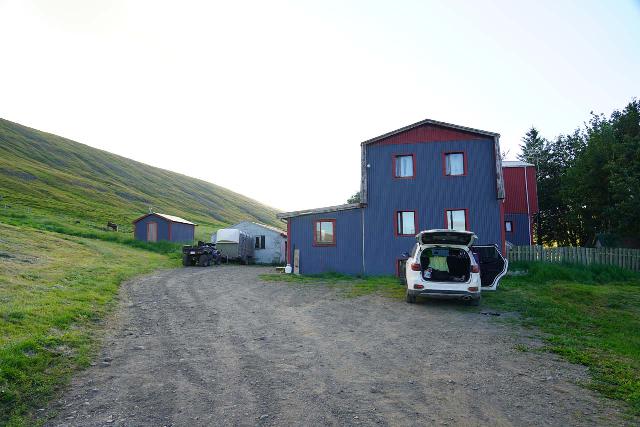 Overall, it took us a little under 20 minutes to drive from Hof to the Forsædalur Farm though you're looking at around about an hour if you drive to the farm from Blönduós.
Once we got to the Forsædalur Farm, we apparently had to figure out where to park as it wasn't obvious to us where to do so on either of our visits (in 2007 and 2021).
At first, we considered parking next to the farm building at the end of the public part of the road, which felt weird as we were getting strange looks from the kids living there.
However, we noticed there was signage pointing towards a grassy tractor road (signed for Nónhylur, Urriðaflúðir, and Stekkjarfoss), which we took for roughly 250m to somewhat of a clearing next to a gate.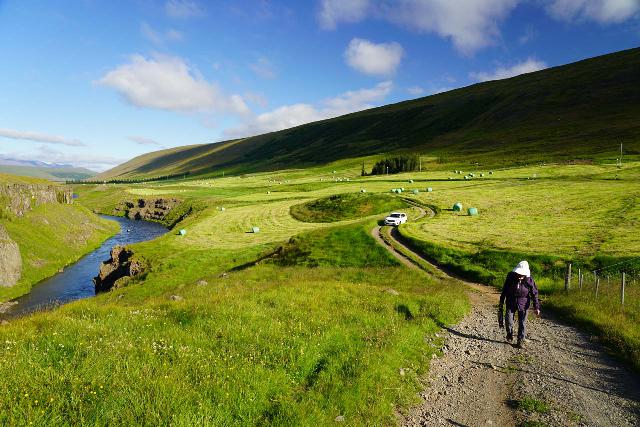 We opted to start walking from here though I suspected that the owners probably thought you could keep driving the grassy road all the way to Stekkjarfoss.
However, that tractor road cut pretty deep into the grass, which meant that even though we had a decent amount of clearance on our 4wd rental, we still didn't feel that comfortable driving it as we kept feeling the ground scraping the vehicle's underside.
And that was why we wound up walking that kilometer stretch between the Forsædalur Farm and Stekkjarfoss instead of chancing it with our rental vehicle.
When we first were here in 2007, there was less infrastructure around the farm so we actually drove all the way to a second gate, where we opted to stop there thinking that we were driving on a foot trail and not on a road anymore.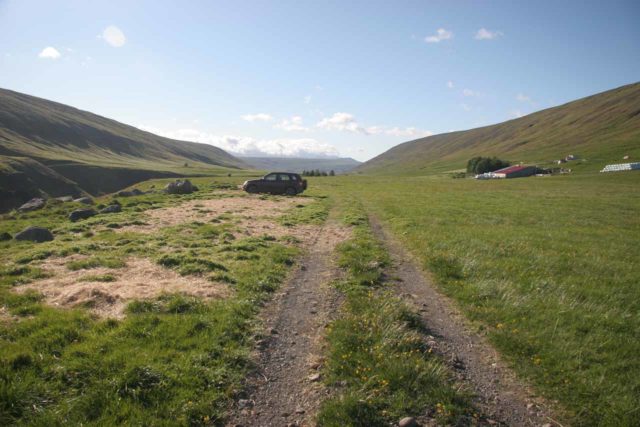 But with hindsight being 20/20, I suspect that you probably can open the gate, drive through it, then close the gate again, and finally drive to the clearing near Stekkjarfoss.
Had we gone ahead and did that with the rental car, then that would shave off 2km off the round-trip distance of the hike and scramble that I had described above.
As for geographical context, Hof í Vatnsdal was about 33km (about 30 minutes drive) south of Blönduós, about 177km (over 2 hours drive) west of Akureyri, and 242km (about 3 hours drive) northeast of Reykjavík.
Find A Place To Stay
Related Top 10 Lists
No Posts Found
Trip Planning Resources
Nearby Accommodations
Featured Images and Nearby Attractions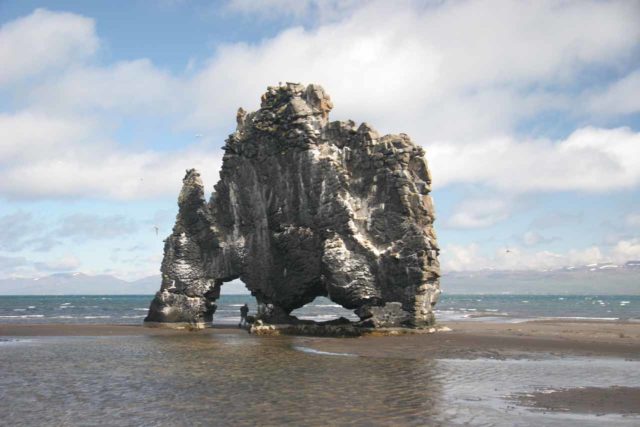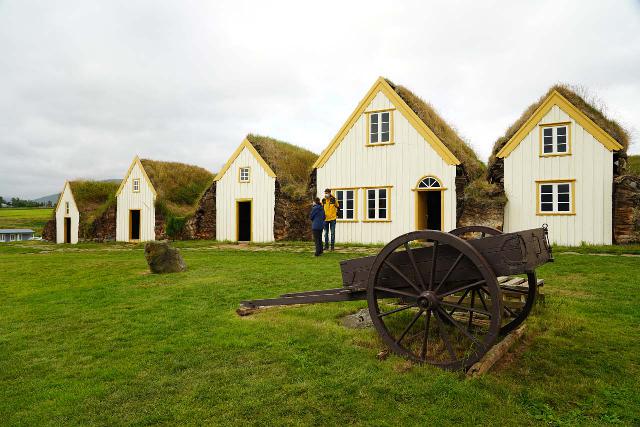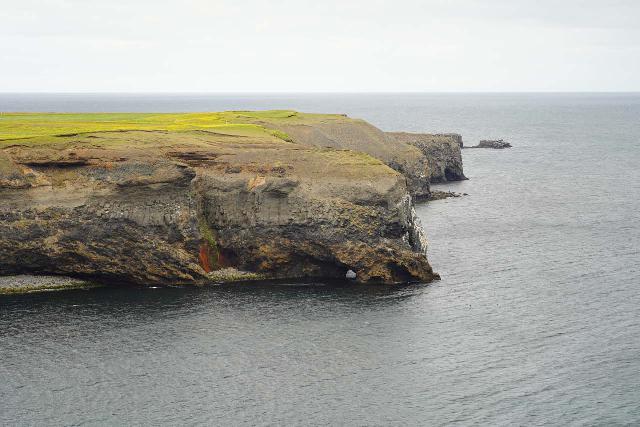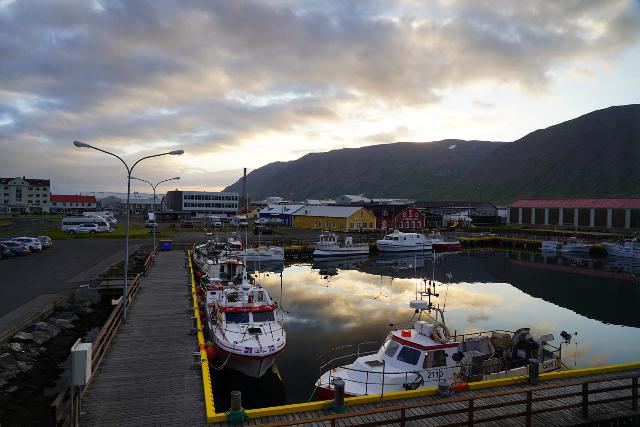 Tagged with:
vatnsdalur, blonduos, northwest region, nordurland vestra, iceland, waterfall, skinandi, fish ladder, dalfoss, skessufoss, rjukandi, kerafoss
Visitor Comments:
Got something you'd like to share or say to keep the conversation going? Feel free to leave a comment below...
No users have replied to the content on this page
Visitor Reviews of this Waterfall:
If you have a waterfall story or write-up that you'd like to share, feel free to click the button below and fill out the form...
No users have submitted a write-up/review of this waterfall