About The Husedalen Waterfalls
---
Hiking Distance:
10km round trip
Suggested Time:
4-6 hours
---
Date first visited:
2005-06-25
Date last visited:
2005-06-25
---
Waterfall Latitude:
60.33111
Waterfall Longitude:
6.80182
Husedalen Waterfalls were a series of four giant waterfalls on the Kinso River making a mad dash down from the Hardanger Plateau (Hardangervidda) to the South Fjord (Sørfjorden). The cumulative drop of the Kinso River was said to be 840km over a 4km stretch as it could be argued these falls could be one giant waterfall when viewed from afar or in the air, I'd imagine. Anyhow, in the order I saw them, these waterfalls were called Tveitafossen, Nyastølsfossen, Nykkjesøyfossen, and Søtefossen. I think each of these four waterfalls could've easily been superlative waterfalls in its own right, but the fact that they were all on this one mega waterfall excursion really says something about the magnitude of this waterfalling adventure.
That said, during my visit in June 2005, I found out that this hike wasn't easy as I ended up spending nearly 5 hours on the trail (and that included some trail running) where some sections were difficult to follow. I believe this would typically be at least a six-hour hike at a more leisurely pace. Anyhow, it turned out that all the footbridges were either taken down or washed away due to the high flow of the Kinso River, and perhaps that was what made the hike harder than it should have been. After finding out about the difficulties of the hike the hard way, I then got this sense (of the hike being supposedly easy) when I was talking with a worker at the visitor center in Kinsarvik. Upon me telling him it was a difficult hike, he looked at me strangely as if I didn't know what I was talking about.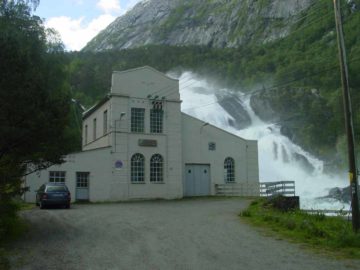 In any case, despite the difficulties, I thought the rewards of this hike were well worth the effort. Indeed, I thought this was
the
must do hike in Hordaland County, and if there was one waterfall hike where you would have to spend the better part of a day to do, this one would be it!
My hike began from a small power station at the trailhead of the hike (see directions below). Right behind the power station was the waterfall Tveitafossen. I was able to get in front of this waterfall from right beside the power station though there was a tremendous amount of mist that got thrown in my direction so it wasn't easy to photograph. That said, I'd imagine that it might not be as bad later in the Summer when the Kinso River would have a chance to calm down a bit.
From the power station, I was a little confused as to which direction I should go. At first, I went up a very rocky and uneven "path" that followed some thick diversion pipes that prevented me from seeing any more of Tveitafossen. After a few minutes of going up this path, I decided that there must've been an easier path so I went back down to the power station, then I walked further down the road until I went up a chain-closed gravel road.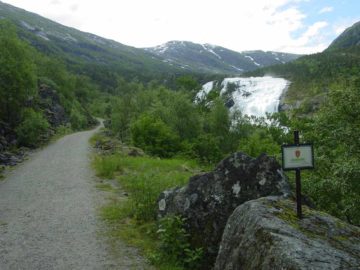 That road then climbed up to a point where I could get more contextual views of Tveitafossen in context with the power station, and I would then find myself at a few trail junctions (about 1km from the power station).
It turned out that had I persisted on that rocky path, I would have ended up at one of these junctions. There was also another narrow trail that branched off from the gravel road that seemed to go back towards the river. Not certain of whether this trail was for the power station or not, I opted to stay on the gravel road (and in hindsight, it turned out to be the riverside trail that I probably was supposed to take in the first place).
In any case, after another kilometer of hiking that involved some more climbing (which definitely warmed me up despite the chilly pre-dawn morning start I was getting), the road flattened out and I eventually passed by a sign that said "Hardangervidda Nasjonalpark" which indicated to me that I finally entered into the boundaries of the reserve.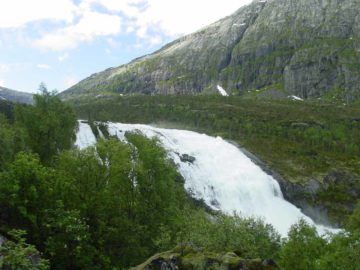 Shortly thereafter, I started to see the full context of the thick and sloping Nyastolsfossen (more accurately spelled
Nyastølsfossen
or Nyastølfossen). And even though I could see the extent of this massive waterfall, it always seemed like trees were blocking parts of the waterfall. In hindsight, I would later learn that the riverside spur trail that I skipped would be the path to get me closer to the falls. Instead, I had to "settle" for the distant views, but as you can see from photos on this page, this view was quite good anyways!
Next, the gravel road went past Nyastølsfossen and eventually reached a dead-end after another 0.5km. From there, I had to look very carefully for red "T"'s painted onto rocks or trees. These trail markers were apparently painted by DNT (Den Norske Turistforeningen), which was the authority maintaining the trails in much of Norway, and they were definitely helpful in not only this section of the hike but even further beyond!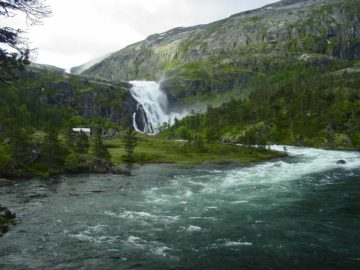 When I finally started to pick up on the "bread crumbs" and regain the hiking trail, I then found myself alongside the Kinso River again. Not long thereafter, I started to see
Nykkjesøyfossen
, which was the third waterfall in the Husedal Valley series. This falls was a bit more modestly-sized compared to the first two, but it was a very welcome sight considering the degree of uncertainty and doubt I had to go through in trying to continue the hike. Around this waterfall, I also noticed a handful of mountain cabins or homes that further assured me that I was going the right way. By the way, I wondered if these cabins or homes that seemed to be in the middle of wilderness had something to do with the name Husedalen as I understood it to mean "the house valley".
Continuing beyond Nykkjesøyfossen, I continued past the cabins and followed more of the red Ts along the Kinso River. I had to get around one tricky flooded creek crossing, but fortunately I was able to scramble around the flooded section without getting my feet wet. Eventually, the red Ts led me up to the wall responsible for the falls, and it was at this point that I had to ascend a steep scramble that went up this wall. With the red Ts assuring me that I went the right way, I found myself using both my hands and my legs until this climb briefly flattened out amidst a moorish terrain consisting of mud, bush, granite, and short trees.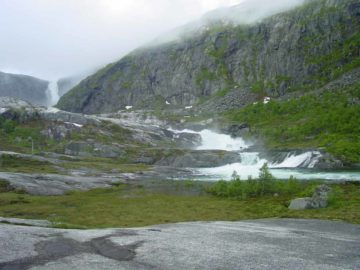 Proceeding further up the trail was not easy as I found myself looking for sparsely-placed red Ts. I would eventually have to go up another tricky rock-wall scramble (again using all of my limbs) until I finally reached the plateau above Nykkjesøyfossen. At that point, there were some confusing red Ts and stacked rock cairns that seemingly led me right to the turbulent Kinso River. It would turn out that those "misleading" paths were supposed to be where footbridges would help me continue on the other side of the Kinso River.
So instead, I just continued off-trail scrambling towards Søtefossen ("the sweet waterfall"?), which was the fourth and last of the big Husedalen Waterfalls. With that waterfall clearly in sight, I basically scrambled to a point where I was able to get a photo of the falls as you see at the top of this page. This was ultimately about 1.2km of non-trivial scrambling and route-finding beyond Nykkjesøyfossen. And as you can see from the photos, it was an unusually-shaped sloping pair of waterfalls dropping at nearly 90-degree angles from each other.
From what I could tell, I was surrounded by the walls of the Hardanger Plateau (Hardangervidda) as well as the rushing Kinso River. Even though the trail maps indicated that I could somehow keep going higher and onto the plateau above the falls, I was content to see the falls and return back the way I came (especially since clouds were starting to swirl and descend over the falls thereby obscuring it). However, given how difficult it was to route-find my way just to get up here, it was nearly as difficult to route-find my way back the way I came. At least I had the confidence of knowing that I took a path to get up here and I could also survey where I was going since I was always higher than where I was going.
I ended up going back the same route that I took on the way up, but in hindsight, I probably could have done this hike as a loop going up the riverside trail besides Nyastølsfossen, then going down the gravel road back to the power station by Tveitafossen.
To get to the trailhead, I left the Rv13 in the town of Kinsarvik (just behind the Kinsarvik Hotel about 42km north of Odda and 25km southwest of Eidfjord) and drove up a 4km road. I took the road uphill all the way to its end, which became unpaved once I went past the residential areas. The power station by Tveitafossen was at the end of this road, and I left the car at the station's large lot.
For context, Odda is 134km (about 3 hours drive with a ferry crossing) east of Bergen. Odda is also 361km (over 5 hours drive) west of Oslo and 194km (over 3.5 hours drive with some ferry crossings) north of Stavanger. Eidfjord is about 310km (4.5 hours drive) west of Oslo and 153km (2.5 hours with a ferry crossing) east of Bergen.
Related Top 10 Lists
Featured Images and Nearby Attractions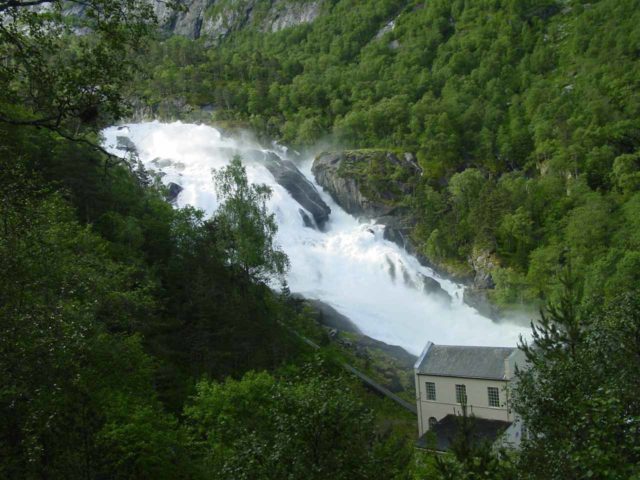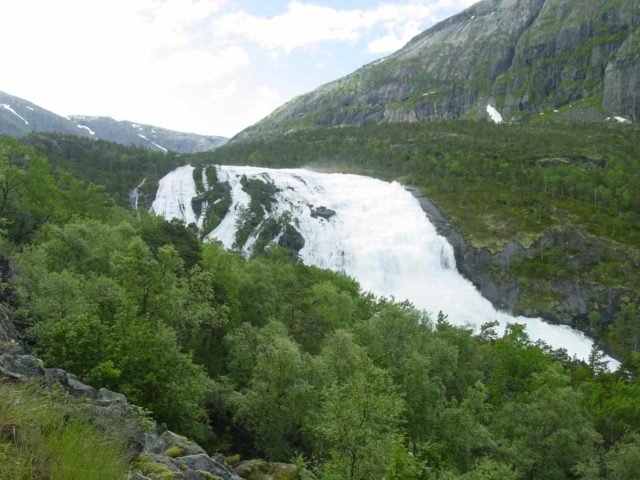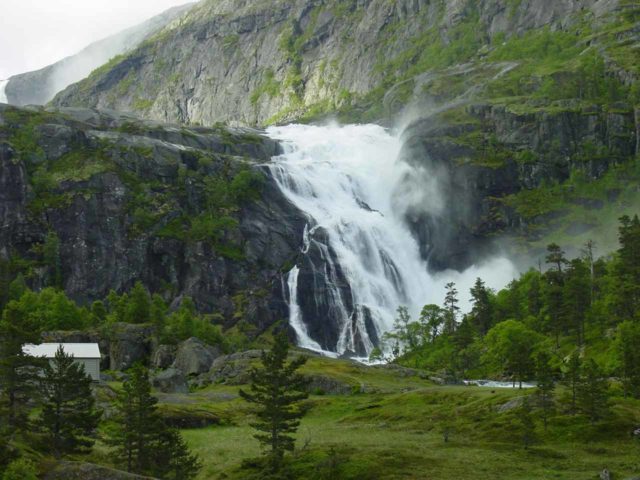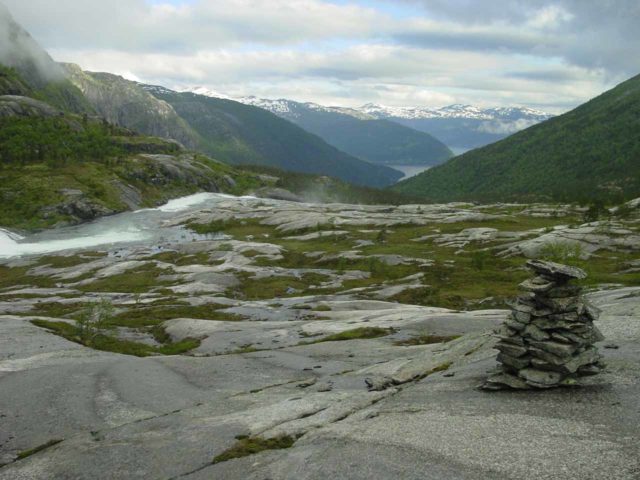 Tagged with:
husedalen, husedal, kinsarvik, ullensvang, hordaland, norway, waterfall, eidfjord, tveitafossen, nyastolsfossen, nykkjesoyfossen, sotefossen, hardanger, hardangervidda, kinso
Visitor Comments:
No users have replied to the content on this page
Visitor Reviews of this Waterfall:
No users have submitted a write-up/review of this waterfall