About Langfoss
---
Hiking Distance:
roadside
Suggested Time:
---
Date first visited:
2005-06-24
Date last visited:
2005-06-24
---
Waterfall Latitude:
59.84464
Waterfall Longitude:
6.33928
Langfoss (literally pronounced and translated like "Long Falls") was a powerful cascading waterfall that tumbled down almost the entire length of a mountainside before spilling into the Åkra Fjord (Åkrafjorden; "OH-kra-feeord-un").
According to the literature, it was said to be 612m tall making it one of the tallest waterfalls in Norway as well as in the world.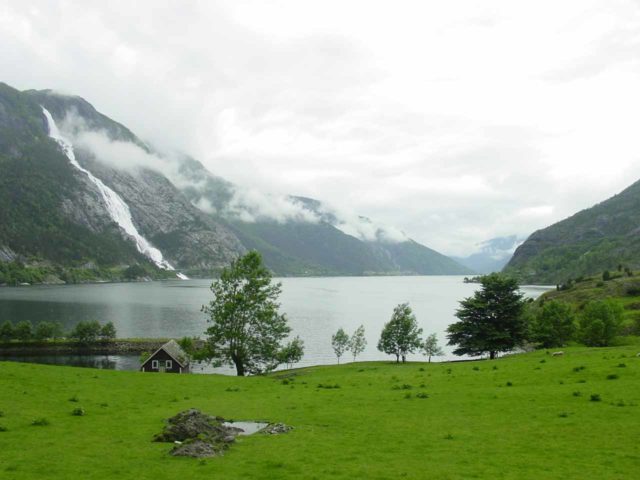 And from looking at the maps, I noticed that there were numerous lakes as well as a large catchment for snowpack where they ultimately would drain over the falls giving it its year-round flow.
Experiencing Langfossen from a distance
Julie and I were able to view this waterfall from a couple of different choice spots.
The first view (as seen in the photo above) was from a bus stop along the E134 highway providing a panoramic view of both the Åkrafjord and Langfoss.
From this vantage point, we could see the falls dwarf some of the structures near its base providing some visual clues as to its overall size (as well as its magnitude and grandeur).
By the way, that bus stop came in handy because it allowed us to momentarily get out of the car and soak in the scene before us without getting in the way of traffic (see directions below).
Experiencing Langfossen from its base
The other way we saw the falls was from near its base.
There was a large well-signed car park and we spent some time trying to appreciate the size of the falls from up close.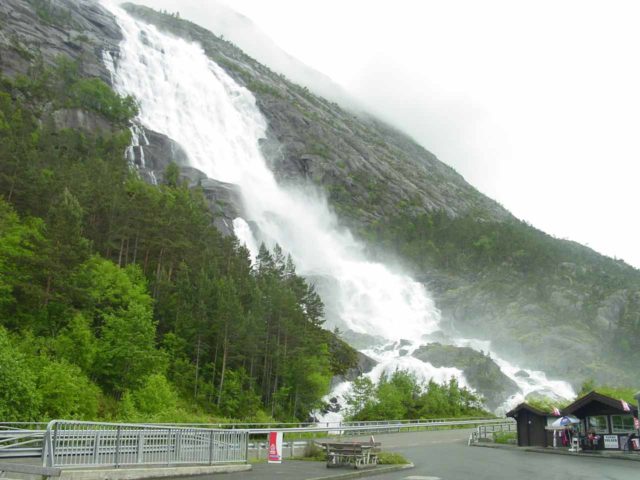 I recalled it was even spraying the road (or at least the bridge spanning its watercourse), which kind of gave our rental car a bit of a car wash.
In any case, Julie and I were content enough with our experience of Langfoss that we didn't explore any other ways it could have been experienced (though I'm now curious about these other ways to see the falls).
Regulating Langfossen?
The waterfall was unregulated and was allowed to flow wildly. This was definitely apparent during our visit in June 2005.
However, I had read a sign near its base saying that there were plans to develop hydroelectric schemes that would impact the behavior of the falls.
I guess it shouldn't be surprising that this waterfall would be targeted for harnessing hydro power given its voluminous flow.
Despite there being some local opposition to such efforts (according to the same sign), the ever-increasing energy demands and implications to the local economy can't be ignored.
So who knows when this gorgeous waterfall might be sacrificed like many of the country's other majestic waterfalls?
Authorities
Langfoss resides in the Etne Municipality. For information or inquiries about the area as well as current conditions, visit their website or Facebook page.
Since Julie and I approached the falls from the east, we'll describe the driving directions starting from the junction of the E134 highway and the Rv13 by the town of Skare (about 18km south of Odda via Oddadalen Valley or 23km west of Røldal).
From this junction, we headed west on the E134 passing through the the Åkra Fjord Tunnel (Åkrafjordtunnelen) along the way. At roughly 18km or so from the Rv13/E134 junction (shortly after the tunnel), there was a bus stop on the right side of the road. That was where we briefly pulled over and took photos.
Proceeding further along E134 for just under 2km (just past a toll station), there was a large car park with a small snack bar, gift shop, and picnic tables near the bridge where E134 got sprayed by the mist of the falls.
For context, Odda is 134km (about 3 hours drive with a ferry crossing) east of Bergen. Skare is 323km (about 5 hours drive) west of Oslo and 179km (over 3 hours drive with some ferry crossings) north of Stavanger.
Finally, there was one thing to note about our visit regarding that toll station (bomstasjon). It turned out that since the station was before the base of the falls, we actually had to pass through that toll station twice since we were coming from the east, and then we had to head back east after visiting the falls. Unfortunately, we had to pay that toll twice! Given how expensive things were in Norway, that certainly didn't help with our travel expenses.
Related Top 10 Lists
Featured Images and Nearby Attractions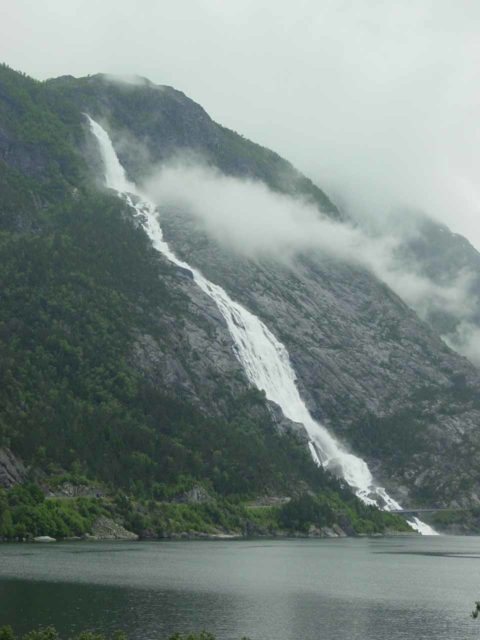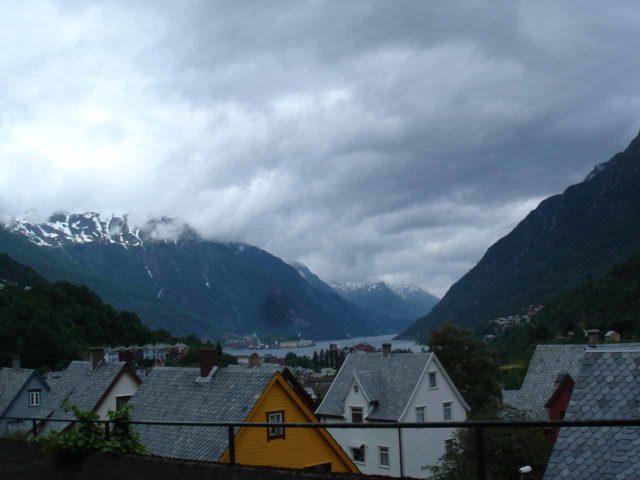 Tagged with:
etne, akrafjord, roldal, skare, odda, hordaland, fjord, norway, waterfall, fjaera
Visitor Comments:
Sleeping to the Sound of the Falls (Langfoss)
August 8, 2008 3:59 am
-
I know this wonderful fall since the 70`s. I´ve often been there, when I was a young man. At that time it was possible to rise up a tent between the fall and the fjord and go asleep at night with this wonderful sound of the water. Today it makes me a little sad to… ...Read More
Visitor Reviews of this Waterfall:
No users have submitted a write-up/review of this waterfall