About Manafossen
---
Hiking Distance:
1km round trip
Suggested Time:
45-60 minutes
---
Date first visited:
2005-06-23
Date last visited:
2005-06-23
---
Waterfall Latitude:
58.85922
Waterfall Longitude:
6.39018
Manafossen (or Månafossen ["Moon Falls"?, I've also seen it spelled Monafossen and Månefossen]; I think it's pronounced "MOH-nuh-foss-un") was definitely our favorite waterfall in Rogaland county.
It was probably the first major waterfall that made us go "WoW!" during our June 2005 trip.
It plunged spectacularly over a 90m drop flowing wildly with unregulated force while also generating enough mist at its base to produce a bold afternoon rainbow.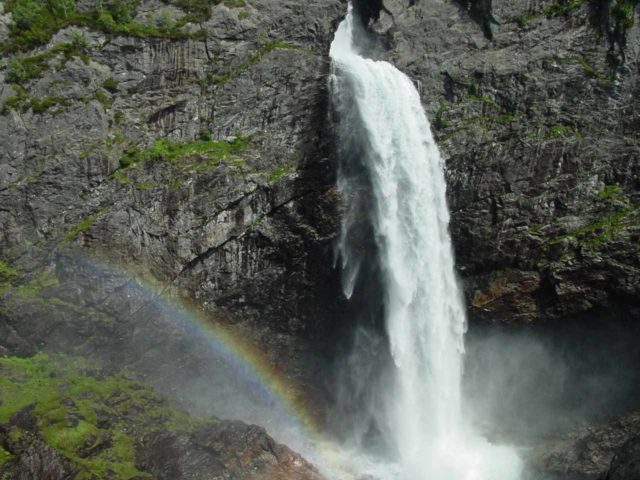 The unregulated nature of this waterfall not only compelled us to think very favorably upon it, but it was also something we would come to appreciate as many of the waterfalls in Norway had been tapped for hydropower.
We'd later learn on this trip that it was one of the country's main sources of domestic energy generation.
Hiking to Månafossen
Getting to Manafossen from the car park required us to go up a steep (and potentially slippery) uphill hike.
At first the trail began as a steep pebbly slope.
However, as we got further up the trail, it then degenerated into a combination of holding chain links held by poles bolted into the hard granite-like surface below while trying to avoid any potentially slippery smooth surfaces, especially where it was wet.
It seemed to us that the trail was in the midst of some construction or improvements (we noticed some unfinished stairs during our June 2005 visit) so it's quite conceivable that by the time you go on this hike, the trail could be way easier and less precarious than it was for us.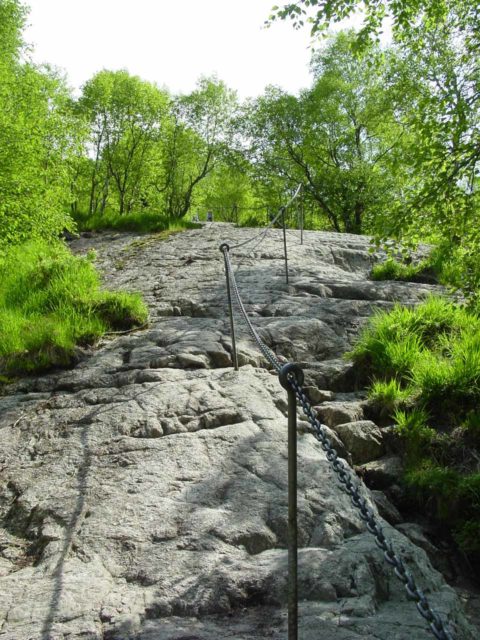 That said, after about 20 minutes or so of this steep, sweat- and heavy-breathing-inducing hike, the path then flattened out as we started to hear the loud roar of Manafossen.
That hastened our steps and amped up our anticipation.
Even though we could hear the falls, we couldn't really see much of the falls until we made our way right up to the rim of a secluded gorge with the falls spilling right into it.
Indeed, in order to get the kind of satisfying views of the falls that you see in the photos on this page, we pretty much had to resist the butterflies in our stomachs.
After all, we would get as close to the edge of the vertical precipice as we could without a fatal fall.
We definitely had to be very careful as there were no railings to keep us away from the edge, and thus it was reminiscent of our Illilouette Fall experience in Yosemite National Park in California.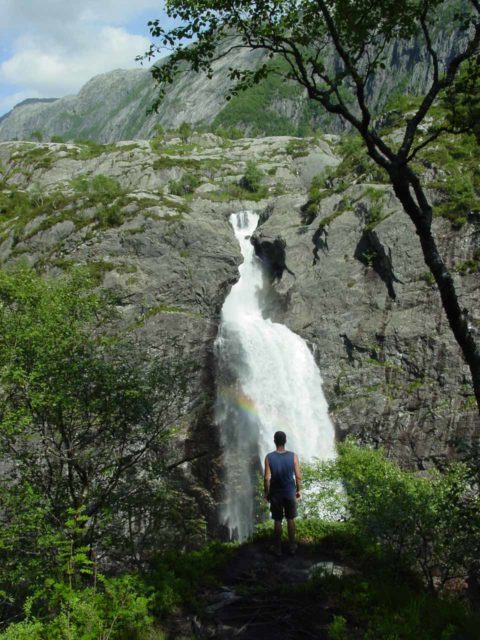 Julie and I found a couple more viewing angles of Manafossen, but they were also from the edge of the gorge so we still had to be careful.
It didn't seem like we could safely descend into the gorge to get to the bottom of the waterfall.
In any case, the trail seemed to keep going beyond the falls further upstream, but we only went as far as the falls so we can't comment more on where the trail would continue to.
Overall, we spent about an hour away from the car, but I bumped up the difficulty due to the steepness and the precarious viewing positions to get that satisfying experience.
Finally, when Julie and I drove up to the Manafossen car park (see directions below), we also spotted another smaller but attractive roadside waterfall called Eikeskogsfossen.
We didn't bother finding a way to get closer to this waterfall as we were perfectly content to enjoy the falls from the road.
I'm guessing that this waterfall got its name from the neighboring community of Eikeskog, and that the immediate area might have been an oak forest. According to my Norwegian dictionary, eik means "oak" and skog means "forest".
Authorities
Manafossen resides in the Gjesdal Municipality. For information or inquiries about the area as well as current conditions, visit their website.
Even though Julie and I didn't go this route, I'd imagine that the simplest and most common driving route to Manafossen would be from Stavanger. According to my maps, it would be about 60-90 minutes drive in each direction (about 68km; time depends on how comfortable you are with Norway's narrow and mountain roads).
From Stavanger, we would south on E39 for 30km until its junction with Rv45 at Ålgård. Turning left on to Rv45 and following it east (towards Byrkjedal) for about 27km to a signed turnoff (for Manafossen) at the small town of Gilja, we would then turn left onto this county road.
Not long thereafter, we followed the county road through a 4km tunnel as well as alongside the scenic headwaters of Frafjorden before entering a valley beyond the fjord itself. Eventually the road came upon an intersection (3-way I believe) where we went left and headed up a hill. Near the top of the climbing road, we spotted the Eigeskogsfossen (about 1.3km from the intersection). In another kilometer beyond that waterfall, the road ended at the car park for Manafossen. I recalled there was a toll for parking at the trailhead.
Instead of coming from Stavanger, we actually came from the south (heading north) on the E39 from the vicinity of Egersund. We then headed east on Rv503 for about 27km until it junctioned with Road 45 at Byrkjedal, where we then turned left. After a few minutes on Rv45, we saw a signed turnoff on our right at Gilja, which we followed the country road to its end as described above.
Related Top 10 Lists
Featured Images and Nearby Attractions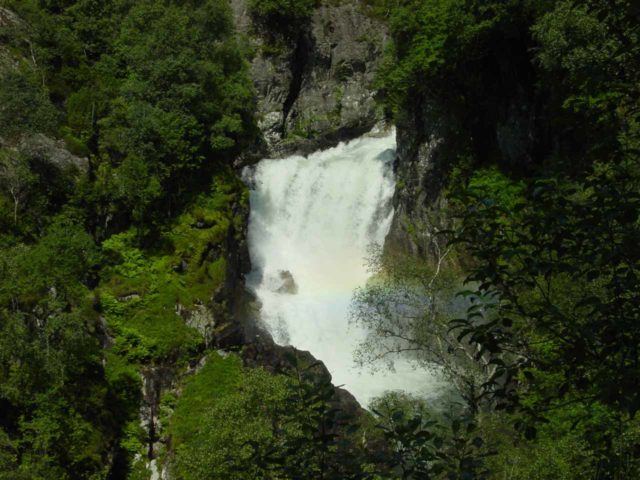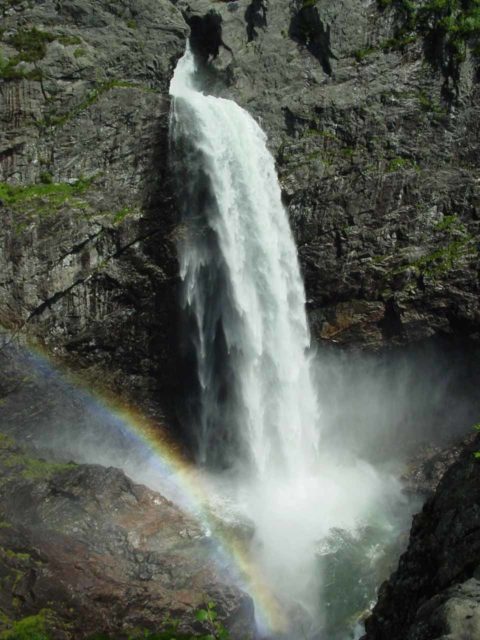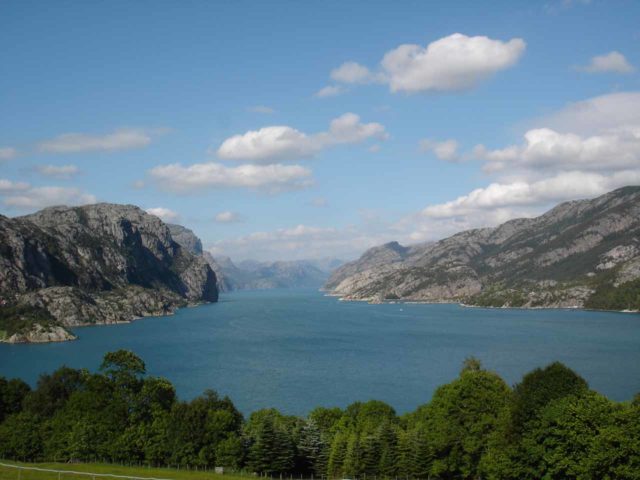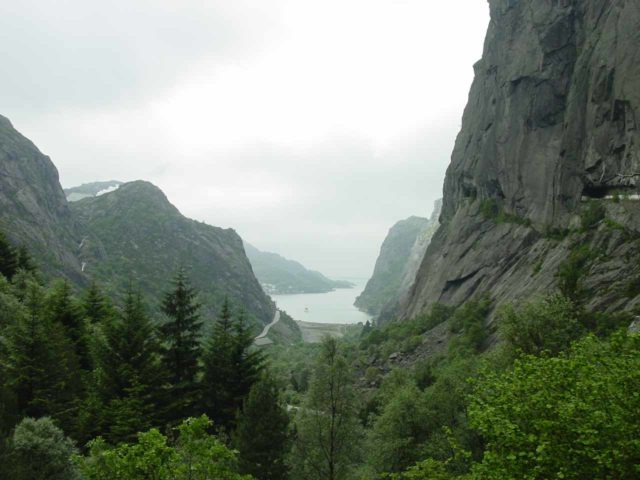 Tagged with:
gjesdal, frafjord, rogaland, stavanger, southern norway, scandinavia, norway, waterfall, byrkjedal, algard
Visitor Comments:
No users have replied to the content on this page
Visitor Reviews of this Waterfall: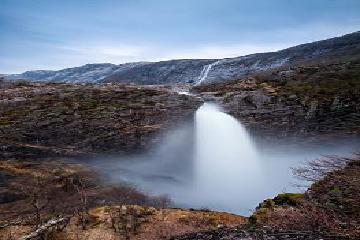 Manafossen, Norway
November 1, 2014 10:07 am
-
Some pictures of Manafossen waterfall ...Read More