About Mardalsfossen
---
Hiking Distance:
3.4km round trip
Suggested Time:
60-90 minutes
---
Date first visited:
2005-07-03
Date last visited:
2019-07-16
---
Waterfall Latitude:
62.47429
Waterfall Longitude:
8.12281
---
Mardalsfossen was a waterfall that certainly impressed Julie and I, and we tended to think of it in much the same way that we think of Yosemite Falls.
With Norway winning the proverbial Nature lottery with its plethora of fjords and U-shaped glaciated granite-laced valleys, this place convinced me that Yosemite Valley was but a singular example of what's all over this Nordic country!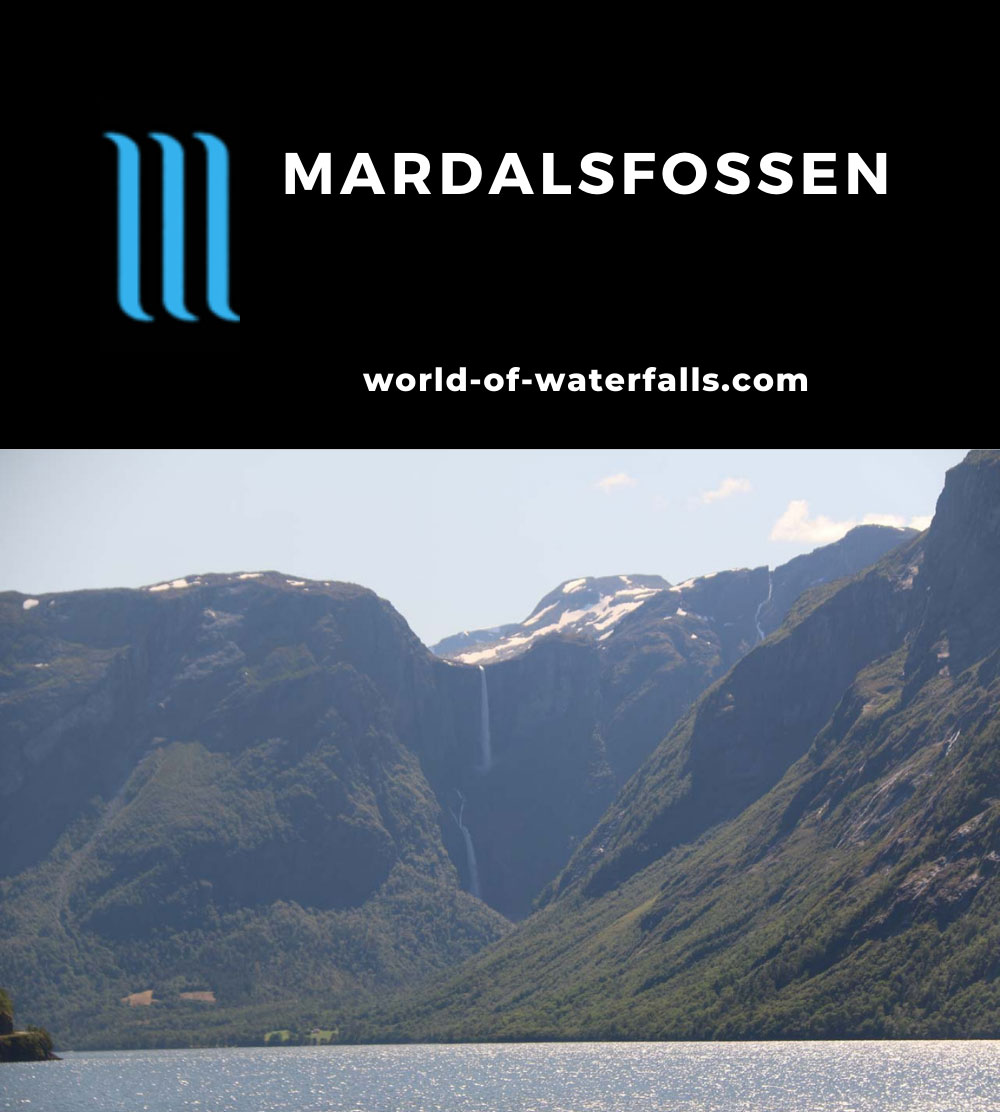 In terms of waterfall height, Mardalsfossen was said to have cumulative height of 655m (2,149ft) with one of its tiers having a free-fall of 297m (974ft).
By comparison, Yosemite Falls was widely quoted as having 2,425ft of cumulative drop with its tallest free-fall at 1,430ft.
Both waterfalls also sit in granite-laced U-shaped valleys, where Mardalsfossen sat deep in the Eikesdal Valley while Yosemite Falls sat in California's treasured Yosemite Valley.
We also had the ability to witness the waterfalls from a variety of locations in their respective valleys.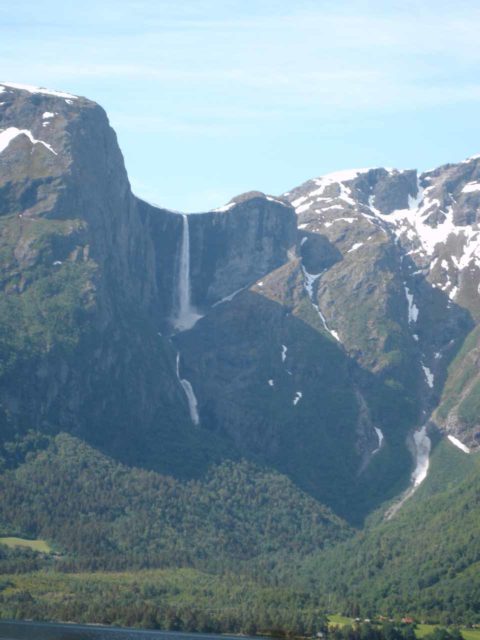 However, the similarities ended there as Yosemite Falls lacked a year-round flow due to its rapid depletion of the snow-pack, which typically would run out by the mid- or late-Summer season and won't revive until after the Fall season.
On the other hand, Mardalsfossen flowed at the opposite times of the year as it was allowed to flow during the Summer tourist season but would be regulated to the point of not running the rest of the year.
The Mardalsfossen Exercise in Compromise
Mardalsfossen would have been a permanent waterfall except the Grytten power plant at the foot of the mountain Romsdalshorn regulates its flow.
The regulation wasn't without controversy as apparently 300 opponents to the project had formed a human-linked chain to prevent the work from commencing in 1970.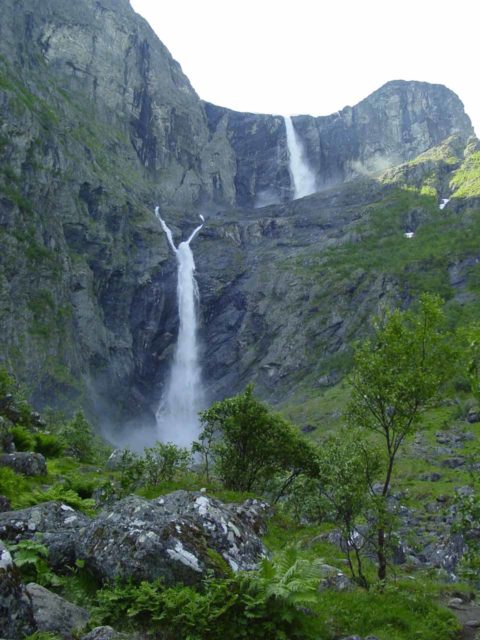 While I tend to associate our Mardalsfossen experience with that of Yosemite Falls, perhaps its controversial past had more in common with Yosemite Valley's twin in Hetch Hetchy Valley.
Yet despite the protests, the work ultimately completed in 1973.
Fortunately for visitors like us, the administrators compromised by letting this waterfall flow at a regulated rate from between 2.0 to 2.5 cubic meters per second from June 20 to August 20 (pretty much during the tourist season of Summer).
By comparison, the maximum recorded flow prior to the diversion was 45 cubic meters per second!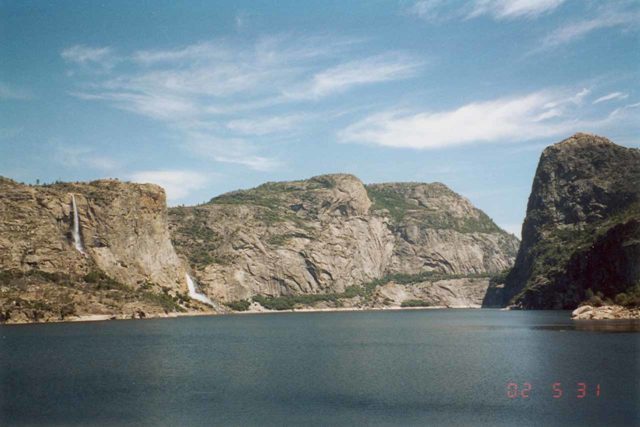 I guess this was an acceptable compromise considering this one could've gone the way of Mongefossen or Tyssestrengene among others where their watercourses have been blocked entirely and diverted to power generation.
By the way, Mongefossen was also sacrificed by the same Grytten power plant that regulated Mardalsfossen.
In addition to the regulation of the flow, we learned that the county road Fv191 that we took to get this far into Eikesdalen was only completed in 1991.
Prior to that, primary access to this part of Eikesdalen could only be accomplished by boat across the lake Eikesdalsvatnet.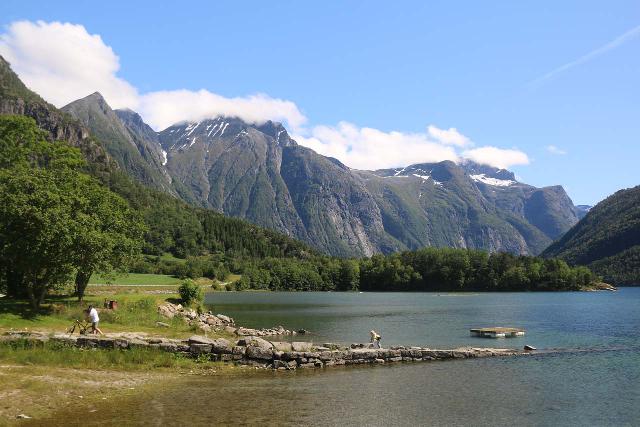 So for better or for worse, "progress" and the random happenings of history at least afforded us the ability have a Mardalsfossen experience.
And in that experience, the falls still seemed to have retained its naturesque character in each of our visits (once in early July 2005 and again in July 2019).
Experiencing Mardalsfossen from across Eikesdalsvatnet
For the most comprehensive views of of Mardalsfossen, we happened to get those from across the vast Eikesdalsvatnet along the narrow mostly single-lane county road Fv191.
On our first experience in late July 2005, we had trouble finding suitable pullouts along the narrow road to get decent views in the morning light.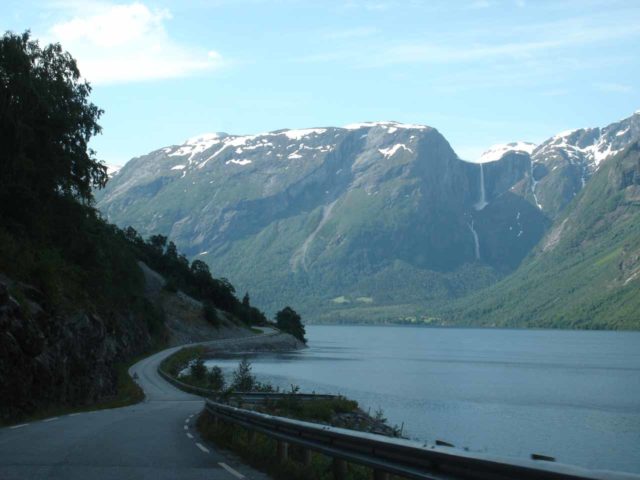 Fortunately with the relatively light traffic back then, we managed to pause and take pictures without causing a traffic incident.
On our second visit in mid-July 2019, it seemed like there were more pullouts and rest stops (rasteplass) along the way for a slightly more relaxed experience.
And that was a good thing because there also seemed to be noticeably more traffic along this narrow county road than there was 14 years earlier!
In any case, these more distant views of Mardalsfossen allowed us to better appreciate its full height and context, especially as the picturesque Yosemite-like granite cliffs caused the Mardøla to make its massive plunge into Eikesdalen.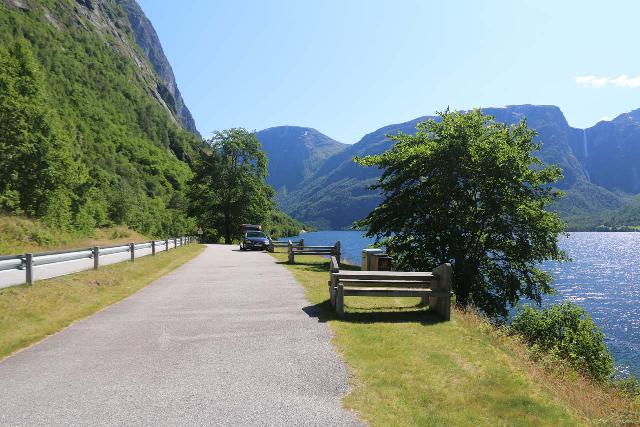 From my GPS waypoints, I've provided more specific driving directions in that section below.
The Hike to Mardalsfossen
The signs at the large car park at Mardalsfossen's trailhead predicted that the hike to the bottom of the falls would take between 30-45 minutes each way covering a distance of about 1.8km (or 3.6km round trip).
According to our trip logs in 2005 and 2019, the signs were pretty much spot on as Julie and I took about 90 minutes on our first visit, and I took about 100 minutes after lingering at the falls for longer on my second visit.
From the large car park at its trailhead (see directions below), we backtracked along the unpaved access road before following along a somewhat wide path following along the Mardøla for about the first 800m or so.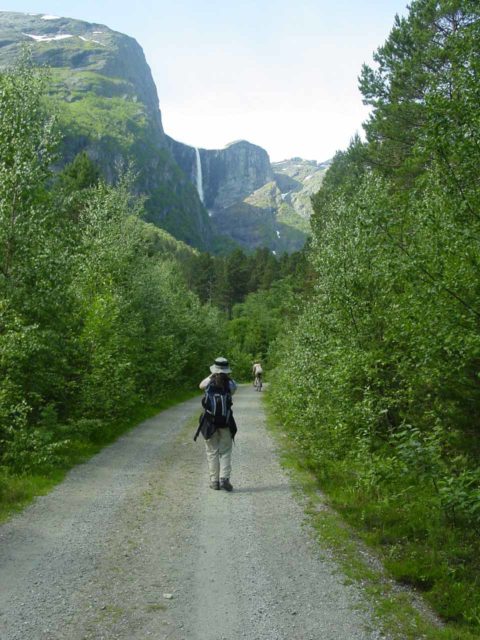 Back on our first visit in 2005, I swore this path was wide enough to accommodate mountain bikes though on my visit in 2019, it seemed to be a bit rougher and only suitable for pedestrians.
Eventually, the gentle uphill climb became a little more steeper and moderate as the trail ascended up towards a bridge traversing the Mardøla (roughly 1.3km from the trailhead).
Again, I sensed that there was a little re-routing of the trail because on our first experience that the hike at this point was more narrower, twistier, and more shaded with trees. The trail felt straighter and more open on my second go.
In any case, around the bridge, I noticed a rest area (probably best suited for groups), where we could enjoy a distant bottoms up view of the main Mardalsfossen.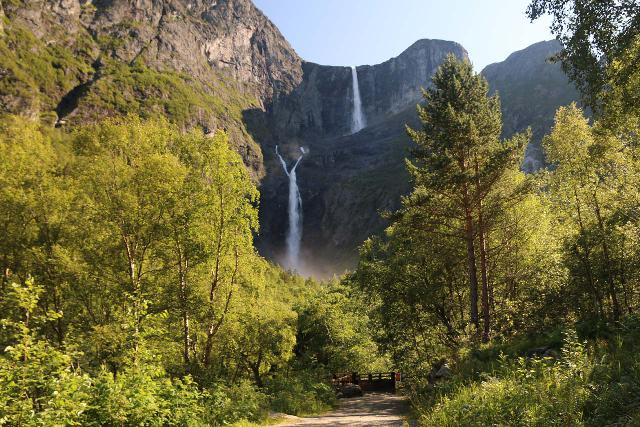 After crossing the footbridge, the trail was a little rougher and steeper, but remained quite tame compared to some of the other more primitive hikes in Norway that I've been on.
Eventually after roughly 400-500m beyond the bridge, I reached an overlook with a neck-cranking view of the dual drops of Mardalsfossen.
On the opposite side of the gorge, I was also able to notice a separate waterfall on the Ytste Mardøla watercourse, which didn't have as much of a vertical drop, but it was impressive in its own right.
Beyond the lookout, I noticed more trails of use continuing the hiking to get even closer to the main falls.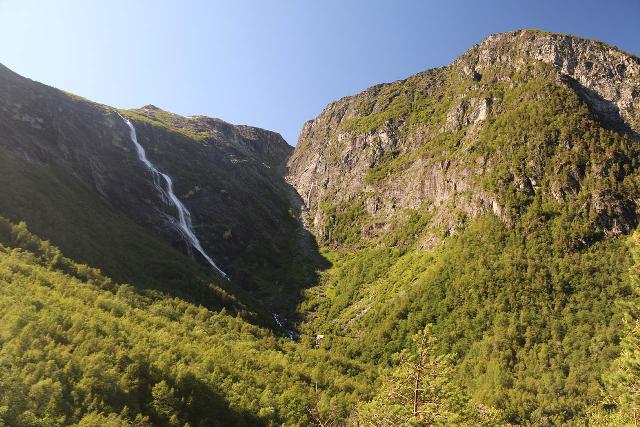 I only went as far as I was able to get a cleaner look at the falls, but I wasn't interested in contending with too much of the spray headed my way.
I've seen other people brave the slippery wet rocks and get their cold shower courtesy of Mardalsfossen.
Anyways, one thing that Julie and I noticed from this close to the falls was that it didn't appear quite as tall given the forced perspective that made the upper tier show less of itself.
This was why I felt that you really can't appreciate its height unless you see it from across the lake.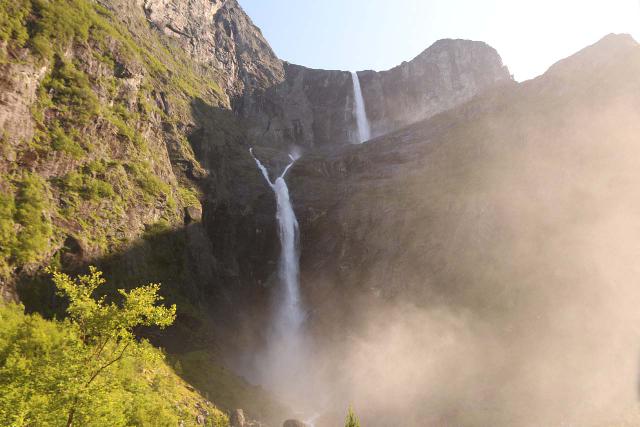 In any case, this was our turnaround point, and at least we could look forward to the mostly downhill hike all the way back to the car park.
Authorities
Mardalsfossen resides in the Nesset Municipality near Molde in Møre og Romsdal County, Norway. For information or inquiries about the area as well as current conditions, visit their website.
We drove into Eikesdalen from Åndalsnes so that's how I'm going to describe this driving route.
I will also describe the driving route from Sunndalsøra.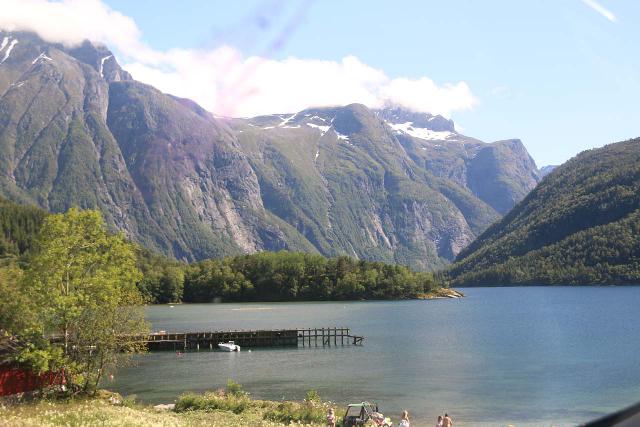 From Åndalsnes, we drove north on the Fv64 for about 32km towards the ferry at Åfarnes.
However, instead of taking the ferry, we then continued east on the Fv660 gor about 44km towards a mountain pass before descending towards the town of Eresfjord.
Once at the bottom of the descent where the Fv660 and Fv191 intersected, we then turned right to go south on the Fv191 as it skirted around the east shore of Eikesdalsvatnet.
It was during this 25km stretch along the Fv191 that we also managed to get our glimpses from across the lake at Mardalsfossen.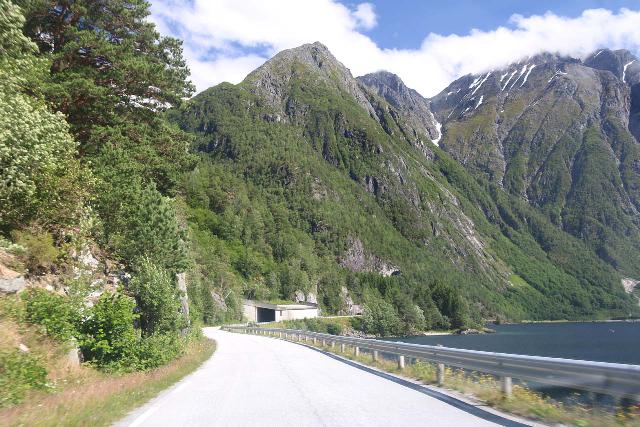 The first of the viewpoints that I stopped at was at a camping area about 2.6km south of the Viketunnelen exit or 17km south of the Fv660/Fv191 junction.
The next pullout that I stopped at was about 2.4km south of the above-mentioned campground.
The next pullout to the south of the one mentioned above was a little less than 1km away.
Finally, I also stopped at a picnic area or rest stop roughly 1.4km further to the south (or 4.4km north of the Mardalsfossen car park turnoff).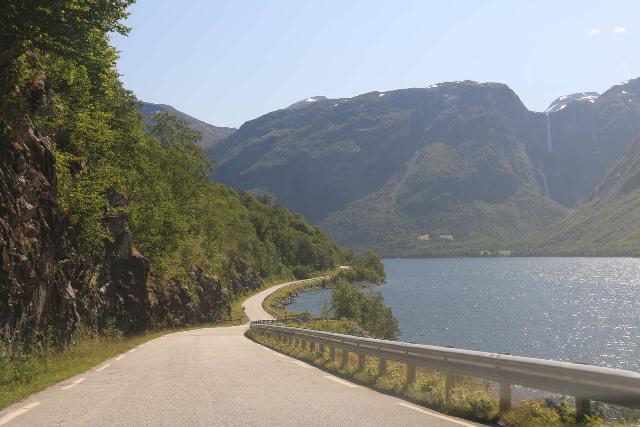 At the end of this 25km stretch, a little past a road bridge at the head of Eikesdalsvatnet, we then turned right onto an automated toll boom (charging 40kr as of my visit in 2019, but didn't recall such a toll in 2005).
After the boom, the single-lane unpaved road ended at a large car park for Mardalsfossen after 2.5km.
Overall, without stops, this drive would take a little under 2 hours.
Going in the opposite direction from Sunndalsøra, we wound drive west on the Fv62 towards Eidsvåg for about 34km before turning left to go on the Fv660 towards Eresfjord.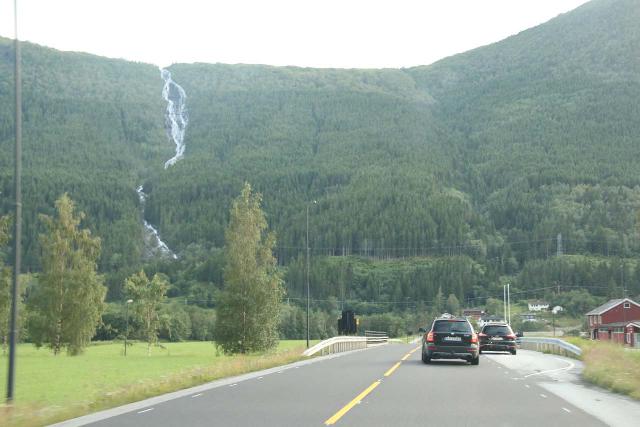 After about 18km, we wound then continue straight on the Fv191 and follow the directions as described above to reach the Mardalsfossen car park.
This drive would take under 90 minutes.
However, there's a shorter but slower path going directly south of Sunndalsøra, which would traverse the toll road along the Aursjøvegen.
Because this route also has its share of many waterfalls and can easily be done as a half-day or a day long visit with many stops, we have a separate write-up for it.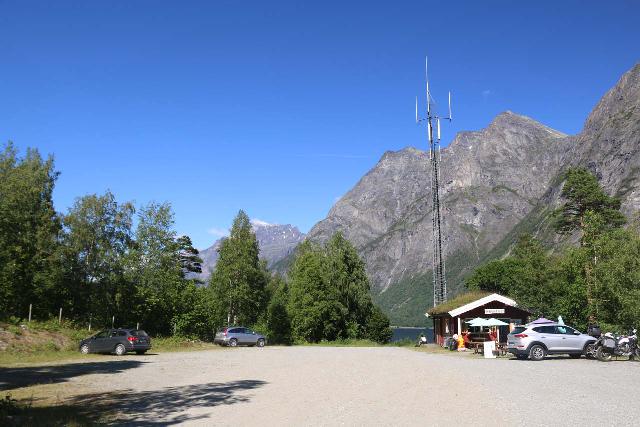 For context, Åndalsnes was 128km (under 2 hours drive) west of Sunndalsøra, about 54km (over an hour drive) northeast of Valldalen, 87km (over 2 hours drive with a ferry crossing) northeast of Geiranger, 105km (under 90 minutes drive) northwest of Dombås, 108km (90 minutes drive) east of Ålesund, 303km (over 4 hours drive) southwest of Trondheim, 442km (over 5.5 hours drive) northwest of Oslo, and 508km (8 hours drive) northeast of Bergen.
Find A Place To Stay
Trip Planning Resources
Nearby Accommodations
Featured Images and Nearby Attractions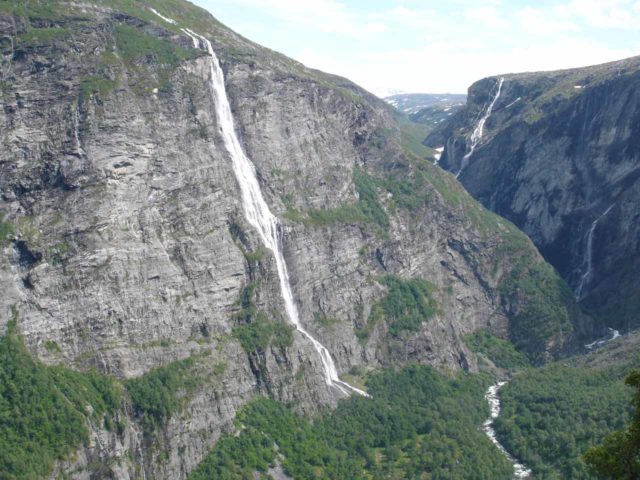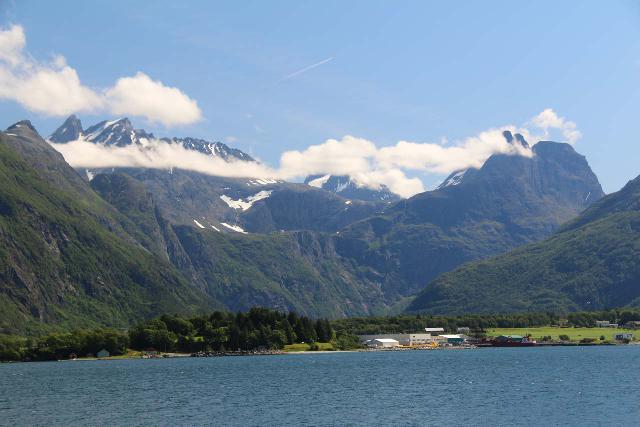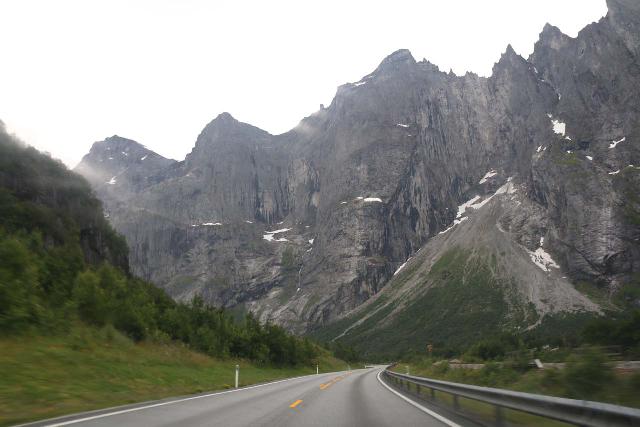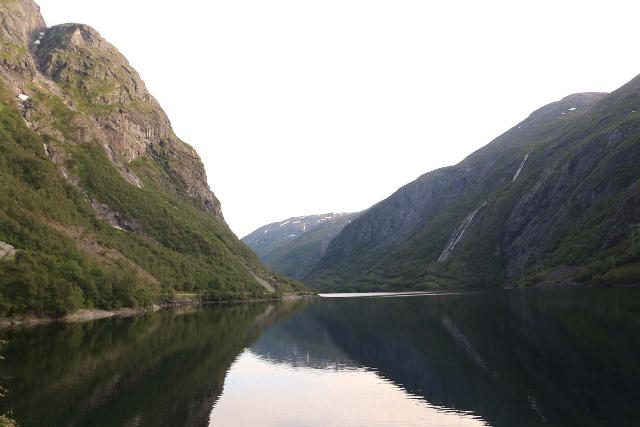 Tagged with:
nesset, eikesdal, eresfjord, eikesdalsvatnet, aursjovegen, more og romsdal, norway, waterfall, regulated
Visitor Comments:
Got something you'd like to share or say to keep the conversation going? Feel free to leave a comment below...
No users have replied to the content on this page
Visitor Reviews of this Waterfall:
If you have a waterfall story or write-up that you'd like to share, feel free to click the button below and fill out the form...
No users have submitted a write-up/review of this waterfall