About The Romsdal Valley Waterfalls
---
Hiking Distance:
roadside
Suggested Time:
---
Date first visited:
2005-07-02
Date last visited:
2019-07-17
---
Waterfall Latitude:
62.43837
Waterfall Longitude:
7.81103
---
The Romsdalen Waterfalls page is where I'm clumping the various roadside or nearly roadside waterfalls that we encountered in the famed Romsdal Valley (Romsdalen).
While we do have separate write-ups for some of the waterfalls in the valley, I'm using this page to act as sort of a waterfalls road guide.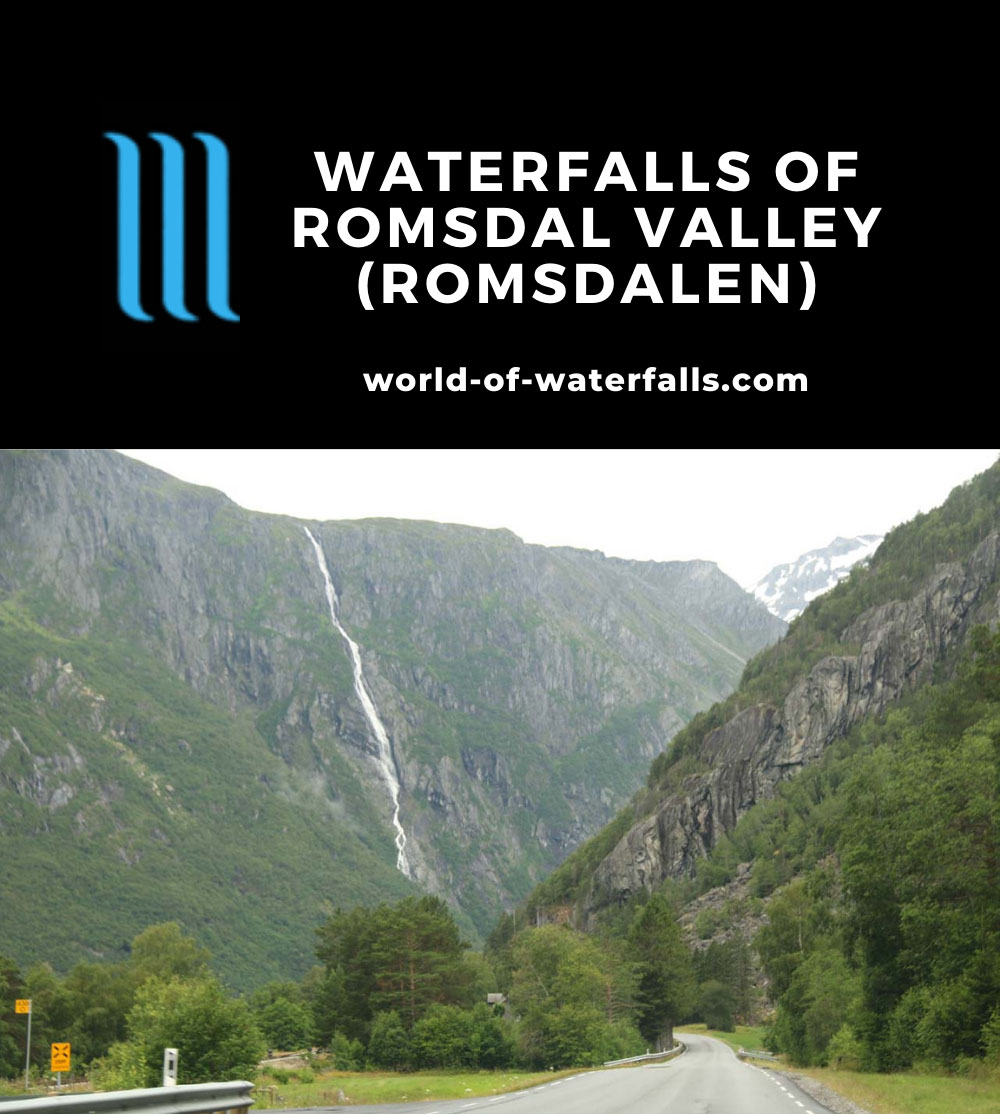 Then again, there were simply way too many waterfalls to single out in the valley.
So I will try to walk you through the waterfalls that we did stop for (or at least document) on either or both of our visits (in 2005 and 2019).
The following description assumes that we were driving from south to north using Dombas as a starting point.
I would give this drive at least two hours, but you can also spend 3-4 hours at a more leisurely pace with more stops.
Experiencing the Romsdalen Waterfalls – Kleivafossen and Svaåafossen
The first waterfall that we actually noticed was the Svaåafossen, which dropped in segments from high up on a distant east-facing cliff.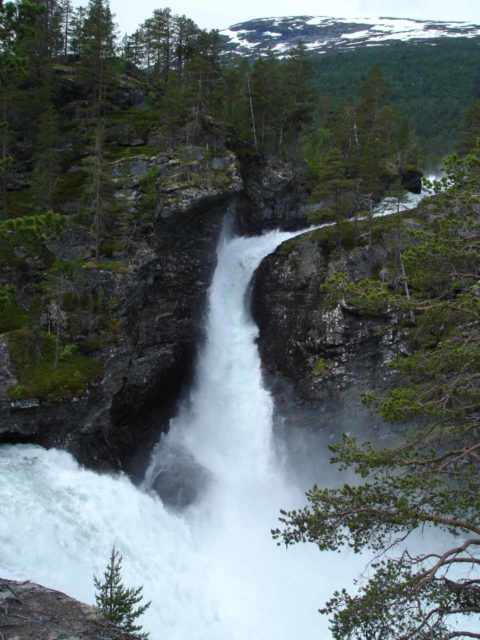 It was because we noticed this waterfall that we looked for pullouts to allow us a better view of it.
It turned out that we found a couple of pullouts yielding decent views of this falls without getting in the way of the E136 traffic.
The main one was at a large pullout a short distance past the county border between Oppland and Møre og Romsdal on the left. This was about 61.5km north of E6/E136 roundabout in Dombås.
When Julie and I first came here in early July 2005, there was a path that led downhill from this pullout, and it brought us down to a spot where we found a pair of converging waterfalls.
It turned out that the waterfall facing us (as you see in the photo above) was on the Ulvåa Stream while the one in profile coming in from the left was on the Rauma River itself.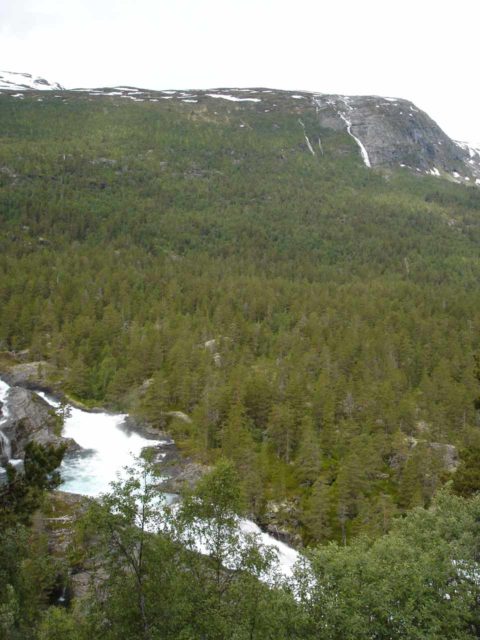 I informally gave it the name "Kleivafossen" because it was near the hamlet of Kleiva, but I swore there was an old Norgesglasset map that actually labeled this falls Kleivafossen.
However, the later versions of the map (now Norgeskart) didn't seem to have that placename (stednavn) anymore.
After having our fill of both waterfalls from this pullout, we then drove a little further north (about 700m) to the next unmarked pullout on the left, which yielded a more frontal view of the Svaåafossen.
When I made a return trip to the Romsdal Valley in 2019, it appeared that the pullout where I was able to hike down to Kleivafossen was now closed off.
While the pullout was still big and still there, it now had a speed camera as well as gates and fencing to prevent anyone from going down to Kleivafossen without trespassing.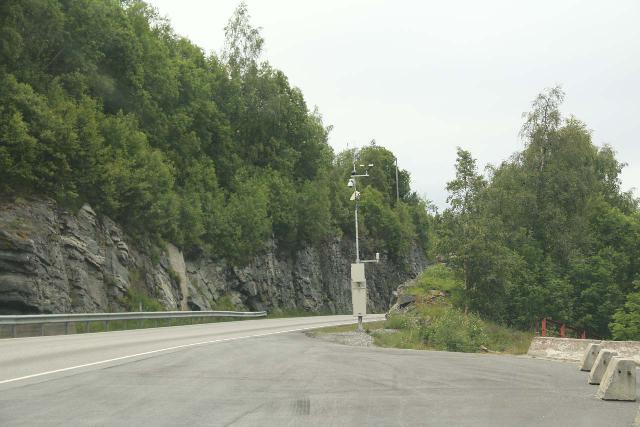 I couldn't find an alternative way to get down there, so I guess this one is now pretty much for posterity.
In addition, I also noticed that Svaåafossen had considerably less flow than on our first visit in early July 2005.
So all these factors made me wonder if this was merely a minor ephemeral waterfall or if it really had staying power.
Experiencing the Romsdalen Waterfalls – Brufossen
While I was trying to find an alternative to accessing Kleivafossen without trespassing, I accidentally stumbled upon another pullout with a clearing on the left side of the E136 (about 62.7km north of Dombås).
This was the next pullout north of the above-mentioned one with a direct view of Svaåafossen.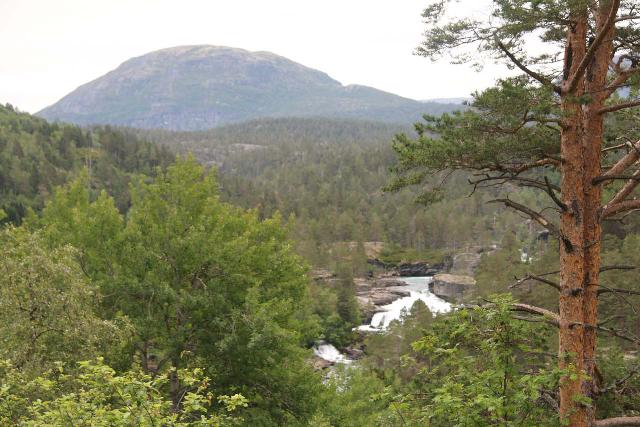 It also had a deep curb or embankment to get into the clearing so I'd imagine that low clearance vehicles might get their undersides scraped (I was going real slow so as to not do that with my rental car).
That said, this clearing appeared to belong to some landowner, and there wasn't a marked path.
But the maps seemed to suggest that this was the nearest place to check out Brufossen on the Rauma River.
Since I didn't make it down to anywhere I could see it from up close, I can't substantiate this.
However, I did manage to catch a glimpse of where I think Brufossen was supposed to be from the E136 itself right by this clearing.
Experiencing the Romsdalen Waterfalls – Raudhåafossen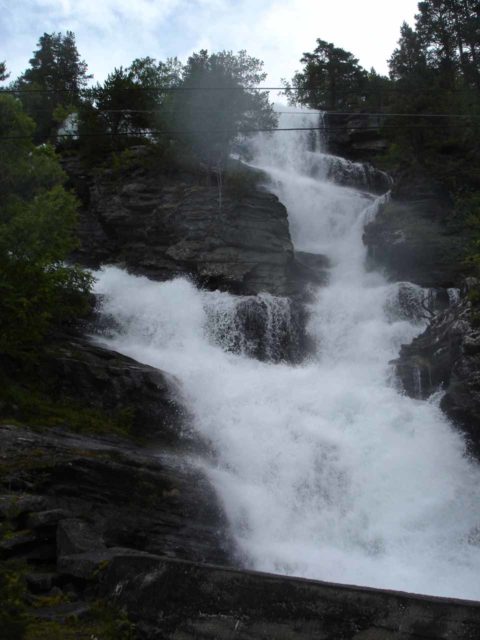 At roughly 64.1km north of Dombås, the E136 crossed over a bridge fronting an easy-to-miss waterfall on the Raudhåa Stream, which I've dubbed the Raudhåafossen.
When I first stopped for this waterfall, I recalled finding a pullout near this bridge, then walked to the bridge itself for a photo.
Just as I was doing that, some other driver that took a turn from the south a bit too fast managed to crash into a guardrail not far from the bridge I was standing on!
It was scary to say the least, but that event was why this otherwise unremarkable waterfall was memorable to me.
It's interesting to note that when I came back in 2019, the E136 was considerably straighter than it was in 2005.
So that turn that the guy took a turn way too fast back then wouldn't have had that problem today!
Experiencing the Romsdalen Waterfalls – Slettafossen
We have a dedicated page for this waterfall.
Experiencing the Romsdalen Waterfalls – Vermafossen
We have a dedicated page for the Vermafossen waterfall.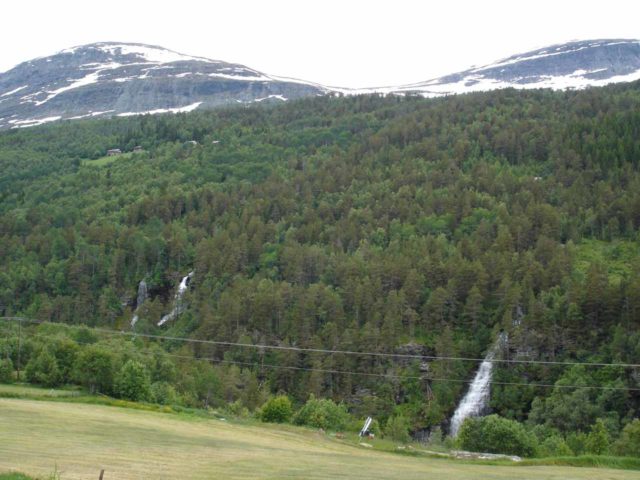 However, I do want to say something about the Kyllingbrua (the Kylling Bridge), which was something we never noticed on our first visit back in 2005.
First, I noticed signage as I was entering the township of Verma from the south that mentioned something about parking for Kyllingbrua.
I wound up parking in a space that was about 67.6km north of Dombås at the south end of the town of Verma.
After parking the car, I then crossed the E136 and followed a signed 250m trail that descended the hill.
After hanging a left at a junction towards the bottom of the descent, the trail then eventually descended a little more until I reached a dead-end with a lookout and some signage about the Kyllingbrua.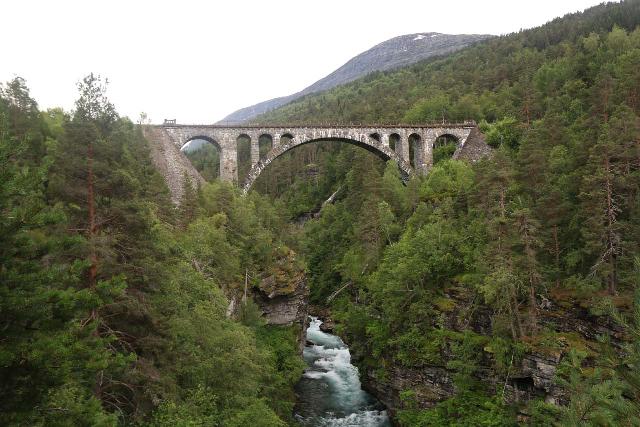 The Kyllingbrua was a railway tressel bridge with a 42m long main arch as well as side arches with 8-10m spans.
Given the terrain, Rauma Railway (Raumabanen) actually made a pair of turns within tunnels split by this tressel bridge, and so this bridge actually took 9 years to build from 1913-1921.
Experiencing the Romsdalen Waterfalls – "Skogagrovafossen", Døntefossen, Gravdefossen, and Brurasløret
We have a dedicated page for these waterfalls.
Experiencing the Romsdalen Waterfalls – Mongefossen
The Romsdal Valley used to have this 773m waterfall appearing a short distance to the west of the small hamlet of Marstein along the E136.
From looking at the old photos, it appeared to drop from a cliff, where it didn't appear to have a gully.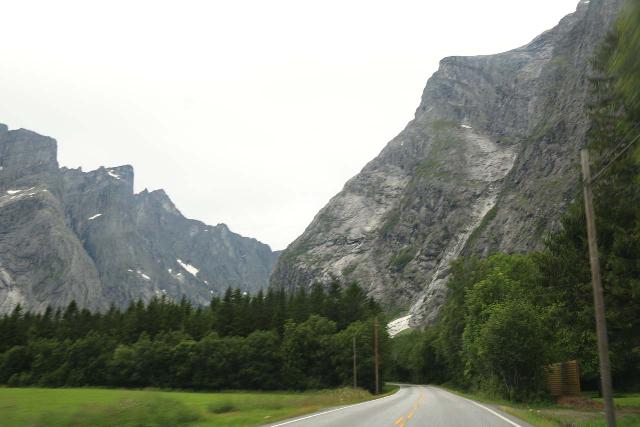 That suggested to me that the waterfall would have been seasonal without the regulation.
However, the Grytten power station (the same complex hydro project that impacted Mardalsfossen pretty much robbed the Mongeelva of its flow since its completion in 1975.
Both times I've driven through Romsdal along the E136, I never saw a trace of this waterfall.
So I could only speculate as to where would be the place to see it if in the off-chance the falls might actually flow under a combination of heavy rain and clouds not getting in the line-of-sight.
If there is a pullout or viewing spot for Mongefossen, I'm guessing it would be around 84.5km north of Dombås.
Experiencing the Romsdalen Waterfalls – Ølmåafossen or Ølmåfossen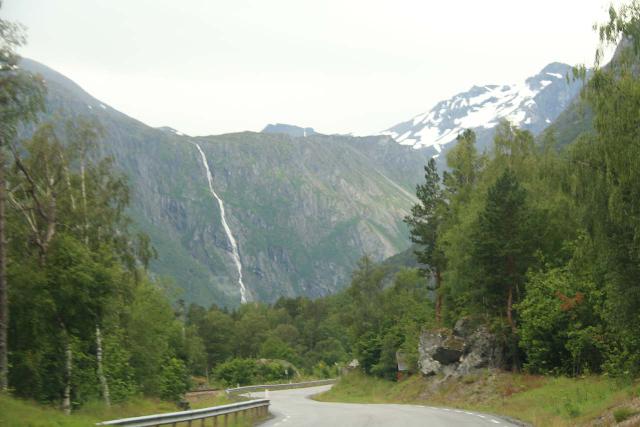 Of the waterfalls that were still alive in Romsdal, Ølmåafossen (lately Norgeskart has it labeled Ølmåfossen) could very well be the tallest legitimate one still remaining.
When driving north on the E136, I already started to get a good look at it from around 79.2km to 87.8km north of Dombås.
The waterfall initially appeared as a towering behemoth as the E136 seemingly led right towards it.
As the E136 curved northwards into the town of Marstein, we could see Ølmåafossen's long slope before twisting towards the bottom.
In my mind, this was the most prominent of the tall waterfalls in Romsdalen (perhaps even surpassing Døntefossen).
The Most Dramatic Part of Romsdalen – Trollveggen, Romsdalshorn, and the Trolltindane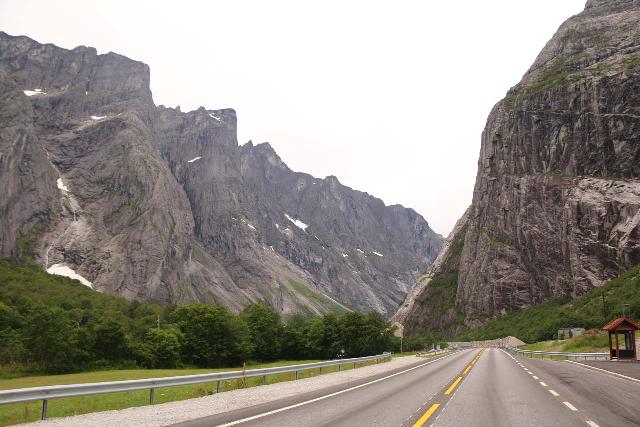 Just beyond Ølmåafossen, that was when we got into perhaps the most dramatic part of Romsdalen.
This was where on the west wall (east-facing), we saw the procession of peaks known as the Trolltindane.
Legend has it that these peaks were where giant trolls were turned to stone.
Amongst these mountain peaks was a sheer 1,000m vertical wall called Trollveggen (or the Troll Wall), which was kind of Norway's answer to El Capitan in Yosemite Valley in California.
On the opposite wall (east wall or west-facing) was the Romsdalshorn, which was another favorite of hard-core climbers.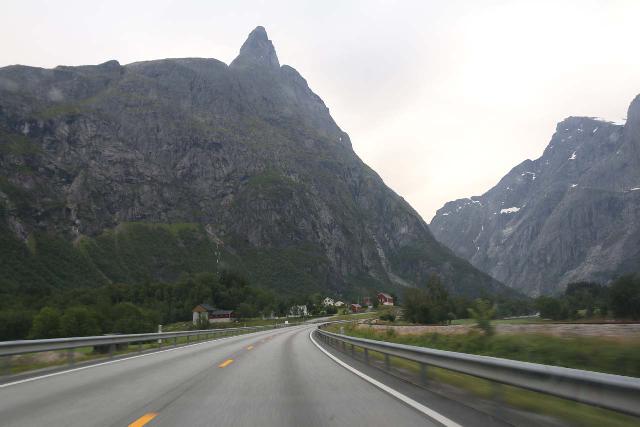 Right in the middle of it all within this narrowest section of the Romsdal Valley was the Trollveggen Visitor Center, which was about 93.8km north of Dombås or 10.2km south of the E136/Fv64 turnoff at Åndalsnes.
The Isterdalen Tease
Further north of the dramatic Trollveggen section and beyond the Fv63 turnoff into Isterdalen, we then stumbled upon an area with a pedestrian bridge over the Rauma River leading to Rauma Camping.
By this point, Romsdalen pretty much opened up and we were out of the valley.
However, taking the time to walk around the area (including on the bridge) yielded views into the Isterdalen Valley (the same valley where the famed Trollstigen was at its head) as well as the mouth of Romsdal Valley framed by the Romsdal Alps.
To me, this was a fitting end (or beginning depending on your driving direction) of the Romsdal Drive, and yet another example of Norwegian scenery at its finest.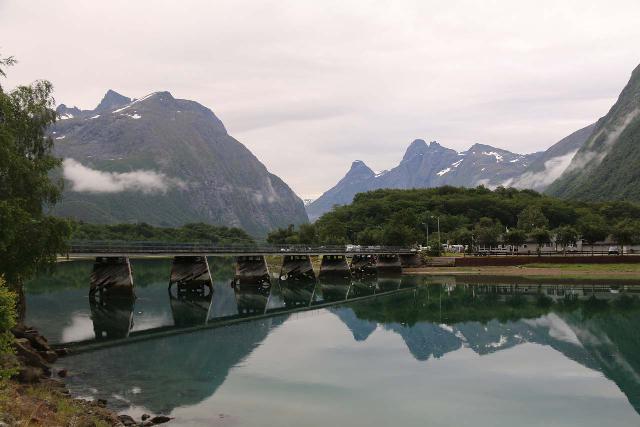 I managed to find parking near the pedestrian bridge at about 102.7km north of Dombås or about 1.3km south of the E136/Fv64 turnoff at Åndalsnes.
Authorities
The waterfalls on this page reside in the Rauma Municipality near Åndalsnes in Møre og Romsdal County, Norway. For information or inquiries about the area as well as current conditions, visit their website or Facebook page.
The following list points out the places where we stopped and the waterfalls that we identified.
It assumes that we're driving from south to north (kind of like what one might experience when driving from Dombas to Andalsnes).
If you're driving in the opposite direction, just follow this list in reverse order.
The distances are from on the E6/E136 roundabout in Dombås and the E136/Fv64 junction in Åndalsnes.
Waterfalls and Points of Interest from Dombas to Andalsnes
Kleivafossen [61.5km north of Dombås, 42.5km south of Åndalsnes]
Svaåafossen [62.2km north of Dombås, 41.8km south of Åndalsnes]
Brufossen [62.7km north of Dombås, 41.3km south of Åndalsnes]
Raudåafossen [64.1km north of Dombås, 39.9km south of Åndalsnes]
Slettafossen [65.7km north of Dombås, 38.3km south of Åndalsnes]
Kyllingbrua [67.6km north of Dombås, 36.4km south of Åndalsnes]
Vermafossen [69.0km north of Dombås, 35.0km south of Åndalsnes]
Døntefossen, Gravdefossen, and Brurasløret [75.1km north of Dombås, 28.9km south of Åndalsnes]
Gravdefossen and Brurasløret [76.3km north of Dombås, 27.7km south of Åndalsnes]
Pullout with views of Ølmåafossen, Gravdefossen, and Brurasløret [79.2km north of Dombås, 24.8km south of Åndalsnes]
Possible Mongefossen Viewing Area [84.5km north of Dombås, 19.5km south of Åndalsnes]
Ølmåafossen direct view [87.8km north of Dombås, 16.2km south of Åndalsnes]
Trollveggen Visitor Center [93.8km north of Dombås, 10.2km south of Åndalsnes]
Isterdalen View [102.7km north of Dombås, 1.3km south of Åndalsnes]
For context, Åndalsnes was 128km (under 2 hours drive) west of Sunndalsøra, about 54km (over an hour drive) northeast of Valldalen, 87km (over 2 hours drive with a ferry crossing) northeast of Geiranger, 105km (under 90 minutes drive) northwest of Dombås, 108km (90 minutes drive) east of Ålesund, 303km (over 4 hours drive) southwest of Trondheim, 442km (over 5.5 hours drive) northwest of Oslo, and 508km (8 hours drive) northeast of Bergen.
Find A Place To Stay
Related Top 10 Lists
No Posts Found
Trip Planning Resources
Nearby Accommodations
Featured Images and Nearby Attractions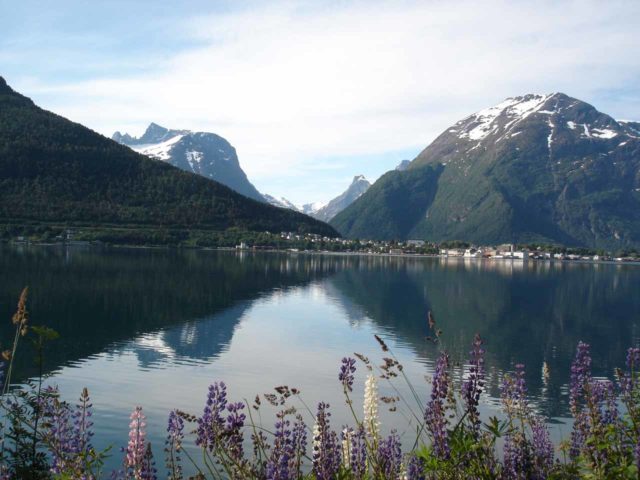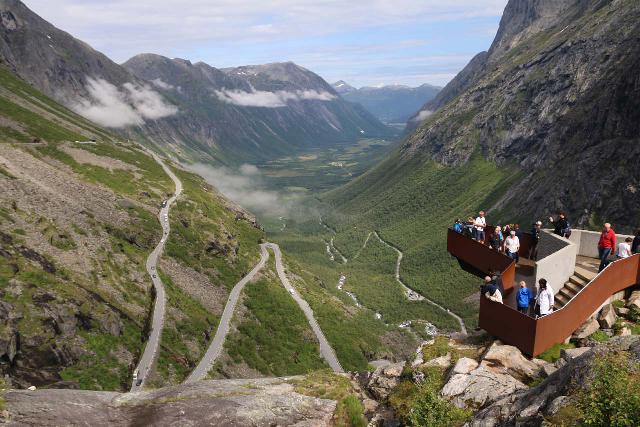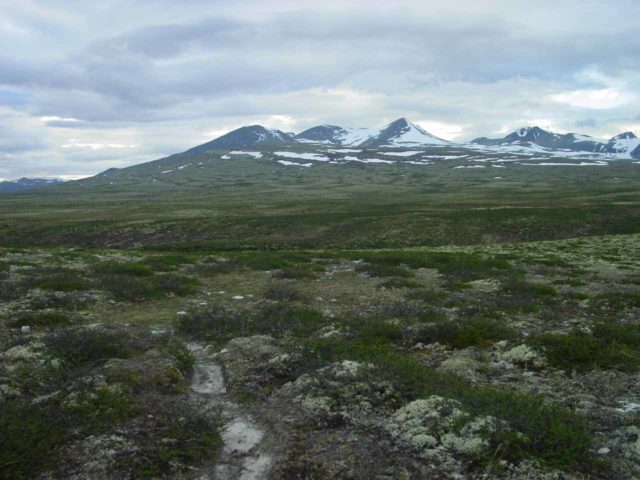 Tagged with:
rauma, romsdal, dombas, andalsnes, romsdalen, more og romsdal, norway, waterfall, dontefossen, gravdefossen, trollstigen, trollveggen, trolltindane
Visitor Comments:
Got something you'd like to share or say to keep the conversation going? Feel free to leave a comment below...
No users have replied to the content on this page
Visitor Reviews of this Waterfall:
If you have a waterfall story or write-up that you'd like to share, feel free to click the button below and fill out the form...
No users have submitted a write-up/review of this waterfall