About "Vassbakkfossen", "Liingafossen", and the Waterfalls of Skjolden and Fardalen
---
Hiking Distance:
roadside
Suggested Time:
---
Date first visited:
2005-06-28
Date last visited:
2005-06-28
---
Waterfall Latitude:
61.47895
Waterfall Longitude:
7.66227
"Vassbakkfossen" was an informal name that I'm associating with this waterfall.
I used to call it "Fureasfossen" as an informal name for it, which I borrowed from a waterfalling friend named Olaf Helwig.
However, it seemed like the former was better suited because it was located right across a camping and cafe place called Vassbakken ("the watery hill").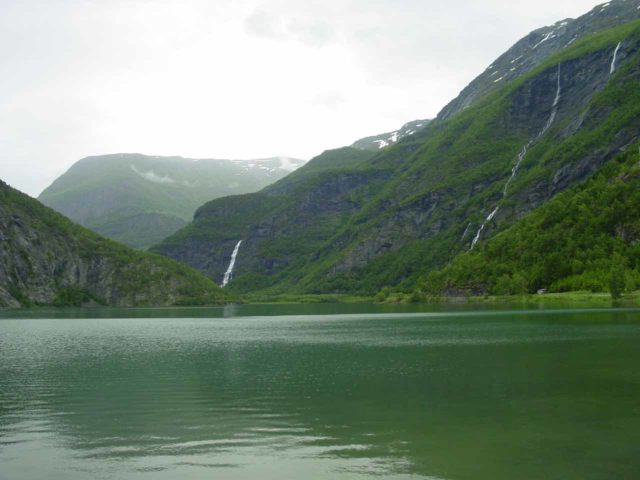 This was actually a waterfalling surprise to both Julie and I.
We crossed the highland moors and mountain pass through Fardalen between Øvre Årdal and Turtagrø.
Then, we headed west towards the town of Skjolden, which was a beautiful town right at the official easternmost point of Sognefjorden – the world's longest fjord.
Julie and I particularly enjoyed and remembered "Vassbakkfossen" because we had one of the freshest and best-tasting grilled fish from the cafe at Vassbakken Camping.
And we did this while enjoying the view of this estimated 150m waterfall tumbling down from right across the highway.
From looking at the maps, this waterfall belonged to the Åselvi watercourse so it's conceivable that this waterfall should be called Åselvifossen though to my knowledge, it remains unofficially named (even Norgesglasset didn't have a place name [stednavn] for it).
I'm not certain why this was the case, but from looking at the maps, it didn't seem to be sourced by any substantial highland lake or snow- or icefield.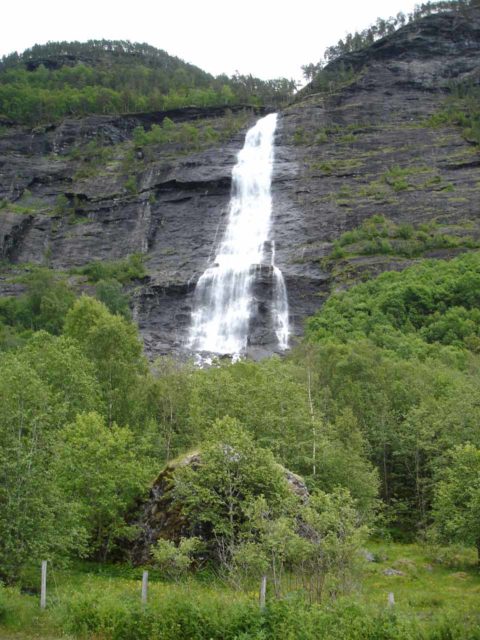 So it may not last towards late in the Summer and hence might be the reason for its unofficial stature.
In addition to the attractive views of Vassbakkfossen from our "dinner" spot, we also enjoyed a view of it from the attractive town of Skjolden (as shown in the first picture on this page).
This was where we also got to see this waterfall in context with a taller and thinner waterfall (which was informally called "Liingafossen" since it was on Liingaelvi) over lake Eidsvatnet.
This gorgeous view of both waterfalls was certainly etched in our memories whenever we would think about our brief stay in Skjolden.
Finally, we should also note that Julie and I encountered many more seemingly-nameless waterfalls while on on the road between Øvre Årdal and Turtagrø.
We didn't really expect or target any waterfalls on this leg of the journey, but because we saw so many of them and they didn't seem to be slouches themselves, I felt compelled to include them on this page.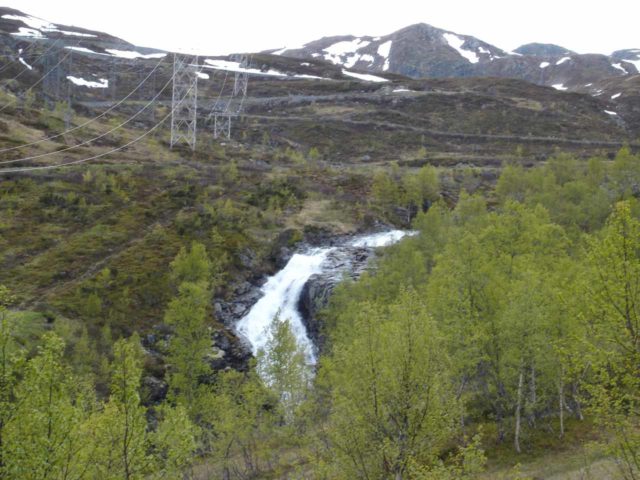 After all, it felt as if they were all part of the same excursion.
If we're ever fortunate enough to come back to Norway, we would definitely find time to get back to Skjolden as it seemed like there was definitely a lot of Nature going on here.
Authorities
Vassbakkfossen resides in the Luster Municipality. For information or inquiries about the area as well as current conditions, visit their website or Facebook page.
The route that Julie and I took began from the town of Øvre Årdal (Upper Årdal). The directions to that town was given in both the Hjellefossen and Vettisfossen pages. We'll begin the driving route we took from here.
From the Road 53 and Storavegen junction in town, we headed west on Storavegen, then continued to go straight onto Flotavegen at a fork about 1km later (though in hindsight, we could've stayed on Storavegen). After another 500m, both Flotavegen and Storavegen rejoin, and we turned right to go up on the switchbacks of Fardalvegen. It was this road that took us up to the highland moors of Fardalen, and for the next 31km, we spotted at least three major waterfalls, which we've shown on this page below.
After 31km, the road junctioned with the Road 55 at Turtagrø, and we headed west on the Road 55 towards Skjolden (where we were staying that night). About 12.5km west of Turtagrø, we were in front of Vassbakkfossen and the amenities across the road from it. Skjolden was another 3.5km to the west.
Finally, please not that the highland route we took on Fardalvegen between Øvre Årdal and Turtagrø was a Summer only route as it would be the only season when the pass would be snow free.
For context, Skjolden (at the head of the Luster Fjord or Lustrafjorden) was about 124km (or 2.5 hours drive with a ferry crossing) north of Flåm, 346km (about 5.5 hours drive) northwest of Oslo, and 288km (over 4.5 hours drive with a ferry crossing) northeast of Bergen.
Related Top 10 Lists
No Posts Found
Featured Images and Nearby Attractions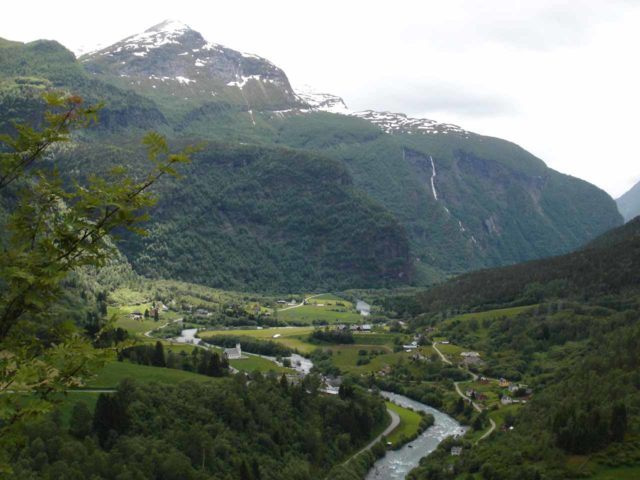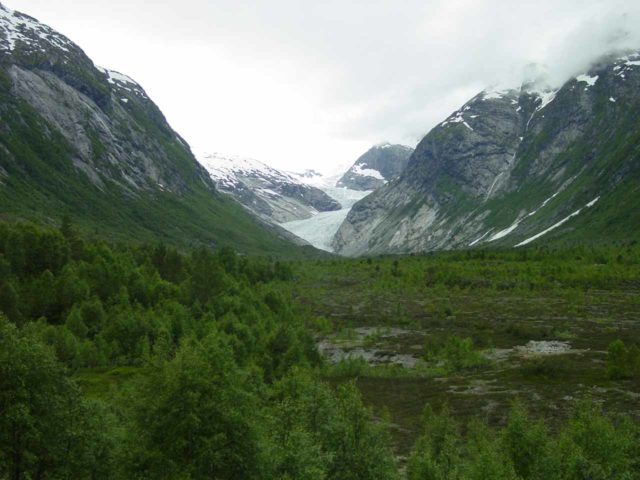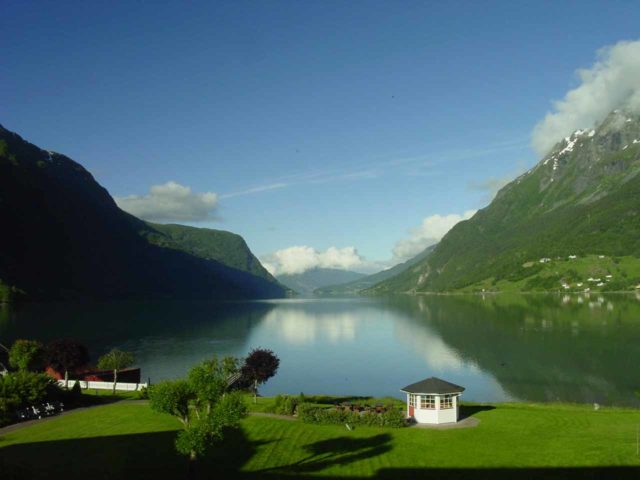 Tagged with:
skjolden, fardalen, luster, sogn og fjordane, lustrafjorden, vassbakken, fureasfossen, liingafossen, ardal, turtagro, sognefjorden, aselvi, eidsvatnet, norway, waterfall
Visitor Comments:
No users have replied to the content on this page
Visitor Reviews of this Waterfall:
No users have submitted a write-up/review of this waterfall