About Goat Falls
---
Hiking Distance:
about 10 miles round-trip (incl. scrambling at end)
Suggested Time:
6-8 hours
---
Date first visited:
2021-06-17
Date last visited:
2021-06-17
---
Waterfall Latitude:
44.17632
Waterfall Longitude:
-115.01803
---
Goat Falls has been widely reported to be the tallest waterfall in the state of Idaho at 650ft.
While that's the kind of claim that makes people perk up with interest, what these sources don't tell you is that it's really a mountain cascade that doesn't reveal all of itself.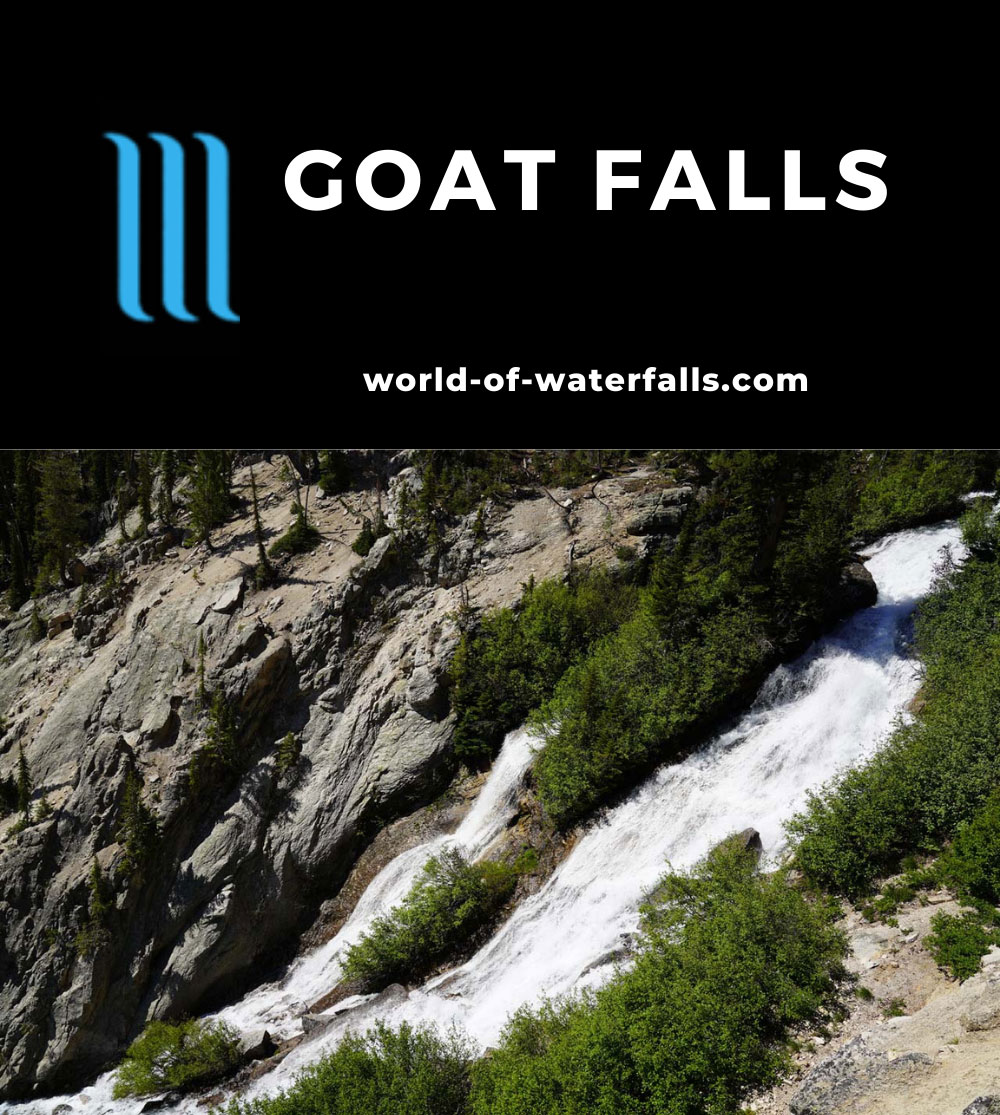 In fact, you only get to see part of it on a very rugged hike to Goat Lake, which is the waterfall's source.
Indeed, I tend to view the falls as more of an incidental attraction to the scenic Goat Lake, which sits in the heart of the Sawtooth Mountains of Central Idaho near Stanley.
I found the Sawtooth Mountains to be striking and reminiscent of the Grand Tetons, which kind of illustrates the scenic value that Stanley has to offer.
Furthermore, the Goat Lake hike brought us close-up views of some of those jagged peaks of the Sawtooths while showing us tall companion cascades, a distant view of Stanley with its surrounding valley, and a surprise wildlife sighting.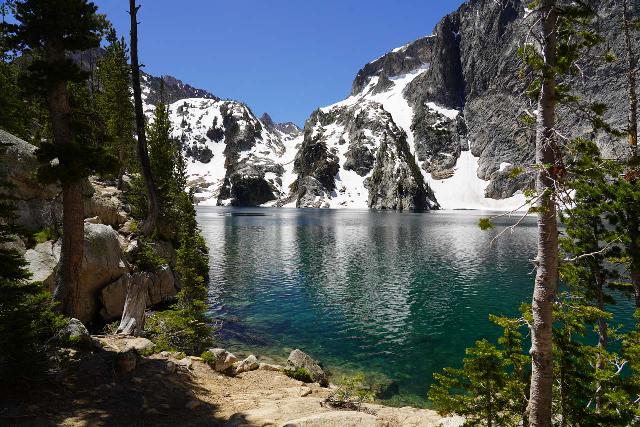 That said, as much as I enjoyed the scenery leading up to Goat Falls and Goat Lake, partaking in this adventure took my Mom and I nearly the whole day to fully experience.
It's both long and rugged so the hiking difficulty that I gave this excursion reflects that it's no joke.
To be honest, I don't think it's worth going through the trouble just for Goat Falls.
If you're pursuing this waterfall, then you mind as well go all the way to Goat Lake to really reap the benefits that this adventure offers.
Logistics of Hiking to Goat Falls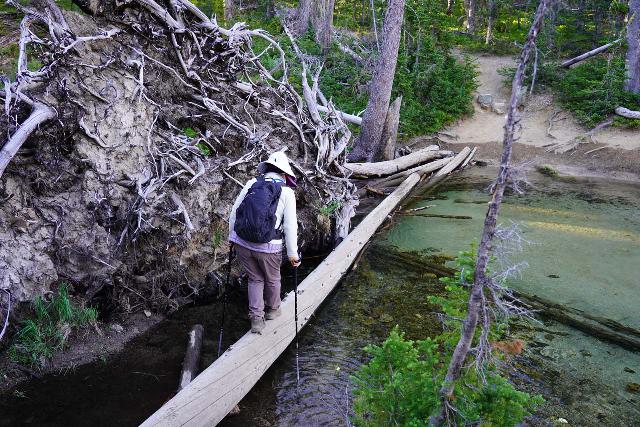 Just to give you an idea of what it takes to do this hike, we took about 10 hours to cover the 10 total miles of distance.
We encountered one tricky crossing of Iron Creek, which forced us to balance on a wobbly log over pretty deep water (making us glad we brought our trekking poles).
However, there was a considerable amount of route-finding and scrambling over slopes with loose rocks, which certainly increased the chances of getting injured on this hike.
In fact, I suspect this might be why I noticed an absence of any mention of Goat Falls nor Goat Lake on any of the handful of signs that we encountered (perhaps for liability or lack of trail maintainability reasons).
Even though we've seen other hikers (mostly younger) able to do this hike in as little as perhaps 6 hours, we also took an hour to enjoy Goat Lake as well as more time taking pictures in addition to all the route-finding and consulting our Gaia GPS app.
The bottom line is that this excursion is no joke, and it's not something you look up on AllTrails and decide to go on a lark without a good deal of experience and preparation.
Anyways, the hike to Goat Falls and Goat Lake involved three main sections, which I'll describe in detail below.
Trail Description of Goat Falls and Goat Lake: The Stanley Lake Trail
From the Iron Creek Trailhead (see directions below), we signed the self-help wilderness permit and attached it to our pack (only one per party is necessary).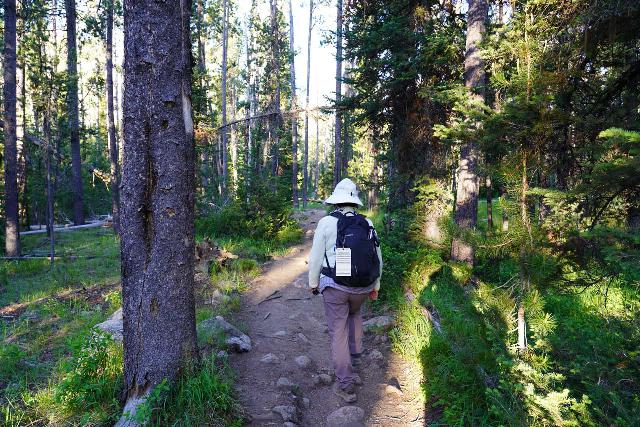 I believe they do this for search and rescue reasons as well as to keep tabs on who is currently in the Sawtooth Wilderness should there be an emergency situation.
From there, the Stanley Lake Trail was pretty straightforward to follow as we were on a maintained path that made a gradual gain in elevation of about 300ft.
After a little over a half-mile, the trail started to go alongside Iron Creek before veering slightly away from it.
Then, at about 1.3 miles from the trailhead, we encountered a signed trail junction between the Stanley Lake Trail and the Alpine Way Trail.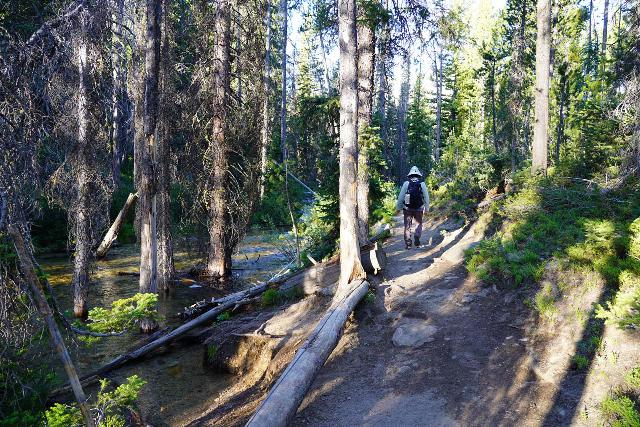 From there, we took the fork on the left to go onto the Alpine Way Trail.
Trail Description of Goat Falls and Goat Lake: The Alpine Way Trail
Barely a couple minutes into the Alpine Way Trail of the Goat Lake hike, we encountered a rather tricky crossing of Iron Creek.
Because we showed up in mid-June 2021, we actually had to contend with quite a bit of water on Iron Creek.
So the logs that we had to balance on to get across the creek weren't as plentiful as some of the videos and trip reports we had seen.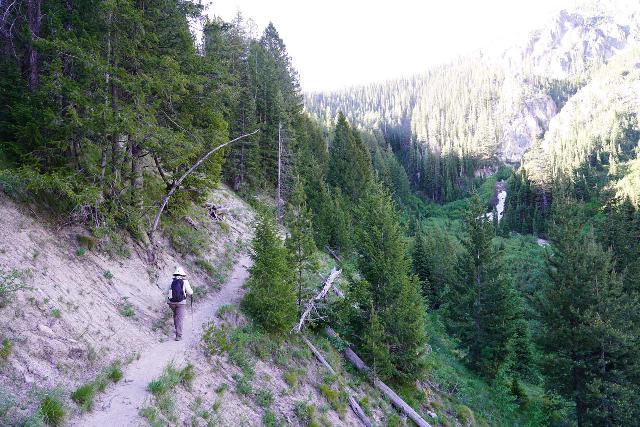 Fortunately, we had our trekking poles to help with our balance on the wobbly logs without falling into the creek.
Once we got past the crossing, we then had to go on a fairly long two-mile stretch where the trail gained quite a bit of elevation (roughly 500ft or so) on a combination of switchbacks and uphill ledge trails with some degree of dropoff exposure.
Even though this was a fairly long stretch of maintained hiking trail, we did enjoy scenic views of the Sawtooth Mountains up close while also getting a surprise wildlife encounter with a fox and a kill in its mouth.
It took us a little over 90 minutes to traverse this stretch before we encountered another signed trail junction.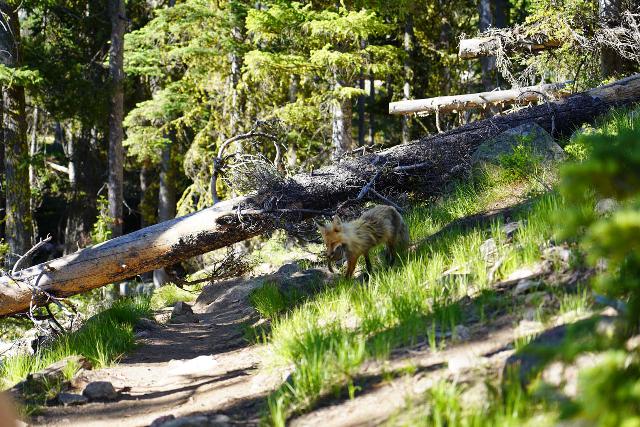 Strangely, the sign said "Alpine Way", which pointed to the fork on the left, but there was no sign for the obvious fork on the right.
This was where having the paid version of Gaia GPS with the local trail map downloaded for offline use proved to be quite useful when we'd encounter headscratching moments like this.
Trail Description of Goat Falls and Goat Lake: The Goat Lake "Trail" to Goat Falls
For the purposes of this write-up, I will refer to the hike deviating from the Alpine Way Trail as the Goat Lake Trail because the surveyed map on Gaia GPS had labeled it as such.
Initially, the trail seemed to be well-used and easy-to-follow for the first half-mile.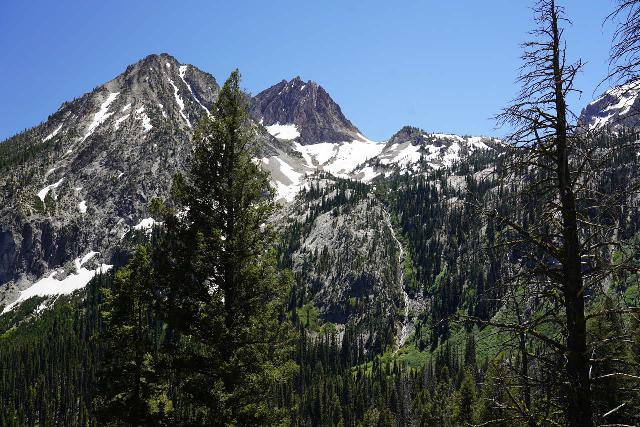 As it made increasingly steeper climbs, we managed to catch glimpses of an attractive cascade running off the melting snow still clinging to the jagged peaks of the Sawtooth Mountains.
However, when we did encounter the next unsigned trail junction after that first half-mile, that was when the difficult part of the hike began.
At this unsigned trail junction, it turned out that the seemingly more obvious fork on the left descended and eventually went into overgrowth.
A fellow hiker that we met later in the day who did explore this fork said it wasn't worth it as the overgrowth prevented any views of the bottom of what might be Goat Falls.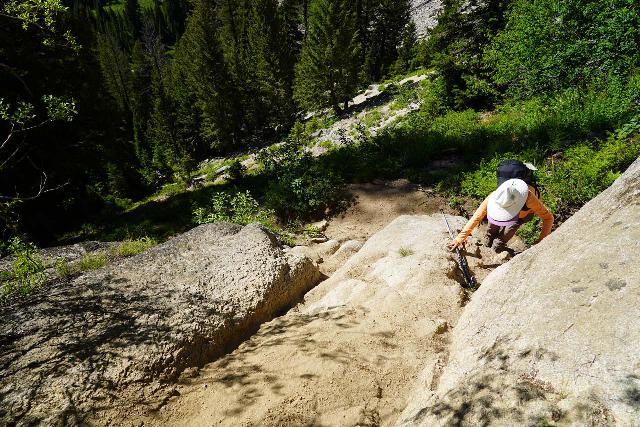 Instead, we kept to the right and went around the base of a rock or cliff before needing to use all four of our limbs to climb up a steep gully.
Right above this sketchy gully climb, we'd continue to follow more of the informal use-trail, and some of it made us doubt we were on the correct path because it involved climbing on tree roots or on steep rocks.
Indeed, with all the additional climbing we had to do, we definitely worried about how scary it would be to go back down this path as we encountered lots of loose dirt and rock that was easy to slip-and-fall on while continuing to slide over dropoffs.
It was in these sections that I realized why the authorities didn't even bother putting any trail signage indicating Goat Lake.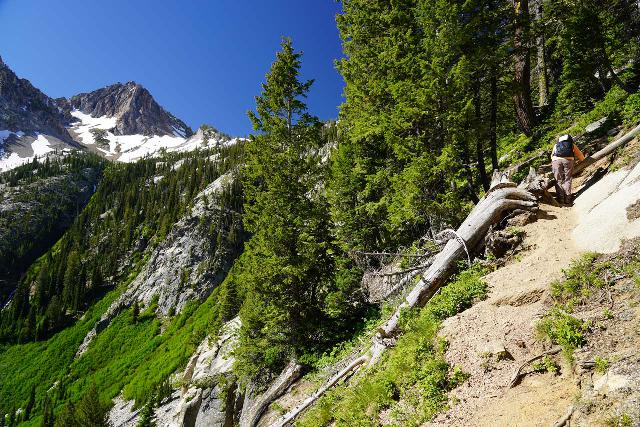 After another 0.4 miles of really slow-and-steady progress while still relentlessly climbing, we finally made it to perhaps the best vantage point to view Goat Falls.
Even though we were able to see parts of Goat Falls earlier on towards the latter sections of this rough stretch, the best outcrop to view the falls was near its brink.
This view looked down and across the waterfall's main section before it continued its turbulent tumble further downstream into the foliage.
While they may say this is Idaho's tallest waterfall, there's no way you can see all 650ft of it (if that's the correct figure).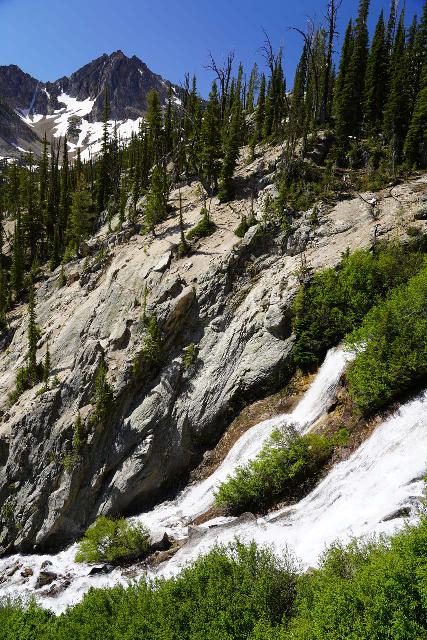 Maybe the only way you can see the whole thing in one go would be if you have a drone or some serious mountain goat capabilities.
Trail Description of Goat Falls and Goat Lake: From Goat Falls to Goat Lake
Beyond Goat Falls, following the trail gets even trickier.
Unless you know the trail or had a prior information to keep left and look for a logjam or beaver dam to cross Goat Creek, many people (us included) actually scrambled on the bouldery slopes to make it up to Goat Lake.
In fact, it was only when we started hiking back from Goat Lake that we realized the trail we should have taken in the first place.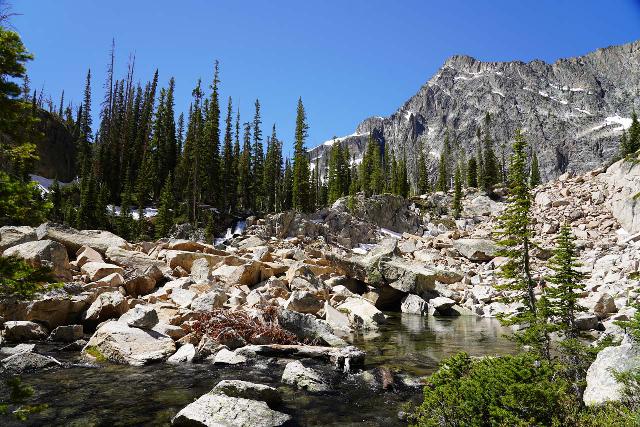 In hindsight, had we crossed the logjam or beaver dam not far upstream from the brink of Goat Falls, we would have skirted by more waterfalls and cascades on Goat Creek before ending up at the mouth of Goat Lake.
Once we made it up to Goat Lake (the elevation gain for the final mile or so of the hike was about 700-800ft), that was when we witnessed the deep sappphire blue lake surrounded by what seems like a glacial cirque combined with a talus slope.
Given the level of effort to even get up here, we spent at least an hour having a picnic lunch while dipping our feet in the freezing cold water (enough to numb the feet).
After having our fill of Goat Lake, we then returned the way we came.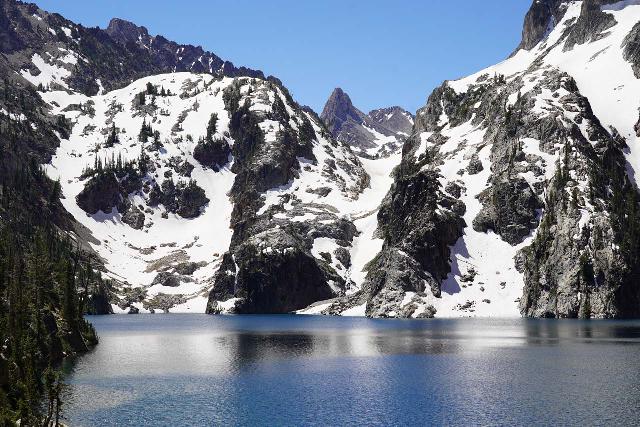 Even though the hike was mostly downhill on the way back, the steepness was such that it wasn't any easier due to the danger of falling and sliding down the nearly vertical terrain.
Using at least one trekking pole to keep ourselves upright definitely helped with the balance as we descended, because if we leaned too far back, then that's when the footing becomes undermined given the poor weight distribution on such slopes.
Indeed, just to give you an idea of how hard the Goat Lake Trail and scramble was after leaving the Alpine Way Trail, we took over 2 hours to get to Goat Lake while we took a little over 90 minutes to go down the same stretch of trail.
Authorities
Goat Falls resides in the Sawtooth Wilderness near Stanley in Custer County, Idaho. It is administered by the USDA Forest Service. For information or inquiries about the area as well as current conditions, visit their website.
Goat Falls and Goat Lake is best accessed from the Iron Creek Trailhead.
This trailhead is only a 15-minute drive from Stanley.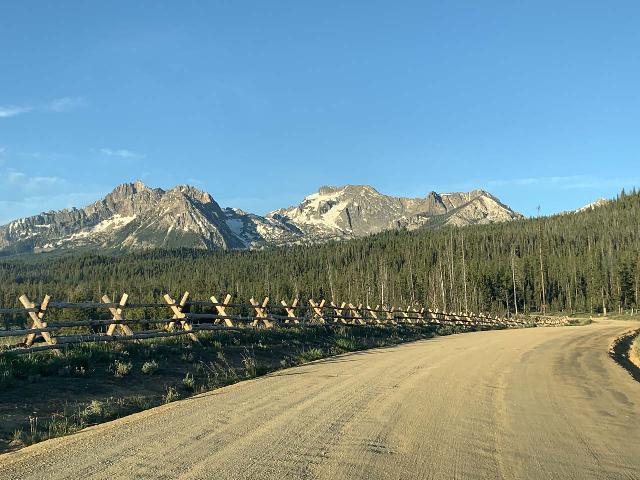 We got there by heading west on the Hwy 21 from Stanley for about 2 miles before turning left onto the unpaved road towards the Iron Creek Trailhead and Campground.
We then followed this unpaved road for another 3 miles before reaching the well-signed Iron Creek Trailhead on the right.
To give you some geographical context, the town of Stanley was 143 miles (under 3 hours drive) south of Twin Falls, 133 miles (also under 3 hours drive) northeast of Boise, 158 miles (over 3 hours drive) southeast of McCall, 200 miles (about 3.5 hours drive) west of Idaho Falls, and 256 miles (under 5 hours drive) south of Missoula, Montana.
Find A Place To Stay
Related Top 10 Lists
No Posts Found
Trip Planning Resources
Nearby Accommodations
Featured Images and Nearby Attractions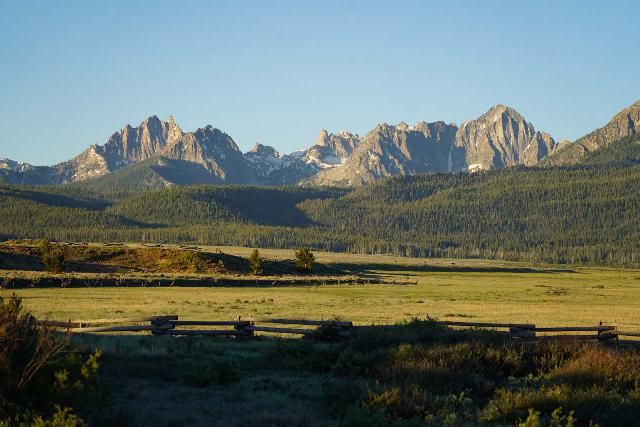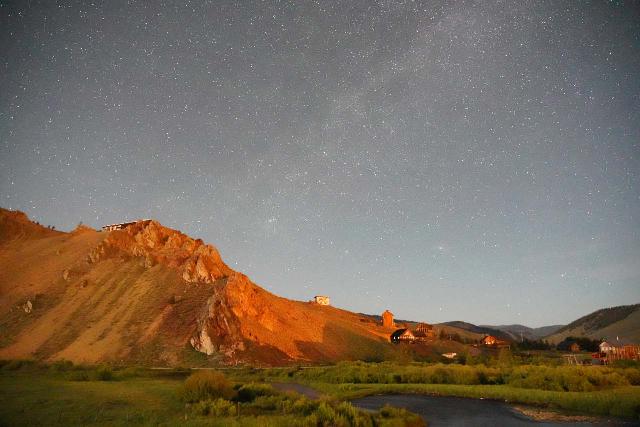 Tagged with:
stanley, sawtooth, goat lake, iron creek, alpine way, stanley lake
Visitor Comments:
Got something you'd like to share or say to keep the conversation going? Feel free to leave a comment below...
No users have replied to the content on this page
Visitor Reviews of this Waterfall:
If you have a waterfall story or write-up that you'd like to share, feel free to click the button below and fill out the form...
No users have submitted a write-up/review of this waterfall