About Spray Falls
---
Hiking Distance:
4 miles round trip; some scrambling
Suggested Time:
2.5 hours; 4-5 hours for Spray Park
---
Date first visited:
2011-08-24
Date last visited:
2011-08-24
---
Waterfall Latitude:
46.91561
Waterfall Longitude:
-121.84183
---
Spray Falls took me a bit of work to reach while also requiring a bit of risk to see it in the manner as you see on the photo above.
It was impressive waterfall with a reported height of around 354ft spreading to 100ft wide at its base in an unusually twisting manner.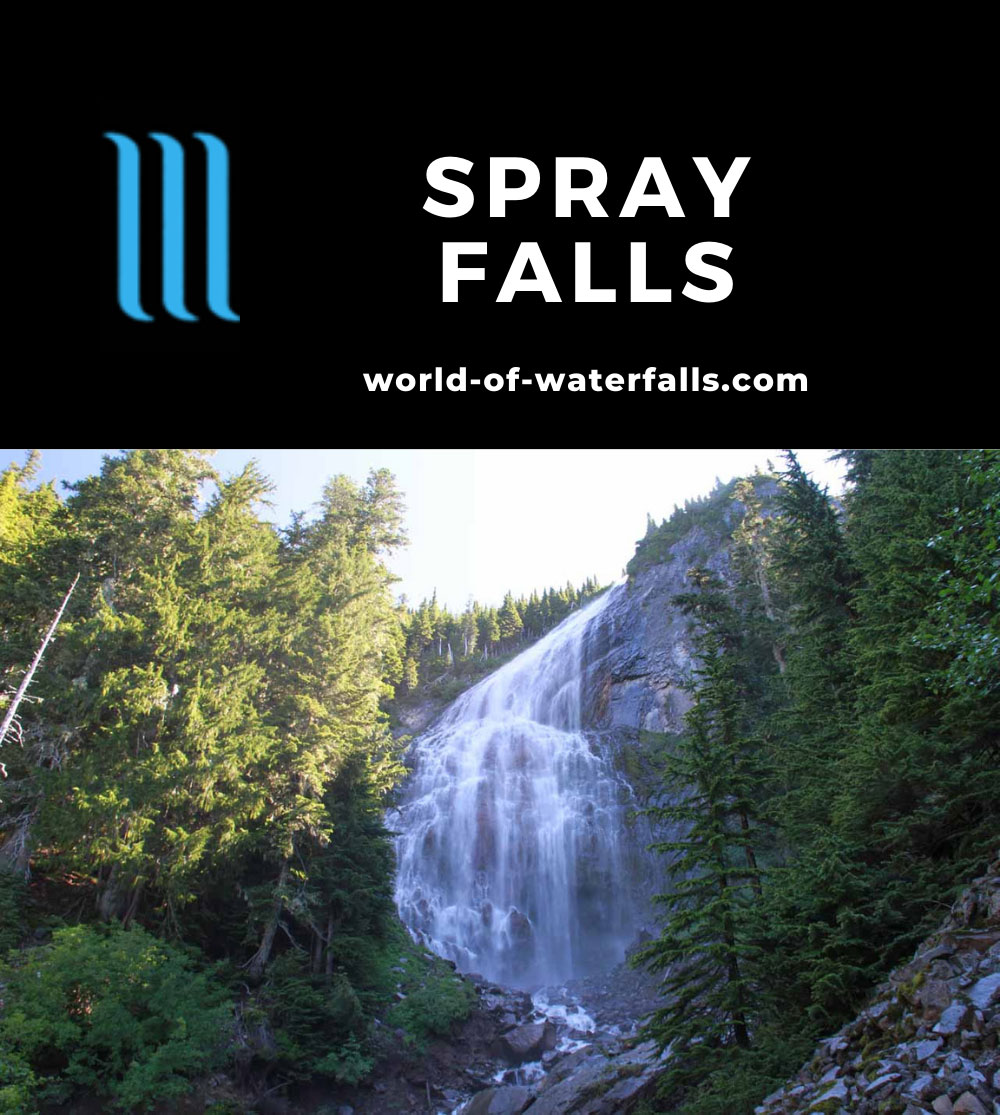 I found that twisting characteristic particularly memorable since it had the shape of a bent funnel.
The combination of the sheer size of this falls along with its unusual shape was it got a pretty high scenic rating and a spot on our Top 10 Best Washington Waterfalls List.
Since Spray Falls was sourced by the melting snow at Spray Park (an alpine meadow further up the main trail), I'd imagine its flow would diminish as the Summer progressed under a typical snowpack year.
My visit wasn't so typical (as told to me by locals I had met here despite my suspiscion that this was the case already) because the high precipitation of the year 2011 pretty much guaranteed the falls would have a healthy year-round flow.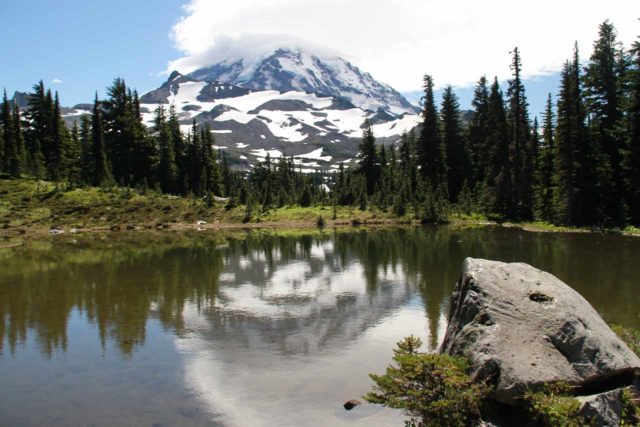 Moreover, the volume of the falls that I had witnessed was more indicative of late June or early July flow as opposed to late August and early September.
As for experiencing Spray Falls, it could be one of three different outcomes.
First, it could be a fulfilling (and adrenaline-pumping) experience, a disappointing experience (if you ended up settling for the partial views), or a forgettable experience (if something bad happened trying to get to a good view of the falls).
Allow me to explain my experience.
Spray Falls Trail Description – hike to the Eagle Cliff Viewpoint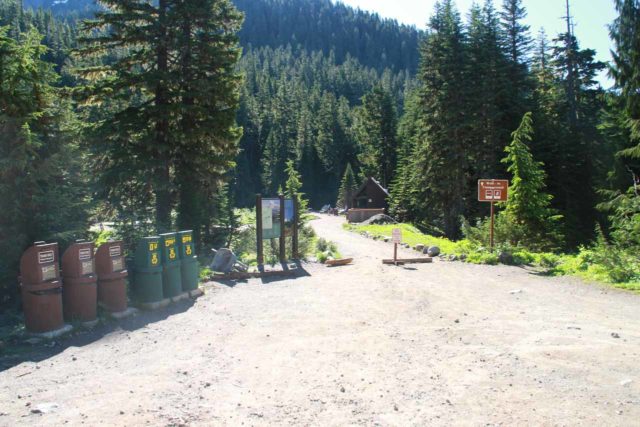 I actually visited this waterfall while doing a solo trip from Seattle to the Mowich Lake District of Mt Rainier National Park.
A fair bit of the latter part of the drive was on a slightly washboardy unpaved road, but it was easily handled by the passenger 2wd rental car.
Once I made it to the surprisingly busy parking lot at the end of the Mowich Lake Road (see directions below), I then took a roughly four-mile round trip hike that started off with a descent from the campground into a forest.
While in the forest, I made sure to veer left at a signposted junction to continue on the trail of interest where I then had to cross a handful of creeks.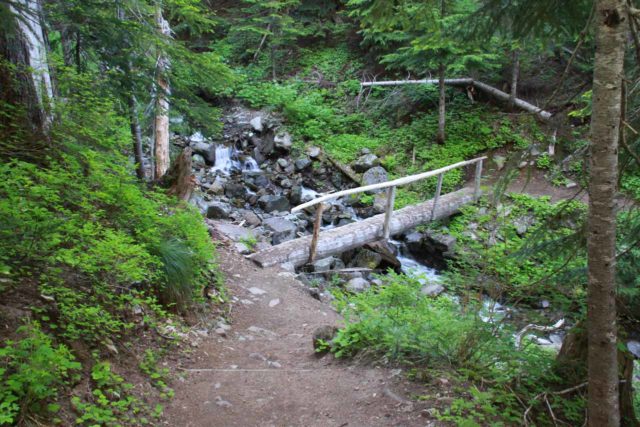 Most of these creek crossings had either single-lane log bridges over them or they could be traversed easily enough by rock hopping.
Beyond these crossings, I then had to climb through several switchbacks.
Along the ascent, there was a signposted spur leading to the Eagle Cliff Viewpoint where I was able to get fine views (though somewhat against the sun in the morning) of the summit of Mt Rainier.
The viewpoint was close enough to the impressive volcano to see some of the glaciers imperceptibly sliding down its slopes.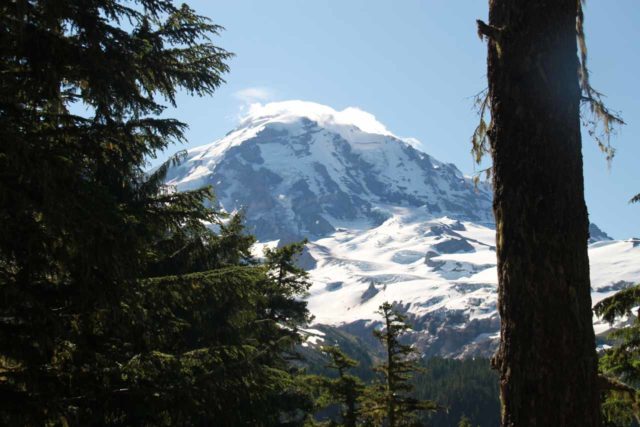 I also witnessed what I thought was Giant Falls in the distance as well as some other unnamed cascades coming down the slopes of Mt Rainier.
Spray Falls Trail Description – from the Eagle Cliff Viewpoint to the falls
Continuing beyond the Eagle Cliff Viewpoint, the trail resumed its ascent before momentarily flattening out.
But that respite was short-lived as the trail then continued its relentless climb before reaching another signposted spur.
This time, the signpost said "Spray Falls Viewpoint" and was pointing to the right fork.
After following this spur trail across another narrow log bridge then through a volcanic scree slope section, the trail finally descended towards the rushing Spray Creek.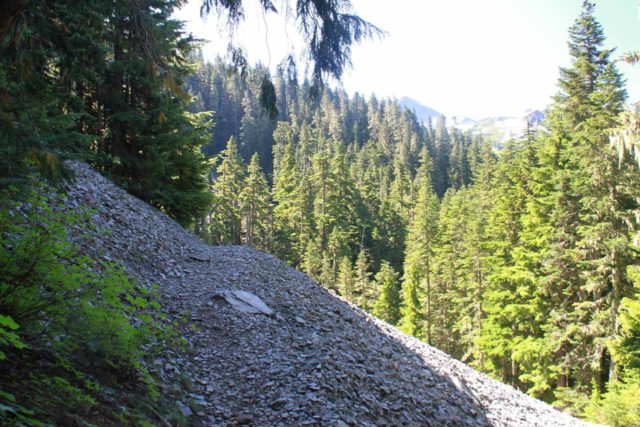 The official trail ended at the banks of the Spray Creek.
However, from here, I was only able to get a partial view of the Spray Falls as trees from the left blocked the rest of its view.
In order to get more satisfying views, I had to cross the creek.
When I tried to rock hop my way to the furthest I could get without getting wet, I only managed to get right in the middle of the creek where I could only improve my view marginally.
Given the depth and speed of the creek, it occurred to me that the official end of this spur trail would be the end of the Spray Falls hike for most people.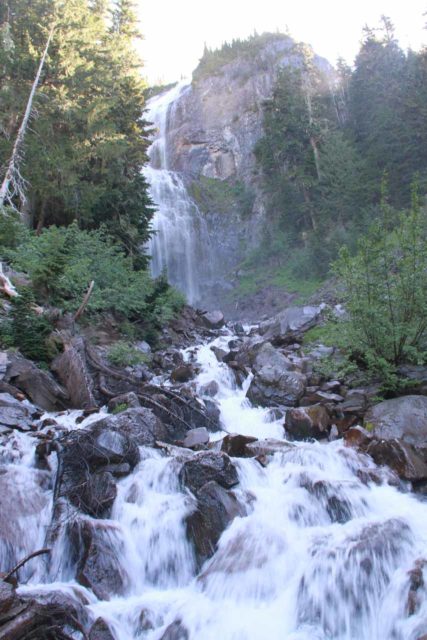 However, I knew I had to find a way to get across Spray Creek for that better view.
This was despite the observation that I was faced with an unusually late Spring-like condition at the end of August 2011.
I was sure that the creek levels on the day of my visit were more of an anomaly this late in the Summer.
Theoretically, Spray Creek ought to have lower flow under more "normal" conditions, which in turn would have made the creek crossing less intense.
But alas, trying to cross the creek was not easy by any stretch of the imagination, and I found it to be quite risky.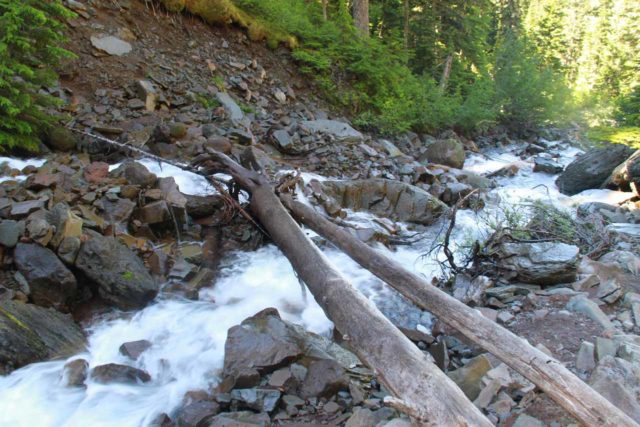 One mishap and I could find myself swept downstream where there were hard, sharp rocks jutting out beneath the rushing creek waiting to pierce me or knock me out.
Had Julie accompanied me on this hike, she definitely would've talked me out of doing it under these conditions.
Anyways, after much scouting around for feasible options to cross the creek, I managed to find a pair of large fallen tree trunks that I was able to use to scoot more than two-thirds of the way across the creek.
I wasn't sure if the trunks were felled intentionally in this manner or if Nature miraculously put them there by dumb luck.
Regardless, once I traversed the fallen trunks, the remainder of the crossing required a short hop across a particularly fast moving part of the Spray Creek.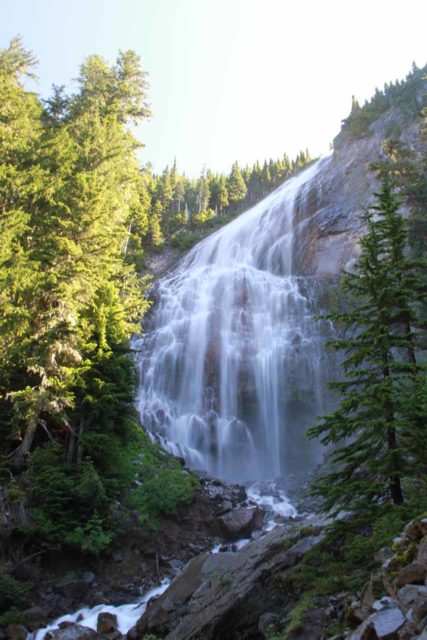 When I made it to the other side, the hazards didn't end.
I then had to scramble steeply away from the banks of the creek on loose volcanic rocks.
Once I got high enough from the steepest parts of the slope, I then scrambled along these loose rocks to a satisfactory enough view of Spray Falls (as shown at in the photo at the top of this page).
When I had my fill of Spray Falls, I went back across the creek the exact same way I came.
As tempting as the direct crossing seemed (to save the scrambling back to the fallen trunks), I knew it was too dicey to take the risk so I took the time to do it the way I knew had worked earlier.
Spray Falls Trail Descrption – extending the hike to Spray Park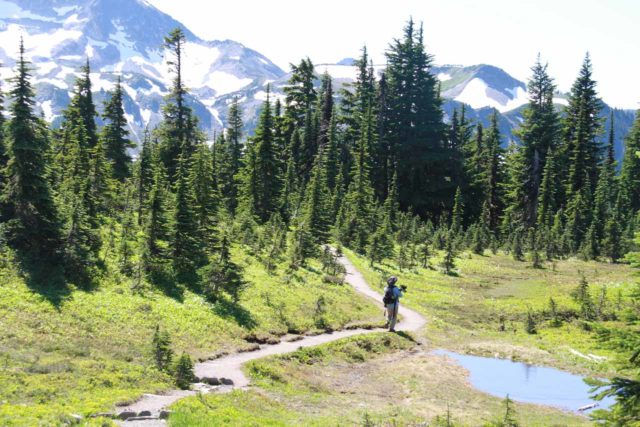 Finally, since I had some time and energy, I continued hiking the extra mile beyond the Spray Falls junction.
As tiring as it was with the continual series of switchbacks, when the climb finally flattened out, I was at the alpine flat known as Spray Park.
Since the weather was relatively good, I was delighted to see several blooming wildflowers (another indication of a late Summer season), the summit of Mt Rainier, and even a small tarn where I took some photos of Mt Rainier and its reflection!
In total, I spent a little over 5 hours on the trail, which included rest stops, a short lunch break, and plenty of photo stops.
I even took some time to check out Mowich Lake when I returned to the trailhead.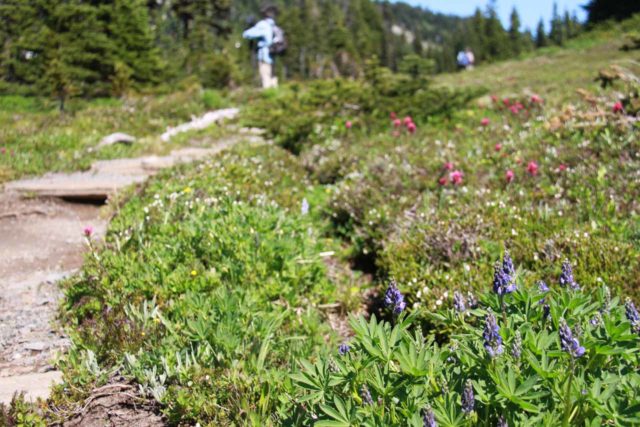 So indeed, this excursion would definitely take the better part of a day.
Authorities
Spray Falls resides in Mt Rainier National Park near Puyallup in Pierce County, Washington. It is administered by the National Park Service. For information or inquiries about the area as well as current conditions, visit their website.
Spray Falls lies in the Mowich Lake District in the northwest corner of Mt Rainier National Park.
According to my GPS log, I got here from Seattle by taking the Hwy 167 south to North Puyallup, then heading east on Hwy 410 until I made a right turn onto Mundy Loss Rd.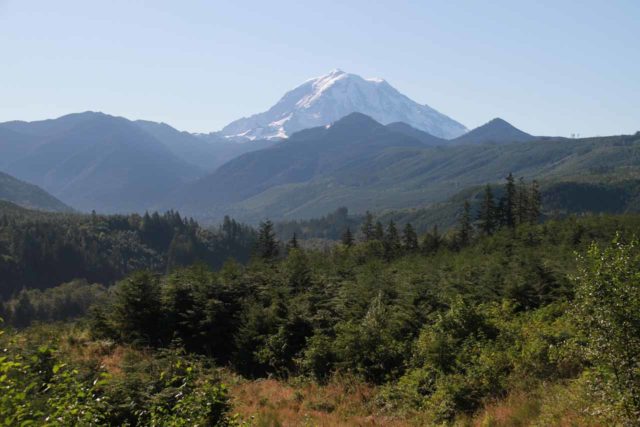 Mundy Loss Rd (which seemed like a residential road) hooks up with Hwy 162.
It then headed east and hooked up with Hwy 165.
Heading south on Hwy 165, the road passes through the small towns of Wilkeson and Carbonado.
Not long after a long single-lane bridge (roughly 3 miles past Carbonado), Hwy 165 splits where the right fork ascends steeply then becomes Mowich Lake Road while the left fork leads to the Carbon River Entrance Station of Mt Rainier National Park.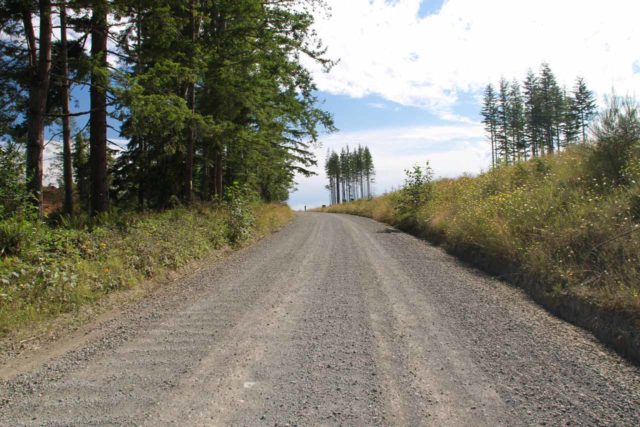 I took the fork on the right, which became an unpaved gravel road for the last 15 miles.
While on Mowich Lake Road, there's some imposing views of Mt Rainier while still outside the Mt Rainier National Park boundary.
Shortly after crossing the National Park boundary, there's a self-help fee station and restroom area.
Mowich Lake Road eventually terminated at the parking lot and trailhead, which was within a stone's throw from the lovely Mowich Lake itself.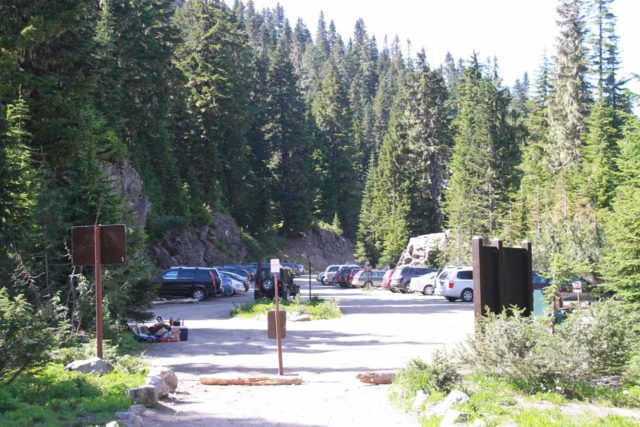 There's also a campground here, which can be an attractive option for enabling even longer hikes amidst the Spray Falls / Spray Park vicinity.
Overall, the drive from Seattle to Mowich Lake was about 70 miles taking me between 2.5-3 hours.
By the way, I wasn't able to visit the Carbon River Section of Mt Rainier National Park because its road was washed out just east of the ranger station there.
Thus, I wasn't able to visit Ranger Falls, which definitely would've been an entry in this website had I been able to visit it.
Find A Place To Stay
Related Top 10 Lists
Trip Planning Resources
Nearby Accommodations
Tagged with:
mt rainier, mount rainier, national park, mowich lake, pierce, washington, waterfall, spray park, puyallup, wilkeson, carbonado, carbon river
Visitor Comments:
Got something you'd like to share or say to keep the conversation going? Feel free to leave a comment below...
No users have replied to the content on this page
Visitor Reviews of this Waterfall:
If you have a waterfall story or write-up that you'd like to share, feel free to click the button below and fill out the form...
No users have submitted a write-up/review of this waterfall