About Walupt Falls
---
Hiking Distance:
about 3 miles round-trip scramble
Suggested Time:
allow 2-3 hours
---
Date first visited:
2021-06-21
Date last visited:
2021-06-21
---
Waterfall Latitude:
46.43136
Waterfall Longitude:
-121.49788
---
Walupt Falls (also called Walupt Creek Falls) was an unusually-shaped 220ft waterfall that was definitely unique among the waterfalls that we saw in the state of Washington.
Due to its size and unusual shape, I found it to be one of the more alluring waterfalls in the state of Washington, and that's saying something considering how many other waterfalls this state harbors.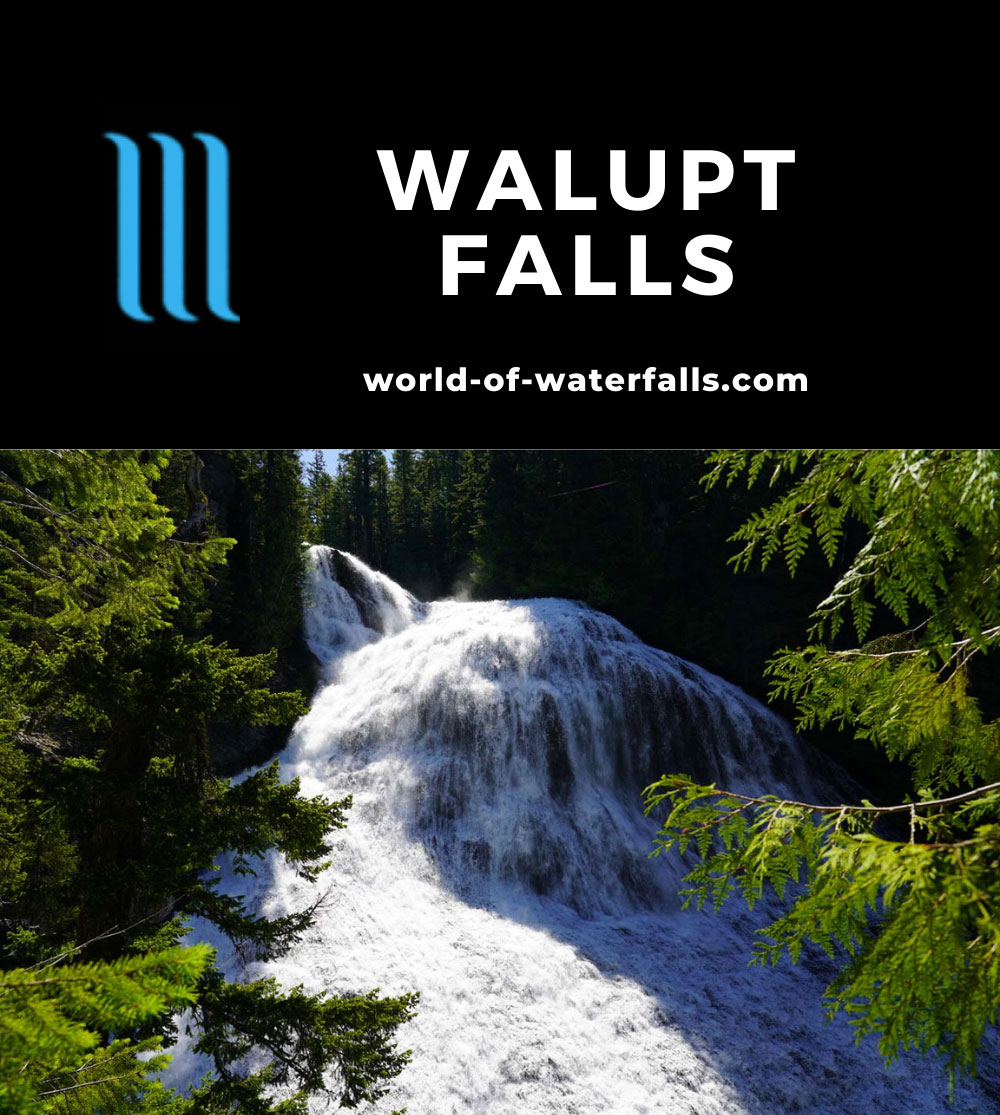 Apparently this waterfall reminded some people of Union Falls because Walupt Falls was introduced to us under the context of Yellowstone's Cascade Corner gem.
I suspect this association was likely due to the wide fan shape coupled with waterflow going in different directions on the way down.
However, the similarities pretty much end there as I didn't have to hike nearly 16 miles with river crossings in grizzly country like I did for Union Falls.
Yet Walupt Falls presented its own set of challenges despite its shorter hiking length because of its unmaintained path.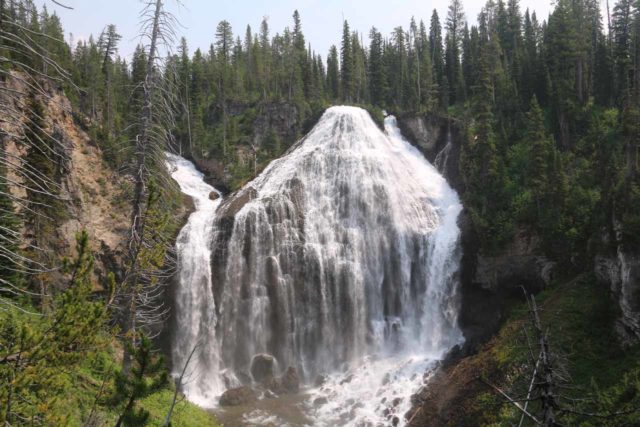 Case in point, it involved lots of scrambling, paying real close attention to hints of past use, and a rather tricky traverse of Walupt Creek in high flow.
Indeed, I definitely had to earn my visit despite the modest round-trip trail distance of 3 miles, and it still took me a solid 3 hours to complete to cover this distance while still properly experiencing all it had to offer.
Looking back at my experience here, I'd recommend that only experienced hikers or parties with at least one experienced hiker in it should partake in this adventure to minimize getting lost as well as to reduce the chances of injury.
Hiking to Walupt Falls: What to Expect
Walupt Falls isn't a conventional hike in that you could just show up on a lark after reading about it on AllTrails and expect success without preparation.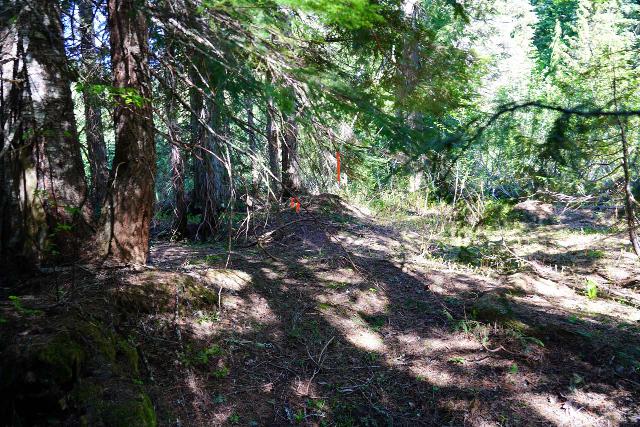 Indeed, you really have to treat this excursion like a scramble though I'm sure the "trail" might become more obvious as more people find out about this place on the interwebs and start "blazing trails" with repeated use, so to speak.
It's easy to get lost if you haven't been here before, and having a GPS app definitely kept me oriented (I used my premium version of Gaia GPS during my visit in June 2021).
In addition, I wore Keens so I didn't have to worry too much about getting my feet and legs wet on the crossing of Walupt Creek.
However, I did worry about deeper water (possibly going higher than my chest) so I brought my trekking poles for good measure as far as trying to maintain my balance with the extra two "legs".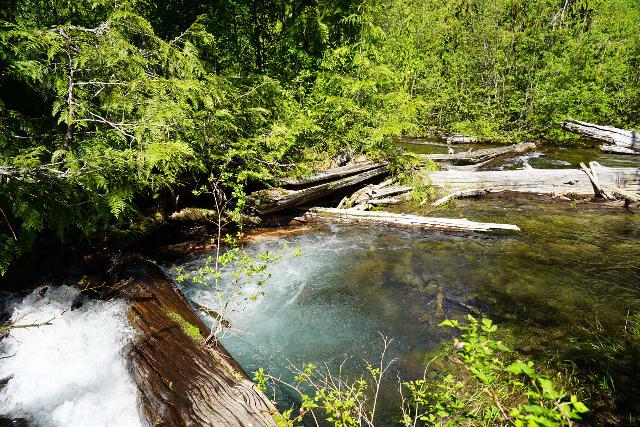 After all, I still didn't want to have any of my electronics ruined by water.
Finally, I wore long-sleeves, long pants, and a good hat just in case I encountered poison oak overgrowth, any ticks given the scrambling nature of this hike, and some passive protection against mosquitoes.
As for timing the visit, I made my attempt towards mid- to late-June.
Admittedly, this probably wasn't optimal due to the high degree of snowmelt (and mozzies), but I'd imagine Walupt Creek has healthy flow through the Summer and Fall thanks to Walupt Lake acting as its source.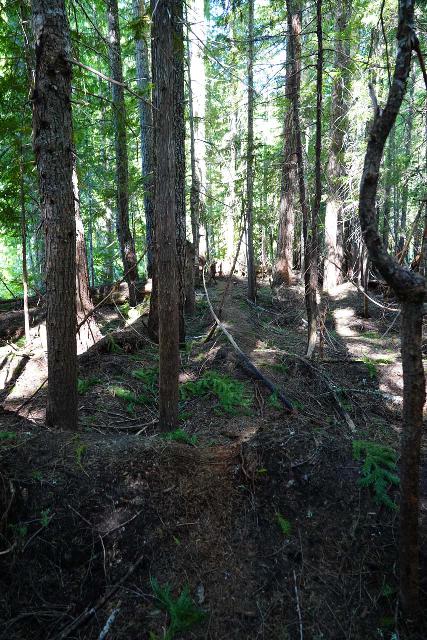 As far as logistics, I had to budget at least a half-day for this excursion due to the lengthy drive to get here as well as giving myself at least 2-3 hours to do the hike itself and enjoy it.
Hiking to Walupt Falls: The Scramble & Creek Crossing
From the unmarked "trailhead" (see directions below), I then went across the road and followed a pretty well-used trail for about the first 0.1- to 0.2 miles.
However, it didn't take long before the obvious trail pretty much disappeared and I had to look for hints on where to go next.
This coincided with following colored ribbons, which someone was kind enough to leave behind for others to follow.
The ribbons primarily acted as a route suggestion to get me past the river-like Walupt Creek, which involved a lot of balancing on logs or taking advantage of larger logjam jumbles.
However, the orientation of the logs to facilitate the crossing wasn't guaranteed, which was why having Keens or any other kind of water shoes was helpful, especially if you don't want to ruin hiking boots by submerging them completely in water.
Even with the colored ribbon hints and trekking poles to better balance on the logs, it took me some time to figure out the best route to traverse the creek.
But once I was on the other side of the creek, I'd go so far to say that the hardest part of this hike was pretty much over.
Hiking to Walupt Falls: Keep Up With The Faint Use-Trails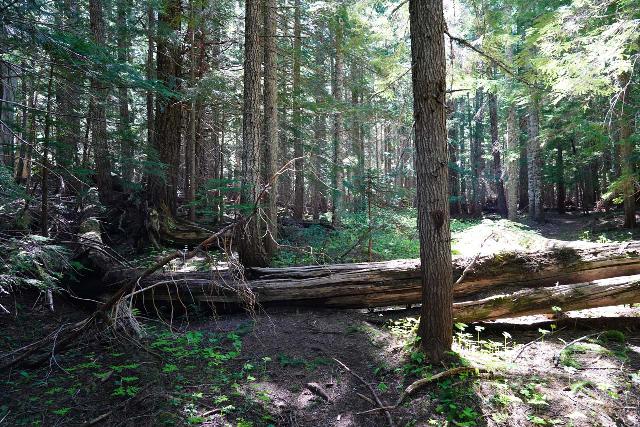 Once on the north side of Walupt Creek, I noticed faint use-trails that followed Walupt Creek's flow in the downstream direction.
I especially had to pay close attention to hints of prior use around any fallen trees or some gap between low-lying vegetation.
There were also some false trails along the way as I'd imagine there might be more than one way that people have gone, which might throw off the disoriented hiker.
At roughly 0.2-mile beyond the Walupt Creek Crossing (or roughly 0.7-mile from the trailhead according to my GPS logs), I did encounter a lone colored ribbon.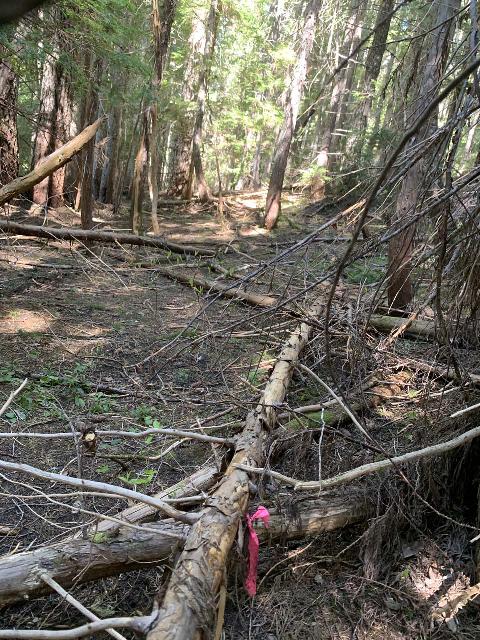 Given that it was the only one that I saw after the creek crossing, its odd placement made me wonder whether there was an easier traverse of Walupt Creek over here, but I just stayed focused and continued following the faint use-trail downstream.
I did have some help when I was passed by a hiker who had gotten a later start than me, and he seemed to have been here before given how quickly he was moving.
So I followed him as far as I could while still taking pictures along the way, and that kept me going at a pretty good pace until he left me in the dust.
Other than that, as long as you're going in the downstream direction, I didn't find this section to be too difficult as long as I remained focused on staying on the "path".
At around a half-mile beyond the Walupt Creek Crossing (or a quarter-mile beyond the last of the colored ribbons that I saw), I spotted a could of intermediate waterfalls on Walupt Creek.
In addition to being scenic landmarks worth a pause, they were also useful landmarks letting me know my progress (especially when I have to come back the same way on the return scramble).
Finally at around 0.6-mile beyond the last of the colored ribbons I saw (or around 0.9-mile beyond the Walupt Creek Crossing), I pretty much would reach the Walupt Falls, but I was only near its top.
There was still the final descent to get to the end of the scramble.
Hiking to Walupt Falls: Finding Different Ways To Experience The Falls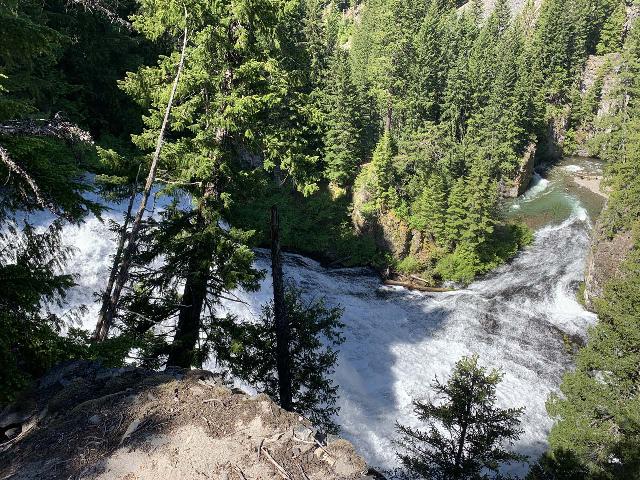 Nearby the brink of Walupt Falls (I knew this was the right waterfall given how far it had to drop), I reached a fork in the trail where the path on the left went even closer to the brink of Walupt Falls.
Keeping right to stay the course, there was another "fork" in an open part of the "trail" yielding a more partial profile view of Walupt Falls with the context of its watercourse further downstream.
It was here that I saw how far the hiker that passed me had gone (as he was way down in Walupt Creek looking back towards Walupt Falls), and that gave me the visual clue of where I needed to be in order to get to the end of this scramble.
At around 1.1 miles from the Walupt Creek Crossing (or 0.8 mile beyond the last of the colored ribbons I saw), I reached an unsigned trail junction.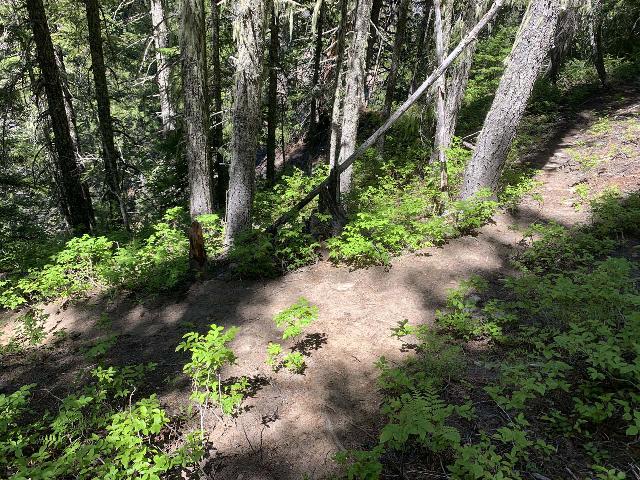 From here I went left, which quickly descended a steep path while the path on the right turned out to go away from Walupt Falls and was not the trail to take.
During the steep descent I spotted another informal spur path that traversed what seemed to be a seasonal stream before reaching a rather sketchy outcrop with an in-your-face look right at Walupt Falls.
Continuing the steep descent, the terrain involved carefully descending on a combination tree roots (there was even one part where someone had set up a rope though I didn't use it) and an even steeper decline.
But once I got to the bottom, I found myself right at the banks of Walupt Creek right where it joined with the Cispus River.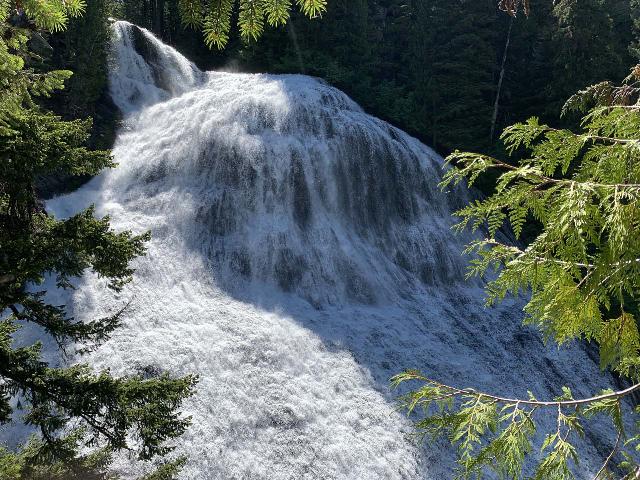 From the vantage point down here, I was pretty much looking against the late morning-midday sun so I'd imagine early to late afternoon would be optimal in terms of photographing the falls on a sunny day.
Walupt Creek had very high flow so I couldn't confidently wade into the creek to get even closer to the base of the falls, but the views from here were enough to satisfy my viewing needs.
Overall, it took me about 90 minutes to get to this point, and it took me another hour to return to the car (after spending a solid hour at this spot to enjoy the falls).
I had a hard time back at the crossing of Walupt Creek, which was punctuated by me falling on my bottom into the creek (but luckily not dunking any of my electronics).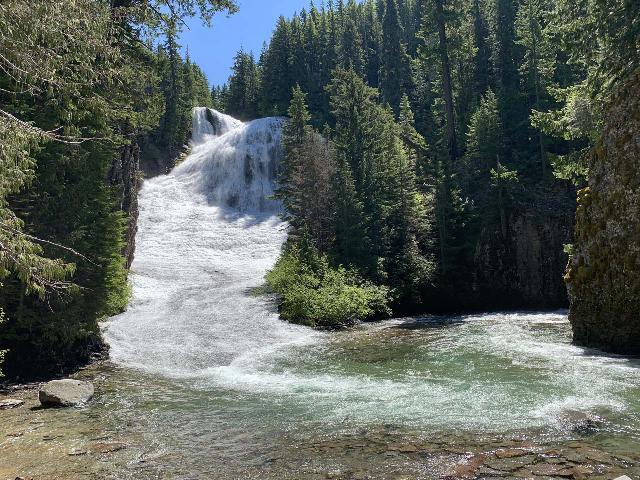 So that further illustrated the non-trivial nature of this hike and scramble.
Authorities
Walupt Falls resides in Gifford Pinchot National Forest near Packwood in Lewis County, Washington. Even though it sits in the USDA Forest Service jurisdiction, this is not an official trail. For information or inquiries about the area as well as current conditions, visit their website.
Walupt Creek Falls sits in a remote part of the Gifford Pinchot National Forest near Packwood between Mt Rainier and Mt St Helens.
Since I drove here from Seattle, I will describe the route I took accordingly.
Similarly, I'd imagine you can also drive up here from Portland since it's more or less a similar driving distance as that from Seattle.
Driving from Seattle to Walupt Horse Camp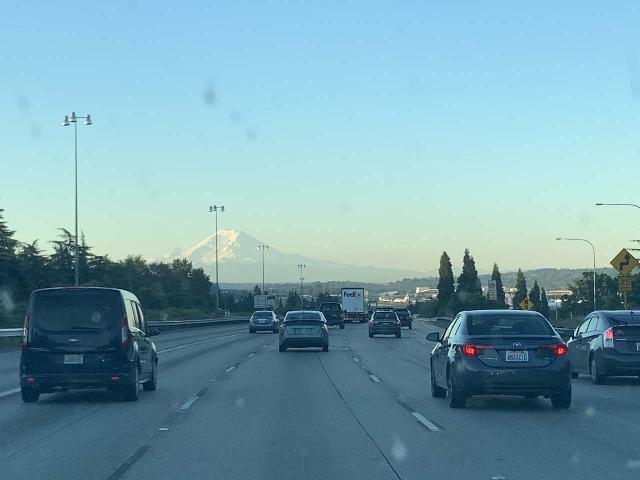 From Seattle, I drove about 36 miles south on the I-5 then I went east on the WA-512 for about 2 miles to the WA-7 Parkland Spanaway exit.
Turning right onto WA-7, I then went nearly 42 miles on the WA-7 towards the US12 by the town of Morton (note I departed from the route to Mt Rainier at Elbe to stay on the WA-7 after 35 miles from the WA-512).
Then, I drove about 31 miles east on the US12 towards Packwood (ignoring my Garmin DriveSmart which kept insisting on taking the WA-131 south from Randle), and then taking the NF-21 Road on the right (about 2 miles southwest of Packwood).
Once on the unpaved and potholed riddled NF-21 Road, I then followed the signs for Walupt Lake, which led me about 16 miles towards its junction with the NF-2160 Road.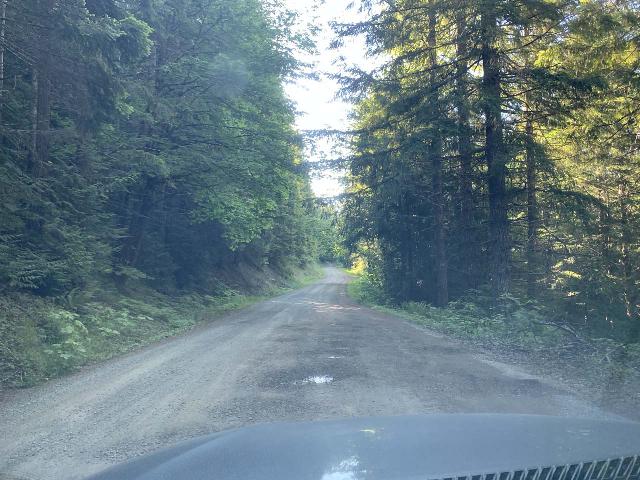 Turning left onto the surprisingly-paved NF-2160 Road, I then took it just under 4 miles to the informal trailhead for Walupt Falls, which was just past the signed turnoff for the Walupt Horse Camp (which you don't take).
Overall, this drive took me about 3 hours.
Driving from Portland to Walupt Horse Camp
From Portland, I would head north on the I-5 for about 76 miles towards the US12 exit towards Morton.
Then, I'd drive east on the US12 for about 62 miles before turning right onto the NF-21 Road and following the remaining directions as given above.
According to GoogleMaps, this drive would take around 2.5 hours.
As for geographical context, Packwood is about 73 miles (about 90 minutes drive) west of Yakima, 70 miles (under 2 hours drive) south of Puyallup, 108 miles (over 2 hours drive) south of Seattle, and 141 miles (over 2 hours drive) northeast of Portland, Oregon.
Find A Place To Stay
Related Top 10 Lists
No Posts Found
Trip Planning Resources
Nearby Accommodations
Featured Images and Nearby Attractions
Tagged with:
walupt lake, walupt horse camp, gifford pinchot, packwood, randle, cispus river, lewis county
Visitor Comments:
Got something you'd like to share or say to keep the conversation going? Feel free to leave a comment below...
No users have replied to the content on this page
Visitor Reviews of this Waterfall:
If you have a waterfall story or write-up that you'd like to share, feel free to click the button below and fill out the form...
No users have submitted a write-up/review of this waterfall