About Terraced Falls
---
Hiking Distance:
4 miles round trip; river crossing and bushwhack for best view
Suggested Time:
2-3 hours
---
Date first visited:
2004-06-20
Date last visited:
2020-08-05
---
Waterfall Latitude:
44.14753
Waterfall Longitude:
-110.86554
---
Terraced Falls was an impressive series of cascades and waterfalls tumbling in succession on the Fall River with a cumulative height of about 150ft.
It was our introduction to waterfalling in the remote Bechler Backcountry region of southwestern Yellowstone National Park, which was also known as the "Cascade Corner".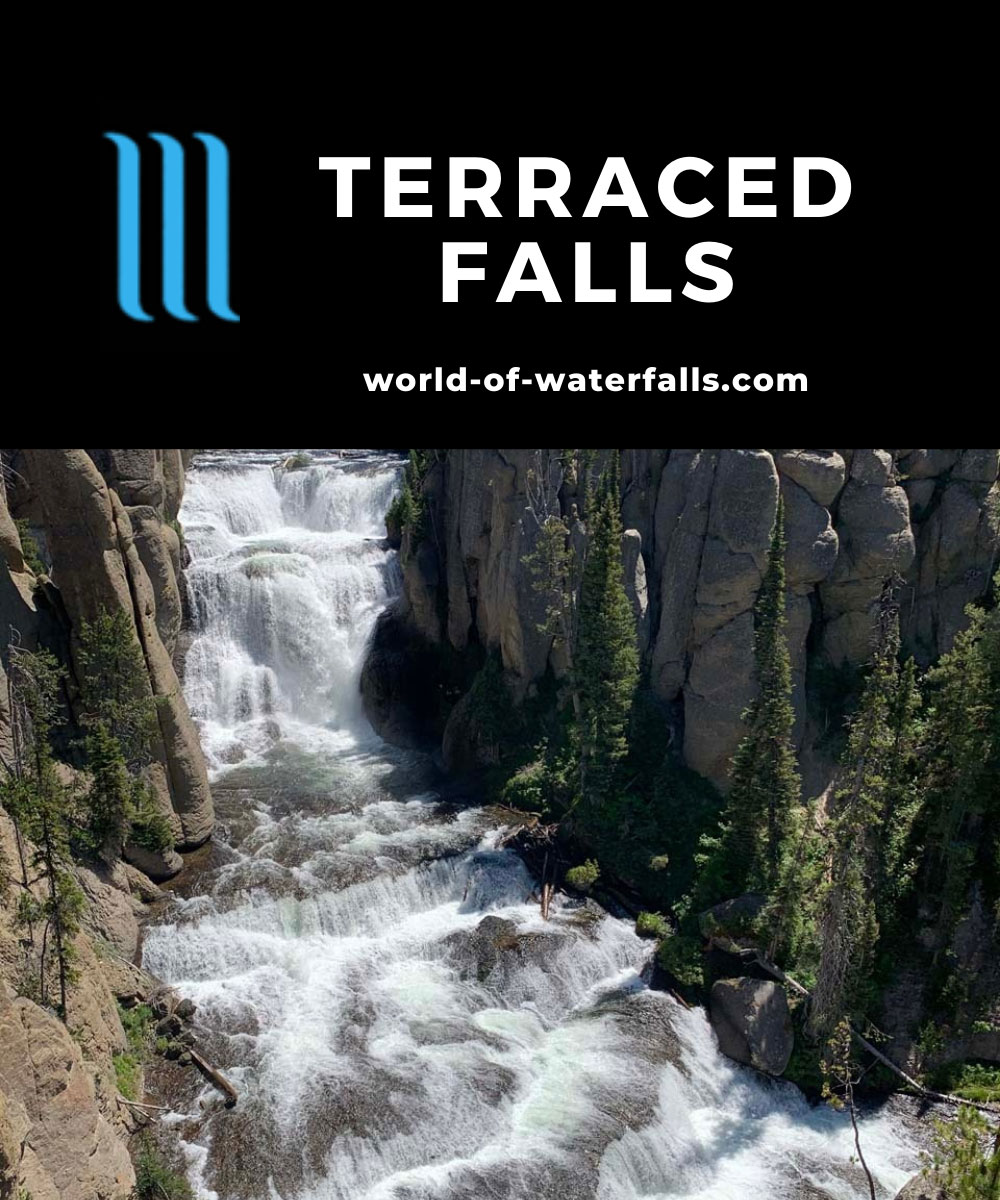 After all, most of the waterfalls within the national park's boundaries were concentrated here.
Certainly living up to its reputation as being full of waterfalls, our adventure to Terraced Falls took us by additional waterfalls and cascades on Cascade Creek (one of the tributaries feeding the Fall River).
It also went by the Cascade Acres, which was a wide set of rapids and cascades on the Fall River itself.
Some of the cascades on Cascade Creek were attractive on their own.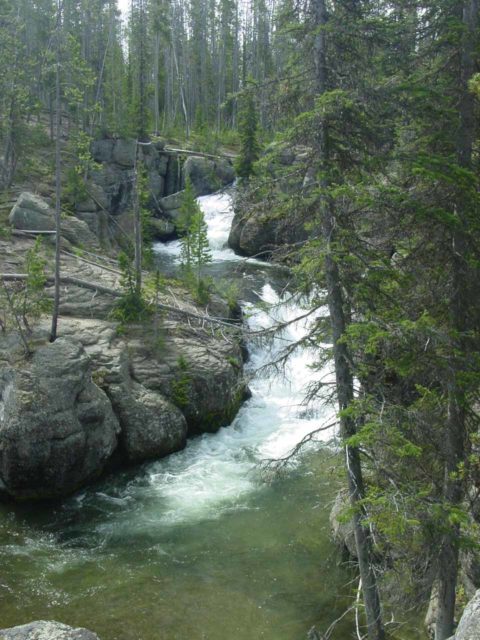 In fact, I could argue that they ought to have their own signage and tourism infrastructure if they weren't merely incidental attractions on the Terraced Falls hike.
Indeed, this was the type of excursion that could easily induce waterfall saturation within the 4 miles of round trip hiking to take it all in.
Misleading Photos of Terraced Falls
One thing that we remembered most about our experiences at Terraced Falls was the wild nature of the Bechler Backcountry.
Therefore, we noticed lots of opportunities for dropoff hazards with off-trail discoveries, but we were also cognizant that we needed to be bear aware since we were in grizzly country.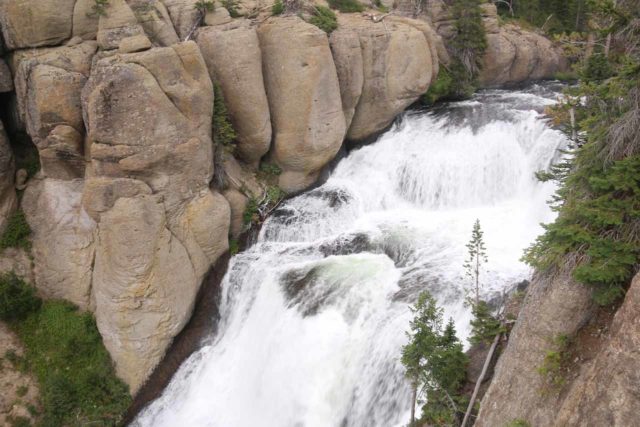 The dropoff hazards were especially apparent at the end of the official trail where I managed to lose an old Sony wide angle lens over the cliff above the brink of Terraced Falls on our first visit here in June 2004.
We were actually lured here by a photo that was shown in the book The Guide to Yellowstone Waterfalls and Their Discovery
, which was very different from the photo shown immediately above.
When we compared their photo with what we managed to experience from the sanctioned trail, it was very clear that some additional unsanctioned scrambling and hiking was necessary to properly experience Terraced Falls.
Unfortunately, that photo from the book was taken from the opposite side of the Fall River.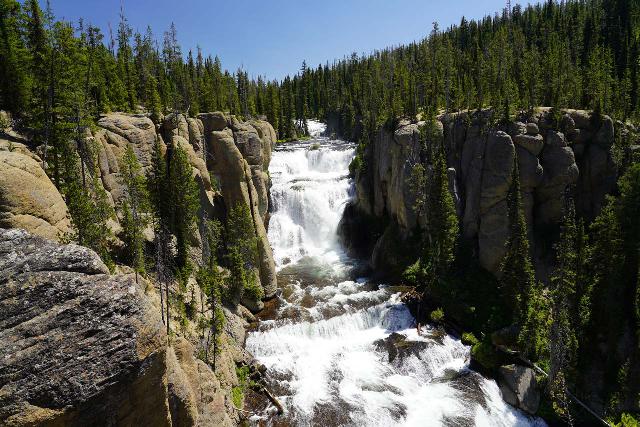 This required a potentially dangerous river crossing upstream from the brink of the first cascade of Terraced Falls as well as a rough bushwhack on the other side.
In my first two attempts at visiting this waterfall, the situations weren't right to make the traverse and scramble to get that sought after overlook.
However, on my third attempt, I finally managed to reach the view that was shown in the Yellowstone Waterfalls book, which I'll describe how I managed to do it further below on this page.
Terraced Falls Trail Description – hiking the Cascade Creek Trail
The hike to Terraced Falls began from the Cascade Creek Trailhead (see directions below).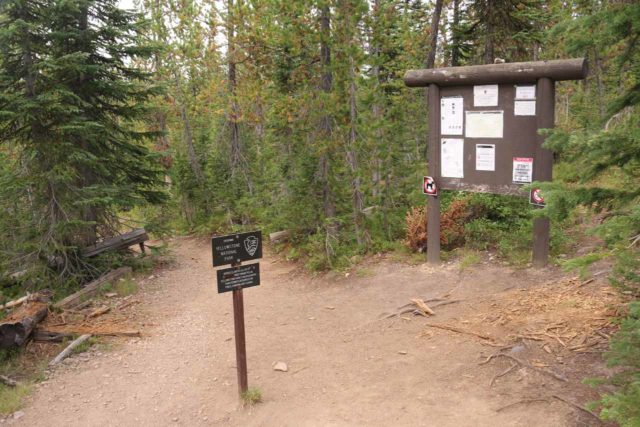 The trail began behind a sign towards the left side of the dirt pullouts (facing away from the Grassy Lake / Reclamation Road).
From there, the trail descended as it passed by signs indicating entry through the southern boundary of Yellowstone National Park at about a quarter-mile down.
The path continued descending as it eventually reached a junction just as it started to follow along Cascade Creek at about 0.4 miles from the trailhead.
The trail branching to the right, which crossed Cascade Creek, was called the South Boundary Trail.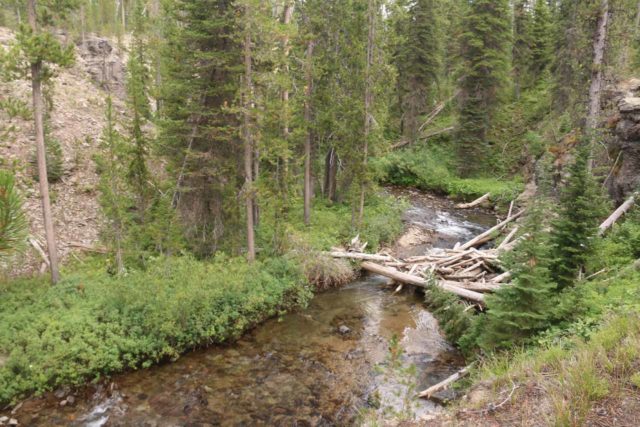 It would ultimately join up with the Mountain Ash Creek Trail (which ultimately merged with one of the routes leading to Union Falls).
The trail on the left continued towards Terraced Falls.
As we continued to descend alongside Cascade Creek, it didn't take long before we started to encounter waterfalls within Cascade Creek itself.
Terraced Falls Trail Description – the Cascades Along Cascade Creek
The first waterfall we encountered was at its brink at about a quarter-mile beyond the South Boundary Trail junction.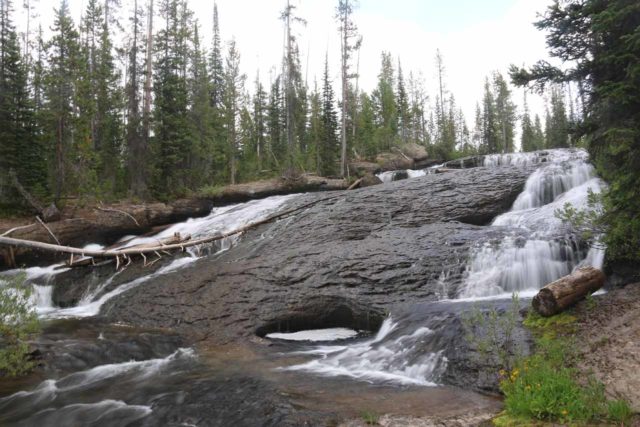 From the main trail, this was the only view we were afforded.
However, there were informal scrambling use trails that led away from the main trail further downstream.
It eventually led me to the side and front of the falls roughly 160ft off of the main trail.
At 40ft tall, this waterfall was informally called the "Pothole Cascades" by a park employee named Mike Yochim.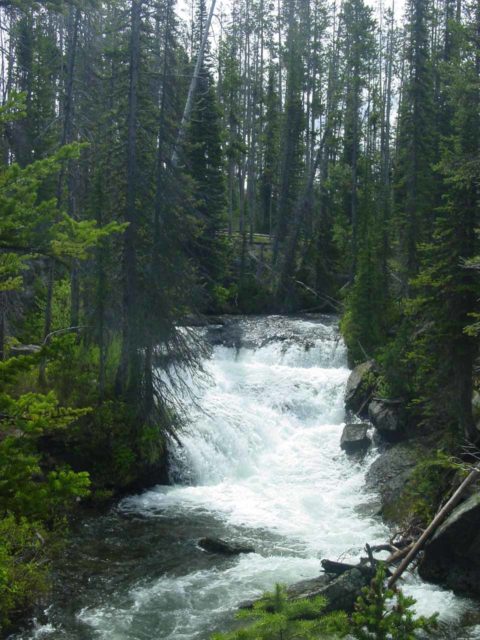 He noted pothole formations in the bedrock of the stream during his visit around 1998 when he made the suggestion of this name.
Continuing down the main Terraced Falls Trail, it didn't take long before we started to notice another cascade on Cascade Creek.
This was about 0.3 miles from "Pothole Cascades" or roughly a half-mile downstream of the South Boundary Trail Junction.
This one was easily visible from the main trail so Julie and I both noticed it on our first visit in June 2004, and I saw it again on my second visit in August 2017.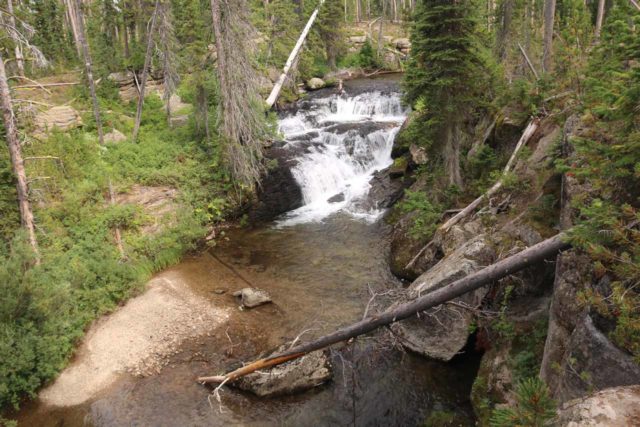 According to the Yellowstone Waterfalls book referenced above, it was named by Paul Rubinstein (one of the authors) as the "Diamond Cascade" given its confluence of four mini-tiers with a cumulative 15ft drop or so.
The next cascade on Cascade Creek was another 400ft or so further downstream.
This one was also visible from the main trail and we managed to only be able to view it from a distance.
It appeared that the creek fell over a rounded rock layer, and the authors of the Yellowstone Waterfalls book named it the "Humpback Cascade", which seemed to be an appropriate given its shape.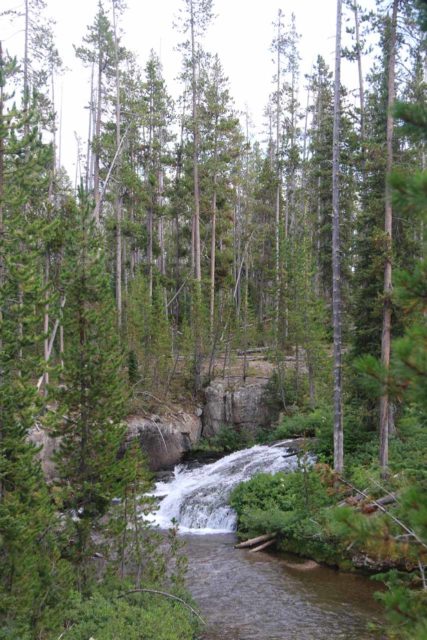 About another 150ft or so downstream of the "Humpback Cascade" was a pair of cascades falling in twisting succession.
At first, I was only able to look down unsatisfactorily near the brink of the upper drop of these cascades.
However, further down the trail another 350ft or so was an improved view as well as an informal scrambling path to further improve that view.
They went towards the front of the lower drop of the pair of cascades as well as a teasing hint of the upper drop, which was obstructed by trees.
It turned out that Julie and I also saw these falls in a much fuller and less obstructed state in our June 2004 visit so it was fairly easy to see.
These pair of waterfalls were known as the "Cleft Cascades".
When I looked downstream from the view of this falls, I was also able to see where Cascade Creek joined the Fall River though I had to pay real close attention to it.
Otherwise, there was no signage or other indication that the trail was now about to follow downstream along the Fall River starting just 200ft further on.
Terraced Falls Trail Description – following the Fall River to the end of the Official Trail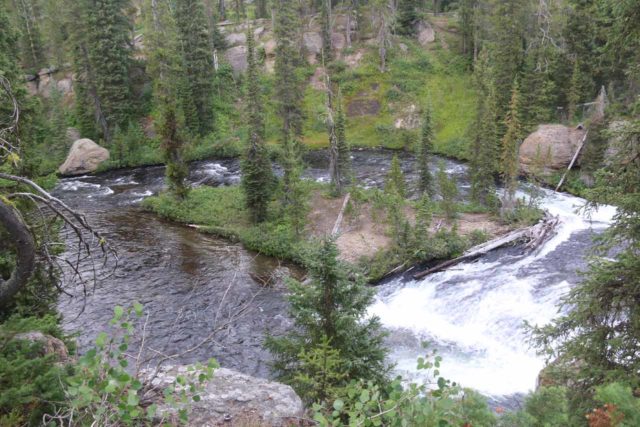 In the next quarter-mile or so, the trail continued skirting along the Fall River though it climbed somewhat so it would require a steep scramble to access the Fall River from there.
The next water feature was where the Fall River was flowing loudly as whitewater became more prevalent.
It turned out that these whitewater rapids and sloping waterslides comprised the so-called Cascade Acres, which was difficult to see cleanly due to the rugged terrain and trees in the way.
However, I was definitely able to hear it breaking the otherwise tranquil silence of this part of the Yellowstone backcountry.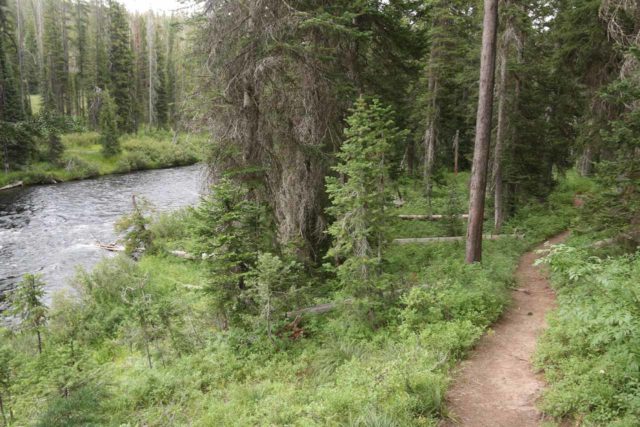 In another 0.3 miles from Cascade Acres or roughly a half-mile downstream of the "Cleft Cascades" was where the trail was almost level with the Fall River.
I suspected that this was where the potential crossing of the Fall River to access the other side was at.
There were a couple of faint trails of use here, corroborating my suspicion.
However, given the high rate of flow on both occasions I've done this hike (as well as the threat of flash flooding from neighboring thunderstorms during my second visit in August 2017), I couldn't make that attempt.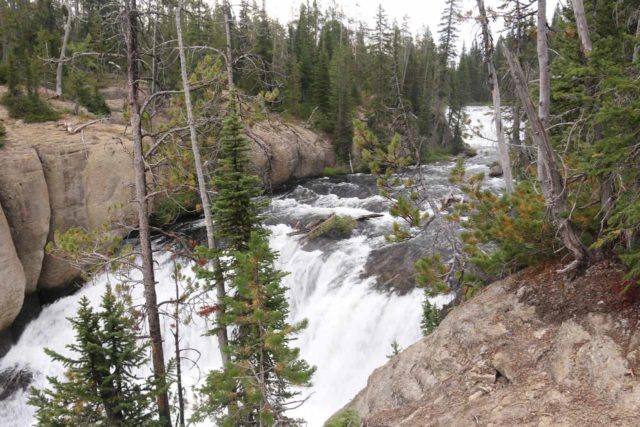 Finally at around 0.4 miles from Cascade Acres or nearly 3/4-mile from the "Cleft Cascades" was the start of the waterfall series comprising Terraced Falls.
The first of the waterfalls couldn't be cleanly be seen due to the presence of trees getting in the way as well as the steep drop offs by the trail going right into the Fall River.
Just another 500ft further was the precarious rocky outcrop perched right at the brink of the main series of drops of Terraced Falls.
This was the spot where I had lost my Sony lens back in June 2004.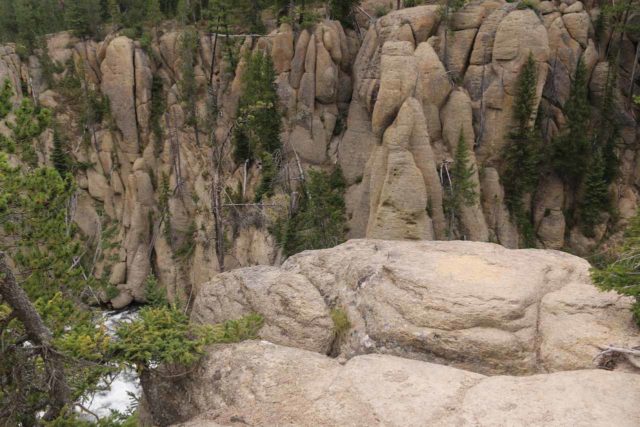 So I made sure that my camera was properly secured on my second visit, and that I was as surefooted as I could be for a fall here would most certainly be fatal.
From that rocky outcrop, I was not only able to witness the power of the Fall River dropping below me, but I was also able to look at the expanse of the backcountry further downstream.
This was pretty much the turnaround point of this hike, which was about 2 miles in each direction from the trailhead (or 4 miles round trip).
It took me about 2.5 hours away from the car on my second visit when I did this solo.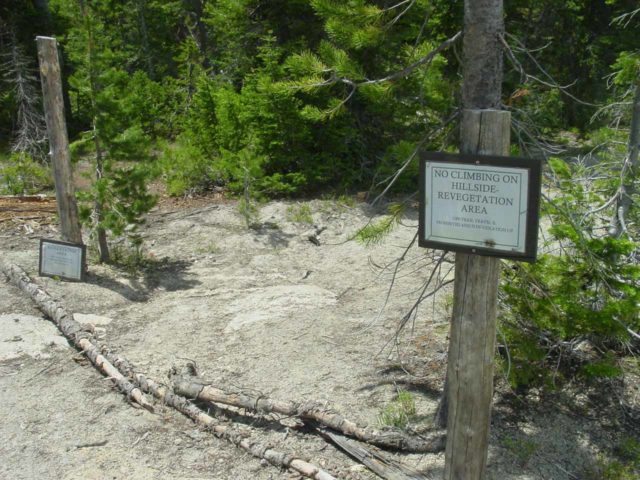 It probably took Julie and I a similar amount of time on our first visit back in June 2004.
The catch, however, was that it was a mostly uphill hike on the return so it was pretty much an upside-down hike.
Terraced Falls Trail Description – the dangerous gully
The trail actually continued a short distance further from the rocky outcrop above Terraced Falls.
There used to be signage here saying that the trail was closed back during my first time here in June 2004.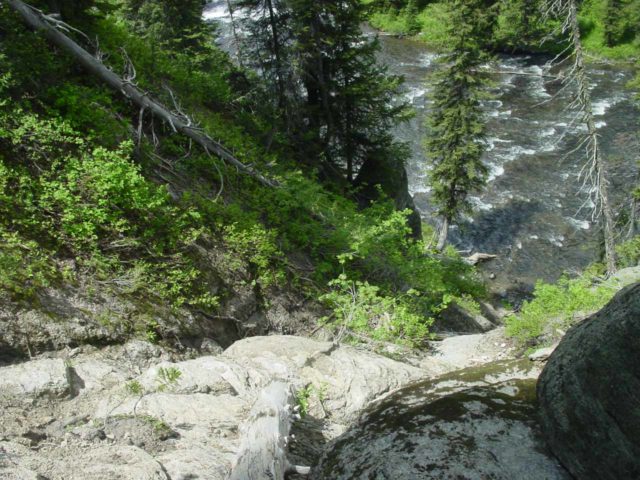 But regardless of whether that sign was there or not, there was still a dangerously steep gully that the trail disappeared into.
While in my younger days, I perhaps foolishly took a chance and went down this very steep gully to the banks of the Fall River.
It turned out that I would have to wade out into the Fall River anyways to get a more frontal view of it from its base (as shown in the Charles Maynard book
about Yellowstone Waterfalls).
Given how steep the descent was, it was definitely a big concern of mine whether it was possible to climb back up.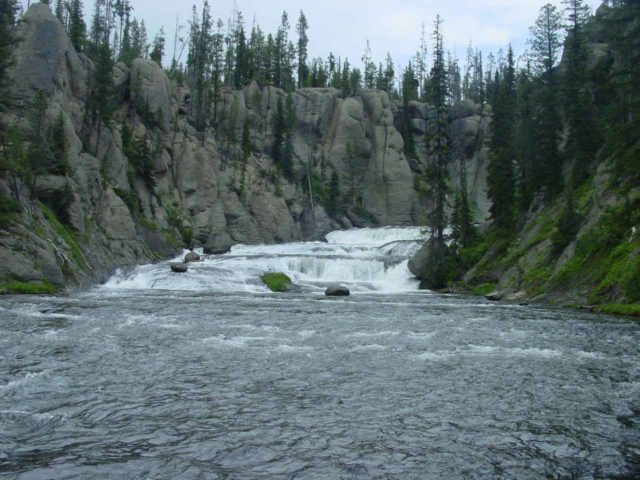 And wet shoes wouldn't have helped my cause had I tried to risk it for that better photo.
Nevertheless for the real adventurous risk taker, had I persisted further downstream, the scramble would have eventually led to the 55ft Rainbow Falls.
Terraced Falls Trail Description – accessing the best view of Terraced Falls
There was no trail or obvious path to cross the Fall River and reach the overlook yielding the photo you see at the very top of this page.
It was only when I got near the brink of Terraced Falls did I start to notice faint use trails thanks to the less dense vegetation there.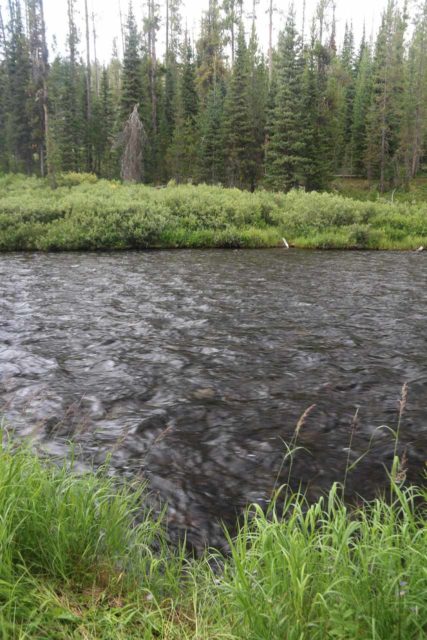 However, prior to that, I was on my own to figure out how best to get there while minimizing risk to life and limb.
First, I hiked down the main Terraced Falls Trail until the trail was reasonably close to the level of the Fall River where I wouldn't have to scale any dropoffs to access the river.
This was about 1.8 miles from the Cascade Creek Trailhead, 1.3 miles beyond the South Boundary Trail junction, or 0.3 miles beyond the Cascade Acres (assuming you can identify it since it's not signed).
From there, I scrambled off-trail among the low-lying bush to reach the Fall River, which definitely looked intimidating.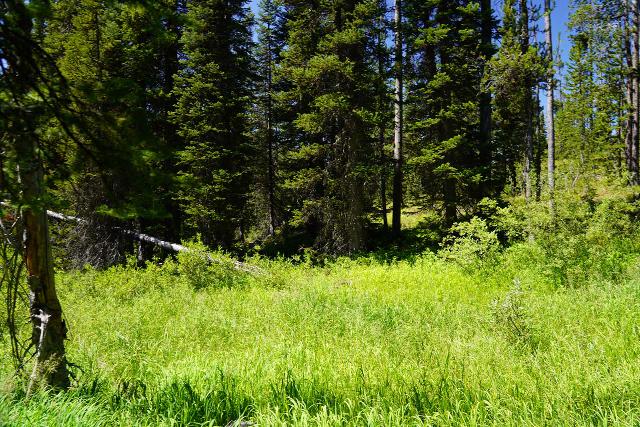 At this point, I then took the time to leave the day pack and electronics so I could test the crossing's depth and speed.
That way if I managed to slip and fall, hopefully the worst that would happen would be some wet clothes, but at least nothing that I didn't want to get wet would be affected.
When I made my visit in early August 2020, the Fall River depth was up to my thighs, but the current was very strong so I definitely needed a pair of sturdy sticks for better balance.
Obviously, wearing Keens instead of hiking boots was also a good idea given the river's depth and slippery, uneven footing.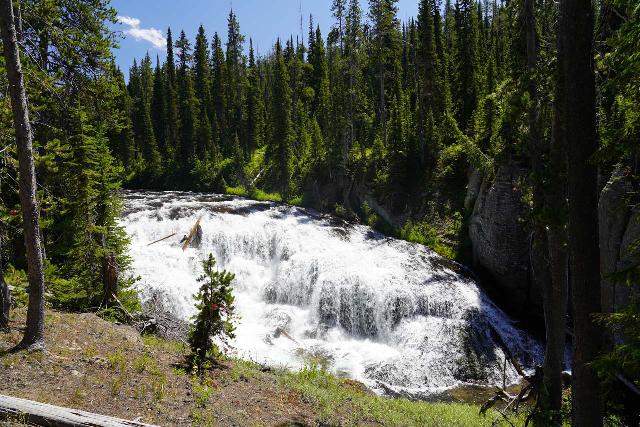 Once I made it to the opposite side of the river, I then had to bushwhack through a thick grove of bush before I could make an off-trail scramble with better visibility when the vegetation opened up.
The initial bushwhack and scramble lasted for roughly 500-600ft, which involved traversing a swampy side stream as well as going over and between fallen trees and dry branches.
And I had to do this while swatting at annoying mosquitoes and deer flies (they look like normal flies but have an annoying noticeable bite).
Eventually, I reached an attractive upper drop of Terraced Falls, which was further upstream from the main series of drops.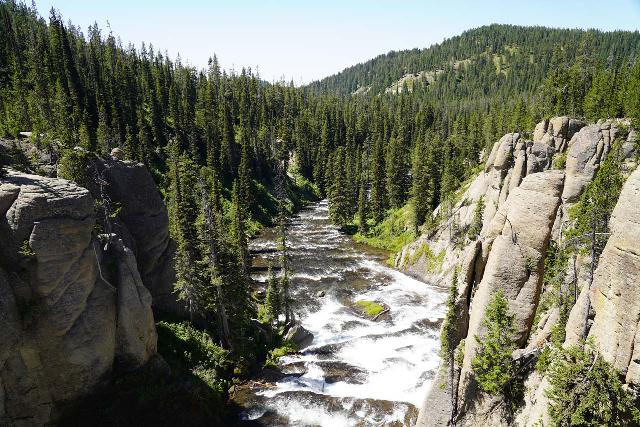 From here, I then started to pick up faint use-trails (from people that have been here before) that I was able to follow further downstream for another 1/4-mile.
Ultimately, I the use-trail led me to a precarious outcrop with a fully frontal and contextual view of the entirety of Terraced Falls' main section.
After having my fill of this regal view, I then returned the way I came to get back to the Terraced Falls Trail, which took me a little over an hour (though I'm sure it can be done faster once you know this area better).
As far as the overall stats from this adventure, my GPS logs said that I went 4.4 miles round trip while my trip notes said I spent 3 hours away from the car (including a pretty solid 15-30 minutes taking pictures).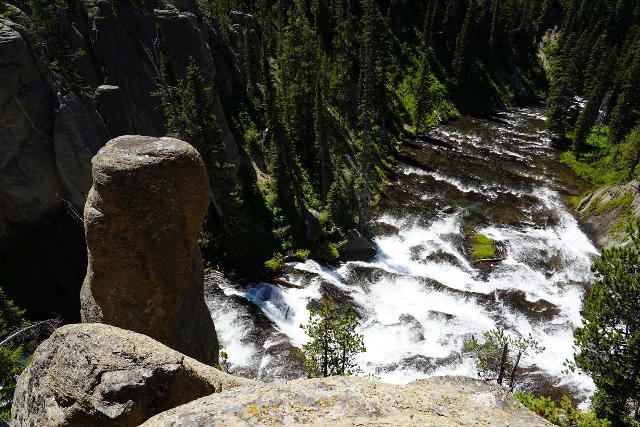 It should be noted that this distance did not include the last 1/4-mile to the official end of the trail at the brink of Terraced Falls.
Authorities
Terraced Falls resides in Yellowstone National Park near West Yellowstone in Park County, Wyoming. It is administered by the National Park Service. For information or inquiries about the park as well as current conditions, visit the National Park Service website.
Although Terraced Falls was within the Yellowstone National Park boundaries, the trail accessing it actually started just outside of it at the Cascade Creek Trailhead.
In order to get to this trailhead, we had to drive west on the unpaved Grassy Lake Road for nearly 14 miles (about an hour drive) west of Flagg Ranch.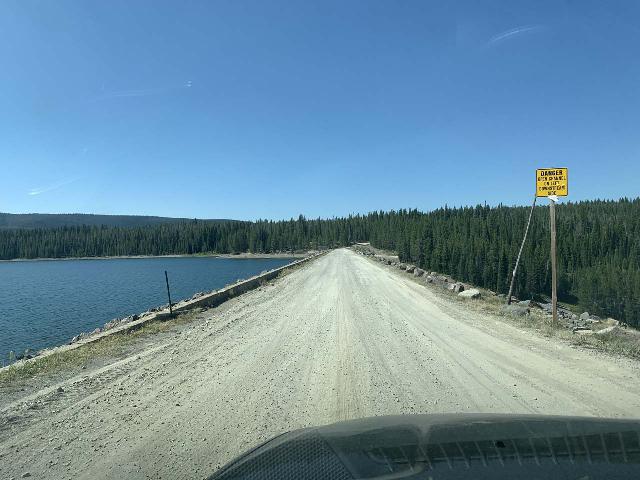 The road became unpaved just past the bridge over Polecat Creek, and the road had a few rough patches with potholes and some water-damaged ruts, but it was otherwise doable by passenger vehicles.
The Cascade Creek Trailhead was about 2 miles further west of the dam holding up the Grassy Lake Reservoir.
There was parking for a handful of cars by the trailhead, but there was also some spillover parking spots on the opposite side of the Grassy Lake / Reclamation Road.
For some context, Flagg Ranch was about 2.5 miles south of the South Entrance to Yellowstone National Park, 55 miles (75 minutes drive) north of Jackson, and 72 miles (under 2 hours drive) southeast of West Yellowstone, Montana.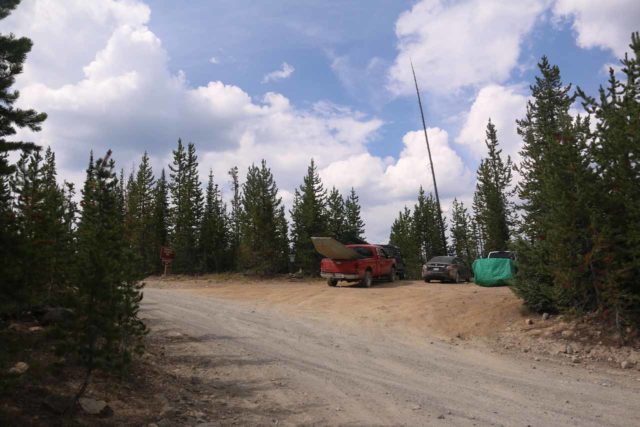 While Flagg Ranch was also a mere 48 miles (over 2 hours drive) east of Ashton, Idaho, it was on the Grassy Lake Road (also called the Reclamation Road).
This was said to be pretty rough the closer to the Idaho border you go.
I've never taken the Grassy Lake Road west of the Cascade Creek Trailhead before so I can't say much more about the road conditions.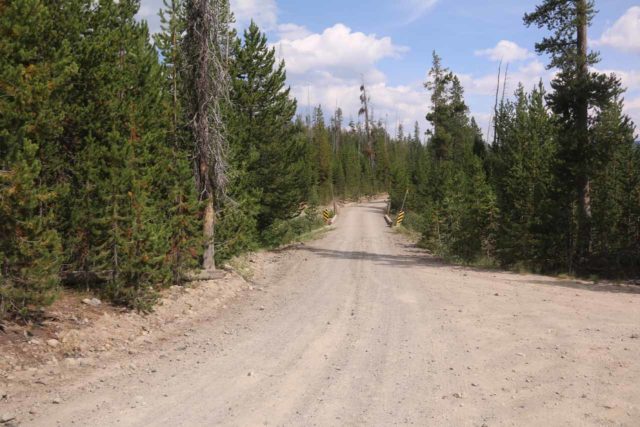 For additional geographical context, West Yellowstone, Montana was 58 miles (at least 90 minutes drive) south of Gardiner, Montana, 90 miles (over 90 minutes drive) south of Bozeman, Montana, 108 miles (under 2 hours drive) north of Idaho Falls, Idaho, and 321 miles (about 4.5 hours drive) north of Salt Lake City, Utah.
Find A Place To Stay
Trip Planning Resources
Nearby Accommodations
Featured Images and Nearby Attractions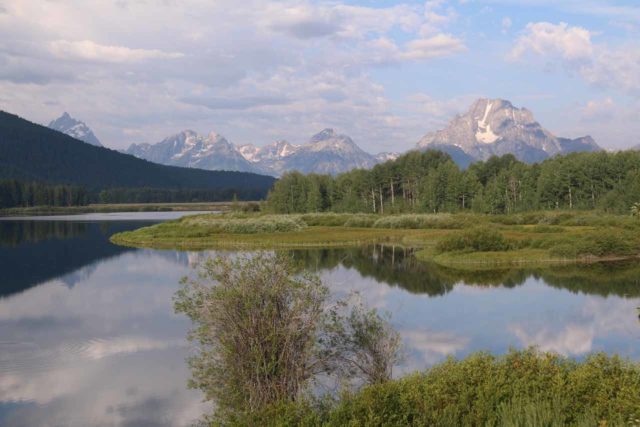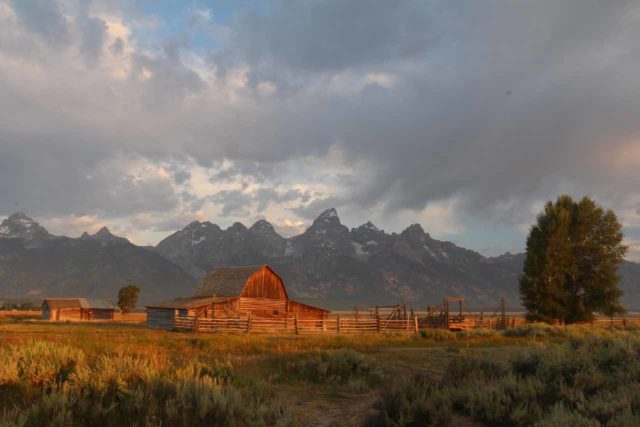 Tagged with:
bechler, cascade corner, yellowstone, teton county, flagg ranch, reclamation, grassy lake, union falls, falls river, backcountry, wyoming, waterfall, jackson, rockies, rocky mountains
Visitor Comments:
Got something you'd like to share or say to keep the conversation going? Feel free to leave a comment below...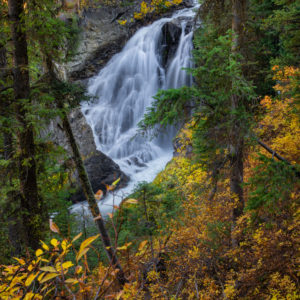 Rainbow Falls in Yellowstone National Park
October 4, 2020 8:31 am
-
My friend and I hiked into Rainbow Falls in Yellowstone. It's about 1/3 mile downstream from Terraced Falls, but the access is NOT easy. It took us 6 hours to hike (climb) only 2 miles! There is no trail and the terrain is dangerous and extremely steep to drop down into the canyon. Your reward… ...Read More
Visitor Reviews of this Waterfall:
If you have a waterfall story or write-up that you'd like to share, feel free to click the button below and fill out the form...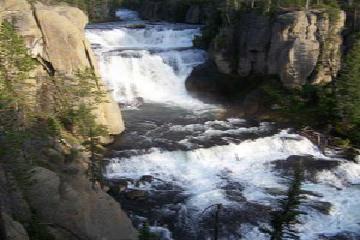 Terraced Falls Hike
September 9, 2009 5:40 am
-
So I was looking around and found your site (really like it). Recently I went on a trip to Yellowstone with a friend and our main goal was to check out waterfalls. We saw many pull-over falls, Union Falls and Terraced Falls. The hike to Terraced Falls was pretty intense. We got about 1/2 way… ...Read More