About Carlon Falls
---
Hiking Distance:
4-4.5 miles round trip
Suggested Time:
90 minutes
---
Date first visited:
2004-04-23
Date last visited:
2017-06-17
---
Waterfall Latitude:
37.8031
Waterfall Longitude:
-119.84362
---
Carlon Falls was a strangely-shaped waterfall that had that rare characteristic of flowing year-round.
That was quite a statement to make since most waterfalls within Yosemite National Park couldn't make that claim.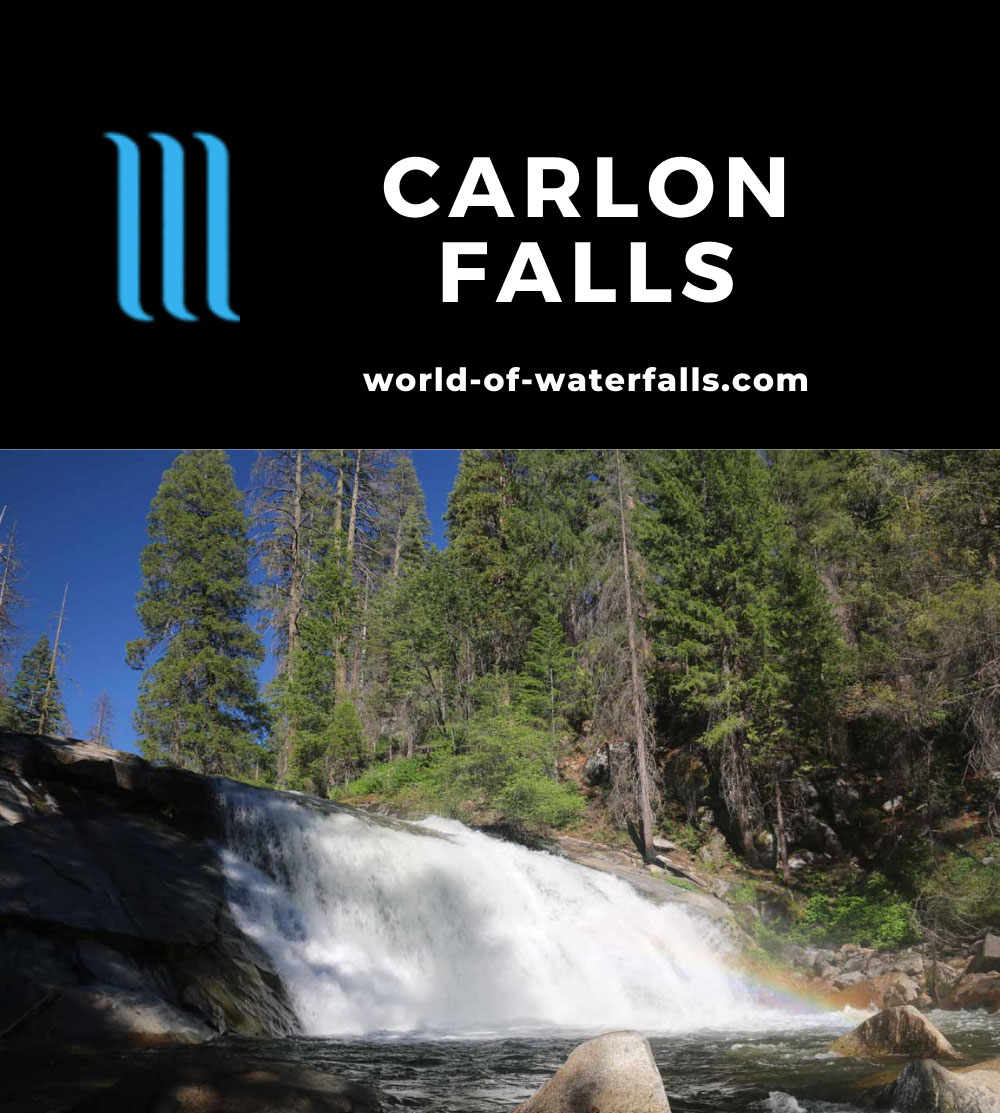 As you can see in the picture above, it had modest height (say around 35ft or so) but it was wider than it was tall with a sloping shape that tapers off to the far side of the South Fork Tuolumne River.
In addition to its unusual shape, the potholed granite bench near its plunge pool created little pools and a calm section where the river wasn't raging.
So it provided an opportunity for us to take a dip (or at least cool off our feet) and cool off from the heat of a hot Summer's day.
That definitely came in handy when most of Yosemite's other waterfalls wouldn't be flowing late in the Summer and into the Fall.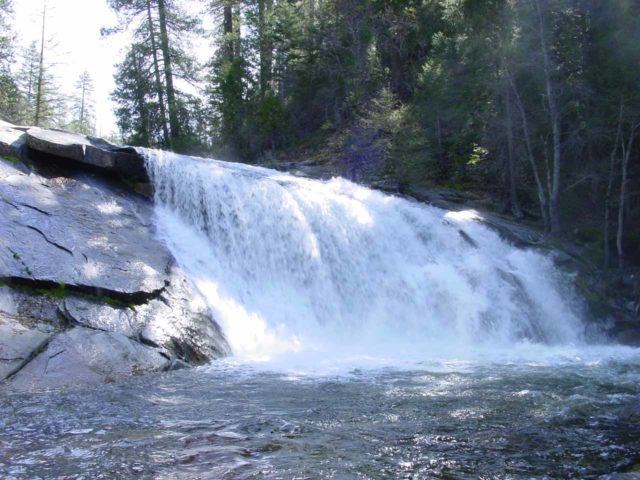 As for timing for photos, the best lighting appears to happen in the early to mid afternoon as we were looking against the sun in the morning and the shadows would grow too long too late in the afternoon.
Hiking to Carlon Falls
A real quirky thing about the Carlon Falls hike was that its trailhead was situated outside the National Park boundary (in Stanislaus National Forest).
I suspect this strange attribute made this falls pretty unknown to most visitors to Yosemite National Park.
In fact, we only became aware of this hike while doing the drive to Hetch Hetchy one day and noticed a trailhead with a sign for "Carlon Day Use Area" along the way.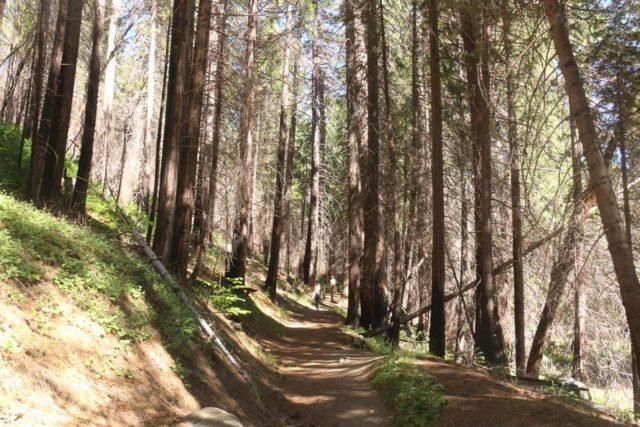 So far, we've done this hike twice – once in 2004 and another time in 2017.
And between these visits, there appeared to be quite a change in the experience as much of the terrain was affected by a fire that swept through the area in 2013.
So we had to deal with more deadfalls as well as a couple of pretty badly eroded sections that made this trail a little harder than it was on our first time around.
Overall, this hike was about 4 or 4.5 miles round trip with a net elevation gain of about 100ft.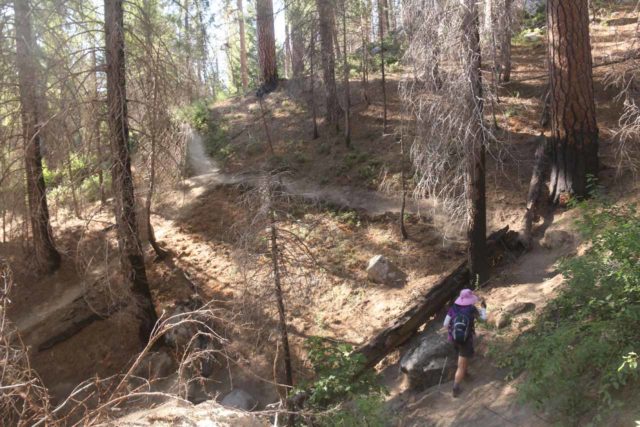 Most of the hike was flat, but there was a steep 500ft stretch before the trail then undulated and reduced its net elevation gain at the end.
It took us as little as 2 hours on our first visit and as much as 3 hours on our second visit (likely because we spent time soaking and enjoying the scenery more on that second visit).
Carlon Falls Trail Description – the mostly flat stretch
From the signposted Carlon Falls Trailhead (see directions below), we followed a pretty obvious trail along the north bank of the South Fork of the Tuolumne River.
My Mom and I saw many people on the opposite side of the river playing in the calmer parts of the river as there was an Upper Carlon Day Use Area and campground over there.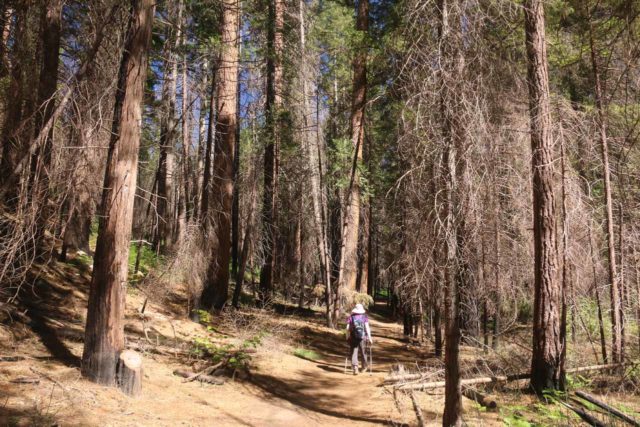 If you happened to be starting from there, it's best to backtrack to the Evergreen Road and then swing back around to the north side of the river, which was where the well-maintained trail to the falls was.
Anyways, there didn't seem to be such "play" areas on our side of the river so it was pretty much all hiking.
Thus, we pretty much continued amongst the well-shaded forested trail as it proceeded through a trail maze marking our re-entry into Yosemite National Park wilderness barely 0.1 mile from the trailhead.
Beyond the maze, we saw even more evidence of fire damage from black-barked trees and deadfalls that we had to go over or around.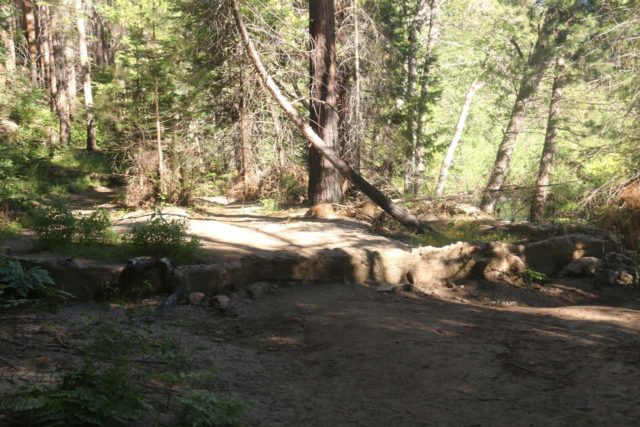 There were also some building remnants that the Carlon Falls Trail went right through.
Yet even with the fire damage, the trail remained serene and well-shaded as it would proceed this way for about the next mile or so.
The pace went pretty quickly because this stretch was flat and it followed along the South Fork Tuolumne River for almost the entire way.
With the scenery pretty much staying like this for this mile-long stretch, we also noticed little things.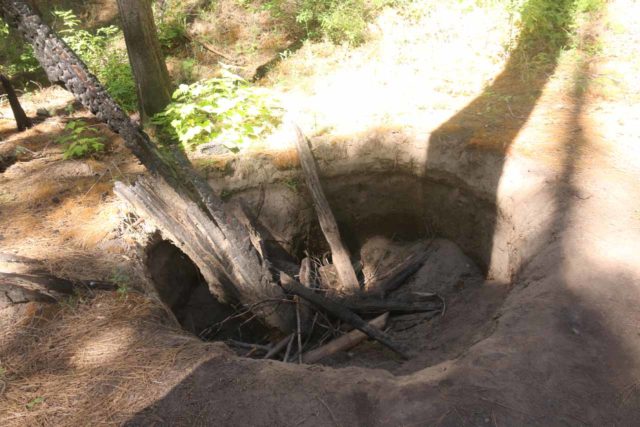 For example, we noticed a hole in the ground by the trail at around 0.6 miles from the Yosemite boundary as well as one short stretch where the trail went up a steep eroded embankment before descending back down along the main trail again.
At the end of the long, flat forested stretch that dominated the majority of the Carlon Falls hike to this point, the trail then made a fairly steep and persistent climb of around 500ft or so.
During this climb, we were now able to look down at a bend in the South Fork Tuolumne River.
Then, the trail gingerly traversed a fairly badly eroded section as a slippery dirt slope was angled right into a few dead-felled trees.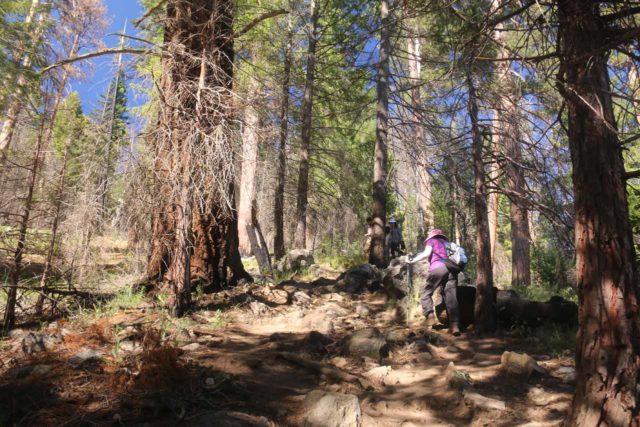 There were a couple of trail forks in this section, and it was advised to keep left at the fork (which we did) instead of going straight down at the right and then try to scramble back up to the main trail again.
Carlon Falls Trail Description – trying to avoid false paths at the end
Beyond the steep climb and the eroded sections just above them, the rest of the Carlon Falls Trail was a bit narrower.
It involved trying to avoid false paths leading to our right towards the South Fork Tuolumne River.
Meanwhile, we had to climbing up and down undulating steep and rugged spots that we never recalled seeing before on our first experience in 2004.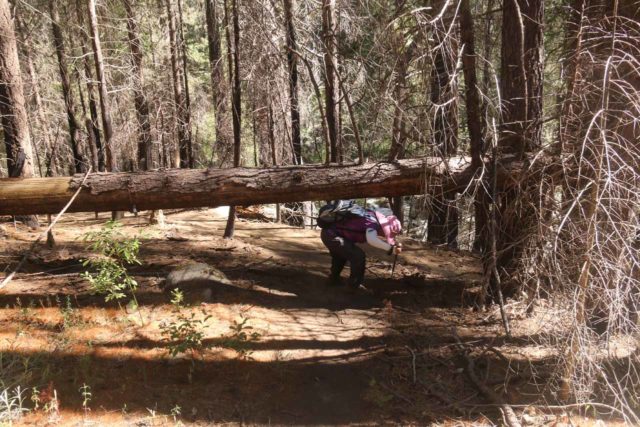 Each of the "false paths" leading to the South Fork Tuolumne River actually resulted in spots where it was possible to play in the river.
Had we chosen to go on one of these paths, we still would have had to exercise caution due to the high runoff conditions we encountered in June 2017 as the river rushed with whitewater.
Trying to boulder scramble directly to the end of the trail from these false paths was too rugged and rough.
So after scouting out some of these false paths, we backtracked to regain the main trail before proceeding further to the Carlon Falls.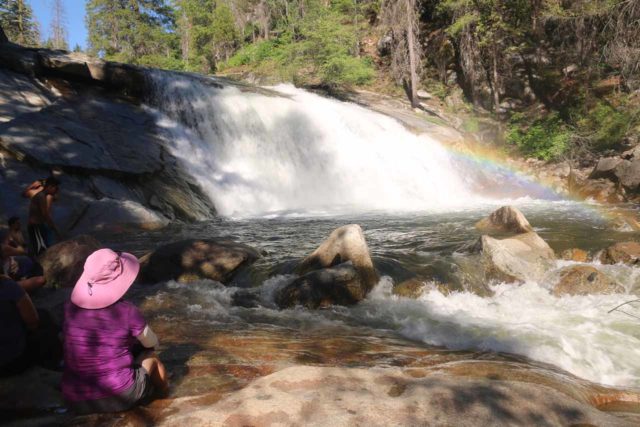 Thus, we kept left at each of the remaining false path forks for the remainder of the hike until we eventually made a final steep descent leading right down to the base of Carlon Falls.
Note that I didn't recall having this steep descent the first time here in 2004, which kind of tells you how much things can change over the years.
It took us about an hour to get to this point, which was said to be around 2 to 2.25 miles.
So the inviting water was a welcome relief before making the return hike, which ended up taking us around 30 minutes on a quick pace without stops.
Authorities
Carlon Falls resides in Yosemite National Park, but its trailhead resides in Stanislaus National Forest near Groveland in Tuolumne County, California. It is administered by the USDA Forest Service and the National Park Service. For information or inquiries about the park as well as current conditions, visit the National Park Service website as well as the National Forest website or Facebook page.
Carlon Falls was accessed outside Yosemite National Park even though the waterfall itself was within its boundaries.
From the Big Oak Flat Entrance, we drove a mile north on Hwy 120 to the signed turnoff to Mather and Hetchy Hetchy on Evergreen Road on the right.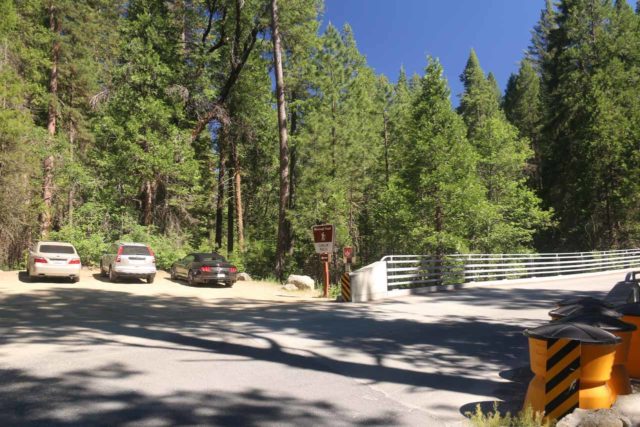 About a mile along Evergreen Road, we looked for a pullout on the north side of the bridge near the Carlon Day Use Area sign.
This pullout is where the Carlon Falls Trail begins.
However, since there was only room for about four or five cars at this trailhead, it was also possible to park in one of the picnic areas on the other side of the bridge for the Upper Carlon Picnic Area or Lower Carlon Picnic Area.
If we did that, then we'd have to walk back to the trailhead at the north side of the bridge to get started.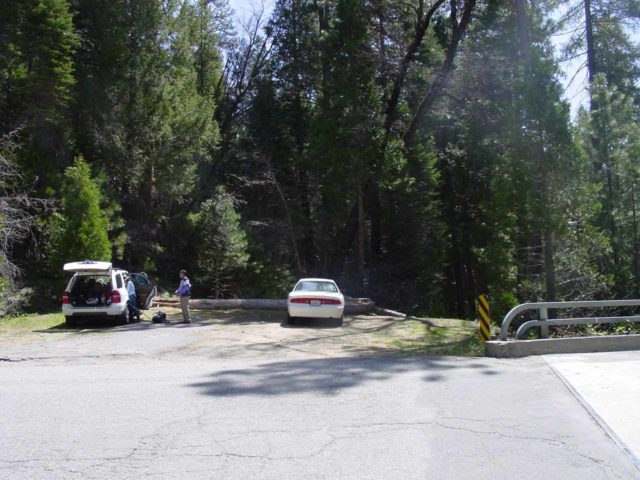 For some context, the Big Oak Flat Entrance was 45 minutes from Yosemite Valley (24 miles) going west along the Hwy 140, then ascending the Big Oak Flat Road up to the Hwy 120 and the Big Oak Flat Entrance. It's another half hour drive to get from say the Yosemite West condos to the foot of Yosemite Valley itself. Note that the Carlon Falls Trailhead was about 8 miles drive (20 minutes) south of the Hetch Hetchy Entrance to Yosemite National Park and over 6 miles (15 minutes) south of Mather.
On a grander scale, it would typically take us about 6 hours to drive from Los Angeles to Yosemite Valley via Fresno, Oakhurst, and Wawona, among others. From San Francisco, it would take us about 4 hours to drive directly to the Big Oak Flat Entrance.
Find A Place To Stay
Related Top 10 Lists
No Posts Found
Trip Planning Resources
Nearby Accommodations
Featured Images and Nearby Attractions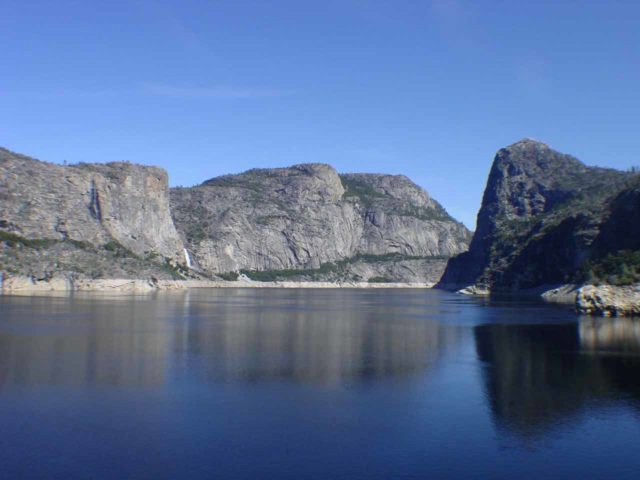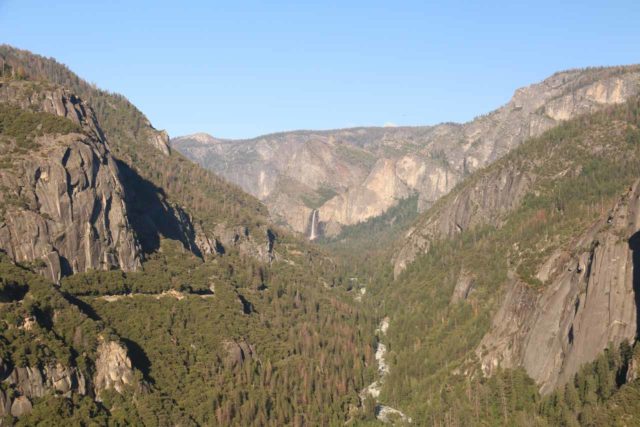 Tagged with:
evergreen, stanislaus, yosemite, hetch hetchy, big oak flat, sierra, california, waterfall, tuolumne county, groveland
Visitor Comments:
Got something you'd like to share or say to keep the conversation going? Feel free to leave a comment below...
No users have replied to the content on this page
Visitor Reviews of this Waterfall:
If you have a waterfall story or write-up that you'd like to share, feel free to click the button below and fill out the form...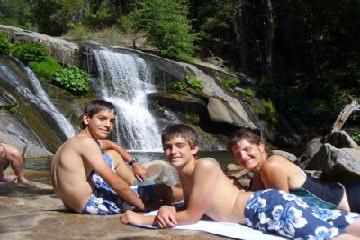 Carlon Falls found!
August 18, 2009 3:14 pm
-
Carlon Falls was a great find because it was a hot Saturday. We needed a place to swim near our camp (5 miles outside the west gate), but didn't want to fight the crowds inside Yosemite National Park. We almost had the place to ourselves! ...Read More