About Chilnualna Falls
---
Hiking Distance:
8.5 miles round trip
Suggested Time:
5-6 hours
---
Date first visited:
2003-05-10
Date last visited:
2017-06-17
---
Waterfall Latitude:
37.56492
Waterfall Longitude:
-119.61317
---
Chilnualna Falls was one of those waterfall experiences that surpassed whatever expectations we may have had going into the hike.
Given how little attention the southern section of Yosemite National Park tended to receive, from what we've observed, I have to believe that this waterfall excursion would also surprise those who bother with lingering around here and not hastily passing through.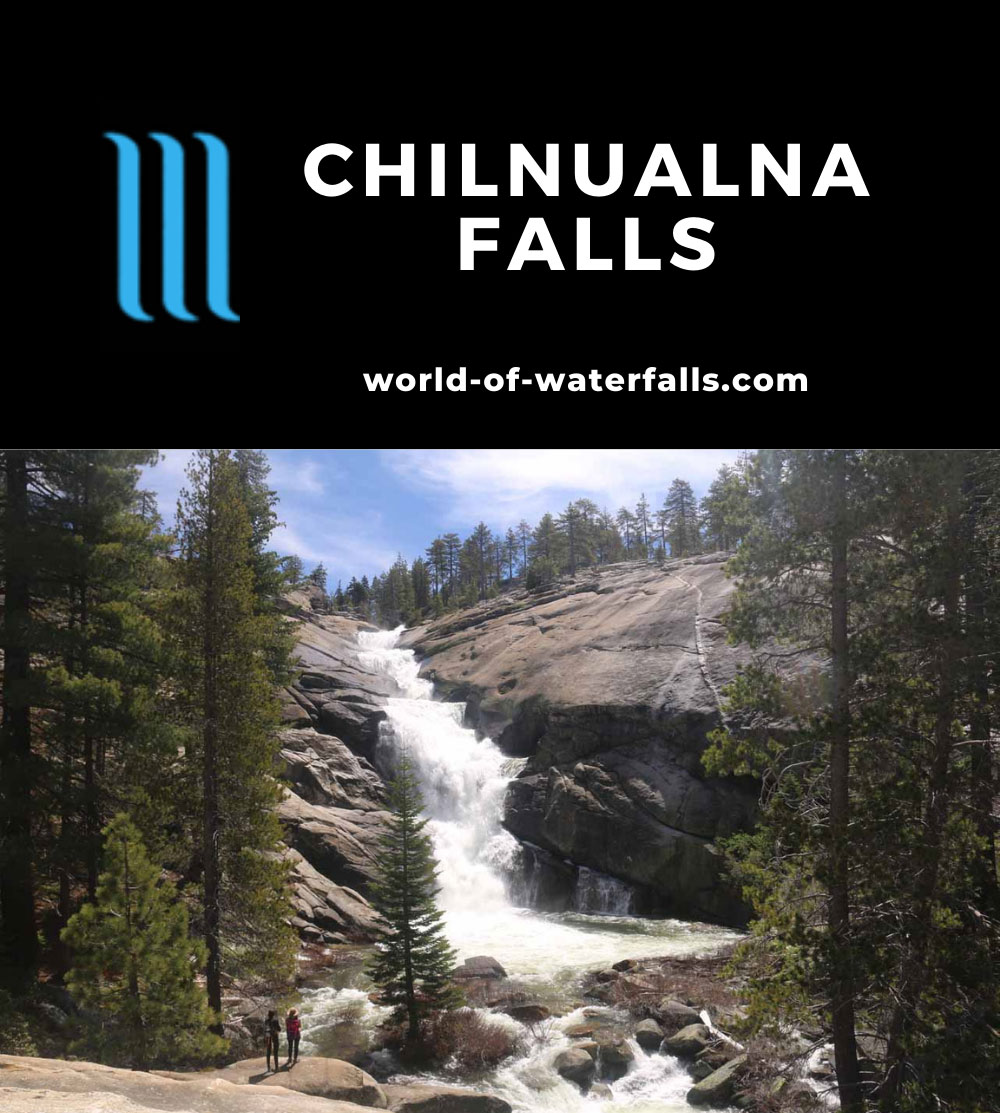 One of the surprising aspects about this falls was that we're actually talking about at least five significant waterfalls (possibly six if you count one that wasn't on Chilnualna Creek)!
It was really a whole system of cascades and waterfalls that could very well be the "longest" waterfall in Yosemite National Park.
That said, the many cascades on the Tuolumne River towards Waterwheel Falls could also make such a claim.
In any case, each waterfall exhibited its own shape, character, and "personality" (for lack of a better word).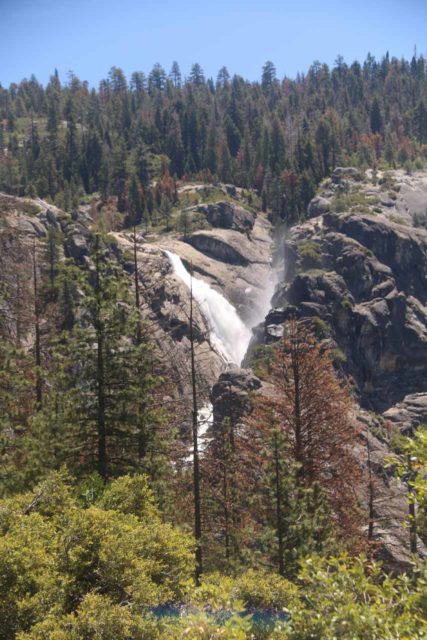 The largest one of the lot (pictured above) was said to be on the order of 240ft tall, while the uppermost one (the top picture on this page) was said to be around 150-180ft in cumulative height.
Indeed, you could make the argument that each waterfall could have stood out on its own instead of this large ensemble in a singular excursion.
Personally, I think these falls are the primary attraction of Southern Yosemite (though I'm sure others beg to differ, especially regarding the Mariposa Grove of Big Trees).
Generally, I've found the chilnualna Falls to be a very worthwhile way to spend a half day or a relaxing full day to cool off, especially on a warm Summer day when Yosemite Valley would tend to be a bit on the crowded and not-so-relaxing side.
The Chilnualna Falls Hike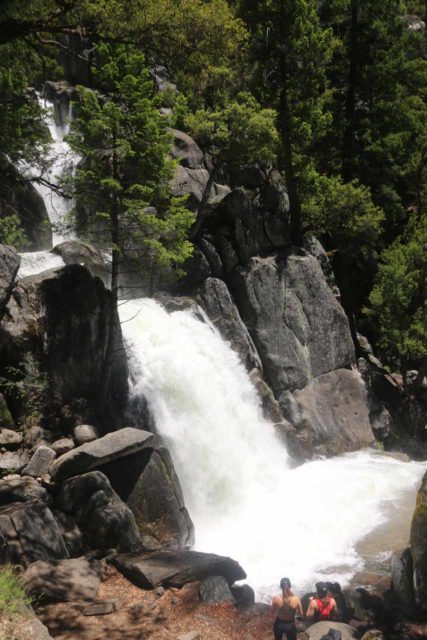 The overall hike taking in the Chilnualna Falls gains 2,400ft over at least 4.2 miles (said to be 8.5 miles round trip).
Fortunately, it passes by several waterfalls culminating in a dramatic six-tiered cascade.
Starting at 4,200ft, we were generally able to complete the well-developed, steadily climbing trail in around 5-7 hours.
So given the rather lengthy nature of this hike, I'd recommend bringing plenty of water and a picnic lunch as well as some snacks to hold yourself over for this hike.
Chilnualna Falls Trail Description – the first waterfall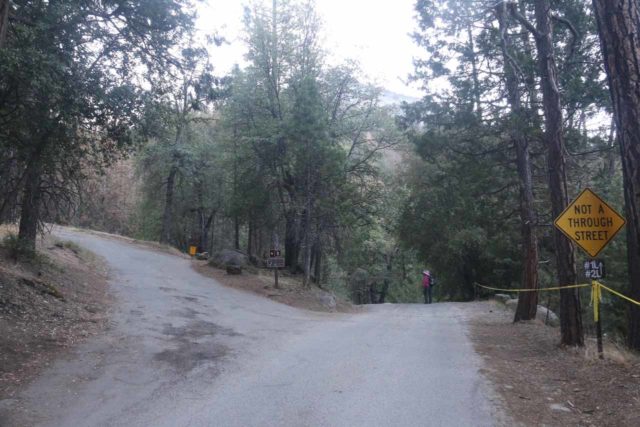 From the trailhead (see directions below), we had to walk back towards the Chilnualna Falls Road then head to our right and follow the road until it forked.
We had to follow the signs and take the left fork as the right fork continued descending towards a bridge over Chilnualna Creek.
Almost immediately after going up the fork on the left, another sign had us take a foot trail on the right.
The continuation of the paved road on the left was the stock trail (if you happened to go up to the falls on horseback).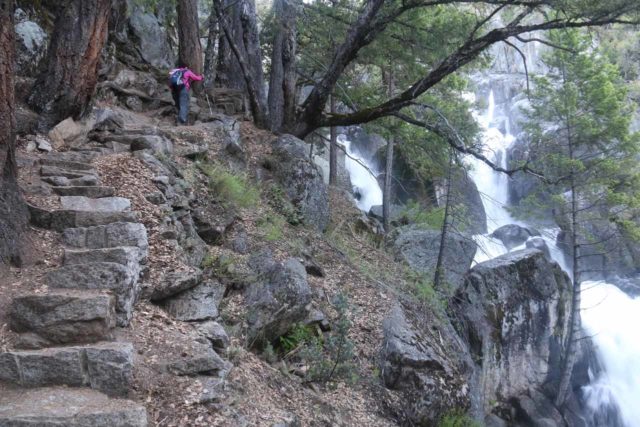 After getting onto the foot trail, we walked for roughly 10 minutes (or about a quarter-mile) before the trail started climbing and the rush of Chilnualna Creek became louder.
Before the ascent really climbed in earnest, we were treated to our first surprise – a waterfall!
This was something we didn't expect to see so early in the hike so it already put us in the waterfalling mood right off the bat.
This waterfall fell in multiple tiers, but the most picturesque tier was a gushing 30 or 40-footer.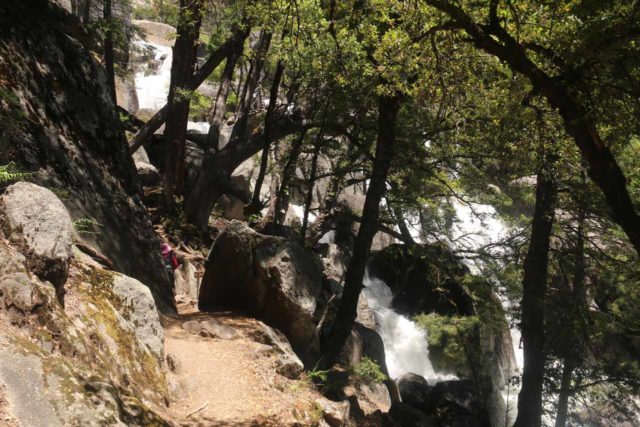 Due to the presence of trees and obstructing rocks, it was hard to get an all-encompassing view of all the tiers in this one spot (as we noticed more cascades further upstream).
The scramble to try to get a better view also didn't seem like an attractive option so we were pretty content with the immediate trailside view.
I could totally see how later on a hot day, the spray from this falls would be very refreshing to offset the heat.
Next, we had to climb steeply up some granite steps and narrow ledges before this trail made a switchback then joined up with a wider stock trail (the one we chose not to take earlier).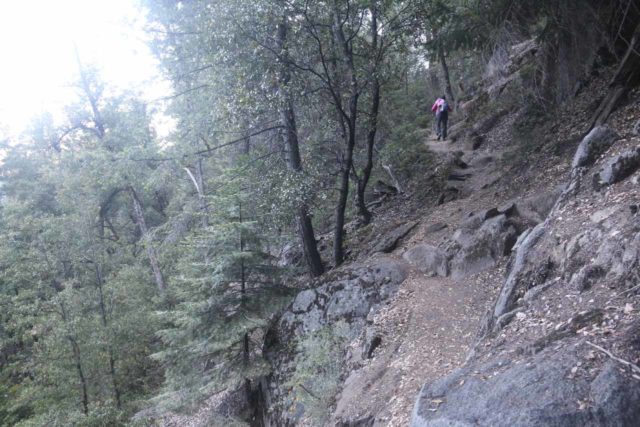 We kept right at this signposted junction and continued up the persistent climb.
Fortunately, there was enough shade to keep us cool thanks to the forest cover as well as the morning shadows (we always tended to start this hike early).
Chilnualna Falls Trail Description – the hardest part of the hike
At about 0.4 miles from the signed junction with the stock trail, the path continued past our first fleeting glimpses of Wawona Dome and Chilnualna Creek in the distance.
The trail then followed alongside Chilnualna Creek itself.
During this section that went somewhat alongside Chilnualna Creek for about 3/4 of a mile, we spotted some cascades within Chilnualna Creek itself.
The most significant of these cascades appeared to have a small but gushing 5-10ft drop before continuing over a wider turtleback slide.
We used to ignore these cascades thinking they were nothing more than rapids.
However, on a visit in 2017, we simply couldn't ignore the most significant of the cascades here, and thus we'll designate this as the second Chilnualna Falls.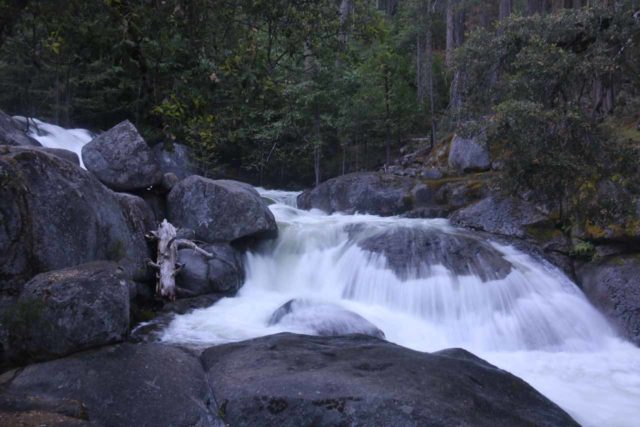 The significance of this falls was that it had a few spur trails leading closer to the banks of Chilnualna Creek around the falls itself.
Again, on a hot Summer day, this would be yet another spot to take a break and possibly cool off in the calmer parts of the creek.
We realized that taking a quick break at the "second Chilnualna Falls" might be one of the wisest things to do because the next stretch of the trail consisted of its long and nearly uninterrupted ascent.
In fact, there wouldn't be the next waterfall in sight until about 1.7 miles beyond the second Chilnualna Falls (or 1.5 miles beyond where the trail started veering away from Chilnualna Creek and into a large patch of low-lying shrubs).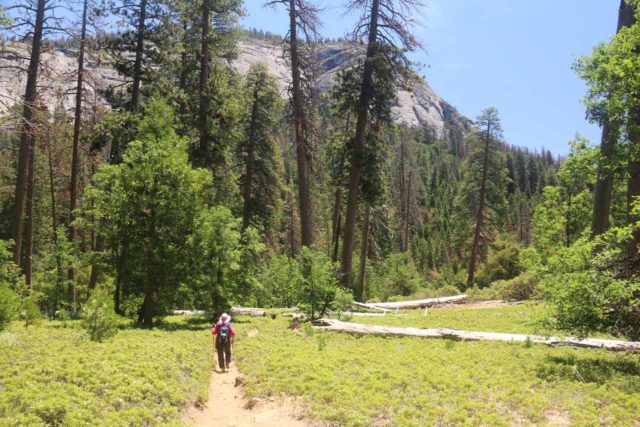 It would take us about 75-90 minutes to get from the second Chilnualna Falls to the third Chilnualna Falls along this most challenging stretch of the hike.
During this long climbing stretch, we spotted many wildflowers blooming in the low-lying shrubs flanking the trail.
Then, the trail climbed even more steeply as it ascended above the low-lying shrub patches.
During this climb we started to get our first glimpses of some intermediate cascades and waterfalls barely visible between the trees that were in our line of sight.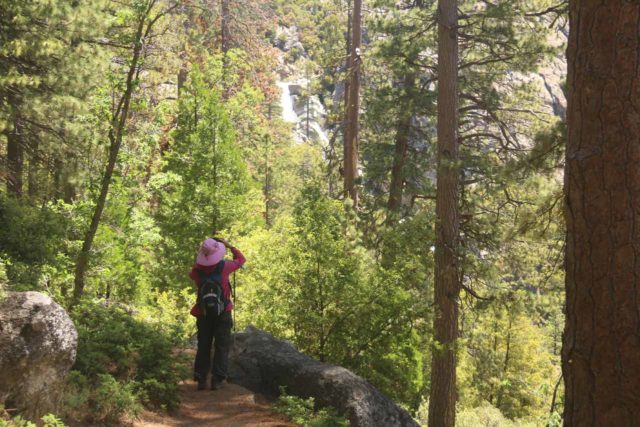 However, we also started to look towards the top of the cliffs up ahead, where we also started to get our first glimpses of a very big waterfall throwing up lots of mist while also giving us the sense that the end of this brutal stretch was not much further.
After a handful of more switchbacks (roughly 8 of them according to what I'm seeing in our GPS logs), that was when we finally arrived at the base of what I'm calling the third Chilnualna Falls.
This particular falls was a delicate 15ft cascade that was not on Chilnualna Creek and it appeared to flow only during the snowmelt period.
Even though we decided to call this waterfall #3, I'll leave it up to you to decide whether you think this one was legitimate or not.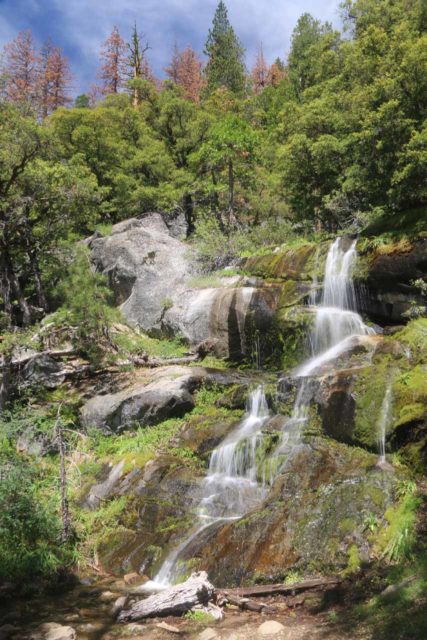 Nevertheless, the area around this falls was noticeably cooler and it gave us an opportunity to gather ourselves to continue the uphill hiking towards the next Chilnualna Falls.
Further conspiring to make us linger here for a bit longer, there was also perhaps our cleanest (albeit distant) view of the next Chilnualna Falls from this spot.
Any time from mid-day to early afternoon would be the times when the scenery here would benefit most of good backlighting (as opposed to looking against the sun earlier in the morning).
Chilnualna Falls Trail Description – ascending to the remaining waterfalls
Continuing beyond the third Chilnualna Falls, the trail ascended up another five or so unevenly-spaced switchbacks.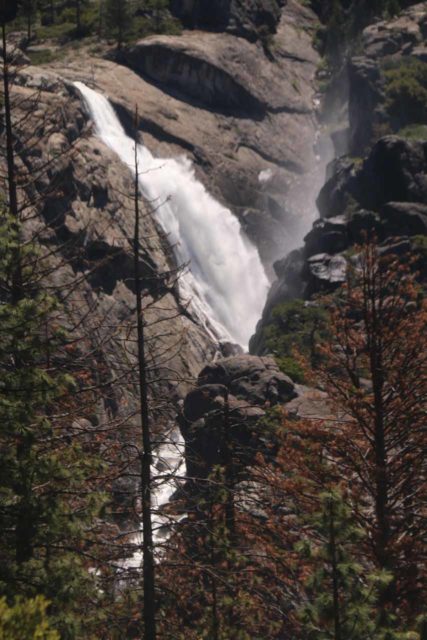 Ultimately, the trail surface became more granite and less dirt with forest cover.
Towards the apex of this climb, we were able to look downslope towards the community of Wawona way down below.
And by about 0.6 miles from the third Chilnualna Falls, we then found ourselves at the very brink of the fourth Chilnualna Falls.
It turned out that this drop of Chilnualna Creek was the most impressive of the lot as it slid nearly around 210-240ft.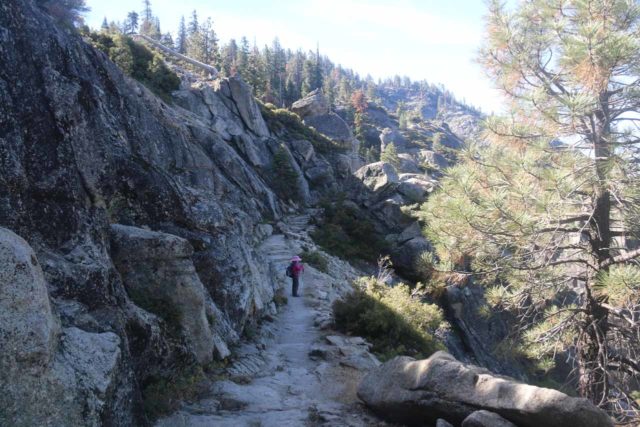 There were also more cascades and waterfalls further downstream though they were always hard to spot or photograph given the thick vegetation that stood in the line of sight of those sections of the creek.
Unfortunately, there was no way to better experience this waterfall since we could only look down into part of the falls without getting too dangerously close to the granite edges.
The only frontal views that could be safely attainable was further back at the third Chilnualna Falls.
I really wished that a metal bridge was built above the Chilnualna Creek further upstream from the falls.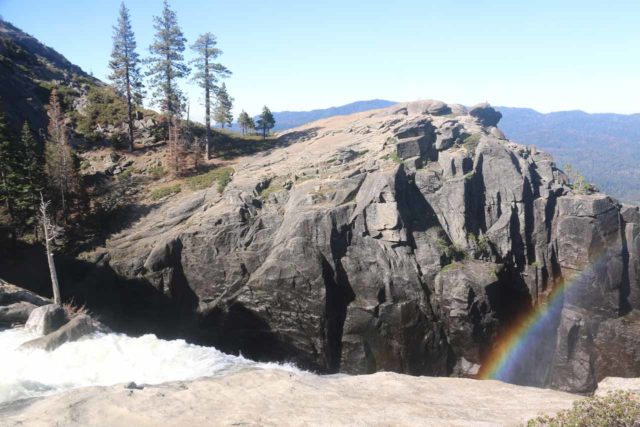 It would have been like what they did with Nevada Falls) so it would be possible to get to the other side.
Then, that would have made it possible to reach the more open areas and both look down into the powerful profile of this waterfall as well as possibly get a more frontal look from the cliffs opposite the falls.
This was the primary reason why we gave this falls a scenic rating a 3.5 instead of a 4.
Anyways, just a short distance upstream from the fourth waterfall was the fifth waterfall.
This waterfall appeared to drop roughly 40-50ft or so (there were also some cascades just upstream of its main drop).
This one was a little more accessible in that we could get a partial frontal view of it.
However, in order to get a clean look, it would require some scrambling where extreme care was necessary.
A slip and fall into Chilnualna Creek here would most certainly mean sure death when being swept over that fourth Chilnualna Falls just downstream.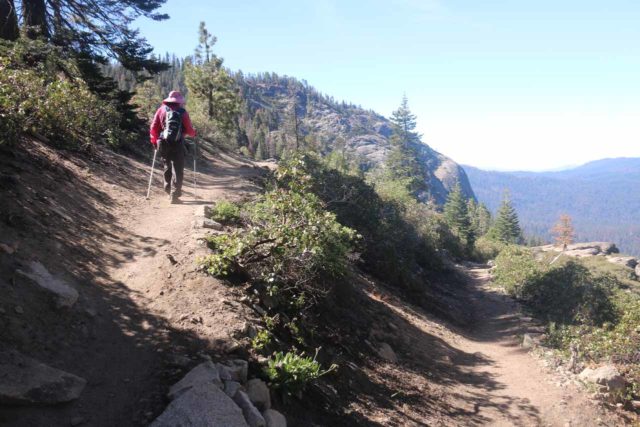 Given the close proximity of the 4th and 5th falls, we noticed quite a few hikers stopped here to take a short snack break or lunch before continuing further.
We actually did just that on one of the times we partook in this hike back in the 2003-2004 time frame.
The trail would continue climbing in the direction of the fifth Chilnualna Falls before going up a switchback and moving away from Chilnualna Creek.
After climbing up to another switchback, the trail then meandered towards the top of the fifth falls though it wouldn't be safely visible from up here (at least along the trail and the immediate granite outcrops).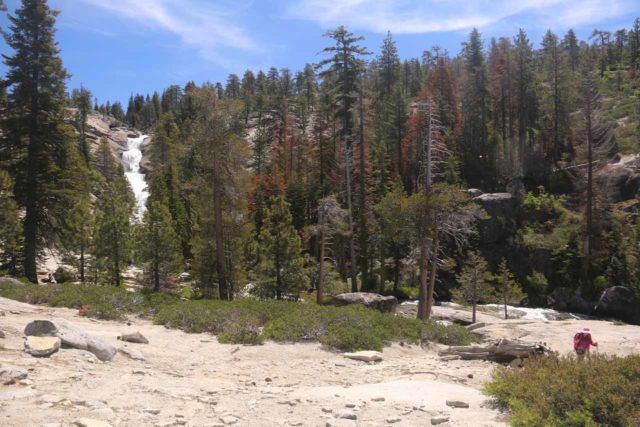 At this point, looking further upstream on Chilnualna Creek was the sixth and final Chilnualna Falls.
Even though the main trail continued towards other destinations (like Deer Camp, Buena Vista Lake, and others), this waterfall was the turnaround point for our pretty long day hike.
Chilnualna Falls Trail Description – getting close to the waterfall
While the distant view of this last waterfall was frontal and impressive, we felt compelled to get off the trail and scramble on the granite to get closer to its base.
Each time we've done this hike, Chilnualna Creek had an overflow section that forced us to potentially get our feet wet.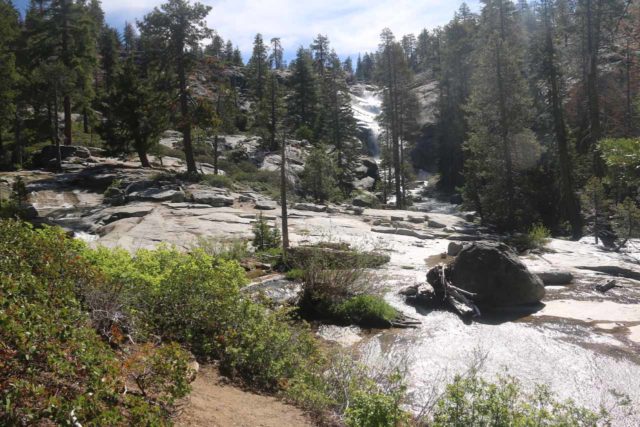 Gore-tex boots are good for this section both to keep the socks dry and for better grip on parts of the slippery-when-wet-granite.
But even with proper equipment, we had to choose our route carefully to avoid injury or a soggy and uncomfortably long 4.2-mile return hike back to the trailhead.
As we scrambled closer to the waterfall, that was when we could see that it consisted of a series of five or six sloping and stair-stepping waterfalls in succession.
I'm sure in lower flow conditions, each of the drops would have its own pothole or plunge pool, but since we're usually here during high flow, each waterfall tended to blend in with each other.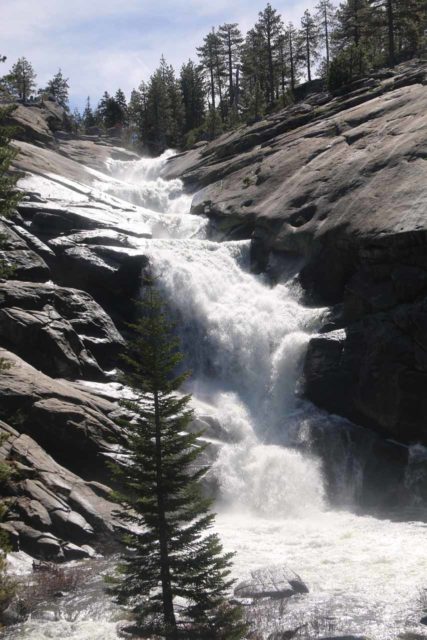 We could best gain this perspective from a granite outcrop peering over the plunge pool of the lowest tier.
However, we were able to scramble even further down towards the plunge pool itself, where we were able to access a calm part of Chilnualna Creek.
That was where we could let our shoes and socks dry off for a bit in the sun while letting our feet cool off in the icy cold water.
There was also sufficient late morning shade from the vegetation here to enjoy a picnic lunch without getting sunburned.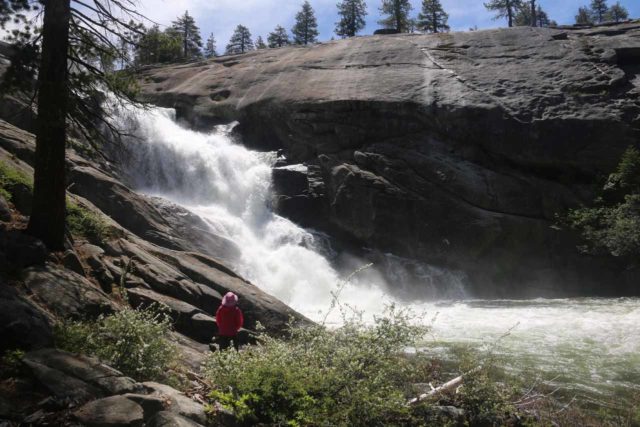 With such a reward for the hard work it took to get up here (it typically would take us at least three to four hours or so to get this far), we had no problems spending nearly an hour here to relax.
Once we had our fill of one of Yosemite's unheralded gems, we then went back the way we came.
The nice thing about the return hike was that it was pretty much all downhill, and we got to experience each of the Chilnualna Falls once again though under different lighting conditions.
While we advocate an early start (especially to make the uphill hiking more bearable as it would take place under cooler morning temperatures), there were still plenty of people getting late morning to early afternoon starts.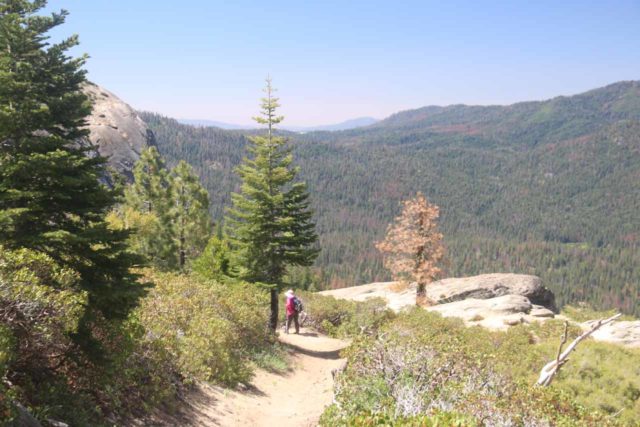 To further extend this excursion and include another big waterfall, we could've hiked trails that would join up with the Alder Creek Trail and make a much longer loop hike out of it.
That would make the round trip hiking distance more on the order of 13 or more miles, but we were content with the Chilnualna Falls experience.
Besides, we knew that there was a separate trailhead and trail to take us to the Alder Creek Falls itself so it wasn't necessary to extend an already long hike to begin with.
Authorities
Chilnualna Falls resides in Yosemite National Park near Oakhurst in Mariposa County and Fresno County, California. It is administered by the National Park Service. For information or inquiries as well as current conditions, visit their website.
Chilnualna Falls is near the community of Wawona in just 4.4 miles from Yosemite National Park's south entrance along Hwy 41 (21 miles north of Oakhurst).
If you're coming from Yosemite Valley, head south on Hwy 41 towards Wawona for 21.7 miles (about 45-60 minutes).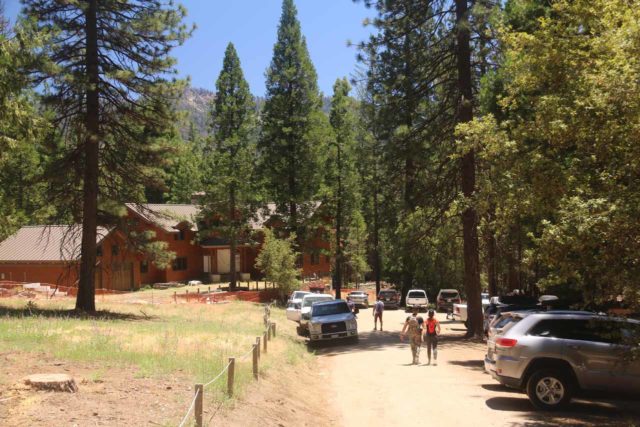 Once you're at Wawona, look for the Chilnualna Falls Road turnoff just north of the bridge over Chilnualna Creek and south of the entrance to the Wawona Campground.
I recalled that there were Chilnualna Falls signs leading us onto the correct turnoff and road.
Then, we drove east through the quiet hamlet of Wawona until we eventually reached the parking area at the end of the village after 1.7 miles.
After parking our car, we had to walk back towards the Chilnualna Falls Road then head east for a few steps until we found the actual trailhead.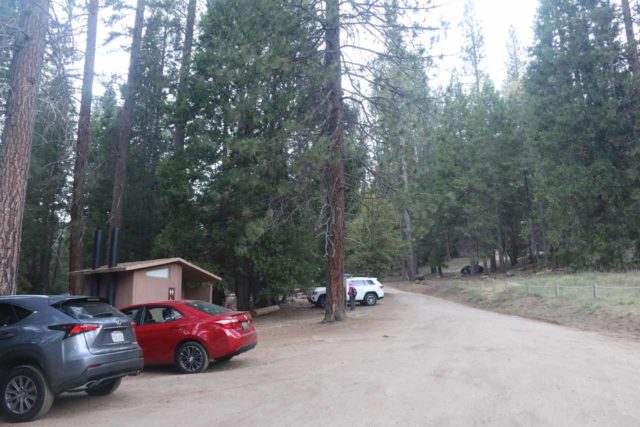 As far getting to Wawona from Los Angeles, we'd drive north on a combination of the I-5 and Hwy 99 to Fresno.
Then, we'd hop on the Hwy 41 and take it for about 66 miles (90 minutes drive) to the small hamlet of Wawona within the park.
Find A Place To Stay
Related Top 10 Lists
Trip Planning Resources
Nearby Accommodations
Featured Images and Nearby Attractions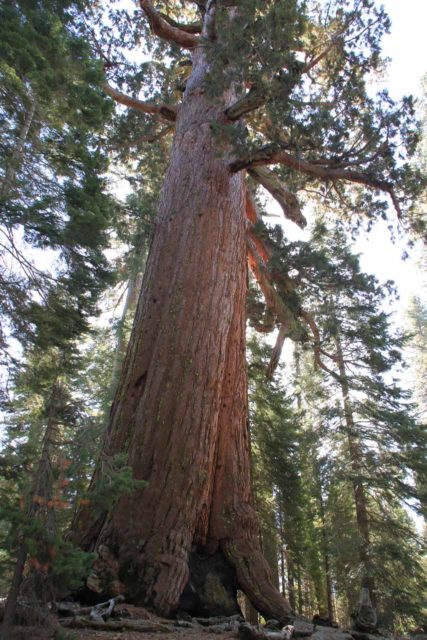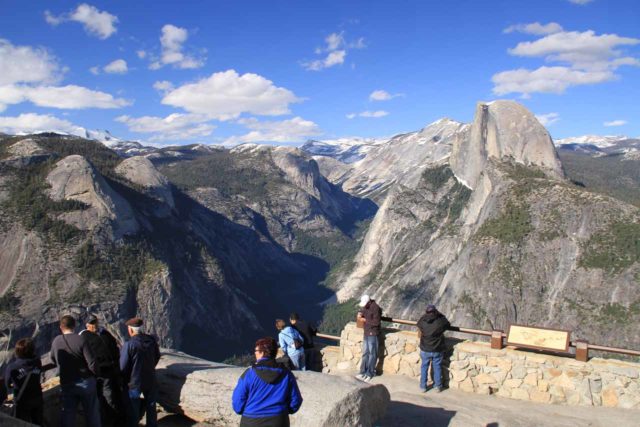 Tagged with:
wawona, chilnualna, oakhurst, fish camp, coarsegold, fresno, yosemite, south entrance, sierra, california, waterfall, 41
Visitor Comments:
Got something you'd like to share or say to keep the conversation going? Feel free to leave a comment below...
No users have replied to the content on this page
Visitor Reviews of this Waterfall:
If you have a waterfall story or write-up that you'd like to share, feel free to click the button below and fill out the form...
No users have submitted a write-up/review of this waterfall