About Pywiack Cascade
---
Hiking Distance:
6 miles round trip
Suggested Time:
3-4 hours
---
Date first visited:
2003-06-07
Date last visited:
2004-06-04
---
Waterfall Latitude:
37.78767
Waterfall Longitude:
-119.48902
---
Pywiack Cascade (sometimes known as Slide Falls) is an interesting sliding waterfall at the head of the rugged Tenaya Canyon.
It's said to slide from a cumulative height of 600ft though it seemed to be difficult to get a full view that would have made us confirm or deny the plausibility of that claim.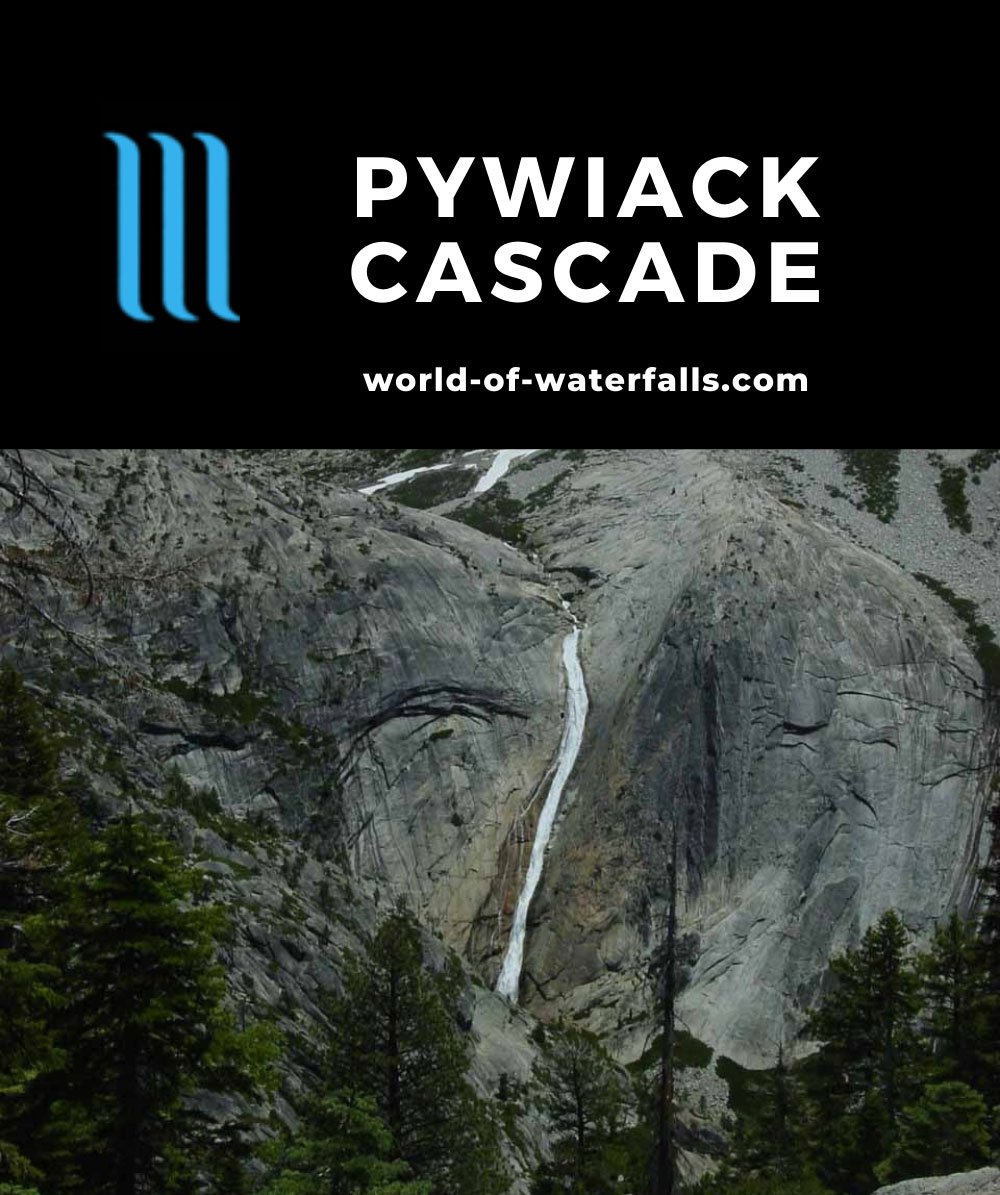 Moreover, it's another one of those Yosemite Waterfalls that manages to elude most of the park's visitors since it's rather hidden as well as difficult to view satisfactorily.
This characteristic seems to be typical of waterfalls in Tenaya Canyon (another example is the elusiveness of Snow Creek Falls) and I suspect a big reason why would be the inaccessibility of Tenaya Canyon itself.
To illustrate how elusive Pywiack Cascade was, we either had to be very observant from the lookouts near Glacier Point, or we had to go an a bit of a little-known minimum of six-mile round-trip out-and-back back overlooking parts of Tenaya Canyon.
I'm sure there must be ways to gain better views than we were able to attain given a photo we saw in the Osborne book on Yosemite Waterfalls
, but it seemed to be a bit too much trouble for something that didn't seem worth an inordinate amount of effort to see.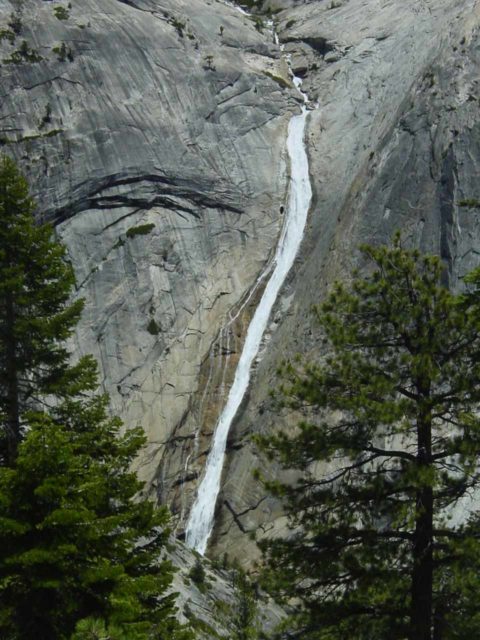 Even though this waterfall is on Tenaya Creek (so it's sourced by Tenaya Lake), I believe Tenaya Creek still only has seasonal flow.
This claim is supported by the fact that Mirror Lake tends to dry up once the snowmelt period is over in the mid- to late Summer. Thus, a visit to this waterfall would require timing to be in the late Spring.
To my knowledge, there is no official trail to get to the base of this waterfall for Tenaya Canyon is too rugged and said to require technical gear to navigate through the terrain.
However, the following is how we managed to experience this cascade.
Hiking to the Pywiack Cascade Viewpoint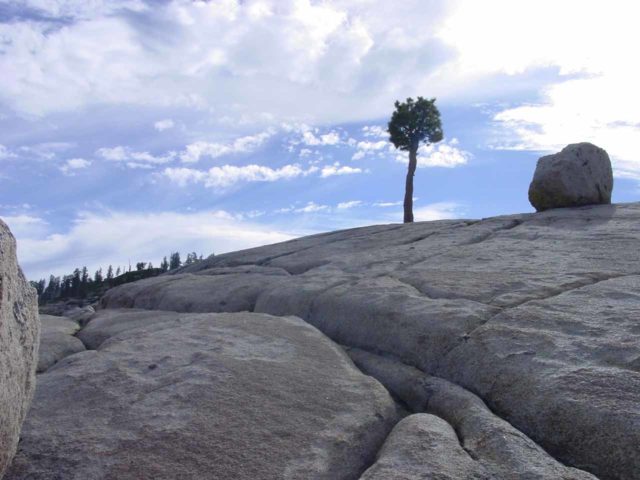 In order to get the view you see in the photos above, we had to start our hike from Olmstead Point, which is at signpost T24 along the Tioga Road (Route 120).
The Tioga Road cuts across Yosemite's high country, but is closed during the Winter due to snow and avalanche danger.
Olmstead Point was a pretty popular spot for photographs as there were glacial erratics (i.e. lone boulders seemingly dropped onto the scene) along with Jeffrey Pine Trees settling on exposed granite as if they were subjects of some kind of art piece.
In the distance was an unusual view of Half Dome and its saddle, which was the side of the iconic rock formation where we would ascend to its summit if we did the epic Half Dome hike.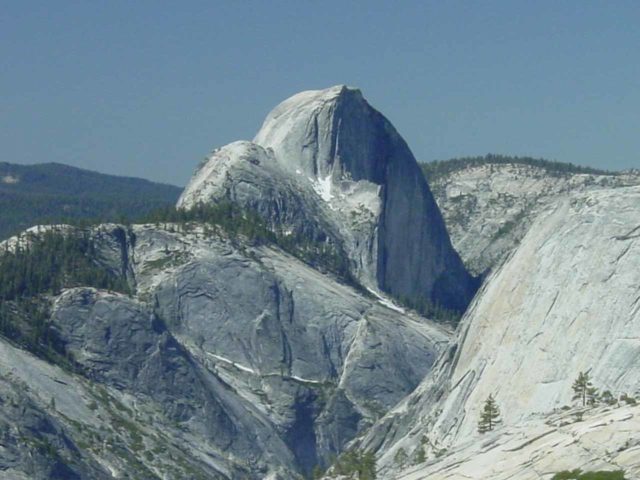 Looking along the Tioga Road, there was also Tenaya Lake, which was a beautiful natural lake backed by granite domes.
The trail (which wasn't very well signposted) descended from the granite outcrop, then followed some well-placed line of rocks.
Next, it went into a somewhat shaded pine forest passing by some reflective ponds en route. At that point, the trail meandered among the trees while undulating in elevation.
Eventually, the trail lost a total of 500ft in a stretch of nearly two miles before it started to climb again.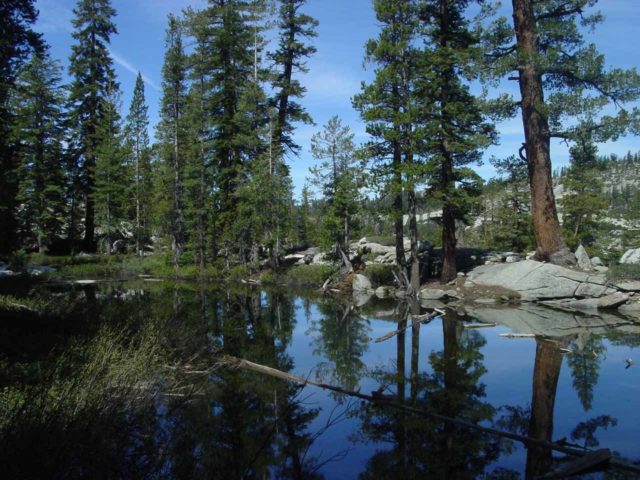 From here the trail started to present views of Tenaya Canyon, an unnamed ephemeral cascade, and ultimately a partial view of Pywiack Cascade.
Unfortunately, the official trail only afforded us views of about a half to two-thirds of the waterfall as a granite hill (possibly Mt Watkins) sat in the way between our vantage point and the cascade itself.
In order to overcome this visual obstacle, we continued further west along the trail.
Then, we went on a short scramble for better views between trees.
I'm sure it might have been possible to climb up the nearby Mt Watkins for an unobstructed view straight down at the impressive cascade. However, we didn't actually do that so we're not sure if this truly was the case or not.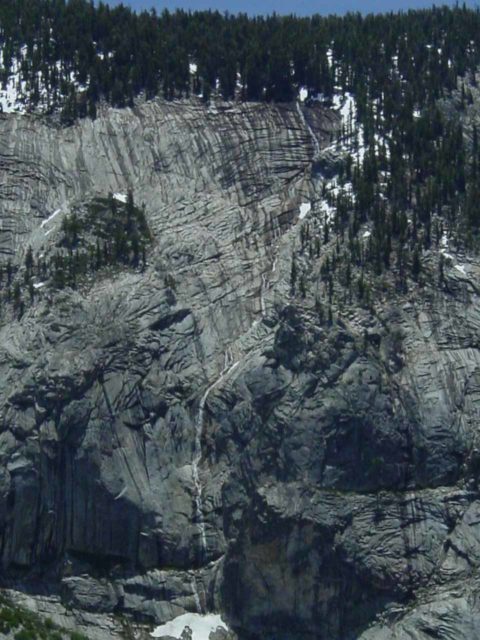 This was the turnaround point for us, but we could have extended the hike by continuing further to the Snow Creek Trail.
If we didn't arrange for a shuttle to make it a one-way point-to-point hike, then that might push the limits of what we'd be willing to do as an out-and-back hike in a day.
The Snow Creek Trail ultimately would descend into Tenaya Canyon and join up with the Mirror Lake Loop for a total loss of 4,000ft in elevation over a distance of about 11 miles one-way.
Distant Viewpoints of the Pywiack Cascade
If you're not up for a 6-mile return hike to see the Pywiack Cascade, there are a handful of vantage points where you might spot part of this waterfall if you're observant.
Perhaps the most obvious lookout spot would be at Glacier Point (signpost G11), where we were able to look deep into Tenaya Canyon beyond Half Dome and spot this cascade in the distance.
In order to photograph the waterfall, we needed a telephoto lens to bring it up closer to our field of view.
Alternately, we were also spotted a similar view of Pywiack Cascade on the summit of Sentinel Dome (trailhead at signpost G8).
Since this viewpoint was a bit further than Glacier Point, it wasn't the most obvious place to spot it.
Plus, an even more powerful telephoto lens would be required to photograph it without the waterfall being a small dot in the picture.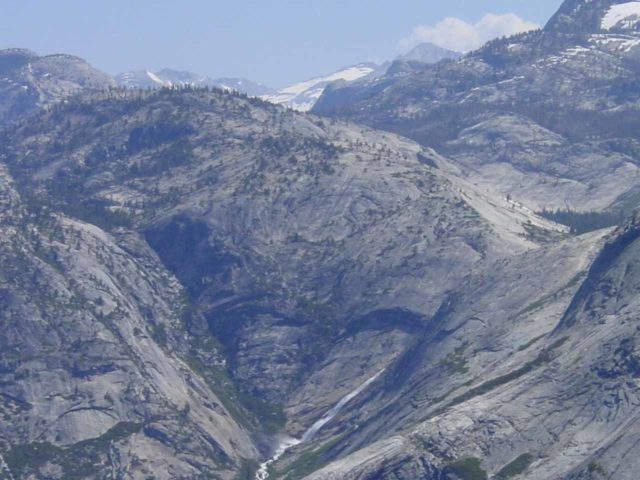 Finally, we were able to get perhaps the closest views of Pywiack Cascade from the south side of Tenaya Canyon by doing the Half Dome hike.
Unfortunately, getting to where we started to see the waterfall was about 6 or 7 miles into the gruelling hike (just before we started to make the last stretch of climbing onto the Half Dome saddle).
But since the Half Dome hike was much more grueling than the hike we've suggested earlier to see the cascade, it might not be worth your while if the cascade was the sole purpose for doing the longer hike.
For details on the Half Dome hike, see the Snow Creek Falls page.
Authorities
Pywiack Cascade resides in Yosemite National Park near Yosemite Village in Mariposa County, California. It is administered by the National Park Service. For information or inquiries about the park as well as current conditions, visit their website.
We'll describe the directions to our favored starting point at Olmstead Point from Mammoth Lakes.
This is a Summer only route since the Tioga Road needs to be snow-free and free from avalanche danger to be open to the public.
Basically, we go east on Route 203 to the Hwy 395, then take Hwy 395 north for about 30 minutes or so in the direction of Lee Vining.
Before reaching town, we turned left onto Route 120 (Tioga Road) and climbed up the steep and rugged road to Tioga Pass.
About another half-hour's drive or so would lead us beyond Tenaya Lake and towards Olmstead Point, which has a well-established pullout area.
Driving to Mammoth Lakes from Los Angeles typically takes roughly 5 hours without traffic (via the Hwy 14 and Hwy 395).
Find A Place To Stay
Related Top 10 Lists
No Posts Found
Trip Planning Resources
Nearby Accommodations
Tagged with:
tenaya canyon, mariposa, yosemite, tioga, olmstead, snow creek, lee vining, sierra, california, waterfall, slide falls, glacier point, sentinel dome, half dome
Visitor Comments:
Got something you'd like to share or say to keep the conversation going? Feel free to leave a comment below...
Pywiack Cascade hiking accident fatal to Tahoe doctor
October 16, 2008 12:38 am
-
There were two missing hikers in Yosemite one morning in 1970 and the rangers requested several of the more or less permanent rock climbers in Camp 4 to participate in search parties. My party was sent down a very steep, very brushy gully from the vicinity of the Tioga Road to the base of Pywiack… ...Read More
Visitor Reviews of this Waterfall:
If you have a waterfall story or write-up that you'd like to share, feel free to click the button below and fill out the form...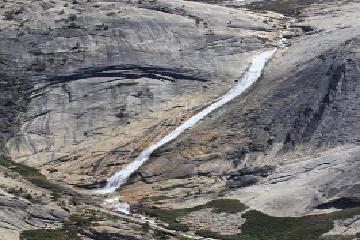 Elusive Pywiack
May 25, 2013 6:11 pm
-
Yep, Pywiack is an elusive falls, tucked in fold in a canyon and viewable from narrow angles. I once did a one day trek from Tenaya Lake to Yosemite Valley. We chose to go when the water was low. The swimming hole at the bottom of Pywiack was just splendid. This hike is not for… ...Read More