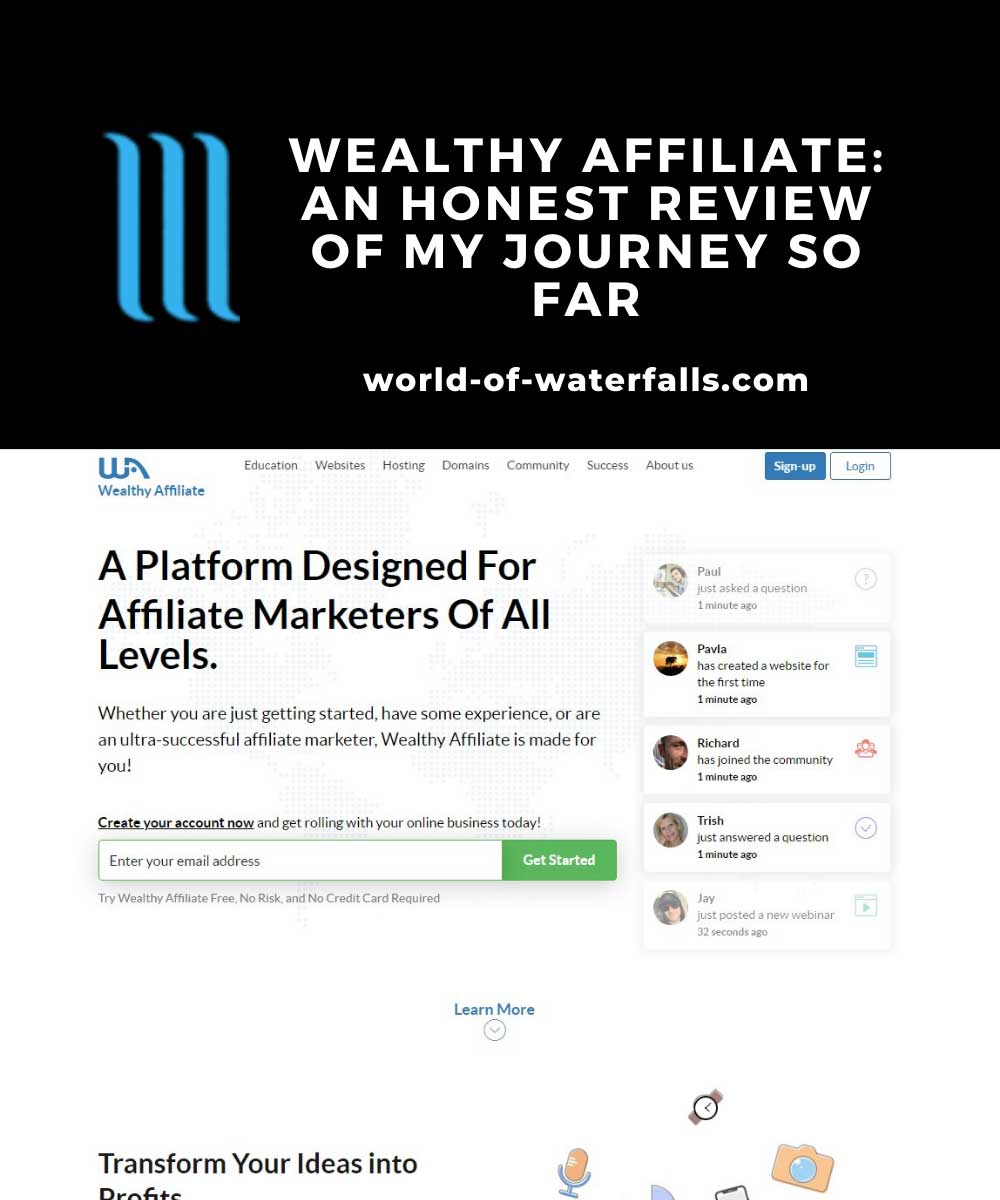 My continuing journey towards trying to realize my life's dream of living off my passions is primarily through the World of Waterfalls website where I share my lived experiences chasing waterfalls around the world. Currently, I've been updating and fixing this travel blog based on classes that I've been taking through Wealthy Affiliate. I've also been starting a new food blog for my wife through WA. So in this Wealthy Affiliate Review, I make an honest assessment of my blogging journey with them so far.
With the benefit of hindsight in creating a website that has steadily generated a lot of traffic over the years, I offer a perspective that might be a bit different than what you might see on the internet if you Google search "wealthy affiliate review".
So given my experiences, the questions still remain…
Has WA helped me to revive and elevate my blogging efforts?
Or am I fooling myself, and all this time and effort using WA is nothing more than a scam?
Let's find out in this review…
How Did I Come Across Wealthy Affiliate?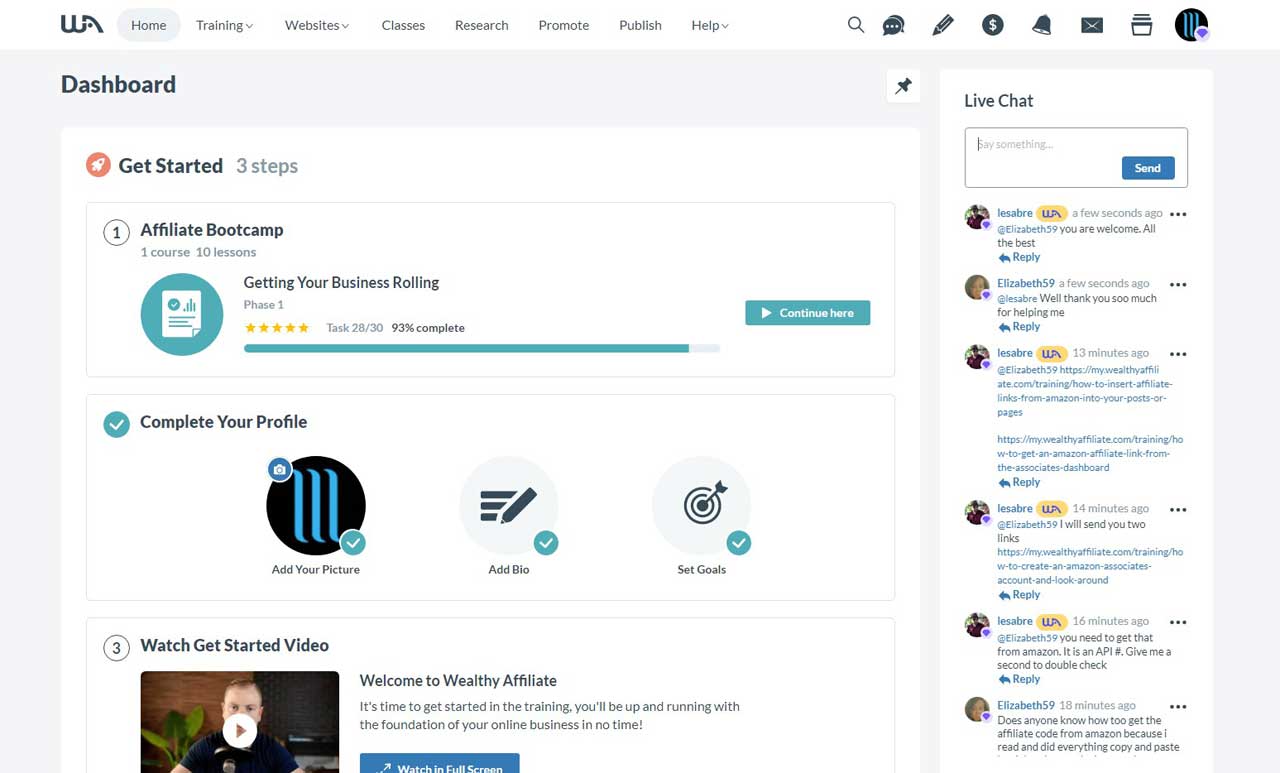 Before getting into my evaluation of the performance of Wealthy Affiliate, I want to first paint the context of how I got here in the first place.
In fact, I learned how to travel blog through a different program that I spent 12 years in called Site Build It (now Solo Built It or SBI).
However, I got to a point where I outgrew their infrastructure and had to look for a way to keep my website alive while looking for an alternative that was based on WordPress.
After spending three years figuring this out and fully investing in my migration (mentally, financially, and with the time I spent), I eventually made the move to WordPress.
However, I did so completely on my own using a combination of services like Kinsta, Digital Ocean, Amazon Web Services, hiring contractors through Codeable, and sweat equity learning basic system administration, Python, and WordPress programming.
After a year of running the website on my own using the WordPress platform, my wife expressed interest in starting up a food blog.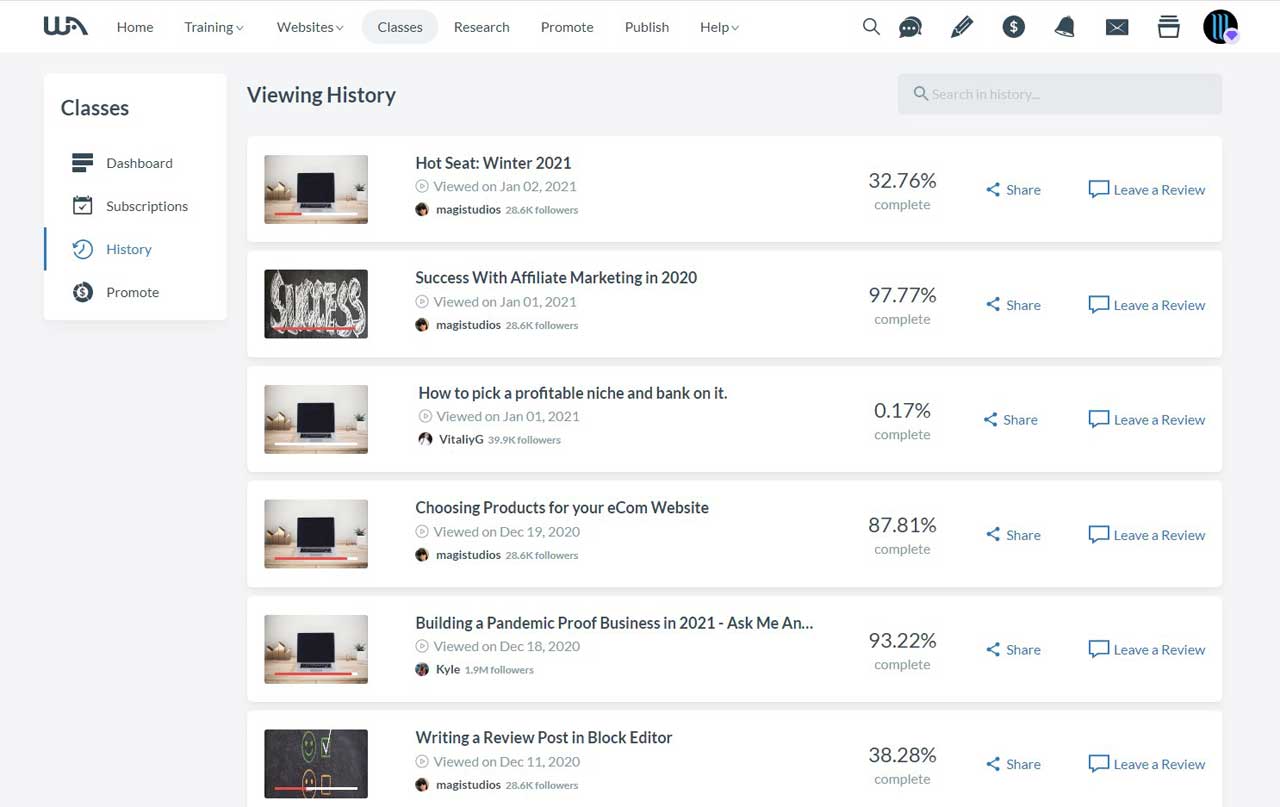 Knowing how hard it was to start a new WordPress site on my own, I renewed my search for something like SBI except fully integrated with WordPress.
That was when I stumbled upon Wealthy Affiliate.
By giving them a try for free with my wife's blog, I realized that this service had the things that I was looking for in terms of the educational resources, the WordPress-based platform, and a thriving community.
When it came time to have a website on our own domain name, that was when I upgraded to premium membership.
At that point, I saw that there were also classes I could attend, and then learn things that I could implement on the World of Waterfalls website to give it new life even though it's not hosted through them.
Over time, I learned enough to start a new blog that's completely within the WA system about homeownership.
What Is Wealthy Affiliate?
Wealthy Affiliate is an all-in-one web marketing and business solution providing services like:
web hosting
domain name registration and renewal
staging through SiteRubix
content management system on the WordPress platform
keyword research through Jaaxy
training and classes taught by experts who know what they're doing
customer support for technical issues
…and I'm sure there are probably other services that they provide that I didn't mention.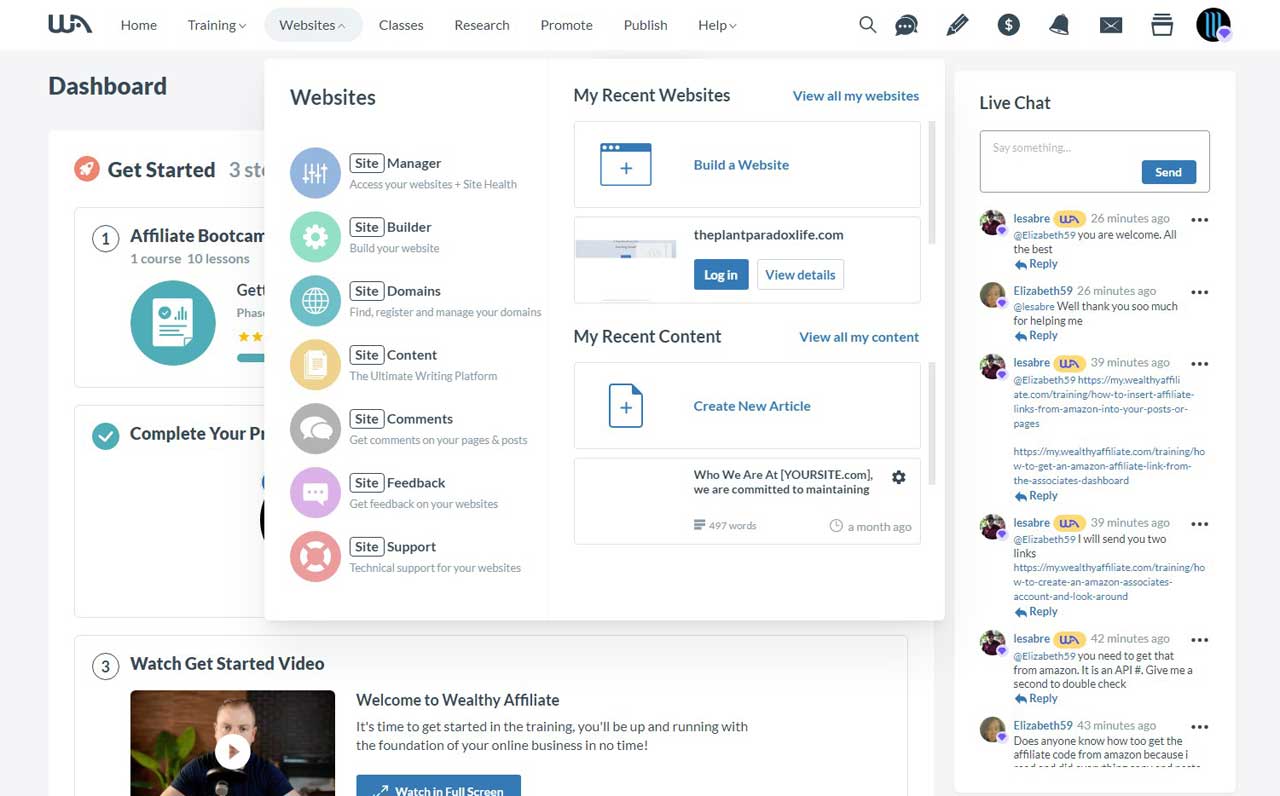 The main thing is that they're trying to make it easier for you to pursue your own business opportunities by creating your own blog that attracts an audience.
Who Is Wealthy Affiliate For?
Wealthy Affiliate is built for people who wish to make money online through blogging or through a local business website.
How much money you wish to make by these means depends on your level of effort, expertise, creativity, and sheer will.
From what I've seen, the skill levels of current members vary from people starting out to people earning a healthy side income to real pros who have leveraged WA to earn enough to give up their 9-to-5 day job.
That said, Wealthy Affiliate is not for people trying to make money quickly even though I've seen claims within the WA community of people who have managed to do this.
However, that's more of the exception rather than the rule, and you really have to come in with the mindset that this is going to be a long journey.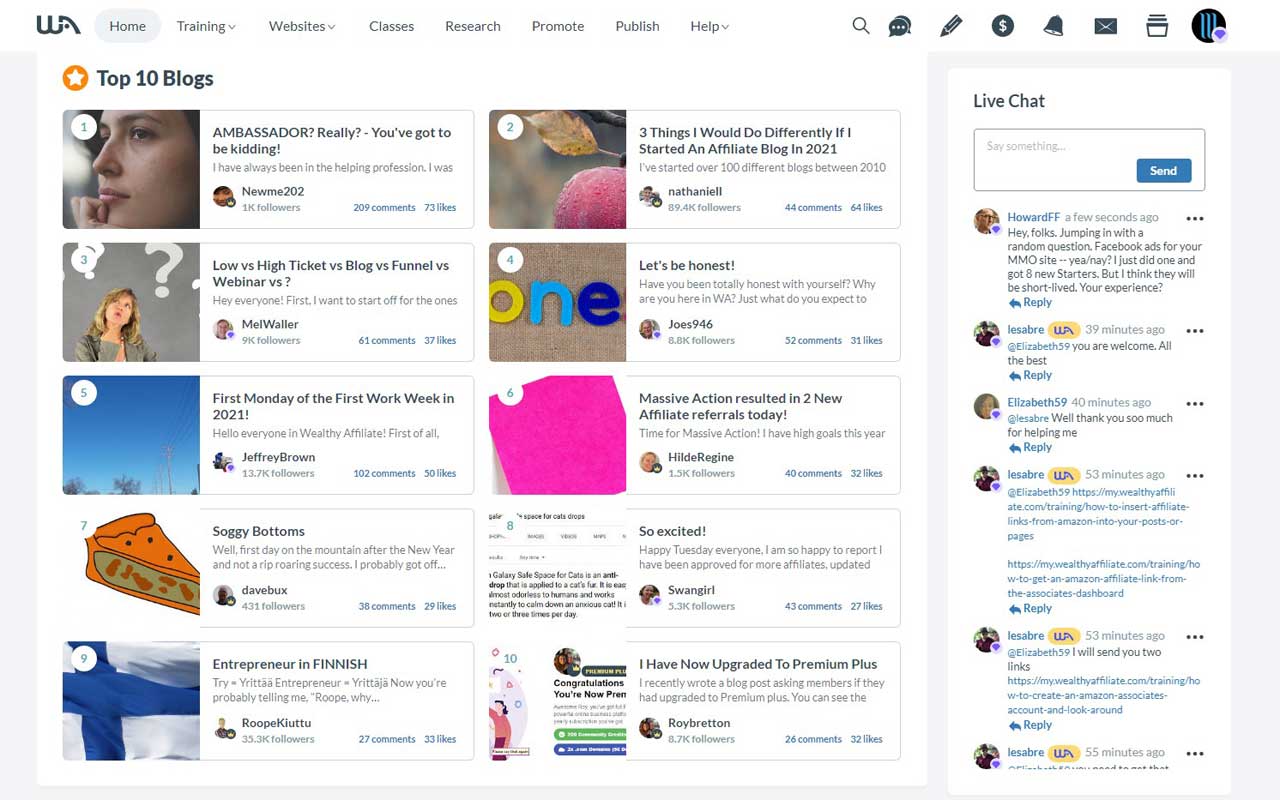 In fact, I try not to get distracted by the anecdotes of people who seem to be doing well and letting everyone else know about it.
How Does Wealthy Affiliate Work?
I think of Wealthy Affiliate as fulfilling the role of both host and blogging school.
You can start off with Wealthy Affiliate by signing up for free and then follow the free course to learn the ropes about…
picking a topic to blog about
setting up the blog
learning how to craft a good user experience
learning how to monetize
…and more.
At any time, you can ask the community about specific questions you may have, but there's also a crew of tech support staff willing to answer specific questions about technical issues.
Once you get through the training, you can upgrade to premium membership to secure a domain name as well as unlock premium classes while raising the resource utilization limits from the free tier. Premium membership also opens up private chat with other WA members as well as allow you to start using plugins and themes beyond the defaults provided on your starter membership site.
By leveraging the tools and education that WA has to offer, you'll be in a better position to attract an audience with your blog while getting noticed by the search engines.

Then, once you've engaged your audience and earned their trust through publishing good content, then you can start monetizing off your blog.
That in a nutshell is pretty much how blogging works, but it also shows you how Wealthy Affiliate makes the process to become a successful blogger more attainable.
Why Should You Use Wealthy Affiliate?
I've outlined a 9-step process of how I've managed to turn my travel blog into an income-earning high traffic website.
Through most of those steps, you'll see that it really helps to have an all-in-one web marketing and services solution like Wealthy Affiliate, and I wished that I had them from the blog's humble beginnings back in late 2006.
Nevertheless, in addition to the tools, the support, and the training to get through the steps to build and maintain a successful blog, here are some reasons why you may consider using WA.
You Can Learn How To Blog For Free
By signing up to the free tier of Wealthy Affiliate, you'll get a SiteRubix staging site as well as access to the free-tier of training.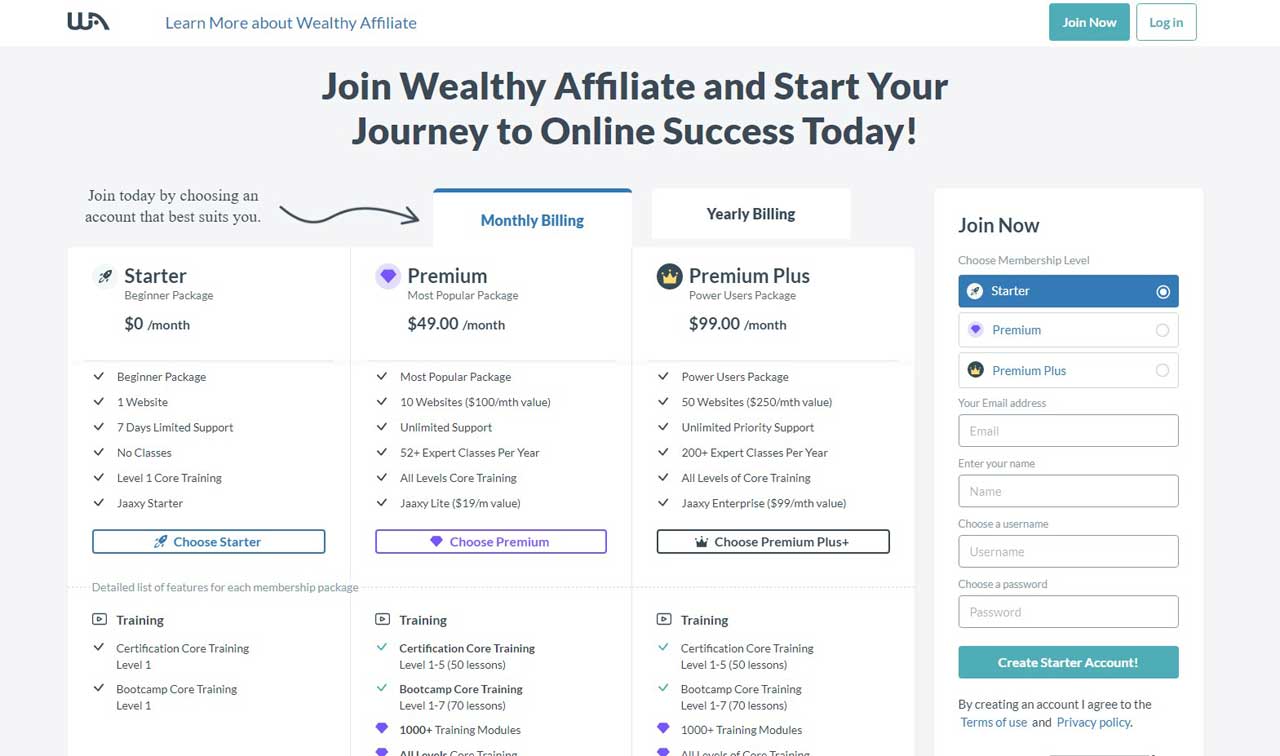 By going through the free tier of training, you can learn the ropes of how to use WordPress, how to research the viability of your blog topic or niche, and how to navigate WA's own dashboard to access tools, support, the community, and classes, among others.
If you haven't done so during the course of the training, you have the option of upgrading your account to premium, but you're under no obligation to do so.
Education
In addition to the free training, the live webinar classes offered at the premium and the new premium plus levels are taught by experts who are among WA's most successful entrepreneurs.
So they know what they're talking about.
This is important because blogging is ever-changing, and these classes help you keep up with the latest best practices.
Classes cover topics like SEO, marketing campaigns, making a website pleasing to the user, using Gutenberg, setting up and interpreting Google Analytics, writing reviews, and more.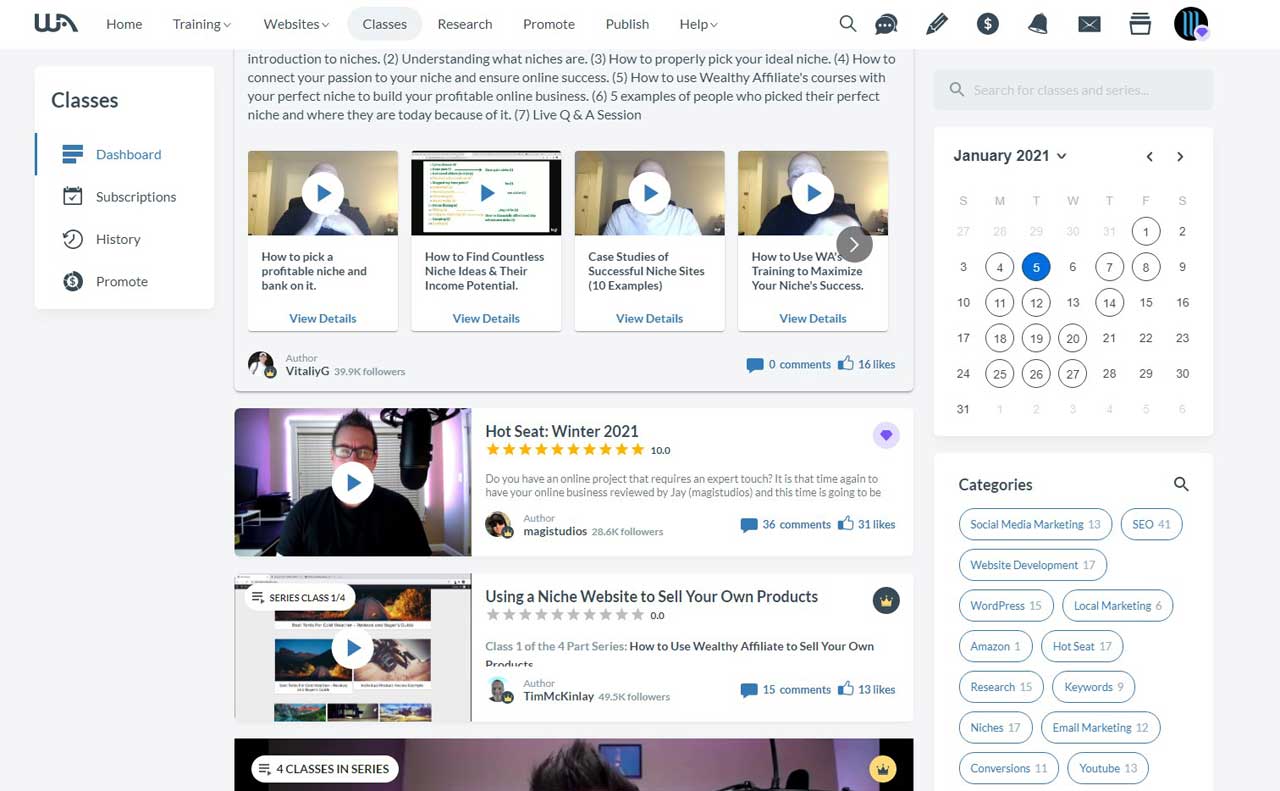 Personally, I credit these classes for steering me in the right direction when it came to fixing issues that caused a long period of stagnation and decline on my travel blog.
Active Community
The Wealthy Affiliate community is comprised of roughly 100,000 active members and at least 500,000 total members as of 2016.
There's a willingness of a lot of the active members to pay it forward and help others out.
I think this is probably about as much as you can really ask for from total strangers (though you may develop business relationships and start becoming partners or friends to some extent).
WordPress-based Platform
All accounts on Wealthy Affiliate come with a WordPress installation and a handful of plugins (e.g. All-in-One SEO, Kraken Image Optimizer, and Classic Editor) along with the GeneratePress theme.
The WordPress aspect is important because more than one-third of all websites and blogs are run on this open-source platform.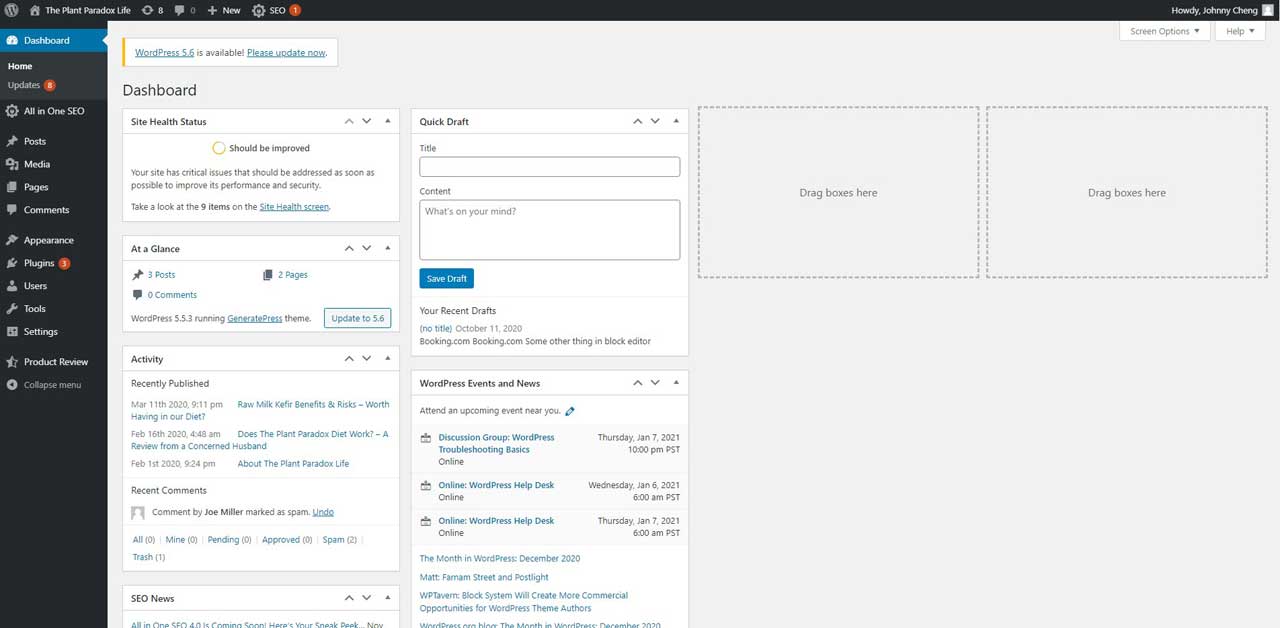 I personally went through building a blog on a proprietary platform, and I eventually outgrew its capabilities, which forced me to endure a very painful three-year migration into the WordPress platform.
So by starting off using perhaps the most used and most supported blogging platform, that at least saves you from the pain that I went through.
Things To Be Aware Of About Wealthy Affiliate
To my knowledge, there's no perfect tool that suits everyone's needs, and there's bound to be things that would cause someone to gripe.
So regarding Wealthy Affiliate, here are some of the things that I didn't particularly like.
Quality of the Communications in the Community
While I've sung the praises of how active the WA community is at trying to pay it forward and be helpful, there's also quite a bit of distracting noise that goes on in there as well.
It really forces me to apply critical thinking in order to sift past any questionable advice given or non-value-added-copy-paste responses triggered by participating in the live chat in the first place (typically when prompted during training).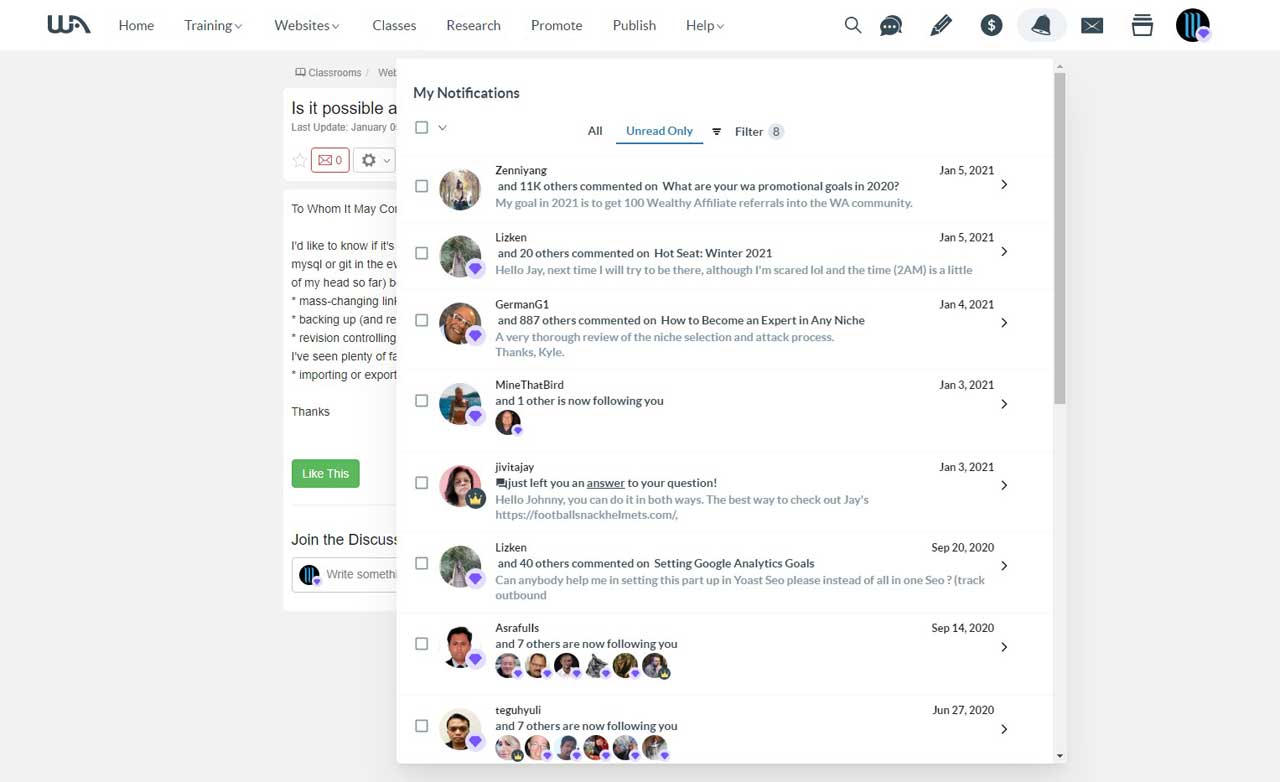 It's kind of like how I have to apply critical thinking towards stuff shared by a friend or family member in the socials like Facebook.
Without having the BS meter on, it's easy to fall prey to questionable news, conspiracy theories, or time-wasting nonsense as well as flame wars over disagreements or any hint of dissension in the Live Chat.
Indeed, I try to stay focused on what I need to do and leave the social-media-like distractions behind, and I would only participate as best I can in the WA Live Chat when I see a member needing help or I have a question to ask myself.
Big Promises & The Possibility Carrot
There does seem to be a little bit of a cult-like positivity complex when it comes to the Live Chat as well as the WA Blog Posts within the community.
Particularly distracting to me are when people "dangle the carrot of success" in front of me whether they're consciously doing it or not.
For example, I have to tune out declarations of someone earning $1000 a day or if someone publishes a post about how you can have quit-your-day-job success on WA if you just work at it.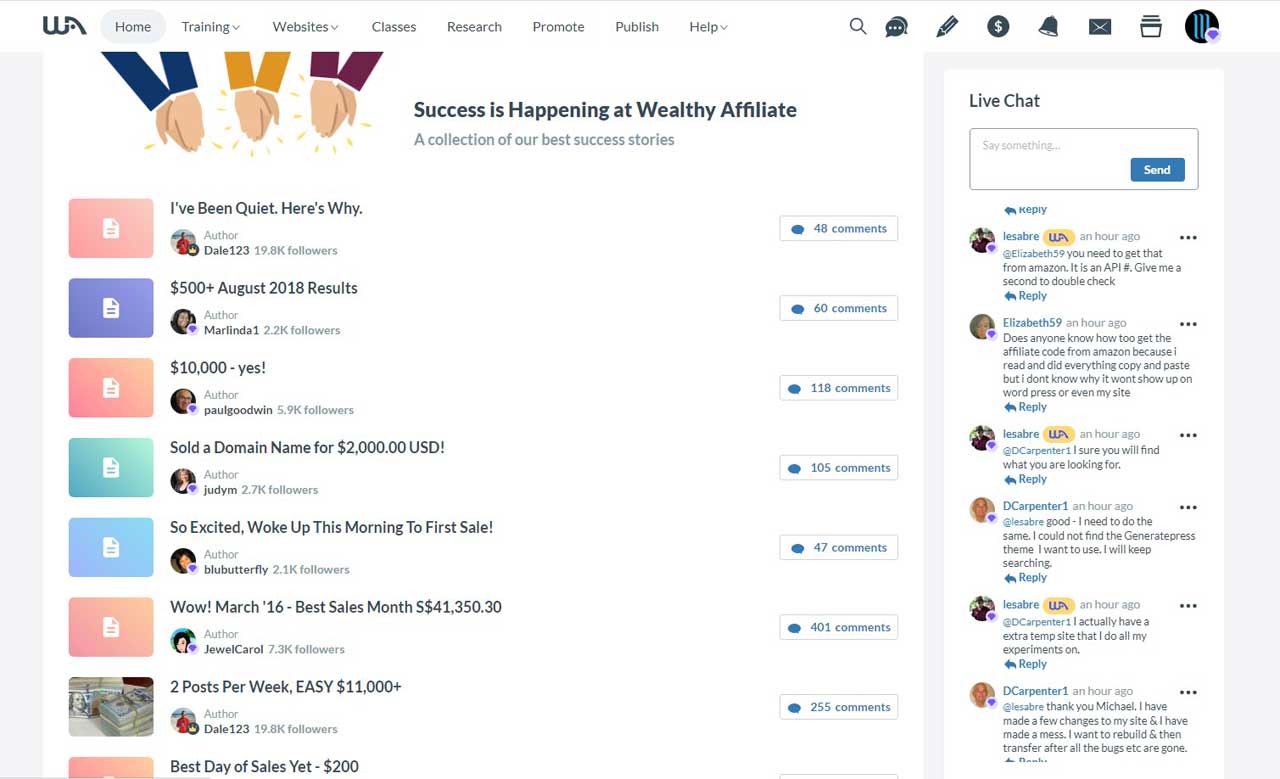 I don't find these useful because they steer me away from my focus on what I need to do (though I'm sure it may work for others).
Part of me wonders if some of this hyper-positivity complex has to do with the generous benefits of referring new members to WA or pursuing super affiliate status to go to the WA conference in Las Vegas.
Personally, if I refer someone to WA, I'd want to help that person as much as I can since that person followed me there.
However, this idea of being encouraged to get hundreds of new referrals is really disingenuous in my mind.
I saw a similar phenomenon happen when in the forums when I was using Solo Build It and their Five Pillar Affiliate Program.
I'd rather benefit from the referral rewards by helping aspiring bloggers who trusted my advice and then did what they needed to in order to become successful.
Not only would that person have a vehicle to fulfill his or her dreams of financial independence, but the positive experience would pay me back in sustained commissions so it's in my best interest to be as helpful as I can.
Because I'd rather see win-wins instead of someone winning at the expense of someone else.
Jury Still Out About Whether WA Hosting Capable Of Scaling With The Growing Size Of The Blog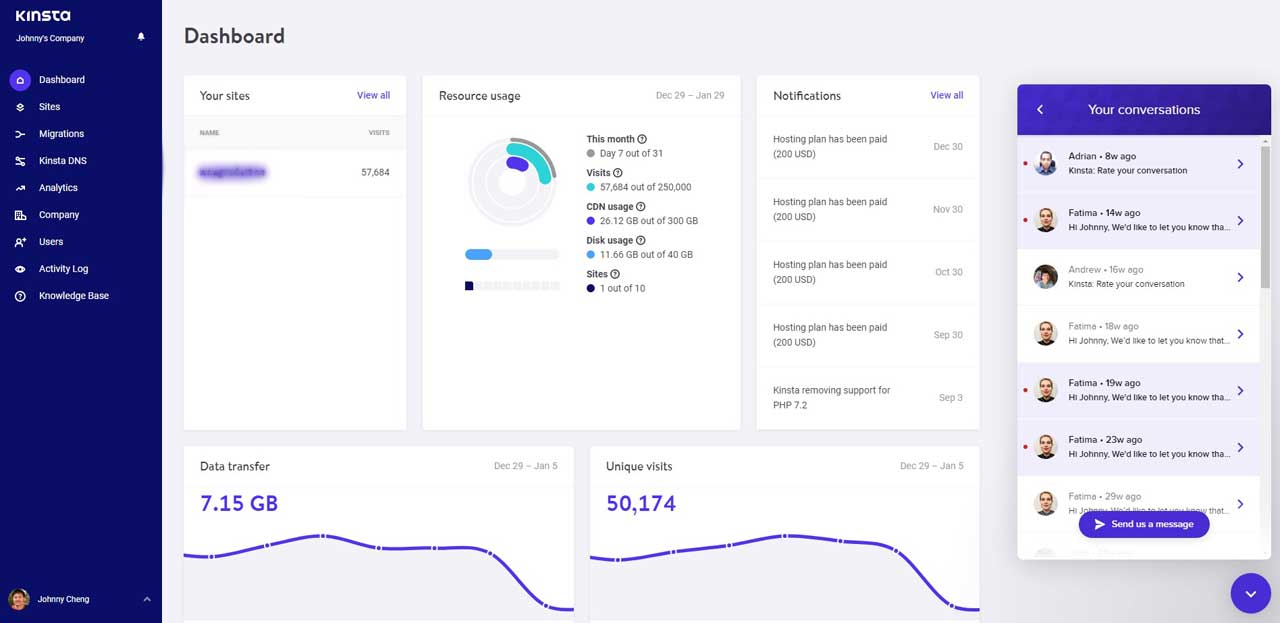 It's worth reiterating that my World of Waterfalls website is actually not hosted on Wealthy Affiliate.
Instead, it's hosted on Kinsta and staged on Digital Ocean, and my image files are served by Amazon Web Services.
Besides making these decisions on my own before I found Wealthy Affiliate, I'm skeptical whether even WA's servers could have handled the sheer size of my travel blog website.
I know that I ended up breaking Solo Build It's infrastructure, and the manual workflow I was forced to employ there became too unsustainable to stick with them.
However, it's hard to say for sure whether I would have met a similar fate with Wealthy Affiliate's hosting.
And say if I did end up hitting resource limits with WA impacting site performance on both the front end and back end.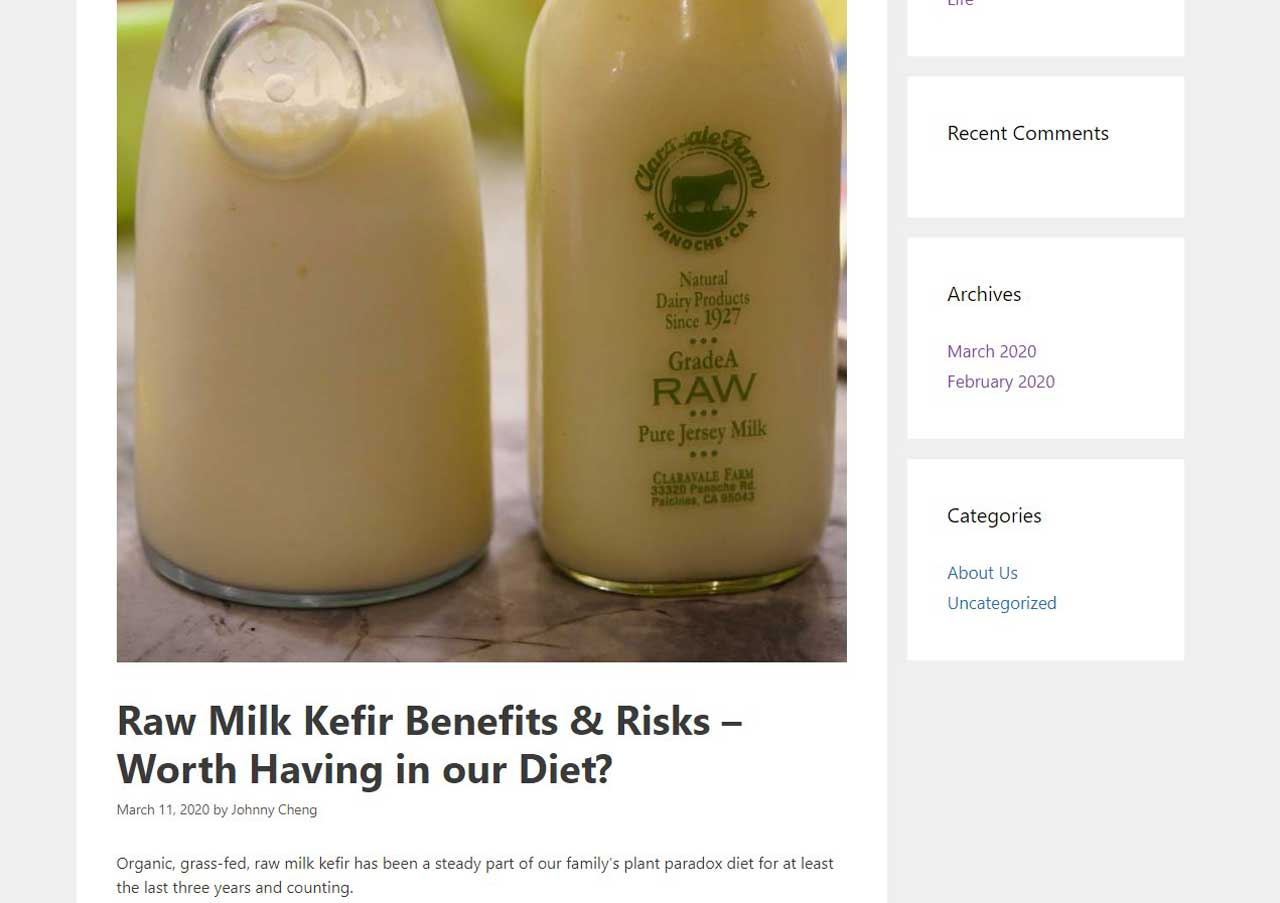 Would I have the means of overcoming them by migrating my website contents to another host?
Would I have access to the command line to do sitewide tasks in WP-CLI (WordPress Command Line Interpreter), MySql (the WordPress database), or even Git (if I want to revision control code changes or test plugins, themes, or updates before going live with them)?
The only way I can truly tell what the capabilities of WA's hosting would be through building up my other blogs that I've started through WA.
So I'll be updating this review as I learn more through my experiences, but in the mean time, you can see my progress by checking out homeownerheadaches.com.
Members Who Have Upgraded Do So For Life
I personally haven't had to experience this for myself, but it is worrisome if say I did outgrow the hosting capabilities of Wealthy Affiliate and needed to migrate elsewhere.
From the handful of cases that I've seen so far, people who do not intend to renew their premium membership with WA would have no access to their work done on that account unless they pay to renew.

If that's the case, perhaps I made the right move by going through the struggles that I did when I took the World of Waterfalls from SBI and went about it alone with a combination of Kinsta, Digital Ocean, Amazon AWS, and a whole slew of services.
So that's definitely something to consider if you foresee your blog or website growing to the point that it attracts over a 100,000 page views (or visits) per month.
That said, I started to realize that the World of Waterfalls website is kind of rare as it seems like the majority of blogs do not realize these types of numbers.
Therefore, if my wife's food blog is happily hosted on WA, then perhaps we'd have no reason to migrate, especially if she doesn't want to go through all the technical hoops and hurdles that I went through with my travel blog.
Wealthy Affiliate Is Not Cheap
As of this review, Wealthy Affiliate is $19 for the first month of becoming a premium member, then $30-49 per month thereafter.
Some time in late 2020, Wealthy Affiliate created a premium plus tier, which is $99 per month.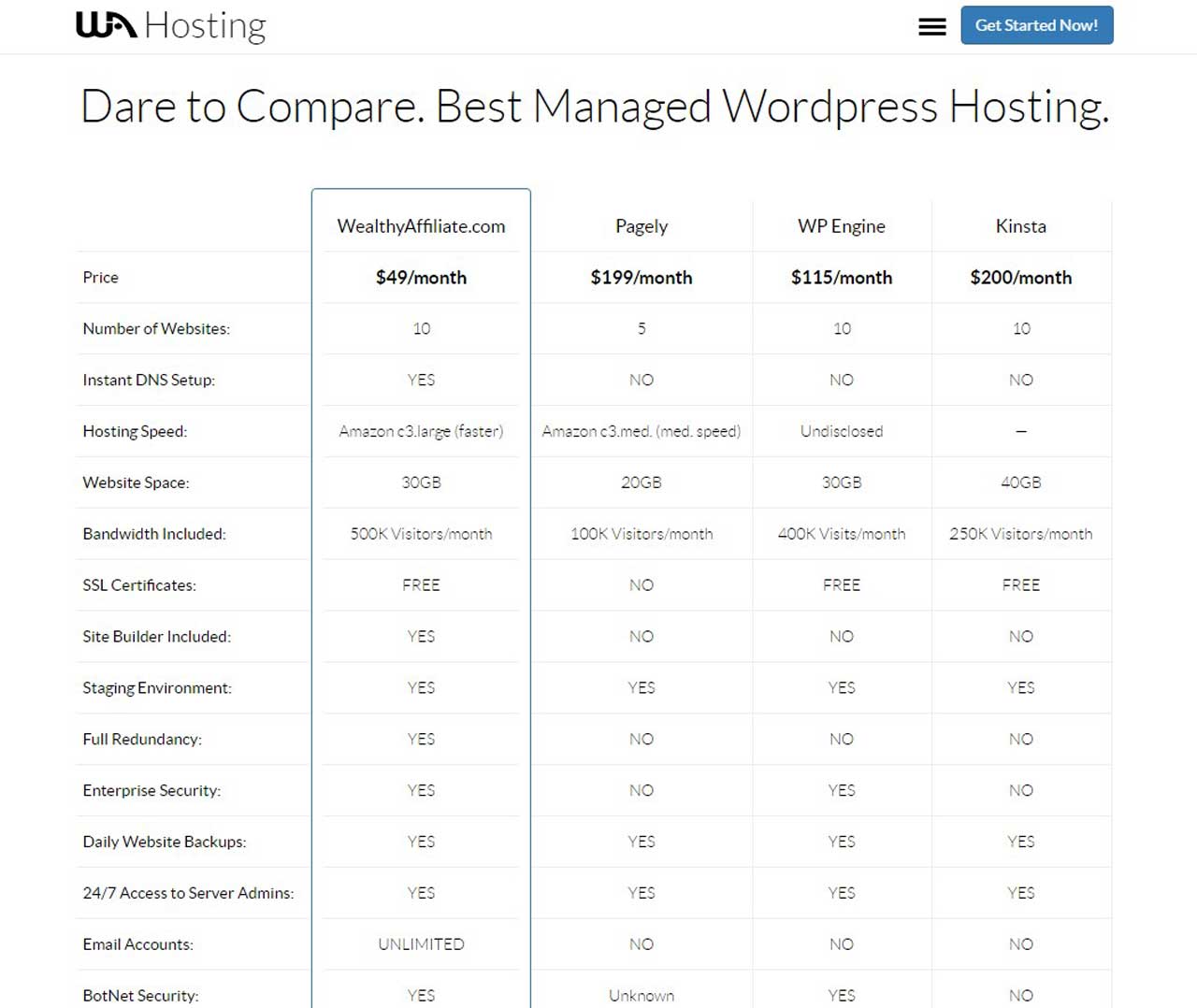 Unless you're serious about being a web marketer, that premium plus tier may be out of most peoples' price range, especially if just starting out.
Nevertheless, I tend to think that you get what you paid for.
If a product or service costs money (and it costs enough to make you think twice), then maybe there is something you're getting for that product or service.
Sure, there may be cheaper (even free) alternatives, but you also have to be honest with yourself about investing your time (or "sweat equity").
Just to give you an idea of how much I paid Solo Build It, I was on their yearly plan for $299, and it was only after 2016 I believe that they finally started to allow monthly membership at $29.99 per month.
Final Thoughts / Conclusion
The bottom line with Wealthy Affiliate is that it's a program optimized for helping would be bloggers and online marketers to become successful at earning income through their passions while playing the role of web host, research tool, community, and classroom.
So far, I've been pretty happy with my experiences at WA, but I'll always have more to learn and discover so I'll be updating this review with new insights that I find worth sharing.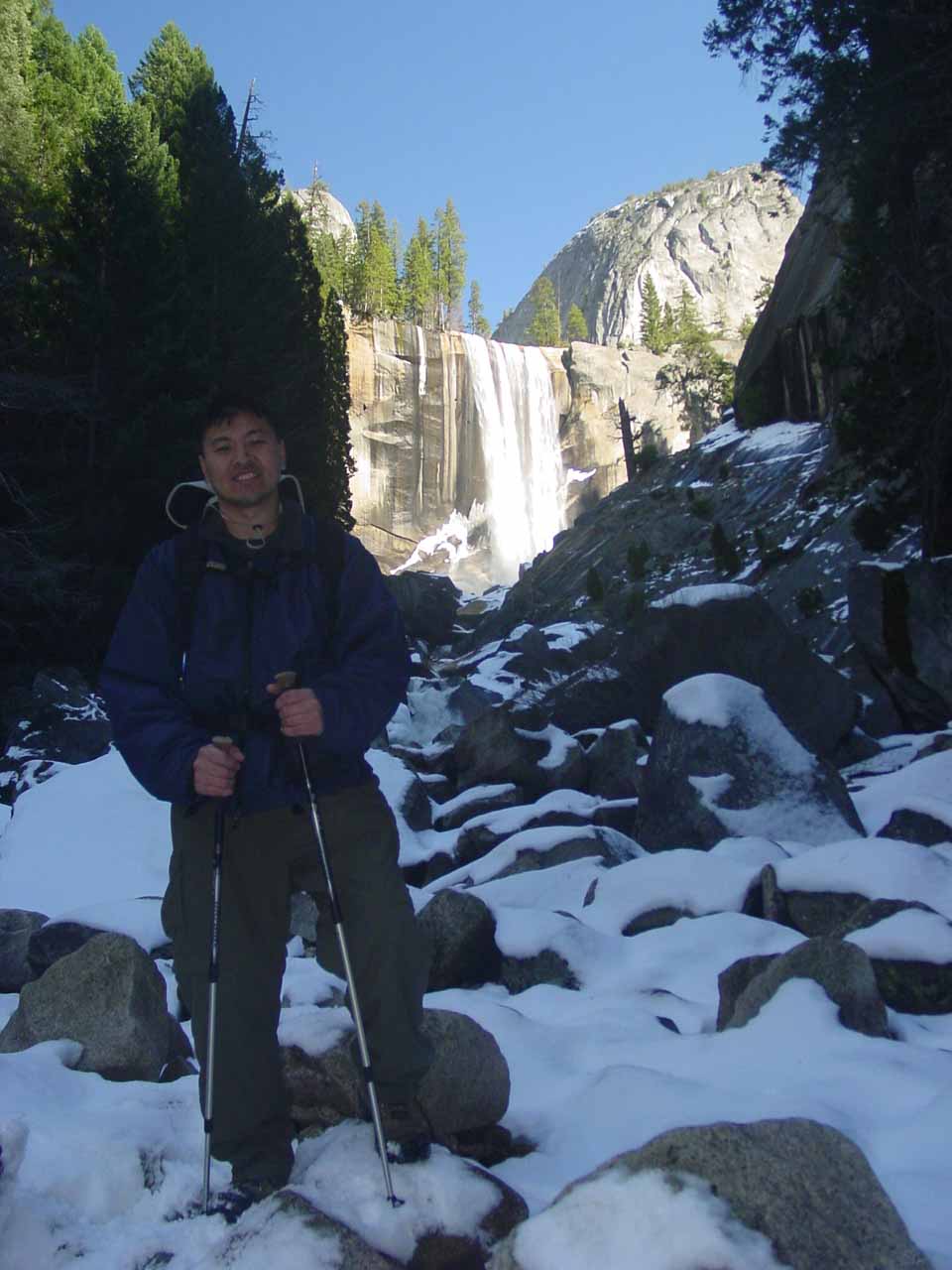 Nevertheless, if you're considering getting into blogging about what you love to do and earn some income while you're at it, I'd highly recommend that you sign up with Wealthy Affiliate and try out their free tier.
See for yourself if blogging about the things you care about can be leveraged into earning a part-time or even full-time income!
Please note that this is not a sponsored post. However, there are affiliate links that help pay for this site. You can read more about these in our affiliate disclosure in the footer at the bottom of this post. If you have questions or comments, please use the comment box below.
Hosting and Research
8.5/10
Backend Interface and Functionality
8.0/10
Frontend Performance
8.0/10
Pros
All-In-One Hosting and Web Business Solution
Excellent Classes
Free Starter Tier (Good for Blog Setup and 1st Training Course)
WordPress CMS
Very Active Community
Cons
Upgrading to Premium Tiers is for Life (no going back)
New Premium Plus tier may devalue Premium Membership
Community Chatter can be Distracting
Not Cheap
Command Prompt to Handle Advanced Tasks Not Available