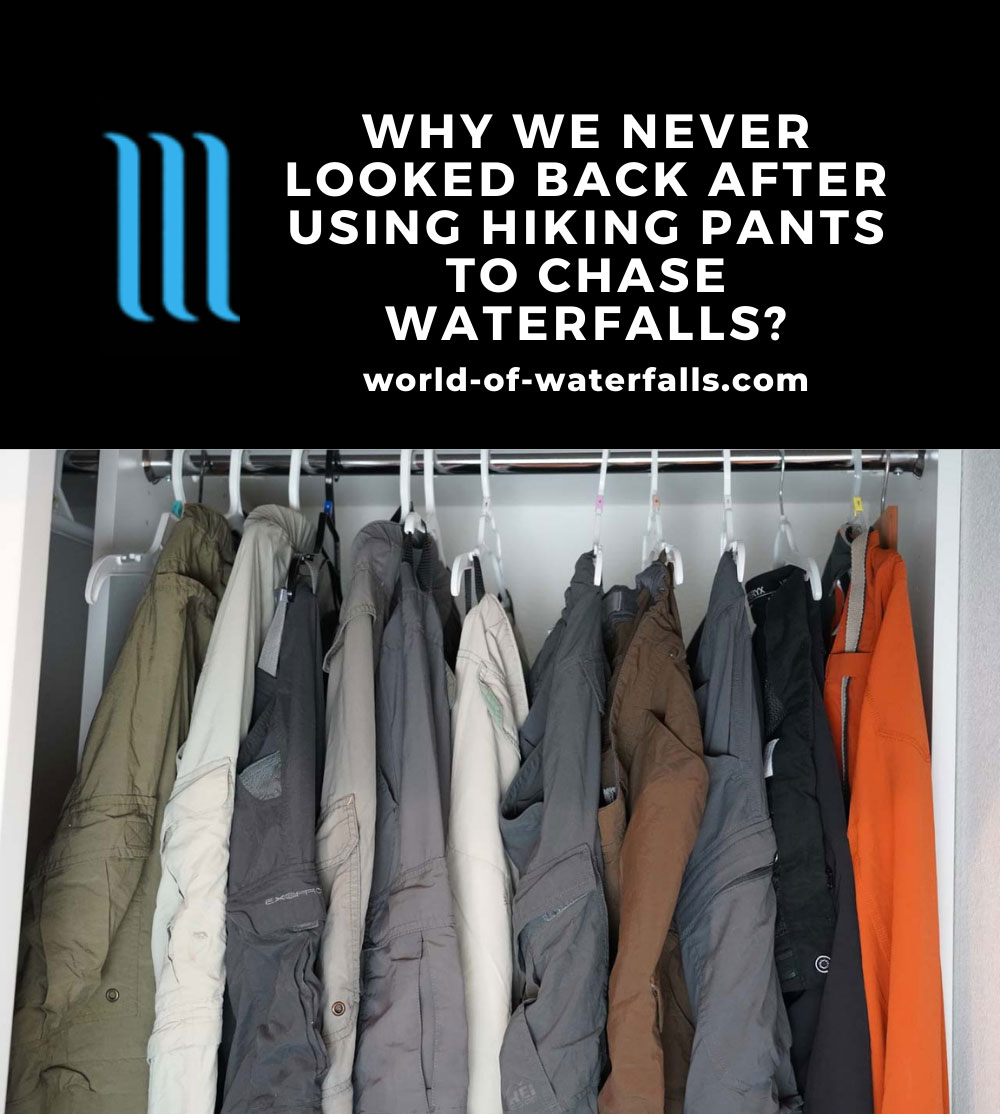 Hiking pants are one of the most overlooked and underrated outdoor gear, especially when it comes to chasing waterfalls.
I say this because in our experiences, it seems like we're one of the few people who would wear such pants while just about everyone else would hike in workout/running pants, basketball shorts, or even jeans!
Heck, we used to do the same thing before we made the switch, and we never looked back ever since.
So, what is it about hiking pants that are difference makers on our hikes and in our travels?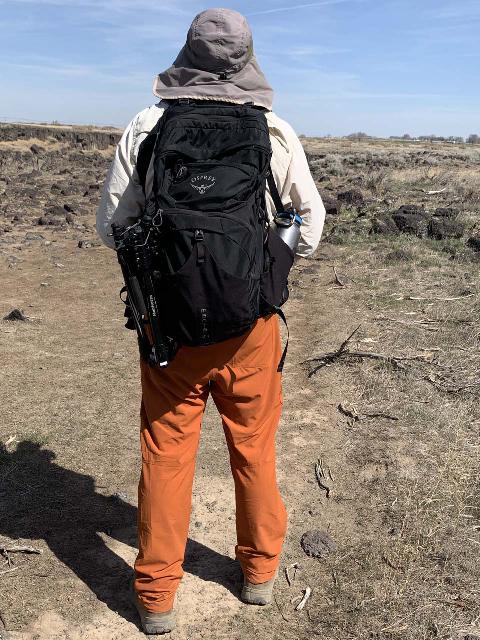 And which pants have performed the best for us?
For the remainder of this in-depth article, we answer these questions and more so that you may better enjoy your waterfalling experiences (or whatever other outdoor or worldly pursuits you're into).
What Are Hiking Pants?
Hiking pants are pretty much cargo pants, which had their beginnings as military working-, utility-, or tactical pants (e.g. those famous camouflage pants you might see in war movies or shows).
This made sense because in the military, you're expected to deal with rough terrain while carrying around tools or other things needed to help you do your job (typically outdoors).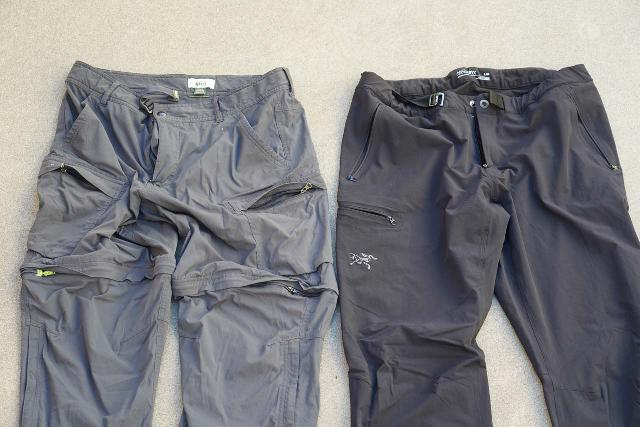 Whether one had to bushwhack through jungles, climb steep cliffs, or get down and dirty in the mud (all the while carrying a Swiss Army Knife, carabiners, locators, walkie-talkies, etc.), the pants had to be enhancements and not hinderances.
Well, this isn't much different from the situations we've encountered on hikes (especially chasing waterfalls) or other outdoor pursuits.
In fact, some of the trails we've done were old use-trails in times of conflict leading to forts, bunkers, or lookouts.
Cargo pants typically feature enough pockets for quick access to tools, ruggedly made to handle the elements, and a baggy loose fit for better flexibility.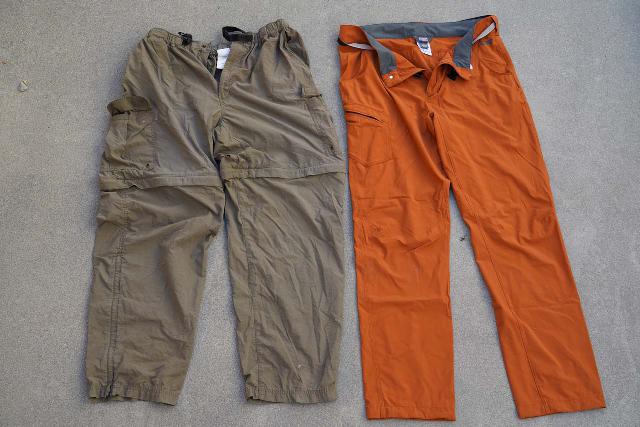 Hiking pants have such features, too, but we've seen them evolve over the years into stretchier materials, lighter weight, and having versatility for more civilian purposes (including the ability to convert to shorts).
Why Should You Use Hiking Pants?
Hiking pants are important outdoor gear because you want all the advantages they provide to handle whatever Nature throws at you.
Indeed, wearing pants ill-suited for the elements or trail conditions can ruin the experience (let alone ruin the pants), and they can even increase the chances of injury or life-threatening conditions (e.g. hypothermia) in the worst case.
In addition to outdoor pursuits, we've also found that hiking pants are also capable travel pants so many of their advantages could even benefit us abroad.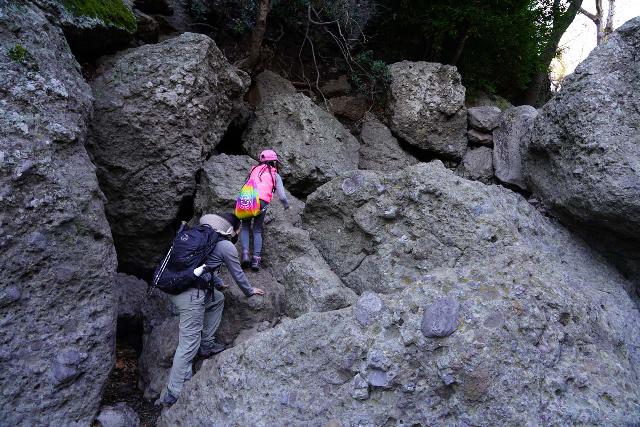 So what is it about the hiking pants that can enhance the experience both on the trails and around the world?
Here are some of their attributes that I've found to be most useful…
Multiple (Secured) Pockets
In my experiences, hiking pants feature at least a pair of hand pockets and a thigh pocket.
Some models have a second thigh pocket as well as back pockets.
Good hiking pants secure at least one pocket with a zipper (sometimes with an additional velcro), but the best ones I've owned secure more than one pocket and they're deep enough to carry at least my wallet, phone, and keys together.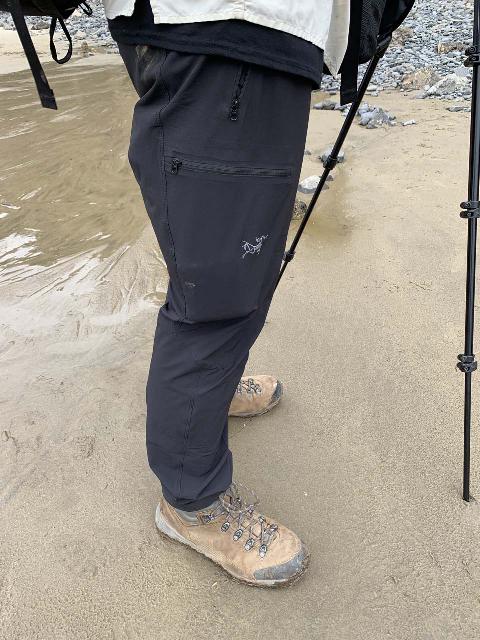 Having multiple pockets available, especially if they're secured, means I have quick access to things like a smartphone, utility knife, and a pen and pad for taking notes on-the-go.
I appreciate pockets that have zippers because that would prevent things from falling out (thereby becoming lost or unretrievable), especially when I find mindself scrambling or in awkward angles!
Even when I'm not hiking, I've found that zippered pockets help reduce the likelihood of becoming a victim of pickpockets in our travels.
Indeed, the bottom line is that both having easy access to my most important things as well as the ability to carry around tools or handheld gear as-needed without getting in the way are why multiple (secured) pockets enhance the hiking (and travel) experience.
Loose or Stretch Fitting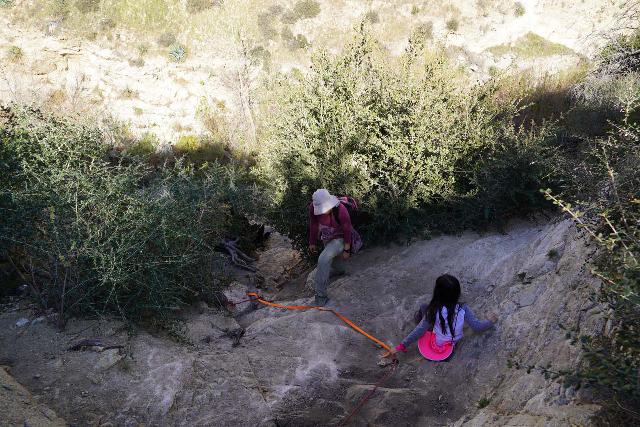 Being on the trails or even in historical cities abroad, I've found that hiking pants that stretch or are loose fitting allow me to climb rocks, crawl through overgrown or tight spaces, and even steep steps (like in a castle or cathedral).
This is important because you don't want pants with unforgiving materials limiting the range of motion of the legs.
In fact, when on an excursion, the last thing I'd want to happen is my pants forcing me into making unnatural (and potentially dangerous) maneuvers due to the lack of freedom of movement in my legs.
For example, I've had situations where I was on a narrow trail that involved some degree of climbing with dropoff exposure (the Angels Landing Trail in Zion comes to mind).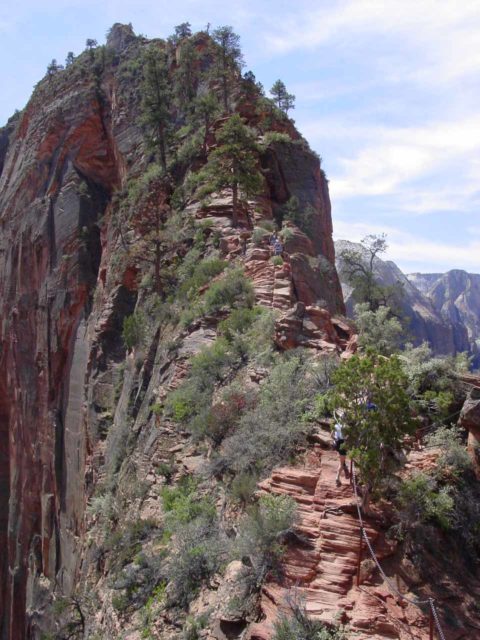 That would not be the time to have inappropriate pants limiting range of motion and increasing the likelihood of a fatal fall!
Since I generally wear hiking pants practically every time I'm on a trip and/or on a hike, I pretty much take this for granted, but this definitely becomes an issue if I tried to do the same in jeans.
Versatility
Perhaps the most obvious feature of hiking pants that enhance versatility is their ability to convert into shorts and vice versa.
Indeed, while hiking in long pants provides protection while maintaining body heat in cold environments, having the ability to let the legs breathe in hot weather without changing out of them is huge.
Most of the hiking pants I've owned are convertible by allowing me to zip-off the lower leg of the pants, especially when it really starts to get hot.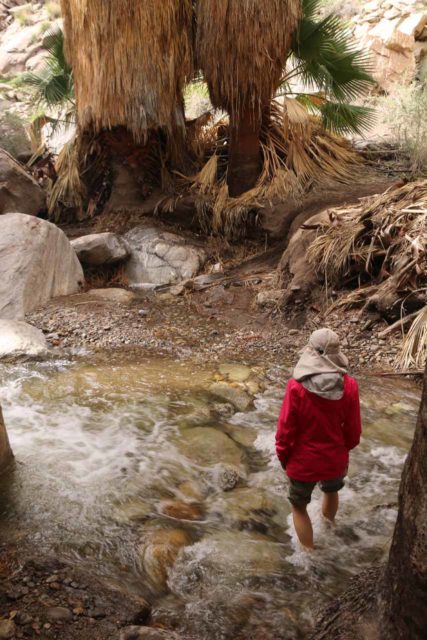 However, my latest pants don't have the zip-off convertibility, and they're more of the roll-up variety where I can temporarily roll them up and use the draw string to tighten and keep the legs from dropping back down (though this seems like more of a hack).
In addition to converting to shorts and vice versa, I've also found that hiking pants are capable travel pants.
Not only have they been comfortable for me when moving around the airports or trying to stay warm on the plane ride, but they've also been suitable for street wear.
That also means I don't need to pack as many clothes, which saves precious luggage space.
Quick-dry and Water-resistant yet Breathable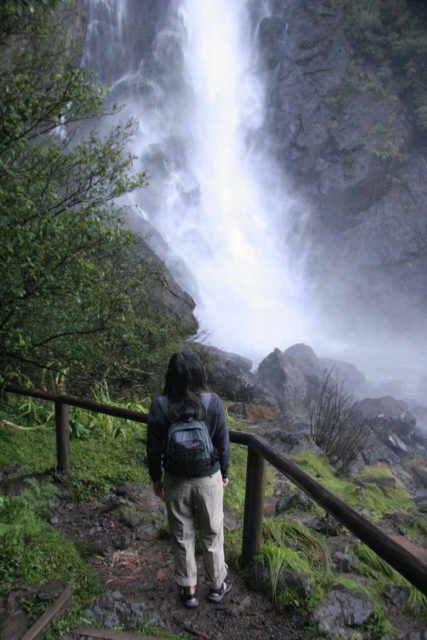 Being outdoors, especially chasing waterfalls, means we typically encounter water, spray, rain, or even snow.
That's why the quick-dry ability of hiking pants enhances the experience because we don't have to wait all day for it to dry after it gets soaked.
Moreover, they're typically treated with water repellent so the water would bead and roll off thereby keeping your body less prone to hypothermia (though repellent does wear off and needs to be reapplied over time).
While there are waterproof pants if you absolutely must keep the legs dry, I've found that they're not breathable and they end up making the legs sweat so much that they defeat the purpose of staying dry.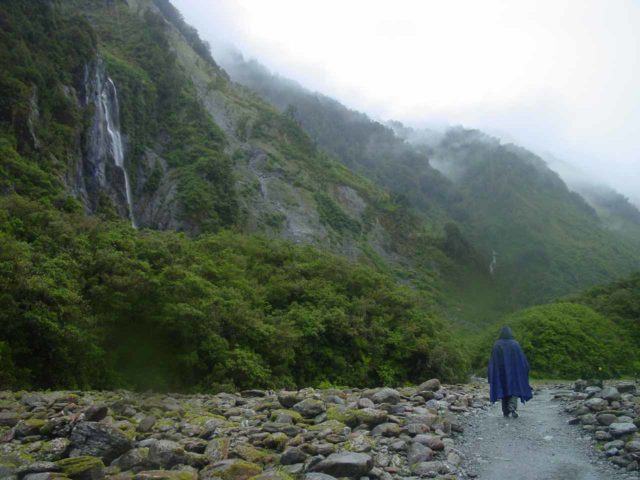 Sometimes I use rain ponchos as an added layer of spray and rain protection, but they also suffer from breathability issues (though I can remove and stow them as needed whereas that's harder to do with waterproof pants).
Indeed, the quick-dry and water-resistance of hiking pants makes them great for general use even under wet conditions.
Durable and Rugged Materials
Finally, like their military cargo pant predecessors, hiking pants are typically made with durable, rugged materials.
That means they last a long time even when I find myself brushing against sharp rocks, foliage, or even branches.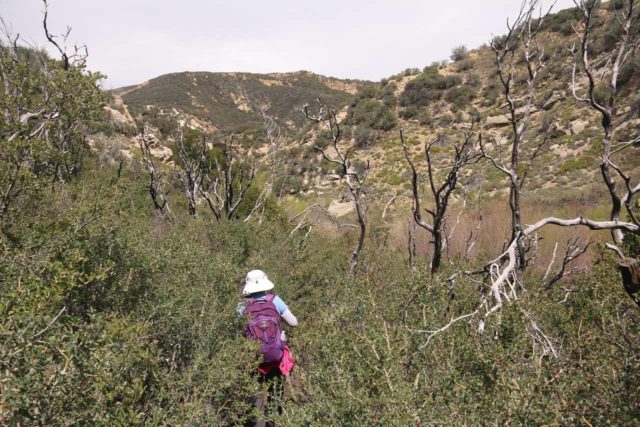 They're also made to get dirty so even if I have to pass through mud or crawl on dirt, I know my pants aren't ruined and I can eventually get the gritty stuff off at the end of the excursion or trip.
You'll see below that the pants I've owned and used have lasted me many years (some are as old as 18 years and counting).
Typically, the first things that fail are the zippers and the Velcro, but the materials pretty much remain intact and rarely tear.
Only my oldest pants might have holes in them resulting from slips-and-falls as well as snags on rocks or trees, but even with such defects, they're still usable.
Which Hiking Pants Have We Used?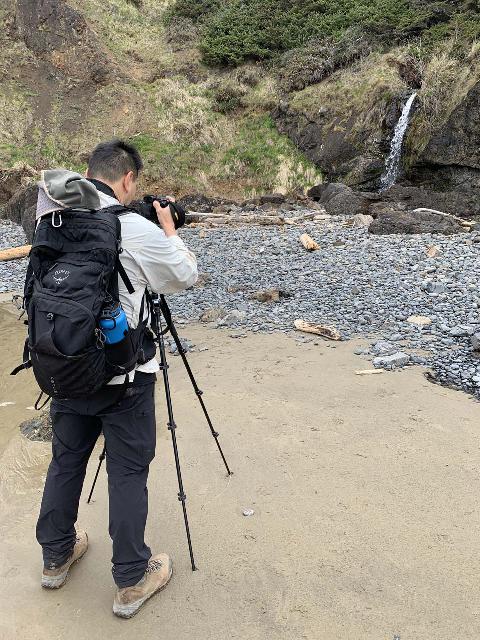 Over the two-plus decades of wearing hiking pants, I'd like to share with you the pants that I've used in that time (in more-or-less chronological order) and each one's basic attributes.
That way, you can see how hiking pants have evolved over the years as well as the ones that I liked the most or found to be most practical.
Given the limited size of this list, you can see that I don't like to buy too many pants, and I'm generally loyal to those that have served my needs (so some of the pants may have more updated versions that what's shown here).
REI Co-op Sahara
This was the brand and model of the hiking pants that my wife and I have started off with and still continue to use, which means that we've had the most experience with this classic.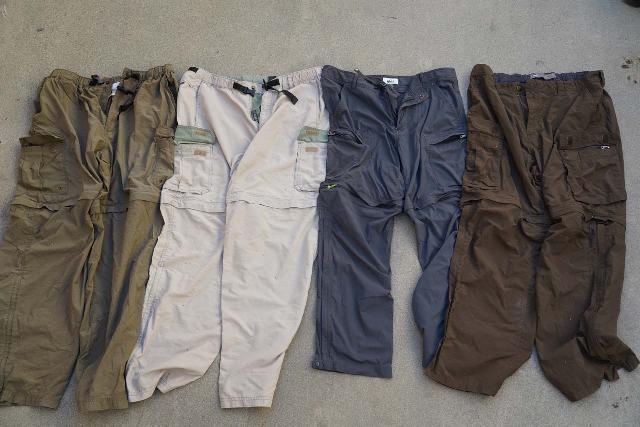 So we've seen how these pants have evolved (some improvements were made while other features have regressed, especially after 2018).
All of our Sahara hiking pants are zip-off convertible pants, which also have their pros and cons, but I have noticed that lately there have been newer models that are roll-up convertible (with buttons along the lower leg to keep it rolled up).
Our oldest version of the pants have an included belt with snap button fly as well as a zipper on around the lower leg to make it easier to take it off without needing to remove the hiking boot or shoe.
The newer version of the pants seemed to have done away with the included belt and have regular loop button fly with lower leg zipper riding higher for even easier removal (and putting back on) without removing the hiking boot or shoe.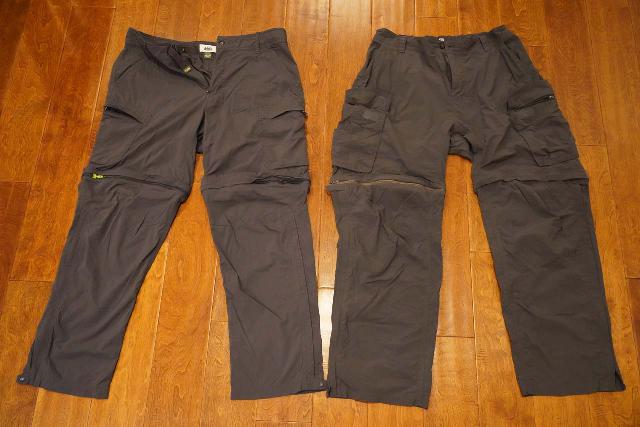 As far as the pockets, our oldest (baggy) hiking pants only had small velcro thigh pockets, but they've since introduced at least one zipper-secured thigh pocket (my favorite one actually has two fairly decent-sized zippered pockets).
I've also noticed that the later versions seem to be a little lighter than the older ones though it was only by at most about 2 ounces.
As far as longevity and durability are concerned, I've had the velcros stop sticking and the zippers snag or stop working altogether.
Those are usually the first things that start to fail, and that's what would be enough to compel us to move on to the next hiking pants to replace the failed ones.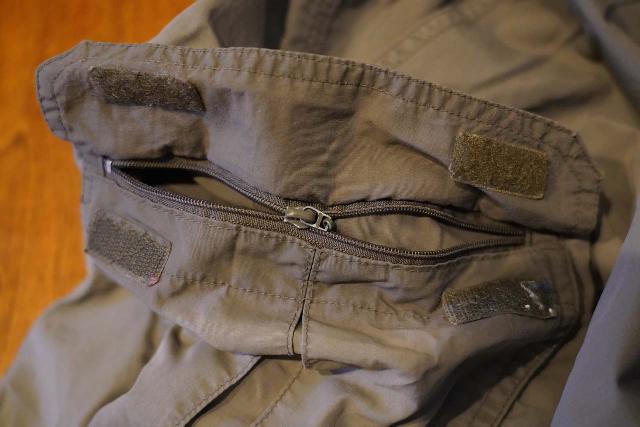 The baggy fit of the Sahara pants also has a drawback in terms of the higher likelihood of snagging on a protruding tree limb or rock, which typically happen at the most inopportune moments.
Overall, our history with the REI Co-op Sahara pants have formed our opinion of what makes a capable hiking cargo pant, and pretty much every other hiking pant we've used are compared against this reference point.
PROS:
Classic Functional Cargo Design
Convertible to Shorts
Typically at least 1 zippered pocket
Durable
Affordable
CONS:
Zip-off Convertability Awkward and Slow
Zippers Don't Last
Newer Designs moved away from Snap-fastened Button Fly & Attached Belt
Loose, Baggy Fit can snag on Protrusion Obstacles
ExOfficio
Along with the REI Sahara hiking pants, we've also bought the ExOfficio hiking pants (which are also zip-off convertible) in our early days of chasing waterfalls in the early 2000s.
A distinguishing feature of these pants is that they had a mesh "underwear", which made me not have to wear normal underwear while these pants could also be capable as swimwear (though I'm not sure whether that was what they were designed for).
Ever since I've bought a couple of these pants, ExOfficio has since come out with permethrin-treated pants to help repel biting insects (especially mosquitos and maybe ticks).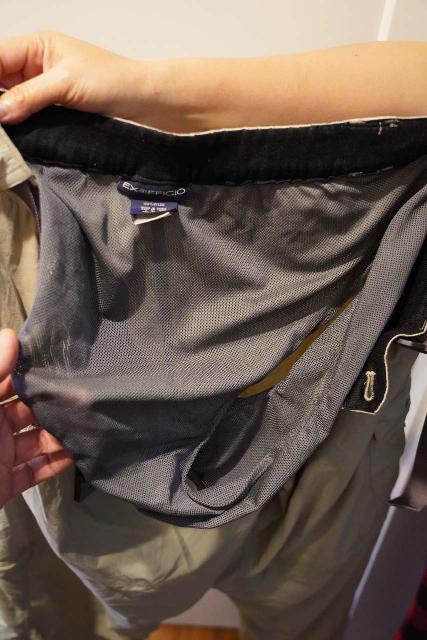 That said, there's nothing stopping you from soaking or spraying your own hiking pants with the stuff (with the drawback being that the stuff wears off the moment they're washed or get exposed to a lot of spray or rain).
The ExOfficio pants came with an attached belt that was wider than the one our old REI Saharas came with so it had a flatter buckle that had a tendency to come loose with intense use.
However, my biggest pet peeve with the ExOfficio pants was the size of the lone zipper pocket (which was one of the thigh pockets).
It was barely big enough to fit my wallet, and it definitely couldn't fit both my wallet, smartphone, and keys in the same zippered pocket, so I always had concerns about something falling out of the ExOfficio pants when worn.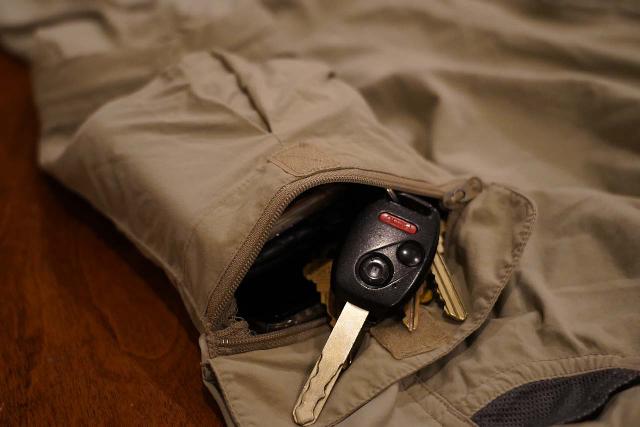 As a result, over the years, I've pretty much relegated these pants to rugged situations where I don't mind it if they get thrashed and I don't need to wear them again for a while (let alone the rest of the trip).
Basically, this means I'd use the ExOfficio Hiking Pants where I knew I had to get them wet in a river crossing or at a swimming hole, because I can take advantage of the quick-dry on the hike out. Under such conditions, I'd stow my wallet and keys inside my pack instead of the pants.
PROS:
Similar Classic Functional Cargo Design
No Need to Wear Underwear with It (maybe Good for Swimming)
May come pre-treated with Permethrin
Durable
CONS:
Pockets (especially lone zipper-secured thigh one) are too small
Belt Buckle tends to come loose with intense use
Attached belt tends to loosen with intense use
Outdoor Research Ferrosi
I bought my Outdoor Research Ferrosi hiking pants on sale at REI-outlet so it came in a bright orange color, which my wife and daughter hated (though they did have more benign colors at full price).
That said, I cared more about the pants' functionality and I really wanted to give it a try regardless of the fashion statement, especially since it had gotten consistently good reviews across a variety of roundup reviews on the interwebs.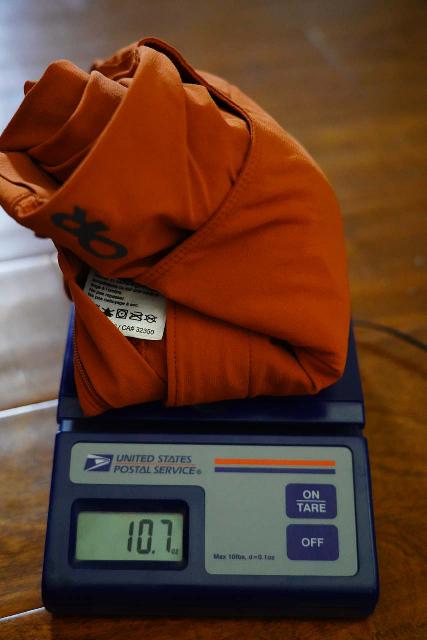 In any case, this pant represented a bit of a departure from the REI Sahara hiking pants that I had been accustomed to for the better part of two decades.
First, the Ferrosi pants were made of a blend of mostly lightweight ripstop nylon and elastane, which hugged my legs a bit more while making it the lightest hiking pants that I own at less than 11 ounces (weighed on a postal scale).
Yet despite these departures, it did not compromise my mobility and comfort, and in fact, it has performed well when I did a hike to somewhat rugged hike to Pillar Falls and Box Canyon Springs in Idaho.
Moreover, the hiking pants were also sweat- and water-resistant so it retained the desirable quick-dry properties that I enjoyed with the REI Co-op Sahara Pants.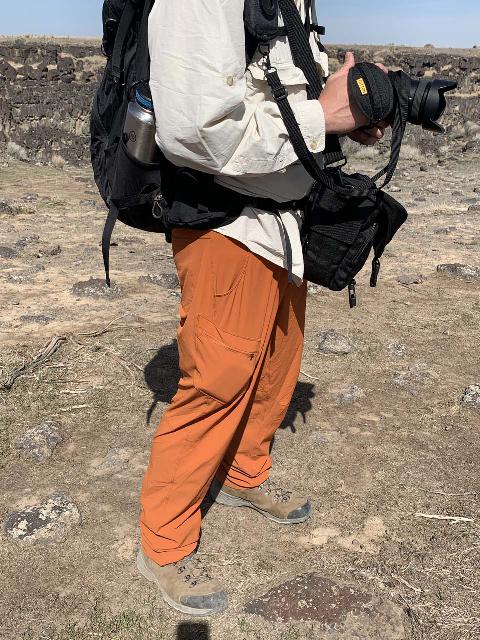 Second, the Ferrosi that I have is not zip-off convertible into shorts, and it has been claimed to be roll-up convertible, but how far up I can roll the pants (to make it shorts again) seemed to be more of a hack (perhaps more for climbers) than a design feature. That said, they do have a version of the Ferrosi that's truly convertible.
As far as the pockets are concerned, I appreciated its singular zippered thigh pocket that is deep enough to store the entire length of my smart phone or my wallet and keys (barely all three) together.
However, the OR Ferrosi hiking pants doesn't include an attached belt, and it has a standard loop button fly, which makes this a bit more difficult to quickly engage or disengage the pants for those times when Nature calls.
Finally, the OR Ferrosi is priced significantly cheaper than the high-end Arc'teryx Gamma LT pants (described next) even though they share a lot of similarities.
PROS:
Elastic Material for Good Range of Motion
Very Lightweight
Decent Zippered Thigh Pocket
Pretty Good Value
CONS:
Could Use A 2nd Zippered Pocket
Current Zippered Pocket Could Be Deeper
Doesn't include an attached belt
Fly Fastening Done with Threaded-Button Loop
Not Truly Convertible To Shorts
Arc'teryx Gamma LT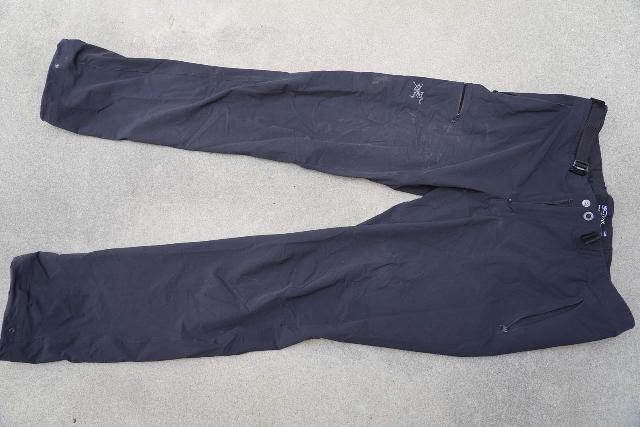 The Arc'teryx Gamma LT hiking pants are perhaps the highest end pants that I've bought and used, especially since I was keen to see whether the price was justified (as they're nearly 2x to 3x the price of what we paid for our various REI Co-op Sahara pants).
For starters, the pants were made of a proprietary abrasion resistant Fortius DW 2.0 fabric (combining nylon and elastane) so it actually was a tighter "skinny jeans" kind of fit as opposed to the loose baggy fit that we had been used to with the Saharas.
This actually made the Gamma LT pants a bit more "street smart" as it could pass as typical street clothes even though it was made for the outdoors, but the elasticity still allowed my legs to have full range of motion.
Like the OR Ferrosi pants, I can't natively turn the pants into shorts since the roll-up doesn't seem to be designed to go past the ankles (though the drawstring on the bottom of the pant legs does let me hack a higher roll-up into shorts).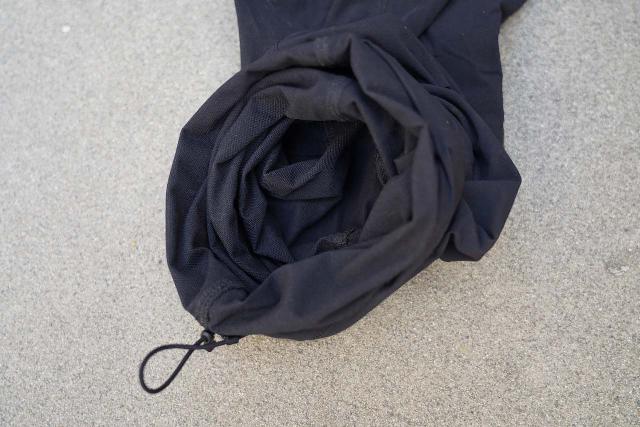 However, the Arc'teryx Gamma LT differentiates itself by including an snap-fastening button fly with an easy-to-engage included attached belt.
Thus, these things don't get in the way when Nature calls, but they also accommodate my varying waist sizes for those times I might have packed ona few pounds (or lost them) as well as had a bit less of dehydration.
Another differentiating aspect of the Arc'teryx Gamma LT hiking pants that I really appreciate is that there are actually three deep zippered pockets – 2 hand pockets and one thigh pocket.
This ensured that I have safe places to put my wallet, keys, and phone without losing them nor without damaging them either.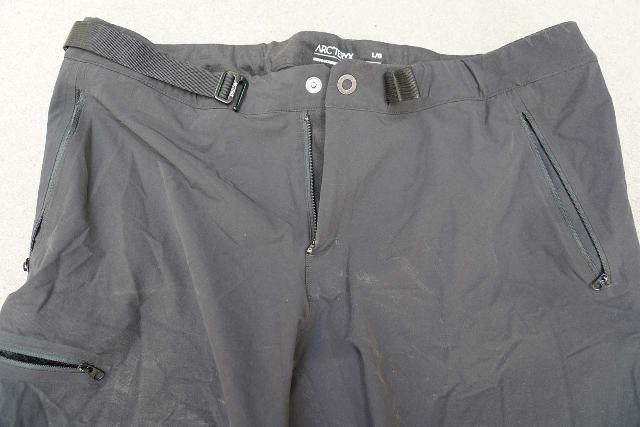 I guess for hiking pants as pricey and high-end as the Arc'teryx Gamma LT, you'd expect them to pull out all the stops in terms of features, and that's pretty much what has been done.
PROS:
Stretch Nylon Skinny Fit
Passes as "street smart" pants
Has 3 big zipper-secured pockets
Snap-fastened button fly with easy-to-engage attached belt
Durable and water-resistant
CONS:
Available Colors tend to be too dark for hot weather
Not truly convertible
Very expensive
Final Thoughts / Conclusion
Overall, hiking pants drastically improve the outdoor experience (including chasing waterfalls) over streetwear pants like khakis, athletic trainers, shorts, and jeans.
Like their military predecessors, hiking pants typically provide water resistance, (secured) utility pockets, and durability, but they also have the versatility to convert into shorts (or vice versa).
Furthermore, these useful features also carry over into enhancing the travel experience because I've found them to be practical in airports, on planes, and while sightseeing (including city centers).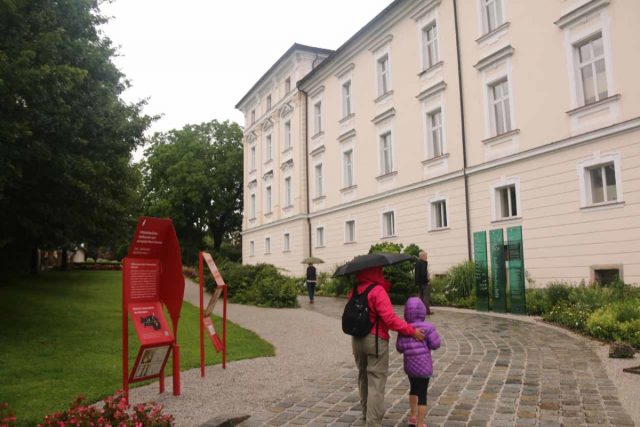 Heck, they can even be re-worn before getting into the wash, which you may want to do anyways to better retain the water resistance as well as any insect repellent treatment they might come with.
Such versatility in these cargo pants allows me to pack lighter with less bulk thereby saving valuable luggage real-estate.
In any case, ever since we started using hiking pants on our hikes and in our travels, we have never looked back on using anything else for outdoor or casual sightseeing purposes.
Indeed, next to hiking boots, I believe thiking pants are the next most important gear since they stay with the body throughout the day or even throughout the trip.
That's why I highly recommend wearing hiking pants for any kind of outdoor excursion whether it be hiking to waterfalls, sightseeing in foreign lands, or even doing gardening work!
Check out which hiking pants are available right now!
Please note that this is not a sponsored post. However, there are affiliate links that help pay for this site. You can read more about these in our affiliate disclosure in the footer at the bottom of this post. If you have questions or comments, please use the comment box below.
Visitor Comments:
Got something you'd like to share or say to keep the conversation going? Feel free to leave a comment below...
No users have replied to the content on this page