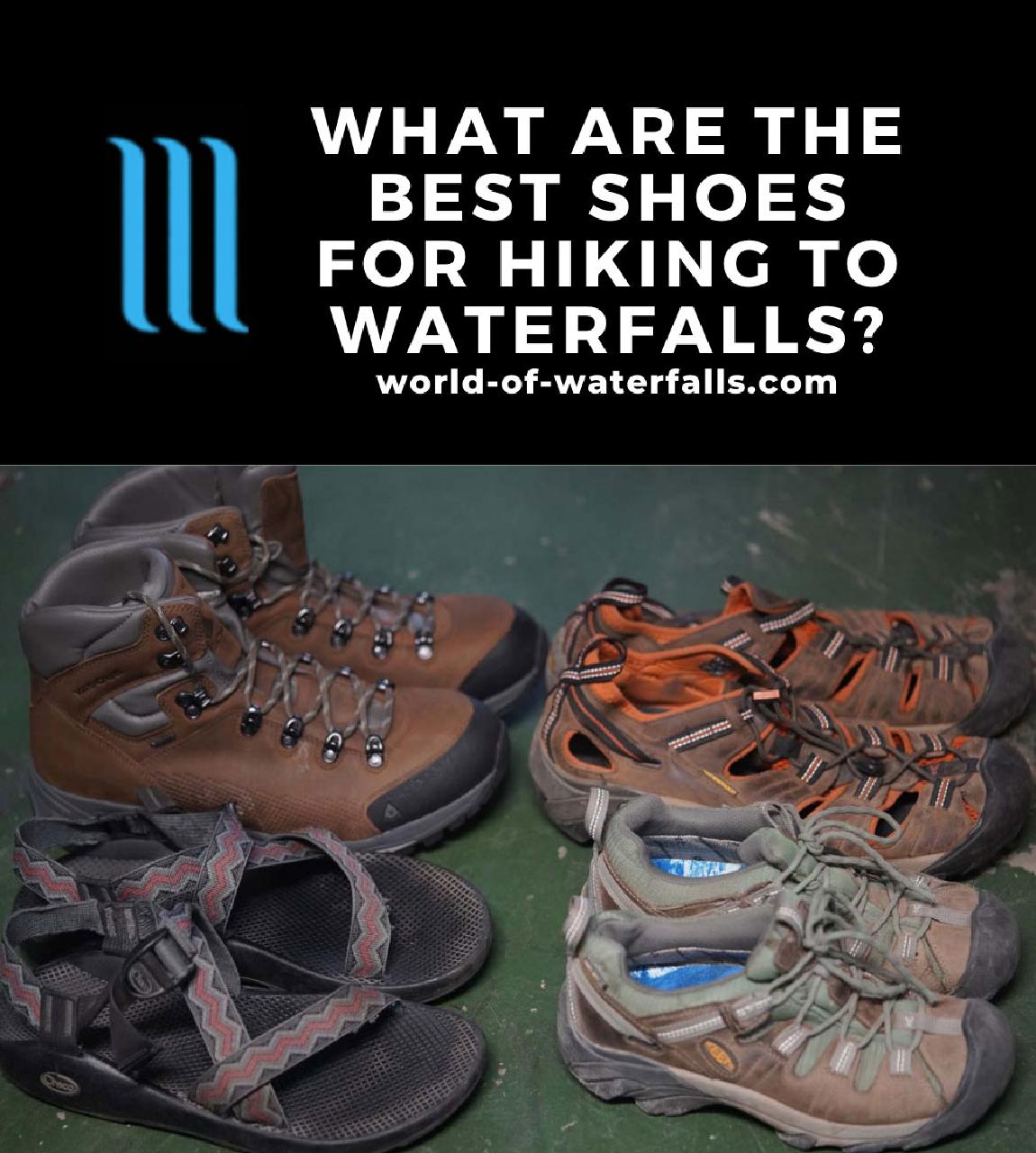 When we chase waterfalls, we typically encounter water on our hikes, especially if the waterfall has good flow. So we often ask ourselves this question. Which is the best footwear that we should choose on our waterfall hikes? Should it be waterproof hiking boots? Water shoes? Water-resistant shoes? Trail running shoes? Or something else?
Indeed, there's a lot of selection out there, and it's hard to definitively say which shoe is best in general.
After all, everyone has different preferences regarding comfort, function, and even fashion.
Furthermore, picking which shoe to use on a waterfall hike depends on things like the trail conditions, length, terrain, weather, climate, and more.
Therefore, we'll discuss how we consider which hiking footwear to use on our waterfall hikes.
That way you have a reference point on what we do, and then you can tailor your decision to your own situation.
Why Do We Need To Consider Which Shoes To Wear For Hiking In Water?
Because waterfall hikes typically involve hiking in water, we have to consider the following issues.
Comfort
Regarding comfort, we've had hikes ruined by discomfort resulting from poor footwear selection or poor fit.
And by discomfort, we don't necessarily mean something superficial where we should just suck it up and press on.
Indeed, discomfort could lead to bigger problems like open infection-prone wounds, debilitating injuries, and risk to our general safety on the trail.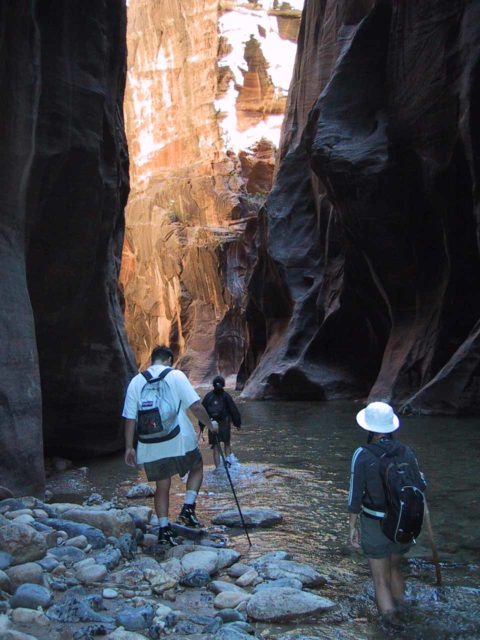 For example, we've faced issues like chafing (rubbing), which caused open (bleeding) cuts or wounds that could cause infections, especially when you think about how disgusting the inside of a shoe can be while hiking.
In addition, we've also faced blisters, which are not only painful, but they can also get infected when the blisters burst.
Julie has even had problems with new callouses that formed on her feet as well as foot pain or numbness due to a combination of improper fit or insoles that didn't seem to work for her.
We've even had experience wearing improper shoes on hikes like an old pair of basketball sneakers in cotton socks on a river hike.
This not only made my feet pruny and miserable, but it also made climbing onto wet boulders very challenging due to poor traction.
As a result, these issues have further complications regarding the health and safety of our feet as well as our body, which brings me to the next aspect of why we care about which shoes we wear on our waterfall hikes.
Safety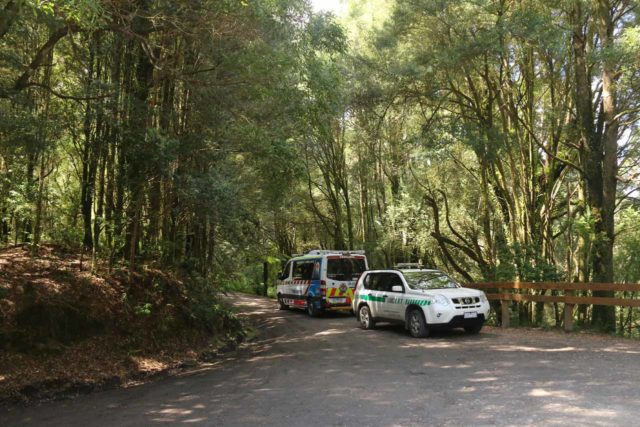 Another critical aspect of why we care about selecting the right footwear for waterfall hikes is safety.
Not only do we care about having feet that are healthy and fully functional, but we also care about maintaining balance and control while hiking.
So the things we look for regarding safety are:
traction – how well the boots grip the surfaces we walk on
feet health – minimizing fungus, blisters, pressure points, etc.
foot protection – preventing injury from kicking rocks, from getting stabbed by sharp objects, from twisting ankles, from poisoning by snake or insect bites, etc.
Indeed, we wouldn't want to slip-and-fall around a cliff or have that happen to us while crossing a stream or river (especially with carrying expensive equipment like a DSLR camera or phone).
And we definitely wouldn't want to have our feet rot from within through fungal infections like athletes foot or even trench foot.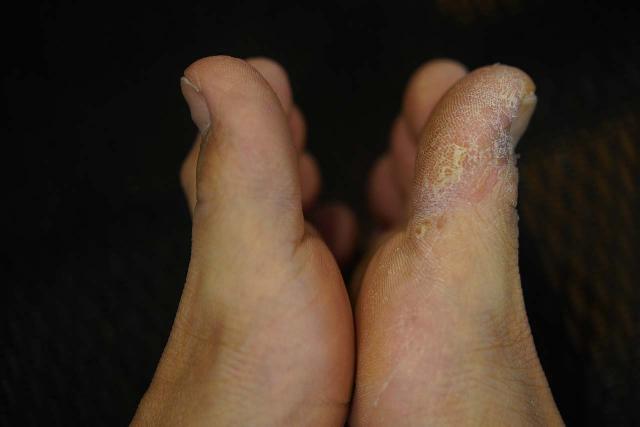 We've even witnessed people with improper footwear have slips-and-falls on sections of trail that we had little or no difficulty with.
Moreover, we've witnessed a hiker break her ankle on a trail and we've also heard of deaths around the same trails that we've done.
So we definitely take our safety very seriously, and it's a major consideration when we try to weigh the benefits versus the cost of purchasing the right footwear for our waterfall hikes.
Cost
Finally, we consider cost when we choose which footwear to use on our waterfall hikes, but we're not just talking about the cost of the footwear itself.
We also consider long-term cost like how long the boot or water shoe (depending on the situation) is going to last.
Moreover, we look at the potential costs of infection, injury from broken bones or torn ligaments or tendons, search-and-rescue from incapacitation, etc.
We even consider potential damage to precious cargo (e.g. a toddler or expensive camera gear) from a bad slip-and-fall.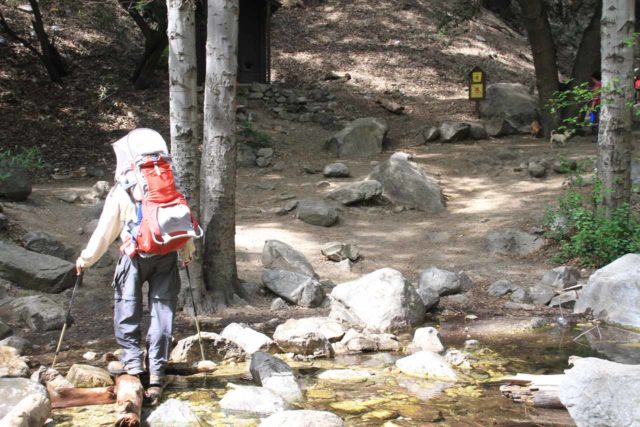 Obviously, we'd like to prevent those potential costs from happening.
That's why we tend to invest upfront in footwear quality, good health, and injury prevention so we wouldn't have to pay through the nose in emergencies or injuries later on.
What Types Of Footwear Do We Consider For Waterfall Hikes?
We consider hiking shoes in much the same way as the tools we've got around the house.
After all, household tools are designed to make specific household tasks easier and safer.
In the case of hiking footwear for waterfall hikes, they're essentially tools that enable us to reach waterfalls more easily and safely.
So with that in mind, the types of footwear that we consider for waterfall hikes are the following:
There's a bit of overlap between these types of hiking shoes so what we've listed here aren't all that's out there on the market.
That said, there are key attributes and differences between each of these categories of shoes and boots, and we'll point them out in this section.
It's worth mentioning that there is no one perfect design that suits everybody.
Heck, even for an individual, there are still situations where a particular shoe works better in certain situations than others.
So in this section, we break down what each of these shoes can do as well as where and when we would favor its use.
If you'd like to see what specific shoes that we've worn in the field for each of the above-mentioned categories of shoes and boots, you can jump to the buying guide and click here.
Waterproof Hiking Boots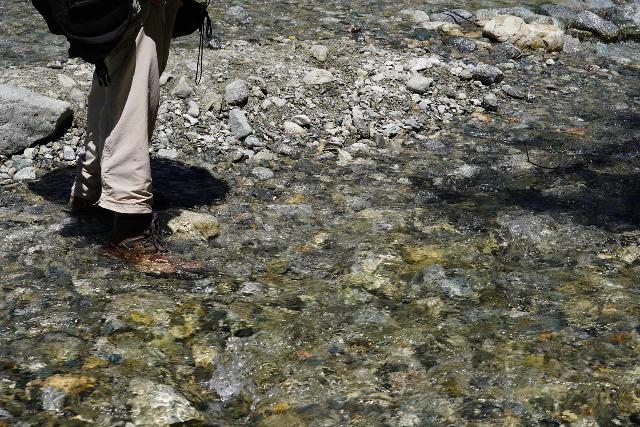 Waterproof Hiking Boots are primarily high-top hiking boots with a membrane (like Gore-tex or GTX) that keeps water on the outside away from our feet.
In other words, we can cross creeks or rivers (which we encounter quite frequently on waterfall hikes) as long as the water doesn't get higher than our ankles.
That said, if we wear such boots, we also wear wool hiking socks to wick away moisture from the sweat of our feet given how less breathable the waterproof membrane can be.
There's generally a trade-off between breatheability (i.e. how sweaty the feet become) and leakiness (i.e. how much water from the outside makes it past the membrane and into the boot).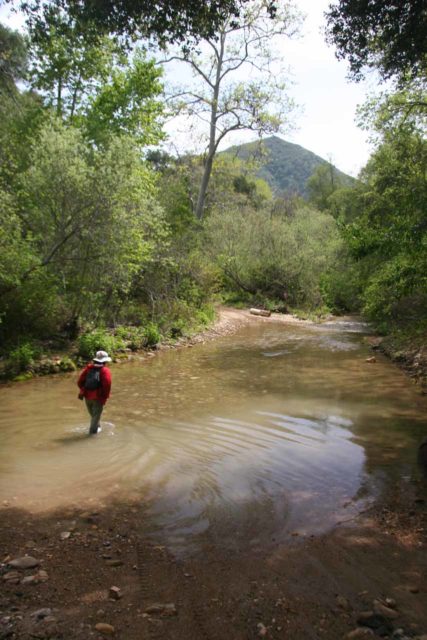 If water somehow got into the boot from the top, then the Gore-tex would work against us by acting more like a bucket given that it traps and pools the water inside the shoe making them even heavier and forcing each leg to lift more weight with each step.
Moreover, the persistent moisture would create conditions that would compromise the integrity of our feet from fungal infections to blisters as well as cuts from chafing.
While hiking boots have sturdy ankle support, good traction, and good protection (almost like foot armor), they also tend to be heavy (especially if they're truly waterproof, which most of them aren't).
I tend to favor wearing hiking boots on rugged hikes that involve a bit of scrambling or even long distances with mild water crossings that are no deeper than ankle deep.
Even on shorter hikes where I know I will encounter mild creek crossings, they tend to be my go to option, because I always felt I'm most able to handle the variety of situations, especially if there's unexpected scrambling off-trail (where dropoffs, trauma, animal bites, etc. are more likely).
However, the exception would be hikes that involve deep water crossings, where in such cases I'd bring a change of shoes and eat the extra weight of bringing them.
That said, I've been caught unprepared without the extra shoes because I often don't know all the hazards and obstacles you're about to encounter, especially if it would be my first time doing a particular hike or adventure or if I wasn't aware of new conditions on trails I have done before!
PROS:
Waterproof up to ankles (possibly higher)
Sturdy and well-built so they usually last
Good Foot Protection & Support
Good Ankle Protection & Support
Good Traction
CONS:
Heavy
Stiff and Bulky (need to break them in when new)
If water gets in, it doesn't come out (so it's bad for very wet hikes)
Need to wear with hiking socks (not ordinary cotton socks)
Check Out The Hiking Boots That We've Used


Waterproof Day Hiking Shoes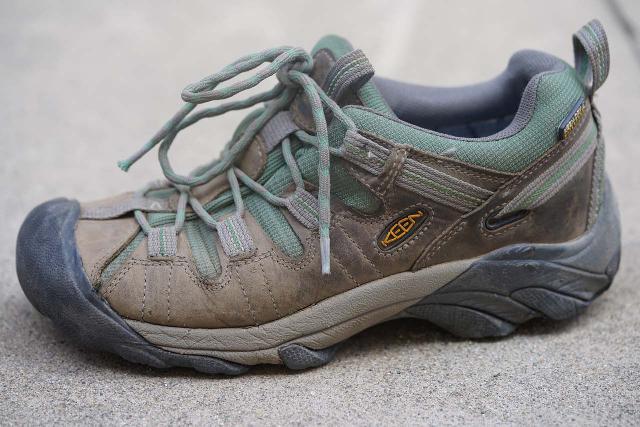 Similar to the waterproof hiking boots, the waterproof day hiking shoes also have a waterproof membrane to keep water out of the shoe.
However, in order to save on weight, compromises have been made in terms of ankle support and the water entry point of the shoe.
While I tend to favor the waterproof hiking boots for our waterfall hikes, my wife actually prefers waterproof day hiking shoes in this category.
She typically finds them to be more breathable and lighter, and they still give her piece of mind with foot protection in case she kicks a boulder or something stabs at her feet.
However, she does have to figure out ways to stay dry on creek crossings given the lower point of water inundation inside the shoe.
PROS:
Flexible and more forgiving than hiking boots
Foot Protection
Good Traction
Less weight than hiking boots
CONS:
Waterproof only up to breathable mesh (e.g. up to arch of foot)
Less ankle protection due to low top
Mesh is only water-resistant and needs treatment to repel water
Can still be heavy
Check Out The Hiking Shoes That We've Used


I should mention that a very specialized class of hiking shoes are canyoneering shoes.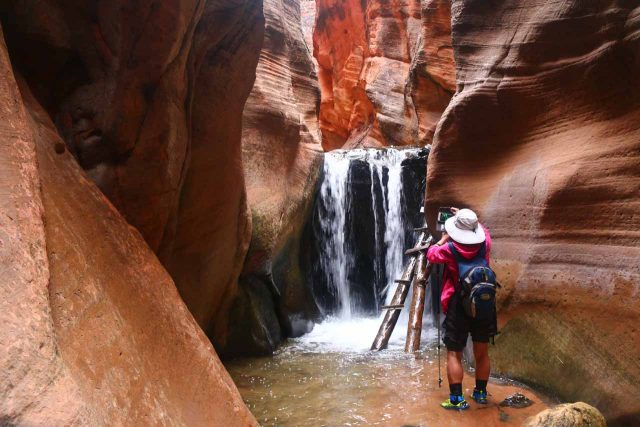 The idea behind these shoes are that unlike hiking boots or shoes where you don't want water inside them, the canyoneering shoes are designed to quickly let water out yet retain the ruggedness of hiking shoes.
They have very good grip on slippery surfaces thanks to their rubbery sole, they have ankle protection, and they're sturdy since they're built for rugged use on technical canyon adventures.
However, they're costly and we don't do canyoneering often enough to buy them.
Our only experience with canyoneering shoes are for water-based hikes like the Zion Narrows and Kanarraville (Kanarra Creek) Falls, where we'd rent these at nearby outfitters.
These outfitters also provided neoprene socks to keep the feet warm even though the water would be painfully cold.

Hiking Sandals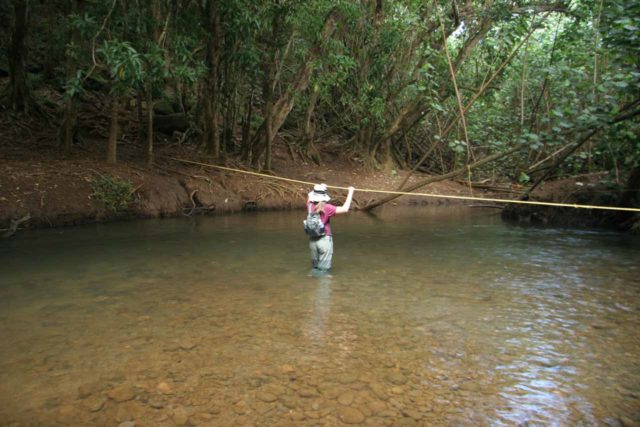 While waterproof hiking boots and shoes are designed to keep our feet dry during our waterfall hikes, water sandals or (sandals acting more like shoes) allow water to get in and get out.
This means that water depth is not an issue on our hikes.
In our experiences, water sandals (as well as sandals that act like shoes with toe protection) are typically light, flexible, and they're very breathable given how exposed some parts of the foot are to the open air.
With the more minimal sandals, sometimes I'd favor wearing them instead of the more covered "shoe sandals" for ultimate open-foot breathability, and these can be rugged enough to handle hikes, but they definitely lack foot protection.
Anyways, one of the drawbacks to this open-feet scheme are that every so often, we get a pebble, rock, or sand underfoot which causes us to have to remove the shoe to get rid of them.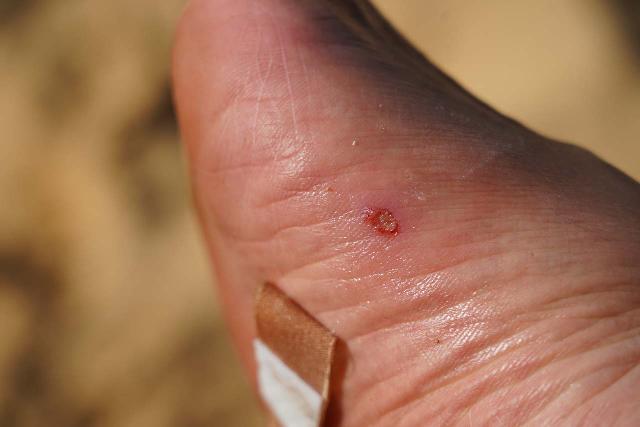 I've also had to deal with persistent dampness for the more shoe-sandal hybrid, which causes chafing on long-distance hikes where I was stuck wearing them without an alternative.
In fact, I've had to deal with open wounds on such long distance adventures like the 16-mile Union Falls hike or the 8.5-mile Hanakapi'ai Falls hike.
Finally, the vibram or spider rubber soles on the bottom of water shoes tend to make them pretty grippy, especially in streams and creeks where we'd have to walk on slippery boulders or rocks.
That said, over time, this grippiness does tend to wear off pretty quickly so when it comes to older pairs of these water shoes, I do start to lose confidence in how well they grip on such wet surfaces.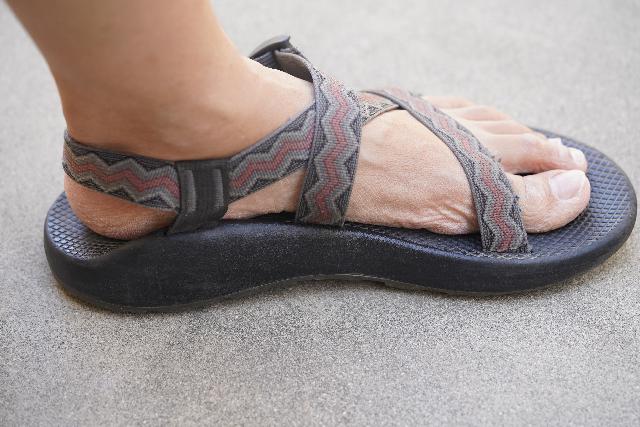 PROS:
Breathable
Flexible
Lightweight (at least lighter than shoes and boots)
Water depth not an issue
Toe protection (typically)
Good Traction on wet surfaces
CONS:
They chafe on longer hikes
Rocks, pebbles, sand, etc. can get under foot
They get smelly after use
Minimal ankle and feet protection and support
Check Out The Hiking Sandals That We've Used


Aquatic Water Shoes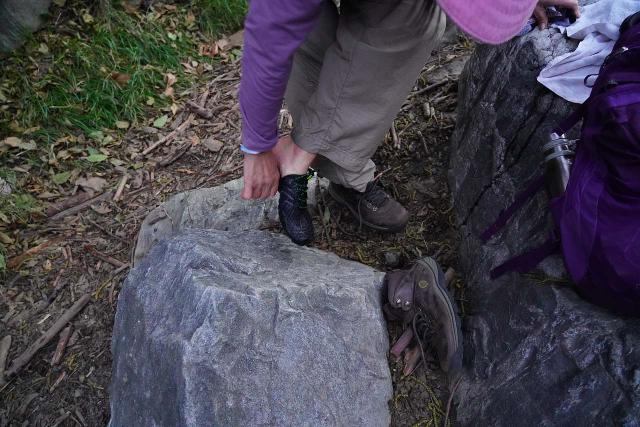 Speaking of water shoes, you can go to the far extreme with shoes that are intended to be in the water for long periods of time (i.e. they're aquatic).
Such shoes include reef shoes or canoeing shoes.
This can be a much cheaper alternative to the rugged hiking shoes and sandals that we've discussed so far, especially since such expensive shoes (especially hiking boots) can be ruined when they're inundated.
Aquatic shoes also have very grippy soles since they're designed for walking on wet and slippery surfaces.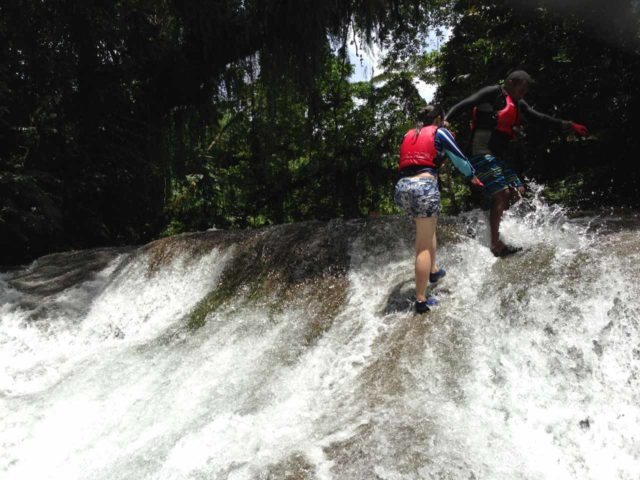 However, you're paying a price for the light weight and permeability with a lack of foot and ankle support as well as protection.
The problem with these shoes is that you'll feel every rock or branch that you step on, which can be surprisingly painful and potentially hazardous if there are thorns or other sharp objects.
Therefore, you're likely to be forced to be pay very close attention to every step you take on the trail, and in fact, I've even managed to get many more foot cramps in them given the lack of protection and insulation.
They also let in pebbles and rocks given their low profile as well as permeability to let water out (again, that tradeoff between protection versus permeability).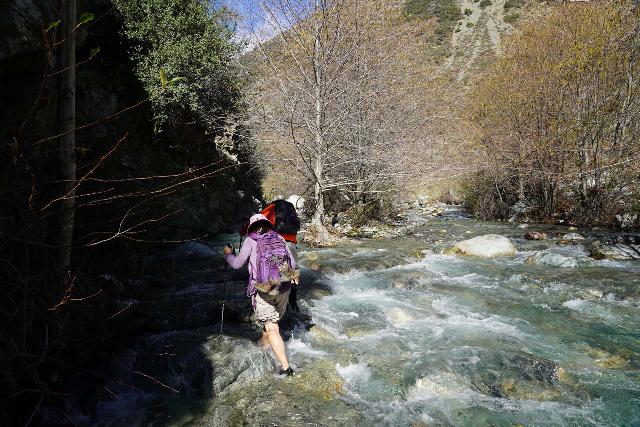 As a result, I wouldn't use these shoes for long and rugged hikes.
This was something my Mom complained about when she got tired of changing shoes all the time on the same long hike (like the Bridge to Nowhere in winter), where she had to suck it up for most of that adventure.
Nevertheless, we've used such shoes in the tropical destinations where packing light is important, and they're more than capable for shorter hikes or for excursions where you're in the water a lot.
Indeed, using aquatic shoes for limited hiking that involves a lot of water is definitely a hack (i.e. it's not really meant for this purpose), but it's pretty capable as long as the hiking is not long and involved.
PROS:
Very Good Traction On Wet Surfaces
Lightweight And Compact
Water depth not an issue
Very Affordable
CONS:
Not Meant To Be Used For Long Hikes
Minimal Ankle and Feet Protection
Lets In Rocks
Can Feel Objects Underfoot
No Arch Support
Check Out The Aquatic Water Shoes That We've Used


Trail Running Shoes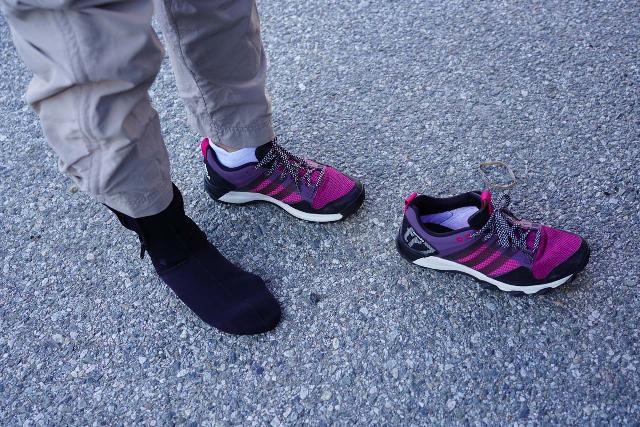 Trail Running Shoes are built for running on trails, which can involve stream crossings, rocks, and other types of terrain we'd expect to see on less-developed paths.
For many years, my wife and I haven't use these on our waterfall hikes, but they've become increasingly prevalent on the trails so we finally took the plunge and committed to using them.
I honestly couldn't tell if other people we've seen on the trails were wearing just regular sneakers or if they wore a trail runner, but that goes to show you their appeal as far as looks or fashion are concerned.
That said, after using trail runners ourselves, I'd have to say that so far I've been pleasantly surprised.
The key aspect of trail running shoes that give it an advantage over the heavier hiking boots and low-top hiking shoes is that it can get wet (both inside and out), but it does a good job of not retaining that water inside the shoe!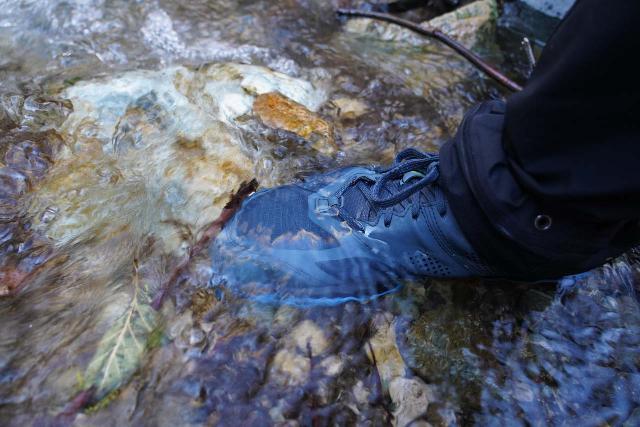 Indeed, trail runners take the philosophy that getting wet is inevitable so you mind as well deal with it.
I really put mine through the ringer on a long hike involving multiple knee-deep river crossings on the Bridge to Nowhere (a very popular mountain hike in the Los Angeles area), and it maintained grip while letting water out.
When it comes to socks that can get wet, I used neoprene socks when I did the Bridge to Nowhere hike in the winter so my feet don't get painfully cold.
After abusing the trail runner, I was then able to dry the shoes overnight, and I was pleasantly surprised that it was dry enough for me to use it the very next day!
Indeed, on that next-day hike, I wore wool socks on a less wet hike to Trail Canyon Falls, and it did briefly get wet in one of the stream crossings, but it didn't bother me (but admittedly, I would have been better off having a change of socks if I didn't expect to get wet again).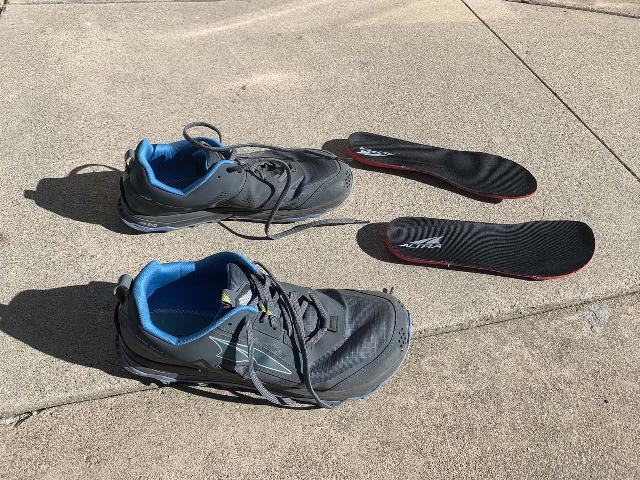 Compared to hiking boots, you're definitely giving up the armor-like protection against kicking rocks, branches, or the odd snake bite (as well as pebble intrusion), but you get a lot more comfort and not a whole lot of dropoff in performance.
As far as longevity is concerned, there's a lot of fabrics and stitching so I'd imagine it won't last as long as hiking boots (though the jury is out on exactly how long before it fails on me).
While trail runners were designed for people who run on trails (which in my mind kind of goes against the principle of being in the moment and spending time on the trail in addition to the destination), it does feel like it's a fine hack for hikers.
Nevertheless, given the flexibility of not having to worry about deep water crossings (compared to hiking boots), it could very well be my new default footwear for our waterfall hikes, especially for new adventures where I don't know what to expect.
I'm still on the fence about that because there are times where I still found it easier with legitimately waterproof hiking boots, especially if I have other hikes to do and I don't want to wait for the trail runner to dry for the next hike…
PROS:
Comfortable
Lightweight
Flexible
Breathable
Quickly Expels Water
Dries Pretty Quickly
Pretty Good Traction
CONS:
Less Foot & Toe Protection
Less Ankle Support
Lets In Some Pebbles
Not As Durable Compared To Hiking Boots
Check Out The Trail Running Shoes That We've Used


Buying Guide: Summary Of The Footwear We've Personally Used
The breakdown we've described above concerns the various benefits and drawbacks of each type of footwear that we've used in the field for our waterfall chasing, but what about particular examples of such shoes?
In this section, we'll relay our experiences with what we've used in the field so far to better inform your own decision making when buying your own pair.
Waterproof Hiking Boots We've Had Experience With
Over the years spent waterfalling, I have worn the following hiking boots…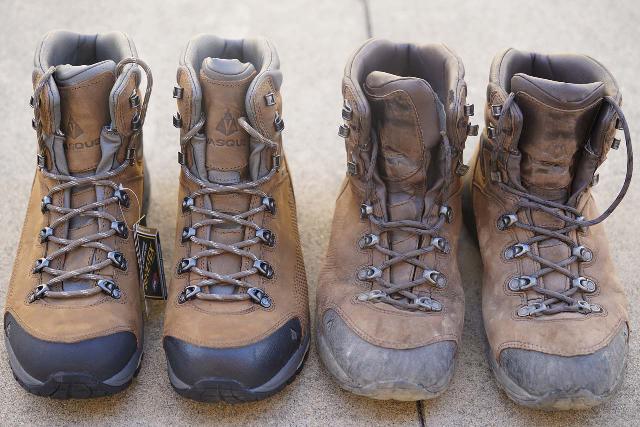 Of the above mentioned boots, I had worn my Vasque St Elias boot more often than not.
Up until the start of this year, it was my go to boot for almost all of my waterfall hikes before supply issues and a change in the material and/or quality took a step backwards.
While I have used it on overnight backpacking hikes, I also use it on shorter day hikes even if it might be a little overkill (sometimes I've gotten surprised by the conditions out in the field so it's better to be overprepared).
Now when we contacted the company about the consequences of the changes to its design and materials recently, they have refunded me since there were COVID-19-related supply chain issues so they couldn't get me a replacement.
Such changes have compelled me to try out different boots, but after trying out boots like the Salomon Quest 4D and the La Sportiva Nucleo 2, I eventually reverted back to the latest version of the Vasque St Elias.
Anyways, if you'd like more information about my experiences with this boot, I've written up a detailed Vasque St Elias GTX Boot Review.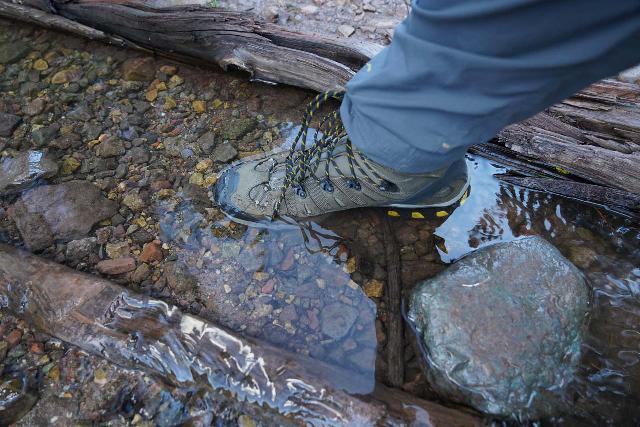 As far as other boots that I have used in the field, I have used the Salomon Quest 4D 3 GTX boot on a trip to Scandinavia (with lots of rugged hiking in Norway) and on a road trip to the Rocky Mountains.
Going way back in time, prior to using the Vasque St Elias boot, I have also worn the Vasque Talus boot.
Most recently, I started wearing the La Sportiva Nucleo High GTX hiking boot, which was surprisingly comfortable and grippy and definitely on par with the Vasque St Elias boots that I've been using all these years.
I've used it on some mildly wet hikes in our local mountains around Los Angeles and Orange County (many of which involved stream scrambling where grip was very important on the slippery creekbed surfaces), and it performed fine though the waterproofing was already starting to get undermined.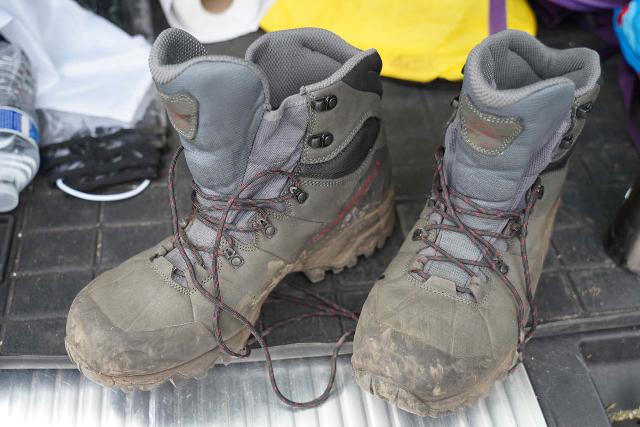 However, the jury is still out on even wetter hikes about how well it keeps water outside the boot, especially if water runs over the foot (but below the high top).
This is especially the case considering how it's noticeably lighter and more breathable than the Vasque St Elias boots that I'm more used to, but it was already starting to come apart (especially near the soles where there's mesh instead of waterproofing so it was eventually losing that feature).
Waterproof Day Hiking Shoes We've Had Experience With
My wife and daughter are the primary wearer of day hiking shoes in our family, and so she has used the following…
My wife tends to wear her KEEN Targhee II low top on our waterfall hikes primarily because they fit her wide feet well, and they give her peace of mind as far as foot and ankle protection.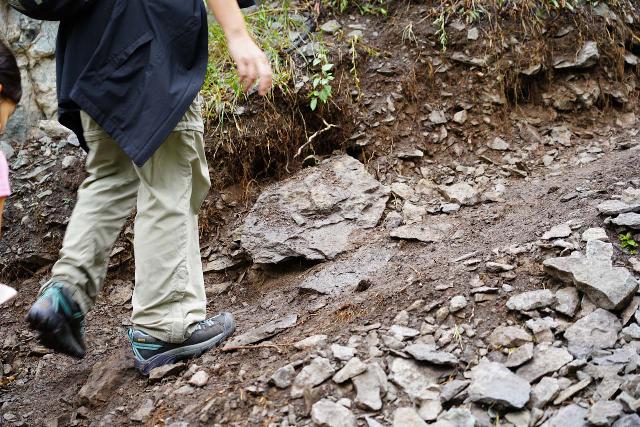 She really only wears the high top waterproof hiking boots when she knows she has to, which hasn't been often over the years because she doesn't like how heavy they are.
Anyways, regarding the hiking shoes, we've noticed that there are also water resistant (as opposed to waterproof) day hiking shoes for even more breathability.
So I guess you can argue that her Keen Targhees fall more into this category.
Nevertheless, there's a bit of overlap between waterproof day hiking shoes and other shoes like trail runners or water-resistant day hiking shoes.
Case in point, before outgrowing them, our daughter hiked in a KEEN Oakridge Waterproof Hiking Shoe, but it seemed more water-resistant than waterproof in her experience.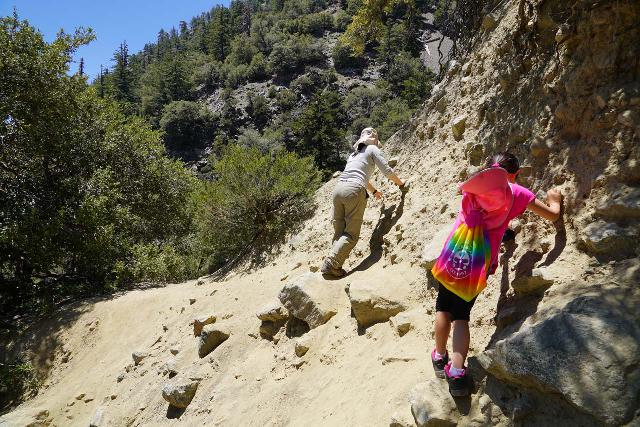 The key difference between a shoe made for kids versus shoes made for adults is that they're easy to put on.
More specifically, there was no need to tie shoe laces as they had pull-strings to tighten the fit.
Of course, the shoe also had other desirable features like being quick-drying, having decent traction, and having decent ankle support.
That said, hiking shoes for kids can be a very touch-and-go affair because they grow fast so our daughter actually benefitted from hand-me-downs given to her by her bigger cousins.
Hiking Sandals That We've Had Experience With
As far as hiking sandals are concerned, we've had experiences with the following:
Both my wife and I have heavily used the KEEN Arroyo II Hiking Sandal primarily when we go on tropical trips abroad where we know that we're going to hike in a jungle environment.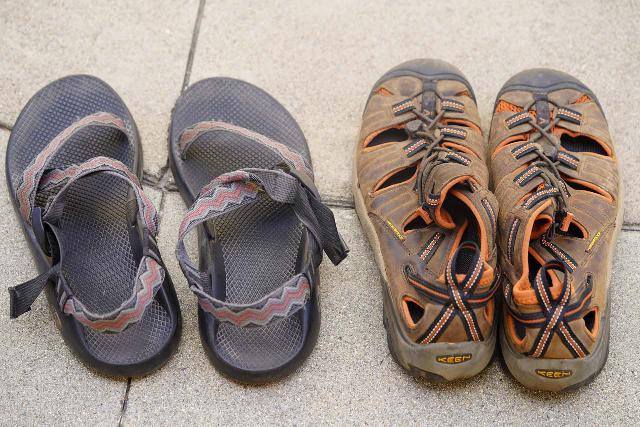 In the past, we've also hiked in KEEN Newport Hiking Sandals, which have an open heel for even more breathability at the cost of less ankle support.
I also used to hike extensively using the even more minimal Classic Chaco Sandals.
However, over the years, I've gone away from using the Chacos for heavy use on the trails given its minimal ankle support, hard sole (i.e. greater landing impact), and lack of toe protection.
Moreover, the treads wear out fast given how much I walk in them in my day-to-day life and in my travels, as they work great for casual use.
That said, I will bring my Chacos as camp wear as well as a lower profile last-resort option if I need to carry a change of shoes when I'm wearing high-top hiking boots that can't get water in them.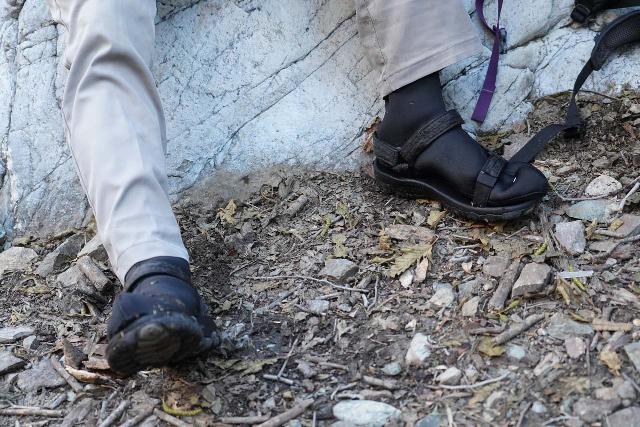 So even though I'm limiting the use of my Chacos in the field on our waterfall chasings, they're still probably my most worn shoes if you take in all the times that I have to wear shoes in my life!
That speaks to the level of comfort and flexibility in their usage as far as I'm concerned (though I'm aware that people either love them or hate them [my wife falls in the latter camp]).
Finally, my parents have preferred to use the Teva Hurricane Sandals (or equivalent) primarily because they can get them cheaper as there are lots of Chinese knockoffs for these.
These sandals can also be much lighter than the Chacos and Keens that I'm used to wearing.

Aquatic Water Shoes That We've Had Experience With
As far as using aquatic shoes for our waterfall-chasing adventures, they're generally "no-name" Chinese-made brands that we get on the cheap from Amazon.
That said, we've had experience with the following…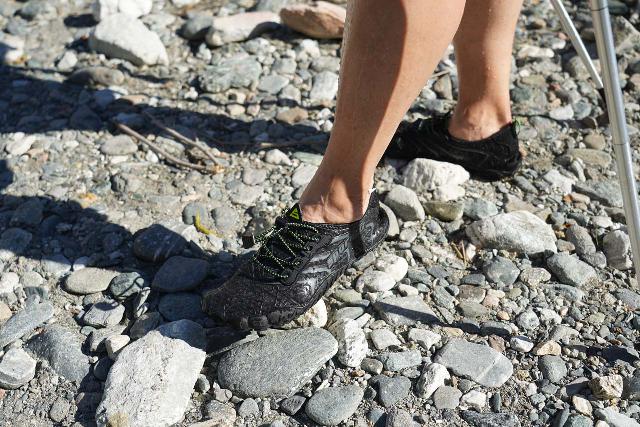 The Ahra Reef Shoes (you can't find this name anymore on Amazon) that we've used were primarily during our trips to tropical destinations where the primary purpose was for snorkeling or on canoe- or kayaking tours.
This is because they pack light and we generally use Keens, Chacos, or even Hiking Boots and Shoes for more rugged purposes (even if they involve water inundation; though less so for the hiking boots and shoes).
All I know is that these reef shoes are really terrible for long-term rugged hiking because the insoles tended to slip and move around inside the shoe.
So imagine the insoles moving when you're on an incline or decline as you're scrambling to a water hole at the bottom of a waterfall!
These shoes also have minimal underfoot padding so you're going to feel every rock, branch, pebble, reef, foot cramp, …, you name it, with every step that you take.
That said, they are pretty grippy since they're made for being in the water.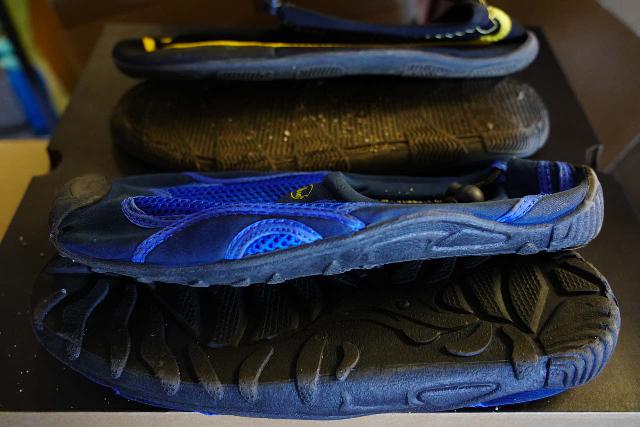 That's why I tend to think of these reef shoes as a hack when it comes to short-term jungle hiking.
Nevertheless, we have started considering using the more recent aquatic shoes by Ubfen for heavy use involving lots of water on our waterfall hikes.
My Mom has definitely had lots of experience with this on the Bridge to Nowhere hike where she thought she could revert to these shoes on every river crossing while using her hiking boots the rest of the time.
Unfortunately, that hike had so many river crossings that she eventually sucked it up and hiked long term with the Ubfen shoes, which actually didn't fall apart on her.
But she wasn't enjoying the experience and really looked forward to putting her boots back on when she had the chance.

Trail Running Shoes We've Had Experience With
Last but not least, the trail running shoes that we've used on our waterfall hikes have been the following…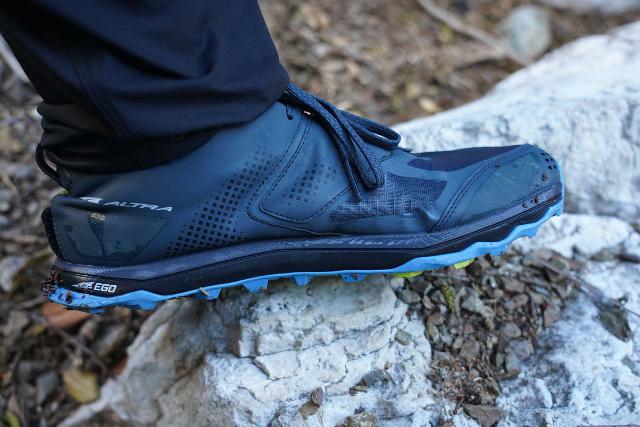 The Altra Lone Peak 5 Trail Runner has been the shoe that I've been using extensively most recently primarily as an alternative to hiking boots where I don't want water getting inside the boot.
And so when I did a fairly strenuous Bridge to Nowhere hike with multiple river crossings that were often knee-deep with current, I really put this trail running shoe through the ringer.
Well, in addition to being more than capable as a shoe that got wet yet still gave me a good deal of traction on that trail (including a landslide obstacle that would have been a very difficult traverse without grippy shoes), it also dried quickly.
In fact, I used the very same pair of shoes the very next day as it was dry enough for me to wear with wool socks and do a much drier and less adventurous waterfall excursion.
As a result of this experience, I'm becoming more convinced that this very well could be my default waterfall chasing hiking shoe for at least most of our local adventures (though I might consider using them abroad as well).
The jury is still out on its longevity, but as far as my biggest headaches with hiking boots, which concerns water submersion, it definitely got me over that hurdle.
I also found its lighter weight and flexibility to be a welcome relief for my feet in terms of comfort and breathability, which also overcame a couple other headaches that I have associated with rugged waterproof hiking boots.
Unfortunately, such features come at the cost of less protection, and I definitely injured a toe when I kicked a boulder scrambling, which wasn't fun (but at least it wasn't broken).
So that reinforced in my mind that I definitely have to be more careful about my steps when using this shoe, and it also made me more conscious of possible snake bites since I have been near them (not intentionally mind you) in my travels.
Finally, I did have a chance to try out the Altra Lone Peak 6 shoe (which had the benefit of more vent holes and more rigid construction), but I eventually returned it because it was too narrow and snug for my liking, which wasn't the issue with the Altra Lone Peak 5 shoes.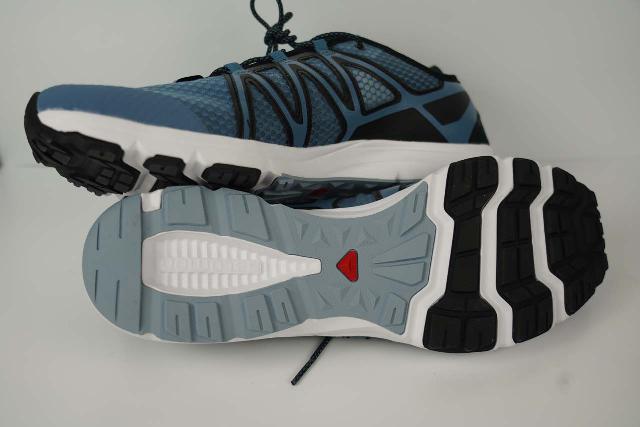 Regarding the Salomon Crossamphibian Swift 2 cross training shoe, the jury is still out on that one as we haven't had a chance to abuse it in the water yet.
It positioned itself as more of a cross training or cross fitness shoe as opposed to a trail runner, and we'll be putting it through the ringer in the coming months (and updating this review) when we get the chance.
Finally, since we've been mulling over the question about trail runners versus hiking boots, perhaps this article might shed some more light on whether trail runners might be the right shoe for you.
When and Where Do We Use Which Shoe On Our Waterfall Adventures?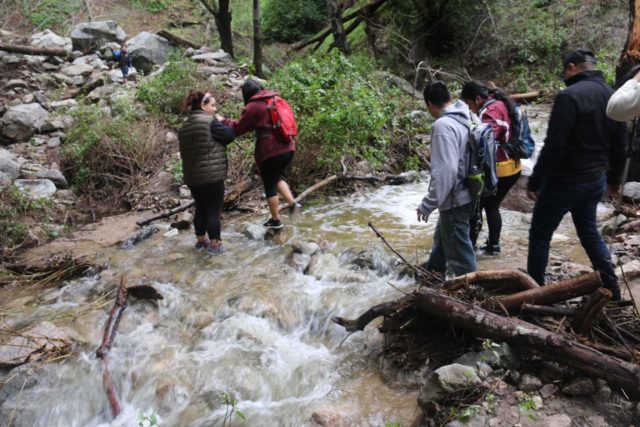 As you can see from the pros and cons of the various types of hiking footwear, we often have to consider when we want to use which type of shoe.
When it comes to general purpose hiking, I have traditionally used my waterproof hiking boot for most of our waterfall day hikes as well as overnight backpacking trips where I want to keep my feet dry.
Even if hiking boots might be overkill on some of the shorter waterfall hikes that we do, I at least have the piece of mind knowing that if there's any unexpected off-trail scrambling or shallow crossings involved, then I don't have too much trouble with them.
In general, I use waterproof hiking boots on mountains, in canyons, deserts, and in temperate rainforests though I might even use them in jungles if I knew in advance that I wouldn't have to cross deep water (though that's not always known).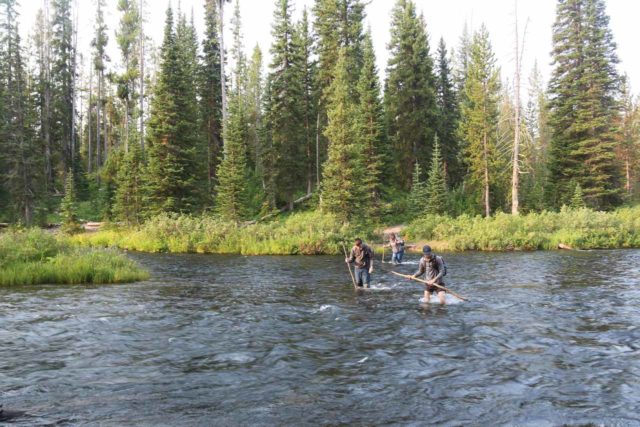 That said, given how hiking boots aren't really well-suited for any hikes involving getting water inside them, I've really started reconsidering this default position and utilized well-made trail running shoes more often.
Thus, I feel confident using them for similar situations as I've been using for hiking boots (though I'm still on the fence about favorite legitimate hiking boots over trail runners or vice versa).
Perhaps the only exceptions to this would be rugged off-trail scrambles that don't involve deep water, especially overgrown or rocky terrain where I might encounter a hidden snake.
I'd also favor hiking boots over trail runners for overnight backpacking treks where the lightweight construction of trail runners might really age fast given the heavier packs I'd have to burden myself with in the backcountry.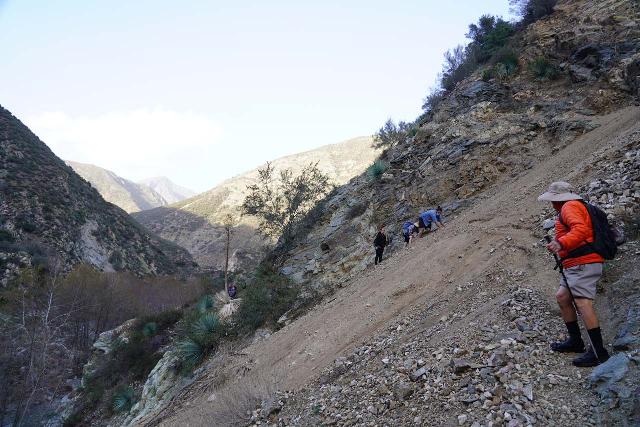 On the flip side, my wife prefers day hiking shoes for general purpose hiking so water crossings can be more of a problem for her.
She only uses waterproof hiking boots if she knows that she needs to (but that thinking may not be practical because you often can't predict what conditions you might encounter, especially if it's a hike we haven't done before).
As far as tropical destinations and anticipated jungle hikes are concerned, we tend to use hiking sandals or aquatic water shoes, to a lesser extent.
Sometimes we only use the hiking sandals or "shoe-sandal" hybrids for the whole trip, but we don't often use these shoes for other occasions on hikes domestically.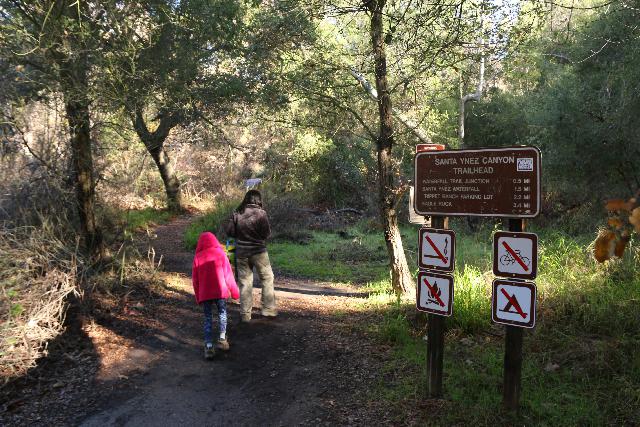 There's also no hard-fast rule for picking one shoe over another on an entire hike or trip. Sometimes we bring more than one type of shoe if we find it worth packing the extra weight.
For example, if I knew that I went on a hike that was mostly dry except for a deep river crossing or two, then might just bring along sandals just for changing into them on those deep crossings while wearing waterproof hiking boots the rest of the time.
In my wife's case, she would bring water sandals for crossing streams while primarily hiking in her waterproof day hiking shoes. In fact, she did just that on a recent visit to Bonita Falls where we had to cross Lytle Creek, which was running pretty high.
Finally, for our travels that involve flying in an airplane, we do have a hack that allows us to get around some of the weight and bulk restrictions of our luggage. Therefore, we can bring both hiking boots as well as more comfortable sandals or street shoes.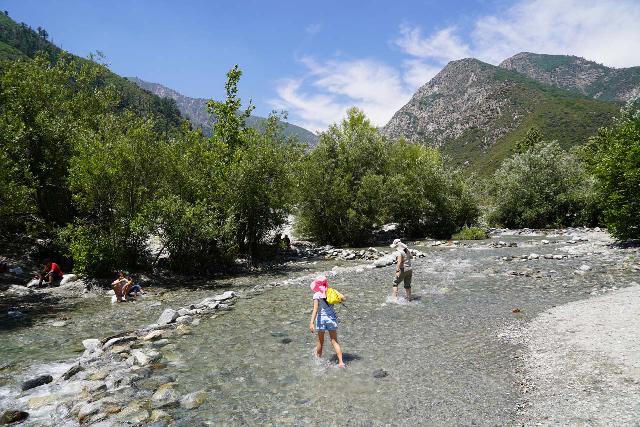 The hack is this.
We would wear our sturdy hiking boots on the plane and pack the smaller, more flexible street shoes or sandals in our luggage.
We'd also wear hiking socks to keep our feet warm when we would take off our hiking boots in the plane.
If you're wondering how we could get past airport security checks where we'd have to take off our shoes quickly, we generally keep our laces untied and tucked under our feet while wearing the boots.
That would allow us to slip in and out of our boots quickly and easily.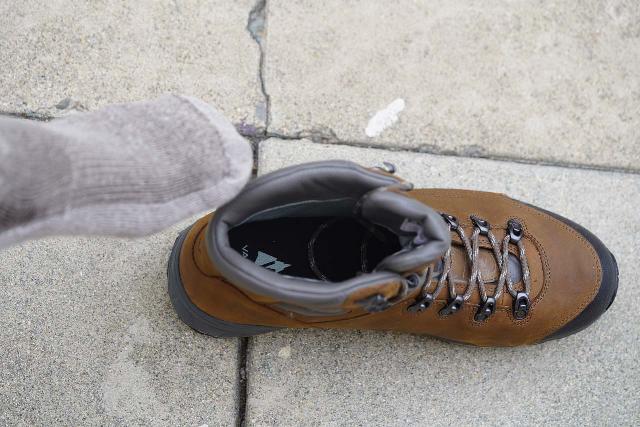 However, we do have to be careful about these shoe laces protruding from the boots and potentially getting caught in escalators or conveyor belts.
Final Thoughts / Conclusion
Indeed, hiking to waterfalls (or hiking in general) depends a lot on our comfort and safety, especially on our feet.
So it makes total sense why we would want to make sure that we don't skimp on finding the right footwear for the job of ensuring we have a successful waterfall hike.
Speaking of finding the right footwear, this is something we don't want to rush, especially when it comes to buying them.
Therefore, we generally go to our local REI Co-op store to try on the hiking boots or shoes before buying them.
If you're not in the West Coast of the USA, there may be other local outfitters that can provide similar services and benefits in addition to the products they sell.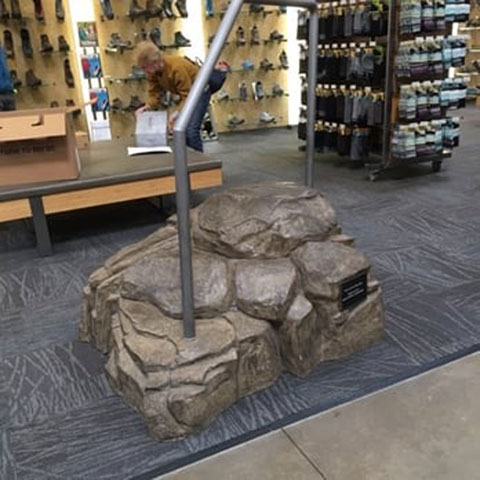 Even though they're not the cheapest, REI has a generous 1-year return policy, which is important because you really don't know if the footwear is right until you try them out in the field.
Anyways, while trying on shoes or boots, we also take advantage of a simulated boulder or rock that REI usually provides to at least try out how well the new boots or shoes perform on inclines.
We also feel comfortable going to REI because they usually have helpful staff who know the outdoors.
So they tend to be pretty good at answering our questions or providing sound advice.
In fact, some employees even run classes or short training sessions on various outdoor topics or skills worth having in the field.
If you'd rather do more research, REI employees have written up guides to help you with various other aspects of hiking boots to consider.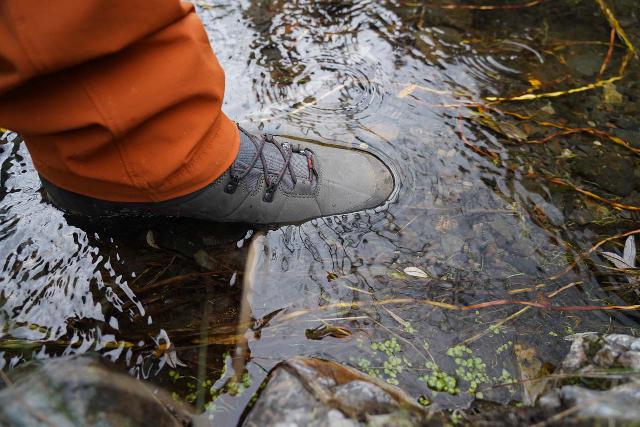 As far as saving money is concerned, we'd only consider buy hiking footwear from Amazon if we know the exact size, brand, and model of the footwear to buy.
The same is true if we wanted to buy online from another retailer like Backcountry.com.
That said, manufacturers tend to change the shoe design from time to time or phase out old product lines.
Amazon also has a more stringent return policy while the returns process is a bit lengthier if things don't work out (not to mention the environmental impact from all the boxing and bubble wraps involved for every shipment).
As a result, the cheaper price often comes with some risk.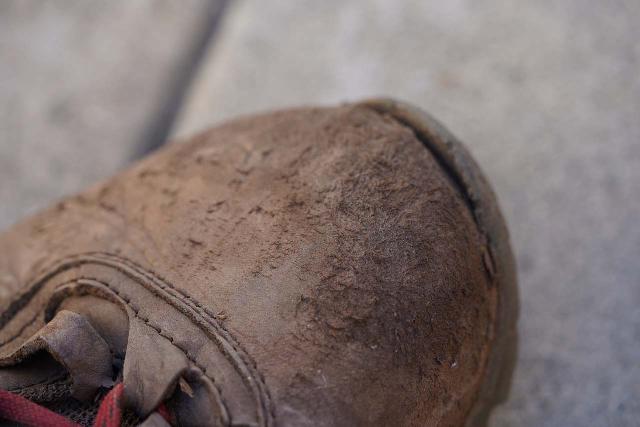 Finally, while this article discussed in depth about choosing the right footwear for the job of waterfall hiking, we have to emphasize that there's no substitute for good decision-making, good preparation, and a good sense of our own capabilities.
After all, we could be wearing the best hiking shoes on the market, but if we make poor decisions or don't prepare well, we can still increase the chances of having accidents and getting injured.
And we have some scars to further drive home this point!
The bottom line is we always want to consider safety and health in everything we do, including chasing waterfalls. Using good hiking footwear for waterfall hikes is only one consideration.
It should complement knowing our limits, knowing what to expect, and considering risk versus reward before doing something foolish.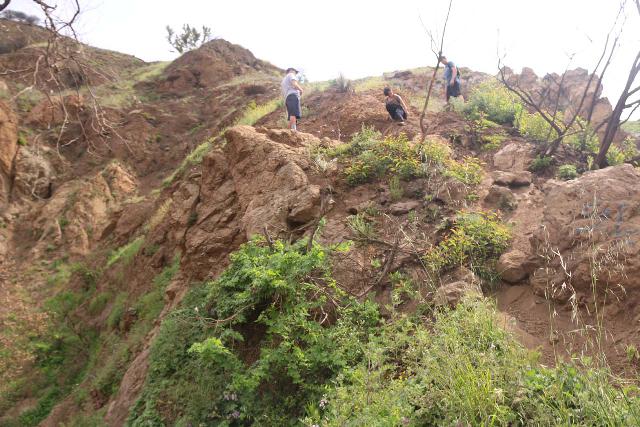 Come to think of it, waterfalling (and hiking in general) is all about good decision making to reap the rewards of having a good experience and living to tell about the adventure.
If you'd like to learn more about how what kind of hiking boots or other footwear that you'd like to use to improve your waterfall hiking experiences, click on the REI button below. It takes you to a series of articles that their experts have written about everything there is to know about hiking footwear.
Finally, if you've got questions or comments about what you've read in this article, feel free to leave them below.
Get more expert advice at REI.
Visitor Comments:
Got something you'd like to share or say to keep the conversation going? Feel free to leave a comment below...
No users have replied to the content on this page