Day 1: A RISKY SCRAMBLE
Julie and I woke up and broke camp before 6am. We had left the Mammoth Campground and its relatively fine weather at around 6:30am.
Today, we planned on getting to the Signal Mountain Lodge to spend our only night in the Grand Tetons. I was really looking forward to seeing the famed skyline of the 13,000+ ft peaks, but given the persistent thunderstorms, I wasn't sure we'd see them.
The drive south through the park was pretty uneventful as we had set out very early and we pretty much took our time going from Mammoth all the way to Norris then to Madison and then on our way to the South Entrance via Old Faithful.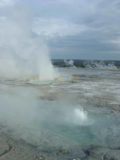 At 7:30am, we arrived at the Fountain Paint Pots and decided to briefly walk its boardwalk towards some more thermal features (I recalled there were a pair of geysers kind of going off at the same time). I figured that we hadn't visited this part of the park during our time when we were staying at the Madison Campground so why not check this place out just to see what it was about.
But I think after seeing the Upper Geyser Basin and the Mammoth Terraces, these paint pots didn't quite hold our interest. Perhaps we were a bit jaded after seeing so many thermal features on this trip. It also didn't help that the weather had threatened rain again and thus muted the colors in the pools.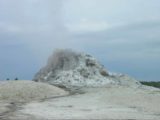 Next, we made a brief visit to a car park near Firehole Lake. We didn't actually see the lake itself, but we did notice there was a geyser cone protruding out of the ground that caught our interest. But we didn't stay here for long.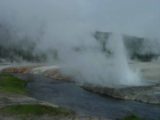 Shortly afterwards, we checked out the Black Sand Basin where we saw more interesting pools. But without the sun's rays amplifying the colors, they were merely ordinary pools. There was another geyser over there that was periodically spouting but not erupting.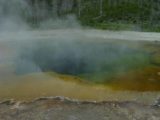 There was also the so-called Rainbow Pool which looked very deep but also very dark. Because of the overcast and threatening skies, whatever colors the name suggested we were supposed to be seeing wasn't present at all.
When we arrived back at the Old Faithful Lodge, Julie and I decided to have a brunch. After all, we weren't in any hurry so why not have one last meal in Yellowstone National Park.
Up until now, we hadn't really spent any quality time in the famed rustic building of the Old Faithful Lodge. So we figured a meal here would immerse us in this gaudy yet historical monument.
The high ceilings and wooden structures really gave us the sense we were in a building like no other. It all seemed so grand. If we had time, I really wished we could've explored the upper balconies, and perhaps checked out an Old Faithful eruption from the lookout near the top of the building.
Anyhow, the buffet brunch was rather ordinary (we knew buffets tended to be this way), but we certainly enjoyed spending time in the lodge.
But now it was late morning and it was time to head further south and leave Yellowstone National Park.
During the drive, I had this crazy idea to give Terraced Falls another try. I was so disappointed with our attempt five days ago that I felt compelled to go back and see what it would be like had I went down that steep cliff towards the base of the falls.
It appeared all along that Julie was skeptical of the idea, but she didn't protest knowing that I had an itch to scratch.
And so when we returned to Flagg Ranch, we headed on our spur on the rough and rugged Grassy Lake Road towards the Cascade Creek Trailhead again. It was about 12:30pm when we arrived at the trailhead with a bunch of mosquitos waiting for me to get out of the car. Julie opted to stay in the car and nap.
So with bear spray in the holster, bear bells attached, and a light day pack with hiking sticks, I was off. Having been through this trail earlier, I quickly made it back to Terraced Falls before 1pm.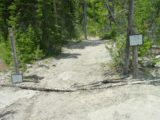 Now, I moved forward past the warning signs and looked down at that gully that kept me from the banks from Falls River below the falls. The scramble still looked steep, but doable. So I left my hiking sticks behind and went ahead with the scramble.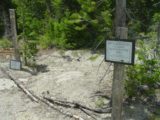 At first, it was fairly manageable, but as I got closer to the bottom, the gully got steeper and parts of the cliff were even wet. I grew worried that once I got down, I wasn't able to make it back up. But I had made it here already and I saw some fallen trees and a few informal footholds that might facilitate my climb on the way back up. Still, I was concerned…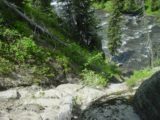 Now that I was at the bottom of the cliff, I was really worried that I might not make it back up. The scramble was steep and the footing was slippery. I sure hoped those fallen trees hanging onto the gully could support my weight on the way up. Then, the dark thunderclouds ominously loomed above threatening to wet the cliff and prevent me from going up.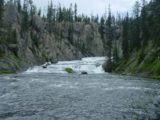 The Falls River almost covered the entire canyon floor I was in. Clearly I could go nowhere without getting into the water. Then, with a roar of thunder, I quickly abandoned any thought I had of trying to get a decent shot of Terraced Falls from its base and just took the photo that was available.
Another roar of thunder ensued, and I hurriedly made my way back up the cliff. The whole time I kept thinking to myself, "Can I make it back up?"
With my heart racing at a million miles an hour from the fear that I might get stuck here, I reached for footholds and fallen trees that precariously hung onto the steep gully. The climb seemed like forever, but you could imagine my relief when I finally saw my hiking sticks again at the top of the gully.
I picked up the hiking sticks and immediately started hiking fast back to the car. My prevailing thought now was about how disappointing both my Terraced Falls experiences were. That cliff scramble I made wasn't even worth it, and in hindsight, it was foolish on my part to even try the scramble.
Once again, it could've been another dangerous situation had the thunderstorm dumped rain while I was at the bottom of the cliff. With water eliminating the friction I would need to get out, I would be stuck and I would also be threatened by the potentially rising waters of the Falls River. It was chilling to think about what could've happened had things not gone my way…
Anyways, I continued the fast walking back to the car. All the while, I was singing Blink 182's "All The Small Things" just because it was in my head at the time and I tried to make sure I wouldn't startle a grizzly bear at the wrong time.
The thunderstorm eventually dumped its heavy rain and even some hail. I didn't care that I was totally drenched. I eventually made it back to the car and an awaiting Julie at a little after 1:30pm.
I was a sweaty mess, even despite the pouring rain. My clothes were full of dirt and mud from my cliff-side scramble. But with the AC of the car rental turned on, Julie and I were headed back towards Flagg Ranch. The thunderstorm started to relent as we got closer to Hwy 89.
It was 2:45pm when we got back to the Hwy 89 just south of Flagg Ranch when I noticed a big brown four-legged animal in the bush to my left. Could this be a moose?
We had seen elk, bison, and black bears, but we hadn't seen any of the more rare fauna such as wolves, grizzlies, and moose. I was excited about seeing the real Rocky Bullwinkle in person (from a distance of course)!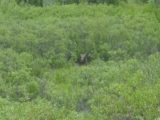 And just when I stopped the car and tried to get a good photo of it, the moose suddenly sat down as if it knew people started taking photos. Me and several other photographers scrambled a bit to try to see the moose again, and we got our views, but the moose stared right at us and didn't seem too pleased. So after taking my photo of just its head, I headed back to the car without any desire to go up against a potentially raging moose.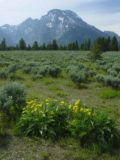 We finally started to see parts of the Grand Tetons Mountain Range after 3pm. What struck us was how much gravel flats we saw. Clearly, Jackson Lake wasn't as big as it should've been and it appeared as if the drought hit this area hard. It was only late June, and I hated to imagine how much drier this area might be as the summer progressed (despite all the rain and thunderstorms we had been experiencing throughout this trip).
As we went further along the road, we caught even more attractive glimpses of the plains fronting the imposing Teton Ranges. We were starting to realize that what made these ranges so attractive was that the rise up to 13,000ft was dramatic as the plains we were in seemed to be pretty low.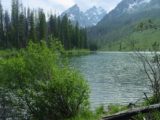 In contrast, you have 14,000ft peaks of the Eastern Sierra in California, but the Hwy 395 was roughly 3000-4000ft so the change in altitude wasn't quite as dramatic as here.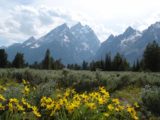 After driving along Hwy 89 deeper into Grand Tetons National Park while taking wildflower photos before the gorgeous skyline, we eventually made it to Signal Mountain Lodge to check in. The view from here was magnificient as it sat right on the shores of Jackson Lake.
Still, there was some hours left in the afternoon to do a little bit of more sightseeing before we would call it a night.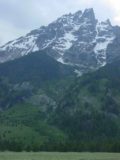 And so we promptly left our belongings in our nice cabin and began the drive further south starting on the Inner Loop Road. The skyscraping peaks of the Tetons looming large behind Jackson Lake and then Jenny Lake was really a sight to behold. We wasted no time taking as many photos of the skyline that we could. We also noticed a few waterfalls (albeit small and wimpy-looking) such as Broken Falls and Ribbon Cascade.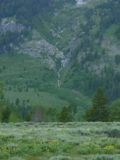 When we headed back north on the Outer Loop Road, we were hoping to get to the famed Snake River Overlook to get a sense of what Ansel Adams saw when he made this viewpoint famous. However, the forbidding thunderclouds covered the mountains and dumped buckets of rain with alarming force. Even the fastest windshield wiper setting couldn't clear the smattering of water droplets quickly enough on our windshield as we drove slowly. We'd have to come back to this overlook tomorrow to pretend we were Ansel Adams.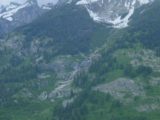 And so we returned to the Signal Mountain Lodge. Both Julie and I were famished and eagerly went to the Peaks Restaurant to have a meal. I couldn't recall what we had over there except I knew local trout was the way to go. Anyhow, the meal was satisfying and the setting probably would've been romantic had we not gone through such an action-packed day of sightseeing.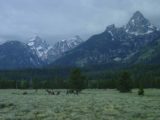 When we left the restaurant, I couldn't help but notice how the fading light of the setting sun painted the thunderclouds purple and pink above the contours of Mt Moran. So with Julie's camera, I took a few sunset shots in the dark but dramatic setting. It was about 9:20pm when I was done taking photographs. Julie was already back in the cabin showering and cleansing herself of the deet and sweat accumulated during the day. Meanwhile, I engaged in a some small talk with a fellow visitor who was also photographing the same thing I was seeing.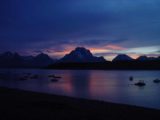 Eventually, I'd rejoin Julie in our cabin as we had to pack our stuff knowing that by tomorrow evening we'd have to return to Salt Lake City and fly home to LA. Only then did I finally take a shower and tend to my dental hygiene before resting with Julie.
It was a relaxing end to another adventurous day. Impressed by the rustic charm and lovely views, we wished we could've stayed another night here. But I knew there was still tomorrow morning to get our last fill of the Grand Tetons before embarking on the 5-hour drive back to Salt Lake City…