Day 2: THE WHIRLWIND TOUR OF THE GRAND TETONS
It was around 5am when I awoke. But when I looked out of our cabin at the Signal Mountain Lodge, it seemed like the skies were overcast. Yet when I looked out in a different direction towards the east, the skies looked clear. Something was up.
In any case, I got up this early because I wanted to see some alpenglow or some kind of soft morning light painting the Teton Range. I wasn't sure if I was already late to the party though.
Nonetheless, I left Julie to sleep in while I got in the car and headed out. My first inclination was to drive all the way to the Oxbow Bend for a reflective view of the Tetons with alpenglow, but it was apparent that fog was obscuring most of the peaks as I was headed north on the Outer Loop Road.
So I turned around and as I was zooming southwards, another guy was driving crazily as he passed me and recklessly zoomed forward probably trying to do the same thing I was doing – photograph soft light on the Tetons.
I was encouraged as I was driving southbound because I was starting to be able to see some breaks in the clouds, and it was starting to become clear that the clouds I saw were merely low lying fog. If I could only get to the top of some place to look at the peaks above the clouds, I'd be in good shape.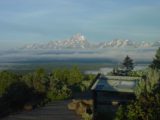 And the nearest peak that I could think of would be the top of Signal Mountain.
I'd eventually be at the top of Signal Mountain by about 6am. Unfortunately, it seemed like the alpenglow had already passed and now it was just soft morning light.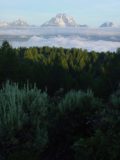 So the best I could do under these conditions was to take photos of the Tetons rising high above the clouds creating the illusion that where I was standing was actually high in the sky above the clouds.
As the morning light was getting brighter, I could see that the fog was slowly starting to dissipate or at least move and reveal more of the landscape beneath the Teton Ranges.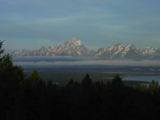 It didn't take long before I had my fill of this view, and I would rejoin Julie back at the Signal Mountain Lodge to get packed up and ready to go. This would be the last day of sightseeing as we were bound for Salt Lake City tonight.
As we checked out and left the Signal Mountain Lodge, we decided to head over to Jenny Lake so we could take the boat shuttle and reduce the hike to Hidden Falls by 5 miles. Thus, it would only be a little over a mile round trip to see perhaps the lone accessible and legitimate waterfall in the Grand Tetons.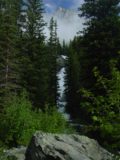 We got to Jenny Lake shortly before 8:30am. Sure enough we paid for and got onto the boat shuttle just in time. And about 15 minutes later, we were dropped off on the far shore of the lake and began our hike uphill to get to Hidden Falls.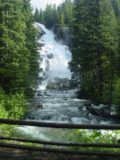 We'd ultimately get to Hidden Falls a little after 8:45am. While we were there, we basically took plenty of photos from behind the fence railing and experienced as much as we could without getting all the way to its base (would it even be possible?).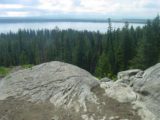 As more and more people from our boat shuttle started showing up, we decided to continue hiking further up the mountain and towards the mouth of Cascade Canyon. During the hike up, we got some pretty panoramas of the plains to the east as well as Jenny Lake.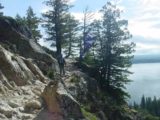 The climbing path was a little bit rugged, but it was well-used and quite easy to follow. It was the uphill hiking that started to make us sweat and breathe a bit harder.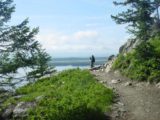 We were finally at the mouth of Cascade Canyon a little before 9:30am. The view of Jenny Lake and the plains beyond was beautiful. But we knew wanted to at least see what it was like hiking in Cascade Canyon for this would be the place where we were flanked by 13,000ft peaks in a U-shaped valley.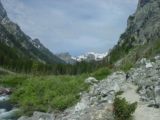 I don't think our cameras were able to do this place justice for being flanked by such neck-cranking peaks was a sight to behold. And we weren't sure how much further we'd be going since it would take way too long to make it all the way to Lake Solitude, and it didn't seem like there was a definite turnaround point that we could use as the clear indicator that we should be heading back.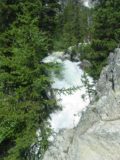 It probably wasn't until about 10am that we decided it was time to turn back. So we went ahead and descended the trail headed back down to Hidden Falls. We'd get a chance to experiene its rushing waters one more time before we arrived back at the boat dock for the return boat ride back to the main area and car park.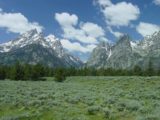 Once we recovered the car, we then continued driving the Outer Loop Road while getting views back at Cascade Canyon rising above the plains and trees before us.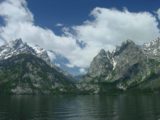 We made one last look on the Inner Loop Road to check out Jenny Lake with a little better lighting, but then we finally decided to pursue the more famous overlooks in the literature – Oxbow Bend and the Snake River Overlook.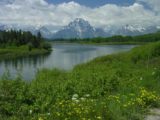 The Oxbow Bend didn't have the reflections that I was hoping for, and I'd imagine we should've been here either very early in the morning or around sunset. Because right now, the waters were rippling, but at least the wildflowers fronting the bend in the river were attractive.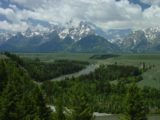 Next, we drove out to the Snake River Overlook where we tried to reproduce the photo that Ansel Adams took in black-and-white. Unfortunately when we got to the overlook, some of the thunderclouds were starting to form and they started to obscure some of the peaks in the background.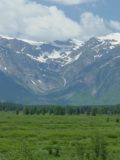 Finally, we went to Colter Bay to see if we could get a look at the combo of Wilderness and Columbine Falls. When we got there, we noticed there were some impressive mountain cascades way in the distance, and speculated that perhaps those were indeed the Wilderness and Columbine Falls. There were also a few more stringy cascades as well, but we couldn't tell if they were legit or not.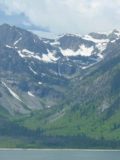 After having our fill of these distant looks of the falls (probably needed a much more powerful zoom lens to bring these waterfalls in more), we finally drove south towards the town of Jackson. When we entered the town, I realized that I had completely forgotten about Mormon's Row, which was a series of attractive barns fronting the Grand Tetons. So that would be yet another thing to do the next time we come back to this general area.
After passing through Jackson Hole, we then eventually made our way back to the I-15, and then we continued on the very long drive until we'd eventually make it back to the Salt Lake City area when darkness started to fall.
We did eat at this cowboy western place somewhere close to Salt Lake City, but it wasn't memorable other than it provided us with a little bit of a dinner break before we had to check-in, pack, and have one more night's rest before our flight back home tomorrow.
Indeed, this was the end of our epic Yellowstone trip, which put us face-to-face with many wildlife, geysers, waterfalls, and more. But there were still some things that we weren't able to do on this trip that I'm quite determined to make sure we do it the next time around. This is especially true of the Bechler Backcountry area of Yellowstone.