Day 2: THE TILTING LAKE
Julie and I had an uneasy sleep even though it was the first time in nearly four days that we had finally slept in a bed. The issue was that it was frigidly cold in the cabin last night and the blankets didn't seem to do the job in terms of keeping our body heat while we were asleep.
So based on that, we had no trouble waking up early and getting out of the cabin by around 6am. During the process of getting ready for the day, we found out that there was a heater in the room. I guess it was too late for last night, but certainly for tonight we would make use of it.
The first thing we did once we left the cabin was to return to Artist Point. And when we got there at around 6:15am, the sun had still not breached the horizon though the Grand Canyon of the Yellowstone River was only lit up around Lower Falls while the rest of the canyon was in shadow (i.e. it wasn't very friendly for taking photographs).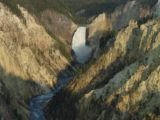 While we were waiting for the sun to come up, Julie and I were practicing the Lindy Hop (something we had been taking lessons for in Pasadena), which was kind of fun, but without music, it was kind of like just going through a bunch of patterns. Our dancing together never really flowed like it could, and I would imagine that over time, our interest in this dance would probably fade given that she was really not that into it in the first place (even though East Coast Swing amongst friends was how we ended up meeting for the first time).
Slowly but surely the sun eventually came up, and we would linger around Artist Point until just before 7am. But it wasn't all that great as I had hoped, and we had to wait another 2.5 hours before the sun would be angled in such a way that we ought to see rainbows from here. And that was something we weren't going to do.
Still, we enjoyed the solitude as I would imagine it wouldn't be this quiet here until after sunset (when it would be too late).
Next, we drove over to the car park for Uncle Tom's Trail again. We got there just a few minutes later after leaving Artist Point. And all we did there was to take a few more morning photos of the Upper Falls (still mostly in shadow at the time). It wasn't a good time for photos at this spot so we took off and headed back towards the drive along the North Rim.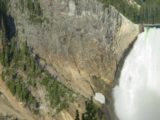 We stopped at Lookout Point and went straight onto the paved but steep descent onto Red Rock Lookout. From down here, the morning light allowed us to see some people already on the Uncle Tom's Trail looking like ants compared to the massive Lower Falls.
It would've been nice to see a rainbow from here, but the angle still probably wasn't right. Still, we had a nice and quiet time here before we headed back up and regained the car at around 7:30am.
Next, we then drove towards the far end of the car park for the brink of the Upper Falls. That was where we found a trail that would ultimately get us closer to Crystal Falls. The trail we were on actually kept going along the rim, but we weren't interested in going any further than the spur trail for Crystal Falls.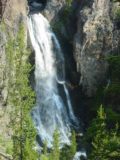 While at Crystal Falls, we could get pretty satisfying top down views from across the small canyon that contained the falls. However, it looked like there was a trail that went steeply down to its base but there were plenty of warning signs and barricades discouraging further progress. I guess it was just too risky for the park to want to maintain.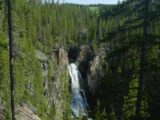 So by around 8:45am, we were back in the car. Now with the rest of the day ahead of us before returning to Canyon, we tried to figure out how we should be spending today. And with the Chittenden Pass between Canyon and Roosevelt closed during our visit due to road construction, we decided to make a bit of a short day trip through Hayden Valley all the way to the West Thumb Geyser Basin before heading back.
This day trip would be kind of our excuse to check out Lake Yellowstone, which was a lake that was said to be tilting as the Yellowstone supervolcano's surface below would bulge from time to time with activity. In terms of a natural arch in the park, there was a Natural Bridge near the Lake Junction that we were hoping to see.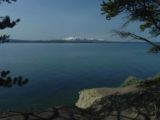 As we were heading through Hayden Valley, we ended up deciding that maybe we should just go straight through this valley and then come back for wildlife sightings once we got the higher priority sights out of the way.
So the first stop was for the Natural Bridge once we passed through Hayden Valley and hung a right turn when we saw Yellowstone Lake. It looked like there was some lodging and even some boating near the developed part by the Lake Junction, but then we headed east of there in search of the car park for Natural Bridge.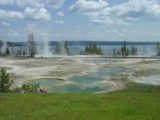 Unfortunately, when we got to the car park for Natural Bridge, we found out that the short 0.5-mile trail to the Natural Bridge was closed due to grizzly bear activity. So that was a real bummer as I was really hoping to see a natural arch in the park.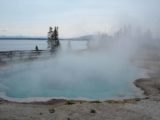 So we continued on in the westbound direction before we'd eventually reach the West Thumb Geyser Basin at around 10am. There were boardwalks and hot springs around here, but the real draw of this area was the chance to see geothermal features in a lakeside setting (something that the previous geyser basins we've been to couldn't claim).
I suppose we could've come here earlier when we were driving between Flagg Ranch and Old Faithful, but today seemed to be as good a day as any to check out the geyser basin with the weather being as sunny as it was.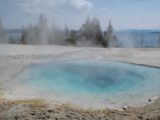 So we took our time doing a loop walk that passed by numerous hot springs that exhibited greenish or bluish colors. But with the backdrop of the lake, we thought it was just that unusual combination that really made us want to take our time here.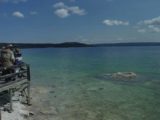 As we got to the shores of Yellowstone Lake, we saw a vent protruding out of the lake surface while surrounded by the lake waters itself. It was a pretty cool sight, but I somehow doubted that this particular vent would spew out a geyser. Plus, this particular feature was quite popular as there were always crowds of people wanting to get close to this feature to take photos.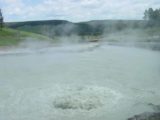 After having our fill of the West Thumb Geyser Basin, we then drove back to the east and then up in the direction of Canyon again. However, we made a stop at the Mud Volcano geothermal area at around 12pm, which was a particularly active area featuring strong sulfur odors, very acidic bodies of water, and churning mud pots and vents (including the namesake Mud Volcano itself).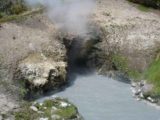 It definitely felt like the ground came alive in this place.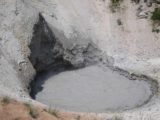 Then, after having our fill of the Mud Volcano, we then drove through Hayden Valley once again. This time, we noticed that there were long expanses of rolling green prairies, which I'm sure would be ripe for wildlife viewing. The interpretive signs along the way at various vistas and pullouts seemed to corroborate this observation.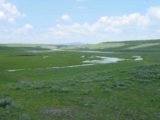 However at this time of the day, it seemed like most of the wildlife were not within sight of the road as they had probably retreated to cooler places for rest or to hide from top predators like the grizzly bear or even the wolves.
Perhaps I should've slowed down and visited this place first before West Thumb instead of doing it in the other order in hindsight. Oh well. You live and learn.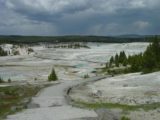 When we returned to Canyon, we then went west where we'd eventually stop once again at the Norris Geyser Basin at around 2pm. However, on this go around, we were going to explore more extensively its network of boardwalks passing by numerous volatile geothermal features as well as plenty of other dormant ones.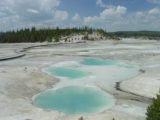 I had recalled in the park website that there was actually activity going on in this basin and that they even had to re-route part of the trail (or close sections of it). I was secretly hoping that the Steamboat Geyser (the largest one in the park, supposedly) might make one of its rare eruptions given the new development in increased activity here.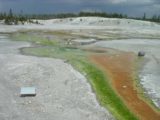 We ended up exploring the part of Norris that was known as the Porcelain Basin. I'd imagine it got its name because the panoramic appearance of the basin really looked like a large expanse of white mixed in with some colorful springs and pools.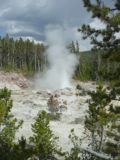 So we ended up passing by some features such as the Echinus Geyser with its red-fringed borders, the churning but not erupting Steamboat Geyser, the Pinwheel Geyser, and many others whose names escape me.
As we were exploring the place, the hot sun was gradually giving way to pop up thunderstorms which were building and very quickly started to spawn some pretty dark-looking clouds.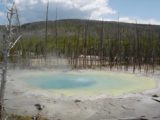 By the time we were done visiting the Norris Geyser basin, the dark clouds nearly overtook us though there was still sun highlighting the colorful scenery of the geyser basin. We'd end up leaving Norris at around 4:30pm, and then we headed back to our lodge in Canyon where we'd chill out for a bit before dinner.
While we were in our cabin, the thunderclouds definitely took over and even dumped its load in a short thundershower filled with lightning and thunder. But just as soon as it came, the weather dissipated pretty quickly by the time dinner time rolled around. And it was almost as if the brief thundershower never happened.
Our dinner was pretty much a affair of standard food served at one of the cafes in Canyon Village. It was nothing spectacular, but it was adequate enough for us to be fed.
And for a change, we were finally able to shower and brush our teeth without having to drive or hike somewhere. But come tomorrow, we'd be back out in the bush again as we were booked to camp at the Mammoth Campground tomorrow.