Day 4: THE REAL CELEBRITIES
When we awoke there seemed to be some inversion layer of fog in the immediate area. Nonetheless, we determined that on this day, we were going to do a day trip out to the Roosevelt and Tower area and maybe even do an out-and-back detour through Lamar Valley and up to the northeast entrance of the park.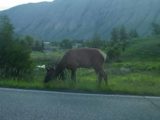 Just as we were leaving Mammoth at around 6:15am, we noticed there was an elk grazing next to the road. It turned out to be one of several elk grazing in the Mammoth area, and they seemed to be very comfortable staying in the protection of the settlement here.
It's like the elk were smart enough to realize that instead of being food for wolves and grizzlies, why can't they just stay amongst the humans for protection?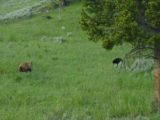 Anyways, we then continued east in the early morning. We'd eventually get close to the Roosevelt area where we noticed some commotion going on by the road. And when we got closer to see what the commotion was about, we saw a pair of small bear cubs playing on a hillside near the small town.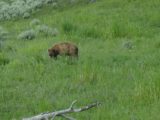 It was early in the morning so the "bear jam" that was created here wasn't that bad, and we even got some pretty choice viewing spots of the bears in action. I guess Mom's saying that the early bird gets the worm certainly was true in this case.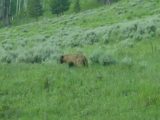 When we were done having our fill of being papparazzi to the real celebrities of the park, we then continued on our way towards the trailhead for Tower Falls getting there a little before 7am.
The first thing we did was to go right to the overlook of the waterfall, which had a somewhat disappointing view as most of its base was blocked with overgrowth. So that merely strengthened our resolve to get to the base of the waterfall where we knew the best view of it would be.
And as we descended the steep but paved path towards the bottom, we were then met by a barricade that prevented further progress along Tower Creek towards the impressive 132ft waterfall.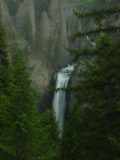 Since it was early morning and not about to be denied yet again by a closure, we went through awkwardly through some slight openings in the barricade and were on the final bit of the trail to its end at the base of Tower Fall.
We saw that there was a section of the trail where it looked like it was sliding into Tower Creek. I guess over time, the whole section of the trail will eventually go in there, but truthfully, it didn't look all that bad. In fact, we had seen far worse than this (maybe they shouldn't have paved this part of the trail in the first place), and perhaps it was still a functioning trail but if you allow thousands of visits a day here, then perhaps the remaining life of this trail would be expire that much sooner.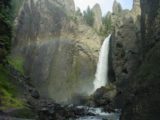 When we arrived at the base of Tower Fall at around 7:15am, there was a faint but high rainbow going besides it in the mist. The rainbow was faint because there was still some haze and some early morning fog or clouds that the sun had to get through. But nonetheless, the view here was pretty, and Julie and I spent some time down here taking people shots while also trying to make the most of what we knew might be forbidden territory going forward.
So after having this stint at Tower Fall, we returned to the car and then went to Roosevelt Lodge where we wanted to check out Lost Falls. We knew the waterfall trail started behind the lodge, and when we got there before 8am, the first thing we did was to look for that somewhat hidden trail.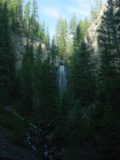 Once we found the trail register at the junction of the waterfall and the Lost Lake Trail, it was then only a 1/4-mile or so walk before we got into the dark recesses of the small gorge containing the light-flowing waterfall. Julie was worried about bears given how quiet the trail was, but in the end, we were able to scramble on the chunks of flaked off basalt and get right up to the base.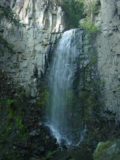 After having our fill of this rather obscure waterfall, we then returned to the car. The photography book we had just picked up at the store in Mammoth yesterday indicated that the best time to photograph Tower Fall was around 8:30am-ish or so. And since it was getting to that time while the sun was getting even brighter in the morning, we decided to return to Tower Fall.
At around 8:45am, we were back at the familiar car park, which had a handful more people but was still quiet at this time of day.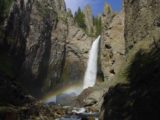 Julie stayed behind while I quickly made my way down to the barricade and then through. I came armed with a bear spray since I was going this solo. And sure enough, when I got to the waterfall, I could see a bold bright rainbow arcing across the base of the beautiful Tower Fall.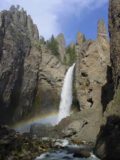 Boy was I glad I came back here for this!
So I took a bit of time taking as many photos as I could while always keeping my mind cognizant that I could get fined or busted for being here. But oh this view was way better than the sanctioned one at the top, and this was one of those times where being a rebel paid off.
As I was running back to the barricade and back to the part of the trail I was supposed to be on, I accidentally sprayed my side with the bear spray (I had one hand on it just in case, but I guess a misstep at that uneven part caused me to fire at myself)!
So the side of my shirt had this orange stain, but the worse part of it was that it was really hot and stingy on that side. And apparently (not sure of how I was supposed to calm down the effects of the pepper-spray-like bear spray), it would be something I'd have to live with for the rest of this day!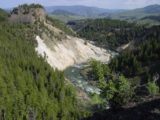 By about 9:15am, we were back together in the car. We made an out-and-back detour going towards the Chittenden Pass while seeing some overlooks along the way (such as Calcite Springs Overlook). There were also some interesting volcanic features alongside the road.
When we were done with this quick detour, we then headed back to Roosevelt and eventually northeast into the Lamar Valley.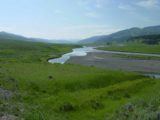 The drive through the valley was similar to Hayden Valley in that it was a large expanse of prairies with herds of wildlife grazing about in the large plains. We were hoping to see some wolves here (as the park's chatrooms had been raving about this place for a bit), but as we made our way through the valley, we didn't spot any of the famed wolves.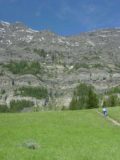 We'd eventually drive almost out to the far northeast entrance of the park where the terrain became more mountainous and rugged. We'd ultimately get to a spot where we saw many people with spotting scopes checking out bighorn sheep high up on the cliff-like Barronette Peak before us.
We came here because our Yellowstone Waterfalls book said there were a pair of waterfalls here, but they really looked like nothing more than typical temporary mountain cascades. So we took what photos we could of the rather wimpy waterfalls here, but then one of the folks with the spotting scopes asked if we wanted to look through his scope.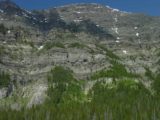 We said sure, why not, and sure enough, we could see the bighorn sheep through the powerful zoom of those scopes. That was really nice of that guy to share the experience with us, and we were starting to get the rush of why wildlife enthusiasts also like Yellowstone.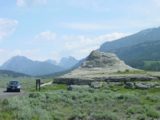 So with that, we left the area and passed through Lamar Valley once again. Even though we were hoping a wolf sighting might occur on this pass through, we were actually taking our time to check out some of the features of the valley (e.g. Soda Butte).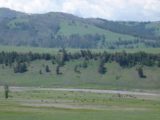 We ended up seeing more herds of bison and elk, but no grizzles and no wolves. Perhaps in hindsight, we should've gone here first before checking out Tower Fall. But you see, that's the thing with places like Yellowstone. There's simply too much to see in such limited time, and you really have to allow yourself time and some luck to get those prized wildlife spottings combined with the geological features to round out the overall experience.
We'd eventually be back at the Roosevelt Lodge at around noon, and we decided to have ourselves a bit of a barbeque lunch at the lodge. Since this place had a bit of a western theme and history to it, we figured it would be as good a place as any to have this kind of a lunch.
After the satisfying meal at Roosevelt Lodge, we then headed back towards Mammoth. On the way out of Roosevelt, we were caught in a bit of a traffic jam, and it turned out that the bear jam from this morning grew a bit more (apparently the bears didn't move from their play spot) so there were rangers trying to direct traffic.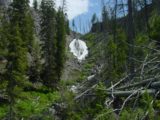 Having already had our fill of these bear cubs (hoping they were grizzlies), we just kept going. Eventually, we'd get to the trailhead at Lupine Meadow for Wraith Falls at around 1pm. That was where we then embarked on a quick out-and-back 1-mile round trip hike to the bulbous Wraith Falls.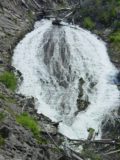 I often wondered how this waterfall got this name, but perhaps that bulb shape might appear like an apparition suspended on the sloping cliff like a ghost would. So hence the name, I guess?
Anyways, the official end of the trail had a rather distant view, but I saw that there were more defined tracks beyond the small barricade and so we went forward and got ourselves a bit of a better view. We didn't go all the way up to the falls like they did in the Yellowstone Waterfalls book, but the view we got was good enough.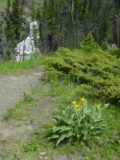 Then, we returned to the car and continued further west where we ended up at Undine Falls just before 2pm. This particular waterfall was more of a roadside look-but-don't-touch kind of waterfall so we took what photos we could up here without many options to do much more with it (truthfully we didn't try real hard to look for alternative views though).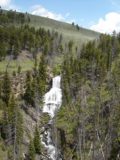 And after having our fill of Undine Falls, we then returned to the campground at Mammoth where we were able to shower at the Mammoth Hotel. My side was still burning from spraying myself with the bear spray, and the hot water from the shower seemed to have amplified the burning effect. I wasn't sure what to do about it other than to let the pepper wear off over time. But in the mean time, it was pretty uncomfortable to deal with it. But at least I got to change my shirt so I wouldn't be constantly exposed to the pepper that was on the previous shirt.
After the shower, we then ate at the Mammoth Hotel, which had a surprisingly good dinner as well. I recalled having some kind of bangers and mash dish while Julie had some local fish.
We even engaged in some friendly chatter with the Austrian waitress who was here for the Summer. It was always good to hear about the experiences of people from different walks of life. It just adds to the variety that we've come to realize that travel tends to provide.