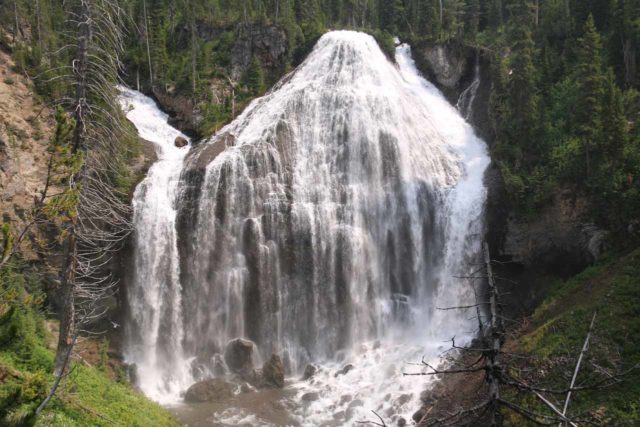 5-August 2017 to 15-August 2017:
Next, the trail then climbed again before it apexed then started a lengthy descent. I got to this part by about 10:20am. After another stretch of flat hiking, the trail then descended in earnest. I had a feeling that this long descent was going to be a real tough stretch on the return.
During this descent, after the initial rocky and steep part, the trail then meandered through a pretty lengthy section of berries growing alongside the narrow trail flanked by dense low-lying growth.
Eventually at 10:40am, I made it down to the Mountain Ash Creek Trail Junction. I went right and then proceeed to go through yet another extensive stretch of berries and low-lying growth. About five minutes later, the large group caught up to me though I wasn't sure if they rememered me or not because one of the ladies said to me, "You're brave, dude!"…
Day 10 (August 5, 2017 – Whitefish, Montana): "Smooth Day"
It was 6am when we awoke. I allowed myself to sleep in to get caught up on sleep a little bit, especially since I had anticipated that the day might be impacted by smoke and bad air quality thanks to the wildfires burning out of control near the southwest part of British Columbia, Canada. We had already been impacted by the smoke over the last three days at least (since Tuesday when we drove up to Whistler from Vancouver), but I was still left wondering what we could and couldn't do going forward.
It took us some time to get packed up before we took off. But finally by 8:30am, we left the La Quinta Inn and took the scenic route towards Whitefish, MT instead of the I-90 as we were trying to bag a couple of waterfalls along the way.
The drive started off with a little tension between Julie and I because she found this crepe place on Yelp that was worth going to in Whitefish, but they closed at 4pm. I had expressed doubt that we would make it in time before they'd close given the route we were taking and the late start we were having. And that was where Julie felt that my bringing up being late and impacting the foodie desires (despite her gut condition) was stressing her out. Still, I reinforced to her that you can't have everything by being lazy and expecting things to work out as something's gotta give. So you're essentially prioritizing getting late starts over the flexibility of doing what she spontaneously wanted to do in addition to the waterfalls.
Anyways, we ultimately drove along the US95 and then the US2. Along the way, we passed by some interesting towns that seemed busy and scenic. This was especially the case as we passed by some amusement park called Silverwood as well as traversing a long bridge over Lake Penn into the town of Sandpoint, Idaho high up in the panhandle area of the state.
The town itself looked like a worthwhile place to stay and have recreational opportunities on the lake while also checking out its historic downtown. But I also knew that the B-52s were going to perform here tonight, which probably made this place more rocking than usual. In fact, it was kind of strange how their tour kind of coincided with the trajectory of our Summer road trip.
In any case, both Tahia and I wondered if they'll be performing Private Idaho – a song more about being in your own paranoid world mentally (which probably describes Donald Trump's mentality right now) than the actual US state itself though it was a nice play on words.
Another thing all of us realized was that the smoke and haze appeared to be less of an issue today. It could very well be that we were moving east of the smoke zone or that the winds have changed to a more southwest direction or something. Whatever the case was, it appeared that the concert shouldn't be impacted by the smoke if the conditions would persist in this manner. Too bad we wouldn't be around to check out that concert.
Eventually at 10:25am, we would arrive at the rather obscure public parking area for the Moyie Falls, which was right by some hydroelectric facility perhaps for the town of Bonner's Ferry which had a huge lumberyard on the local road to get here. I'm guessing the hydro being generated here was to power industry like pulp mills or something like that.
The local road we took left the US2 just before a long bridge as we turned right onto Roosevelt Rd, then turned left onto Canyon View Rd, which was the one that crossed the railroad and had a 15mph speed limit with some hidden speed bumps along the way.
When we got out of the car, we promptly walked back up the road and towards the viewing area, where we were disappointed to see that the main drop of the falls wasn't flowing at all! Upon further inspection, I continued walking up the road towards a different viewing area, which didn't have any signage indicating the falls and yet revealed the lower tier of Moyie Falls, which actually was flowing!
Still, we only copped a distant look at the falls, then promptly documented the experience before quickly returning to the car at 10:50am. We saw one other family checking out the falls as we were about to leave so we weren't the only ones here to see this falls, apparently. This disappointing experience prompted a snide remark by Julie about not doing my research before leaving disappointed by this falls and subsequently losing some time in the process.
Next, we resumed our drive southeast along the US2 as we were about to enter the state of Montana. In doing so, we had lost an hour since we were now on Mountain Time. By about 12:25pm, we arrived at this very busy parking lot besides the US2 for the Kootenai Falls. It was a pretty warm and sunny day at this point.
After the disappointing Moyie Falls, Julie looked at my pre-trip research for Kootenai Falls and wasn't impressed with the pictures on the black-and-white printouts. So she decided to stay behind at the car park with Tahia while I was going to quickly hike to both the overlook of the falls as well as the suspension bridge. We were doing this in the interest of time as we'd still have a shot at making it to Whitefish and that crepe place that would close at 4pm.
So I promptly geared up and headed right down to the overlook first. The hike involved going through a pleasant forested area before crossing over a fenced bridge traversing a railroad. Then, the trail descended into conventional trail again before getting to a split. I headed right at the split, which then led to the overlook of the falls another short distance later.
There were lots of people on the trail, and I also noted a lot of spur trails leading to alternate views from the big outcrop area with the view of Kootenai Falls. The falls was hard to photograph because there was so much to capture that wouldn't fit within the frame of a camera. So I had to pick and choose my subjects.
The falls was a wide series of segmented drops with the leftmost drop looking more like rapids as the falls was more buried in the flow of the river. The right side had a pair of more obvious drops. I would say this falls was definitely on par with say a Huka Falls in New Zealand or better so I'd be more inclined to give it at least a 2.5 or 3.
Anyways, I kept thinking to myself that Julie and Tahia were missing out if they didn't get down to this falls.
After having my fill of the overlook, I then scrambled over to a few of the informal alternate overlooks while even stumbling upon a hidden waterfall where the Kootenai River apparently spilled over another fault section. Clearly, tectonic forces from the past were at play here.
Next, I then quickly hiked down to the suspension bridge which was well further downstream from the Kootenai Falls. I knew that this was a popular place for people to traverse the river high up above on the bouncy bridge. Since I've done such bridges many times before, I figured it was nothing special. So I was content to be on the bridge and take some photos and videos before heading back.
I wasn't going to take more precious time to go all the way across and join some folks who were alongside the rushing river to sunbathe and maybe even to play in the water in the more calmer parts of the river.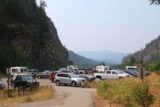 By 1:40pm, I made it back up to the car park, where Julie picked up some huckleberry ice cream (seemed more like blueberries to us) as well as a hot dog from the snack shack at the car park. We left 10 minutes later where we still had a fighting chance to make it all the way to Whitefish before the crepe place would close.
It turned out that the drive east along the US2 was probably the smoothest stretch of road we'd experienced on this trip so far. There were not many cars, and where there were slower cars, I was easily able to pass them. So I pretty much had the car on cruise control at 70mph pretty much throughout, and it was definitely some of the more enjoyable driving that I had for once (as opposed to the traffic and congestion experienced on the Cascades part of the trip).
Eventually at 3:40pm, we'd finally arrive in the surprisingly charming downtown Whitefish, which was where the crepe place was. We found street parking, and then promptly got into the restaurant before they closed. We wound up getting a salmon thai curry crepe on buckwheat as well as a gruyere pesto crepe with turkey also on buckwheat. Our sweet crepe was nutella on buckwheat.
It turned out that it was worth the trouble to get here in time as the crepe was quite good. Sure it wouldn't like what we had in Etretat, France, or that place we had in Madrid, Spain, but it was definitely better than most crepe places we'd been to in the States.
Finally at 4:20pm, we were done with the crepe lunner pretty satisfied. We then drove back out of the downtown area towards the Hampton Inn to check in and drop off our luggage in the room. We'd eventually get there at 4:30pm, and we'd then spend the next 10 minutes or so to get settled in.
By about 4:40pm, I was back in the car ready to solo the touring of Glacier National Park while Julie and Tahia would chill out in the room and possibly tour downtown Whitefish on their own after seeing that they could take a taxi to get down there.
The drive east towards Columbia Falls and then West Glacier went pretty smoothly as I ultimately found myself waiting in line to get in the park at 5:15pm. About 5-10 minutes later, I purchased a new interagency pass since last year's pass had expired at the end of July. And once that was done, I then proceeded to follow the caravan of cars and motorcycles slowly making their way up to Logan Pass.
It wouldn't be until about 6pm when I finally started to see the Bird Woman Falls from some of the many pullouts facing in that direction. Indeed, I was now in parts of the Going to the Sun Road that we hadn't done before due to early season closure back during our late Summer and early Autumn of 2010 visit before we had Tahia.
I'd next spend time stopping at several of the roadside pullouts revealing more of the Bird Woman Falls and Heaven Peak before finally arriving at a signpost of the Bird Woman Falls alongside a view of Haystack Creek Cascade tumbling beneath the Going to the Sun Road.
The shadows were long given how late in the afternoon it was, but the view was no less beautiful. And while I wanted to get back to Julie and Tahia in town before it got too late, I still felt compelled to continue driving up to Logan Pass to see what else I might find. So I did that.
I'd ultimately drive by the weeping wall which was basically a dripping wall alongside the road that was best experienced and not photographed before getting up to a car park area near a cascade by Logan Pass itself. I got out of the car to document that cascade while also checking out a view. It turned out that there also happened to be a white mountain goat grazing near this overlook and so me and a handful of other people were checking out the goat.
By 7pm, I had my fill of this lookout and got back in the car, and then finally headed back down the mountain in the direction of the West Glacier entrance. Along the way, I stopped for a wildflower bloom near the Weeping Wall.
At 7:50pm, I found the pullout for the Sacred Dancing Cascade, which involved a short hike down a ramp to a bridge with a nice view of the falls further upstream. Now that the weather was clear, I could see some of the mountains backing the nice wide cascade (unlike the rainy and overcast conditions from last time).
By 8:15pm, I made it to the pullout for the McDonald Falls, which had quite a bit of barricades erected as this pullout appeared to be under construction or something. Still, there was a ramp that went to the obstructed overlook of this waterfall, which I quickly documented before proceeding on.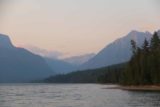 As I continued making my way out of Glacier, I noticed that the sun was setting over Lake McDonald. Luckily, I found a pullout at 8:30pm, where I then promptly got out of the car and down to the shores of Lake McDonald where a handful of other people were checking out the setting sun over the lake.
It was a very beautiful spot and it was the kind of place where Tahia could have played a bit. Again, they were missing out, I thought.
Finally at 9:25pm, I made it back to the Hampton Inn at Whitefish to end off this pretty productive day. While filling up gas in Columbia Falls, I saw that there was a scenic full moon rising up over town. It was the perfect way to end off this leg of sightseeing. After exchanging travel stories with each other about what happened this afternoon, we then got cleaned up and nodded off to recover and look forward to a day of hiking in Glacier NP tomorrow…
Day 11 (August 6, 2017 – Babb, Montana): "You Snooze, You Lose"
It was about 5:35am when both Julie and I awoke. Having lost an hour yesterday and not really sleeping until midnight, I needed the extra hour of sleep as opposed to the usual 4:30am alarm. However, now that we were up, we were in a rush to try to check out and get out the accommodation so we could get all the way to Logan Pass at a reasonable hour.
That said, we were dividing and conquering in the sense that I was getting the coolers filled with ice, loading up the car with all our belongings, and double checking for things left behind in the room. Meanwhile, Julie and Tahia were eating brekkie in the pantry room. Yet despite this apparent parallel processing, it still wouldn't be until 8:05am when we finally checked out and left the Hampton Inn to make the 90-minute drive to Logan Pass.
Given the amount of vehicles already headed in that direction, I was really worried about not getting to Logan Pass in time to find parking. The original plan was to be out the door by 7am so we were already over an hour late.
When we got into West Glacier, the long caravan of cars had already commenced. So I decided that we were going to make a beeline for Logan Pass in the interest of trying to save time and snag a parking spot up there so we could ride the shuttles.
During the drive up the Going-to-the-Sun Road, Julie was digging the views as she was seeing it for the first time. However, we didn't have the luxury of stopping for any of the pullouts along the way (many of them were full already) so she had to be content with taking iPhone photos while the car was moving. At least I was able to stop for these pullouts yesterday afternoon during my scouting mission.
But when we finally got up to Logan Pass at a little after 9:30am, the parking situation was hopelessly crowded as I had feared. After making about 4 or 5 rounds without any success snagging parking, we had to continue east towards St Mary.
We would eventually find some unsigned pullout where we parked the car roughly 1/4 to 1/2 mile from the actual shuttle stop. The St Mary Falls car park was already full. So that was what prompted me to make a three-point turn and head back up the mountain to that pullout. So what if we had to walk quite a ways to get to the shuttle.
Indeed, all this stress induced by finding parking was exacerbated by the fact that we had prioritized brekkie at the Hampton Inn over getting to a good parking spot near one of the shuttles. I guess it was fortunate that we did manage to park the car at that informal pullout that I had thought earlier had to be the one to stop the car. We'd eventually find parking at 10:05am at that informal pullout.
It took us some time to walk back down the Going to the Sun Road towards the shuttle stop for St Mary Falls. At least I knew that I could just return to the car when I'd be done with that hike later in the day.
Anyways, we would finally arrive at the St Mary Falls shuttle stop at 10:30am. At first, we thought that the shuttle that showed up at 10:35am would be our ticket to get up to Logan Pass, but it turned out that that shuttle was full. They couldn't accommodate us.
So we had to wait some more for the next shuttle, and it wouldn't be until about 11am when the next one finally showed up! It turned out that there was only room for 4 people even though lots of other people were queued up behind us. That sucked to be them, but I was ready to get really pissed as I was already in a pissy mood since we snoozed and lost so far.
Instead of hiking from Logan Pass by 8:30am, it wasn't until 2.5 hours later that we'd finally be on our way to Logan Pass for the Hidden Lake hike.
The park service definitely would need to staff and provide more frequent shuttles as the current 30-45 minutes of waiting was excruciatingly slow. And this would be made even worse by how easily the shuttles get crowded.
Anyways, we were chatting it up with a family from South Carolina during the ride up to Logan Pass. We were discussing various things like what Tahia was into (she always seemed to be the icebreaker with strangers), the beauty of Upcountry South Carolina during the Fall Colors, and some hikes in the Glacier area that were either being considered or have been done already.
We'd eventually make it to Logan Pass by about 11:20am. Now we could finally start the hike, even if it had been about 2 hours later than when we were supposed to have gotten started…
The hike up to Hidden Lake was basically a long boardwalk to protect the fragile surface here. It was mostly uphill practically the entire way, but we stopped plenty of times because the wildflower display was surreal. Basically we passed through mats and mats of very colorful flowers in bloom that exhibited all sorts of hues from purple to blue to yellow to magenta and even white. And to see all these flowers backed by the wrinkly peaks of the Garden Wall in one direction or the butte-like mountains looking forward really made this place a feast for the eyes.
The higher up we went the more the boardwalk started to give way to the conventional dirt trail. Practically the entire time, there were scores of people either passing us or we were passing them as this could hardly be a hike for finding solitude and peace. Instead, it probably had the volume reminiscent of that of going to say the Lower Yosemite Falls though even that one was next level in terms of crowds.
Continuing higher up the trail, we started to notice cascades tumbling down some intermediate walls fronting the butte that was either Mt Cleveland or some other butte (not sure which one was what but this one was always within sight to our right as we climbed). And as we continued, we started to see that there were actually three minor cascades though the third one was the most attractive one as it had the largest volume. They probably bordered on whether they could be considered for having their own dedicated writeup, but since we're hiking to Hidden Lake, and these waterfalls were probably at the half-way point or so on the 1.5-mile length in each direction, I was probably leaning towards making these falls have their own dedicated page despite the possibility that they're really more ephemeral than permanent.
Beyond the third waterfall, the trail continued climbing though the grade of the climb became less severe. In one of the remaining snow patches, we saw several goats blending in well with the snow though there was already a crowd of people gladly taking photos of them. One particular goat seemed to have a transponder collar while the rest didn't have them. I'm guessing researchers of the park service were monitoring its migration pattern or something.
Then, we got to a point where we started to notice an alpine tarn reflecting a different mountain to our left. Further to our right, we started to see a very interesting purple layer of rock adorning the main butte-like mountain we had been seeing with good midday light the whole time.
By this point, Tahia was already complaining that this was a long hike. We barely went a mile, but both Julie and Tahia were growing impatient as they really wanted to see the payoff sooner rather than later.
Well, that time came at around 12:30pm when the trail became another boardwalk section right when it finally started to reveal Hidden Lake down below. It was an elongated lake where half of it was getting good lighting while the far left side of the lake was still in shadow. The shadowy part totally reminded me of one of the lakes near Lake Louise in the Canadian Rockies (the name escapes me right now) as it had steeply dropping mountain walls going right into the lake.
The overlook area was not surprisingly busy, but we were still able to get our views and even notice a marmot as well as several chipmunks looking for human food as they were clearly acclimated to people being here (not unlike the Yosemite experience, especially at the top of Half Dome).
At 12:45pm, we had ourselves a picnic lunch with a view of the lake just before the boardwalk part. Tahia was tasked with shooing away chipmunks trying to stealthily steal our picnic food, and she was totally into it. This allowed Julie and I as well as Tahia to have some hard-boiled eggs as well as some cherries and grapes though they had gotten smashed in my pack (clearly we needed a hard container to the fruits could retain their shape and be less messy and sticky).
We also snacked on broccoli chips and plantain chips. It was one of those moments where we were basking in the moment (probably one of the first times we were able to do so on this trip) despite people consistently walking here and there as the Hidden Lake Trail was very busy even way out here.
We eventually ended our scenic picnic and started walking back. While the walk back was pretty much all downhill, we got to re-experience the beautiful scenery of the Logan Pass area so we kept pausing for photo breaks. However, since Tahia had to go pottie and there was no facilities nor privacy along the trail, she had to hold it in until we got all the way back to the visitor center.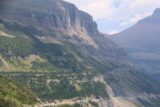 We ultimately got there at 2pm, where it was seemingly even busier than it was when we first showed up. Even though the hike we did was said to be 3 miles round trip, it took us 2.5 hours total. Along the way, we saw the same group of mountain goats though they were more spread out this time.
Anyways, it took us some time to wait for a shuttle to head east from Logan Pass to where we needed to go, but we decided that I was going to solo the Virginia Falls hike while both Julie and Tahia would be chilling out at Rising Sun. There was a lady talking to us while we were waiting for the bus as she was here with an interest in geology. Apparently, she was from Florida though she lived in Spokane for a while.
Inevitably, we talked about the smoke situation caused by the BC wildflowers though it seemed like the haze and the air quality was much improved from when we were in Spokane a couple of days ago.
Well, when the shuttle bus finally showed up at 2:20pm, we got into the 10-seat vehicle, and it didn't take long before the other people in the queue had to wait for the next bus. They really need to run more shuttles given the parking situation here. It's a bit much to ask people to wait 30-45 minutes for a shuttle only to be turned away due to being full and have to wait another 30-45 minutes!
Regardless, we were shuttled eastbound again, and I promptly got off at the St Mary Falls stop at 2:40pm. And I would plan to regain the car after the end of this hike and drive over to Rising Sun to get Julie and Tahia and continue on to Babb, where we were staying this night.
The hike down to St Mary Falls and Virginia Falls was quite different than when Julie and I did it some 6 years ago. For starters, I had to traverse a very extensive burn area. While there were far fewer tree foliage than before, that allowed me to see St Mary Lake as well as more of the attractive mountains beyond. I was even able to see the Virginia Falls in the distance a lot more easily than before.
There were lots of people going the other way so I knew that this was also a busy trail though it had nowhere near the volume of people as at Logan Pass.
At 3:05pm, I made it back to the familiar two-tiered St Mary Falls. With the improved weather compared to last time, the peaks in the distance downstream could be seen contrasting the blue-green water below where dozens of people were bathing or swimming, or doing daring bridge and cliff jumps.
There were equally as many people on the bridge and on the rocky ledge looking right at the St Mary Falls as well. So I spent some time documenting this falls, which was similar to how it was last time, but then I continued onwards towards Virginia Falls.
Now, I was getting to an area that we couldn't do before because there was grizzly bear activity here some six years ago. So this was new territory for me. It turned out that this part of the trail was a little narrower so I frequently had to squeeze by hikers going the other way.
Along this lush stretch of the trail, I started to see Virginia Creek, which revealed at least two or three major sections of intermediate cascades each getting me to pause and check out. Some people used these cascades as opportunities to get in the water without the crowds of St Mary Falls. Still, others thought these cascades were the Virginia Falls not realizing that there was a bigger surprise at the end of this trail.
It wouldn't be until about 3:45pm when there was fork in the trail and I kept left at first towards the so-called Horse Ford. There was a calm pool area where a family was busy taking photos. But I scrambled a little bit beyond them to get a nice contextual look at the Virginia Falls and some smaller cascades downstream. Once I had my fill of this spot, I then continued up the main trail another 0.2 miles or so where I then found myself right at the base of the main drop of Virginia Falls ten minutes later.
It was a very attractive falls that was every bit worth the effort. I kept thinking that Julie and Tahia once again were missing out. Regardless, I took a lot of time documenting this falls while sharing it with the dozens of people that have made it up here to enjoy the refreshing spray as well as the nice scene. And when I wasn't looking at the tall falls, I was looking behind me downstream where the view was also very beautiful as the mountains flanking the Going to the Sun Road could be seen.
I finally left the falls at around 4:10pm, and since the trail was mostly downhill, I made good time as it only took me about 15 minutes before I was back at the St Mary Falls. There were fewer people here than when I first showed up, but there were still a lot of people. I took some time eating the rest of the smushed cherries and grapes while taking a water break before finishing off the hike as it went uphill the rest of the way to the St Mary Falls Shuttle Stop.
At 5pm, I was finally back at the Going to the Sun Road, and at 5:05pm, I finally returned to the parked car. Now, without being handcuffed by the shuttle schedule (and its tendency to be full), I could finally re-enjoy the freedom of driving further east and picking Julie and Tahia up at Rising Sun. By 5:40pm, we resumed our journey together as we decided we should head to dinner first before checking in to our accommodation at Babb.
By 6pm, we showed up at this place called Two Sisters Cafe. There was a 30-minute wait to be seated but apparently we got in at a good time relatively speaking because people that came in after us were told it was a 45-minute wait and then they were told it was at least an hour wait! One person came in and wanted a takeaway dinner, and that wait was at least 10 minutes though the thought did cross our minds that we should've done the takeaway if we were pressed for time.
Our dinner consisted of a bison burger (the kid's menu was an afterthought as always), a rainbow trout with huckleberry aioli, and bison steak which was just like any ordinary steak though perhaps it was bison meat instead of cow (hard to tell the difference).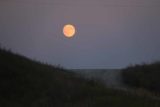 By 7:30pm, we were done with dinner. The food was OK, but since we were in the boonies where it appeared that the visitor services on this side of Glacier were fewer and more seasonal, I guess supply and demand really took hold here.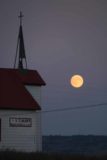 By 7:40pm, we finally made it to Thronson's Motor Lodge around Babb, and 15 minutes later, we finally got into our room, which was clean and spacey although quite basic. As the day continued to wind down, we were treated to a bright full moon rising out of the east against the purple twilight skies. Other than that, we slept at a reasonable hour as the temperatures were dropping rapidly.
We'd ultimately all be asleep by about 11pm, which was actually pretty decent considering that we had lost an hour when we crossed into the Mountain Time Zone. But with today's hectic experience with competing with crowds for parking, the plan tomorrow was to get up and out as early as possible to secure parking at the Many Glacier Hotel area and try to catch the boat to shorten the hike to Grinnell Glacier.
But now we wondered if we should have booked this boat in advance as it could very well be sold out when we show up. We'll have to see how this turns out as my hike could be extended another 5 miles round trip to an already long 9-mile or so round trip hike! Julie and Tahia will have to figure out how to kill time in the area while I'll be out soloing this hike, assuming it happens given this next bit of complication…
Day 12 (August 7, 2017 – Babb, Montana): "Bittersweet Beauty"
I woke up at 5am and Julie's alarm went off about 15 minutes later. During the hour that we were awake all before the sun rose, we were getting cleaned up while also preparing for a full day out at the Many Glacier section of Glacier National Park. Today was the day that I was supposed to hike up to the Grinnell Glacier, but we didn't realize that we were supposed to book boat tickets in advance (at least 3 days prior).
So I had to resign myself to the fact that the hike might have to be all walking and no boat to take some of the distance off. It was said to be around 12-13 miles round trip to reach the Grinnell Glacier. Apparently the boat would take at least 4-5 miles off the overall round distance.
By about 6:20am, we started to leave the Thronsons Motel. It was kind of nice that we didn't have to pack and leave to get such an early start since we were spending another night here.
Anyways, the skies towards the east were already orange from the impending rising sun, and I'm sure it would be beautiful enough for us to want to pause and take pictures, but we wanted to get to Many Glacier Hotel to at least find parking and to figure out the boat situation.
As we drove west on the Many Glacier Road, I could see in the rear view that the sun did indeed rise. I was following some other truck that appeared to have done this road before as it knew when to slow down and swerve around some pretty rough spots on the road. There were potholes and some hastily filled-in sections of water-damaged road. This road seemed to be in a lot worse shape than I had ever recalled as I didn't remember it being this bad 6 years ago when we were last here.
By 6:45am, we made it to the Many Glacier Hotel, whose car park lot was already almost full! We managed to score one of the parking spots in the large lot towards its perimeter, and I'm sure I could have found a better spot to park but I wasn't being particularly picky this morning. Tahia wasn't in the mood to be up this morning so we quickly went inside the hotel and promptly into the breakfast room where brekkie was said to have started since 6:30am.
While Julie and Tahia were having their breakfast, I was busy taking pictures at the Milford Sound-like reflections on the Swiftcurrent Lake as the mountains were bathed in the soft sunlight glow. Mt Wilbur kind of reminded us of Mitre Peak as it was the prominent mountain towering over the body of water. There were dozens of other people sitting on the deck enjoying the view while there were still others walking along the lakeshore getting their views or going for a morning walk.
As I was busy snapping photos of the incredibly gorgeous scene, I then started to make my way towards the Swiftcurrent Falls knowing that the soft sunlight glow would be great on the east-facing waterfall. I managed to find a trail just on the north side of a private residence that seemed to support stock usage as there were horseshoe prints on the finely packed dirt.
I eventually got to a spot where I could look down and see the Swiftcurrent Falls in better detail than when we last saw it from the roadside pullout up above. I had to be careful not to fall into the little canyon as there was definite drop off exposure.
There were actually a couple of spots of check out the falls from this vantage point, but I also noticed a faint path that led a little lower for a slightly different perspective. It looked like the sloping ledge led a little closer to the falls though it looked a bit dicey to proceed further so I contented myself with a view at a "switchback" in the informal path.
After having my fill of this falls, I then headed back to the Many Glacier Hotel. However, I was kicking myself for not bringing the handheld GPS
. I told myself that after the Grinnell Glacier hike that I would come back here with the GPS in hand to properly document it.
By 7:45am, I made it back to the hotel dining room. Julie had already ordered some cooked breakfast while she bought some smoked salmon takeaway brekkie for me. Well, I got a chance to eat it before Julie reminded me to go back downstairs and right to the boat dock to try to purchase boat tickets given how things get sold out so easily in peak season (which was now).
When I went down there, I saw that I was probably the 8th person or so in line. They opened the ticketing a little bit early, but I could already overhear that the 8:30am and 9am cruises were waitlisted. So I went ahead and got myself put on the waitlist while I bought a 1pm tour for both Julie and Tahia (the only times a waitlist weren't necessary were in the afternoon).
I doubted that I'd make it to the 8:30 waitlist so I went back upstairs to finish the brekkie, which consisted of smoked rainbow trout on bagel with some raw veggies on the side. I also ate what Tahia and Julie couldn't finish so it was a pretty satisfying breakfast as far as I was concerned.
When brekkie was done, I went down to the boat dock to see if I was one of the lucky ones to make it. But by 8:30am, the boat was full and I knew that I didn't make it. At first, I thought I mind as well do the hike (which the boat employee at the ticket booth told me that it was around 11 miles round trip without the boat), but since I was close enough to the 9am boat lunch time, I thought perhaps I should wait it out a bit.
So I loitered around for a few minutes when the boat dock area was busy with people once again. When that boat became full, the ticket person asked who was going on the boat to hike and didn't need an immediate ride back?
When several people, including myself, raised our hands, he decided that he'd set up an unscheduled 9:30am boat departure. At first, he was going to call off all the names of people on the waitlist to make the purchase, but when it went too slow, he decided people should just line up. Luckily, I was standing close enough to the booth to be about the 7th or 8th person in line once again.
And eventually when it came to be my turn, I managed to purchase my own boat ticket no problem at $27.50 per adult (having already spent $41 for both Tahia and Julie for their tour earlier). When we waited for the next boat to arrive, we loitered around some more and took a few people shots before I went back down to the boat dock ready to get started.
For such a late start, I figured the boat taking off at least 2 miles off the hike was a good thing. I had contemplated taking the boat back as well to shave off a total of around 4 miles off the 12-13 miles of hiking, but during the boat tour, the driver said that all returning boats are not guaranteed a seat except for the 11:45am boat and the 5:15am boat. So that meant that if only 3 people got off the 1:45, 2:45, or 3:45 boat, then only 3 people could get on out of 49!
That was when I decided that I would walk all the way back unless I was already late to begin with and lagged until 5-ish, which I didn't expect.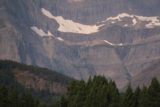 Anyways, the boat cruise was interesting as I had learned that the park owed its existence to George Bird Grinnell, who was a person who fell in love with this place and learned how to live here from spending time with the native Blackfeet Tribe who had inhabited this area prior to the first White people to arrive. He was instrumental in getting Glacier National Park protected, but he was also very upset with the Going to the Sun Road being built.
In fact, it was said that once that road was completed, he'd never set foot in the national park again, and pretty much made good on that promise. Now over 100 years since the establishment of this park in 1910, Julie and I noticed the lack of infrastructure in this park due to its short season, and it seemed like the Going to the Sun Road had a lot to do with it as it was busy with vehicles and not enough shuttle buses being run.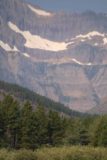 It was kind of a disaster that we experienced firsthand. Plus, the Many Glacier Road condition also seemed pretty bad as the lack of infrastructure on the east side of the park really showed there. So perhaps George Bird Grinnell knew something all along when he felt this place should have remained a wilderness park in much the same way Sequoia and Kings Canyon National Parks would be managed as those were mostly roadless wilderness.
That would mean less overhead and infrastructure to maintain. Apparently, Glacier National Park couldn't keep up with its operating costs so the result was a park that was badly in need of better infrastructure and crowd management. They're in a bit of a catch-22 at the moment. And it got me wondering how we have to make adjustments in the Yellowstone section of our Summer trip.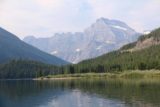 I also learned from the boat tour that the glaciers in this park have about 13 years left before there'd be none of them left in the park. Apparently to be defined as a glacier, there had to be enough mass in the ice to be moving, which meant it had to be at least over 270 acres or something like that. It couldn't just be as simple as year-round ice. So given that definition, I could totally see why it would be an inevitable result.
The after effects of having no glaciers would be that the powder-blue water will eventually dark as less glacial scouring would occur and the water temperatures will warm. It will definitely have an adverse effect on wildlife here, especially since the "water tank" effect of glaciers would be going away, thereby making water even more scarce in this park.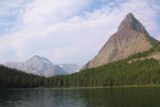 It all sounded pretty depressing, and I was already bracing myself for the Grinnell Glacier experience, which was the poster child for Global Warming as its dramatic repeat landscape photograph was a damning example of the accelerated warming that had been taking place since the Industrial Revolution.
The Lake Josephine part of the cruise was quite scenic as we could see Grinnell Falls and the Salamander Glacier above it, which was once joined with the Grinnell Glacier. The boat operator also told us about how this boat got here after a kid asked a question about how it got here in the first place. To make a long story short, the operator said that it was rebuilt after it was sheared in half from an avalanche. So the particular boat we were on once it was made functional again was to stay here for the rest of its days.
The boat docked at the far south side of Swiftcurrent Lake, where we then got off the boat and walked about a quarter-mile to another boat dock waiting at the northern shores of Lake Josephine. We then took that boat across this lake towards its southeastern shore, where we finally got off at 10:10am. At that point, there was a big crowd making their way up to the Grinnell Glacier which was around 4.1 miles or so from here.
The path initially started off shaded and within a well-forested area where the path traversed a boardwalk over the marshiest and most sensitive terrain. Along the way, I saw a big disjoint pile of black scat with berries in them, and it was clear to me and others that it was bear scat (given how grizzlies love huckleberries and bulk up 60% of their body weight in the stuff).
The flat train eventually gave way to a relentless incline as the path promptly rose up from the shade of the forest cover and into the sunlight. There were a few switchbacks as the pretty steep incline resulted in the crowd thinning out as people were visibly struggling with this part of the hike. I myself was ok though the backpack was heavy from bringing extra water, and my dog-eared hat was protecting me from the sun at the expense of my head feeling hot.
This climb would persist for what seemed like forever, but it was only about 10:35am when the climb was less intense (though still climbing) and it revealed views of Grinnell Lake as well as the side valley containing Cataract Creek, where I could see another waterfall in the haze against the sun in the distance at the head of that valley.
Looking to the right, I could see even better views of Grinnell Falls, which induced me to make frequent stops to take more pictures and videos along the way. Ten minutes later, the views continued to improve and I wondered how many more of these stops would I keep making before I could "move on with the hike" so to speak as large groups were passing me while I was busy "smelling the roses" so to speak.
At 11:05am, I reached a point in the trail where I rounded a bend and got even more dramatic views of Cataract Creek, Grinnell Lake, and Grinnell Falls from one spot. The trail was still climbing at this point!
Five minutes later, I encountered yet more switchbacks though this turned out to be just a pair of broad stretches before continuing on in the same direction as before.
At 11:25am, the trail then went through a surprising yet very beautiful wildflower display by one of a couple of minor side stream cascades spilling down from the right. The second cascade was taller and seemed to be a good break spot for quite a few of the hikers that have made it up here so far. However, the entire trail was still exposed to the sun so I'd imagine it wouldn't be too much of a break other than the opportunity to cool off from the running water.
Well, just a few moments later, the trail then went across a narrow stretch where there was a bit of a weeping wall as water spilled across the narrow ledge. I used this opportunity to dip my head beneath the cold shower (even if it wet some of my clothes) and man it felt good.
This gave me a bit of a second wind as the trail continued to climb but now the trail was narrower and pretty much persisted with exposure to drop offs. By about 11:55am, I started to get more angled and profile views of Grinnell Falls as it was below to my left. Finally, I could start to take a little focus off of photographing the falls and look for forward while trying to capture the experience in real-time.
At 12:15pm, I encountered yet another couple switchbacks. But when I got up to the top of this stretch, there was a huge crowd of people gathered around the benches. There was a ranger amongst this group, and I wondered if this was the 8:30am ranger-led hike. Either I had just caught up with them or they were on their way down. But it wasn't apparent to me why there was such a large gathering here until I realized that there were a couple of pit toilets nearby!
It made me realize that throughout this trail, there was hardly any privacy to heed nature's call. Only up here was there an opportunity to relieve oneself in the relative privacy of a couple of little single-person outhouses.
Now, there was still 0.4 miles to go, and it would turn out to be a little more loose rocks and minor switchbacks as the trail made its final ascending push to the overlook of the Grinnell Glacier. By 12:30pm, I finally got to the overlook where I could now look below at what appeared to be a lake full of icebergs or floating ice sheets while the rest of the Grinnell Glacier itself was in the shadier parts of the bowl to the left.
The tall and thin plunging waterfall that I had been seeing the whole time above the main wishbone drop of Grinnell Falls was actually draining the Salamander Glacier right above it and it spilled right into the newly-formed Upper Grinnell Lake. It was bittersweet beauty in that it looked like there was more lake than glacier at this point. And so it was depressing to see how much damage Global Warming had caused already.
I scrambled down to the shores of the lake where I found a rock to sit on and finally have a picnic lunch. Julie packed me a chicken salad with huckleberry dressing as well as some grapes. This food gave me the energy and second wind to make the long downhill hike once I would finally pry myself away from this spot.
I used the ice cold lake water to rinse my sticky hands, and the water felt soapy as it was full of the glacial flour from all the scouring of the glacier action when it was still a healthy glacier several decades ago.
Looking up to the topright, I could see that there were people looking down at us. Clearly, that must have been the Skyline Trail leading to the famous Grinnell Glacier Overlook where one of the before and after photos was taken of the evolution of the Grinnell Glacier.
I was eventually joined by several people, including a large family or troop, and my moment of peace and reflection ended. So at 1:15pm, I reluctantly gathered my stuff together once again and started heading back down the trail.
After using one of the pit toilets at 1:35pm, I then resumed the hike down. It was going along pretty quickly as I was using the downhill momentum to my favor at the expense of pounding my knees and achilles. So I found myself catching up and passing most of the people in front of me.
Along the way, I was enjoying the views over Grinnell Lake and Lake Josephine towards the Swiftcurrent Lake way in the distance. I could also see that there was a budding thunderstorm in the distance.
Somewhere along the descent, I saw an Indian family taking rest, but then I heard sounds of someone throwing up as I was passing by, and I knew that that person might start to suffer the effects of heat exhaustion. Therefore, she might require medical assistance and not continue the hike. She didn't look like she was drinking enough water.
I continued on with the descent where I somehow must have missed the junction I had taken earlier to get from the boat dock at Lake Josephine to hook up with the Grinnell Glacier Trail. That was because I eventually found myself at another junction along the Lake Josephine North Shore Trail, which remained mostly exposed to the sun despite being in the forest again.
So I guess I had committed to hiking all the way back even though I had already had it in my mind to do this and not take chances with limited space on the boat and have to wait even longer to get back. Eventually at 3:05pm, I found myself back in the stretch of trail between the far end of the Swiftcurrent Lake dock and the mouth of Lake Josephine's dock. The trail seemed a bit more paved here, which I guess I hadn't really noticed earlier on this morning.
The Lake Josephine North Shore Trail was actually not as flat as I was led to believe from the boat operator's verbiage earlier this morning, but perhaps she was referring to the trail along the other side of the lake. Still, compared to the inclines and descents that persisted on most of this hike, I could it was still relatively flat in that context.
Eventually by 3:35pm, I made it back to the trailhead of the Swiftcurrent Lake Loop. Along the way, I was enjoying views of some private cabins fronting Swiftcurrent Lake towards some mountains in the distance. Clouds were definitely more persistent as it was now starting to block out the sun. Still, with the minimal shade thorughout this hike, I was looking forward to being indoors and cooling off.
The sign by the trailhead said that Grinnell Glacier was 5.9 miles from this point so I guess the total round-trip distance (if you believe the signs) was 11.8 miles if I was to go up and down without the boat along the Lake Josephine North Shore to Grinnell Glacier route. But if I had taken the boat forward and back, then that would take off around 1.5-2 miles each way (I guess it depended on the trail route taken) to eventually wind up at about 7.8 miles round trip or so. I figured that I had probably hiked about 10 miles.
When I went into the Many Glacier Hotel lobby, I didn't see Julie and Tahia. So I decided that I should use this time to go back to the Swiftcurrent Falls with my etrex
on my and properly document this falls.
Under the warnings of thunder from the incoming thunderstorm, I'd eventually get to the familiar views of Swiftcurrent Falls at 3:50pm. With the T-storm clouds blocking out the sun, I was able to look at the falls with more or less even lighting. If the clouds weren't there, then I'd be looking against the sun at this time.
After having my fill of the Swiftcurrent Falls, I then made it back to the lobby of the Many Glacier Hotel at 4:05pm. That was when I saw both Julie and Tahia chilling on one of the couches there. We regaled each other on our experiences, and they told me that the actually saw a grizzly bear on their boat tour!
Apparently, they saw bears approach some unsuspecting hikers before the hikers eventually figured out what was going on. I wasn't there to witness it, and Julie wished she had the zoom on my camera to at least capture the bears in photographs that she couldn't really do with her iPhone.
We'd eventually lounge around until the first-come first-serve dinner at 5pm. While there, we got partial views towards the north shore of Swiftcurrent Lake where some people said there was a bear up the mountains there. But I guess I missed it again.
The T-storm definitely let down its load during dinner as we watched the heavy rain pummel the rooftop below us at the Many Glacier Hotel all the while we were eating duck breast and prime rib. Our dessert consisted of huckleberry cobbler.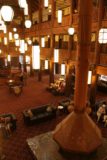 After the dinner, upon learning from the boat tours about the before-and-after pictures in the Many Glacier Hotel, we paid more attention to the pictures on the hallway separating the lobby from the dining room area. Indeed, these pictures actually showed in a very matter-of-fact manner just how much the glaciers had receded in a period of barely 30 years or less!
We then ended off our Many Glacier Hotel stint by checking out the upper floors and taking pictures of the grand yet rustic lobby area.
By 6:25pm, we finally returned to our parked car as the thunderstorm momentarily died down around the hotel. But when we drove out the rough road towards our motel, the thunderstorm activity picked up again. The skies were definitely grayed out and there was even some local flooding on the road conspiring to conceal some of the potholes.
Again, Julie and I were reminded of the lack of funding and infrastructure that seemed to be plaguing Glacier National Park as we tried to avoid damage to the car while driving such roads.
As we looked further east, we saw a strange eerie orangish glow amongst the storm clouds. We weren't sure what that was all about, but when we eventually got back to our motel at 6:50pm, we could smell smoke. I guess we were now under a situation where we were getting both rain as well as smoke. We weren't sure if this was from a change in the wind direction from the BC fires plaguing us on this trip, or if this was a new fire resulting from lightning strikes in this thunderstorm. This was definitely not good if we were to continue experiencing bad air quality when we get to both Yellowstone and the Grand Tetons in a few days.
Whatever the case, the rain would persist on-and-off throughout the night. There were fairly frequent flashes of lightning along with the accompanying thunder (basically sonic booms from the lightning breaking the sound barrier), which captivated Tahia. Anyways, from what we were told, this part of the country wasn't seeing any rain since the last of the snows in early June. So it sounded like it was a very welcome sight.
Eventually some time after 9pm, Tahia and I slept soundly as I was pretty exhausted from the long day of hiking. Julie sounded like she was in the midst of preparing something with her pressure cooker. Regardless, I guess the early dinner had its benefits as I didn't recall I had ever slept this early at any point during this trip…
Day 13 (August 8, 2017 – Bozeman, Montana): "Huckleberry Pickings"
It was about 4:20am when I managed to wake up without an alarm. It was the first time all trip long that I was able to do this. Perhaps, my ability to sleep very soundly from the long day of hiking helped with this.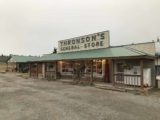 It was still raining outside as the thunderstorm that popped up yesterday afternoon appeared to still be persistent. I was not used to such persistent thunderstorms in the Summer as they tended not to do this in the Sierras. But then again, we're in the Rocky Mountains, and every region has its quirks and idiosyncrasies.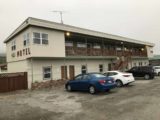 It took some time for us to get ready as I had to make multiple trips up and down the steps to load up the car after getting all packed and ready to go. By the time the car was fully loaded, it was still about 6:55am, and it was close enough to the Glacier Edge Cafe across the street to be open so we took advantage of getting a breakfast ordered to go.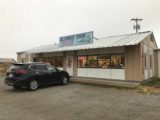 So it wouldn't be until about 7:15am when we were finally out the door. By this time, the rains from the thunderstorm appeared to have subsided though the cloud cover remained and it looked like it threatened more. The drive south along the US89 involved going through quite a few sections of fog, which attested to how low the clouds were.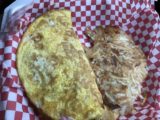 There was definitely no chance for a scenic sunrise like there was yesterday morning.
Plus, given our late start, we decided to skip Running Eagle Falls, which Julie and I had done 6 years ago. Instead, we aimed for visiting Appistoki Falls, which was also in Two Medicine Valley, but we didn't visit that one yet.
Eventually at 8:15am, we arrived at the Scenic Point lot, which was in a small turnoff and parking area just a mile or so before the end of the road at the lakefront of Two Medicine Lake. With the persistent cloud cover, there'd be no way we could re-create the Milford Sound effect that we had at Swiftcurrent Lake yesterday. So we didn't waste any time trying to take photos of Two Medicine Lake backed by peaks this morning.
It looked like they had boat cruises at the Two Medicine Lake (kind of like the boat tours leaving from the Many Glacier Hotel yesterday), but we didn't have time to do it on this trip. Maybe next time we're around the area, we could do the tour and make the hiking to the attractions at the far end of the lake more manageable.
We finally started hiking at 8:30am. Just as we were getting ready, there was another car that pulled up so we wouldn't be the only ones doing this hike at this time. As we were about to be overtaken by the couple on the trail, they pointed out that there were wild huckleberries glowing alongside the trail. They must have been locals because they said they've done this trail several times.
Ever since they pointed out to us what the huckleberries looked like, that got Julie and Tahia to be on the lookout for them so they could pick them. I had recalled on the boat tours yesterday that legally, we were allowed up to a pint of huckleberries (which was actually a lot). This was said to be the grizzly bears' favorite foodsource as they could eat up to 60% of their body weight in huckleberries. So I guess we technically could be competing with them for this resource.
That said, there were plenty of huckleberries alongside the trail, and there had to have been countless more in the backcountry, where the grizzlies would be more likely to be roaming than along the trail, especially when people are around.
The huckleberry-picking really slowed down our progress, but we still managed to go along a signed detour leading to a somewhat obstructed and partial view of the impressive Appistoki Falls. It was tall, but it was facing away from us and trees were in the way to prevent the falls from being completely revealed to us. The trail appeared to continue further uphill informally, and when I pursued it, it rejoined with the main trail that we had detoured off from.
A short distance beyond this merge was an opening where I was able to look at the surrounding mountains as well as the attractive mountains across the Two Medicine Valley. I was also able to carefully look down over the dropoffs towards the smaller cascades culminating in the big drop of Appistoki Falls though the rest of the main drop wouldn't be visible as I could only glimpse the brink and its very top and that was it.
When I rejoined Julie and Tahia, we then headed back. The hike back went even slower than on the way up as they were determined to keep picking huckleberries as I knew that they had gotten hooked on the activity. We could be here all day doing this, but we still had a long drive ahead of us towards Bozeman, where I still had an afternoon hike to Ousel Falls.
Even though we had places to go, I knew that this unexpected fun from the trail would result in a very memorable moment that I'm sure Julie and Tahia surely won't forget. It made me conflicted in that this was one of those moments I didn't want to end, but finite time was against us in this case.
Regardless, we were able to consume the huckleberries on the spot since there was no insecticide on them. It was pretty much fruits as Mother Nature had intended. I'm sure it also had the soil diversity that you simply don't get in farmed fruits. And Julie had pointed out that these berries were rich in antioxidants.
Anyways, by the time we got back to the trailhead at 10:05am, we had taken over 90 minutes to do a 1.2-mile round trip hike. That just illustrated how much time we had spent picking huckleberries. We didn't have to worry about bear encounters on this trail on the return as we had encountered at least 3 or 4 parties headed the other way so it was unlikely that bears would be surprised should an encounter happen.
So we drove out of Two Medicine Valley and followed along the US2 through some extensive prairies of the Blackfeet Indian Reservation lands. When we passed through East Glacier Village, it didn't look familiar, and that was when I realized that the GPS
had us not go back towards the US89 en route to Browning. It turned out that Browning was the main town of the Blackfeet Nation.
We then continued southeast along the US89 towards Choteau. The drive was very light and any passing that I had to do to get around slower drivers was easily done. When we got to Choteau, we then took the 287 south towards Helena. By the time we got to Helena, Julie had ordered out from this place called Steves Cafe since they had gluten free options for her.
We got there at around 1:20pm, and it wouldn't be until about 1:45pm when we resumed our drive.
At first, the GPS
suggested that we continue heading south along the US12, which a guy at the restaurant said that it was two-lane road with limited passing lanes. We had this idea that perhaps we were better off continuing south along the I-15, but when we realized later that the I-15 actually went more southwest to Butte than southeast to Bozeman, we eventually took the 69 south to join up with the I-90 towards Bozeman.
It was probably a costly 25-minute detour had we committed to staying on the interstates, but we'd eventually get to the Bozeman Community Food Co-op near the center of Bozeman at 3:30pm. Thus, Julie was able to get some much-needed grocery shopping done. But she took her time, and it wouldn't be until 4:15pm when she finally got back to the car. I was now worried that I would be getting a late start and end for the Ousel Falls excursion that I was going to solo in grizzly country.
We got to the Residence Inn at Bozeman at 4:25pm. After unloading all our main stuff from the car and into the room, I was back out the door at 4:40pm. Now, I was driving south along the US191 eventually heading towards the town of Big Sky.
The drive was surprisingly fast and smooth as there were a few sections with 70mph speed limits though it was mostly 60mph once the road curved its way amongst the Gallatin Mountains. Eventually once I got to Big Sky, I then got off the highway and onto the Ousel Falls Road after passing through what appeared to be a new suburban community with shopping and business area before passing by what seemed to be new communities and homes.
At 5:35pm, I finally arrived at the Yellow Mule Trailhead for the Ousel Falls Park. Since it was only about 2 miles from here to town, I could see why local residents would frequently walk from home to the falls and back after work. Indeed, it was close enough to not require a car.
Anyways, after getting geared up, I followed the well-made and well-signed path along what appeared to be a wide ledge before the trail dropped down a couple of switchbacks towards a bridge over the South Fork of the West Fork of the Gallatin River. The trail then went uphill beyond the bridge past some junction with Ralph's Pass as well as some more primitive but unfinished Yellow Mule Trail section before the trail then dropped down again to another bridge over the South Fork of the West Fork of the Gallatin River.
There was a small cascade near this bridge as well as some intersting geology from the canyon walls. But then the trail climbed briefly once again as it made its way up to the Ousel Falls viewpoint. From here, there appeared to be other paths leading down to the base of the falls and picnic area as well as towards the top of the falls. They were all within a few paces from here.
Ousel Falls was an attractive waterfall with character, especially in the diminishing Summer flow that I had seen it. I saw in the pre-trip research that earlier in the season, the width of the falls could cover the entire width of the rock bench over which it made its drop. But it definitely didn't look like it was 100ft tall so I wasn't sure how I came across that assertion during my trip research, but it definitely wasn't that tall as it had the potential to be wider than it was tall.
Even this late in the afternoon (I had gotten here at 6:15pm), there were still a few people either arriving or just starting to leave. Indeed, this was a pretty popular place, which surprised me since Yellowstone National Park was not that much further away from us (it was more southeast of us across the border with both Idaho and Wyoming; the interstate aspect of the park was why they had to make it a National Park as opposed to a state park).
After checking out this falls every which way (again, I thought Julie and Tahia missed out on this one because this was quite family friendly), I eventually started heading back at 6:40pm and made it back to the parking lot at 7:05pm. Along the way, I saw some orangish haze in the distance and I wasn't sure if they were thunderclouds getting the benefit of a setting sun or if it was residual haze from the smoke of the BC fires. Whatever the case, the sun had somewhat of a reddish appearance so I'm sure there was still some of that bad air quality that made its way over here.
The drive back to Bozeman was pretty uneventful as we were going at a pretty high rate. By 8:05am, I was back at the Residence Inn, where I got to eat Julie's cooked dinner. So that saved us some logistics as well as some health concerns as she could at least control what went into the food rather than relying on restaurants that may or may not respect the gluten allergies or other gut disorders that Julie was having that was induced by the ingredients that went into the foods.
It also saved us having to pay tip and wait on service as well. Indeed, sometimes, it's the simple things in life that are better.
The rest of the evening was spent with Julie running errands while I was entertaining Tahia playing in the pool and spa area. She wouldn't be denied her opportunity playing in the pool.
Eventually, Julie and I slept late after midnight (not good considering we had a long day of driving ahead of us to do a day trip to Woodbine Falls and Natural Bridge), but at least we got some much-needed laundry done. But it did concern me how much of the day would be consumed on the road tomorrow. We'll have to see how it all plays out, especially as Julie and Tahia would complain big time about getting up early in the morning…
Day 14 (August 9, 2017 – Bozeman, Montana): "Off The Beaten Paths"
It was about 5am when I awoke to my alarm pretty groggy. This was not surprising considering that I had gotten less than 5 hours (probably closer to 4 hours) sleep. Julie woke up to her alarm some 30 minutes later. Once again, I was concerned about getting out the door late, and since we had a long day of driving ahead of us, I was doubly concerned that we wouldn't be returning to Bozeman at a reasonable hour (being before 6pm) as we had at least a solid 6-8 hours of driving ahead of us (not including the hiking).
After having the included breakfast at the Residence Inn, we finally got into the car at 7:30am. It was hazy outside and was definitely smoke. It made me wonder if the smoke from the BC fires that we had encountered earlier on in this trip had made its way out to Montana (perhaps the wind had shifted?). But as we drove out east on the I-90, we caught a radio station saying something about a fire that had started in northwestern Montana from a lightning strike. And that totally made sense considering that there were thunderstorms that we encountered while we were staying in Babb.
The drive out east went about as smooth as can be. We were making good time, and when we finally made it out to Columbus, we then got off the I-90 (and its 80mph speed limit) then headed through the town before going south on the Hwy 78 then onto the Hwy 419 (Nye Rd). Again, we were making quite good progress on the drive, and by the time we finally made it to the Woodbine Campground in Custer National Forest (going past Nye and the huge mining operation going on there), we finally arrived at the trailhead at 9:55am.
The GPS
expected this to be a three-hour drive, but we ended up making this drive in about 2 hours and 20 minutes!
After getting geared up at the scenic trailhead parking (this also seemed like a nice spot to camp), we then got onto the trail, which pretty much followed Woodbine Creek while crossing over a bridge then going up some switchbacks as we gained some 300ft in elevation.
The grade of the uphill wasn't too severe though, and we eventually got the official lookout where we were at first disappointed at the obstructed view due to trees getting in the line of sight. However, I saw that there were informal but obvious scrambling paths going up a steep and rooty incline that ultimately led up to a much better rock outcrop with a more direct and less obstructed view of the main drop of Woodbine Falls. The only caveat to this view was getting over the butterflies in the stomach from the exposure to a long dropoff.
A lady and her dog also made it up here. She seemed to be a local as she told me that during the spring, there would be so much spray coming out of the falls that it would blast the very outcrop we were standing on (thereby making the conditions much more slippery and dangerous). But she indicated that I could continue scrambling up to the next rock outcrop for an even higher vantage point of Woodbine Falls and its surroundings.
And so that was what I did. When I got up there, I did manage to get a slightly more direct look at Woodbine Falls' main drop, but the lower cascades were hard to see as they were directly below me now. I wasn't going to lean out over the dropoffs to see them. However, when looking downstream, I saw the majestic mountains of the Beartooth Range on the opposite side of the canyon.
Julie and Tahia eventually made it up to the first of the informal lookouts and got their much more satisfying views compared to the official lookout. But once we all had our fill of the falls, we headed back downhill towards the parked car at the trailhead.
The skies were already turning gray as the thunderclouds were already becoming more organized. Since it was happening so early in the day, I knew that this area was surely going to experience a thunderstorm.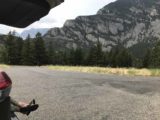 We made it back to the car at 11:35am. Before heading out, we had a picnic lunch of some chicken and broccoli leftovers with some cherries and grapes as well. Since the picnic tables seemed to be reserved for campsite patrons, we ate at the backside of the rental SUV we had been taking on this trip.
With the views and the serenity of being off the beaten path like this, it was a memorable and enjoyable lunch. I knew that moments like this was going to be rare (if at all possible) in Yellowstone at peak season for Glacier NP already indicated to us that just about all the national parks would be overcrowded with people also on their Summer vacations.
By 12:10pm, we were done with our picnic lunch and left for Natural Bridge Falls, which was the next attraction of the day. That too would involve a long drive as the GPS
predicted it would take about 2.5 hours drive to get there. Perhaps without too much traffic like on the way to Woodbine Campground that perhaps we'd make good time.
And just as I hoped, the drive south on the Hwy 298 was smooth and not too much traffic. Passing slower vehicles was relatively stress free as it seemed like not too many people go out this way when we left the I-90 at Big Timber and headed south past McLeod towards the Gallatin National Forest.
There was one moment where some flashing vehicles said something to the effect of "Testing in Progress", but we weren't sure what they meant. We just proceeded slowly and kept going until we finally got the well-signed yet seemingly busy parking lot for the Natural Bridge Falls at 1:55pm.
Once we got geared up, we promptly walked towards a footbridge over the Boulder River. When we looked downstream, we could see that sought after Natural Bridge was somewhere down there. At first, I thought the lookouts to the left of the fork (before the bridge) was where we should be going and so Julie and Tahia headed out that way. But when they took off and I studied the map sign one more time, I realized that I was supposed to cross the bridge then take the East Rim Trail to the actual direct overlook of the Natural Bridge Falls.
So that was what I did, but it was too late to get Julie and Tahia by this point. So I went there on my own hoping that they might see me from the lookout opposite the canyon.
I had to walk a less developed and more primitive trail for about a quarter-mile involving a descent. But when I finally got to the lookout, I could see right away that this was where we needed to be to truly experience the Natural Bridge Falls.
Even though there wasn't enough overflow on the Boulder River to have the waterfall fall upon itself (like it did for us at Running Eagle Falls six years ago), the Natural Bridge Falls was very impressive. It certainly was a lot more natural than say what the Longmen Waterfall might be in China since one can't really tell if it was real or human-altered.
After some time, Julie and Tahia did manage to spot me across the canyon and they eventually went across the bridge and joined me at the main overlook. We saw there were people enjoying the water down at the base of the canyon, but we weren't up for extending the hike and getting down there. We were quite content with the view.
Then, once we had our fill of the falls and natural bridge, we then headed back to the main viewing areas, where Tahia was now acting as the tour guide for me since both she and Julie had already done those lookouts while I was chilling out at the main lookout of the Natural Bridge Falls.
There were more interpretive signs and obvious lookout spots on this side of the Boulder River. And it was here that I learned that the interesting slanted cliffs seen from the car park as well as the lookout nearest the first sign there that they were once part of the shallow sea floor prior to geologic uplift.
Tahia then led me down to the dry riverbed above the tunnel giving rise to the Natural Bridge. Knowing how such a tunnel can collapse at any moment, I wasn't too comfortable staying down there. So I documented what I could while getting a frontal view of an upper waterfall before it disappeared and re-emerged as the main drop of the Natural Bridge Falls further downstream. And then we headed back up to more firmer ground.
From there, I checked out the remaining lookouts, including one that had a top down profile view of the Natural Bridge Falls' base as well as the most distant overlook highlighting the missing river as the outflow of the falls once again disappeared into the ground before re-emerging for good as the Boulder River further out of sight downstream.
By 3:30pm, we finally made it back to the car. Now, we could drive back to Bozeman for dinner as well as running some errands in terms of last-minute grocery shopping (before being in the boonies for four days straight at Flagg Ranch starting tomorrow) as well as some hygenic stuff that we were running short on or had completely forgotten to bring in our rush to beat the LA morning rush hour traffic at the start of the trip.
The drive west on the I-90 back towards Bozeman had a lot of haze, which made us worried about the smoke that seemed to be getting worse and affected air quality. By the time we were in Bozeman, it also seemed like thunderstorms were threatening once again.
By 4:50pm, we parked in some public parking area for downtown Bozeman. As we walked towards this place called Five on Black, we saw right away the youthful ambience and somewhat charming (by American standards anyways) throughfare.
Inside the Chipotle-like Brazilian cafe, we gorged on the Brazilian National Stew as well as some other gluten free options. The chimichurri sauce had a real spicy kick to it, but it was very good. We also enjoyed the cheesebread and wound up buying an additional bakers dozen!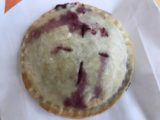 Eventually by 6:10pm, we were back in the car and headed to this bakery and market called Sola because they had gluten free desserts. Once we made it there at 6:20pm, we wound up buying another $30 of pastries (of tiramisu, dark chocolate gluten free cake, etc.) while the skies had definitely dumped its load as the front of the T-storm had come over the Bozeman area.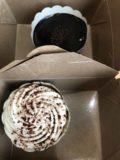 After waiting out the heaviest of the rainfall, we then returned to the car at 6:50pm and promptly headed back towards the Food Cooperative at 7pm for the last-minute grocery shopping. Tahia was busy talking with my Mom over FaceTime since we hadn't spoken since before our trip nearly two weeks ago.
At 7:20pm, we were back in the car once again before Julie had forgotten to buy something and we had to head back to the Coop and wait for her to finish her errands once again. So it wouldn't be until about 8pm when we finally returned to the Residence Inn.
It looked like the lobby area had some kind of Waffle Wednesdays as the afternoon sweet snack, but at this point, we couldn't think about food after having eaten too much for dinner. And with that, the day ended as Julie and Tahia spent a few minutes at the swimming pool while I started to get the process started for getting packed and ready to go first thing tomorrow morning…
Day 15 (August 10, 2017 – Moran, Wyoming): "Mission 66"
It was about 5:25am when I awoke to one of the last alarms as I had ignored the 4:30am and 5am alarms. I figured that since I had finished the day's blogging from the day before on the same day as it happened (a first on this trip), I had earned the ability to sleep in for a few minutes instead of trying to get caught up on yesterday's events.
Still, we had to get an early start so we could get to Yellowstone and the plethora of activities as soon as possible for it was going to be a full day further complicated by crowds, finding parking, and other expected delays from road construction to wildlife sightings, etc.
So after getting some breakfast on the go while also eating some kefir in the brekkie room, it wouldn't be 6:55am when we were all set up and ready to leave Bozeman. Even despite our early start, there were already lots of people in the breakfast room. Clearly, we are a nation of early risers.
Anyways, this would be our very last moment in Montana as we'd pretty much be in Wyoming for the next few days.
The drive east to Livingston then south towards Yellowstone pretty much involved following slower vehicles for just about the entire drive (especially along the 89 south to the North Entrance).
There was a lot of haze in the morning sky obscuring the mountains. And we figured that this must have been from the northwest Montana fires such that the wind had blown in this direction and brought the associated smoke over. After getting through the entrance gate by Gardiner, we drove by the Mammoth Campground and saw mostly inactive terraces before turning left to go east on the northern Grand Loop Road.
By 8:30am, we pulled over at the spacious pullout for Undine Falls. As I had expected, it was pretty much against the sun, but at least we got some more photos and videos to provide some better content than the stuff we've got there right now concerning this waterfall that we hadn't seen in 13 years (the last time Julie and I were in Yellowstone).
Since Tahia was sleeping and Julie can't leave Tahia alone, I solo'ed the view of Undine Falls before continuing the drive east.
At 8:35am, we then parked at the trailhead for Wraith Falls. This was another one of those repeat waterfalls that I had to do in order to better document the trail experience. The hike out to Wraith Falls was delightfully serene and quiet. There was only one couple that was wrapping up their hike, and thus I was the only one on the trail.
After the trail went through the familiar Lupine Meadow then went over a bridge before turning to the left looking right at the sun starting to peek above the neighboring hills, I saw the bulbous Wraith Falls. Then, I did my photos and videos before quickly making it back to the parked car at 8:55am.
Next, I followed a couple of cars driving slowly towards the Tower Junction, where I skipped Tower Fall since I knew that you could no longer get to the base of that waterfall. Actually, this time of the morning was the perfect time to see rainbows at its base. But now with such a subpar viewing experience and the crowds that were already there, I figured it wasn't worth the stop anymore so I kept driving south to Roosevelt.
We'd eventually arrive at the Roosevelt Lodge at 9:20am. I managed to score on of the few scarce parking spaces here, where I started off by gearing up with bear spray and my camera, and then proceeded to hike to Lost Creek Falls (or Lost Falls).
Like I had recalled, there was a signed junction between Lost Creek Falls on the left and Lost Lake on the right. I went ahead and went gently uphill between the thick vegetation leading to the pretty quiet hike. While there were still lots of people out and about dining at Roosevelt Lodge or getting in and out of their log cabins, I found myself all alone on the Lost Creek Falls Trail just like I was 13 years ago.
Pretty soon after hiking about a half-mile or so from the backside of the Roosevelt Lodge main building, I'd eventually start to see parts of the Lost Creek Falls, where the trail officially ended. I saw that there were now more obvious scrambling paths leading right up to the base of the falls for a much better and less obstructed view. I went ahead and did those paths, which were remarkably easier than I had remembered before when I found myself scrambling amongst the fallen basalt.
The sun was just starting to penetrate and light up the uppermost sections of the falls. But I wasn't being too picky about the lighting conditions since I knew that there were still more things to check out on this day.
We were all back at the car at 9:55am. Next, we followed a caravan of cars over the Dunraven Pass towards Canyon Village. It was the first time that we had ever driven this road since our last trip had this road closed for repair or something like that. Anyways, this stretch of road seemed to be pretty nice for panoramas. However, we didn't stop for any of them because the skies were too hazy and the panoramas were way too muted or the visibility was poor.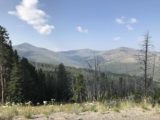 We'd eventually arrive at the Canyon Village at 10:25am, where I was afraid that we'd have to compete for parking spaces in much the same way that Logan Pass parking in Glacier National Park was next to impossible if you weren't there at the crack of dawn. But when we realized that the Canyon overlooks were at least a mile or two away from where were at, I resigned myself to needing to drive to the lookouts then driving back to the village despite how frustrating it could be to find parking in both spots (especially along those Canyon Rim Lookouts where I knew parking must be very limited).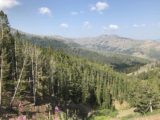 So we got back in the car at 10:40am, which was probably 15 minutes we could have gotten back by heading straight the overlooks instead of outsmarting myself. And sure enough, ten minutes later, there was a bit of a traffic jam right around the bend of where the North Rim drive started.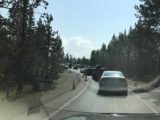 It took some time for the traffic to move, but the source of the jam was that people in the front of the line who didn't know better were waiting for a parking spot, and the single-lane road was clogged. Little did they realize that the Brink of the Lower Falls parking area (which was a lot bigger than I remembered it) was merely the first in a series of a handful of overlooks.
When it came our turn to try our hand at parking, I was about to drive right through the first parking area when Julie spotted some parking spaces near the toilets. Anyways, we'd finally park the car at 10:50am. And then we promptly walked along the Rim Trail past the turnoff for the Brink of the Lower Falls (which was closed again, just like it was closed the last time we were here), and we promptly kept walking to the Lookout Point and Red Rock Lookout.
It turned out that as we were walking this stretch that my gut instinct was correct. We should have kept driving because there were more parking spaces and far less congestion than the first parking area, especially at the Lookout Point parking area. So that probably cost us several minutes of walking right there.
Anyways, we then walked over to the Lookout Point overlook where we were totally competing for the choice viewing spots at the limited spaced overlook of the Lower Falls of the Yellowstone River. It was just as big and thunderous as we had remembered it 13 years ago, and the sulphur-caked cliffs that gave the park its name were also very impressive.
After getting our fill of the upper spot, we then walked down to the Red Rock Lookout. Just like before, it was quite a ways down and we knew that going back up would be taxing. Some of the folks who were making their way up were breathing very heavily (especially those out of shape). That kind of told us what we were in for.
There was one guy who was trying to scramble down the gully off trail alongside the approach to the Red Rock Lookout. When I saw how he was struggling with trying to pull it off (made trickier because there was still water running off in that gully), I had an aha moment where he was doing what some people in the past were probably able to do in that they were able to scramble to access the base of Lower Falls. Either that or the Uncle Tom's Trail at one point used to go all the way to the bottom. By the way, the Uncle Tom's Trail and many other accesses in the Canyon area would be closed for at least this year and into next year due to some major Trail Restoration Project going on.
There were some old photographs taken from the base of the Lower Falls, and even the Yellowstone Waterfalls and their Discoveries book by Rubenstein, et. al. had a color photo from such a vantage point. Perhaps this gully was the lone way left to get down there though it definitely looked pretty steep even going down this gully, and then you'd still have to scramble alongside the bottom of the canyon to get all the way to the Lower Falls. It was probably a foolhardly effort by this guy.
By 11:30am, we made it down to the Red Rock Lookout (so named because there was a big ridge or spire adjacent to the lookout) and we got a few more shots of the Lower Falls of the Yellowstone though we were low enough that some trees were in the way of the nice views from here. I remembered the last time we were here, there was enough spray from the falls that sometimes we felt mist making its way downstream towards us. But that definitely wasn't the case on this trip.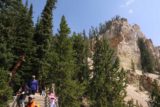 At least we didn't have to compete for choice viewing spots too much as there were far fewer people down here than there were up at the main overlook at Lookout Point. Regardless, we quickly had our fill of this spot as more and more people made their way down, and then we proceeded to walk back up. Just as expected, it was taxing, but quite manageable to get all the way back up.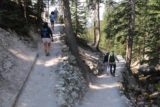 Pretty much the route was paved with some sections of wooden steps towards the end (or the beginning in our case). By about 15 minutes later, we finally made it back to the crowded parking area. I told Julie and Tahia that they could wait for me here, while I went back along the road to pick up the car and then bring it over here to pick them up.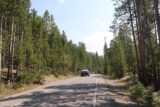 By 12pm, I got the car back, and then we promptly drove past the remaining lookouts (skipping Grand View) and some intermediate lookouts on the way there before getting to the road closure at the junction of the Inspiration Point Road. We got to that junction at 12:10pm.
At this point, I told Julie that I was going to get off here to do the hike to get to Silver Cord Cascade (the lookout). And that Julie could drive the car into Canyon Village so they could have a proper lunch while loitering about the village area while I was soloing the hike.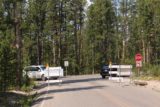 There was some guy in an unmarked big gray pick-up truck who thought I was trying to drive on the closed road blocking anyone from driving onto Inspiration Point Road. There was also another vehicle blocking the ability for us to pull off and switch drivers while the gray pick-up looked like he wanted to get through us and leave. By the way, he was just leaving from behind the barricades so I thought he was someone who managed to drive the road, but turned out he was probably a subcontractor doing the renovation work.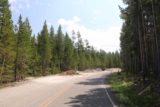 When the private white van finally left, Julie helped me gear up with leftover turkey sandwich and water while I was busy putting on boots and wearing my pack with handheld GPS. Just as we were going this, the guy in the big gray truck said, "You can't park here, buddy!", to which I told him, "I know."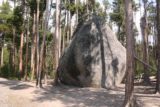 I guess he had to make it a point to get in his two cents when it was obvious that I was going to walk the road while Julie was going to drive Tahia back to the Canyon Village.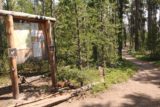 Anyways, we parted ways, and I prompted walked the empty Inspiration Point Road. For about a half-mile or so stretch, the road was delightfully empty. Then, I got to a spot where there was definitely some work going on for the pullout at the Glacial Boulder Trailhead. I promptly walked up to the glacial boulder which I swore we hadn't noticed before when Julie and I were here some 13 years ago.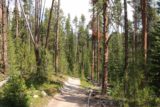 In fact, a lot of things were quite different from our last experience because the one-way road we had just driven on was going in the opposite direction than what the North Rim Drive used to be!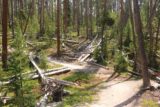 Well, I got to the trailhead at 12:20pm, and then I promptly did the hike on the conventional trail leading to both the Silver Cord Cascade Overlook (said to be a mile away from here) and the Seven-Mile Hole amongst other spots.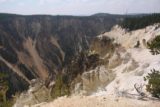 The forested trail undulated down and up so it wasn't as flat as I thought I had remembered it. But the slopes weren't too extensive and severe in the grand scheme of things. There was a large group of Asian hikers with British accents having a picnic or something along the way so at least I wasn't completely alone on this hike though I did pass them and keep going.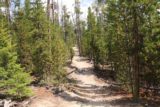 They said that they hadn't gotten to the waterfall yet, and I suspected that they picked this trail to walk at random or something because it didn't appear that they knew about Silver Cord Cascade (or maybe they did?) based on my passing inquiry about whether they made it to the falls or not.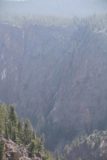 The trail would continue to go up where I started to see the Grand Canyon of the Yellowstone River again before the trail made a bit of a lengthy descent leading to some unsigned spurs towards somewhat obvious viewing spots where the Silver Cord Cascade could be seen.
The sun was still shining brightly even though some of the budding thunderstorm clouds were blocking the sun intermittently. It wasn't during the minutes that I was at the falls view at 12:50pm so I had to manage the bad lighting situation in much the same way I had to when I was last here 13 years ago.
Once I had my fill of this falls, I was looking to have a picnic here, but the problem was that there was no shade. So I had to walk back to the main trail, then start looking for a little better shade so I could finally have that turkey sandwich and water. Just as I was doing this, the large group of hikers were passing by. One girl asked if I had seen a bear, which I denied.
By 1:10pm, I was done with the impromptu picnic lunch in a very informal shaded spot, and then I promptly made it back to the Glacial Boulder Trailhead at 1:30pm. Next, I walked back on the Inspiration Point Road to the junction with the North Rim Drive (getting there at 1:40pm), and by 1:55pm, I had finally bade it back to the Canyon Village.
Once I was there, I went looking in the General Store as well as the Visitor Center, but Julie and Tahia were nowhere to be found. I also asked the backcountry office employee about the latest conditions for the Union Falls hike, but her situation report printout was no different than what I had already seen online. The thing was that the updates for the Union Falls hike hadn't been updated for about a month. She said that if that happens, it's usually because the conditions haven't changed.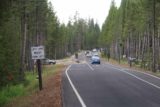 So I guess I'd have to be dealing with a 30″ river ford. She did say that I didn't have to cross right at the trail. I could always scramble around and look for the shallowest and safest crossing once I'm there.
Anyways, we also talked about the Rubenstein, et. al. book which she said was out-of-print now and was missing from that backcountry office. I told her that I already had a copy of that book and that they did some crazy off-trail stuff (which she acknowledged).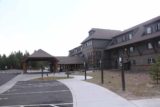 Well, with that, I thanked her and then walked to the other side of the village where there was a Canyon Lodge Dining and Gift Shop area. I managed to find Julie inside the gift shop at about 2:20pm, but it wouldn't be until about 2:45pm when I regained the car. It still took Julie and Tahia time to get their souvenirs (Julie got a T-shirt and cap combo while Tahia got her own as well as a bison stuff animal she called "Bisie").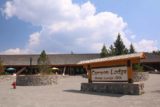 While they were doing what they had to do, I saw some signage at the village depicting photos of how crowded it was even here back in the day when Model Ts were the norm. It talked about Mission 66 which was the biggest investment of public funds into the National Parks for the purposes of improving the infrastructure to accommodate the growing demands of increased visitation as well as the impact to the environment. Yellowstone certainly had a heritage of dealing with such issues being faced today. And I'm betting this village area was probably revamped from when we last stayed here at Canyon Lodge on our last visit.
By 2:50pm, we were finally leaving Canyon Village and resuming the sightseeing, which started to feel more like a work day to me since most of the repeat experiences of today were largely driven by me wanting to overhaul and update the writeups made from data collected 13 years ago, which was way more sparse and now definitely inaccurate given all the changes over the years.
Next, we drove to Arist Point. Along the way, we saw that the Uncle Tom's Trail and parking area was closed. Even the trails leading to the views of the Upper Falls were not accessible so I couldn't improve that writeup other than the logistics behind it. But there'd be no new photos and no new videos either. Same with Crystal Falls when we decided to forego the Brink of the Upper Falls spur on the way to the South Rim Drive.
By 3pm, we made it to the crowded Artist Point parking area, but we saw that there were quite a few parking spaces. It was nothing like what I was expecting, and it really did seem like the park service did a good job of managing the crowds and the congestion. It was a far cry from the Glacier National Park experience. And it really did seem like the Mission 66 initiative was definitely paying dividends to the park visitor experience at Yellowstone.
We then got onto the crowded overlooks for Artist Point, which didn't disappoint. Of course the plethora of people here made it feel claustrophobic, especially when it was hard to get people shots or even just normal shots of the attractions of the Lower Falls looking west and the colorful Grand Canyon of the Yellowstone River, which was getting perfect lighting looking downstream.
From hearing all the foreign accents and foreign languages (many European though a good chunk of them were mainland Chinese), it was pretty obvious that Yellowstone was a world famous attraction. Julie commented how the $30 entry fee for an entire party in a car was a bargain compared to most of the other attractions around the world. This was probably also why the National Park Service relies on donations and volunteers, and always seems to be resource strapped as admission fees don't keep up with the costs of upkeep.
By 3:35pm, we were back in the car. We then drove west towards Gibbon Falls as my mission to do my own little Mission 66 of my website was resuming. Julie and Tahia were napping at this point so by the time I got to the Gibbon Falls Parking area at 4:15pm, I was hiking to the overlooks on my own.
By the way, they definitely changed the Grand Loop Road at this spot as I remembered last time there were pullouts alongside the road causing congestion at this very spot. But now, they had that spacious parking lot and you had to walk to the familiar overlooks.
So I gladly spent time doing that, and I totally didn't mind the exercise and extra time spent given this infrastructure. It was definitely Mission 66 at work here, I thought, and it was a very good change at that. Anyways, I managed to read the signs and capture photos and videos from the Upper Lookout, an informal Middle Lookout, and the Lower Lookout. Even though the signs had pointed to a brink view, it didn't seem to be anything.
And with the nice afternoon lighting, I was finally able to capture Gibbon Falls the right way as the last time we were here, we were looking against the sun in the morning.
At 4:40pm, I was back in the car. By that time, both Julie and Tahia were up. It seemed like Tahia had been saturated with waterfalls (even though we hadn't seen that many to this point) as she wanted to check into our lodging at Flagg Ranch instead of visiting Virginia Cascades (which was next) nor the Natural Bridge, which I had my sights on since grizzly bear activity closed off that trail 13 years ago when we were here.
At 5pm, we were back on the narrow Virginia Cascades Loop Road, which was one way counterclockwise. We were the only ones on the road and pulled over at a pullout just before we were starting to see the familiar Virginia Cascade again. But this time, we were getting the benefit of afternoon lighting though it seemed like the trees grew taller (i.e. obstructed the views more) and some of the west-facing falls started to be in shadow of the cliffs as the sun was further west on the horizon.
Regardless, we got what we needed just as a group of bikers and other vehicles passed by, and by 5:15pm, I was back in the car and ready to head in the direction of Natural Bridge and then Flagg Ranch.
Just as we were making our way to Canyon Village, I had this idea that perhaps we could eat at Yellowstone Lake Lodge while I'd do the Natural Bridge hike while waiting for the food to show up. But the more I thought about it, the more I realized that perhaps we should go back to the Canyon Village and have our dinner cafe style.
So we did that and got back to the sparsely populated Canyon Village at 5:30pm. We went ahead and did our pretty affordable and healthy meal, until we got back in the car at 6:40pm. We had another Chipotle-style cafe experience consisting of wild salmon, rotisserie chicken, and Tahia's Montana-beef bolognese pasta. We spoiled ourselves with huckleberry ice cream, where the single scoop we ordered was generously big.
Next, we headed south to the Natural Bridge, but in doing so, we had to cross through Hayden Valley, which I knew was a wildlife viewing spot. It turned out that on this trip (unlike the last one) that it was sparse in wildlife viewing. However, when we saw there was a huge traffic jam and people with lots of binoculars and powerful zoom lenses, I wondered if they had spotted grizzlies.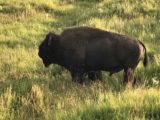 We didn't stop because whatever they saw, it wasn't obvious from the road. So we kept driving. But when I started to see bison grazing, I pulled over and let Tahia get excited about seeing wildlife for the first time in Yellowstone. Since she got the stuffed animal of a bison at the Canyon Village, she was overjoyed at seeing them for real, and she kept yelling out "Bisie!"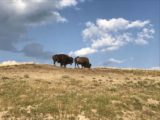 Julie and I weren't sure if we were disturbing the peace with Tahia's overjoyed squeals. But after having our fill of this stop, we then made another stop when we saw a giant herd of bison spread out all over Hayden Valley. I was worried that some of them might want to cross the road and cause a traffic jam so after getting our fill of them at 7:15pm, we then promptly got back in the car and had to insist our way out of the pullout amidst the traffic confusion.
Next, we passed by the Mud Volcano area, which Julie wanted to see upon seeing all the rising steam and vents. But I knew that we were pressed for time and couldn't stop here. She obviously wasn't happy about my decision to keep going (knowing that we've done this before), and she criticized my decision at going to the Natural Bridge, which was something we hadn't done before.
And in the midst of this argument, I decided that perhaps we should do neither and go for the Crecelius Cascade since that was a waterfall that we had missed the last time around.
I knew that at about 18 miles from the Fishing Bridge Junction, that we were doomed to have to drive in the dark on the way to Flagg Ranch. With the amount of wildlife in this park, the thought of hitting wildlife with the car and damaging it was always foremost on my mind.
Eventually at 8pm, we'd make it to a signed pullout for Eleanor Lake once we finally figured out after the fact that the Crecelius Cascade was on the east side of this reflective lake. Along the way, there were some nice views of Yellowstone Lake but we didn't have time to make stops for them. It turned out that we had overshot this spot earlier and made it all the way to Corkscrew Bridge view which was beyond Sylvan Pass.
Tahia couldn't hold in her pee and happened to miss the emergency pee bag and got it on the seat, which really upset Julie.
Anyways, as the sun was setting, I got out of the car, walked to the east side of Eleanor Lake (which had another pullout but no signage indicating the Crecelius Cascade), and I finally spotted the falls on the south side of the road (and not the north side as I had previously thought all this time).
Finally, I was able to capture the falls in video and photos, and we finally bagged the last of the frontcountry waterfalls in Yellowstone National Park. As I was walking back to the car, I saw a gorgeous red globe sun behind the trees in the way and wished that we could have caught the sunset with Yellowstone Lake in view.
But alas, it was about 8:20pm when I was back in the car. Now, we were doomed to drive in the dark though that didn't stop us from making a couple of stops for ok views over Yellowstone Lake as well as stopping for deer grazing not far from the road (the very reason why you don't speed drive at night).
After following a caravan of cars on the way to Fishing Bridge (where we topped off on gas) and then we had to lead the way to West Thumb Junction, and then we followed another caravan of cars south to Flagg Ranch (where some impatient drivers passed by on the two-lane highway and risked striking wildlife while speeding some 20-30mph above the posted speed limit while we were already going about 5-10mph above the speed limit), we'd finally arrive at the Headwaters Flagg Ranch Lodge at 10:10pm.
We had some trouble finding the check in reception, but once we finally did that, we then had to try to find parking closer to our cabin, where the lot was full and we had to improve by parallel parking at the edge of the lot. Then, I had to make multiple trips from the car to the lodge in jettisoning our stuff into the room and freeing up the car from containing too many valuables for the rest of our stay in Yellowstone and the Tetons since we'd be staying here for the next four nights.
Julie commented that it was no wonder why this place was so expensive because each of the rooms were pretty much their own cabins (actually shared cabins but the privacy was definitely there). And with our late check-in (we weren't the only ones by the way as many others had arrived after us), it wouldn't be until well after midnight when Julie and I finally slept.
With tomorrow's early start to beat the road construction delays near the South Entrance, this would definitely not be a restful night. Plus with the plummeting temperatures (it was below 50F here), I'm sure getting up and out of bed would be difficult as well…
Day 16 (August 11, 2017 – Moran, Wyoming): "Changes For The Better"
It was about 4:30am when I awoke. Given our late arrival to the Headwaters Flagg Ranch Lodge, I didn't have a whole lot of time nor energy to wrap up whatever blogging I could get to, especially considering how full of a day we had yesterday. So I used this morning to get that done while it was still dark outside and while Julie couldn't bring herself to wake up until about 5:45am.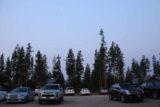 It wouldn't be until about 6:05am when we started to get daylight. And after getting some foodstuffs together for breakfast on the go as well as for picnics or on-the-go touring during today, we finally got into the car at 6:45am and left the lodge heading north back towards the South Entrance.
It was bitterly cold this morning as temperatures plummeted into the high 30s. Given how the temps swung from the high 80s into the high 30s, we had left our heavier jackets in the car so it was a hasty run to the car from our cabin. We also saw a reddish glow coming from the mountains to the east as well as an impressive moon against the purple skies over the lodge to the west.
At about 6:50am, we arrived at the Crawfish Creek and Moose Falls pullout, which was just minutes north of the South Entrance of Yellowstone. Julie and Tahia stayed in the car trying to stay warm while I put on my hiking boots and brought the camera, then proceeded to walk down the brief trail leading to both the brink of the falls and the base of the falls.
In addition to the red globe sunrise partially seen behind the neighboring trees, I noticed that Crawfish Creek seemed to have some geothermal properties to it as evidenced by the steam rising from the creek itself. Since the steam was well downstream of the falls, I knew that it couldn't just be spray from the waterfall.
Perhaps this was why I saw lots of people bathing or swimming at the foot of Moose Falls when I first saw it some 13 years ago. However, this time around, I noticed that there was a closure sign at the trailhead saying that Crawfish Creek was closed to all angling and swimming due to dangerous conditions. I suspect that water temperature had a lot to do with it.
At 7:05am, I got back in the car. I wished that the red globe sunrise could be seen from a more open vantage point than this wooded scene. But I merely got what I could amongst the tall trees and I knew that the photos of such sunrises probably won't be keepers.
Next, we made it up to the Lewis Falls pullout where we already saw anglers on the Lewis River further downstream braving the cold temperatures. Meanwhile, the sun wasn't a red globe, but it was still attractive against the early morning scene around the bridge.
After crossing the South Entrance Rd, the first thing I noticed was that there was now a well-developed lookout and walkway apparently. Before when we first saw this place, the part to the south side of the bridge was all wooded and made viewing the falls difficult. The best frontal view of the falls still remained at the north side of the bridge looking back with the morning sun backing me.
So I decided to climb up the newly formal trail trying to see where this trail would lead me. Eventually, I found myself at a fenced off dead-end where it was possible to get an angled look down towards Lewis Falls between some trees. So I went ahead and documented this experience while also reading more of the signs.
When all was said and done, it was about 7:35am when we got back in the car. Next, we continued driving beyond the West Thumb Junction where we partook in a bit of an elk herd sighting right off the South Entrance Road. There were narrow shoulders to pull off onto, where we then got out and took some shots. A couple of the elk were grazing really close to the road while many of us were outside gladly snapping pictures and watching the spectacle.
Once we had our fill of the elk (Tahia's first such sighting), we then kept on driving up and over the Continental Divide before descending eventually towards the large parking area for the Kepler Cascades. We were one of a couple of cars that showed up at 8:10am.
This was a pretty easy waterfall to visit, just as I had recalled. There was a viewing platform extending right from the parking lot perched high above a canyon carved out by the stream responsible for the Kepler Cascades. The rushing creek plunged for multipled drops right in front of Julie and I as we viewed the waterfall at the end of the deck while trying to position ourselves such that the trees weren't blocking too much of the falls.
At 8:20am, we were back in the car, making this another short but sweet waterfall stop this morning.
Next, we continued the drive eventually getting into the Old Faithful area where they actually built an off ramp leaving from the Grand Loop Road and going along a series of two-lane one-way roads before depositing us into a huge parking area.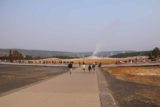 Not sure exactly where to park, we eventually followed the signs and parked the car at what turned out to be near a tree within a short walking distance from the Old Faithful Lodge. There were other buildings far to the left, but we weren't sure which one was the visitor center, which one was the Old Faithful Inn, and which one was the Old Faithful Snow Lodge.
In any case, we left the car at 8:30am, but little did we realize that we had actually parked a bit far from where we wanted to be so it took us some time to take a restroom break at the Old Faithful Lodge, then walk right towards the benches where people were already waiting for Old Faithful Geyser to erupt. We arrived at about 8:50am, and it turned out that this geyser was predicted to erupt at 8:56am give or take 10 minutes.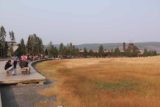 The informal board by the reception of the Old Faithful Lodge also wrote down that Castle Geyser was predicted to go off at 1:15pm give or take 45 minutes, Grand Geyser was to go off at 12:15pm give or take 90 minutes, Daisy Geyser should erupt at 9:05am give or take 30 minutes, Riverside Geyser at 12:30pm give or take 30 minutes, and Great Fountain at 7:15am give or take 2 hours. That last one was 8 miles north of the Firehole Lake Drive so there was no way we'd be visiting that one since we'd have to drive there.
Anyways, we patiently sat and waited for the geyser to go off. It made quite a few head fakes before the geyser finally went off at around 9am. Aside from the initial spouting of the water high in the air, there was a lot of steam surrounding the jet of water thereby making it hard to see let alone photograph the Old Faithful Geyser like you typically see in the photography books.
Further complicating matters was this persistent light haze reducing the contrast between the steam and the skies. Eventually by 9:10am, the Old Faithful show was over and the crowds of people started to disperse. But just as we were headed to the visitor center, we saw what appeared to be Daisy Geyser or some other geyser way in the distance go off.
Inside the crowded visitor center, we were in search of a map of the area to try to gauge how long was the walk to get from here to Fairy Falls and avoid the parking situation there. But once it was finally our turn to talk to the ranger, we learned that we were better off driving because it was over 5 miles away.
Still, as a bonus, the ranger told us that Beehive Geyser was about to go off in another 10 minutes. So once we got the whereabouts of this geyser that he said went off only once a day, we made haste and walked in the general direction of the Beehive Geyser.
As we were making our way towards it, which was about a quarter-mile from the Old Faithful Geyser to the northwest, we saw a massive jet of water spouting directly up in the air. That must be the Beehive Geyser!
A lot of people instantly started making their way over there, and some people (myself included) were running towards it to get a better look. After taking several photos along the way, I'd eventually get almost right across the Firehole River from it, but by then, the show was over by 9:30am. Indeed, as the ranger said, this geyser was more impressive than Old Faithful, and the unexpected surprise already made this a pretty successful geyser viewing experience.
I kept saying to Julie and Tahia that little girl was getting quite the lucky sightings in such a short period of time, and she must be thinking that it's easy to see geysers and wildlife (even though in reality, you really do need a lot of luck on your side)!
Now, given that it wouldn't be for a while before the next geyser eruption, we decided to do what Julie and I did 13 years ago and walk all the way to the Morning Glory Pool while we were getting some hazy sunshine. It was already warming up rapidly so the jacket weather from this morning was quickly giving way to T-shirt weather.
Along the walk, we passed by several springs as well as the familiar less-predictable (than Old Faithful) geysers like Grotto, Daisy, Riverside, etc. We also passed by some lesser known ones.
Ultimately by 10:40am, we finally made it to the Morning Glory Pool, which was just as colorful and impressive as we had remembered it. There were a couple of dragonflies that didn't make it as they were floating lifeless in the boiling pool. They kind of served as reminders to us (and especially Tahia) just how getting near these things outside of the boardwalks was not a wise idea.
We made it here a bit faster than I had expected so on the return walk back to the Old Faithful Inn (which turned out to be a bit of a walk from the Old Faithful Lodge that we had passed through earlier in the day), we were trying to take our time walking the boardwalks (going clockwise) passing by more geysers along the way.
But we wouldn't be lucky seeing Riverside nor Grand nor Giant erupt as they were more likely to go off towards lunch time or later. And we weren't going to wait around longer for those.
By 11:50am, we had made it back to the Old Faithful Inn after having been all geyser'd out from walking the Upper Geyser Basin. Tahia was already complaining about being hot and hungry so we waited in line to go in for the lunch at the dining room in the historic hotel.
Once we were finally seated and the waiter took our order, I took the time to walk upstairs and try to photograph the rustic yet fancy interior of the Old Faithful Inn, which featured a very tall ceiling and wooden beams with a combination of dim and lantern light.
As I was on the second floor, I saw a crowd of people facing the Old Faithful Geyser even on the balcony itself. When I got out there to see what was going on, I knew that Old Faithful Geyser's eruption was imminent as there was a bigger crowd of people at the benches very close to the geyser itself.
By now, the skies were pretty thick with patchy thunderclouds so the skies were bright but gray. The geyser would eventually go off after another 5 minutes or so and throwing another couple of head fakes. And after seeing the initial jet of water spout off as numerous people were all frantically taking pictures, the geyser then quickly became covered in steam again.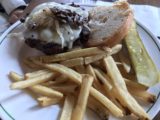 I guess the key to geyser viewing based on this experience was that you wanted blue skies for contrast (there wasn't much of that on this day), and you had to have some wind blowing the steam away from the water (which there wasn't much of that on this day either).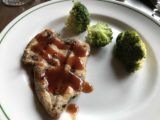 So while the geyser was still going off but was totally covered in steam, I already made my way back downstairs and rejoin Julie and Tahia for lunch. It was just as the food showed up, which consisted of bison burger, Montana Ranch burger, and some chicken for Tahia's kids meal.
By 1:05pm, we were done with lunch. It turned out that the burgers were terrible, and it made us wonder whether we should skip having dinner here. Julie was lamenting that we couldn't drive all the way to Canyon for another healthy meal before driving back to Flagg Ranch as it was too far away. She was also lamenting that the gift shop in this hotel didn't have the T-shirt she decided she wanted as she changed her mind and decided that Yellowstone National Park was her favorite park supplanting Yosemite National Park given all the diversity we were experiencing.
Unfortunately, we found out that Tahia somehow lost her sunglasses by bringing them into the restroom and leaving them there. When we tried the lost and found, it was never turned in. So that was not good in terms of protecting her eyes, but she had to learn her lesson one way or another to take care of her stuff, which she hadn't quite gotten to appreciate yet.
By 1:20pm, we were finally back at the car. Indeed, as I had suspected earlier on, we had parked far from where we should have parked. No wonder why there was so much parking space where we were at. But now, the parking lots were packed. And we had to have walked almost 10 minutes or so before we finally got here.
Next, we drove out towards the Fairy Falls Trailhead since we knew that there was a newly-built trail that replaced the informal hill scramble resulting in a view of the Grand Prismatic Spring. But now that made this trail uber popular and we were bracing ourselves for the crazy parking situation that was sure to confront us.
Well, it turned out that when we got there, there were indeed lots of cars and people looking for limited parking spaces. But after following a couple of people to their cars, we managed to score big time and secured one of the coveted parking spots not too far of a walk from the trailhead at 1:40pm. Even though the parking lot seemed a bit expanded from when we were last here, it was quite overwhelmed with tourists from all over.
While Tahia was in no mood to hike, we couldn't leave her in the car either. So we made our way along the familiar wide trail that was now very crowded with lots of people. This trail was never like that in the past.
Sure enough, we'd eventually get to a fork in the trail where it sloped uphill along another wide and established path that obviously wasn't there before. It would eventually get around a bend and right up to a newly built platform with the familiar wide open view towards the Grand Prismatic Spring. We managed to get here at 2:15pm.
Even though the skies weren't blue, there were still lots of colors on the gorgeous multi-hued pool. It was more of a chore to try to get up to places where you could take the desired photos of the Grand Prismatic Spring (kind of like the claustrophobic viewing experiences at Artist Point), but once we got our photos, we could finally split off where I could continue the hike to Fairy Falls while Julie and Tahia could hike back to the car, where Tahia could finally not hike.
So with that, I quickly made my way down the hill to the fork, and then head in the far less crowded trail north towards the familiar junction where there was a bike rack and signage to leave the wide road acting as a trail while heading west to a more narrower path leading to the falls. Along the way to this junction, I saw some infrastructure being worked on to extend the overlook trail into a complete detour but it wasn't ready yet. There were some people from the Montana Conservation Corps working on this part of the trail during the visit.
I'm sure that could have shaved off perhaps a half-mile round trip or so.
Regardless, at 2:50pm, I then followed what appeared to be a well-forested path. Unlike the last experience where the entire hike was exposed to the sun amongst ghostly trees that had burned from the 1988 wildfires, this time it appeared that the forest had recovered nicely and there were fewer and fewer evidence of those fires if you weren't paying attention.
There were still dead trees fallen over on the ground as reminders of the fiery past of this area, but by and large, there was at least some shade in this otherwise exposed-to-the-sun trail.
Now this stretch of the hike seemed a lot longer than I had recalled, and it started to make me question whether I had somehow missed the Fairy Falls and was headed to Spray Geyser or Mystic Falls in a longer loop or something like that. By eventually by 3:20pm, I had finally made it right at the base of Fairy Falls.
Indeed, this trail seemed to have been re-routed such that it hugged the base of the cliffs and gotten closer to the falls than last time, when I had to scramble over fallen trees and such though the falls was clearly visible from a distance. But that wasn't the case anymore in this instance.
An interesting thing about the falls was that the immediate area downstream of its 200ft plunge still showed visible signs of a fire. Was there another fire that happened here? Or was it still remnants of the 1988 fires that hadn't recovered in this section for some reason?
Regardless, there were a couple of other parties here while I was busy trying to document the falls against the muted sun against the thin but persistent layer of clouds. I realized at this moment that I didn't have the iPhone with me so I couldn't share it as easily. That was a bummer.
Anyways, once I had my fill of this falls, I made my way back to the trailhead. Given that this was definitely a longer walk than I had recalled (or maybe my memory just wasn't as accurate since it was 13 years ago), I was finally back at the trailhead at 4:35pm. The parking lot was still just as crowded as before, and I noticed in the distance that the Grand Loop Road also had a bit of a traffic jam though I wasn't sure if it was because of a wildlife sighting or was it because of people trying to park around the Grand Prismatic Spring.
Regardless, we decided that we should go back to Old Faithful Inn and try to snag an early dinner spot without reservations. Julie figured we mind as well give the dining room another chance as perhaps burgers just wasn't their thing here.
So at 4:50pm, we were back at the Old Faithful Inn. Learning from the earlier experience, I drove towards the general store and then easily found parking there. So our walk was dramatically cut from earlier this morning.
The restaurant was able to seat us right away, and we pretty much had a combo of the dinner buffet, quail, and some penne pasta with meatballs for Tahia's kids meal. The buffet had prime rib, which was good, as well as trout and glazed chicken thighs. And the meal was better than lunch, but buffets always resulted in overeating and this meal was no exception for me.
When we got back in the car at 6:45pm, we could clearly see that there had been rain from a thunderstorm but it had passed. Julie wanted us to drive over to the Old Faithful Lodge to see if their gift shop had her T-shirt, but they didn't.
So at 7:10pm, we left the Old Faithful area and headed back to Flagg Ranch, where I was really fighting fatigue (probably from the food coma resulting from the sugar crash from the buffet) along the way. By 8:10pm, we finally made it back to the Headwaters Flagg Ranch Lodge, where we were assaulted by mozzies.
And after hastily returning to the cabin at 8:20pm, we could finally call it a day. Tomorrow was the long-awaited day to finally do Union Falls though I'd have to do it solo. Julie and Tahia would have their tour of Yellowstone that was guided and would take all day long. Indeed, there was a lot of nervous energy on my part given the uncertainties and the risks of hiking solo in the backcountry in grizzly territory, but it was also a dream hike of mine that I had been looking forward to ever since our last trip 13 years ago.
I had to seize this opportunity…
Day 17 (August 12, 2017 – Moran, Wyoming): "Calculated Risk"
It was about 5am when I awoke. I wasn't in too much of a hurry to get started earlier than this because I knew that it was bitterly cold outside (think around 30-40F) so the later in the morning I'd get started, the warmer the temps would become and at the same time, the more people would likely be on the trail to help against the threat of surprise grizzly bear encounters.
Indeed, today was the day I was waiting for – the long day hike out to Union Falls. Ever since Julie and I aborted an attempt due to the fast flowing Falls River that we had to ford to proceed, I had been thinking about this hike ever since – a time span of about 13 years!
Now it was time for me to solo this hike and let Julie and Tahia do their guided tour of Yellowstone. It was the epitome of divide-and-conquer that we've been employing when a difficult or long hike was involved since it wouldn't be reasonable to expect either Julie or Tahia to take on this big hike.
Anyways, I took some time to wrap up the blogging from yesterday, and then I had a hasty breakfast of kefir with blueberries and strawberries. Julie had woken up during this time and helped to pack my picnic lunch with leftovers from previous things that Tahia didn't finish.
I was also mulling over whether to bring hiking boots on this epic 16-mile hike or just hike in Keens the whole way to keep the load light. I ultimately decided to do the latter.
Indeed, when I'm going this deep in the backcountry (let alone in grizzly country), there were definitely risks. I took a calculated risk in doing this hike on a Saturday so there'd likely be more people on the trail and thus reduce the likelihood of surprising a grizzly. Of course, I also came equipped with bear spray just in case. The only thing I couldn't do was hike with at least two other people (for a group of at least 3). I also could make noise by myself in a limited manner, but I'm sure there was a bit of me feeling self-conscious about talking aloud to myself or singing aloud. I definitely couldn't bring bear bells because they apparently acted like dinner bell signals to grizzly bears.
At 6:45am, I finally got started. It was about 40F outside according to the thermometer in the rental car. That was still a bit too cold for a river crossing in my mind. Regardless, I still pressed forward as I was leaving Flagg Ranch and taking the familiar Grassy Lake Road towards the Union Falls Trailhead.
The GPS
couldn't handle the route to the trailhead apparently, but since I had already gone this way before, I knew which road I was supposed to take. The paved road was pretty smooth and lacked potholes between Flagg Ranch and Polecat Creek. I recalled there were some nasty potholes in this paved stretch 13 years ago.
Once I went past Polecat Creek, the road became unpaved. It would remain this way for the remainder of the drive. The unpaved Grassy Lake Road also had quite a few washboard sections as well as some pretty deep potholes. Since I was going pretty slow this morning and just about everything was consistently lit in shadow, it was easier for me to pick out the potholes. I'm sure if it was too bright, the potholes would become harder to see.
I managed to catch one red globe sunrise view along the drive as well as watching a deer watch me before it ran off into the forest. Further along the drive, I also caught a look at the Grassy Lake Reservoir.
By about 7:35am I was finally at the Union Falls Trailhead on the Mountain Ash Creek Trail. I seemed to be the third vehicle that showed up at the spacious car park area besides the Grassy Lake gauge station or something. But just as I was getting out of the car and getting geared up for the big hike, I noticed two more vehicles pulling up.
I went ahead and got started knowing that at some point they'd probably catch up to me and pass me.
The initial part of the trail passed through a heavily wooded area with a lot of low-lying vegetation as well. After a few minutes, I saw a sign saying that I was entering Yellowstone National Park. There were also accompanying signs about bear encounters and what to do should that happen. It just underscored that I was hiking through an area that bears must frequent.
The hike continued for the next 1.3 miles or so before it made a descent towards the Falls River. There was a stretch where I could see and hear the Falls River running like rapids and cascades, which made it a bit intimidating. I have to cross through that?!?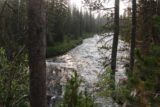 Sure enough, the trail disappeared right into the familiar Falls River crossing that turned Julie and I back 13 years ago. There was that familiar grassy island splitting the river up. I had initially thought that I should follow get to that island then finish the crossing, which would be shorter. However, just as I showed up and tried to figure out whether I could do this or not, the big group caught up to me.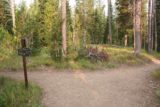 Their group leader was the tallest of the group, and he went right into the Falls River first as he was feeling his way through the shallowest crossing. Next, a trio of people were holding hands and making their way across. This was followed by a mother and son trying to make the crossing, but they had to turn back as they were losing their balance and each needed their own hiking stick.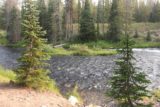 One guy that I was chatting with while they were doing the crossing was also looking around for a stick for balance. As he was doing that, I used my two trekking poles
for balance and pretty much followed the path that the trip leader took. I tried to follow the backcountry advice of facing downstream, unhooking the hip belt of the day pick I was wearing, and walking somewhat diagonally in a downstream manner. The depth of the water went about as high as my thigh and just started to wet the upper part of the hiking pants (I had taken some time to unzip the lower part prior to making the attempt).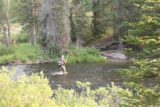 While the water was cold, it actually wasn't as cold as I thought. It was a good thing that I had my trekking poles for balance because there was definitely a current in the deeper parts as it wanted to push me downstream.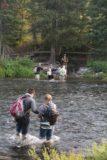 By 8:30am, I was finally on the other side, where I was chatting it up with the group leader and the two women who told me, "Good job" on the crossing. It turned out that these folks were Montana locals who work in the area. It made me wonder if most of the people willing to do this kind of hike were locals who were in the know about such attractions as Union Falls.
I also managed to get a mozzie bite on the leg.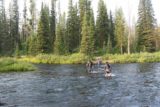 Regardless, this crossing experience made me wonder if crossing the Falls River to get to the other side of Terraced Falls (hopefully tomorrow) would be feasible. I was under the impression that even though it was mid August, that the conditions were more like July conditions given their high snowpack in the Winter and Spring months.
While the group was busy putting on their hiking shoes and zipping up the legs of the long pants, I went ahead and got a head start again. The trail from here climbed fairly steeply as I was trying to be aware of bears and even trying to sing some tunes along the way to make noise. But even that was limited as I could sing forever.
As the trail climbed higher, it seemed like the vegetation was more sparse though there were still a lot of tall trees about. With the long shadows of the morning, I still kept my hat off to let my head breathe a bit. The temperatures rose quickly as it went from high 30s low 40s into probably the 50s or 60s already.
At 9:30am, I saw a trio of backpackers heading back. They probably heard me talk to myself at the time, which can be embarrasing.
The trail then made a brief descent towards what appeared to be a seasonal creek with a stagnant pool of water on the trail. There were fallen logs set up to act as makeshift bridges to get across the water and mud without getting wet.
Beyond this section, the trail then climbed briefly again before flattening out through another long stretch of lightly forested terrain. But eventually at 9:40am, I got to a point in the trail where I was making a descent again. This time, the trail descended towards another creek that required getting wet as it was about ankle deep. I was glad I was wearing Keens
for this though this creek was bitterly cold compared to the Falls River ford.
I got to this crossing at 10:05am. It was nothing compared to the Falls River, but the water temperature on this creek was very cold.
Next, the trail then climbed again before it apexed then started a lengthy descent. I got to this part by about 10:20am. After another stretch of flat hiking, the trail then descended in earnest. I had a feeling that this long descent was going to be a real tough stretch on the return.
During this descent, after the initial rocky and steep part, the trail then meandered through a pretty lengthy section of berries growing alongside the narrow trail flanked by dense low-lying growth.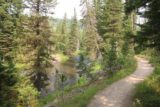 Eventually at 10:40am, I made it down to the Mountain Ash Creek Trail Junction. I went right and then proceeed to go through yet another extensive stretch of berries and low-lying growth. About five minutes later, the large group caught up to me though I wasn't sure if they rememered me or not because one of the ladies said to me, "You're brave, dude!"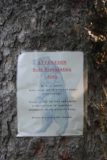 I guess that was a remark aimed at me for going about this hike alone. That said, I knew the risk of going through bear country alone, but I did make a very calculated risk by planning for this excursion or a Saturday when I knew there'd be more people on this trail.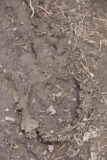 Anyways, there was still around 2 miles to go to get to Union Falls. The mozzies were also pesky so I had to keep moving. The large group left me in the dust as I was hastily trying to put on DEET since I had already been bitten on the leg.
At about 11am, I saw signage indicating that I was entering an area that was frequented by bears. It yet another reminder that I really was taking a risk hiking alone in grizzly country.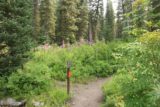 Just a minute later, I encountered yet a spot where it seemed like the trail disappeared into the rushing Mountain Ash Creek itself. While it lacked the speed, length, and depth of the Falls River, this crossing was no slouch either. So I was glad that they had erected this "9U4" sign pointing the way to a primitive "footbridge" which was more like a log with a carved flat top acting as a balance beam. This made one less stream to ford.
On the other side of the ford, the trail continued before five minutes later, I reached an interesting little shed with a tall roof and some kind of solar powered radio or cell tower next to it. A sign here indicated that it was the UF Ranger Station, and that this was not the campsite. By this time, I started to figure out that the "U" must have stood for Union Falls and that the numbers surrounding the U were backcountry campsites.
The trail then continued as the surface went from single-track dirt in a lush forested setting into some kind of sandy surface that was heavily pounded by stock (i.e. horses) as evidenced by the horse poop I had seen throughout this hike. This made the walking go a little bit slower even though the surface was soft and gentler on the knees. However, because I was wearing Keens, the pebbles tended to get inside the shoe and make the walking uncomfortable.
At 11:25am, I then reached what appeared to be parking for horses. A sign here said that travel beyond this point was for foot traffic only and horsies were not allowed. There was also a fork in the trail here where I had recalled from the maps that the path on the left led to another waterfall in 0.3 miles. I made it a point to visit that waterfall to see what it was about before finishing this hike.
So I proceeded to the right as the surface continued to be sandy and single track before the trail started to go up a pair of switchbacks. After the second switchback, the trail gradually climbed as the path flattened out and the sounds of a waterfall was getting louder and louder. Finally at 11:40am, I had made it to Union Falls after all these years!
Mission accomplished!
The group that had passed me and that I had met at the Falls River Ford were already here. The same lady that said "You're brave, dude!" now said "You made it!"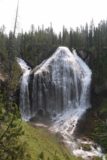 So everyone was having a picnic lunch while basking in the sight that was the Union Falls, where Mountain Ash Creek tumbled over an unusually-shaped trapezoidal wall and there was enough water spilling over the entire shape to fill in the whole shape with falling water. There were also other spillover streams and creeks, including one that joined with the trapezoid on the left, which was probably how this falls got its name as it was the "union" of creeks.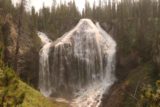 There were still pesky mozzies even at this overlook so I put back on the leg part of the pants though it was too little too late as I had hiked without it throughout and had gotten bit a few times. I had also reapplied DEET.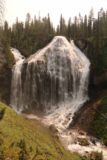 There was still spray coming from the falls to reach the overlook. That told me that this falls might have gotten higher flow in conditions more indicative of July than August due to the higher-than-average snowpack from the Winter and Spring months. That also might have explained why the Falls River ford earlier on seemed so challenging.
Anyways, the lighting on the falls at this time was a little suboptimal as the sun was almost right on top of the falls and created a bit of a partial shadow on it. I made it a note to come back here after checking out the other waterfall, even though it would ultimately extend the hike by another 1.6 miles.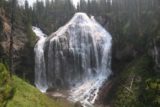 But before I did that, I was chatting with the same fellow that I had spoken to earlier before crossing the Falls River ford. It turned out that he was from Ohio and that he had just met this group from Montana a couple of days ago on Facebook. That told me that this guy must have been very resourceful and that he smartly looked for ways to hike in grizzly country in a safer manner.
I also ate some of the leftover gluten free bread from Seattle earlier on in this trip. It obviously had nowhere near the texture that it had when we first bought it, but it was food to keep me going. I told myself that I'd finish the rest of the picnic lunch either back at this waterfall or at the other waterfall.
The group then decided that they would scramble down to the base of Union Falls. As tempting as it was for me to do the same, I decided that I'd stay behind and photograph them in the act just to show what it took to get there. It turned out that after a rather steep section beneath the overlook, the rest of the way didn't look all that bad aside from being a bit wet and muddy.
I don't know if I would regret not doing this, but I made my decision and figure that time was more precious at this point.
Other people also showed up. There was even some kids that were here, making me believe that they must've come here by stock. Indeed, my theory that hiking on a Saturday in Summer would yield more human activity rang true, and thus a grizzly encounter was less likely. That was my key calculated risk.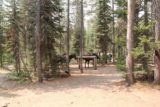 So at 12:40pm, I headed back down in search of the other waterfall. I had told the group that that was where I was going just prior to their descent to the bottom of Union Falls. They seemed to welcome the idea of going for a dip, and I'm sure they would see me again over there.
Thus, I quickly made my way back down to the stock parking lot where I saw that there were horses parked there, sure enough. I then quickly made my way over to the other trail and quickly walked to its end where there were a trio of people and a dog swimming at a small but wide waterfall with colorful water in its plunge pool. It was 1:05pm at this point.
A sign here something about the trail beyond this point closing, and that this was called the Ousel Pool. As I approached the waterfall, one lady there recommended that I go in for a dip because the water was actually "warm". And since I was in quick-dry pants that didn't require underwear, I mentally thought I was going to do that.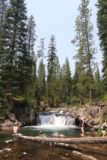 Anyways, I took my time slinging off my day pack and unzipping my pant legs in preparation. I also removed the damp Keens
. And as I was taking photos and videos of the place, the big group showed up just as I was having my lunch. They wasted no time in taking off some clothing to get into the pool (the guys went down to their boxers; the ladies were hesitant to just go in without a change of clothes, but they did).
And the result was a festive scene where people were doing cliff jumps from both sides and overall just having fun. It was the perfect interactive waterfalling experience after the visual splendor of Union Falls.
When I was done with my picnic lunch, it was now my turn to go into the water. Even though I also didn't have a change of clothes, I figured that you only live once.
And indeed it was kind of like lukewarm water. It was amazing that a place so remote could have such comfortable water. I stayed to the side to avoid getting in the way of the cliff dives while also staying away from the current.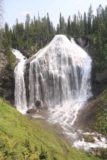 When I had my fill of this spot, I then headed back to Union Falls at 1:30pm. And by 1:45pm, I was back at Union Falls where as expected, the lighting was much butter. There were also more people chillaxing at the overlook while there were a trio of people that made their scramble to the base of the falls. It all made me wonder if I should or shouldn't do this, but I realized that by the time I'd leave this spot, it would mean that I'd come back later and worry Julie and Tahia. So I opted to remain at the overlooks again and take my pics and videos.
There were still mozzies buzzing about, which meant that they seemed to be pesky and persistent throughout the day instead of taking a chill pill at the height of the day and coming back out in the late afternoon.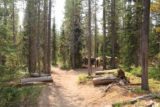 At 2:10pm, I was finally leaving Union Falls. I also noticed that my feet seemed to have cuts or were bleeding in the same spot. That kind of made me wonder if it was the result of the Keens
chafing my feet or something. Whatever the case, this wasn't good as I knew that there was probably a bit of bacteria or fungus growing down there, and now I had these open wounds.
The hike back went quickly as I trail ran the downhill sections. By 2:20pm, I was back at the corral, and by 2:35pm I was back at the ranger station. Along the way, I saw two more stock parties (one lady asked if there were other people I was with to which I said there were a handful of people at the falls). I also passed by two or three smaller groups of people still headed to the falls.
By 2:55pm, I had made it back to the long uphill stretch that I knew was going to be painful on the return. It was here that I had caught up to the large group again. And we were pretty much taking turns passing each other. In one stretch, we chatted more about the experience and the fires and the thunderstorms and other backcountry things.
They seemed amazed that I was as prepared as I was in terms of knowing what to expect here for someone from Los Angeles. But I told them that I was here before, and I had some books to help me along the way. One of the ladies also had that blue Yellowstone Waterfalls book even though it was more of a history book than a trail guide.
At 3:20pm, I made it back to the cold creek crossing, where the water really stung my open wounds, especially on my left foot. I definitely couldn't wait to get out of these shoes when I got back to the trailhead barring a grizzly encounter.
At 4:20pm, I made it back to the standing water creek, where there were fallen logs to get across without getting stuck in the muck. That was where I talked a bit more with the group again about more miscellaneous topics, including the horse flies that yielded very irritating bites that were worse than mozzie bits.
I then forged again once again and continued up the last climb (which was minor compared to those earlier) and then descended all the way down to the Falls River ford, where I arrived at 5pm. There was a different trio of hikers that made it here and proceeded to go right into their crossing. The water looked slightly deeper than I had recalled earlier as it seemed to go an inch or two above this morning's depth. Perhaps there was still snow running off from the heat of the day.
Afterwards, I made my crossing where I was fighting the current while slowly trying to walk sideways along the shallowest parts that I could find. When I got to the other side, I saw the group start to show up at the other side of the creek. We waved to each other, then I continued on the home stretch.
Finally at 5:40pm, I made it back to the car and promptly left after getting out of the wet Keens
.
The rental car had a bit of trouble going up the steep road to get back up to the Grassy Lake Road, and that where were I knew that I had to put the car in reverse and then gain some momentum to get past the slick parts even though there were deep potholes and ruts. It was good that this vehicle had high clearance.
Eventually at 6:25pm, I made it back to Flagg Ranch. A note in the room said that Julie and Tahia were already in the dining area. So I promptly drove back to the dining and reception area, and we were finally reunited once again.
Julie and Tahia regaled me with their stories of what they did during their tour. Apparently, they did some repeats like Old Faithful and Gibbon Falls, but they also did some things we didn't get a chance to do like Mud Volcano, brink of Upper Falls in Canyon, Yellowstone Lake Lodge, and other things.
Julie also told me that they got quite an interesting education on the history and especially the bear bells being bad, as they had learned to associate the bells with backpacks full of food so it was kind of like a dinner bell to them. Good thing I didn't carry that along on my hike. We were determined to definitely return these things when we get back.
At 8:05pm, we finished dinner at Sheffield's (the name of the dining room here), where we had a delicious dinner of trout, ribeye steak, and Tahia's chicken all with nice brussel sprouts, Roosevelt chili, and some free corn bread that was also very good.
Tahia then went into the gift store with Julie so she could pick up a book about who left poop in the woods. It was actually a good purchase as it could serve as a field guide for a curious mind like hers.
Finally at 8:30pm, we were back at the room to chillax for the rest of the night. We had skipped dessert at the restaurant, but Tahia and I were sharing a father-daughter moment eating chocolate chip cookies that they had picked up during their Yellowstone tour.
Ah, such priceless memories. Indeed, it had been a milestone day all around…
Day 18 (August 13, 2017 – Moran, Wyoming): "Mother Nature's Other Plans"
It was 4:05am when I managed to wake up without an alarm. I'm not sure why it was the case today that I was able to do this, but I knew that today I intended to get out to the Grand Tetons for sunrise shots. Then, after doing my informal touring, I'd return to Flagg Ranch to pick up Julie and Tahia so they could finally experience the Tetons on this trip.
It wasn't until 5:15am when I left. I knew that sunrise was typically around 6:30am and I also knew that the GPS
predicted that it would take roughly an hour to drive from Flagg Ranch to Mormon Row. So I was able to get caught up on blogging and skip the brekkie after getting freshened up (though I didn't bother with reducing the bedhead).
The first thing that I noticed when going out the door was that it had rained last night. There were still clouds lingering about though there were also spots of clearness where I could still see the bright moon and a fairly bright star that I had suspected was Venus.
The drive out was mostly dark so I was well aware of the increased possibility of wildlife running onto the road. The speed limit was also supposed to be 10mph slower than normal at night. In any case, I vigilantly tried to be on alert to stop the car at any moment while going roughly 5-10mph faster than the posted speed limit.
With no cars in front of me, and no cars wanting to pass me, it had become a pretty straightforward drive. However, I did notice quite a few cars going the other way headed to Yellowstone, and especially when I got into the Grand Tetons itself. Not only was the USA a nation of early risers, it seemed, but they were especially so in the Grand Tetons.
Eventually at 6:10am I would make it to the Mormon Row parking area (or at least one of them with the signs and bus parking), and there was already one other car here. Just when I pulled in, there was another carload of about four people that showed up. And as we walked towards the Moulton Barn, we saw another couple of cars pull up. There was one guy on the other side of a wet channel who already had his tripod set up and yelled out that there was a path to get us there if we kept walking past the Moulton barn then swing back to where he was standing.
The guy told us that there were a couple of spots that he staked out because it was slightly elevated. Apparently, quite a few people here were from Washington DC. The eldest lady of that carload that had just showed up with me seemed like their resident photography expert as she had her own serious tripod and camera body, and she was teaching other people how to use their own point-and-shoot. She also knew where to be and when for not only this location but other spots as well, which I had overheard.
Well, we all patiently waited for the sun to rise though the thickness of the clouds moving from the Tetons over us and towards the sun was disconcerting. Eventually at around 6:40am, the sun finally breached the hills in the horizon behind us but it seemed like only the Moulton Barn was getting the early morning sun. The Tetons remained in shadow because the clouds above were low enough to prevent the mountains from being bathed in the soft light.
That was a real bummer.
Clearly, Mother Nature had other plans when it came to rewarding the early risers with picture perfect postcard shots of the Tetons at sunrise. And so it wouldn't happen on this day. But at least there were other possibilities in terms of using the clouds as well as trying to capitalize on the early start to see other overlooks in pretty decent morning light.
At 7:05am, I was back in the car and proceeded to move out back north along the Hwy 191 (the so-called Outer Park Road).
As I speeded my way northwards, I noticed that the Glacier View Turnout seemed to have a nice angle. The sun momentarily bathed the peaks with the sun though the lower parts were in shadow. However, I determined that in the interest of time, I'd keep going to the Snake River Overlook and Oxbow Bend before continuing on.
Well, it turned out that I stopped at Teton Park Turnout at 7:15am though I had mistaken it for the Snake River Overlook until I realized that there was no view of the Snake River! Plus, the view wasn't that extraordinary so I promptly got back in the car, headed back to the Glacier View Turnout and got there at 7:20am. That was ten minutes wasted on that overshoot.
When I took photos at the Glacier View Turnout, the lighting wasn't quite as good as it was earlier. But I still took my shots, and then continued on. Eventually, at 7:35am, I made it to the Snake River Overlook. By this time, there was a bit more sun but there was also a band of shadows in between the peaks and the overlook itself.
There was one other person I was sharing the overlook near the famous Ansel Adams spot, and we made some small talk about the uncooperative clouds this morning as well as things like lighting and conditions as clearly she also knew her stuff about photography. Boy, this park in the early morning seemed to bring out the photographer junkies.
When the sun and clouds didn't fully cooperate, we both took some photos anyways then headed back to the car at 7:45am. Next, I drove back into the Grand Tetons, where now the entry gate was manned by employees, but I was able to show off my newly bought National Parks pass and got a Tetons map and publication to boot.
It wasn't until about 8am when I made it to the Oxbow Bend Turnout. There were more cars at this stop, and that was because there were still reflections in the Snake River with Mt Moran in the distance, and there were wildflowers near the front of the lookout area and sign. And for once, this spot seemed to get the benefit of the good lighting.
As I was busy taking photographs, I noticed that there were quite a few cars parked off the side of the road further up the road. So I decided to walk towards the commotion, but when I got there, most of the people had left. I had wondered if there had been a moose sighting or something, but when I got there, there was nothing.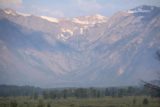 By 8:15am, I was back in the car. Then at 8:20am, I made a spontaneous stop at the Willow Flats Lookout as I had noticed that way in the distance, I could see the Wilderness and Columbine Falls. So I hastily took a video of the scene as well as using the zoom on my camera to try to bring the pair of waterfalls closer. But apparently, I didn't bother to photograph the panorama itself! Doh!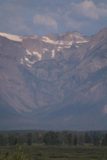 By 8:25am, I was back in the car. At this rate, I wouldn't be back in Flagg Ranch until right about 9am according to the GPS
so I made haste and followed a long caravan of cars heading north. At least under these circumstances, I wouldn't have to worry about park ranger acting as local police to pull over speeding motorists.
So I didn't bother stopping at any more lookouts or scenic spots, and eventually by 8:55am, I had made it back to Flagg Ranch. By this time, the clouds were getting thicker overhead, and I knew that it was definitely going to rain. It was now a matter of how intense the storm would be and when.
It turned out that both Julie and Tahia were still in the dining room area. They weren't ready to go as I had hoped, which made me worried about competing for parking at Jenny Lake, which was supposed to be the lone excursion of the Tetons as a family aside from any pullouts we might want to stop at for the classic Tetons views along the Inner Park Road.
It wouldn't be until 9:30am when we were finally heading out from Flagg Ranch. And it wasn't until around 10:20am when we finally arrived at the Jenny Lake Visitor Center and Boating Dock parking area. It looked like this area was going under some major renovations to come up with a new Visitor Center, and as predicted, the parking situation was tight.
However, we totally lucked out when someone was leaving just as we had pulled into almost the innermost of the parking spaces available. Score!
We then promptly geared up and got out of the car and walked to the boating dock. There was no signage indicating as such but I knew from previous experience that we should just keep walking in the direction of the Jenny Lake southwestern lakeshore.
I then promptly purchased some round trip boat tickets since we weren't interested in adding 2.5 miles to any of the two legs going to the north lakeshore of Jenny Lake. It had set me back around $40 US. But anything in the interest of time was welcome by me since I was hoping that we'd be back to Flagg Ranch in time to let me do the Terraced Falls hike and be back in time before dinner.
So by 10:40am we had boarded the boat and ten minutes later, we were on the far side of the lake. We then promptly got off with the rest of the folks and started walking the half-mile uphill trail to the Hidden Falls. Along the way, both Tahia and Julie had spotted huckleberries so they were busy picking them.
It wasn't quite the bonanza that we had on the Appistoki Falls Trail in Two Medicine Valley of Glacier National Park earlier on this trip, but it basically made our hiking progress really slow. So it wouldn't be until about 11:15am when we finally got our Hidden Falls view, and as expected, it was pretty busy with limited space available to get the good shots without people being in the way.
I guess I could now understand how this waterfall had gotten its name because it was nowhere to be seen throughout the boat ride nor along the hike until we were right up in front of it on the spur trail leading to the Hidden Falls lookout.
Anyways, we took some time to take what pictures we could before other people were crowding in and getting their selfies. And unlike the last time that Julie and I were here, we didn't bother continuing the climb up to Inspiration Point and beyond into Cascade Canyon.
So we slowly made our way back to the boat because Julie and Tahia couldn't stop picking huckleberries. So it wouldn't be until 11:50am when we were back on the boat.
By this time, the skies had become really overcast. And by the time the boat had dropped us off back at the southern shore's dock at 12pm, it had already started to lightly rain. Ten minutes later, we were back in the car, and we decided to make a stop at the Jackson Lake Lodge for lunch.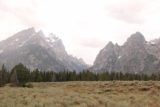 Along the way, we got some familiar views from the Cascade Canyon Lookout, except under the threatening skies, it lacked the contrast and color that we enjoyed the last time we were here some 13 years ago. Thus, we didn't spend much time here.
By 12:15pm, we made it to the Jackson Lake Lodge and promptly parked the car in one of the handful of still available parking spaces here. The first thing we noticed was the incredible view of the Tetons from the main lobby area of the lodge. There was even a huge lobby-sized windowed wall revealing the scene. Further exacerbating the good vibes of this place's view, the weather was also pretty good out here as compared to the Jenny Lake area.
At the same time, Julie wanted to get right into the lunch room (the Mural Room) and get seated before going out for photos while waiting for the food. So that was what we promptly did before I was able to get back outside and take photos while Julie and Tahia were chilling out at the lunch table.
Indeed, the scene was bright yet still nice as all of the peaks were more or less lit up by the midday sun. The lighting was still good at the time though clouds would run in and out and create patchy shadows here and there. It also turned out that this view was the best for Wilderness and Columbine Falls as it seemed closer than at the Willow Flats Turnout.
Eventually after going crazy with the photographing, I rejoined Julie and Tahia at 1:05pm, which was just in time for the meal as the food had just showed up. Apparently, we got some kind of bison flank steak that was prepared kind of like a roll wrapping some other meat or something like that. Julie had duck, which was pretty good.
Apparently in our haste to get out and take more pictures while the bad weather was starting to hit the southern side of the Tetons, Julie had missed out on flourless gluten free chocolate cake dessert. Oh well. So we promptly went outside at 1:40pm to take more pictures. I guess it was a good thing that I got my shots in because it really looked like the skies were dumping on the area where Jenny Lake was supposed to be.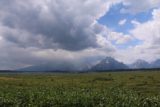 So we took some people shots but we ultimately got back to the car at 1:55pm. But we didn't leave until 2:10pm when Julie and Tahia were distracted by a gift shop. And apparently, Julie had bought a Grand Tetons T-shirt that I wasn't interested in wearing. I thought it was a waste of precious time and money, but whatever. I was still determined to finish the Terraced Falls hike before dinner with the possibility of crossing the Falls River for that better view that I had coveted since our unsatisfactory first experience 13 years ago.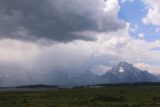 Eventually at 2:35pm, we were finally back at the Flagg Ranch. During the drive back, we were following yet another caravan of cars heading north. But this time, we passed through some bad weather as the rain droplets were thick at times and there was even a some hail!
I was worried that the hail episode might crack the windshield, but it eventually passed without incident. Tahia hadn't seen hail before so I told her that they were rain droplets that turned to ice.
After dropping off Julie and Tahia to do their own thing and relax back at the cabin, I continued back on the bumpy Grassy Lake Road. Surprisingly, the weather was quite sunny and warm throughout the drive to get out here.
It was about 3:20pm when I had made it out to the Cascade Creek Trailhead. This time, there were at least five other cars out here so I was pretty confident that there was enough human activity to lessen the chances of a grizzly encounter.
I came prepared with an extra change of shoes and trekking poles just in case I would make the attempt to ford the Falls River for that better view of Terraced Falls, but I was already mentally prepared to not chance it as there were some dark clouds and the threat of thunderstorms not only at this spot but also further upstream where flash flooding could affect the entire waterway.
I then promptly headed out onto the trail where it started off by going downhill (I knew this would be a tough stretch on the return), and in 20 minutes, I'd reach the Cascade Creek ford, which was actually nothing compared to the Falls River Ford that I did to Union Falls yesterday.
Next, I'd continue along the Terraced Falls Trail but this time I was paying attention to all the cascades along the way (unlike the last trip 13 years ago). And in so doing, I managed to get some pretty good views of cascades 2, 3, and 4 though each of them required some degree of off-trail scrambling to earn those better views. For the first one, I was at the top and I wasn't sure if I should scramble for a better view of that one or not.
Each of the cascades were modest in size but they easily could have acted as good play areas or just diversions to maintain interest in the excursion. But since I was short on time, I couldn't waste time lingering longer than I wanted to at any of these stops.
Downstream from the fourth cascade, I noticed in the distance where Cascade Creek joined up with the Falls River. This was important because it would add to the water volume of the potential crossing of the Falls River anywhere further downstream of that confluence.
It was strange that there was no signage or any fanfare about this confluence and I had to be real observant to even notice this. No wonder why it wasn't apparent to us where it became Cascade Creek and where it became the Falls River on our last hike some 13 years ago when we weren't as observant.
By 4:20pm, I had passed by another series of cascades that was hard to see. Was this the so-called Cascade Acres?
Eventually by 4:30pm, I had finally started to see the first significant drop that I believed belonged to the Terraced Falls. It was also hard to get a good look at this one given the position of the trees that were in the way. Then, ten minutes later, I was finally back at the same spot Julie and I were at 13 years ago, where there was a really precarious outcrop peering right down over the top of Terraced Falls.
It was very exposed at this spot, and the rock was sloping downwards so I dared not get all the way out to the edge as a fall here would be a vertical one right into the rocks and waterfall below that would surely be fatal. And it didn't helpt that there were some sporadic wind gusts threatening to make me lose my balance here.
Dark clouds were looming in the distance downstream and the sun was pretty much behind the clouds at this time. I was keenly aware that this was the very spot where I had lost my Sony wide angle lens to the Falls River back in our point-and-shoot camera days in 2004. So I made sure that the lens on this DSLR camera was secure as I was busy trying to capture the falls as best I could.
After having my fill of the falls, I then looked around to see if there were any other views that I might have missed. However, there was no other hidden gems to be found. I did notice that the signage discouraging further trail from this point was gone. And, there was still that very steep scramble to the Falls River that I'm sure people in the past over the years have done this though I'd have to say that it remained dangerously steep.
And after my last attempt at doing this where I really worried about not getting back up, there was no way I'd try this again.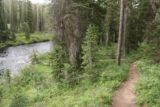 So it wasn't until about 4:55pm that I finally left. By this time, I hadn't seen another soul on this hike, and I really started to wonder where on earth they went? How could there be so many cars at the trailhead and nobody else seen along the two-mile stretch of trail?
Well, I was also curious about where it might be possible to ford the Falls River, and I think I eventually found my answer as I saw where the trail was essentially at the level of the river a few minutes hike upstream from Terraced Falls. As expected, the river was running swiftly and with the threatening thunderstorm and flash flooding, I couldn't bring myself to make the attempt to cross even though I badly wanted to do risk it.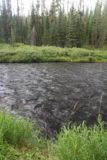 No, wiser judgment got the upper hand this time around, and I told myself that the next time we ever get back to Yellowstone, I'd make it a point to get back here, but it would have to be in low flow probably in very late Summer or at the Autumn. I couldn't risk it and screw up knowing that if it did happen, I'd get swept over Terraced Falls just downstream.
So eventually by 5pm, I took off and headed back to the trailhead. It was a straightforward hike back out though I was very cognizant of grizzly bears now that I knew that I was alone on this trail.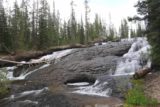 At 5:30pm, I managed to get to the base of the first cascade (the one I couldn't get a good view of) after going off trail and noticing that it was possible to get a better view of it. Of all the off-trail scrambling to do in order to earn a better view, this one was the most extensive. And I even noticed a spot where there was bear poop.
That didn't exactly ease my piece of mind.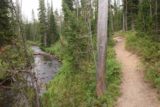 Regardless, this first cascade was nice as it featured an extensive sloping bedrock with a couple of potholes where the bedrock had more or less flattened out.
By 5:40pm, I had finally made it back to the Yellowstone National Park boundary sign after a bit of a steep uphill. There would still be more uphill hiking before I had finally made it back to the trailhead at 5:50pm.
By now, there was no cars left at the trailhead besides one other car parked by mine across the Grassy Lake Road near the 026 sign. Still, I was wondering where everyone else had gone while I was alone on the Terraced Falls Trail, and so after exploring a bit of the car park area, I did see that there was an informal "trail" going along a ledge above Cascade Creek.
After a few minutes of scrambling and following the faint "trail", I'd eventually get to a spot where I could view another very impressive sloping necklace-like series of cascades.
At this point, I was starting to wonder if this should be its own waterfall writeup since it involved a separate scramble even though it shared the same trailhead with Terraced Falls. I was leaning towards giving this falls its own page but I still have yet to figure out what its name is.
The scrambling continued a short distance further downhill as it entered an area with a lot of fallen logs. But it was from here that I was able to peer back upstream towards the cascade in its entirety. But it still didn't look like there was a place to access Cascade Creek for a dip, which was what I had expected the folks who had left their car at the trailhead were up to doing.
Still, there was some evidence of human activity here as evidenced by a plastic bottle that was left on the ground.
By 6:15pm, I had finally scrambled back up to the trailhead. It was definitely worth the 15-minute detour to check out this falls, and I was glad that I did. But now, it was getting late, and I still had the long unpaved and rough drive to get back to Flagg Ranch in time for hopefully Julie's 7:30pm dinner reservation at the Jackson Lake Lodge.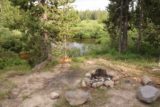 Well, after leaving at 6:20pm (just when a pair of hikers were returning and getting to the parked car that was next to me), I eventually got back to Flagg Ranch at 7pm, which was enough time to perhaps make the half-hour drive to Jackson Lake Lodge. However, when I got back to the room and saw the note that said they were already in Sheffield's for dinner since 6:30pm, I knew that they made their decision to stick it out here.
Perhaps it was the wisest thing to do given the lack of time we had to get all packed up and ready to go tomorrow as we were to leave the Yellowstone area and start heading west to Idaho.
Eventually at 8:20pm, we were finished with dinner, which consisted of the same ribeye dish as well as a pretty delicious wild salmon dish. This time, we indulged in the smores skillet dessert, which only Tahia and I could have. There'd be no flourless chocolate cake that Julie could have so it made it a bit difficult on her watching us enjoy the sweets.
Finally at 8:25pm, we were back in the room to call it a day. Julie was already starting with the packing, and I took some time to load up the car with what was already packed. But for the most part, we were all succumbing to sleep as it had been a very long day, especially for me with my early morning start.
Tomorrow, we were also supposed to have another long day even though it was a transit day. We'll have to see how it all plays out given how much Julie and Tahia don't like the early wakeups…
Day 19 (August 14, 2017 – Idaho Falls, Idaho): "Just A Little Bit Of History Repeating"
It was 4:30am when I awoke to the alarm. I took some time to get all packed and ready to go. Julie did the same after she finally got up for good at around 5am. We had a lot of stuff to pack and to prepare since we had to overcome the inertia of staying at Flagg Ranch for four nights.
The first thing I noticed when I went outside was that it was already lightly raining. Clearly there would be no sunrise, but prehaps even worse was that we might have to deal with wet weather on our excursions for the first time on this trip. Indeed, the clouds were thick and because of that, it also wasn't that cold (it was around 50F instead of in the high 30s).
So it wouldn't be until about 6:50am when we drove to the reception office to check out after having loaded the car. And then we finally left Flagg Ranch for good at 7am once all that was squared away.
The drive north was for the most part fairly light from a traffic standpoint. I did have to pass some slower drivers refusing to use the pullouts, but the traffic was light enough that they didn't slow me down too much. However, the big story was that it was raining (sometimes pretty moderately) for much of the drive, especially as we got closer to the Old Faithful area.
This was not good.
By 8am, we finally made it to the Biscuit Basin whos car park was fairly sparsely populated to there were already about a half-dozen cars. But with the rain coming down pretty good, I had to make sure that I brought the waterproof pants and the rain poncho. Julie and Tahia decided not to go out and join me on the Mystic Falls hike, which began at the Biscuit Basin geothermal area.
The last time Julie and I did this hike some 13 years ago, it was also raining. However, the weather cleared up somewhat later in the afternoon, and it even yielded a nice rainbow to boot. It all had a little bit of that deja vu feeling to it. Funny how history can repeat itself even this many years removed from each other.
So with rain poncho on (but not waterproof pants on yet), I ambled about on the Biscuit Basin boardwalks. The same springs and geysers seen 13 years ago were still there. The Sapphire Pool was perhaps the most interesting one as it was a bright blue and we could peer right into its depths. Some of its runoff had a greenish color to it though, and that was pretty surprising and beautiful. I also accidentally found that the "Vivid" setting on my camera worked to great effect in the otherwise dreary lighting of the day, which muted the colors.
Perhaps the greater challenge was to try to keep the camera dry while hiking in the rain.
When I got off the boardwalk, the rain seemed to intensify and somewhere along the way, I found some temporary shelter in one of the trees to remove the backpack, take the waterproof pants out, and awkwardly put it on over my existing hiking pants. I knew my legs would get hot at this point because the waterproofs don't breathe very well. And in the worst case, the insides of my legs could get wetter than the outside from my own sweat as opposed to the rain!
The trees flanking me seemed to have grown an appreciable size. I recalled this area was also affected by the 1988 wildfires but now I didn't see much evidence of blackened trees or fallen trees for that matter.
Regardless, I resumed hiking albeit a bit anxiously because I was in bear country and with the hood of the rain poncho on, I didn't have any more peripheral vision. I still had the bear spray holstered on the side of my pack, but it seemed awkward to retrieve it with the rain poncho there should the situation arise.
After a few minutes of some uphill walking, I got to a part where there was a signed fork. It said Mystic Falls was 0.7 miles to the left, but it also said it was 1.7 miles to the right. There was also an Overlook in 0.7 miles, and I thought they meant it must have been the overlook for Mystic Falls. So I went right thinking that the one that went left would have somehow gone to the other side of the falls.
Well, after hiking up what seemed to be a pretty endless series of switchbacks, I started to get the feeling that I might have made a mistake. None of this seemed familiar, and instead of hiking directly towards Mystic Falls, it looked like the "Overlook" I was seeking happened to be the Biscuit Basin Overlook!
Indeed, even though the weather had improved at this point, I was now able to start to see not only the Biscuit Basin but also the Upper Geyser Basin way in the distance. Some of the steam out there looked like they had intensified meaning that a geyser must have gone off!
Eventually at about 7:45am, I made it up to a fence keeping me back from the dropoffs. This must have been the Overlook here. After taking the obligatory photos, I knew that this added hiking set us back an additional hour or so.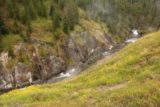 Thus, I made haste to try to at least get back to Mystic Falls. But I was dismayed to see that even though I was high up on the trail, it was still going uphill in stretches as it wasn't totally flat or downhill as I had hoped.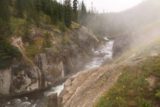 It wasn't until I got to a trail junction with the Fairy Falls Trail (the falls was in another 9.2 miles!) that the trail descended switchbacks in earnest. I'd eventually get down to an unsanctioned spur that appeared like it was going right down to the brink of the Mystic Falls.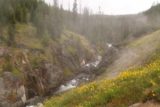 I hesitated to do that spur, but I figured that I mind as well satisfy the curiousity of seeing what it was like down there. Was there a thermal pool or spring feeding the falls? Clearly, there was steam rising near the top of the falls.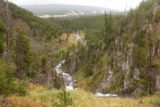 So I did that, and after a few minutes of the steep scramble (clearly this was eroding the soil as some parts were pretty worn from other people doing this scramble), I got to a part where I could see additional cascades further upstream amongst the steam rising. There was also a nice wildflower display.
Looking right down at the brink of the Mystic Falls, I could see some orangish color as runoff beneath the cliff below me seemed to inject some geothermally-heated water into the creek itself.
Then, right below downstream, I could see and hear the loud sounds of Mystic Falls.
After having my fill of this spot, I then headed back up to the main trail, then proceeded to go down more switchbacks while being treated to unusual views of the Mystic Falls that I didn't recall seeing before.
Eventually, I got down to the overlook at 10:15am, where there was a sign saying that the Biscuit Basin Overlook was another 0.8 miles behind me (among other things). But here was where I got the familiar views of the falls with some sporadic windows of morning light shining on the falls. Otherwise, it was bright overcast.
I was fighting condensation on the lens due to all the moisture, but I still managed to wipe the lens periodically while taking pictures and videos.
After having my fill of this falls, I then quickly made my way back. It was only then that I started to see lots of hikers as I was the lone person up to this point. I also removed my waterproof pants and poncho seeing that it wasn't threatening rain at the time.
When I finally got back on the boardwalk, Julie and Tahia were waiting for me. They were worried about me since it took longer than expected. But when I told them that I had extended the hike by taking the loop trail accidentally, then that explained it though it didn't help our cause in terms of trying to get to Idaho Falls at a reasonable hour while still having several more waterfalls to bag for the day.
The Biscuit Basin Boardwalk was now pretty crowded. There was one park employee who was using a long stick to extract stuff out of the thermal pools and runoff. He managed to find a nail as well as a couple of coins, which was real stupid of some visitors to do that.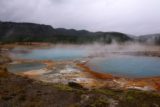 By 10:30am, we were back in the car, just in time before the rain started to resume again. Anyways, we were probably set back by an hour, but I still had it in my mind to visit the Firehole Falls along the one-way Firehole Canyon Drive. This was another waterfall that I didn't have a good writeup for so it was time to rectify that.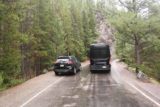 After taking the wrong road (Fountain Flats Drive) at 11am, I'd finally take the correct road. At first, the road descended down to the river's level while towered over by some cliffs. I wanted to take photos from the car to show this, but I didn't have the camera ready. There was a pullout way down by the river, but at that point, it had lost its visual effect. The last time we were here 13 years ago, I remembered elk were grazing opposite the river. No dice on the wildlife sighting this time around.
There was also another spot where people were pulling out, but it looked like nothing more than a view of some smaller cascades. There was a large bus of Amish people also stopping over and looking around, and I thought I overheard someone saying something to the effect of there being an eagle. But I couldn't quite understand what they were saying. I only caught bits and pieces of English words, but it seemed like they had their own language.
Finally, I arrived at the Firehole Falls at 11:10am. There were already about a half-dozen cars here when we showed up. I didn't recall the pullout here to be as spacious to accommodate all these cars, but we pulled over further up the road to prevent ourselves from being sandwiched in.
So I took some time to photo and video the falls from various angles though the best spot remained next to the sign. There seemed to be quite a stream of vehicles pulling up or passing along. So this drive was more popular than I had recalled.
After Firehole Falls, I next saw an area with a long fence as well as some change rooms or toilets or something opposite the road. There were also signs saying something about the Firehole Swimming Area. So we pulled the car over at about 11:30am to stop for this spot and see what was going on.
Unlike the last time we were here when it was cold and rainy, the weather was letting up right now and there was even some sun breaking through the rain clouds!
So I got out of the car after pulling over to the side of the road, and then I went down the wooden steps leading down to a bluff where I could clearly see there were people enjoying the geothermally-heated waters of the Firehole River. A couple of folks were swimming. Most of the others were just on the banks of the river bathing.
The river was actually quite calm here, though further upstream, there was a little canyon area and a current. But in the wider sections of the river, I could totally see why this was a swim area.
After having my fill of this spot, we continued driving along the one-way road until we saw another series of attractive cascades just where the one-way drive was ending. We pulled over near the stop sign and I got out to take a look at 11:50am.
It seemed that further upstream, there were small but lengthy series of cascades, but there was also a paved walkway where it appeared that down the Madison-Old Faithful Road, there was a pullout that people were chilling out at. I didn't walk all the way to where they were at as I was content to see the cascades from here. I wasn't sure if this was the Firehole Cascades or not, or if it was something that I saw earlier downstream from Firehole Falls.
Whatever the case, we pretty much completed the experience then resumed our drive towards West Yellowstone, MT. We passed by the familiar meadow or open area near the Madison Campground where I recalled we had seen a massive bison and elk herd sharing real-estate, but there was no such sighting this time around.
Along the way at 12:05pm, we saw that there was what appeared to be people pulling off the side of the road and people staring at something across a river. When we saw that it was a bald eagle sitting on a log, we found a spot to pull over (though we were partially on the road line), got out the car, and partook in the wildlife sighting.
This was definitely the first eagle jam that I had ever experienced. As we got our shots and continued driving, we saw that there was a massive traffic jam going the other way into the park! Good thing we weren't a part of that!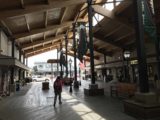 By 12:20pm we found parking at some mini-mall in West Yellowstone. Julie wanted to have lunch at this place called the Serenity Grill, but when we walked by, we saw that they weren't open. So instead, we went to this place called Buckaroo Bill's, which had an interesting cowboy western ambience to it.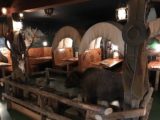 We asked for some burgers to go, but we also eyed the huckleberry ice cream. The lady working there gave us a massive scoop that was the one scoop we bought. And we all shared that ice cream while waiting for our food to show up.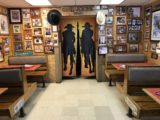 It wouldn't be until about 1:05pm when we finally returned to the car food in hand. The drive further away from Yellowstone was pretty uneventful as the weather continued to improve and we were all eating on the go. We were about one hour behind what I had planned for.
By about 1:55pm, we made it to the familiar Upper Mesa Falls parking lot. There was supposed to be a $5 vehicle fee, but I knew that my interagency pass was good in national forest lands, so I had that displayed on my dash, and the ranger walking around with a clipboard didn't issue us a citation as she was making the rounds to see who paid and who didn't pay.
This parking lot was smaller than I had recalled. It just goes to show you how fallable memory can be. But we still walked by the familiar Big Falls Inn, which was really a visitor center. Good thing we got our lunch when we did in West Yellowstone, because if we waited until now, everyone would still be hungry.
Anyways, we then proceeded down the boardwalks and steps towards the handful of overlooks peering sideways at the familiar Upper Mesa Falls. The lighting was such that the falls were very bright while the surrounding scenery was dark in comparison even though the skies were mostly overcast.
The overlooks were also pretty crowded as there appeared to be a large church group or something where people of all different ages were crowding the choice viewing spots. So we patiently took our time and tried to capture what we could of the falls. One guy was controlling a drone that was hovering over the Henry's Fork. Good thing he had a good command of his craft because if it crashes, it's going in the river way down below.
At one point, Julie was conversing with a younger couple that appeared to be from the area (they were actually from Utah). When I joined them, Julie told me that they spoke Mandarin (they were Caucasian though the girl looked mixed). I guess they broke the ice and saw that we were the only Asians at the overlook so they asked Julie and Tahia if they spoke Chinese.
When we were on our way, I concluded that this group must have been a Mormon group or something because I couldn't figure out the Chinese connection until we realized that perhaps these folks went on their two year mission in Taiwan.
We were back at the car at 2:55pm. On the way back to the car, Julie and Tahia found huckleberries again. So they went ahead and picked a few here and there to consume on the spot. This seemed to be a favorite pastime of theirs on this trip.
At 3pm, we were back at the familiar parking area for the Lower Mesa Falls. We spent a few minutes of briefly walking to the lookout, where we could see the waterfall way down in the canyon. We could also see that there was some trail near the brink of the falls though it didn't seem obvious how to get down there from the sanctioned trails around us (not that we would have done it anyways).
There were lots of loose volcanic boulders piled alongside both sides of the cliffs flanking the Henry's Fork. There were so many of these boulders that there was no way they were manually placed there by people. So it got me wondering how they all got there.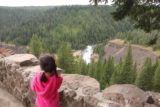 Julie suggested that maybe there was an explosion in the past that resulted in a bunch of these boulders, and that the Henry's Fork swept away most of the ones touching the water thereby carving out the canyon. The rest were what we'd be seeing. Sounded plausible.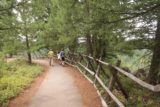 At 3:15pm, we were back in the car.
Next, we headed over to Cave Falls, and depending on the time, we might even squeeze in an excursion to see the Bechler Falls. However, once we went east of Ashton Idaho on the 1400 Rd (there was a sign pointing the way to Cave Falls), I could see that there were some dark skies ahead. It appeared that we were headed right to that weather system!
The road eventually became the Cave Falls Rd, and it was around 19 miles from town to the falls. It didn't take long before the road became unpaved. At first, the unpaved road was pretty smooth, but after about 10 miles or so, the road became rougher.
It was still smooth relative to the Grassy Lake Rd, but there were some larger rocks and potholes though nothing as severe as the Grassy Lake Rd.
The last 3 miles of the drive crossed back into Yellowstone National Park. It was strange that the road became paved again. Go figure. I guess this was a classic example of how different jurisdictions managed their sections of road differently, and that it was the National Park that actually had the resources to pave the road?!? Seemed strange to me.
That said, I did notice that Targhee National Forest tended to have the unpaved roads. Grassy Lake Road (the road I took to get from Flagg Ranch to both Union Falls and Terraced Falls) was also mostly served by the same forest service.
Anyways, it was about 4pm when I saw signage at a split in the road saying that Cave Falls was on the right while there was an overlook on the left. When I first went right, I saw that there was a wide but small waterfall with some people in angling gear chilling out over a beer.
When I asked them if this was the falls, they said it was a quarter-mile upstream and way bigger than this. I then asked if this was the Bechler Falls, and they said it was an unnamed falls. So I documented this falls just in case before continuing up the road.
As we were pulling up to the Cave Falls pullout and trailhead for the brief walk, we could clearly see that Cave Falls was indeed bigger by about four times compared to the falls seen earlier downstream. Julie and I were awake to see the spectacle while Tahia missed out as she was napping.
With the dark skies threatening to dump their load on us, I quickly got out of the car and promptly took pictures and continued walking along the short trail. At a fork, I then went down towards the banks of the river to get right up to the Cave Falls itself.
There were some closure signs though I wasn't sure what for. But there was a jumble of large boulders and the trail was quite a bit rough right next to the falls. That was when I realized that perhaps the cave that the falls was named after had collapsed here.
There was quite a bit of mist spraying me so I guess the cave that was here no longer acted as a shelter (as I had seen in previous photos). That was too bad. I also saw that the road kept going beyond the Cave Falls towards what appeared to be an Upper Cave Falls though I didn't bother going that far. Perhaps that was the place to park the car and go on long hikes to other waterfalls in the Bechler backcountry (or was that back at the Bechler Ranger Station?) such as Dunanda, Colonnade, etc.
Next, I then took the upper trail up to the brink of Cave Falls where there were fences to keep people back from the dropoffs. I saw from this vantage point that there were indeed more cascades further upstream. But I also saw that the very dark clouds were looming directly overhead and it was just a matter of time before we'd be caught in the inevitable downpour.
So I hastily took photos and videos of what I could to experience the falls every which way I could think of at the time. The cloudy skies made it difficult to capture things with sufficient color though. Plus the width of the falls made it hard to get it all properly composed in a frame.
By about 4:35pm, we were back in the car. Julie was actually out and about picking more huckleberries, but all that came to an end when the rain started to come. As we were about to leave in the car, the rain started to get harder.
And as we drove the road back out of the Bechler District, the rain had turned to hail!
Eventually, the hail storm had passed, and the weather improved once again as we got further away from Yellowstone. Clearly, there was something about the mountains that was attracting the weather. For the heavily cultivated plains of Eastern Idaho seemed to be largely free of the severe weather.
Eventually by 6:10pm, we finally made it to the Residence Inn at Idaho Falls. It looked like we were right next to some city park. So while Julie was busy checking in, Tahia and I were strolling about to check out the park. We saw that right across Broadway, there were more walkways leading to more views of what appeared to be man-modified waterfalls that were the Idaho Falls themselves.
These were wide waterfalls with dams and diversions above rocks. It was hard to tell if these were real waterfalls or not.
When Julie was done, we met up at the so-called Friendship Garden, which was a Japanese Garden beneath the Broadway Street bridge. It was a serene spot that kept us around taking more pictures and overall being relaxed and chill.