Day 18 (August 13, 2017 – Moran, Wyoming): "Mother Nature's Other Plans"
It was 4:05am when I managed to wake up without an alarm. I'm not sure why it was the case today that I was able to do this, but I knew that today I intended to get out to the Grand Tetons for sunrise shots. Then, after doing my informal touring, I'd return to Flagg Ranch to pick up Julie and Tahia so they could finally experience the Tetons on this trip.
It wasn't until 5:15am when I left. I knew that sunrise was typically around 6:30am and I also knew that the GPS
predicted that it would take roughly an hour to drive from Flagg Ranch to Mormon Row. So I was able to get caught up on blogging and skip the brekkie after getting freshened up (though I didn't bother with reducing the bedhead).
The first thing that I noticed when going out the door was that it had rained last night. There were still clouds lingering about though there were also spots of clearness where I could still see the bright moon and a fairly bright star that I had suspected was Venus.
The drive out was mostly dark so I was well aware of the increased possibility of wildlife running onto the road. The speed limit was also supposed to be 10mph slower than normal at night. In any case, I vigilantly tried to be on alert to stop the car at any moment while going roughly 5-10mph faster than the posted speed limit.
With no cars in front of me, and no cars wanting to pass me, it had become a pretty straightforward drive. However, I did notice quite a few cars going the other way headed to Yellowstone, and especially when I got into the Grand Tetons itself. Not only was the USA a nation of early risers, it seemed, but they were especially so in the Grand Tetons.
Eventually at 6:10am I would make it to the Mormon Row parking area (or at least one of them with the signs and bus parking), and there was already one other car here. Just when I pulled in, there was another carload of about four people that showed up. And as we walked towards the Moulton Barn, we saw another couple of cars pull up. There was one guy on the other side of a wet channel who already had his tripod set up and yelled out that there was a path to get us there if we kept walking past the Moulton barn then swing back to where he was standing.
The guy told us that there were a couple of spots that he staked out because it was slightly elevated. Apparently, quite a few people here were from Washington DC. The eldest lady of that carload that had just showed up with me seemed like their resident photography expert as she had her own serious tripod and camera body, and she was teaching other people how to use their own point-and-shoot. She also knew where to be and when for not only this location but other spots as well, which I had overheard.
Well, we all patiently waited for the sun to rise though the thickness of the clouds moving from the Tetons over us and towards the sun was disconcerting. Eventually at around 6:40am, the sun finally breached the hills in the horizon behind us but it seemed like only the Moulton Barn was getting the early morning sun. The Tetons remained in shadow because the clouds above were low enough to prevent the mountains from being bathed in the soft light.
That was a real bummer.
Clearly, Mother Nature had other plans when it came to rewarding the early risers with picture perfect postcard shots of the Tetons at sunrise. And so it wouldn't happen on this day. But at least there were other possibilities in terms of using the clouds as well as trying to capitalize on the early start to see other overlooks in pretty decent morning light.
At 7:05am, I was back in the car and proceeded to move out back north along the Hwy 191 (the so-called Outer Park Road).
As I speeded my way northwards, I noticed that the Glacier View Turnout seemed to have a nice angle. The sun momentarily bathed the peaks with the sun though the lower parts were in shadow. However, I determined that in the interest of time, I'd keep going to the Snake River Overlook and Oxbow Bend before continuing on.
Well, it turned out that I stopped at Teton Park Turnout at 7:15am though I had mistaken it for the Snake River Overlook until I realized that there was no view of the Snake River! Plus, the view wasn't that extraordinary so I promptly got back in the car, headed back to the Glacier View Turnout and got there at 7:20am. That was ten minutes wasted on that overshoot.
When I took photos at the Glacier View Turnout, the lighting wasn't quite as good as it was earlier. But I still took my shots, and then continued on. Eventually, at 7:35am, I made it to the Snake River Overlook. By this time, there was a bit more sun but there was also a band of shadows in between the peaks and the overlook itself.
There was one other person I was sharing the overlook near the famous Ansel Adams spot, and we made some small talk about the uncooperative clouds this morning as well as things like lighting and conditions as clearly she also knew her stuff about photography. Boy, this park in the early morning seemed to bring out the photographer junkies.
When the sun and clouds didn't fully cooperate, we both took some photos anyways then headed back to the car at 7:45am. Next, I drove back into the Grand Tetons, where now the entry gate was manned by employees, but I was able to show off my newly bought National Parks pass and got a Tetons map and publication to boot.
It wasn't until about 8am when I made it to the Oxbow Bend Turnout. There were more cars at this stop, and that was because there were still reflections in the Snake River with Mt Moran in the distance, and there were wildflowers near the front of the lookout area and sign. And for once, this spot seemed to get the benefit of the good lighting.
As I was busy taking photographs, I noticed that there were quite a few cars parked off the side of the road further up the road. So I decided to walk towards the commotion, but when I got there, most of the people had left. I had wondered if there had been a moose sighting or something, but when I got there, there was nothing.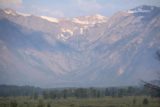 By 8:15am, I was back in the car. Then at 8:20am, I made a spontaneous stop at the Willow Flats Lookout as I had noticed that way in the distance, I could see the Wilderness and Columbine Falls. So I hastily took a video of the scene as well as using the zoom on my camera to try to bring the pair of waterfalls closer. But apparently, I didn't bother to photograph the panorama itself! Doh!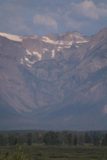 By 8:25am, I was back in the car. At this rate, I wouldn't be back in Flagg Ranch until right about 9am according to the GPS
so I made haste and followed a long caravan of cars heading north. At least under these circumstances, I wouldn't have to worry about park ranger acting as local police to pull over speeding motorists.
So I didn't bother stopping at any more lookouts or scenic spots, and eventually by 8:55am, I had made it back to Flagg Ranch. By this time, the clouds were getting thicker overhead, and I knew that it was definitely going to rain. It was now a matter of how intense the storm would be and when.
It turned out that both Julie and Tahia were still in the dining room area. They weren't ready to go as I had hoped, which made me worried about competing for parking at Jenny Lake, which was supposed to be the lone excursion of the Tetons as a family aside from any pullouts we might want to stop at for the classic Tetons views along the Inner Park Road.
It wouldn't be until 9:30am when we were finally heading out from Flagg Ranch. And it wasn't until around 10:20am when we finally arrived at the Jenny Lake Visitor Center and Boating Dock parking area. It looked like this area was going under some major renovations to come up with a new Visitor Center, and as predicted, the parking situation was tight.
However, we totally lucked out when someone was leaving just as we had pulled into almost the innermost of the parking spaces available. Score!
We then promptly geared up and got out of the car and walked to the boating dock. There was no signage indicating as such but I knew from previous experience that we should just keep walking in the direction of the Jenny Lake southwestern lakeshore.
I then promptly purchased some round trip boat tickets since we weren't interested in adding 2.5 miles to any of the two legs going to the north lakeshore of Jenny Lake. It had set me back around $40 US. But anything in the interest of time was welcome by me since I was hoping that we'd be back to Flagg Ranch in time to let me do the Terraced Falls hike and be back in time before dinner.
So by 10:40am we had boarded the boat and ten minutes later, we were on the far side of the lake. We then promptly got off with the rest of the folks and started walking the half-mile uphill trail to the Hidden Falls. Along the way, both Tahia and Julie had spotted huckleberries so they were busy picking them.
It wasn't quite the bonanza that we had on the Appistoki Falls Trail in Two Medicine Valley of Glacier National Park earlier on this trip, but it basically made our hiking progress really slow. So it wouldn't be until about 11:15am when we finally got our Hidden Falls view, and as expected, it was pretty busy with limited space available to get the good shots without people being in the way.
I guess I could now understand how this waterfall had gotten its name because it was nowhere to be seen throughout the boat ride nor along the hike until we were right up in front of it on the spur trail leading to the Hidden Falls lookout.
Anyways, we took some time to take what pictures we could before other people were crowding in and getting their selfies. And unlike the last time that Julie and I were here, we didn't bother continuing the climb up to Inspiration Point and beyond into Cascade Canyon.
So we slowly made our way back to the boat because Julie and Tahia couldn't stop picking huckleberries. So it wouldn't be until 11:50am when we were back on the boat.
By this time, the skies had become really overcast. And by the time the boat had dropped us off back at the southern shore's dock at 12pm, it had already started to lightly rain. Ten minutes later, we were back in the car, and we decided to make a stop at the Jackson Lake Lodge for lunch.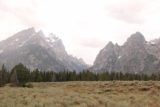 Along the way, we got some familiar views from the Cascade Canyon Lookout, except under the threatening skies, it lacked the contrast and color that we enjoyed the last time we were here some 13 years ago. Thus, we didn't spend much time here.
By 12:15pm, we made it to the Jackson Lake Lodge and promptly parked the car in one of the handful of still available parking spaces here. The first thing we noticed was the incredible view of the Tetons from the main lobby area of the lodge. There was even a huge lobby-sized windowed wall revealing the scene. Further exacerbating the good vibes of this place's view, the weather was also pretty good out here as compared to the Jenny Lake area.
At the same time, Julie wanted to get right into the lunch room (the Mural Room) and get seated before going out for photos while waiting for the food. So that was what we promptly did before I was able to get back outside and take photos while Julie and Tahia were chilling out at the lunch table.
Indeed, the scene was bright yet still nice as all of the peaks were more or less lit up by the midday sun. The lighting was still good at the time though clouds would run in and out and create patchy shadows here and there. It also turned out that this view was the best for Wilderness and Columbine Falls as it seemed closer than at the Willow Flats Turnout.
Eventually after going crazy with the photographing, I rejoined Julie and Tahia at 1:05pm, which was just in time for the meal as the food had just showed up. Apparently, we got some kind of bison flank steak that was prepared kind of like a roll wrapping some other meat or something like that. Julie had duck, which was pretty good.
Apparently in our haste to get out and take more pictures while the bad weather was starting to hit the southern side of the Tetons, Julie had missed out on flourless gluten free chocolate cake dessert. Oh well. So we promptly went outside at 1:40pm to take more pictures. I guess it was a good thing that I got my shots in because it really looked like the skies were dumping on the area where Jenny Lake was supposed to be.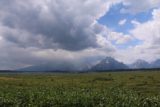 So we took some people shots but we ultimately got back to the car at 1:55pm. But we didn't leave until 2:10pm when Julie and Tahia were distracted by a gift shop. And apparently, Julie had bought a Grand Tetons T-shirt that I wasn't interested in wearing. I thought it was a waste of precious time and money, but whatever. I was still determined to finish the Terraced Falls hike before dinner with the possibility of crossing the Falls River for that better view that I had coveted since our unsatisfactory first experience 13 years ago.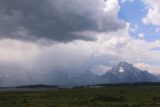 Eventually at 2:35pm, we were finally back at the Flagg Ranch. During the drive back, we were following yet another caravan of cars heading north. But this time, we passed through some bad weather as the rain droplets were thick at times and there was even a some hail!
I was worried that the hail episode might crack the windshield, but it eventually passed without incident. Tahia hadn't seen hail before so I told her that they were rain droplets that turned to ice.
After dropping off Julie and Tahia to do their own thing and relax back at the cabin, I continued back on the bumpy Grassy Lake Road. Surprisingly, the weather was quite sunny and warm throughout the drive to get out here.
It was about 3:20pm when I had made it out to the Cascade Creek Trailhead. This time, there were at least five other cars out here so I was pretty confident that there was enough human activity to lessen the chances of a grizzly encounter.
I came prepared with an extra change of shoes and trekking poles just in case I would make the attempt to ford the Falls River for that better view of Terraced Falls, but I was already mentally prepared to not chance it as there were some dark clouds and the threat of thunderstorms not only at this spot but also further upstream where flash flooding could affect the entire waterway.
I then promptly headed out onto the trail where it started off by going downhill (I knew this would be a tough stretch on the return), and in 20 minutes, I'd reach the Cascade Creek ford, which was actually nothing compared to the Falls River Ford that I did to Union Falls yesterday.
Next, I'd continue along the Terraced Falls Trail but this time I was paying attention to all the cascades along the way (unlike the last trip 13 years ago). And in so doing, I managed to get some pretty good views of cascades 2, 3, and 4 though each of them required some degree of off-trail scrambling to earn those better views. For the first one, I was at the top and I wasn't sure if I should scramble for a better view of that one or not.
Each of the cascades were modest in size but they easily could have acted as good play areas or just diversions to maintain interest in the excursion. But since I was short on time, I couldn't waste time lingering longer than I wanted to at any of these stops.
Downstream from the fourth cascade, I noticed in the distance where Cascade Creek joined up with the Falls River. This was important because it would add to the water volume of the potential crossing of the Falls River anywhere further downstream of that confluence.
It was strange that there was no signage or any fanfare about this confluence and I had to be real observant to even notice this. No wonder why it wasn't apparent to us where it became Cascade Creek and where it became the Falls River on our last hike some 13 years ago when we weren't as observant.
By 4:20pm, I had passed by another series of cascades that was hard to see. Was this the so-called Cascade Acres?
Eventually by 4:30pm, I had finally started to see the first significant drop that I believed belonged to the Terraced Falls. It was also hard to get a good look at this one given the position of the trees that were in the way. Then, ten minutes later, I was finally back at the same spot Julie and I were at 13 years ago, where there was a really precarious outcrop peering right down over the top of Terraced Falls.
It was very exposed at this spot, and the rock was sloping downwards so I dared not get all the way out to the edge as a fall here would be a vertical one right into the rocks and waterfall below that would surely be fatal. And it didn't helpt that there were some sporadic wind gusts threatening to make me lose my balance here.
Dark clouds were looming in the distance downstream and the sun was pretty much behind the clouds at this time. I was keenly aware that this was the very spot where I had lost my Sony wide angle lens to the Falls River back in our point-and-shoot camera days in 2004. So I made sure that the lens on this DSLR camera was secure as I was busy trying to capture the falls as best I could.
After having my fill of the falls, I then looked around to see if there were any other views that I might have missed. However, there was no other hidden gems to be found. I did notice that the signage discouraging further trail from this point was gone. And, there was still that very steep scramble to the Falls River that I'm sure people in the past over the years have done this though I'd have to say that it remained dangerously steep.
And after my last attempt at doing this where I really worried about not getting back up, there was no way I'd try this again.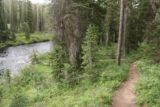 So it wasn't until about 4:55pm that I finally left. By this time, I hadn't seen another soul on this hike, and I really started to wonder where on earth they went? How could there be so many cars at the trailhead and nobody else seen along the two-mile stretch of trail?
Well, I was also curious about where it might be possible to ford the Falls River, and I think I eventually found my answer as I saw where the trail was essentially at the level of the river a few minutes hike upstream from Terraced Falls. As expected, the river was running swiftly and with the threatening thunderstorm and flash flooding, I couldn't bring myself to make the attempt to cross even though I badly wanted to do risk it.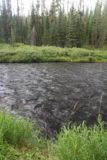 No, wiser judgment got the upper hand this time around, and I told myself that the next time we ever get back to Yellowstone, I'd make it a point to get back here, but it would have to be in low flow probably in very late Summer or at the Autumn. I couldn't risk it and screw up knowing that if it did happen, I'd get swept over Terraced Falls just downstream.
So eventually by 5pm, I took off and headed back to the trailhead. It was a straightforward hike back out though I was very cognizant of grizzly bears now that I knew that I was alone on this trail.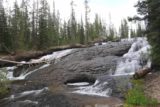 At 5:30pm, I managed to get to the base of the first cascade (the one I couldn't get a good view of) after going off trail and noticing that it was possible to get a better view of it. Of all the off-trail scrambling to do in order to earn a better view, this one was the most extensive. And I even noticed a spot where there was bear poop.
That didn't exactly ease my piece of mind.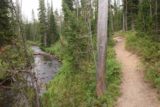 Regardless, this first cascade was nice as it featured an extensive sloping bedrock with a couple of potholes where the bedrock had more or less flattened out.
By 5:40pm, I had finally made it back to the Yellowstone National Park boundary sign after a bit of a steep uphill. There would still be more uphill hiking before I had finally made it back to the trailhead at 5:50pm.
By now, there was no cars left at the trailhead besides one other car parked by mine across the Grassy Lake Road near the 026 sign. Still, I was wondering where everyone else had gone while I was alone on the Terraced Falls Trail, and so after exploring a bit of the car park area, I did see that there was an informal "trail" going along a ledge above Cascade Creek.
After a few minutes of scrambling and following the faint "trail", I'd eventually get to a spot where I could view another very impressive sloping necklace-like series of cascades.
At this point, I was starting to wonder if this should be its own waterfall writeup since it involved a separate scramble even though it shared the same trailhead with Terraced Falls. I was leaning towards giving this falls its own page but I still have yet to figure out what its name is.
The scrambling continued a short distance further downhill as it entered an area with a lot of fallen logs. But it was from here that I was able to peer back upstream towards the cascade in its entirety. But it still didn't look like there was a place to access Cascade Creek for a dip, which was what I had expected the folks who had left their car at the trailhead were up to doing.
Still, there was some evidence of human activity here as evidenced by a plastic bottle that was left on the ground.
By 6:15pm, I had finally scrambled back up to the trailhead. It was definitely worth the 15-minute detour to check out this falls, and I was glad that I did. But now, it was getting late, and I still had the long unpaved and rough drive to get back to Flagg Ranch in time for hopefully Julie's 7:30pm dinner reservation at the Jackson Lake Lodge.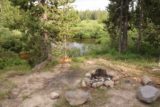 Well, after leaving at 6:20pm (just when a pair of hikers were returning and getting to the parked car that was next to me), I eventually got back to Flagg Ranch at 7pm, which was enough time to perhaps make the half-hour drive to Jackson Lake Lodge. However, when I got back to the room and saw the note that said they were already in Sheffield's for dinner since 6:30pm, I knew that they made their decision to stick it out here.
Perhaps it was the wisest thing to do given the lack of time we had to get all packed up and ready to go tomorrow as we were to leave the Yellowstone area and start heading west to Idaho.
Eventually at 8:20pm, we were finished with dinner, which consisted of the same ribeye dish as well as a pretty delicious wild salmon dish. This time, we indulged in the smores skillet dessert, which only Tahia and I could have. There'd be no flourless chocolate cake that Julie could have so it made it a bit difficult on her watching us enjoy the sweets.
Finally at 8:25pm, we were back in the room to call it a day. Julie was already starting with the packing, and I took some time to load up the car with what was already packed. But for the most part, we were all succumbing to sleep as it had been a very long day, especially for me with my early morning start.
Tomorrow, we were also supposed to have another long day even though it was a transit day. We'll have to see how it all plays out given how much Julie and Tahia don't like the early wakeups…